Customer Data Platform (CDP)
Ensuring the Success of Your Customer Data Platform Project
Customer Data Platform (CDP)
Ensuring the Success of Your Customer Data Platform Project
As customer data platforms (CDPs) have slowly become key staples of e-commerce tech stacks, companies across the world are looking for every advantage in implementing and using their CDP. 
But the notion that a CDP is a golden ticket to e-commerce success and just choosing the right vendor will lead you down the yellow brick road of online revenue generation is patently false. There is no golden ticket, no yellow brick road, and most importantly, picking the right CDP vendor is only part of the solution to the CDP problem. Having the right mindset as a company, laying the proper groundwork, and establishing the right processes are just as important as selecting a vendor that gels with your company.  
In early 2021, Bloomreach acquired Exponea, the most loved CDP on the market, and now offers Bloomreach Engagement.. Bloomreach Engagement allows companies to think bigger than just a CDP combining important marketing automation capabilities with the data unification abilities of a CDP. 
The expertise we've offered Bloomreach Engagement users in all verticals and industries before, during, and after implementation has allowed them to serve their customers at a high level. We have collected some of our most valuable information to share here—to ensure that your CDP project succeeds beyond your wildest dreams. 
The Holy Grail of CDP Implementation
After so many successful implementations, we've discovered three key factors that are present in every successful project. Together, they make up what we call the "Holy Grail of CDP Implementation". They are:
A holistic, customer-centric approach
Use cases that activate your customer data
A CDP team of the future
Let's dive further into each of those important statements.
A Holistic Customer-Centric Approach
The first element can admittedly be difficult to achieve and get right. It teeters largely on your existing company culture and structure. If you are not a customer-centric organization right now, significant changes might need to be made to achieve this goal and those likely cannot be made in a short period of time. To make the most of a CDP, you need to be a customer-centric organization. 
Why Become Customer-Centric?
CDPs are, by nature, customer-centric. The same cannot always be said of every company culture. 
Consider marketing departments: in many organizations, marketing teams are built around channels. One team for email, another for social, a team for direct mail campaigns, and so on.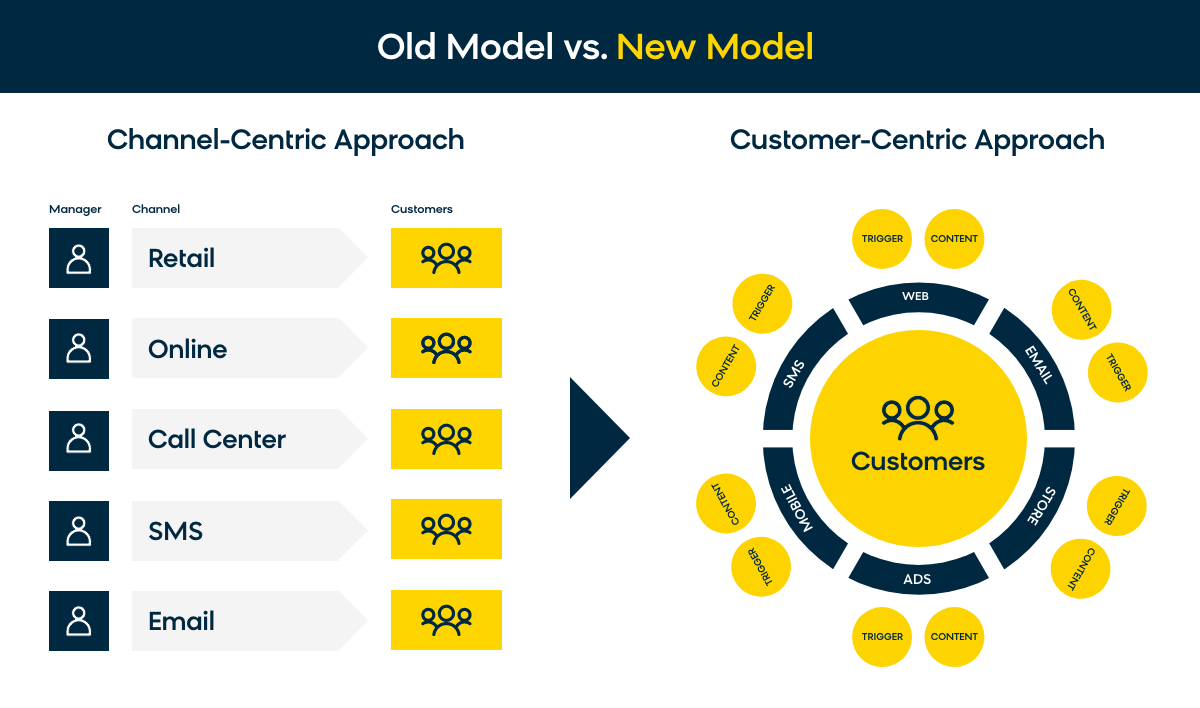 This creates data silos and a fragmented picture of the customer. One team doesn't know what the other one is up to, and the customer ends up with a disjointed, subpar experience. This is a major challenge facing companies without a CDP (or not using a CDP correctly) in today's digital commerce marketplace. 
If you want to avoid this, you need to become customer-centric. A CDP makes this transition much easier by breaking down silos and giving everyone access to a complete picture of your customer thanks to its ability to create a single customer view. 
If you can put this important staple into the DNA of your company, you will be better equipped to take advantage of all the capabilities a CDP can provide. Although this change takes time, it's an important cause worth investing in.
Drive Decisions With Customer-Centric Insights
It's not enough to become customer-centric in name only. You have to become customer-centric in your decision making.
CDPs have powerful analytics capabilities, and can tell you a lot about your customers. But for a CDP to provide value, you need to use those insights to make decisions. Insight without action isn't worth much. That's why the next factor is so critical as well. 
The Right KPIs at the Highest Levels
To be frank, someone in your C-suite needs to have a KPI that is focused solely on customer loyalty.  
Why? Because customer centricity and customer loyalty go hand-in-hand, and customer loyalty is measurable. And if you want to become customer-centric, you need someone at the top of your organization with skin in the game.
Some good examples of potential KPIs include: 
CLV =Average Order Value * Purchase Frequency * Gross Margin * (1/Churn)
By including both churn and purchase frequency, following this metric over time serves as a good barometer of customer loyalty. 
Customer Equity = CLV * Number of customers acquired in a given period
This gives you a top-level overview of the value of your customer base, and gives an at-a-glance measure about the quality of your customer base.
Customer Lifecycle Distribution. A snapshot of how loyal your customer base is. Watch this metric closely; and big swings in the distribution of customers among lifecycle segments can point to changes in the loyalty of your customer base.
Cross-Departmental Buy-In
CDPs seem like they are totally built for marketing departments. But they can bring a lot of value to other departments as well. As you make a change to being a customer-centric organization, you want to make sure that members from several teams across multiple departments understand the customer and have access to full customer profiles.
This will further help cement customer centricity into your whole company, increasing the value you can get out of your CDP.
Use Cases for Data Activation
A holistic approach to customer centricity across your entire organization is key to a successful CDP project. But it's important not to stop there. 
Customer centricity is a worthwhile goal, but it's probably not the sole reason you got a CDP. You need to take advantage of the full scale of customer data you have, and put it to work with use cases that activate that data.
Value-Building Use Cases 
Carefully consider exactly how you want to improve the customer experience, and map this against the capabilities of your new CDP and your existing tools. Take into account the full scale of customer data available to you, and design ways to use that to bring value to your customers.
Keep in mind: Rome was not built in a day. It is reasonable to start small here. Simple use cases like segmenting your email database, sending emails at the right time, or discontinuing vouchers for customers that aren't price sensitive are a good place to start. You can establish them quickly and start proving value to other members of your organization.
Your CDP vendor can help with this as well. The vendor should have experience in creating and delivering valuable use cases. 
Here are some of the high-value use cases our Bloomreach Engagement clients have implemented. They take advantage of Engagement capabilities to deliver value to both the client and their customers.

Online + Offline Connection
Merging online and offline activities can create a more complete, holistic customer profile. CDPs can identify customers from online activities when they enter a brick-and-mortar store and vice-versa, creating a seamless buyer experience and generating value for the customer.
Customer Segmentation and Personalization
Segmenting customers according to their behavior (on your site or in your store) enables you to deliver a personalized, omnichannel experience throughout the entire customer lifecycle.
Product Recommendations
The rich data collected by a CDP can be used in conjunction with product recommendation engines (sometimes included in a CDP's offering). These recommendations can drive engagement, increase brand loyalty, and sell, up‑sell, or cross‑sell your products or services.
Conversion Rate Optimization and A/B Testing
Combining full customer profiles with web optimization allows you to deliver tailored experiences to every customer segment. Today's customers expect personalized experiences, and CDPs can make it possible.
Predictive Customer Scoring
Some CDPs can make AI-powered predictions based on the data they collect. These predictions can enrich your customer profiles with their data (probability of purchase, churn, visit, email open), which can then be used to make more effective business decisions. 
Smart Behavioral Retargeting
Behavioral data from a CDP can be used to create retargeting audiences on the major advertising platforms. These audiences tend to perform very well, thanks to the granularity of data from a CDP.
Omnichannel Automation
Combining a CDP with marketing automation allows you to guide your customers through their entire lifecycle with personalized and timely messages sent to their preferred channel, significantly enhancing your opportunities to both acquire and keep loyal customers.
Email Deliverability Enhancement
A CDP allows you to use behavioral data to determine the ideal email sending time for each user, based on their email opening habits. 
Failing to implement use cases early on can be detrimental. You might spend months trying to move towards being a more customer-centric organization, with no use cases to show why that could be valuable. On the other hand, if you can prove value early on, it's much easier to get buy-in across the organization.
Of course, to execute these use cases, you need to have the right people. Which brings us to the last element of our holy grail: a CDP team of the future.
A CDP Team of the Future 
In today's market, digital commerce feels like it is oftentimes fueled by a disconnected team. The channel-centric approach drives company staffing and while the goal (acquire and retain customers) remains the same, the paths to achieving that goal are very different. 
Far too often in today's market customers are fed different information (newsletter email, site banner, abandoned cart email, etc.) from the same company in a non-calculated way in hopes of driving a sale. This is created by well-meaning teams looking to maximize value within their siloes that lack a way to orchestrate a consistent cross-channel experience.
Once your company has determined which use cases to execute, take inventory of the team members you have in place and work to discover the gap between the skills you have and the skills you need. You need to have a team in place that is capable of taking full advantage of a CDP and team members who have bought into your new customer-centric culture. 
To meet the needs of the customers of today's market and to get the most out of your CDP, you need to assemble a CDP team of the future. What does that team look like exactly? To begin, it splits into two main parts: onboarding and operations. 
Onboarding
The onboarding team will work closely with representatives from your vendor to ensure that your initial implementation goes smoothly and you meet all of your upfront expectations. This is extremely important to meeting all of your eventual goals with a CDP. If implementation does not go well, you are playing from behind with your CDP right away. 
It is important to have highly-trained and capable individuals in these below roles ready to work to implement your CDP: 
Project Manager: This individual will work hand-in-hand with your vendor's project manager to ensure all aspects of the implementation are coordinated and things are running smoothly. 
Email Marketing Team: Members of this team will work closely with the vendor to support the setup of email campaigns, templates, and email personalization. 
Analytics/CRM Team: These team members will work with the vendor to set up segmentations, analytics, reports, and things of this sort so that this data is accessible and correct on the back end once the CDP is up and running. 
IT/Infrastructure Team: The IT team will work with the vendor to make the appropriate connection to the necessary e-commerce platform. 
Operations
Once your CDP has been correctly set up and implemented, many of these same team members have similar roles in regard to operating the platform. 
You see more of a traditional split of staff at this point of the process: marketers are working together while IT members are working together as well. 
Customer Experience Team: This team is made up of representatives from the original email marketing team and CRM team. Customer experience team members will set up campaigns, workflows, and segmentations daily in your CDP. They also will be responsible for communicating with your vendor's company representative (account manager, customer success manager, etc.) to receive product support. It is a good idea for these members to investigate whether any additional training opportunities are offered by the vendor to ensure they are always using best practices inside the platform. 
IT/Infrastructure Team: Your CDP is now responsible for storing a lot of collected customer data. The IT team will be tasked with monitoring data flows and ensuring data is protected with governing laws and regulations in mind. The good news is this can be nearly effortless with the correct vendor in place. It is important to have this team on standby to potentially work as an intermediary between the Customer Experience Team and the vendor should the need arise.    
Staff Compatibility 
While the marketing and IT teams are more split when operating the CDP, what makes working with a CDP a seamless process is the connectedness of these two teams.  
While they obviously have inherently different goals, it is important that the leadership of each is able to find common ground and understand that a CDP is an essential part of a technology stack and will drive real value to the business as a whole. That benefits both departments. 
The marketing and IT teams being on the same page and being able to complement each other while working together to onboard and operate the platform will be essential to long-term business success. This is where the vision of leadership and getting buy-in from both sides is extremely important. 
The Bloomreach Framework Will Allow Your Project to be a Success
With all the hype around CDPs, and with the growth of digital commerce showing no signs of slowing, it can be easy to get carried away. It's important to set realistic expectations before embarking on a CDP project. 
But at the same time, you shouldn't think that CDPs are just overhyped. The truth lies somewhere in between: CDPs can be an extremely powerful platform for your business, but both your company and your vendor will need to work hard to reap the benefits. 
Success with a CDP project is a process, but by laying the right foundation, and starting with the right ingredients, you can make a valuable endeavor much more likely. While every company has different needs, adhering to the general principles of our framework will help make your CDP project a success.
Now that you know what it takes on your company's side to be successful with a CDP project, consider going above and beyond a CDP with Bloomreach Engagement.. 
Bloomreach Engagement will allow you to provide the best possible experience to your customers, increase brand loyalty, and increase customer lifetime value across key segments. Schedule a personalized demo today to learn more about how we can help turn customer data into marketing magic.