Customer Data Platform (CDP)
How to Visualize Customer Data in 4 Simple Steps
By Payman Taei
Aug 04, 2020
18 min read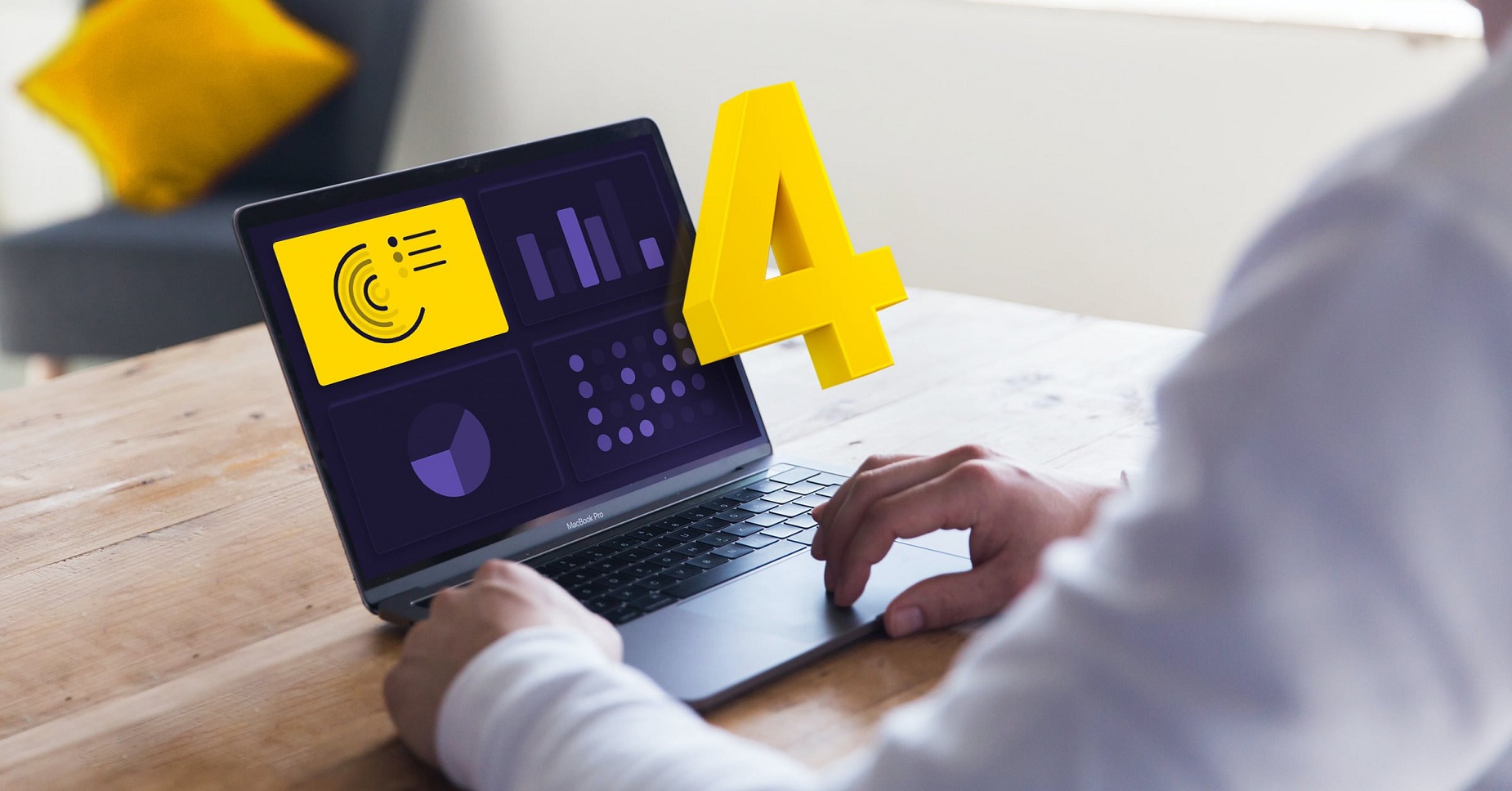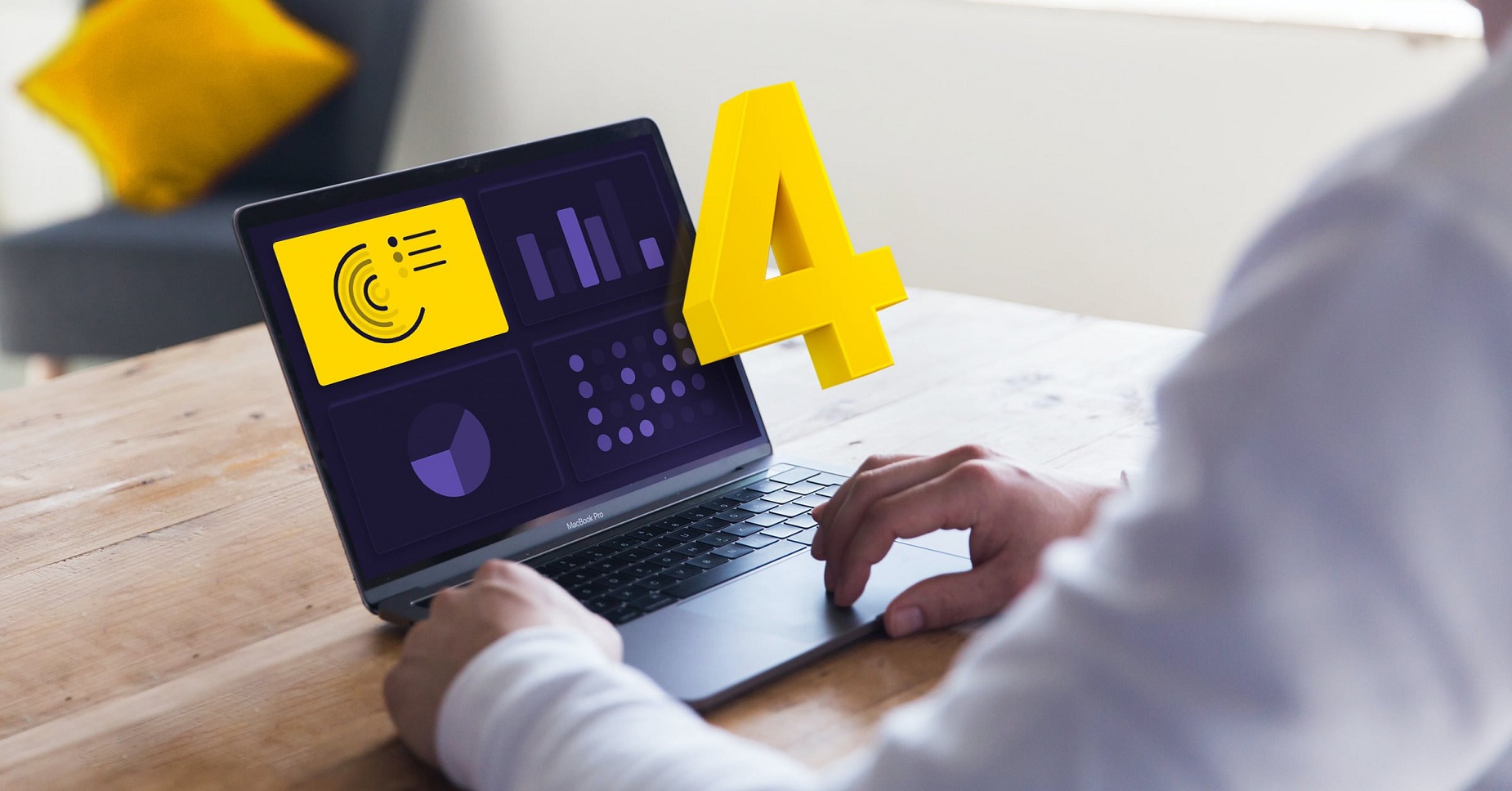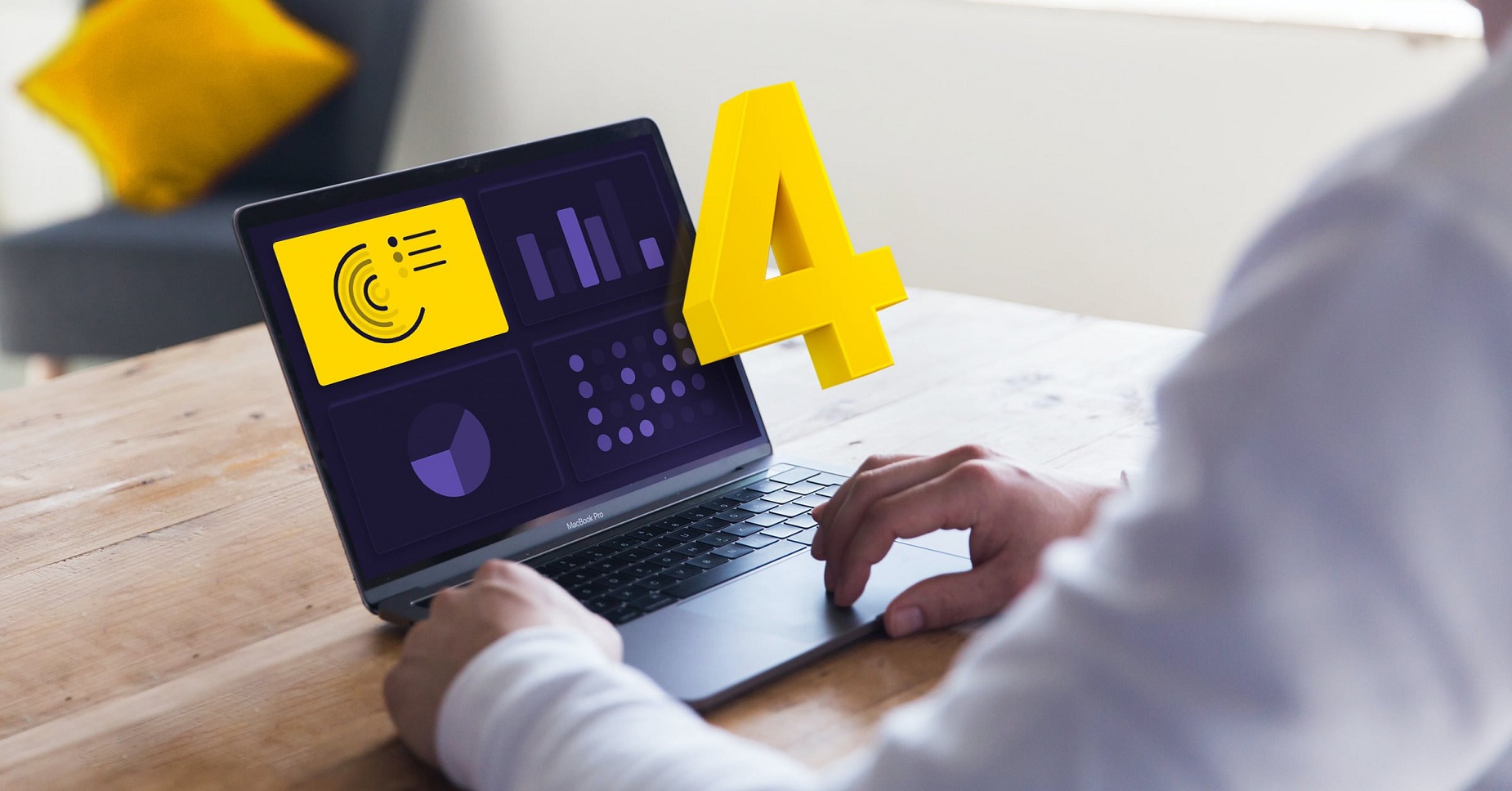 Subscribe
Customer Data Platform (CDP)
How to Visualize Customer Data in 4 Simple Steps
This article was created in cooperation with Visme.
In a time when information and data is currency, data visualization is becoming increasingly important.
Understanding your customers is all about analyzing their needs and understanding whether your products or services are meeting those needs.
As you may know already, an important part of this process is visualizing customer data. 
In this guide, you'll learn why customer data visualization is important and how to do it right. 
Let's get started.
Step 1: Define the Main Aspects of the Customer Experience
Customer data visualization is fantastic in terms of helping a business analyze and improve its performance. 
It's for that reason that the first step – before getting to visualizing data – is to define the main aspects of the customer journey. 
Why is this important?
By defining the main points of the customer experience and taking informed decisions in relation to it, a company is more likely to boost its customer engagement and make the customer journey a pleasant one.  
In a few words, a customer-centric attitude increases customer satisfaction and makes a company more popular and successful. 
In order for a company to define what the main aspects of the customer experience are, it first needs to understand the steps through which their customers are passing and where such steps might lead. 
Have a look at the many customer journey stages, touchpoints, and departments in the graph below. 
Put another way, you need to understand the points where a customer gets in touch with a company's services or products, as well as all the different departments within a company, that relate to the customer experience:
Source: Bloomreach
These touchpoints show us how extensive the customer experience is as well as what some of the main aspects are that companies should take into consideration when analyzing the customer journey. 
Also, these need to be considered when they're creating and shaping their marketing plan.
Step 2: Choose What Data to Visualize
The second step in terms of our process is to choose what data to visualize. 
In other words, out of all the different data a company might be collecting, for visualization you need to choose the data that will actually give a company insight and help it improve. 
Data visualization can take the form of any visual format. 
Some of the most common formats for data visualization include a wide variety of chart types, like line charts, bar charts, and pie charts. 
Other formats like heatmaps, word clouds, scatter plots, and infographics can all be useful as well. To cut a long story short, there's a wide range of data visualization formats, as well as visualization techniques, out there. 
Before we get to discussing some of these in more detail, let's see the different types of customer data you can collect.
Type 1: Visualize Customer Support Data 
The first type of data that would be very useful for companies to visualize is customer support data. 
Customer support is a customer-facing service. 
Most importantly, it's a big part of the overall service that a business is providing their audience with.
A great support team is one that monitors its performance and constantly tries to improve.
Customer support data can help in terms of collating different data in relation to the customer service that a company is offering.
Visualizing customer support data can be useful for a company – and its support team – for a number of reasons:
By getting and visualizing data on how often individual customers are contacting their support team, companies are more likely to provide better customer service.
It gives a very clear idea of the quality of the service that the customer support team is providing.
It highlights and brings awareness to the strengths and weaknesses of the support team, thus making it easier for it to improve.
It makes the support team proactive.
You can also visualize data from your customer loyalty program and other outlets to ensure your efforts are successful.
Source: Bloomreach
Type 2: Visualize Website User Behavior Data
The second type of data that can be highly beneficial for businesses is website user behavior data.
Any sort of visual elements that can give a company a clearer idea of its website users' behavior can make a real change in terms of improving the business and boosting its performance. 
Put another way, website user behavior data is essential for all companies. 
Here's some of the main points in relation to the benefits of website customer behavior data visualization:
It helps a company effectively deal with a large amount of data that's related to user behavior.
It can be highly beneficial for a company to understand a great deal of what their customers are experiencing when visiting their website. 
An e-commerce store or other website can be made more user friendly and effective in terms of keeping the audience engaged. 
The website visitor trend pyramid chart template that follows is a fantastic example of how customer behavior data visualization might look.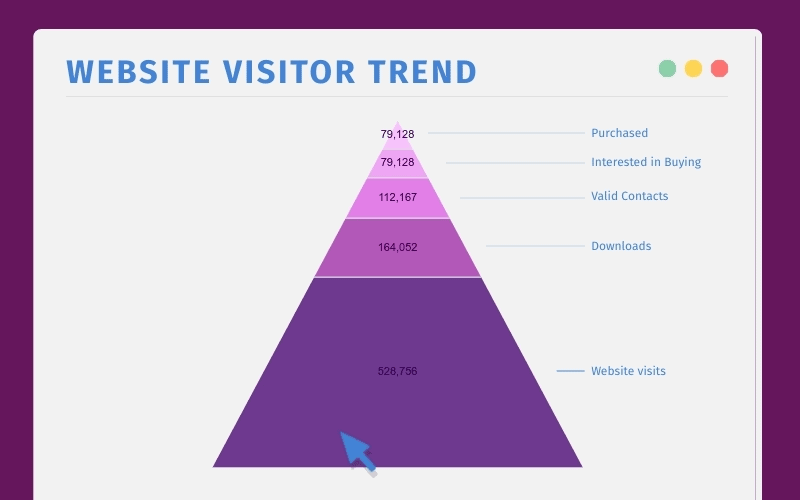 Source: Visme
The same applies to this data visualization example that can be an extremely helpful visual in terms of identifying and analyzing customer behavior: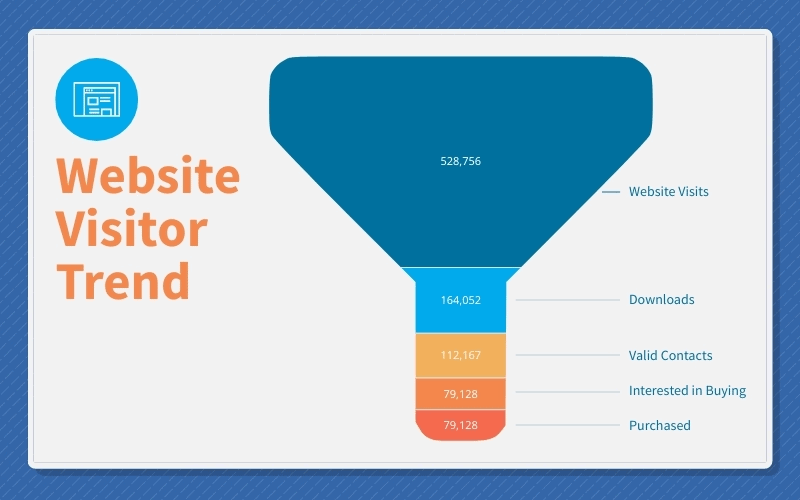 Source: Visme
As you can see, both the pyramid chart and the funnel chart above give data in relation to the number of purchases, website visits, people interested in buying, etc.
All this is valuable data that can significantly help a company understand its audience.
Below, you'll find the third and final type of data companies should consider visualizing.
Type 3: Visualize Product Data (Mainly for SaaS and E-Commerce)
The last type of data that can be useful, mainly for SaaS and e-commerce businesses, is product data. 
As I mentioned earlier in this post, data visualization can be a helpful tool in identifying trends within an e-commerce business, for example. 
Product data is in the same vein. 
It gives insight into what the audience's favorite products are, in what color, as well as showing any kind of other preferences.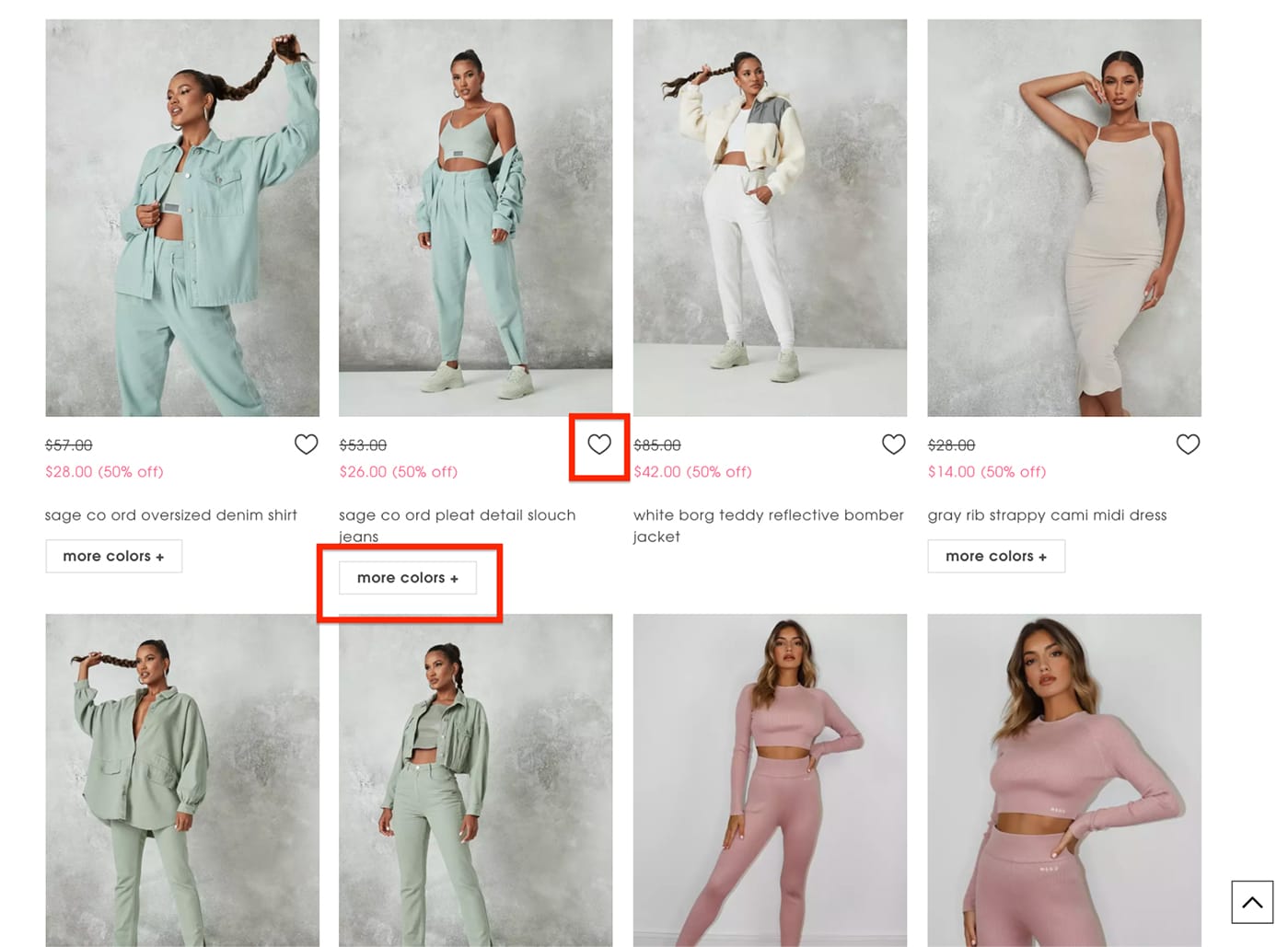 Source: Missguided
Let's say that the company wants to visualize data for the products that are shown above. 
The data will provide information about the times that each one of these products was bought, liked, or saved. 
Additionally, in case a product is available in more colors – like the one I've highlighted above – then the sales team of the company will also know which color sells more. 
Knowing any kind of information in relation to your products is important because it supports you in building a more effective marketing strategy, plus it promotes and creates products that will sell more than others.
Let's now move on to the third step: choosing the right tools for data visualization.
Step 3: Choose the Right Data Visualization Tools
The second to last step that's absolutely necessary in regards to customer data visualization is choosing the right visualization tools. 
As you may have guessed already, what's even more important than receiving data is making sense of it. 
In order for a company to be able to analyze its data and perform a business intelligence (BI) process, it first needs to visualize it in the most appropriate and effective way possible. 
Simply put, the data needs to be displayed in such a way that it will make it easier for the company's teams to understand the data and what the data is telling them. 
In the process of building the right line graphs, bar graphs, and other formats of data visualizations that will help you understand your data, there are some tools that can be very useful. 
Real-Time Data Visualization Tool: Bloomreach
Bloomreach is an essential tool for managing customer data and customer analytics. 
When it comes to data, companies should keep in mind that the process of collating and tracking data that they receive from various sources can be time-consuming and sometimes even impossible. 
What Bloomreach – very successfully – does is that it gives users the opportunity to build a unified customer view where all data for each customer are collected. 
This, of course, makes the processes of visualizing and analyzing the data far easier and meaningful. 
One feature that can help companies fix issues and be more efficient in terms of how they track and analyze their data is real-time analytics.

When Real‑Time Analytics Means Real‑Time
Capture and visualize instant insights from your ever‑changing data the moment you need it. Dig as deep as you want and reveal connections between seemingly unrelated data. The dynamic nature of all reports, analysis, and dashboards ensures that your data insights are accurate and always up‑to‑date.
Such a feature can be extremely handy when it comes to making sense of data that keep changing, which would usually make analysis harder. 
The capability to get accurate and up to the minute data helps companies perform successful analyses. 
After talking about real-time analytics, another feature that is a fantastic example that proves the power of data and data visualization is real-time customer predictions.
Use Advanced Machine Learning Technology to Accurately Predict Customers' Future Behavior and Identify Valuable Customer Segments.
Being able to collect customer predictions, thus predicting future behaviors and understanding your customers better is, as you can imagine, very useful.

External Data Visualization Tool: Visme
If you're looking for a data visualization software that allows you to connect your real-time dashboards to create reports, infographics, presentations and more with your customer data, Visme is the perfect tool. 
What the software offers is a wide range of tools and widgets that can help anyone, from designers to non-designers, build compelling and meaningful visualizations for all types of data they might be receiving. 
You can even connect data from real-time tools like Bloomreach to ensure your data visualizations are always accurate.
You can then share this information via email, social media platforms like Facebook, your blog and more.
Visme can be used for customer information, such as demographics, to customer behavior; an example of which I showed you earlier in this blog.  
Another feature that can make the whole process of extracting data and putting them together into beautiful data visualizations easier is the following: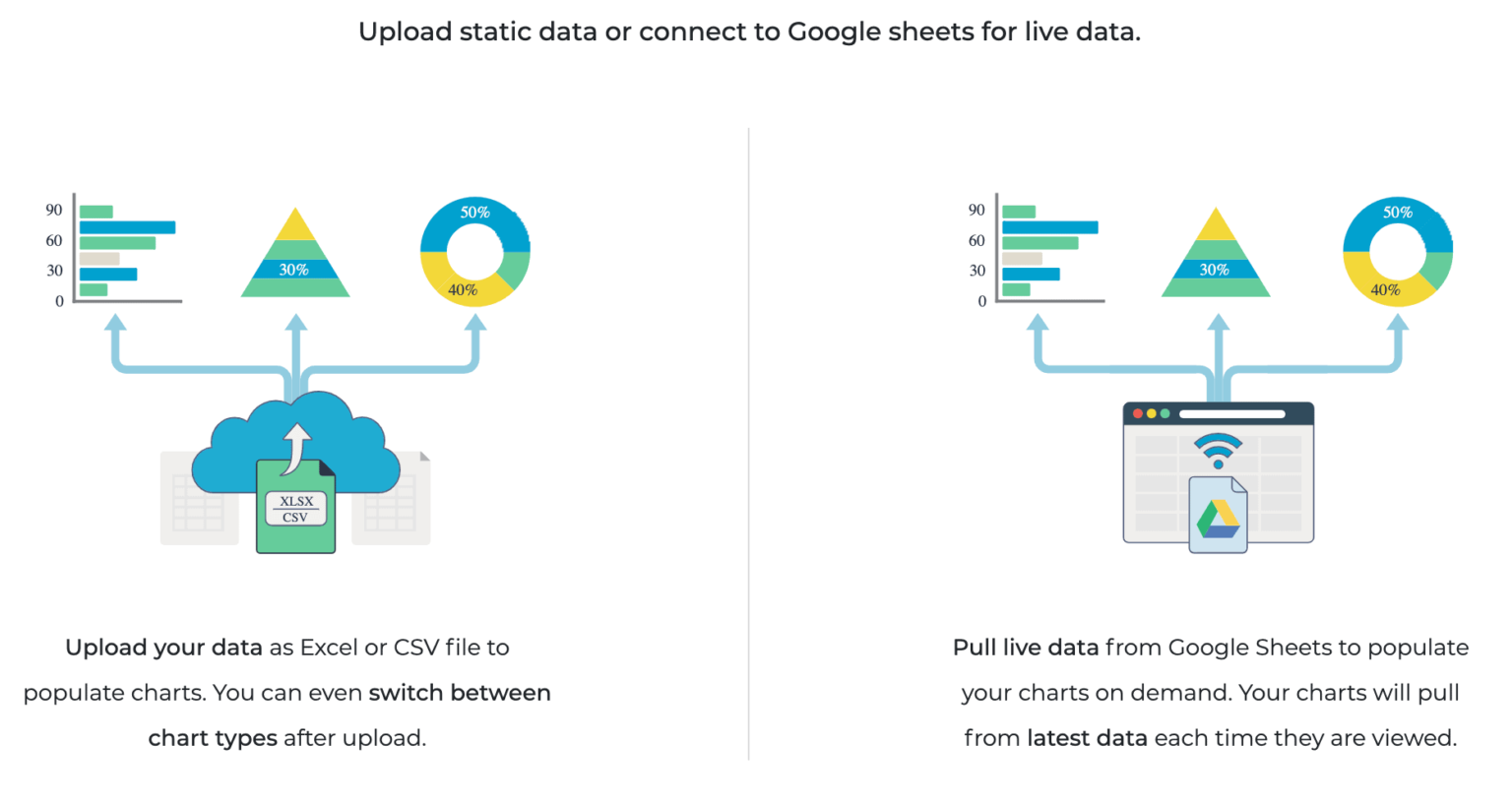 This basically means that a company can use real-time data, or upload fixed data that it has already received, to populate all formats of data visualization. 
Additionally, a useful and easy-to-use widget that can be used for creating successful data visualizations in relation to demographics and population are interactive maps like this one:
The list of data visualization possibilities is long. 
Just keep in mind that you need a great tool when making data visualizations. This way, you're more likely to make the most out of your data and boost your business. 
Let's now move on to the last step of this guide on data visualization.
Step 4: Get Actionable Insights & Make Better Decisions
The last step is to get actionable insights, since this will make your decision-making process better. 
After having defined the main and most important aspects of your customers' experience with your business, you get to decide what data to visualize in relation to what it is that your business needs to improve at. 
The importance of choosing to visualize the right data comes with choosing the right data visualization tools.
As I already noted, this will help you make sure that you're getting the most valuable information and data that will help your business grow. 
You're also using the most appropriate tools and softwares in order to appreciate and dive deeper into the significance of your data. 
Try to think of your data as an encoded language that holds some sort of power. 
The right tools will make it more likely that you will decode that language and gain that source of power that can help you make better decisions for your business, thus elevating it.
Got it?
Let's sum this up with some final words.
Conclusion
In this post, we analyzed the significance of customer data and customer data visualization.
What kind of data each company might find it useful to collect and analyze is entirely up to them and their needs. 
However, some main categories of data, like the ones mentioned earlier in this post – customer support data, website user behavior data, and product data – are more likely to help a business grow. 
This is because these types of data reveal information about very important components of a business.
Simply keep in mind that compelling charts, graphs, and all other formats of visuals can help you improve your business and boost your performance. 
Following the steps in this blog will help you generate leads and create a basis of loyal customers that are happy with what you do and what you have to offer. 
Just remember, data is the key!