Omnichannel Marketing Automation
How To Get Started With Omnichannel Marketing Automation
By Chelsei Henderson
12/06/2022
Omnichannel Marketing Automation
How To Get Started With Omnichannel Marketing Automation
Customers want personalized interactions with your brand, and they want it on whichever channel is most convenient at the moment. In response, companies are investing in omnichannel marketing automation. By finding the right marketing automation tools, they can connect with potential and current customers and lead them to the next stage of the buying journey.
Read on to learn more about bringing automation to your omnichannel marketing strategy. 
Shifting to a Customer-centric Model
As customer relationship managers, you can no longer think that everything revolves around individual channels. Customers interact with brands on various channels now, and you'll find that your business model becomes much simpler and more effective when the right subject (aka customer) is placed in the center.
The key to making a fully customer-centric model possible is a single customer view (SCV): a collection of individual customer profiles that act as a central data hub for all customer information. A true SCV database is scalable, flexible, and updated in real time; the customer data is always current, regardless of what channel (or channels) the customer uses. Beyond up-to-date communication, you can use the data to track customer behavior (purchase history, site activity, product interests) across every channel, using it to create highly detailed customer segments and campaigns.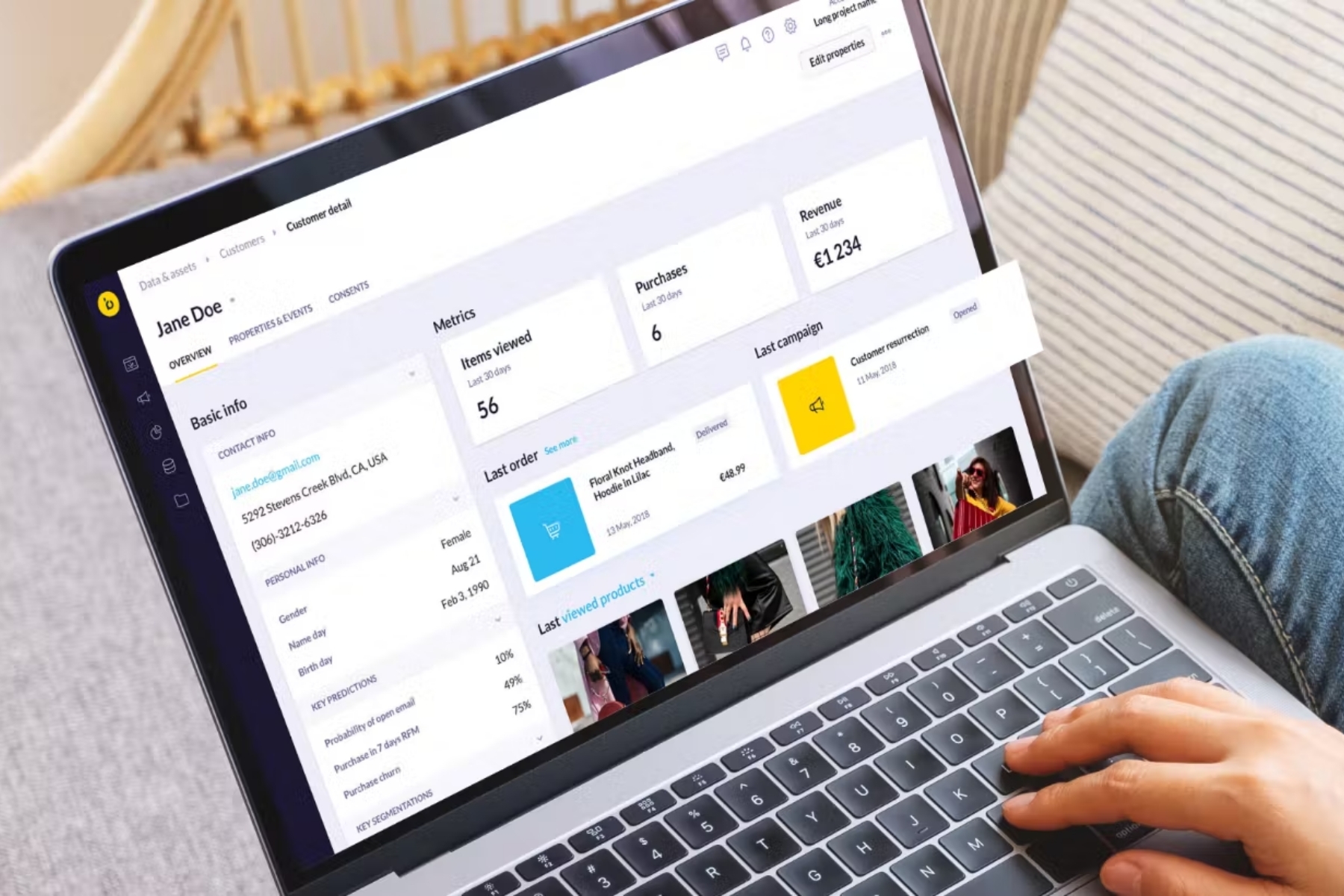 Having a single customer view in place is crucial in driving customer engagement and online purchases.
The Importance of Omnichannel Marketing
Next, we need to consider why omnichannel marketing matters. Omnichannel commerce is all about providing relevant, seamless customer experiences — whether the customer's on a laptop, mobile phone, or in a physical store. What's more, it's called "omnichannel" for a reason — unlike multichannel marketing, an omnichannel approach connects all channels (instead of just some of them). 
The last thing modern shoppers want is to have to jump through hoops to find what they want or complete a purchase. With so many options at their fingertips, your customers will simply go to a competitor if they don't feel like they're getting a great experience. So, being able to deliver personalized messaging to any channel and at any point in the customer journey is how you'll create loyal customers that stick with your brand for years to come. 
But with so many different channels to work with, how can you scale up your omnichannel strategy to reach all your customers everywhere? That's where automation comes in. 
Setting the Scene for Automation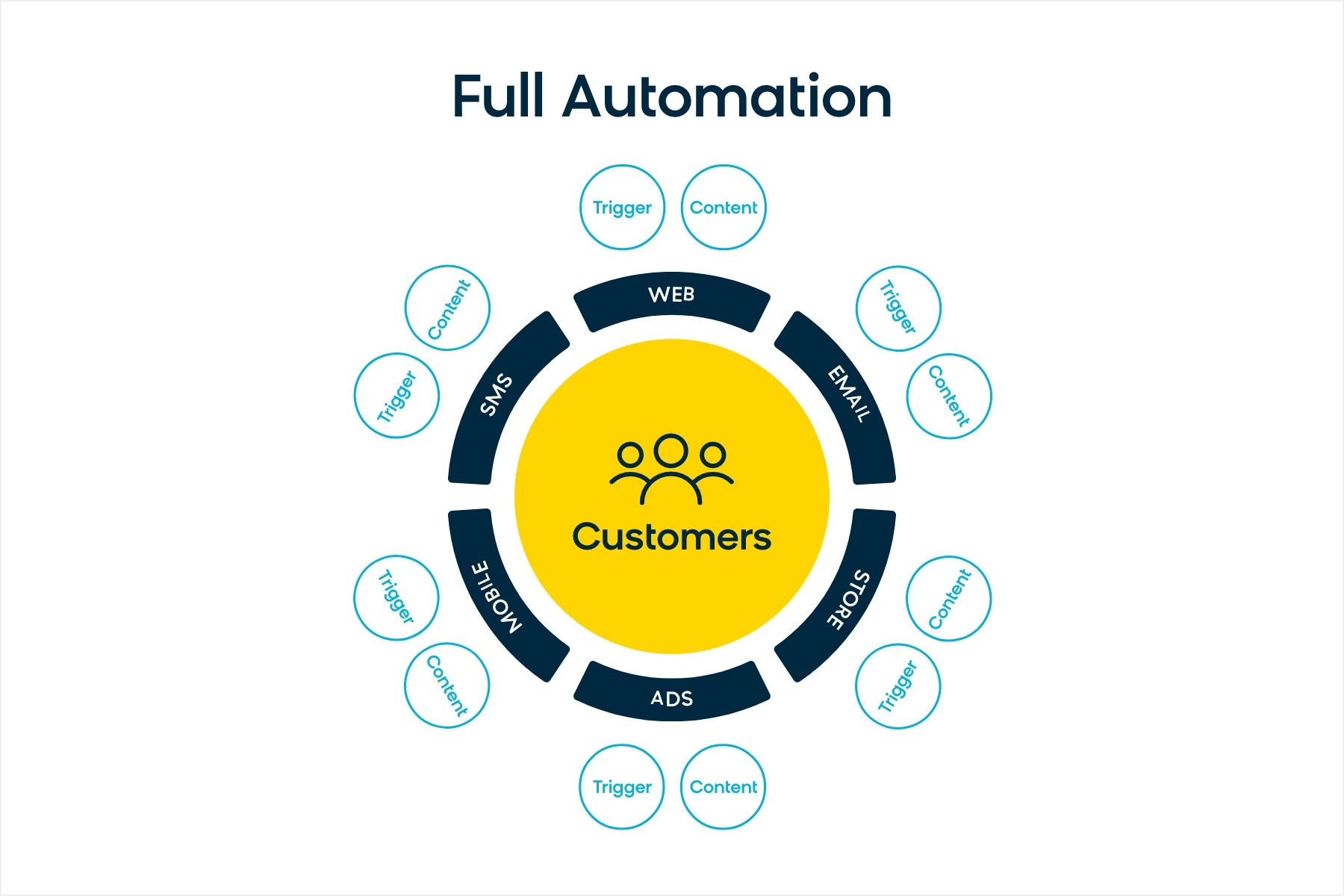 Automation can take your customer relationships to new heights. Using SCV-enabled software, it's possible to track behavior and deliver the right messages to your target audience at just the right time. Unfortunately, many companies are either unaware of the benefits of automation software, are unable to organize their data well enough to use it, or are unable to commit to the investment in such software. Fully customer-centric automation is the gold standard, but we will also discuss alternative options in this piece.
This article will focus on common scenarios companies face, comparing the possible solutions across three levels of investment in automation:
No Automation: A manual process where all data feeds are hard coded.
Some Automation: Each channel is optimized, but you can't work across channels.
Full Automation: Using a real-time single customer view for a truly customer-centric omnichannel experience.
Full automation makes it possible to meet the customer at every step of the journey with relevant, timely content. We'll discuss solutions that don't require full automation, but keep in mind that it's ideal for creating the consistent, convenient customer experience that customers now expect.
Creating a Customer-Centric Plan With Omnichannel Marketing Automation

1. Connecting Online and Offline
How do you create a customer-centric plan without a seamless connection between the online and offline experience? Companies today (most notably in omnichannel retail environments) have orders and customer service requests coming from every direction: website, social media, phone calls, mobile app, in-store, etc. The same customer may start a transaction on their phone, switch to the computer for more detailed research, then go into the store to finish up. These multiple touchpoints make it much more difficult to achieve the consistent customer experience that brands are after.
You need their information to make its way to the nearest store, move into their digital profile, and eventually become a part of the next email marketing campaign.
Think about the hoops you need to jump through without automation in place:
NO AUTOMATION
You'll need people to take notes, make calls, and send emails. It's going to cost precious time and billable effort to keep the hard-coded systems and processes running at a consistent rate. In 2019, there's no reason for so much manual labor to go into menial, daily tasks.
SOME AUTOMATION
Dedicated software allows for system-to-system connections. However, you'll need to hard-code two systems at a time, and any change is a major effort. Also, there is no central system to manage the entire flow.
FULL AUTOMATION
A true SCV means all channels report back to the customers. Each channel delivers and receives information from a central location, which means you can deliver the same experience in your online store as your physical one. 
2. Adaptive Email Campaigns
Over 78% of people will only engage with your brand using personalized promotions that are directly tied to their previous interactions with the brand. Adaptive email campaigns, when implemented properly, deliver results for businesses.
With targeted communications, companies can increase open rates, click-through rates, and conversion rates. Add a dash of personalization to the mix and get ready to see results.
NO AUTOMATION
Without automation, you're blasting out emails on a wing and a prayer, hoping that someone might open, click, and care enough to buy. That's a pretty big expectation for someone who doesn't even receive a personalized email from you.
SOME AUTOMATION
An email service provider (ESP) gives shallow insight into the customer. Automation occurs at a basic level and it's possible to track clicks. However, you can't properly automate occurrences outside of your standard flow (e.g., offline or a call center purchase).
FULL AUTOMATION
When you apply a true SCV, customers will receive automated, personalized emails at every step of the journey. Using scenarios (complex workflows), relationship management feels easier because you're automatically catching customers at just the right moment. Some of the ways you can use adaptive emails in omnichannel communication include:
Sending a customer service survey after a return is placed
Responding to the survey output by sending a gift card and apologizing for any issues
Stopping an abandoned cart series after the customer makes an offline purchase
Learn how popular online fashion retailer Missguided automatically filtered its lists so that it would send the right emails to its target audience, resulting in a 3% increase in click-through rates, even with 50% fewer emails sent.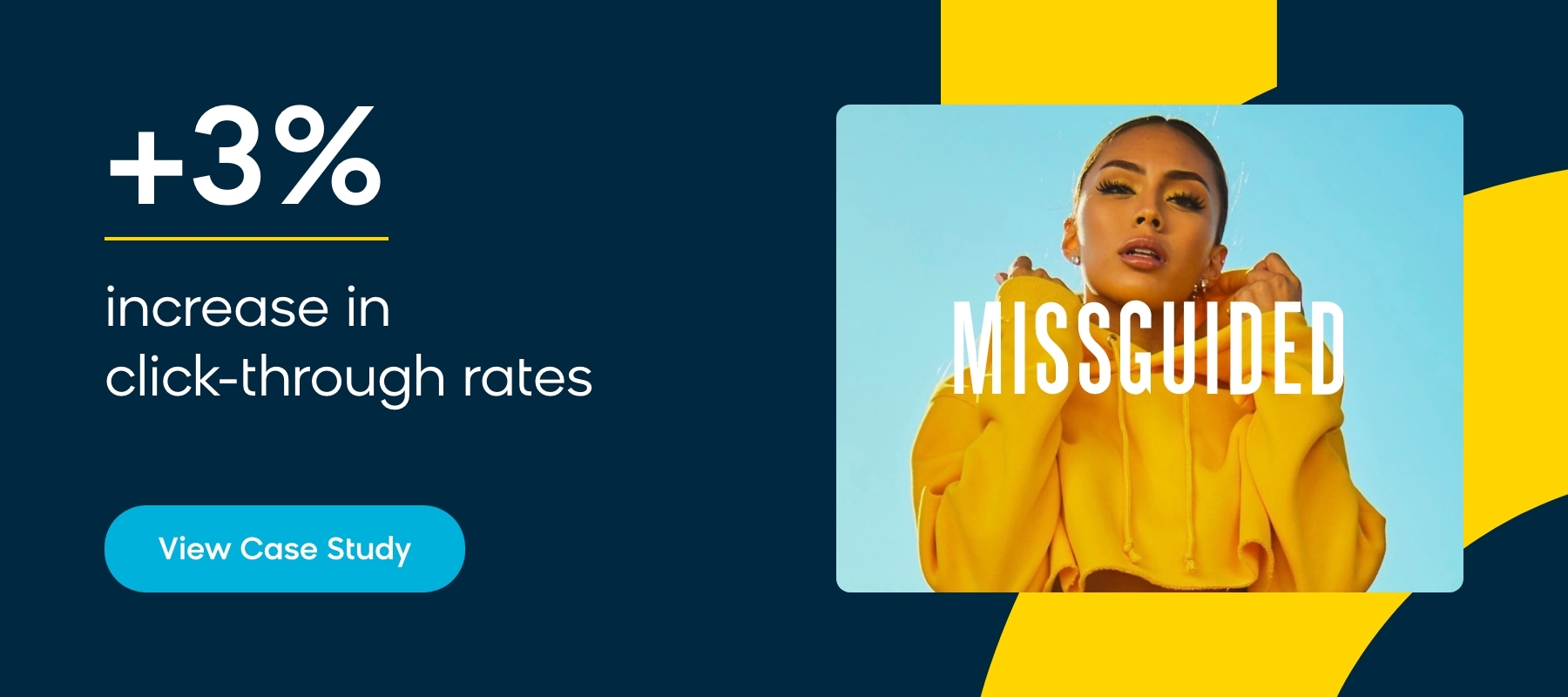 3. Omnichannel Orchestration
When a business needs to spread the word, they turn to its communication channels. Thanks to Gartner Research, we know those who spread campaigns across four or more channels will outperform dual and single-channel campaigns by 300%.
Over a decade ago, consumers used an average of two touchpoints before purchasing an item. Today, that count is up to SIX touchpoints before a purchase.
As you may imagine, it's more important than ever for companies to invest in omnichannel communication with potential and existing customers. In a Flexe Institute report, 92% of retailers reported their online sales increased over the last year. A multichannel approach, combined with the personalization and AI power of omnichannel marketing automation, can transform your business into a relationship-building powerhouse.
NO AUTOMATION
Omnichannel orchestration means distributing and gathering data via various campaign channels. In today's world, there are a ton to choose from, including social media networks, influencers, SMS, and more.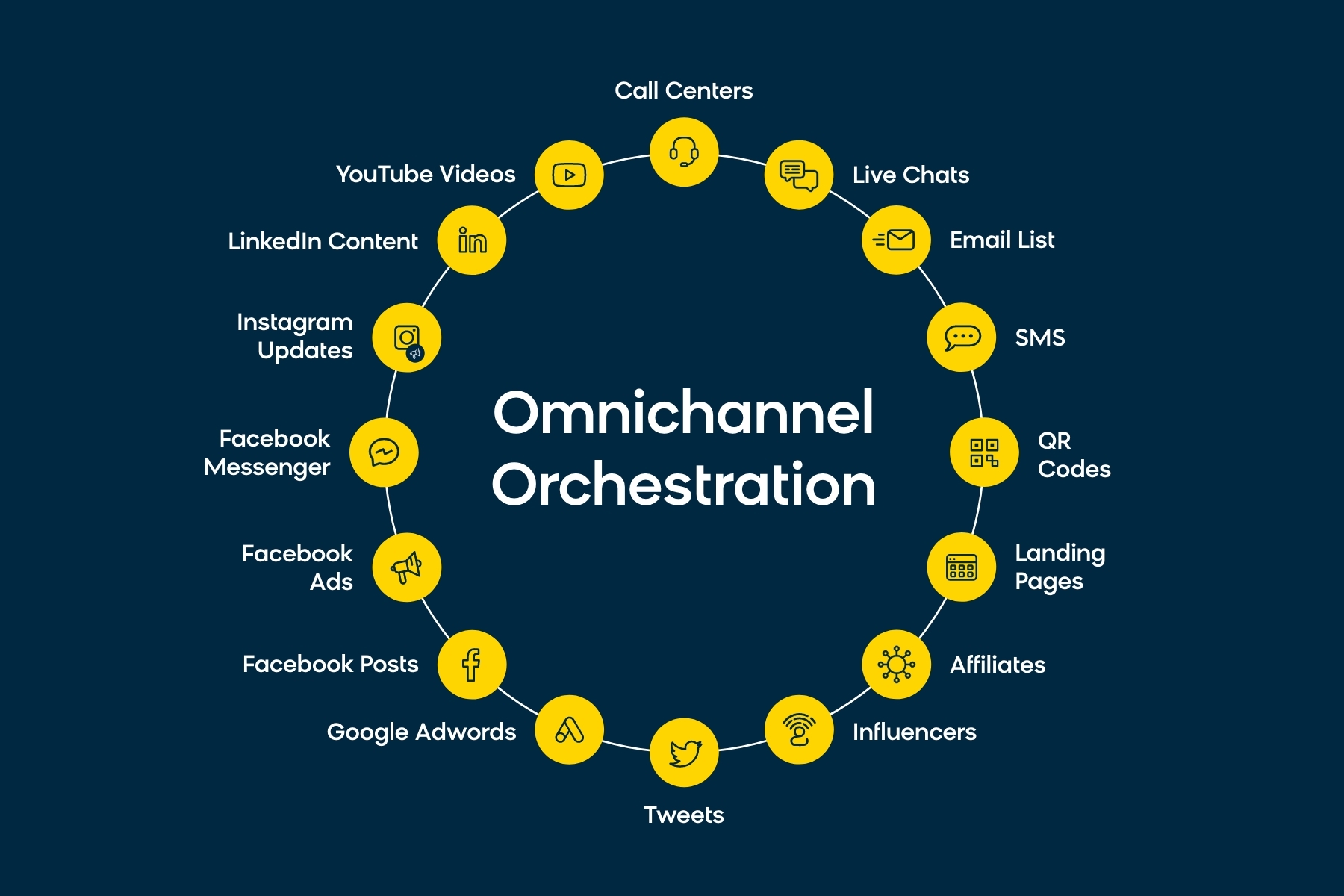 To those who insist on updating all these channels one by one, more power to you. But more often than not, it ends up being an overwhelming amount of menial work.
SOME AUTOMATION
Implementing some automation seems like a good first step. Unfortunately, it's easy to fall into the trap of creating generic, repetitive content. Remember, 86% of consumers channel-hop across at least two channels. Approach your omnichannel strategy from a thematic perspective.
Avoid publishing the same content across multiple platforms. The context of your creative and copy is a huge deal for results.
For best results, bite the bullet and go all in on a fully automated omnichannel setup.
FULL AUTOMATION
All channels use technology to coordinate messages across thematic campaigns. Using things like scenarios, SCVs, and UTMs, companies can communicate and measure effectiveness.
As an example, let's say we've built a scenario where customers receive an email the first time they make an online purchase. From there, the customer receives SMS updates about the status of their delivery. Then, two days after the product is received, the customer receives a follow-up from a customer service rep to ensure everything went well with the delivery and product quality.
Automate Your Omnichannel Marketing Strategy With Bloomreach
An omnichannel system gives companies the power to engage at the perfect moment, but you'll need the right marketing automation tool — like Bloomreach Engagement — to enable you to truly deliver the content your customers want.
Bloomreach Engagement brings in the features and benefits of a customer data platform, all powered by a customer data engine to give you a real-time single customer view. You can also automate your marketing campaigns across 13 channels, with AI in place to optimize and scale, so you can save time and boost both revenue and customer retention. Ready to get started? Schedule a personalized demo today and see how Bloomreach can take your omnichannel strategy to the next level.