B2B Customer Experience: 7 Steps to Win in 2021
B2B Customer Experience: 7 Steps to Win in 2021
The digitization of B2B is inevitable.
Forrester estimates that US B2B eCommerce will hit $1.8 trillion by 2023.
I could harp on the idea that you aren't just competing with others in your industry but with every B2B and B2C experience your customers face everyday.
B2B companies across all industries, from manufacturing to services to high tech, are facing the ultimate customer ultimatum: make B2B shopping as easy as B2C or we'll find someone else who will.
The reason is simple, people want convenience.
And of course, it is easier said than done.
B2B companies are very well aware of that they need to change to continue growing in today's customer-driven economy, but that change can be especially hard in B2B, where long-established ways of thinking and doing business are difficult to transform.
The good news is that, for the companies willing to embrace digital, there is an incredible amount of opportunity to leap ahead of competition.
What is B2B Customer Experience? 
B2B customer experience includes optimizing, orchestrating and inspiring experiences that will help guide customers along their paths to purchase. 
B2B buyers are becoming more demanding and their priorities are changing too accordingly.
Consider these stats: 
Providing the convenience and top-notch experience that B2B buyers are looking for requires flipping the traditional way of thinking and doing business.
Every step of the buying journey must be considered, from how customers research their products and evaluate options, to what tailored help and content they will need along the way, through inspiration for additional items, to selection and finally to support post-purchase.
Improving the digital customer experience enables businesses to reach buyers who prefer to shop digitally more, offer relevant product recommendations, lower the price per customer with self-service, and ultimately provide tools for both customers and sales teams that make the buying process easier.
The Impact of Covid-19 on B2B Digital Customer Experience
The Covid-19 global pandemic pushed digital commerce front and center for both B2B and B2C buyers, driving half of shoppers to buy products they've never bought online before, with 70% buying more than usual.
40% of businesses stated that their businesses continue to grow due to a spike in online sales.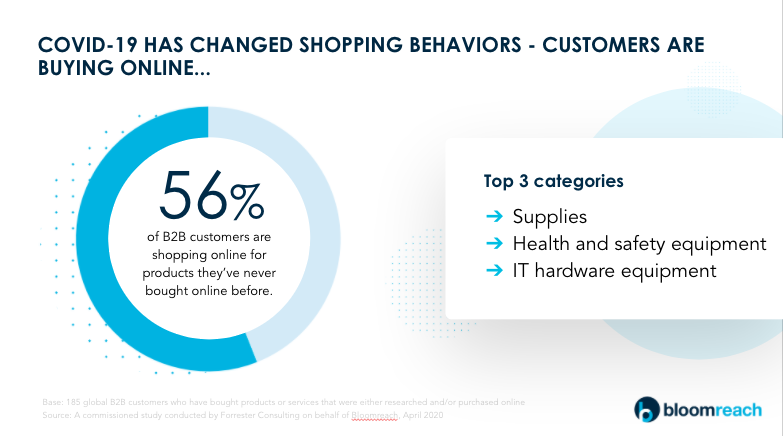 It has been a wake-up call to all businesses to get their customer experience management strategy in order, amplifying the importance of customer experience and customer demands for better digital experiences.
The event has accelerated B2B eCommerce by at least two years."
Brian Beck, Managing Partner at Enceiba 
Those who can adapt fast and leverage digital channels at the core of their business will win.
4 Advantages of B2B in Customer Experience [with examples]
Customers have grown accustomed to the perks of digital - 24/7 availability, simplified shopping, access to a full catalogue of products, up-to-date product information, and transparent pricing - and these expectations don't discriminate between B2C and B2B experience.
Luckily, B2B companies have some advantages over thier B2C counterparts when it comes to customer experience:
[Advantage #1] Piggy-back on B2C:
The best practices in digital experience have been already been laid out by B2C, meaning that B2B gets to bypass a large part of the trial and error phase of rising technologies and hit the ground running.
[Advantage #2] Opportunity for first movers:
B2B organizations are often more mature than B2C.
They have established solid processes for running a business which is a solid framework to build digital into - without having to start from scratch. This solid framework is a springboard for B2B. As John Klein, Vice President Customer Strategy at LiveArea, The PFS Agency puts it,
When these organisations add digital to their traditional processes - even simple digital initiatives - they are leapfrogging ahead. 
As an example, Klein pointed out a client who manufactured repair parts for golf carts.
By adding a 24/7 available eCommerce option they were able to expand their reach to thousands of smaller courses around the USA that wouldn't have been possible to target with classic field sales.


[Advantage #3] Power in simplicity:

B2B thrives when it makes the lives of customers easier, and small changes can have a big impact. As Brian Beck of Guidance states,
What I'm blown away by is the power of simplicity of B2B. The simplest solutions seem to be the most effective.
As an example, Beck discussed a client that sells wholesale team apparel and launched a very simple B2B commerce site for self-service - which they now do half of their business on.


[Advantage #4] Head start in personalization:

B2B organizations have a major head start when it comes to personalization - they know their customers inside and out. B2B organizations already have a deep understanding of personas and segmentation, even if they are unfamiliar with the terminology.

Take for instance a cleaning supply company, a client of LiveArea, that assigned sales representatives to each new market they wanted to break into - tailoring their message to hospitals, schools, building managers, etc to expand market by market.

Clearly the company had a history of success with targeted messaging, but when asked their plans for segmentation in digital - they didn't realise they had already done all the difficult legwork.
B2B Customer Experience Best Practices
[B2B Best Practice #1] Understand Your Audience and Be Customer-Centric
We talked about how B2B buyers are becoming more demanding and their expectation has changed in years. That also translates into the B2B buyer journey too.
In a nutshell, today's B2B buyer journey is now not a linear and simple transaction; it is more a looping, multi-person online journey across a typical B2B purchase, revisiting every three stages from awareness to decision.
And there's a great likelihood that the first connection with a B2B buyer happens online, via an inquiry form, email, or even a social media platform. 
Buyers will browse products or services using their own natural language, in their own time and on any device. In essence, they will behave just as they do when buying B2C products.
They could browse vendors on a smartphone while in transit, pause the search, then pick it up later on another device. 
Whatever channel they jump to, they want fast information and personalized content that measures up to expectations.
Understanding these needs is critical. Without this foundation of understanding, you will unlikely be able to deliver the successful customer experience that is expected from you.

[B2B Best Practice #2] Connect the Internal Experience First
B2B sales cycles have a plethora of moving parts. Sales, Marketing, IT, Product Management, Legal, and more all control a specific part of the customer journey.
For digital to be a company-wide success all these departments need to be able to control their own piece of the experience.
Marketing should be able to update the mobile site without having to go through IT, and Sales should be able to see the latest product information without having to email Product Management.
Connecting the internal experience removes these bottlenecks. 
First up in connecting the experience is to map out exactly what information each department is currently in control of, and what tools they use to manage that content.
List out what data and collateral are used in the sales cycle, who is in control of this content, and who needs access to it to successfully meet their goals. 
| | | | |
| --- | --- | --- | --- |
| Content  | Department | Tool | Who Needs It |
| Product Specifications   | Product Management  | PLM system | Sales, Legal, Account Management, Marketing, Shipping, Customers |
| Customer History   | Sales | CRM system | Legal, Marketing, Account Management |
| Site Analytics   | IT | Google Analytics | Marketing, Sales |
| Up to Date Collateral   | Marketing | Google Docs | Sales, Account Managers, Product Management, Customers |
| Inventory orders   | Finance | Google Sheets | Product Management, Sales, Legal  |
| Direct Mailing Lists   | Marketing | An Excel sheet on Kathy's computer  | Sales, Account Managers, the rest of Marketing |
So now you have a basic map of where key information lies, who is responsible for keeping it up to date, and who needs easy access to it. 
Now that the map has been made, it's time to simplify it.

Identify the main bottlenecks of sharing information and determine your priorities.

Decide which processes and tools are core to the workflow, such as CRM and PLM systems, and which ones can be consolidated/replaced, such as the many google spreadsheets holding siloed information. 
Importantly, these decisions need to be made with direct input from each department.
When speaking to our partners for our latest white paper on the B2B customer experience, they all emphasized that the most important part of B2B digital transformation was getting all departments on board.

The best-laid plans only stick if everyone adopts the new way of working. Creating a cross-department steering team is a good way to go, especially one with an executive-level member that can influence company-wide adoption.
[B2B Best Practice #3] Define Your Priorities and Create a Roadmap
How do people interact with your brand now? How should they interact in the future? Focusing on these two points, sketch out a roadmap of how your business will get from A to B.
Roadmaps are flexible, the one you set now is almost guaranteed to evolve over the next 12-18 months, but the process of creating provides a deeper understanding of the goals and needs of the initiative.
Additionally, as B2B architecture and processes are generally more complex than in B2C, taking the time to understand the impact of digital across the entire setup will ensure it's done right the first time.
When creating your roadmap, focus on:
Understanding the requirements from departments and customers, and how they overlap and influence each other.
 
Determining which people and resources you already have in place to meet these requirements.
 
Establishing the business measurements and analytics framework to measure the success of the digital initiative.
 
Clearly defining where and how you expect digital to drive ROI.
 
Transforming in stages - digital disruption doesn't happen overnight, plan to crawl, walk, then run.
[B2B Best Practice #4] Connect the Experience
Once you've decided on the priorities, it's time to start connecting your experience. This is where an open Digital Experience Platform (DXP) comes into play.
Using an open DXP lets you integrate your preferred blend of core tools and aggregate the content and data from these tools to inform both the internal and external experience. 
And what a coincidence - Bloomreach has a radically open DXP than many B2B companies use to connect the experience. Our customers use our DXP to integrate CRM, Marketing Automation, PLM, e-Commerce, DAM and many other tools to drive a connected experience.
Along with API integrations of business solutions, there are many other strong advantages that Bloomreach DXP has to offer:
Any form of content, whether that be product information, customer data, shipping information, digital forms, related product grids, and virtually any other element can be reused across any touchpoint.
 
It's the edit-once-update-everywhere philosophy, but it goes far beyond webpages - to customer portals, sales apps, warehouse IoT devices, email automation, etc.
 
All teams can control their own piece of the experience from one central platform, with APIs pulling in 3rd party data, to ensure the entire experience remains consistent. 
 
Another major benefit of an open DXP is flexibility. You don't have to predict every tool and touchpoint you will need in the next ten years to set yourself up for success in the next decade.
By building the foundation on microservices and APIs you make it easy to pop in and out new sources of data or new delivery channels as they come - without having to re-wire the entire tech stack every time.
So you're developers have dove right in and connected your systems with custom or prebuilt integrations, or you've used a partner with integration experience to help you get there, and now you're ready for the fun part…
[B2B Best Practice #5] Put The Connected Experience in The Hands of Your Team
When it comes to the complex sales cycles of B2B, a large part of a smooth process is getting the relevant information directly to your own team. 
A great example of this is a commercial paper company that, with the help of Guidance, created a field sales app that showed product compatibility and real-time inventory information.
At just two years with this sales enablement app, the company is driving over $100 million a year in sales. 
Often the simplest things make the biggest impact.
Enabling your entire team with the most up to date content makes cross-team collaboration efficient, instills confidence in those involved in the complex sales cycle, and makes everyone's day-to-day jobs easier. 
The benefits of a consistent, connected experience aren't limited to your internal teams either. 
[B2B Best Practice #6] Put The Connected Experience in Front of Your Customer
So how does this all translate into an exceptional experience for your customers? Through consistency and relevance. 
Consistency for your customers runs in parallel with the consistency you built for your team. You can use that same updated information on the customer site, FAQs, mobile apps, portals, and any other touchpoint.
Again, this is made possible with the EaaS architecture that lets you experiment with (and reuse content across) new channels easily. 
Making the whole experience consistent for your customers - from the apps they use to the people they talk to -  is already a major competitive advantage.
[B2B Best Practice #7] Personalize the Experience
To take one step further, and really jump ahead of the pack, you can bring intelligent relevance into the mix. 
The major advantage B2B has here is that you already know your target customers in depth. Often, your target audiences more of a niche than a typical B2C retailer would have. 
You know exactly who is in the conversation during the sales cycle and you are well aware of their pain points. This gives you a major leg up when it comes to personalization. 
Not only that, but the complexity of B2B naturally builds more trusting relationships with customers than typically seen in B2C.
This trust means that customers are more willing to exchange data for a more personal experience -  such as re-order automation, customer portals, or a list of what supplementary products work with past purchases.
Providing this relevant, easily accessible content directly to customers offers incredible convenience that drives resale, upsells, and overall share of wallet. 
B2B Customer Experience Case Studies: How Companies Win the Competition 
HD Supply:
HD Supply, one of the largest industrial distributors in North America, wanted to upgrade its entire user experience to B2C+, meaning it wanted to deliver the experience people are used to and expect, along with the additional features a business customer needs.
Creating a smooth buying process was critical. Brooke Logan, Senior Product Manager, eCommerce at HD Supply, says:
Customers want to be able to find the right products fast, be sure they're picking the right products, order them and get back to their day. It's all about making that 'Add to Cart' really easy.
It revamped its site search experience with the ability to 'Add to Cart' directly from the search bar. Customers now see the product image, part number, price and the 'Add to Cart' button directly in the search bar.
As a result of the program, HD Supply experienced a 16% increase in revenue from search, and its 'Add to Cart' rate from list and product detail pages increased by 4%.
Bosch:
As Amazon drives industry trends, it's essential that B2B brands like Bosch don't fall behind. With Bosch Power Tools operating multiple global sites, the organization understood that its customers inherently expect the same tailored digital experience. 
This was the business unit's main challenge - creating multiple unique experiences at the country level while promoting and aligning holistic experiences globally.
Another challenge that became extremely difficult was scaling and managing features and updates with multiple CMS platforms and infrastructures at a regional level. 
To alleviate the disconnect between experiences and to create efficiencies within the business, Bosch Tools leveraged an entirely new approach that would transform the organization as a whole.
This perspective led Sunny to Bloomreach. Bosch no longer needs to build 400 individual blogs. Instead, we can build a blog feature and functionality, and customize the style to the region and brand.