E-Commerce Site Search and Merchandising
6 Loomi Merchandising Use Cases That You Need To Know About
As the e-commerce landscape continues to evolve, the list of responsibilities that fall under the merchandising umbrella continues to grow. Even though merchandisers are encouraged to be more strategic and creative than ever before, the essential workflows of the role remain, and the onslaught of expectations — both new and old — can overwhelm your team. 
From managing content creation and site experience to executing personalization and A/B testing, saying that merchandisers are dealing with a lot these days is an understatement. Plus, making sure all of these workflows come together in a cohesive business approach that translates into successful outcomes is ultimately setting one up for failure (unless you have the right tech solutions in place, of course).
Bloomreach's in-house research with our valued customers reveals that merchandisers can realistically make between 9 to 13 meaningful business decisions per month that yield a positive return on investment. Without an effective search and merchandising tool to scale their decision-making capabilities, this limited bandwidth may not be enough to evolve one's business to the next stage.
That's why merchandisers need Bloomreach. By interweaving Loomi, our AI built for e-commerce, throughout our entire solution, Bloomreach enables merchandisers to improve the shopping experience to drive customer engagement, brand loyalty, and revenue. Here's how. 
What Is Bloomreach's Loomi?
So…what exactly is Loomi? At its core, Loomi is advanced AI specifically engineered for e-commerce. It works in tandem with marketers and merchandisers to supercharge various aspects of their workflow, make them more effective in their roles, and help them transform the shopping experience for their customers.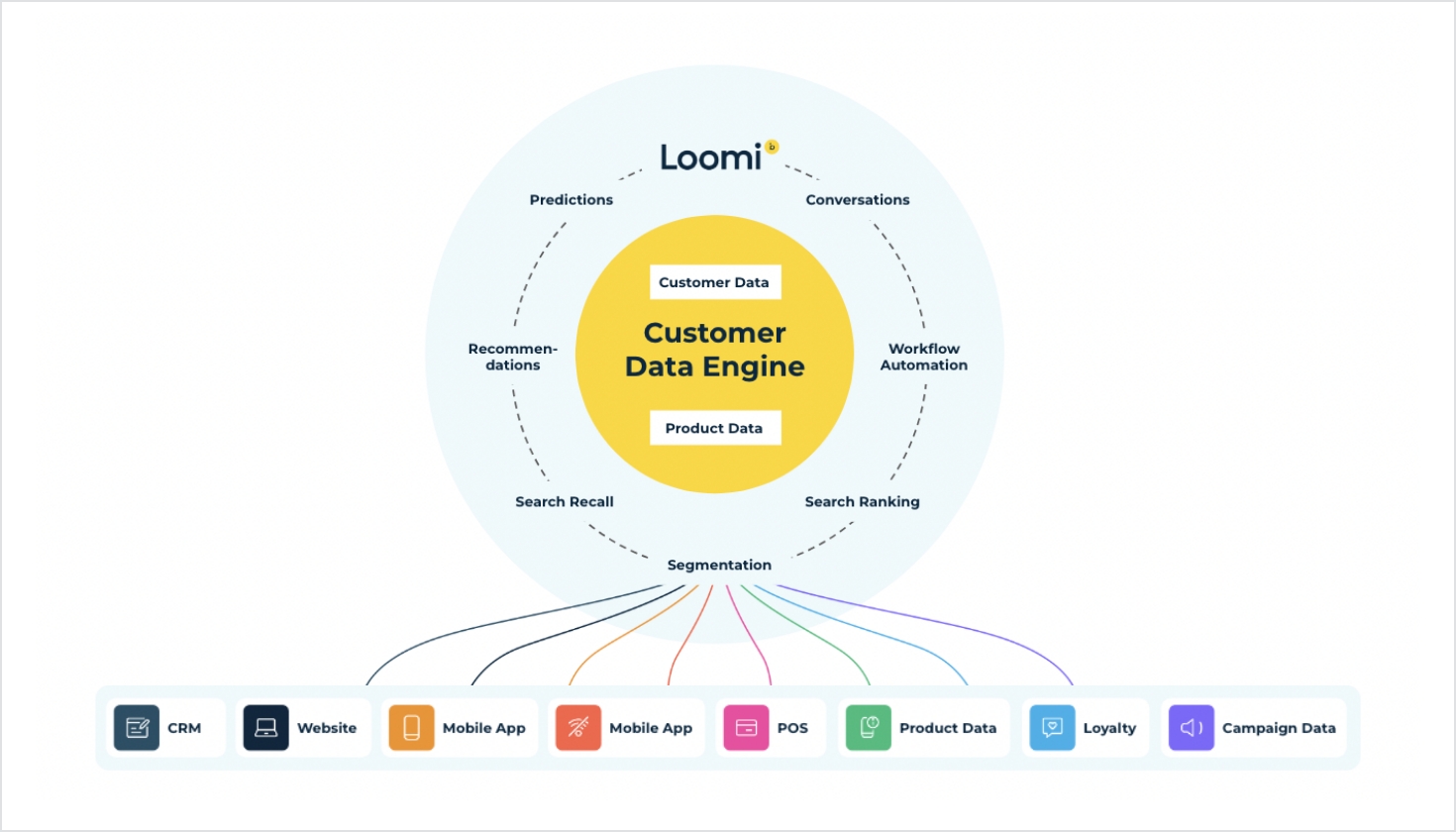 Whether it's marketing campaigns, site search, content, or personalization, Loomi gives e-commerce practitioners the capabilities they need to build personalized customer journeys across multiple channels in real time and at scale. Loomi is not just focused on the "here and now" aspect of e-commerce, either. It also predicts the probability of purchase, churn, and more. By combining Bloomreach's first-party data with sophisticated AI, Loomi understands customers to their core and makes them feel supported in their unique shopping journey. 
How Does Loomi Help Merchandisers More Than Other Solutions?
Loomi infuses Bloomreach with an unmatched level of capabilities, turning search and merchandising into a seamless, intuitive experience that rival vendors can't quite emulate. Let's explore these capabilities in more detail:
Day Zero Learnings
Due to the vast dataset that Bloomreach has meticulously accumulated over the last 14 years, our advanced search engine possesses the inherent ability to seamlessly adapt to the ever-evolving behaviors of your customers. This means that instead of waiting for a pixel to learn your business or relying heavily on your merchandising team to diagnose and test rules, you'll experience immediate and tangible impact, ensuring optimal efficiency and effectiveness for your e-commerce company.
Multilayered Personalization
Bloomreach sets itself apart from other vendors with a comprehensive multilayered personalization strategy. We offer query-level 1:1 personalization, meaning each search query can be individually tailored to match the user's specific needs or preferences. But we also know this isn't enough to meet every customer's needs — that's why Bloomreach also provides segment-based personalization, which allows business users the option to either import their own segments or construct new ones using Bloomreach Engagement. Finally, our solution includes a recommendations module that utilizes real-time user data and previous purchases to generate personalized recommendations. 
Data-Driven Merchandising
Bloomreach can take your e-commerce site to the next level by providing intelligent merchandising insights. Our sophisticated algorithms automatically identify and showcase top opportunities that boost your revenue, saving you valuable decision-making time. We also enable your team to refine your strategies through swift iterations. You can use A/B testing to ensure every choice you make is data-driven and informed. With Bloomreach, you're not merely making choices; you're making smart, confident, and revenue-boosting decisions that give your business a competitive edge in the digital landscape.
Industry Experience
Okay, so a common question often is: How did Bloomreach build its vast dataset? Well, we've worked with major brands across all industries, which allows us to offer relevant search results, product recommendations, and merchandising algorithms that are proven to foster happy and loyal customers (despite the vertical). Since this knowledge set is already integrated into our product, there's no need for you to spend valuable time, money, or resources to build out customization. — we've made it as simple as configuring Bloomreach into your tech stack to align with your specific business needs.
Unified Solution
Bloomreach presents a unified solution that integrates search, merchandising, recommendations, and SEO all under one roof. This seamless integration of products significantly reduces your IT team's total cost of ownership, making it a smart choice for businesses seeking efficiency. Our user interface is designed to streamline your workflows across all tools, so it saves valuable time and resources. What's more, our tool is not standalone; we've strategically baked search intelligence into every part of it. This means you're not just getting individual components, but an interconnected system working in harmony to deliver top-tier results for your teams. 
What Are Loomi's Use Cases for Merchandising?
What does all of this mean for merchandisers, exactly? With Loomi, your e-commerce team can immediately start benefiting from the power of Bloomreach's AI. Check out these specific use cases below.

Top Opportunities Report
Loomi proactively highlights the top opportunities in Bloomreach's dashboard to improve your website where necessary and increase revenue. In the "Top Opportunities" section, you'll find a prioritized list of category and query opportunities. You can easily view crucial details — like the number of actions taken, exit rate, and conversion rate — all in descending order of potential revenue impact. Not only that, but Loomi also suggests best practices for page improvement. This makes diagnosing and implementing improvements smart, user-friendly, and designed with your success in mind. 
Report Search
A reliable and user-friendly AI tool, Bloomreach's Loomi provides a comprehensive understanding of customer activity on your site. By simply asking Loomi to explore aspects of your business website, like "categories with missing products," you can access data about the holes in your content, the ways shoppers are interacting with your current content, and the means to improve your content. Let Loomi identify issues and offer resolutions automatically, helping you understand customer behavior to improve their shopping experience and increase revenue. Our AI tool enables your team to identify what customers want, understand product relationships, and prioritize tasks — all while offering an intuitive way to optimize the main facets of your e-commerce site's performance.
Pathways
Loomi empowers you to create recommendation algorithms effortlessly. Just guide it using the straightforward, rule-based UI, and voila: Loomi will craft and dynamically update your recommendation widget. At Bloomreach, we call these specific widgets "pathways." Powered by Loomi, pathways are specifically designed to drive your business goals with these strategically placed widgets that are tailored to spotlight the products that you want your customers to see. Whether your goal is brand promotion, margin enhancement, or sales campaigns, pathways offer an effortless path to increased conversion and revenue. Get it?
Find Optimizations
Streamline site enhancements by generating actionable insights for categories, products, and queries using Loomi. Our robust reports, based on the latest 30-day data, provide recommendations on boosting associated products, improving navigation and product descriptions, identifying cross-selling and bundling opportunities, and redirecting customers to high-performing categories. With Loomi's friendly guidance, you can confidently optimize your site, driving engagement and sales with ease — and that certainly won't go unnoticed.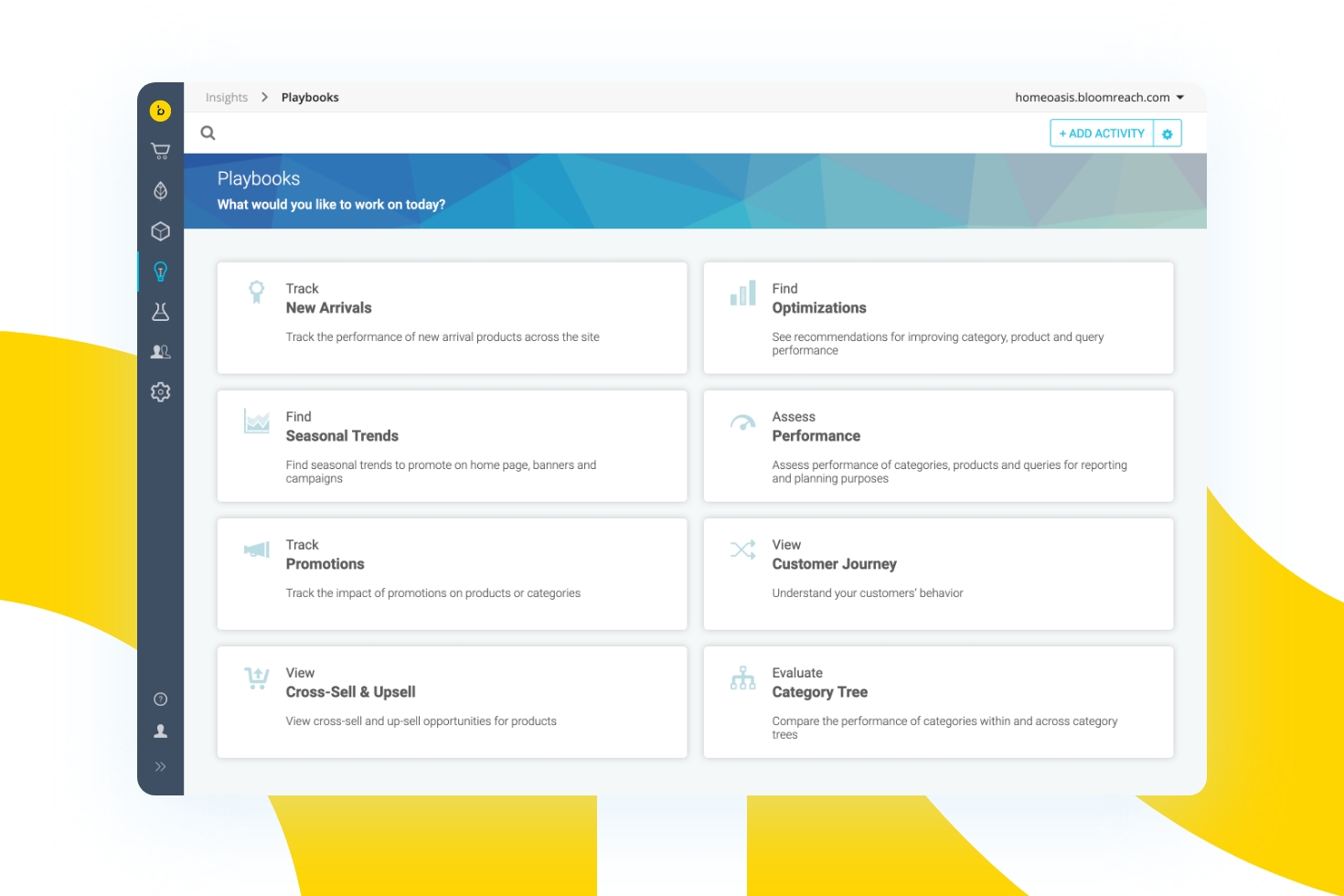 Find Seasonal Trends
With Loomi, you'll always be one step ahead. Our tool uncovers insights on trending products, queries, and categories on your site. The "Seasonal Trends Reports" are your go-to resource for understanding what's hot right now. You'll also see which queries have grown in volume over the past week in the "Trending Queries" report, while the "Trending Categories" report reveals the categories that are capturing more attention. Last, but not least, the "Trending Products" report highlights the products that are becoming increasingly popular. Each report not only gives you insights but also suggests ways to capitalize on these trends by featuring related products or categories.
Soft Boost
Sure, Loomi automatically ranks your products based on their performance and relevance, but it doesn't stop there. Loomi can provide additional guidance to achieve your unique business goals. For instance, with the "soft boost" feature, you can give products a small lift where you deem it appropriate, as opposed to a more extreme hard boost that will push products all the way to the top of a results set. Whether you choose to soft boost based on categorical attributes (e.g., color = blue; brand = Ray Bans) or numeric attributes (e.g., product margin = "0.05"; inventory = 200), let your specific business goals guide the way.
Get Started With Bloomreach's Loomi Today
At Bloomreach, we understand the challenges that come with managing an online store. That's why we've developed Loomi — a smart, intuitive AI tool designed to simplify your merchandising tasks. Loomi is your reliable partner in e-commerce, providing actionable insights that help you deliver personalized experiences to your customers at scale.
Don't let manual merchandising tasks hold you back. With Loomi, you'll have more time to focus on what matters most — strategic growth that simultaneously delights your customers. Explore our practical tips to learn how to wield AI successfully in merchandising. Or, jump right in by trying Bloomreach's Loomi today and take your first steps on your journey to success.