Omnichannel Marketing Automation
Email Conversion Rate: Industry Benchmarks, Formula, and Tips
By Ian Donnelly
10/10/2023
Email remains one of the most effective marketing tactics. Half (50%) of B2C consumers and three-quarters (77%) of B2B buyers prefer email communication — and marketers are 6x more likely to get a click-through from an email campaign than from social. Email marketing is so successful as an engagement tactic that on average, it delivers an ROI of $36 for every $1 spent, with top-performing organizations commanding $70 per $1 invested.
While email marketing used to just be a generic newsletter roundup of what a company had been doing or promotional pushes for new product lines, technology has driven big change. Today, email communications can be personalized, interactive, and automated. 
Additionally, email is now integral to every part of the shopping journey because it provides an opportunity to continually nudge audiences toward certain actions. For example, Oliver Bonas increased its revenue by 762% through the smart use of email marketing, sending customers communications to opt in to certain segments, reminders, and abandoned-cart notices. 
In this article, we look at what organizations can do to maximize the ROI of their email marketing efforts by boosting their conversion rate.
What Is the Conversion Rate in Email Marketing?
Put simply, the conversion rate is the percentage of people who perform the action specified in an email. For example, if an email was sent to 1,000 subscribers and 100 of them clicked a link to visit the website, the conversion rate is 10%.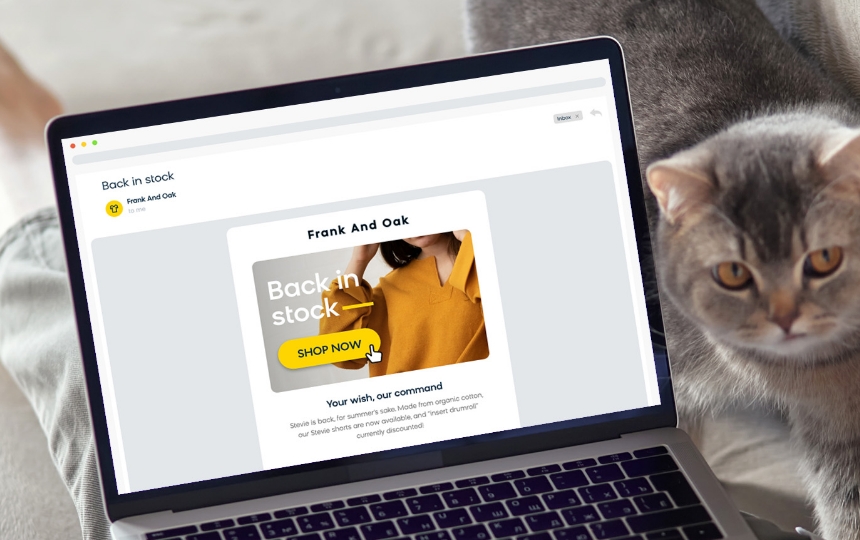 <<DESIGN: Image of someone clicking on a link in an email (or just a mouse cursor over a CTA button)>>
The conversion rate matters because it provides a hard metric for the number of engaged customers who are most likely to purchase or recommend your product. It also provides insight into how organizations can enhance the experience to give customers what they want. By tracking how its emails behaved, Proffsmagasinet was able to improve its conversion rate by 2x and lower its unsubscribe rate by 65%.
However, while the conversion rate is typically tracked to define email marketing success, there are other equally important metrics:
Open rate: Senders with good list health and an engaged audience will achieve 30-40% open rates on bulk emails
Click-to-open rate: Calculated based on emails opened (vs. delivered), a good benchmark to aim for is 15%
Bounce rate: Measures the number of emails left undelivered compared to the number of emails sent, which should ideally remain below 0.5%
By analyzing these metrics, you'll see what tweaks and refinements can be made to your emails to better engage audiences. For example:
Content: Tailoring the message to specific segments
Call to action (CTA): Trying an alternative action or placing it in a different position
Timing: Sending emails when they're more likely to be opened
Frequency: Potentially sending fewer emails (but sending the right ones!)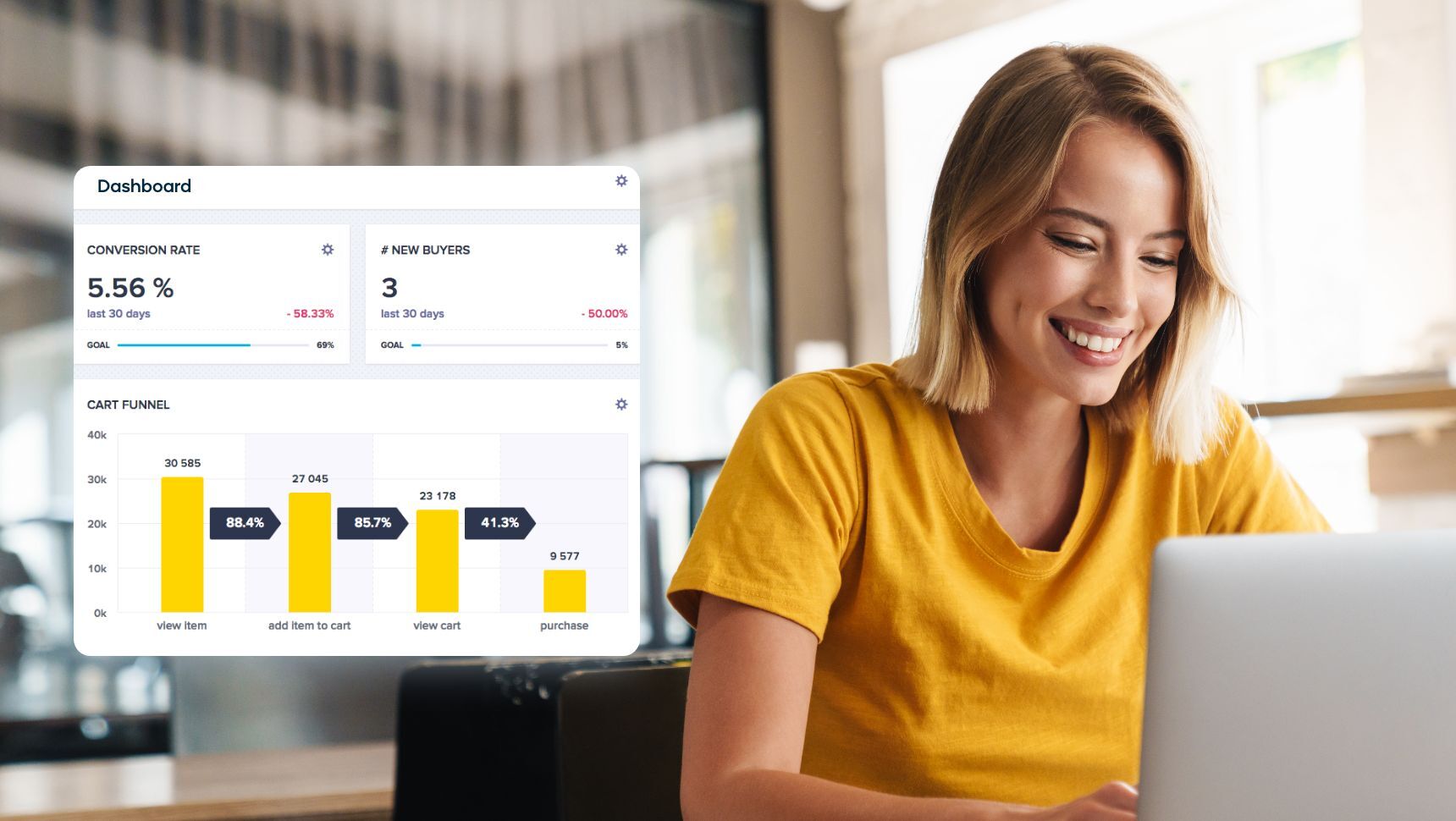 What Is a Good Conversion Rate for Email Marketing?
The average email marketing conversion rate is 15.22%. However, with over three-quarters (77%) of marketers experiencing an increase in email engagement over the last 12 months, individual conversion rates are likely to be much higher. For example, we have customers that have achieved 23% conversion rates on their campaigns.
When the conversion rate is low, there are several tactics that can be employed to troubleshoot the problem and make improvements:
Take care of email list hygiene 
Monitor the frequency of email campaigns
Make it easy to unsubscribe
Reengage or remove inactive subscribers
Create a great welcome email sequence
Consider subscriber segmentation
Create bonus or gated content
Average Conversion Rate for Email Marketing for 2023
When benchmarking, it's more meaningful to do it against sector-specific data. Therefore, the following table pulls on several industry databases to share the average conversion rates:
| | |
| --- | --- |
| Industry | Conversion Rate |
| Beauty | 1.92% |
| Fashion | 1.4% |
| Fintech | 5.8% |
| Pets | 2.77% |
| Food and beverage | 0.19% |
| Grocery | 7.9% |
| Furniture and home goods | 3.03% |
| Outdoor equipment and sports | 0.06% |
| Retail | 2.25% |
| Telco | 2.27% |
| Travel and hospitality | 2.25% |
| B2B distributors | 2.14% |
| B2B manufacturers | 2.18% |
| Media | 4.16% |
Conversion Rate Email Marketing Formula
Calculating the email conversion rate couldn't be simpler:
Email Conversion Rate = [No. of Conversions / No. of Delivered Emails] x 100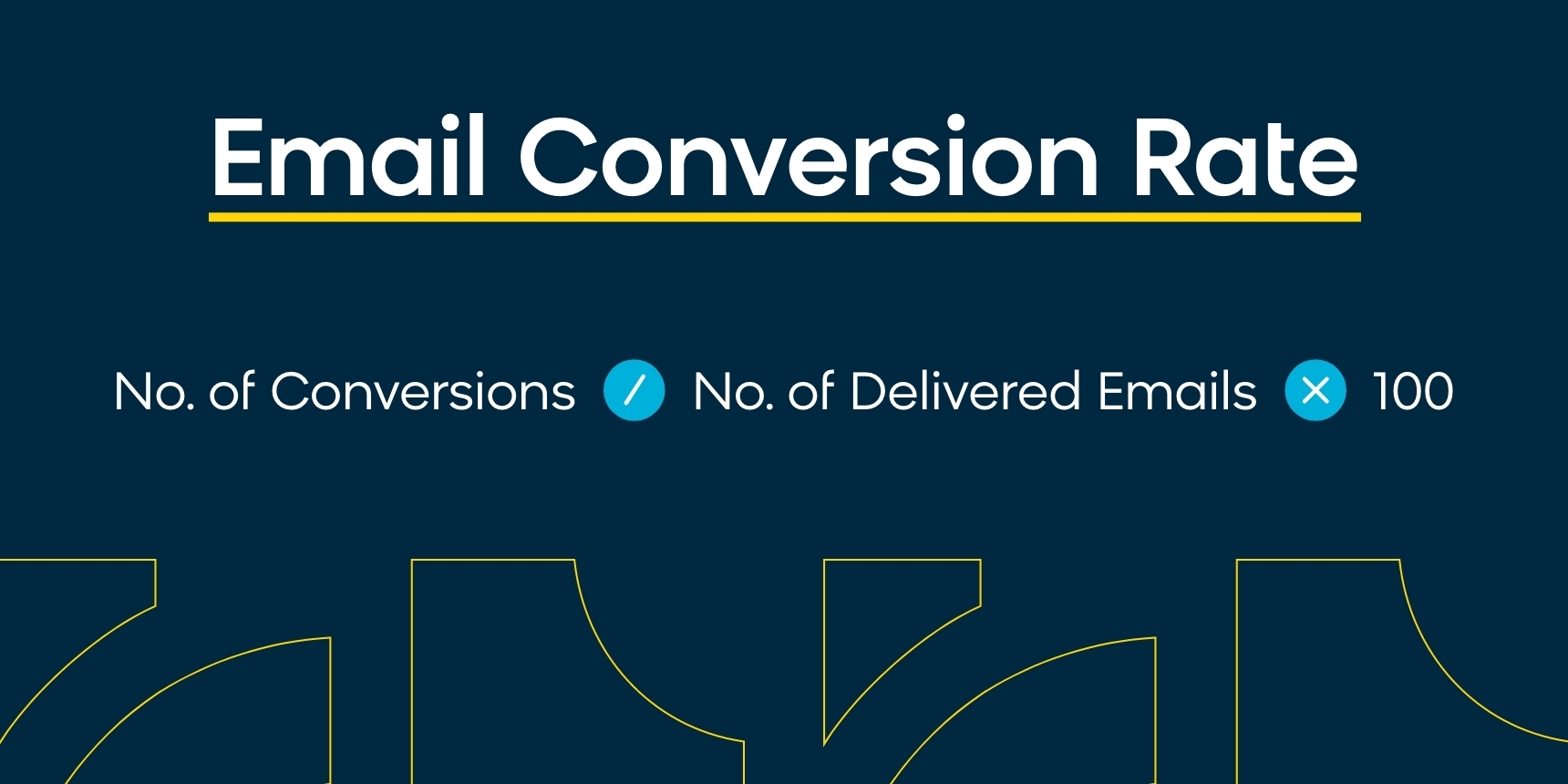 For example: 
Imagine 10,000 emails are sent but only 9,900 are successfully delivered because the remaining 100 bounced. Of those 9,900 subscribers, 300 clicked the call-to-action button to find out about the new product launch. Therefore: [300 / 9,900] x 100 would equal a 3% email conversion rate.
How To Improve Email Marketing Conversion Rates
Every day, people are bombarded with emails — 1 in 5 receive 16+ promotional emails per day. That's a lot of noise to compete with. However, when the content, cadence, and timing of every email are personalized for every customer, boosting the number of conversions becomes a lot easier to achieve.
Responsive Email Design 
Nearly half (46%) of all emails are opened from a mobile device — and these emails have a 65% higher likelihood of converting to drive traffic to a website. Therefore, it's important to ensure emails are optimized:
Use a short subject line (approximately 30 characters)
Use white space and keep the copy as concise as possible
Use larger fonts to improve readability
Have a well-defined CTA button
However, more important than the design of the email is the timing and frequency with which it's sent. 
It may seem counter-intuitive, but sending fewer emails can generate more revenue. When some customers receive 16+ promotional emails a day, they'll actively look for the emails they know to give them the most value because the content is useful and the message personalized. Unisport is a great example of this. After segmenting its audience, it could take meaningful action with personalized marketing communications to those segments, which resulted in a 300% increase in marketing automation revenue.
Personalization and Email Segmentation 
Personalized emails are known to increase opening rates by 26%, with 80% of consumers more likely to convert and purchase.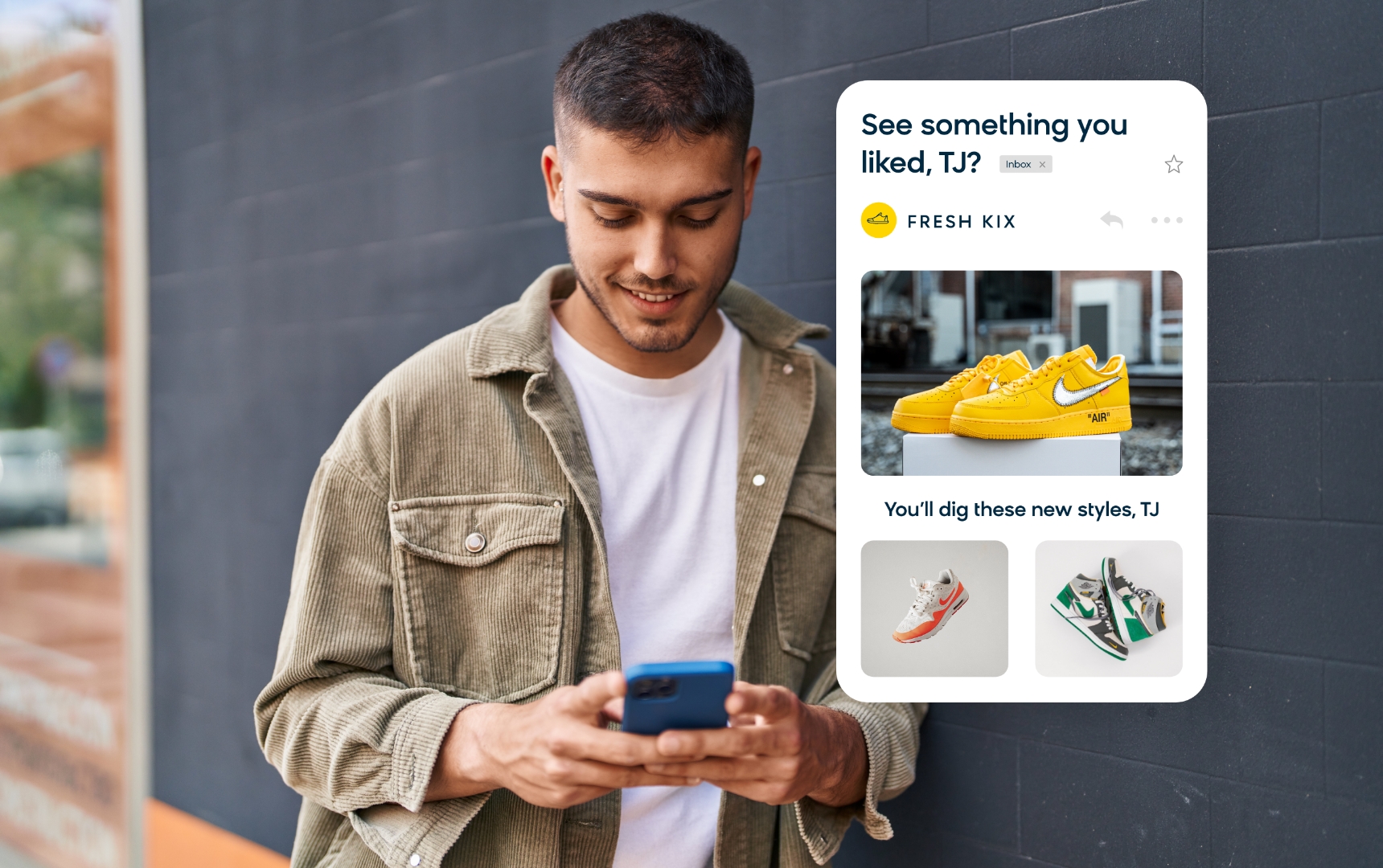 Personalization is a smart marketing tactic because it ensures customers get the communications they need when they want them, rather than broadcasting messages to the masses. It's so effective that personalized emails have been shown to lower the cost of acquisition by up to 50% and improve marketing spending efficiency by 10-30% — and companies that invest in personalization earn 40% more money than their competitors. 
Furthermore, personalization is a highly under-used tactic, with only 4% of marketers using it. It's a missed opportunity when something as simple as a personalized call to action is known to convert 202% better than a generic one. Using personalized emails, L'azurde was able to achieve customer centricity to provide the best possible experience, which has resulted in an estimated financial impact of €1 million per year.
Customer segmentation is the enabler for personalization, but it must go beyond demographics to segment audiences based on past behaviors, such as:
Browsing activity
Purchase history
Average order value
Type of orders
Open and click-through rates for previous emails
Email personalization helps contextualize emails and keep them relevant to ensure they speak to a specific pain point at a specific point in time. What many organizations don't realize is there are three key places to implement personalization before an email is opened:
"From" name: Over three-quarters (68%) of subscribers decide whether to open and read an email based on who it's from
Subject line: Nearly half (47%) of subscribers choose whether to open an email based on the subject line
Preview text: Indicates to the recipient why they need to open and read an email
Email Subject Line
When a subject line includes the recipient's name, job title, recent purchase, or any other kind of personalization, it's 50% more likely to be opened.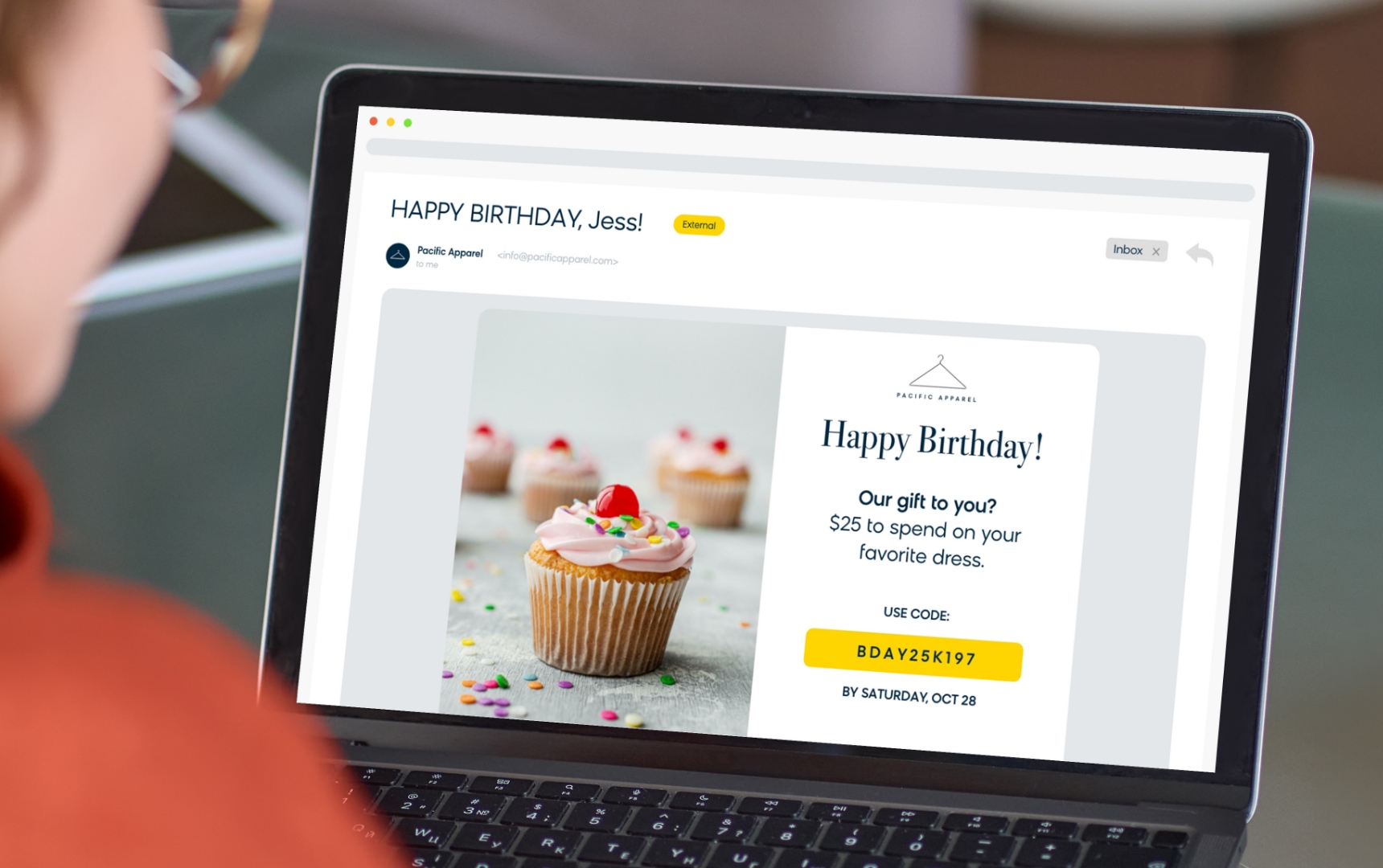 Subject lines are arguably the most important part of an email because if they don't entice the reader to click and open, the rest of the content will never be seen and acted upon. To support its onboarding process, recolution carefully crafted emails to reflect the web banner the customer had previously clicked on. It resulted in a 67% open rate because the emails felt familiar and spoke to each individual customer.
To write great subject lines: 
Use no more than 60 characters (ideally 30 to optimize for mobile)
Drive curiosity with questions
Use urgency to make the readers open it right away
Include attractive numbers, such as discounts
Make it personal — ideally to every customer
A/B Testing
A/B testing allows marketers to send two versions of the same email to different segments of their contact database to determine which performs better. With each test, a different variable can be tweaked, such as the subject line or call to action, to see what influences recipients the most. Best practices for A/B testing say marketers should:
Decide what conversion behavior to test 
Identify where subscribers are lost 
Come up with a list of potential changes that might fix the problem
Use an A/B testing tool
Analyze and act upon what the results say
Contextual personalization takes A/B testing one step further by applying artificial intelligence (AI) to the process.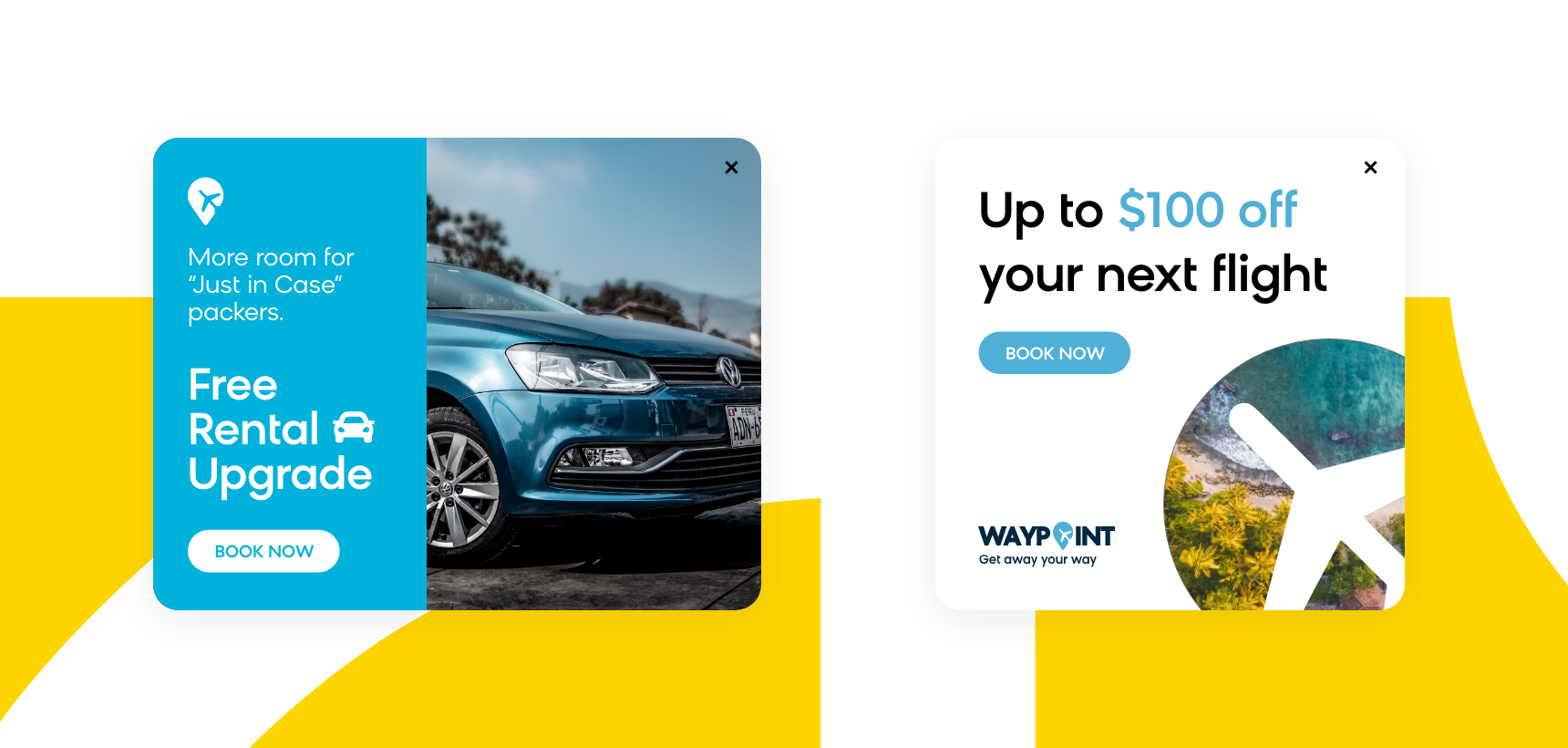 Rather than serve all customers the best variant of a tested email campaign, contextual personalization serves the best version for each customer based on their preferences (e.g., what a customer just searched for). It can have a huge impact on conversion rates for email and online communications: bimago increased its on-site conversion rate by 44%, The Thinking Traveller increased booking inquiries by 33%, and Whisker boosted its revenue per user by 112%.
Create Email Campaigns That Convert With Bloomreach Engagement
There are a lot of email tools out there, but to deliver the most personalized emails powered by cutting-edge AI, you'll need a solution like Bloomreach Engagement. With Bloomreach Engagement, you can create customer-centric email campaigns that take into account their preferences in real time — all without ever having to go through IT. 
Learn more about Bloomreach's email marketing capabilities to take the next step into next-level email campaigns.