Customer Data Platform (CDP)
Leveraging Customer Data with Your CDP to Satisfy Your Customers
You likely are in the market for—or have already implemented—a customer data platform (CDP) because you understand its unique ability to collect customer data and make that data actionable via marketing campaigns. 
But once you have compliantly collected all of that customer data, what specifically should you do with it? Knowing how to leverage your customer data to improve the customer experience separates a good marketing team from a great marketing team. It also allows companies to quickly facilitate brand loyalty and increase customer lifetime value. 
To start, it's important to have an understanding of how to connect this customer data with your big picture departmental and company goals. It is worthless and can even be irresponsible to collect data from your customers if you aren't going to use it purposefully. 
Set clear-cut goals that the customer data you have collected will help enable or create new strategies entirely that you will employ thanks to your collected data. Ensure that all key stakeholders—from the C-suite on down—are on board with the goals and/or strategies. 
Past that, ensure that you are seeing customer data in the right way. Collected customer data enables all of your digital strategies across the board. And while you develop goals and strategies that are specific to your company, you should consider using this customer data for three main purposes. 
1. Increasing Satisfaction for Existing Customers
What is more important for retailers, recruiting customers or retaining them? While many would argue they are of equal importance for varying reasons, data tells us that existing customers are more likely to bring profits to these companies. 
Check out these key points from Outbound Engine: 
Acquiring a new customer can cost five times more than retaining an existing customer.
Increasing customer retention by 5% can increase profits anywhere from 25-95%.
The success rate of you selling to a customer you already have is 60-70%. The success rate of selling to a new customer is 5-20%. 
Those are three incredibly good reasons to use customer data to increase satisfaction for your existing customers. Improving and/or personalizing the customer experience can have a huge impact on revenue generated and customer retention. In fact, recent research into customer loyalty programs indicates a strong trend towards personalization of the customer experience.
Bloomreach Engagement customer baby-walz went above and beyond to increase satisfaction for its customers after compliantly collecting some very sensitive pieces of customer data. 
The German-based company that sells predominantly children's products asked expecting mothers who were opted in for the newsletter for the estimated date of birth of their child. This information allowed baby-walz to better understand the needs of the mother—and eventually the child—with a specifically tailored customer journey that would be relevant to each specific step of the pregnancy and thereafter.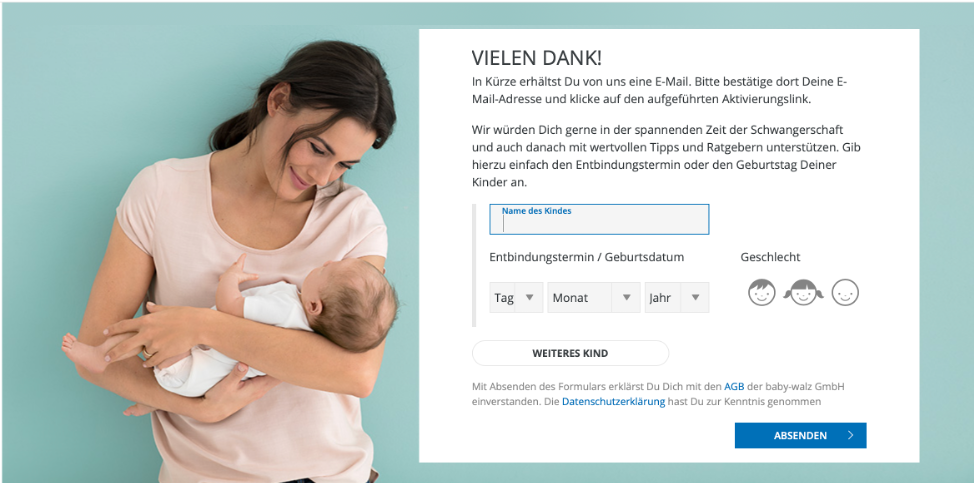 New baby-walz customers are asked for the name of their child, the child's birthday, or the expected date of delivery, and the child's gender. 
The result of this campaign was an email open rate of 54% and some very satisfied expecting mothers.  
2. Improving the Experience for New Customers
Oftentimes when companies are in a giant push to use collected customer data to serve existing customers, they forget that the same data can also be used to serve new customers. 
How, exactly? Pairing historical customer data with the ever-important first few clicks of a new visitor will allow businesses to make an initial identification as to which customer segment this new visitor best fits in. 
Making this determination quickly will help to solidify that the new visitor has a relevant experience with your brand right away. 
For example, if your digital commerce website offers clothing or shoes, it is likely fairly straightforward to identify the age, gender, and/or location of the new visitor based on interactions with your site and catalog. Sending these visitors a relevant weblayer or other pop-up that encourages a purchase can help to improve their experience.   
Through existing customer analytics, it's possible to identify which parts of your brand's customer experience are excelling and where improvements need to be made. Bloomreach Discovery customer Albertsons, a leading North American grocer, knew that search generated 50% of its e-commerce revenue.  
3. Increasing Marketing Effectiveness
How you truly increase marketing effectiveness with a CDP in today's market is by taking a customer-centric approach to marketing. This customer-centric approach includes valuing any channel where your customers consistently connect with your brand.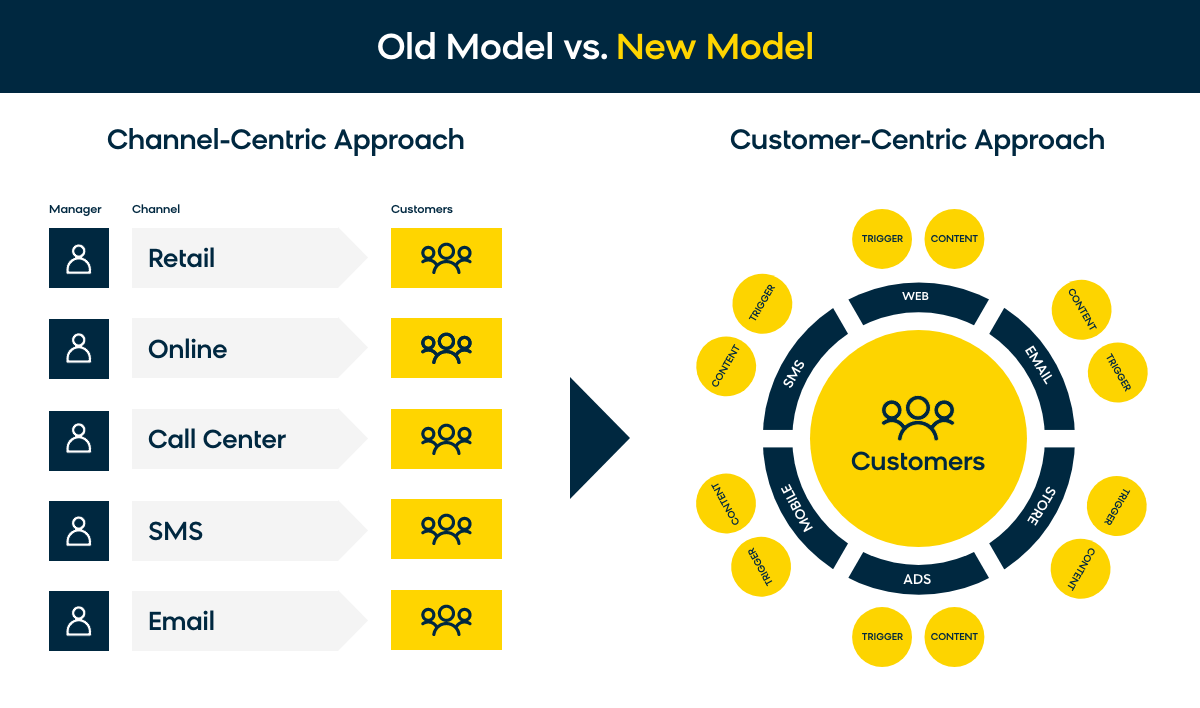 It is easy to write off certain digital channels as dated or unneeded, but by obtaining customer insights through your CDP, you can trigger action across your tech stack and create marketing campaigns that consistently resonate with your target audience. 
For example, prediction models can easily be used to identify when it is most likely that buyers will make a purchase. That data can then be used as a base for lookalike targeting. This can increase revenue and help increase brand awareness and brand loyalty. 
Bloomreach Engagement customer Hansapost took this approach to effectively develop a lookalike audience. Hansapost, which is Estonia's largest online retailer, targeted the right customers by using Bloomreach Engagement's Predictions capability and earned +151% return on ad spend with Facebook Ads.
Collect Your Customer Data Compliantly
Whatever you decide to do with your collected customer data in your CDP, ensure that you are doing it compliantly. Consumers are more concerned than ever about their customer data as 69% of consumers are concerned with how their data is being harvested. 
As browsers have begun to eliminate third-party tracking, companies are now tasked with fully owning their customer data and relationships rather than outsourcing them to Facebook, Google, or another ad network. That means these companies are fully responsible for caring for this collected customer data in addition to just finding ways to make use of it.
A customer data platform will be an even more essential piece of your company's tech stack because of this. A CDP provides the framework to improve the quality of collected data and a CDP from the right vendor will help your company secure its customer data and be in compliance with The General Data Protection Regulation (GDPR) and other guidelines like it. 
While there is no shortage of success stories already in our cookieless world, it will be impossible to succeed in digital commerce moving forward if you do not take the right steps to compliantly collect customer data and appropriately care for that collected data. 
Take Meaningful Action With your Data Using Bloomreach Engagement
The competitive landscape in digital commerce is fierce these days. Everybody has customer data—it's all about what your company can do with it to provide customers with an outstanding commerce experience. 
Bloomreach Engagement will allow your company to unify its customer data and deliver connected customer experiences all with a single solution. Through email, push notifications, retargeting, and so much more, Bloomreach Engagement allows you to use customer data to provide an experience tailored to your customers in a way that suits them and facilitates brand loyalty. 
Schedule a personalized demo today to learn more about how we can help your company optimize the customer experience and make the most out of your collected customer data.