How Cedar Fair Scaled An Immersive Mobile Experience
By Tessa Roberts
06/13/2018
Cedar Fair is one of the largest amusement-resort operators in the world, entertaining 26 Million guests a year across its 11 amusement parks, including its flagship park, Cedar Point. While that's the standard boilerplate information, what is more important, according to Jim Denny, VP of eCommerce, is that Cedar Fair parks provide incredibly immersive experiences. Whether it's Halloween, Christmas, or Fourth of July, you'd better believe that once you step into that park, every coaster, water ride, show, swim-up bar, shop, and all of the other moving pieces are going to encompass you in that shared experience.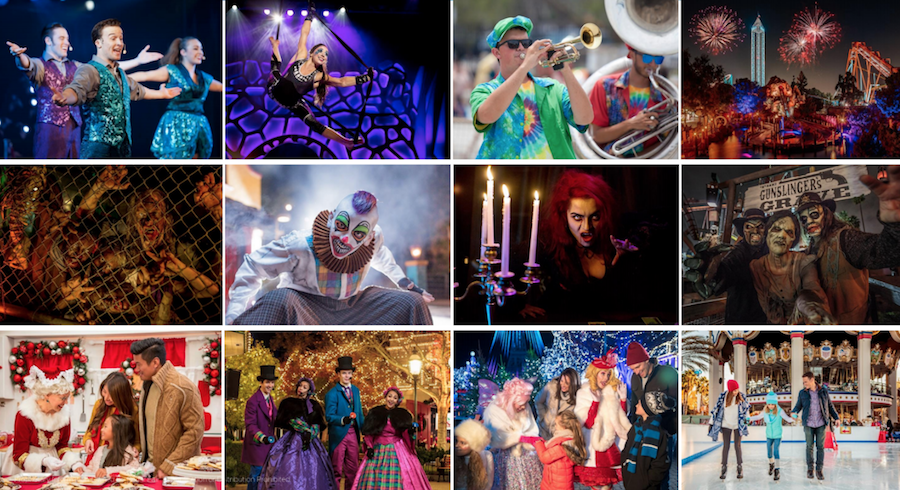 Denny took the stage at the recent Gartner Digital Marketing conference to share why that focus on an immersive experience was pivotal to Cedar Fair's embrace of digital change, and how it influenced the path they are taking to make digital a key part of the Cedar Fair experience.
Escalation of Customer Expectations
Cedar Fair's digital transformation began where all the best do, with customer expectations. As previously cumbersome actions in life become easier -  ordering a cab, contacting a company directly on social, paying with a tap, 24/7 information at your fingertips – we consumers begin to expect that elevated experience from every brand we interact with.
"The customer twisted everything on us; the whole model is different." said Denny in regards to the rapid adoption of social and mobile, "That changed the entire world, and the question we had to ask ourselves was 'Do we fit into that world?'"
Start With A Critical Eye
To determine if Cedar Fair's digital face resonated with the modern customer, the team had to take a step back and be incredibly honest about whether or not they were living up to guest expectations. So Cedar Fair did just that, and had a critical look at where their digital experience was in 2014.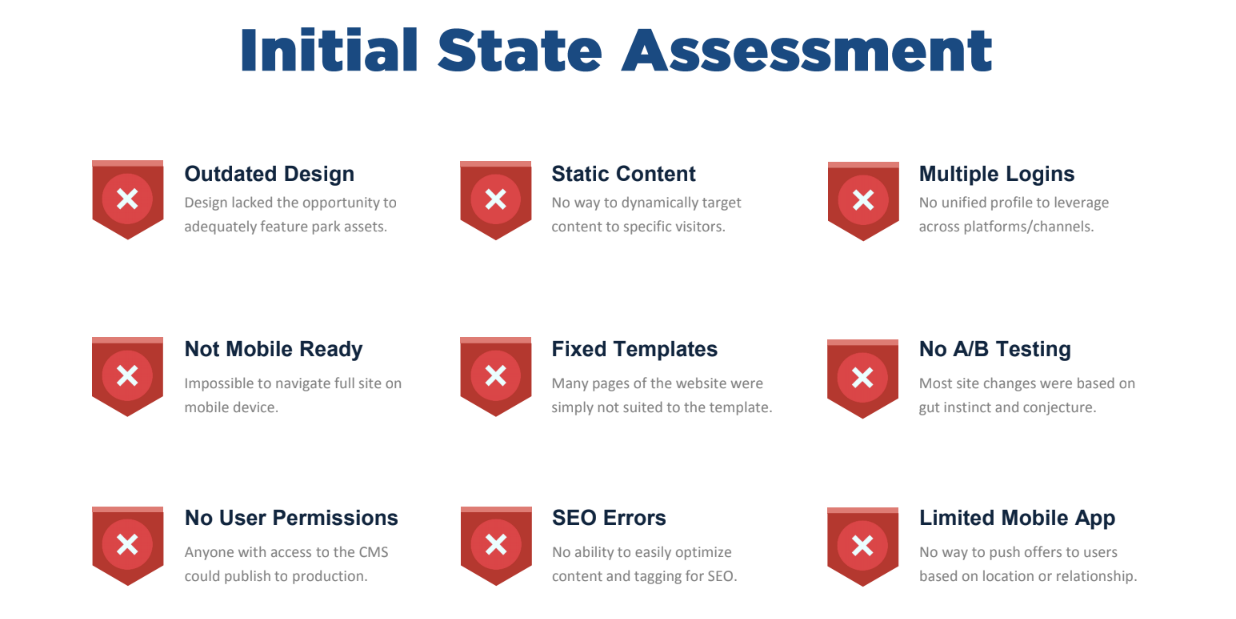 Looking at the initial assessment, Denny knew that managing all of the moving pieces and building the ultimate Cedar Fair digital experience - one that exceeded the rising expectations of their guests – would require a great deal of motivation and commitment. More importantly, though, they needed a clearly defined plan to get there.
Context is King
The team went to work on defining its vision. Early in the process, they identified a major pain point: the existing digital experience simply did not deliver on the true depth and quality of experience the parks were delivering every day to every guest. This pointed them toward a content problem. Did they have enough? Was it good enough?
However, the team soon realized that even if you build it, it doesn't mean they will come. There is another angle to tackle first. In Denny's own words, "We didn't need to solve the problem of content right away. It's very important, of course, but we needed to solve the problem of context first. We needed to make sure what we were delivering to the guest was the right information for them, that it was tailored to them, and that it made sense to them in their situation at the given time."
To reach this vision, Denny knew what the ultimate focus had to be, "It all starts with the profile, the guest. If they were coming in on our website, if they were going in through our mobile app, wherever they were, however they were trying to be part of our story and melding their story with ours, we could reach that person. The only way to do that was to make sure that we were identifying a single, unified profile."
Now came the tricky part - how to get there. The team broke down the many moving pieces of the context puzzle into two main factors:
Who you are
 
Where you are getting information
From here, they knew they needed a way to personalize information and to deliver that information to guests in whichever way, and whatever place, they chose to receive it. For Denny, this meant "We needed a content management system. A real one. We needed to make sure we are totally tapped into our CRM database, we needed to make sure we had a way to identify which offers would make sense to the most people, and we needed to be tapped into our transactional systems."
Step by Step
"We could not do this all in one fell swoop." said Denny, "This is something that we had to break down into tiny bite-sized pieces to consume. We are not a big team, I don't have a bunch of developers back at the office just waiting on my next command. I don't have a bunch of content creators. We use a lot of resources here and there, but we knew we'd have to build this in stages."
The plan for evolution was broken into three stages:
Connect - First, in a very literal sense, ensure guests could connect to WiFi in the park. Then connect with them through an engaging mobile app that offers something important (i.e. show schedules, ride wait times, coupons/special offers). Infrastructure-wise, establish the CRM and CMS foundation that connects the database to all channels.

Relate - Deepen engagement with the app with additional functionality. Leverage customer data for cross-channel personalization.
Elevate - Gamify the park experience. Expand the unified customer profile and leverage behavioral data to offer value on a more personal level.

 
Scalability and Reuse
Cedar Fair is a house of brands. Every one of their parks has a very individual feel with its own identity, which means that each park needed its own website and app. Of course, the team didn't want to start from scratch every time, so they needed the structure and content to be reusable. It also had to be flexible, so the digital face of each park could showcase its unique personality.
After spinning up their first app in 2015, for Kings Island, the next year Cedar Fair chose the web content management platform, Bloomreach Experience, and an implementation partner, Authentic, to ramp up their site and app delivery.
In 2016, Cedar Fair had 5 parks running intelligent apps and began the processes of migrating their parks to newly designed, connected websites.
In the first 4 months of 2017, they launched 11 park websites and soon after had 7 mobile apps running out of Bloomreach Experience.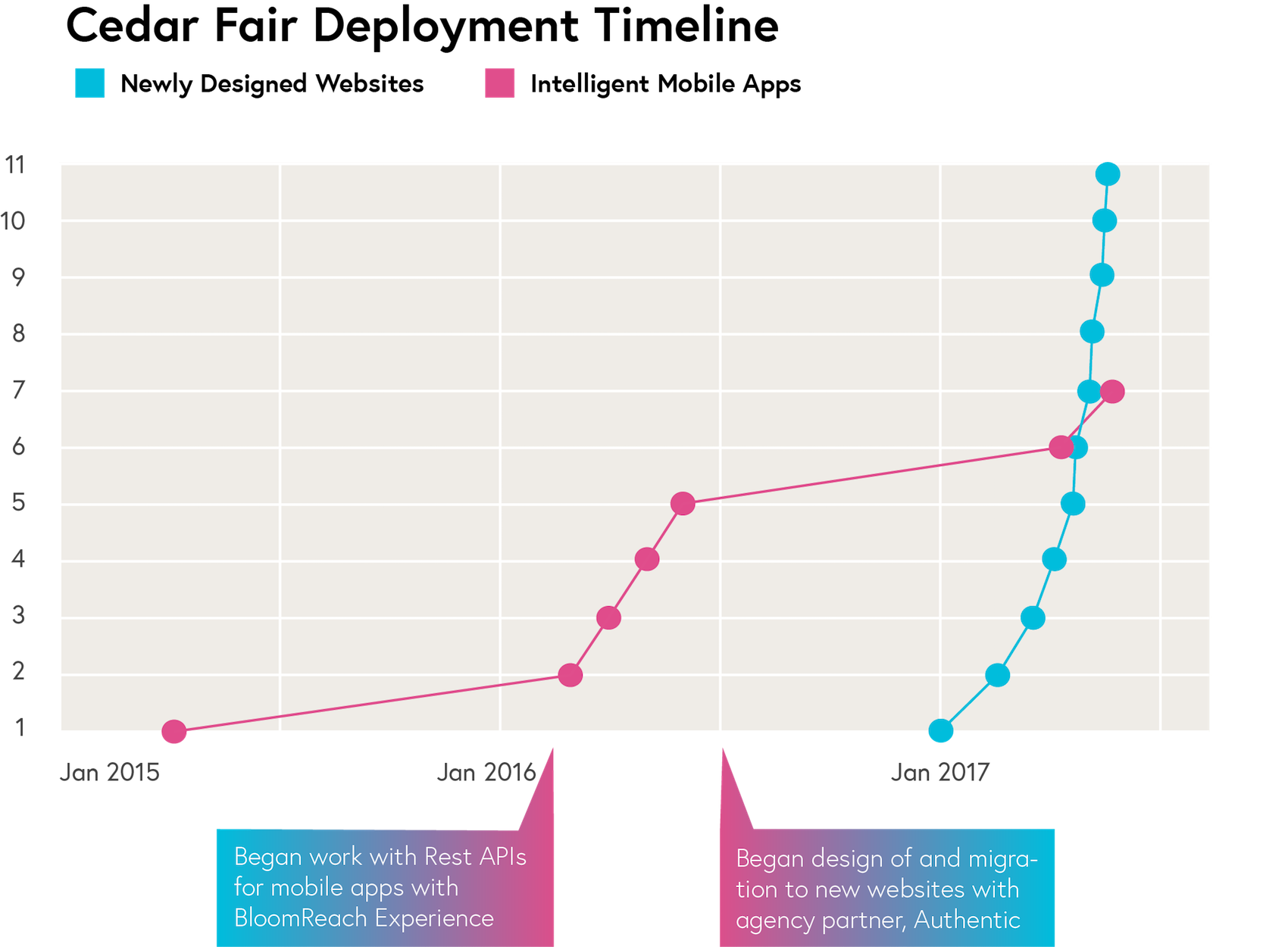 Mobile
People want information when they are in the park and, with 60% of site traffic coming from mobile devices, the team put a lot of focus on the mobile experience and needed a web CMS that worked seamlessly between desktop and mobile.
Now with 8 connected apps running out of one central web CMS, "We've gotten to the point where our mobile app can walk you through the park, showing you where to go and letting you know instantly, not 5 minutes later, if you're going in the wrong direction. We have wait times, we have show times, you can store your season pass on there. We can send you targeted offers whether you're in the park, out of the park, in a different geo-fence outside of the park, near a beacon inside of the park. Are you a season pass holder, are you not a season pass holder, are you coming into the park, are you exiting the park?"
This improved mobile experience has led to an upwards trend of mobile traffic. Along with what Denny cites as one of his favorite customer compliments on Twitter: "Boy, I don't get it, the site looks better on my phone than it does on my desktop."
Return To The Customer
With the launch of the new sites and apps, the team assessed how far they had come, and things were looking pretty good.
But they knew before they could pat themselves on the back they needed to go full circle to where they started, with the voice of the customer.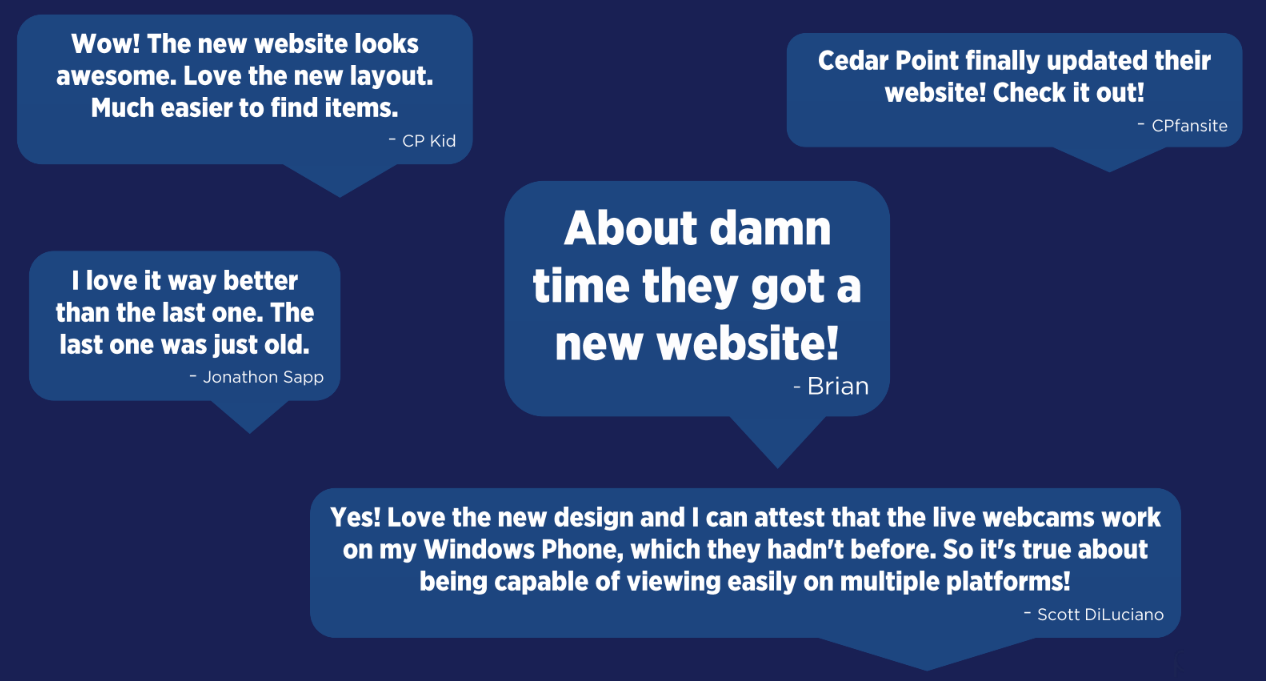 "People are passionate about these parks and they were happy to see that we were making an investment in them." said Denny as he discussed the customer feedback, "It was an investment in them. It wasn't an investment in our technology; it wasn't an investment in all of the cool new tools; it was an investment in the guest experience."
There Is No Finish Line
Cedar Fair now has the key pieces in place to foster that unified customer profile:
Responsive/dynamic websites
 
Park WiFi for data capture
 
Intelligent mobile apps
 
Primary digital touchpoints are connected to the customer profile and are personalization-ready
Now, the team is learning how guests are experiencing the park through an iterative cycle of "Personalize, Measure, Optimize" with the aim to learn the needs of every guest, not just those who scream the loudest (roller coaster pun fully intended).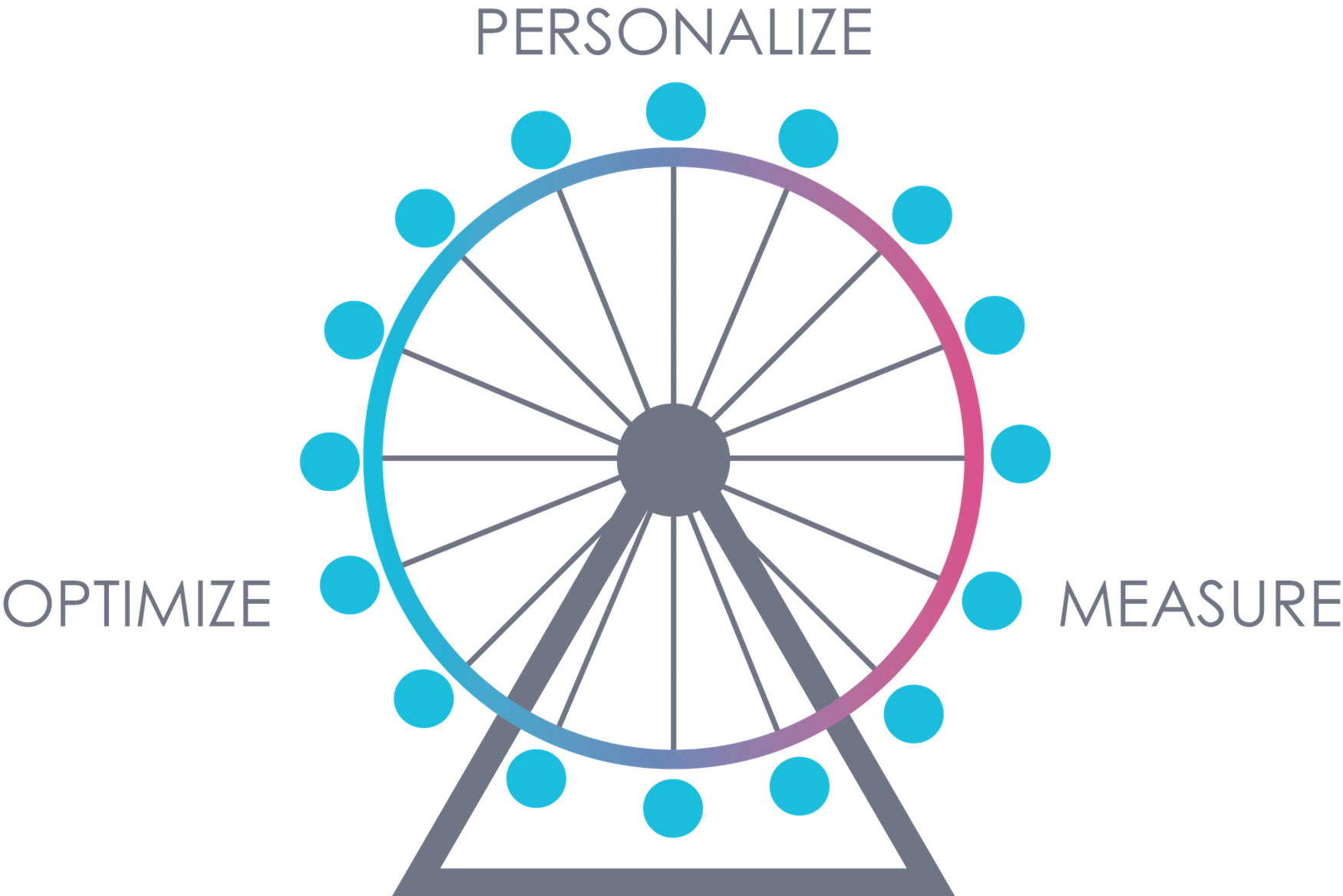 The Cedar Fair team has taken leaps in digital experience, "We have the ability now to look at all of the various people who are coming into our parks, and we can deliver the right message for them, at the right time, in the right channel, and do that in a relatively effective way," says Denny about their digital experience. But as for a finish line, "We won't ever get to that finish line, because everything will continue to evolve, and we'll have to evolve with it."
"Look at it just as you would look at building a park," explained Denny. "You can't just build a handful of coasters and walk away. You have to maintain it and continuously improve all the pieces your guests interact with."
The digital experience is no different, it needs to continually evolve, improve, and elevate the immersive experience Cedar Fair guests have grown to expect.