Omnichannel Marketing Automation
MMS Marketing 101: Your Complete Guide
By Ian Donnelly
07/31/2023
Omnichannel Marketing Automation
MMS Marketing 101: Your Complete Guide
If you're looking to use text messaging as a marketing channel for your business, all the different acronyms can get a little confusing. 
What's an MMS? How is it different from an SMS? Should I be using one over the other?
Don't worry — we're here to help. After all, it's important for marketers to understand how unique MMS messages are. With the right approach, MMS marketing can help you gain more customers, inspire more engagement, and maximize the impact of your campaigns.
Whether you're putting your first MMS marketing campaign together or planning to expand your SMS marketing strategy, our guide has all the information you need to understand both text message formats, the benefits of MMS, and the best campaigns to put MMS messaging to use.
What Is SMS?
An SMS is, simply put, a text message. The acronym stands for short message service and describes a message that is strictly text, without any files attached to it like images, videos, or GIFs. 
An SMS is limited to 160 characters. If a user sends more than 160 characters, it may be broken up into multiple messages and sent separately. 
It's important to note that an SMS refers to a strictly text-only message, while SMS marketing is a term often used to describe using both SMS and MMS messages. SMS marketing is the practice of sending marketing messages by text message, and therefore encompasses both formats of texts.
What Is MMS?
MMS stands for multimedia messaging service. With this type of message, you can send media files that SMS messages can't support.
MMS marketing messages also offer a much higher word count. You can utilize 1,600 characters per MMS message — much more than a standard SMS. 
But MMS has limitations, too. While MMS messages can contain multiple media files, they need to be under 5 MB in size. 
Plus, large files can impact send speeds, so it's best practice to keep your file sizes as small as possible — around 200 KB for attached multimedia files is a safe size.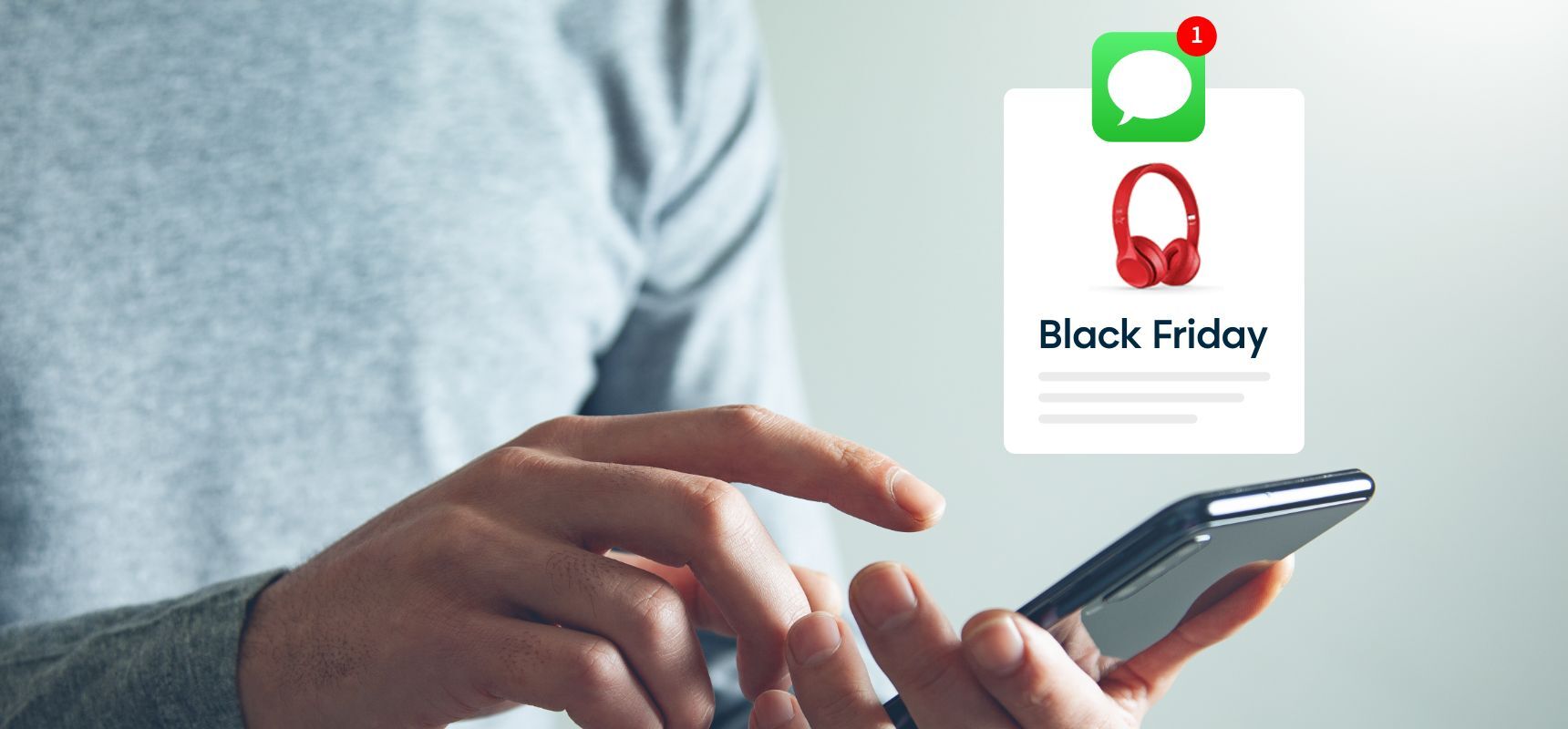 What File Types Can I Send With MMS Marketing?
There is a wide variety of file types you can incorporate into your MMS messaging, including: 
Animated GIFs
PNG, JPG, or JPEG image files 
Audio MP3s
MP4 video files
Does MMS Messaging Cost More?
While pricing can vary from service to service, MMS marketing will always cost more. 
This is because multimedia messages require phone carriers to send a lot more data than a standard SMS message. The media files you attach to your MMS messages are much larger than the 160 characters of a traditional SMS, so you'll have to pay more to send more.
On average, MMS messages typically cost a marketer two to three times more than an SMS message. But, the price can be well worth it — MMS messaging consistently boosts customer engagement and conversions when used correctly. It's all about using the right campaign to reach the right audience.
The Benefits of MMS Marketing
When considering the use of MMS messages in your marketing strategy, there are a few key advantages you should keep in mind.
MMS marketing messages can help you:
Inspire Engagement With Eye-Catching Content
People love pictures and videos. In fact, 69% of people would prefer to learn about a product or service by watching a video. And with MMS messaging, you can send more engaging content right to your audience's phones.

On average, MMS messages get 300% more engagement than text-only SMS messages. That's an impressive boost for a channel that already offers an incredible open rate of 98%.
Send More Shareable Messages
MMS messaging not only motivates your audience to engage with your texts' CTAs and links. They also inspire customers to share your messages with others. A recent study showed that users are 8x more likely to share an MMS message than a plain-text SMS.

With more appealing multimedia content, MMS marketing messages are more shareable by design. They can be forwarded by recipients to anyone in their contact list, making them a great lead generation tool with a powerful reach. 
Tell a Rich Story With Diverse Media
It can be tough to get your message across with the limited character count of an SMS. With an MMS, you have more tools and space to convey your message in a meaningful way.
An image, GIF, or video can give your campaign an added dimension to accentuate your selling point or highlight your CTA.
Plus, MMS messages offer a much larger character count, so you have more room to make your point via text alongside an added layer of media.
When To Use MMS and SMS Marketing
Now that you know the differences between SMS and MMS messages, you may be wondering which message format will work best for your business.
When choosing between the two, you need to think about your goals, objectives, and the type of content you want to send to your audience. 
When Is SMS More Effective?
Sometimes, a simple and straightforward text is the best option. Typically, informational or transactional marketing campaigns are best served with SMS, such as:
Order confirmations
Customer service prompts and two-way messaging
Customer feedback requests
Shipping notifications and updates
If you're looking for more SMS campaign ideas and some inspiration for your efforts, check out our guide to creating the best SMS marketing campaigns.
Read This Next: Everything You Need To Create the Best SMS Marketing Campaigns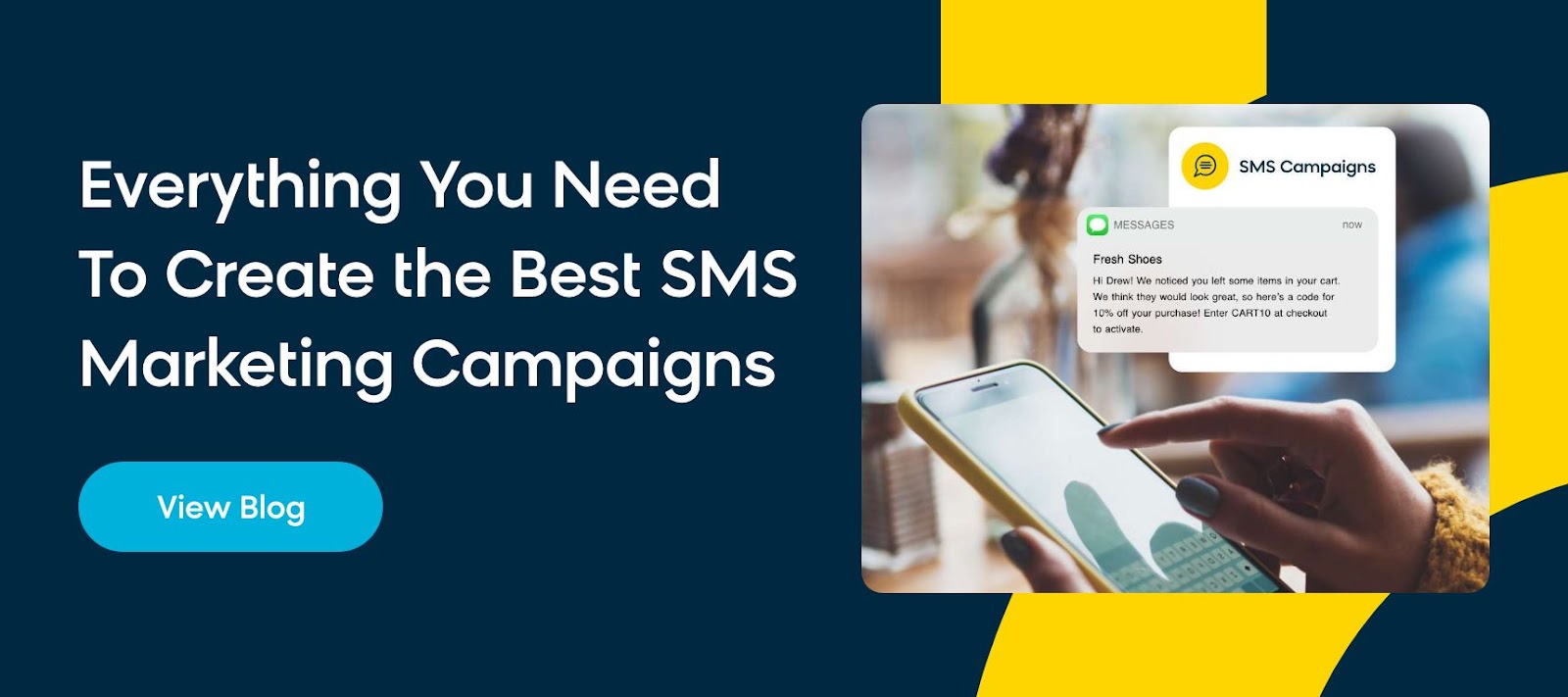 When Is MMS More Effective?
Typically, MMS messaging is strongest when it is used for promotional messages. If the goal is to hype up your brand, product, or service, adding images or video is a great way to stand out.
Here are a few examples of promotional campaigns where MMS messaging can make a big impact:
New Product Launches
MMS marketing is a fantastic tool for drumming up excitement around new products.
If you want your audience to get enthusiastic about the launch of a new product, a few exclamation points in a text-only message aren't going to cut it.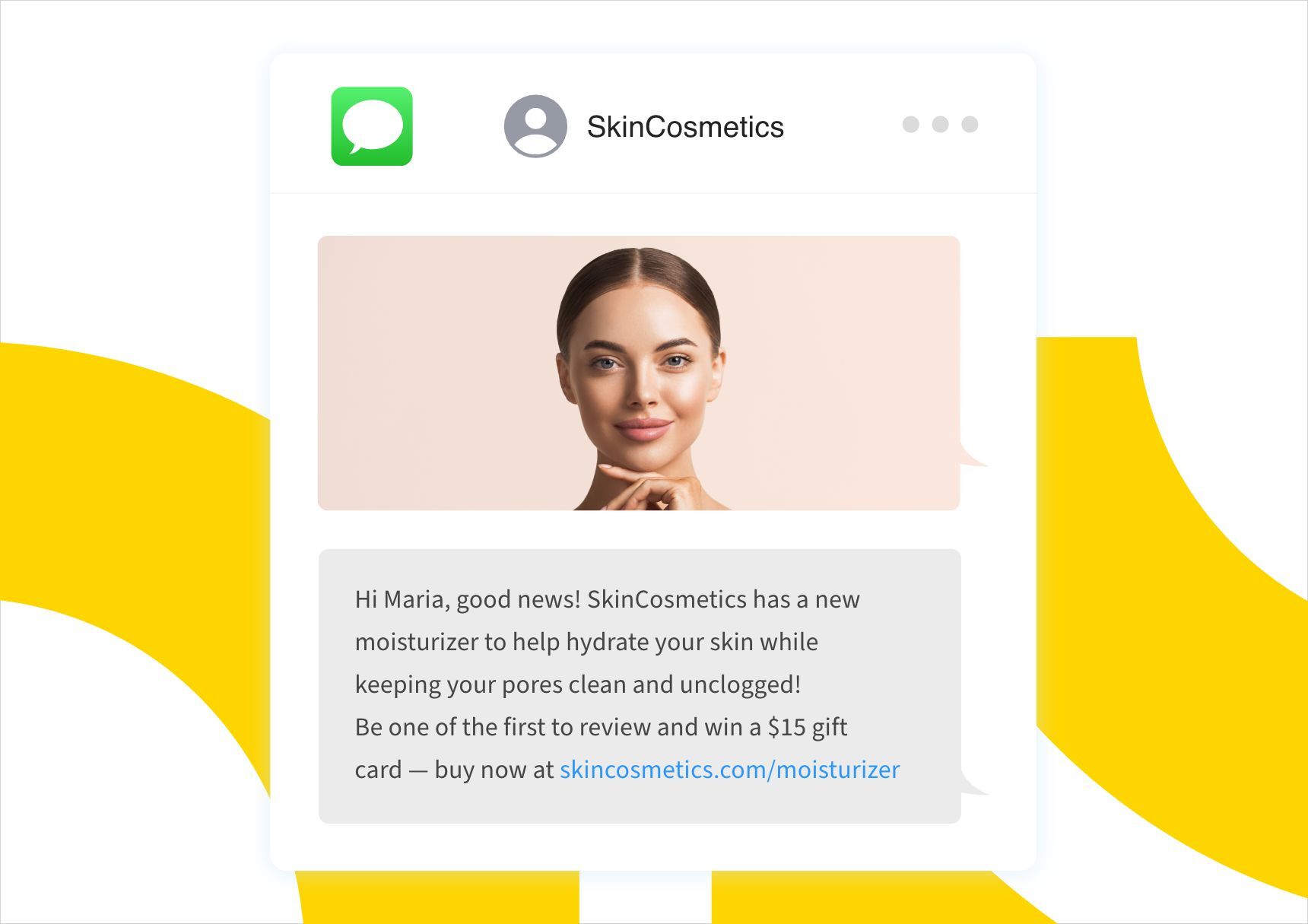 Adding sound and visuals can elicit a much more interested reaction to your message. Seeing a new item on a menu or watching a model wear a new style of jacket brings your message to life in ways that words alone can't accomplish in one text.
Sale Announcements
Spotlighting special deals and promos are MMS marketing's strong suit. You can use a multimedia text message to kick off a sale to boost awareness from the start of a campaign, and you can end a sale with an MMS to drive home your message one last time.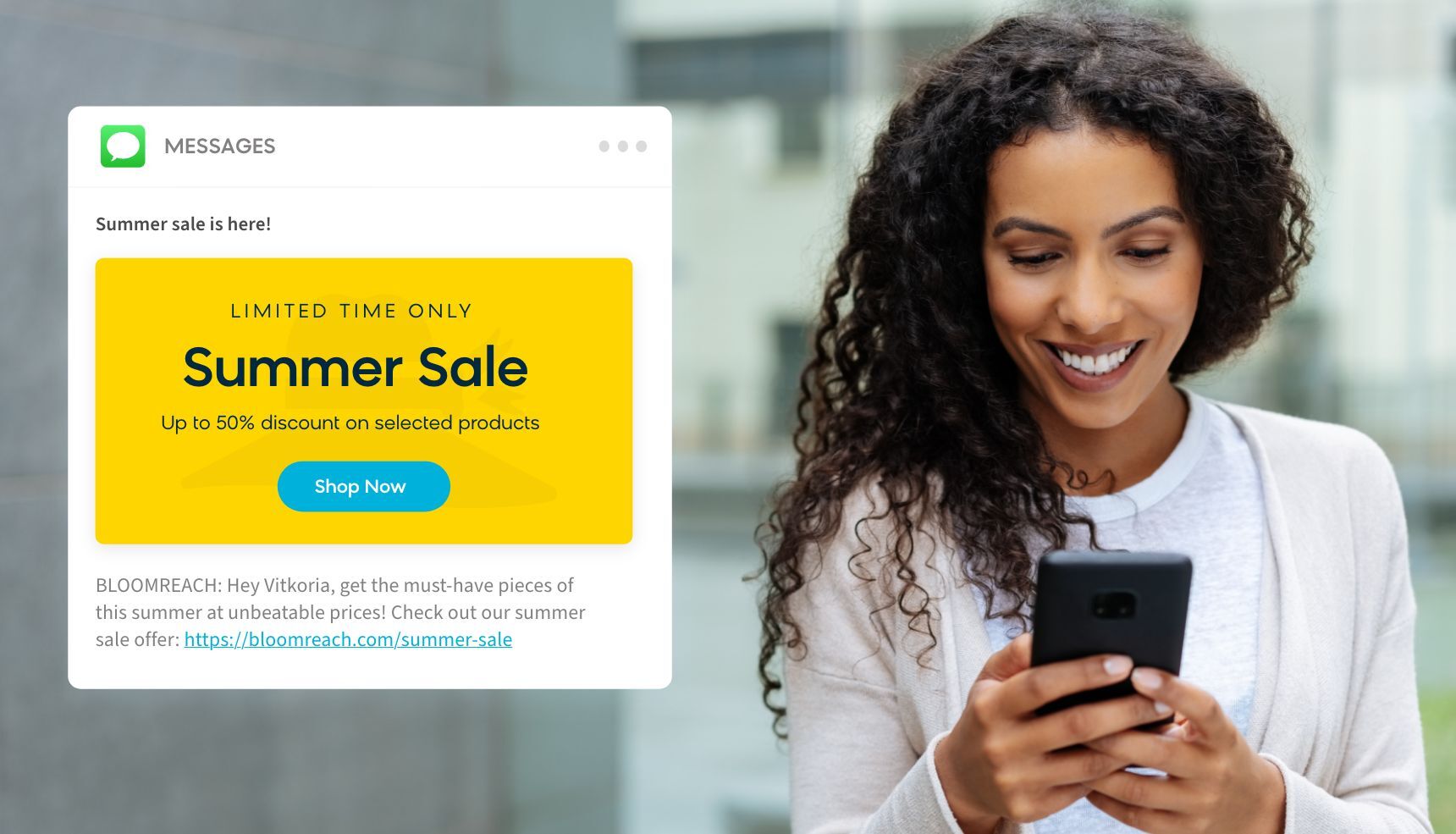 Whether it's big events like Black Friday and Cyber Monday promotions or an impromptu 24-hour flash sale, MMS messages make your texts stand out in your audience's notifications, which makes all the difference with time-sensitive sales and deals.
Reengagement Campaigns
Reengagement is an important part of any modern marketing strategy, and sending messages that invite your audience back into the customer journey can go a long way towards achieving your goals.
An abandoned cart MMS campaign, for instance, is a prime example of how multimedia messaging can be a valuable channel for reengagement efforts. Abandoned carts are one of the biggest problems for e-commerce businesses, and MMS marketing is a great way to get customers back on your site to complete a sale.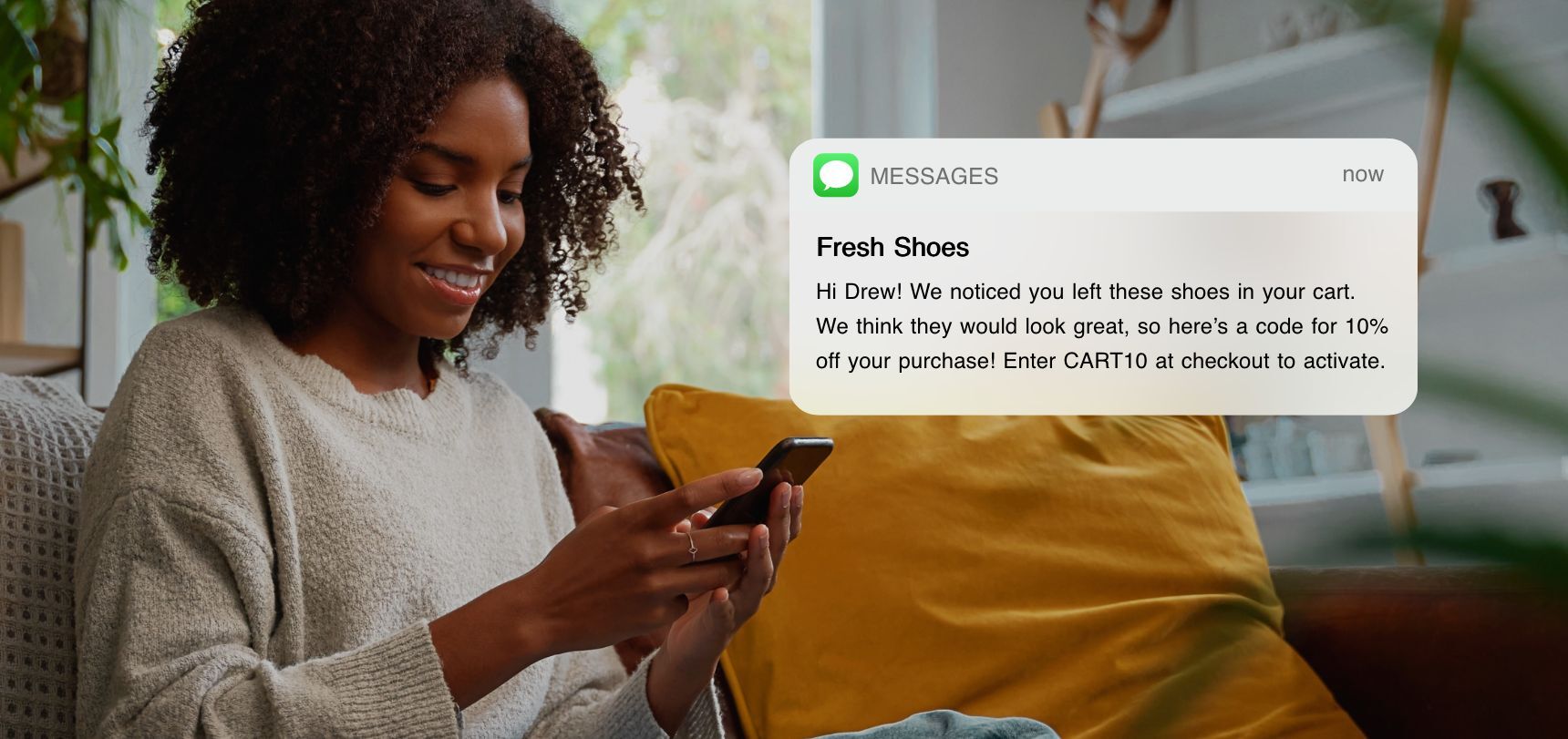 Sending a short, simple text to a potential customer's mobile phone can help resolve abandoned carts in an uncomplicated and impactful way. And when you add a visual element highlighting the items they left behind, your personalized message feels tailored to the recipient and catered to their specific needs.
There's a variety of ways to tweak and test your approach — you can set up price drop alerts on items that your customers left in their cart, warn shoppers when inventory is low on products they saved for later, or let them know when their favorite products are back in stock. 
All these use cases are designed to reengage with shoppers who have already shown an interest in your brand, and when you show a subscriber an image of exactly what they were shopping for, your MMS can truly stand out among the rest of their text messages.
Read This Next: How Reengagement Campaigns Boost Revenue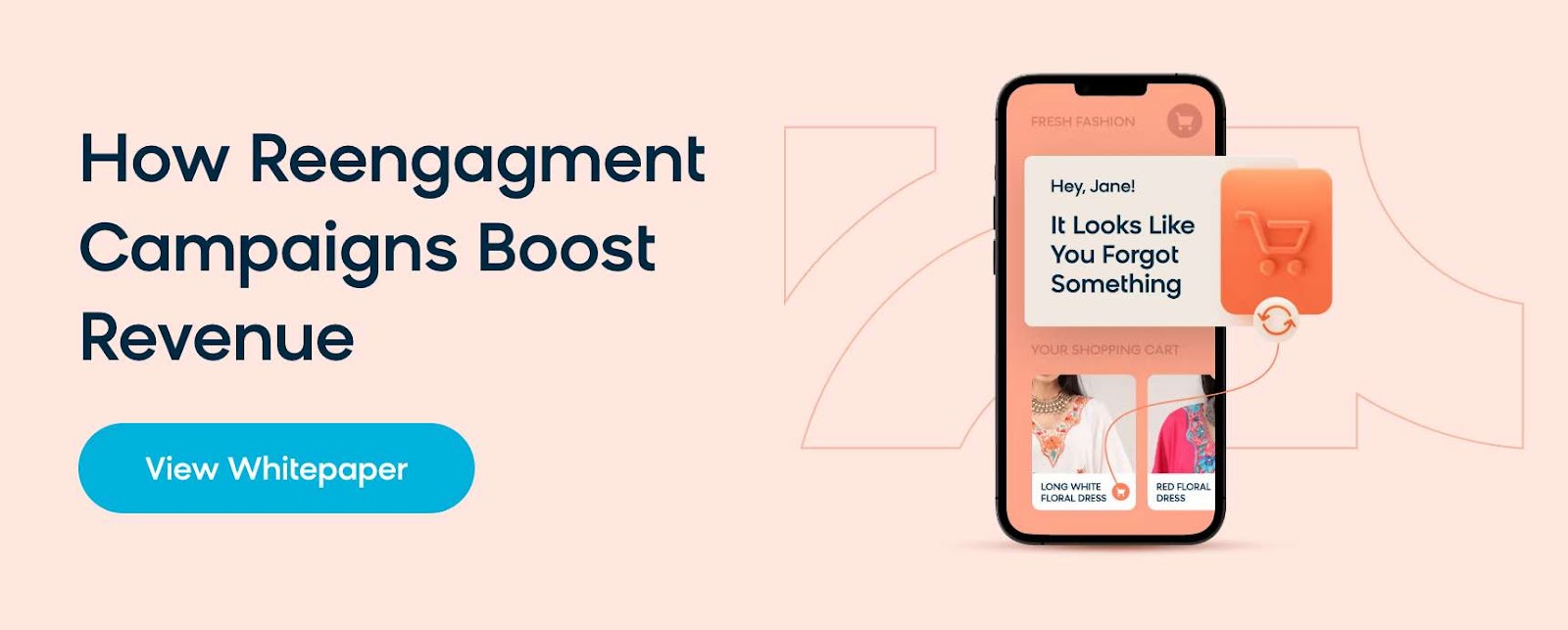 How To Make MMS Marketing a Valuable Part of Your Strategy
Now that you know the differences and strengths of both MMS and SMS messages, you can leverage each format to make your campaigns shine and incorporate them into your overall marketing strategy.
And if you have questions about crafting a strategy that captures your audience's attention, drives actions, and provides a richer customer experience, you can find all the answers you're looking for in our SMS marketing strategy guide. 
Inside, you'll find a complete breakdown of the tools you need, best practices to follow, and the marketing knowledge required to execute revenue-driving campaigns for your business. 
Read This Next: How To Build an Effective SMS Marketing Strategy