E-Commerce Site Search and Merchandising
Why You Should Test in to Your Merchandising Strategy
By Roxanna Couse
May 16, 2022
10 min read



Subscribe
E-Commerce Site Search and Merchandising
Why You Should Test in to Your Merchandising Strategy
Digital experiences are constantly evolving because customer behavior is evolving. To keep pace with consumers' expectations, it's important to take incremental transformative actions to delight your audience. As you take on this objective to evolve your digital experiences and strategy, it's also crucial to use data to inform your decision-making. 
In particular, testing is an effective strategy to help inform your merchandising decisions. Instead of making decisions based solely on gut instincts, testing allows your customers to tell you what experience resonates with them most. 
For merchandisers looking to vet your decision-making and validate your approach, keep reading!
5 Merchandising Tactics You Should Test First
Being a merchandiser often entails walking a fine line between business priorities and consumer intent because they don't always align. Often, you may find that you need to promote a new product launch, but shoppers are more interested in other products. This means you have to frequently make a choice between forcing fixed merchandising (e.g., hard boosting and locking product grid positions) versus letting shoppers "vote" with their clicks and wallets. However, there are a few ways to strike an effective balance.
Redirects: As merchandisers, you don't always have time to create custom grid landing experiences or ensure that SKUs being marketed are surfacing at the top of results. As a result, a common go-to tactic is to simply hit the customer with a redirect to a pretty landing page and think "this is so much better and saved me so much time." But while it may have saved you time, did it save your customer time? Now, there is potentially one additional click standing in the way of your customer and their purchase decision, and ultimately, your business goals. You'll need to test your redirects to ensure they're actually serving the customer in a useful way.

Ranking Rules: How many times have you boosted a few products to the top of results because you were featuring them somewhere in your marketing and you wanted them to be at the top of the grid? This action could now be pushing down more relevant results that better match your shoppers' browsing intent. Let's test that ranking rule for maximum effectiveness and to ensure you're not harming the consumer experience by making this change. 

Product Attributes: It's not always clear which merchandising attributes to boost, bury, or promote, and whether messing with the attributes will be best for the consumer. By testing your approach, you'll ensure that you understand the risk associated with making any changes, as well as the impact it'll have on the consumer experience and your key KPIs. 

Content: The best way to know what content resonates with your consumer is to — you guessed it — test it! Maybe a branded message works best in the hero to drive the consumer further down the purchase funnel, and once they're in the middle of the funnel, they're looking for "buy now" call to actions and content that encourages them to add to cart. The only way to truly know what works best with your audience is to test out different messaging and content approaches to see what your consumers lean in to. You may find that different content speaks to different audiences. 

Promotional Strategy: Yes, this is an area of opportunity to test as well. What promotional messaging works best with your consumers, and are there some promotions that are more effective than others with a particular audience? All of these questions can be answered by testing and learning. 
Testing your merchandising strategy is your best opportunity to strike the right balance between what's good for business and what's good for your customers. When the line between the two is fine, let the data be your guide.
A Checklist to Ensure You're Measuring the Right Things
All fired up and ready to go out and start testing your merchandising strategy? Let's take a step back and first make sure you're measuring the right things. 
To do this right, here's a checklist to run through for each of your tests: 
Identify what the problem is that you're looking to solve, then write these down and revisit at the end of the test. 

Decide on a few learning objectives. These can be similar across all of your tests or different depending on business goals. For example, a few of your learning objectives may be to elevate the user experience or improve the add-to-cart rate.  

Come up with a set of KPIs. These should be "collectible metrics" that are easy to track. Metrics such as conversion rate, revenue per visit, AOV, traffic, revenue, and so forth. 

Define your hypothesis. Your hypothesis is an assumption that you are looking to prove or disprove through testing. For example, your hypothesis may be that we believe boosting your private label brand will increase sales of those products. 

Decide on a methodology and what your control vs. test buckets will look like.

Understand any dependencies/risks. Are there things happening with the business that could have a positive or negative impact on this test? For example, taking the hypothesis from earlier that boosting your private label will sell more of those products, if you are having availability issues with private label products, this could have a negative impact on your test. Be mindful of external factors happening with the business at large or within your digital ecosystem that could affect your learning agenda.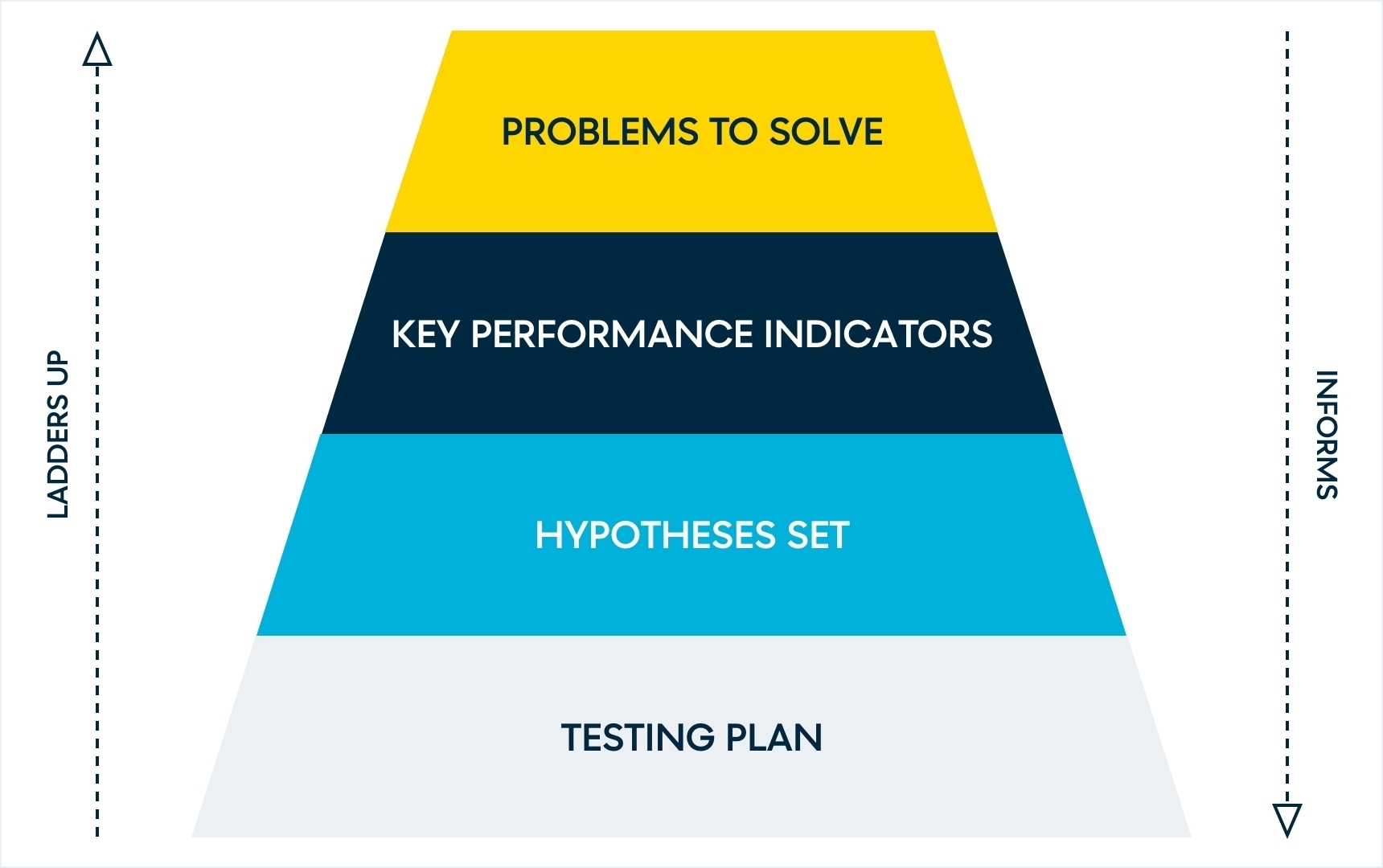 Keep in mind that every test doesn't produce a lift, and that's okay! As stated in a McKinsey article, Think fast: How to accelerate e-commerce growth [1], "a prerequisite of successful testing and learning is an acceptance of failure as the cost of uncovering new knowledge." There are still many learnings that can come as an outcome of testing, and those learnings can be used as you optimize your approach and learn more about your consumers' needs and expectations. 
How to Prioritize Your Test Ideas 
At this point, you may have a ton of test ideas and are ready to get to it! One final tip before you go is to come up with a game plan on how you'll prioritize your tests. Here are a few tips to help you get started: 
Go by business objectives or department objectives. If you can align your testing agenda with the business goals and objectives, this will ensure you're working to improve the right things. 

Measure effort vs. ROI. For a test that has a high impact and a high effort, is it worth the ROI? If this is the case, maybe you run fewer tests, but more meaningful ones.
When it comes to building your merchandising testing strategy, quality is way more important than quantity. 
Everyone who operates in the digital space should be doing testing. Testing before rolling out experiences and new enhancements ensures that you're catering to the needs of your consumers and impacting the company's bottom line in a positive way, especially since development costs and merchandising inefficiencies can be very costly. It's also important to never stop testing, as continuous optimizations and incremental improvements to the experience are the name of the game. What is working now may not work 6-12 months from now.
To learn more about how you can create a testing and learning culture within your team and organization, tune in to my conversation with Lisa Kowalkowski, the Senior Manager of Digital Product Management at Medline, and Shilpa Viswanathan, the Head of PMO, Value Measurement & Delivery at Bloomreach, as we discuss this topic in more detail.  
[1] Arun Arora, Julien Boudet, Michael Bucy, Hamza Khan, Rafael Montilla, and Kate Smaj, "Think fast: How to accelerate e-commerce growth, November 19, 2020, mckinsey.com.