Here's the 6 Ways to Improve Customer Experience in Banking & Insurance in 2020
Here's the 6 Ways to Improve Customer Experience in Banking & Insurance in 2020
The world of banking and insurance is in a constant state of flux. In line with the rise of the omnichannel customer and increasing competition, financial players must up their game to create smooth, omnichannel experiences or lose out customers, as well as their goodwill in the market.
Take the example of a customer who faced a delay in settlement and did not receive a satisfactory reason for the delay from the insurer, despite emailing and contacting several customer support agents.
The customer would, in all probability, take to social media to share this negative experience, impacting the brand's image negatively. However, had the customer service provided by the insurer been swift and emphatic, this situation may have been avoided.
No doubt, facilitating better customer experiences through immediate customer service has many rewards, in addition to winning the love and respect of your customers.
According to an article by McKinsey,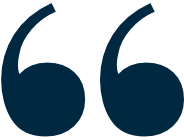 US auto insurance carriers that have provided customers with consistently best-in-class experiences have generated two to four times more growth in new business and about 30 percent higher profitability than firms with an inconsistent customer focus, in in part because satisfied customers are 80 percent more likely to renew their policies than unsatisfied customers.
That brings us to a fundamental question –
What are the difficulties faced by financial institutions in handling queries and claims that lead to poor customer experience?
The sheer volume of questions and claims, legacy systems, ancient technology, and a distorted view of the customer journey – these are the top issues that have long plagued banks and insurance companies across the world.
Typically in the insurance industry, most insurers look at various customer touchpoints as individual events. However, for customers, everything from visiting the website to calling an agent to file a claim is part of a single journey or requirement. 
Consequently, the legacy model of providing services through separate functions, that is marketing, distribution, claims, etc. managed by different people with different goals, is no longer going to work.
Today, customers demand consistent and seamless experiences across multiple touchpoints, and insurers must understand this fundamental concept to revamp the way they connect with their customers. 
On the other hand, banking institutions face another set of issues. A customer's banking relation is made of various steps, which includes onboarding, transacting, maintenance, and ongoing query resolution.
Besides, as most customers prefer banking on mobile, most financial institutions are heavily investing in digital experiences to give their customers the best possible service.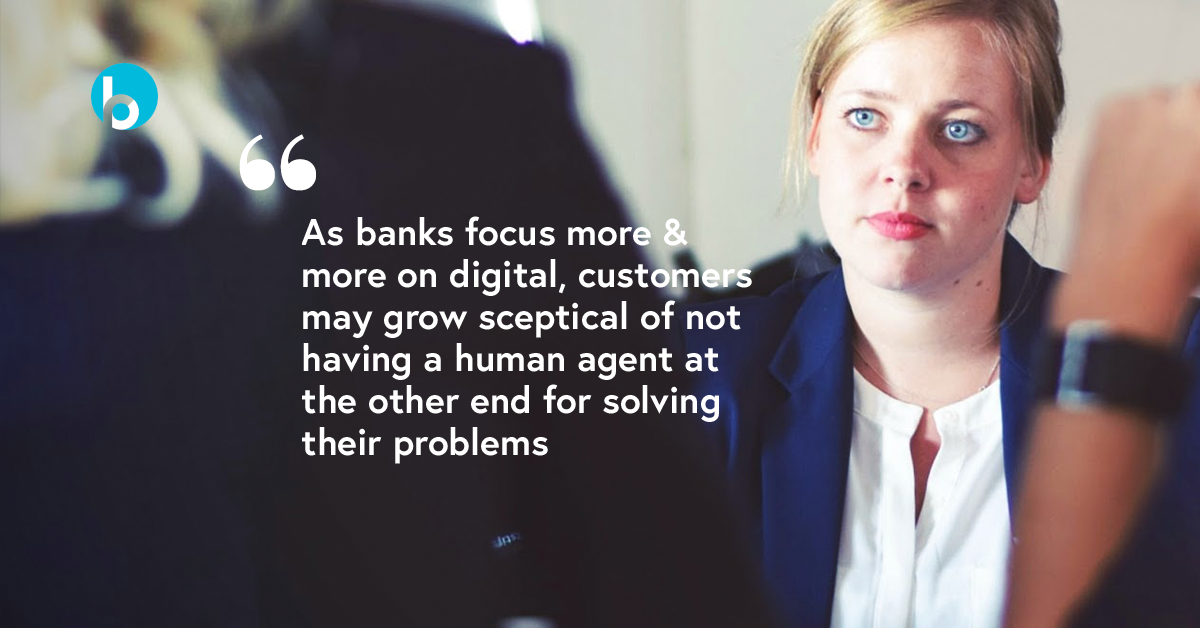 However, as banks focus more and more on digital, customers may grow sceptical of not having a human agent at the other end for solving their problems, especially when it involves sensitive financial transactions.
Thus, even though banks are spending much on digitizing customer journeys, they must link this transformation with customer expectations to find the right balance between digital and human touch. 
A Small Change Can Have a Large Impact
Take the example of an insurer that wanted to improve its claims process to improve customer experience. However, the team decided to collect customer feedback to understand their pain points before implementing any changes.
In this exercise, they gained the knowledge that the claims process was not as much of an issue as was the quality of online support being offered to customers.
With this understanding, the company was able to direct its resources in the right direction to alleviate the pain points of its users.
Of course, every company faces a different situation, but the idea is to understand what your customers want before implementing any sweeping changes in your processes, that may or may not give you the results you desire.
In addition to customer feedback, banking and insurance companies can create a journey map of their clients to identify their preferred touchpoints and offer them seamless services through these channels.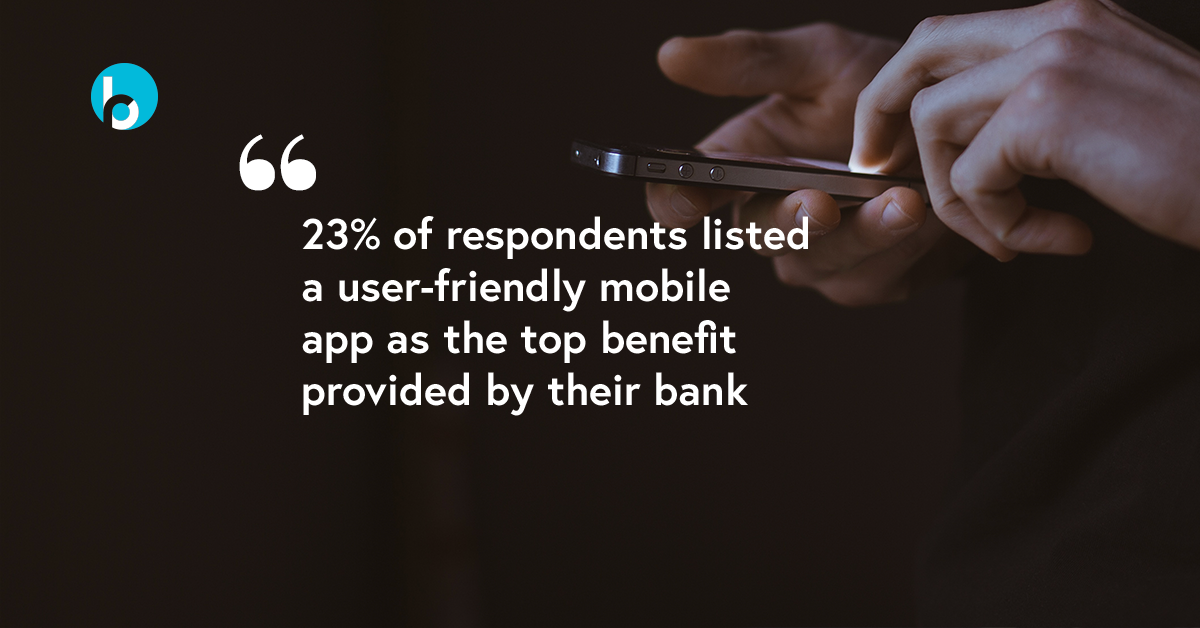 It is a fact that both banking and financial institutions have hordes of customer data. Based on this data, they can create customer profiles and divide them into segments for better handling of complaints and account management. 
In a survey conducted by Marqeta, 23% of respondents listed a user-friendly mobile app as the top benefit provided by their bank. However, a survey published in 2018 by Jumio found that 43% of millennials had abandoned mobile banking activities because of poor customer experience.
The example mentioned above proves that only being present on a preferred customer touchpoint is not enough. It is required to identify these touchpoints and deliver convenient and consistent experiences to improve customer loyalty and success.
Besides identifying the specifics, there are certain basics, like having a user-friendly website, live chat for customer support, self-help section, etc., that are central to good customer experience.
Below, we share six proven tips for the insurance and banking sector to redefine their customer experience for good:
6 Ways to Improve Customer Experience in Banking & Insurance in 2020

Simplify Your Website for Better CX
Manulife, a leading Canadian financial services group, decided to revamp its website for better customer experience.

By relying on Analytics, they found that their customers weren't able to see what they were looking for on the Manulife website.
To fix this, Forbes reports that the company "consolidated 1,200 web pages to just 250 and centralized web production for greater efficiency."
In times of shrinking attention spans, no one has the time or inclination to browse through numerous links or search for information that is tediously hidden on your site.
Consequently, it is vital to simplify your page structure and offer easy navigation to save your users time and hassle.
Navigation, primarily, refers to a map that guides users around your website. While improving the navigation on your site, it is crucial to make sure that visitors can find what they are looking for, quickly; else they would have no reason to stay on your site!

Provide 24*7 Support 
In the world of banking and insurance, nothing is worse for customers than waiting long enough to get in touch with an agent, whether it is for help during onboarding, account opening or settling a claim.
To meet the needs of the 'always connected' customers, financial institutes will benefit from integrating live chat support on various touchpoints to service their clients in real-time. 
Especially when it comes to explaining technical stuff, like opening an account or filling up a complicated form, live chat integrated with cobrowsing technology enables your staff to assist customers, on their screens, delivering fast and efficient query resolution, as well as great customer experience.
According to stats, by enabling cobrowsing and screen sharing, businesses can advance their first call resolution by 18% and reduce call handling times by 14%. 
Another great idea is to leverage a conversational bot for your enterprise, that is sure to amaze your customers.
Besides 24/7 query resolution (chatbots can answer up to 80% of repetitive and straightforward queries on their own), a chatbot can also streamline your customer support process by only passing qualified leads or complicated queries to agents.
This can be achieved by developing a series of predetermined questions that can be used to filter queries so that only those leads or inquiries reach your agents that deserve human intervention for conversion or resolution.
Looking for real-life examples? 
Let's start with Erica, Bank of America's AI-powered chatbot. Erica simplifies banking by enabling customers to search transactions, transfer money, and make deposits by instantly guiding them with the right steps from the bank's financial literacy library.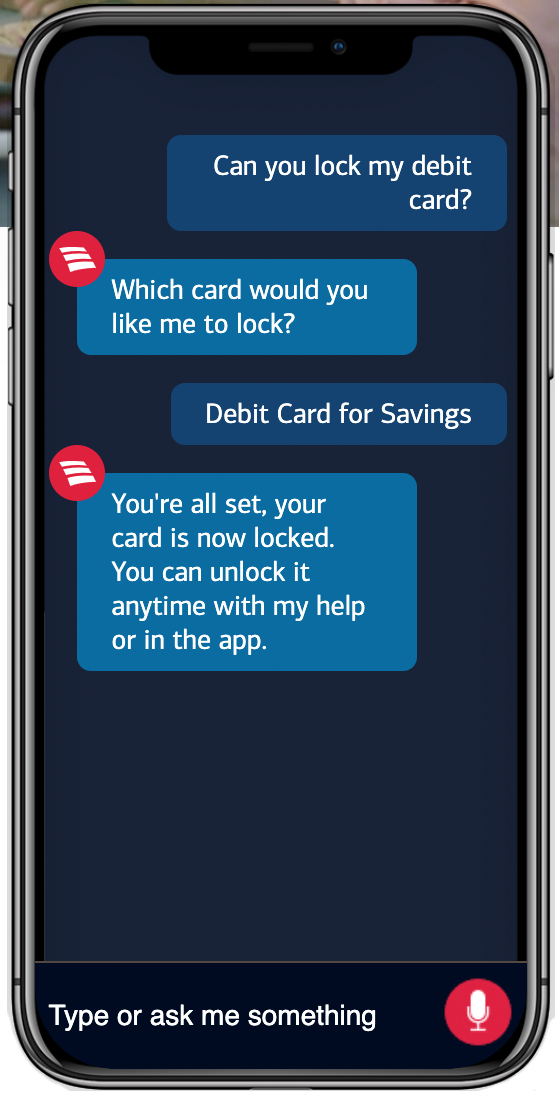 The bot understands text and voice commands, both, making it possible for customers to receive on-the-go assistance. 
In the insurance sector, SPIXII, a London start-up, has made it easier for users to get the right insurance product through a conversational bot.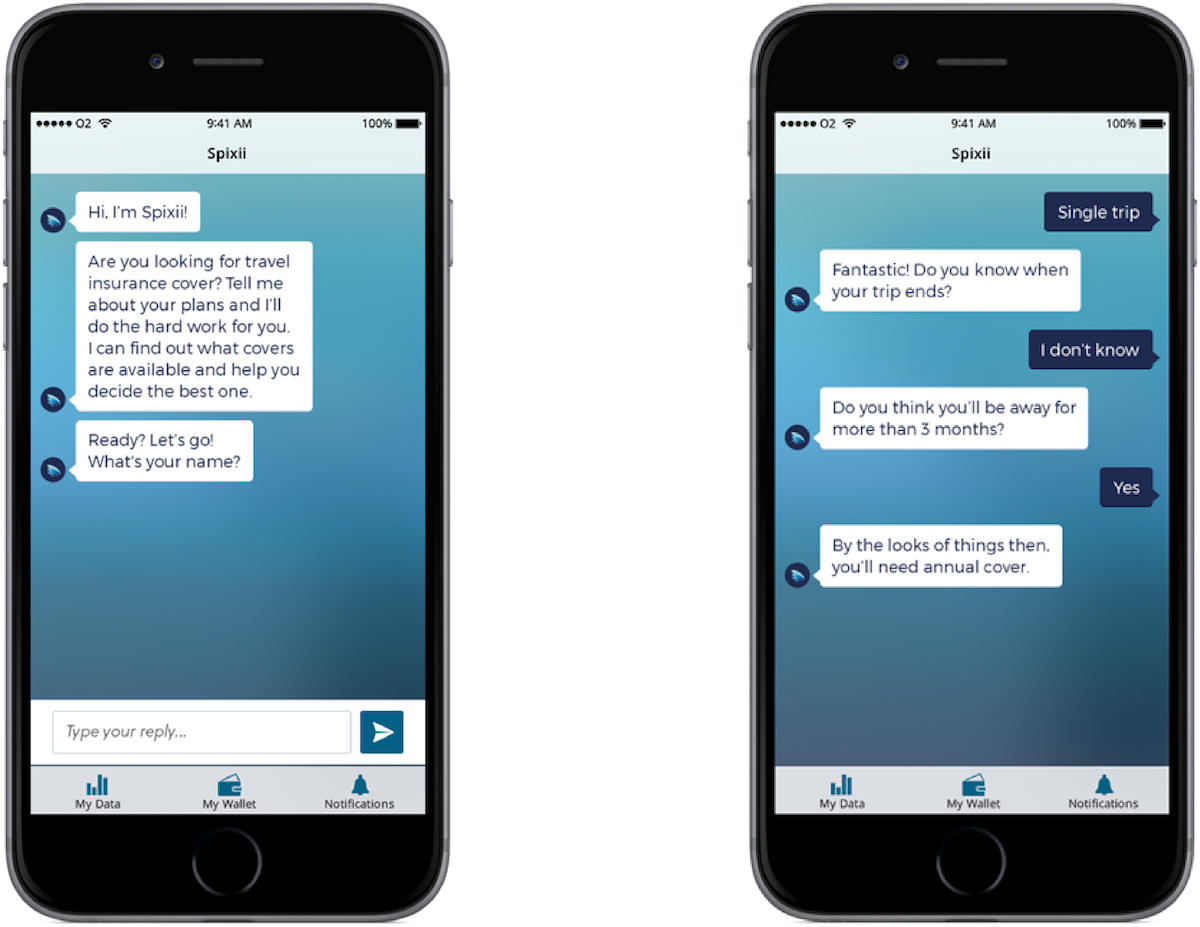 This bot asks a predetermined set of questions to match each user with the right insurance product for their need.
Another insurance company, Next Insurance, uses AI and machine learning to automate most of the policy and claims process.
With this move, their agents are spared the mundane tasks so that they interact with customers in a better way.

Offer Omnichannel Support to Customers
Most customers use an average of six different touchpoints while buying an item, and expect the same level of service across each communication channel they use.
Consequently, businesses across industries must adopt a multi-channel approach to keep their customers satisfied and engaged. However, being present on multiple touchpoints is not enough, especially for banking and insurance companies.
For example, your company may offer both chat and phone support. But is the level of service same across both the channels and can the customers switch between the two conveniently and seamlessly?
Did you know that up to 64% of customers expect real-time assistance regardless of the customer service channel they use?
Yet, 61% of customers find it convenient to switch from one channel to another when interacting with customer service. About 89% get frustrated, as they must repeat their issues to multiple representatives.
Remember, customers don't see brands in silos. So, when a customer wants to settle a claim, he doesn't want to jump through the hoops to be connected to one department after the other.
For her, your live chat agent or phone agent is a company representative and must be able to help him. 
Bank of America happens to be one of the premier banks to adopt an omnichannel approach by creating a seamless and dynamic experience on their mobile and desktop apps – for things as small as appointment scheduling to paying monthly bills or depositing money.

Use Co-browsing for Effective Query Resolution
Research indicates that interactive marketing strategies can help the banking sector to grow its market share while also increasing customer satisfaction levels significantly.
Accenture reports that only up to 19% of banking customers feel satisfied with computer-only advice. Besides, almost 70% of users do not use smartphones for banking, especially for complex products, such as home loans.
The reason is simple. Customers want the human touch, or personalized advice when making important decisions with their money. 
However, walking into a branch takes time, and also adds a burden on a bank's resources. Instead, by employing technologies such as face-to-face video chatting and cobrowsing, it is possible to make virtual banking much more human, without any huge investment.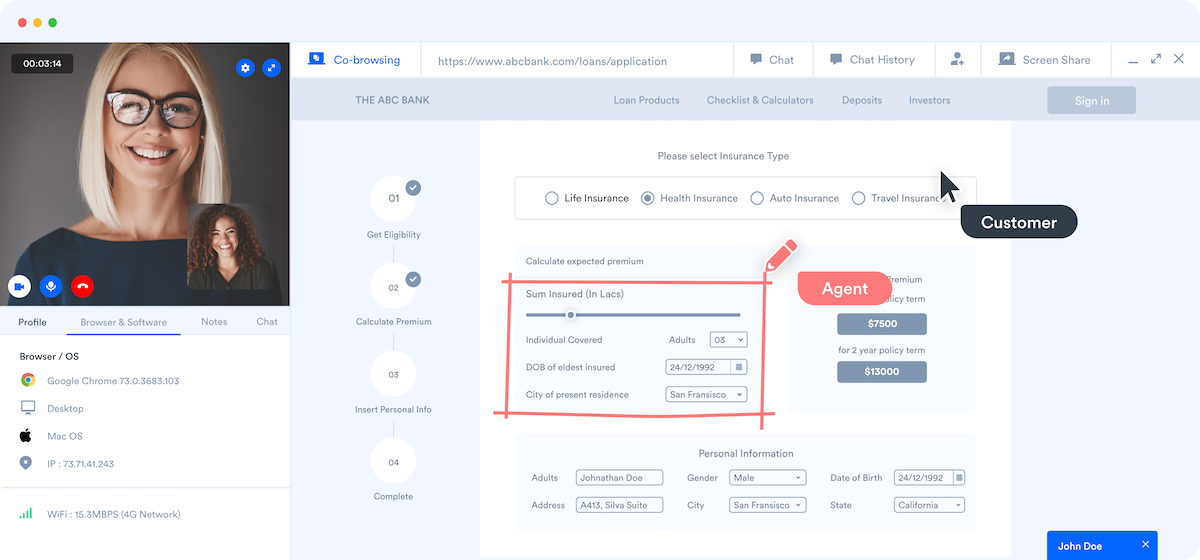 Consider a customer A, who wants to apply for a home loan. A reaches your home loan page and finds most of the information he needs, swiftly.
A decides to fill up the application form, but he has a few doubts that he wishes to clear. So, he decides to call up customer care or search for more information to complete the process later. But, unfortunately, 'later' rarely ever comes for customers.
However, if you had a live chat option on the page, A could have just clicked on the chat icon to get his query resolved.
With cobrowsing technology, your agent could have directed A to the requisite information, on his browser, while also assisting him in filling the form in real-time. 
The best part about cobrowsing is that it helps both the parties, by reducing the number of abandoned applications and increasing customer satisfaction for banks and enabling swift and effective query resolution for customers, without any wastage of time. 
The Cobrowsing feature can be integrated with other tools, such as live chat, audio, and video calls, screen sharing, etc., for better customer experience and efficiency.

 

Leverage Voice Search Technology with a Digital Assistant
"Financial services firms can leverage digital virtual assistant with voice search technology to offer banking and insurance services." More people are becoming comfortable with voice-based search technology, cherishing the convenience and personalized experience it provides.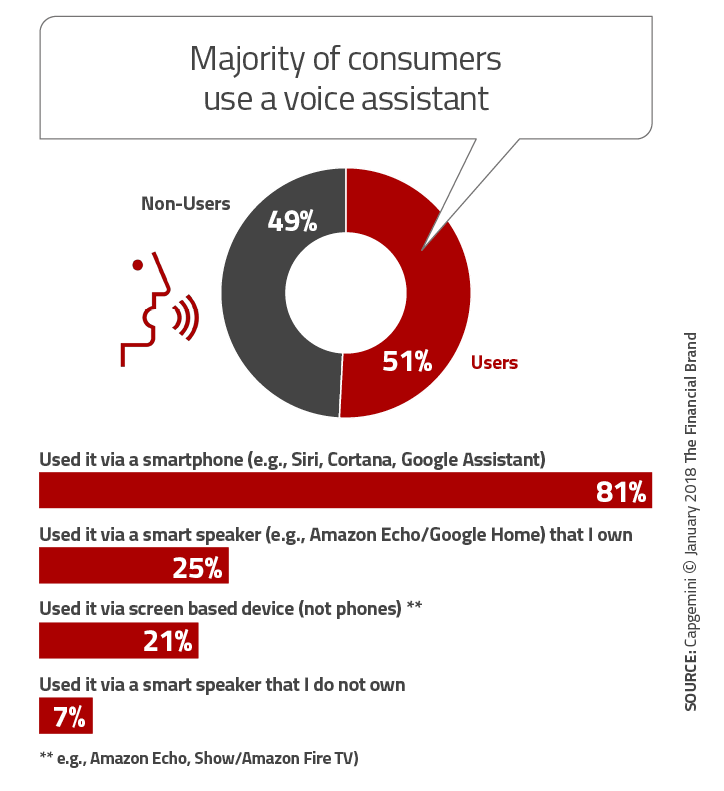 Especially with the developments in natural language processing (NLP) and voice recognition techniques, conversations with voice assistants have become less mechanical and offer a secure banking mechanism through voice recognition.
However, there's more you can do with a digital assistant than merely enabling customers to make payments with a voice command.
As of today, many banking customers can get Alexa, Amazon's voice assistant, to check their account balance or credit card debt. Soon, it may be possible to handle even more complicated tasks, like getting loans or renewing insurance, with voice-based search enabled on your smartphone or car. 
The advantages of offering voice-based services to your customers are clear – convenience and time-saving – two of the most significant factors that define your customer experience.

Collect Continuous Feedback and Act on it
As we mentioned at the beginning, banks and insurance companies must listen to their customers before making improvements to their system. This helps organizations identify their problem area while also anticipating customer needs in the future. 
The example of Manulife (shared previously) is a good case in point. Once the company figured they needed to improve their customer experience, they surveyed to figure out what irked their customers the most and fix those pain points to enhance their offering significantly. 
McKinsey shares the example of a North American bank that used net promoter score (NPS) to determine the impact of the time taken in opening an account with the level of customer satisfaction.
The bank found that the NPS declined if applications took over 20 minutes to complete or there was a delay of over 24 hours in account opening. With this information, the bank could address the breakpoints and redesign the customer journey to improve its customer satisfaction rates.
Summing It Up
In any business, as in life, change is the only constant, and financial organizations must move on from legacy systems to adopt advanced technology solutions, such as those listed above, to redefine their customer experience and achieve more success.