Omnichannel Marketing Automation
The Ultimate Email Marketing Automation Guide
By Ian Donnelly
11/28/2023
When it comes to reaching your customers, email marketing automation is one of the most powerful tools you can use to grow your business. 
It's a strategy that can take your email marketing — traditionally the best-performing channel for any business — to new heights. 
In this guide, we'll discuss what it is, some best practices, practical examples of email marketing automation, and how to choose the right software for your needs.
With automation streamlining your efforts, email marketing is one of the most powerful tools you can use to grow your business.
Email marketing automation can be used to automate repetitive tasks in your email campaigns and create prearranged workflows that serve relevant content based on triggers, behaviors, and timelines.
Implementing automation requires a methodical and strategic approach. Your emails need to guide your customers through a desired journey, serving them the right message at the right time.
Choosing the right email marketing automation software — one that keeps your data, channels, and orchestration tools in sync — is critical for success.
What Is Email Marketing Automation?
Email marketing automation is the process of using software to automate repetitive tasks in your email campaigns. This allows you to send messages to your subscribers based on their behavior and preferences, ultimately saving time and increasing efficiency.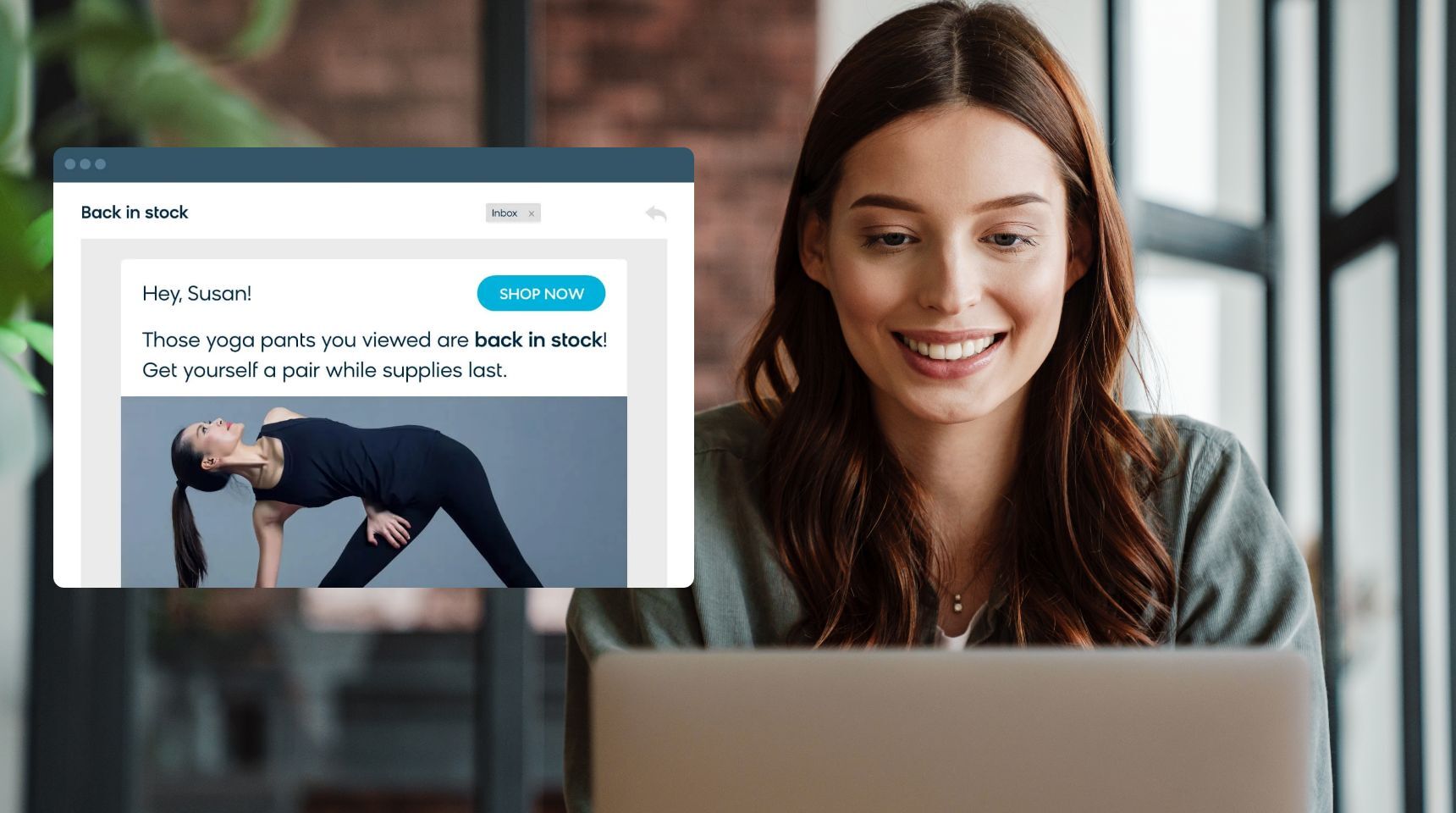 With automation, you can make personalized and targeted email campaigns that deploy instantly to speak directly to the needs and wants of your audience. And while saving time is a big plus, this targeted approach is the biggest benefit that email marketing automation offers modern businesses — it allows you to prearrange an email workflow that caters to your customers based on real-time triggers, specific behaviors, and timelines. 
With these predetermined touchpoints in place, you can continuously engage with your customers and build lasting relationships with your audience. 
Read This Next: E-Commerce Personalization: Your Complete Guide
Why Use Email Automation?
Email Marketing Automation Tools Empower Your Marketing Team
It's hard to understate the benefits of email marketing automation tools that cut down on the repetitive, manual chores of email marketing. 
When you harness email marketing software that allows your team to set up automated campaigns and trigger emails based on specific user actions or predefined schedules, your team is empowered to focus on improving the success of your strategy, not drowning in a sea of emails that need to be built, targeted, and sent at the right time.
Whether it's brainstorming creative campaign ideas, optimizing existing strategies, or exploring new market opportunities, your marketing team can confidently take on more tasks knowing that the routine work is being taken care of.
Automated Email Marketing Helps Scale Your Efforts
If you're looking to ramp up your marketing, or even keep up with what your audience expects from a modern business, an email marketing automation tool is a must. Manually crafting individual emails at the speed and scale required for today's e-commerce experience is just not a feasible approach for success. 
Without email automation software, the number of customers you can reach with the right email at the right time is limited. Speaking directly to a customer's needs and staying on schedule with a curated customer journey is an impossible task.  
You need software that can intake and activate the wealth of data you get from the interactions you have with your email audience, helping you turn them into valuable triggers and touchpoints. You need real-time analytics and robust reporting capabilities so your team can gain valuable insights into campaign performance, subscriber behavior, and more.
This is the level of insight and orchestration that marketing automation can offer your email campaigns, helping you scale your efforts and foster long-lasting relationships with your email audience. 
Email Automation Bolsters Your Best-Performing Channel
The main reason that marketers adopt email marketing automation software is a straightforward one: It strengthens their email marketing efforts, which are often the primary tools that businesses use to communicate with customers.
Email has always been the king of digital marketing channels, and it shows no sign of losing its title anytime soon. There are approximately four billion email subscribers worldwide, which dwarfs the user base of other marketing channels like Facebook, WhatsApp, and Instagram. 
Plus, all of those subscribers are engaging with the channel on a daily basis — more than 99% of consumers check their inbox each day. 
With this level of user engagement, it's no wonder that marketers continue to rely on email as their go-to marketing channel. And there are so many ways to grab your audience's attention with email marketing campaigns, from one-off emails like sale announcements to targeted email campaigns that guide your customers through an orchestrated customer journey. 
For the most personalized and effective email campaigns, you need email automation tools that allow you to build emails that are tailored to each unique recipient. You also need to abide by a few marketing best practices to make sure you're getting the most out of your software.
Let's run through the most important guidelines to follow to make sure your email marketing automation yields the best results.
Email Marketing Automation Best Practices
Create Engaging Content With Relevant Data
The first rule of email automation is an intuitive one, and it is a good standard practice for all your email campaigns: Always focus on creating worthwhile content for your customers.
The foundation of any successful email marketing campaign is engaging content. Make sure you craft compelling subject lines, use clear and concise copy, and include appealing visuals to keep your audience interested.
To do this, you need to design automated emails that are fueled by real-time data. Leveraging both your up-to-date customer data (like behavioral data, customer relationship data, transactional data, etc.) and your product data (like relevant product categories, current stock levels, etc.) is the best way to engage your customers with campaigns that match your business' offers to their specific wants and needs.
Read This Next: A Single Customer View: Everything You Need To Know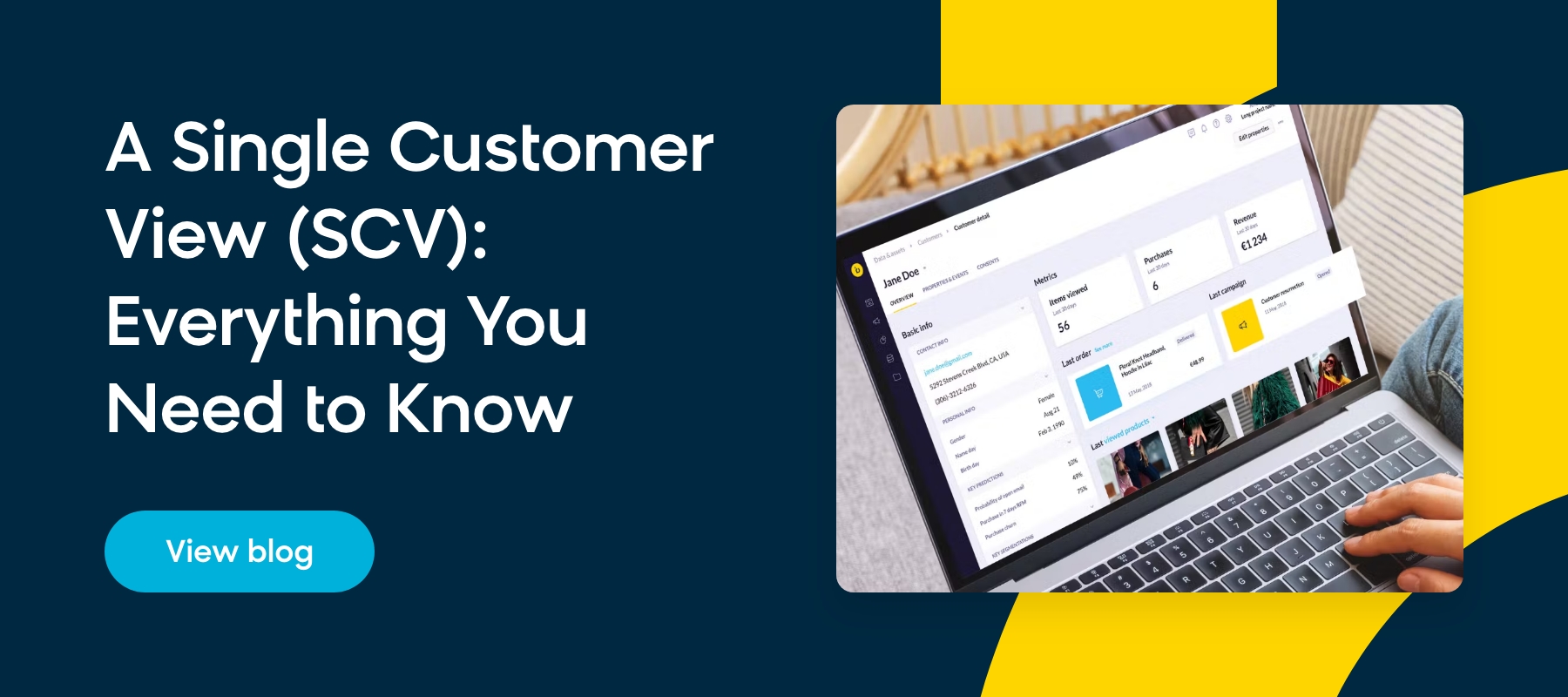 Understand the Customer Journey
To automate your email campaign workflows, you need to map out your ideal customer journey. It's an essential step that helps you understand all the touchpoints your subscribers have with your brand. 
First, you need to identify your audience's behavior across your campaigns (why they engage with some, why they ignore others, etc.) and apply that data to see where personalized email campaigns can be implemented to best engage with your audience.
Once you recognize the patterns and trends in your current customer interactions, you can map out your ideal customer journey and start orchestrating automated campaigns that point your audience in the right direction.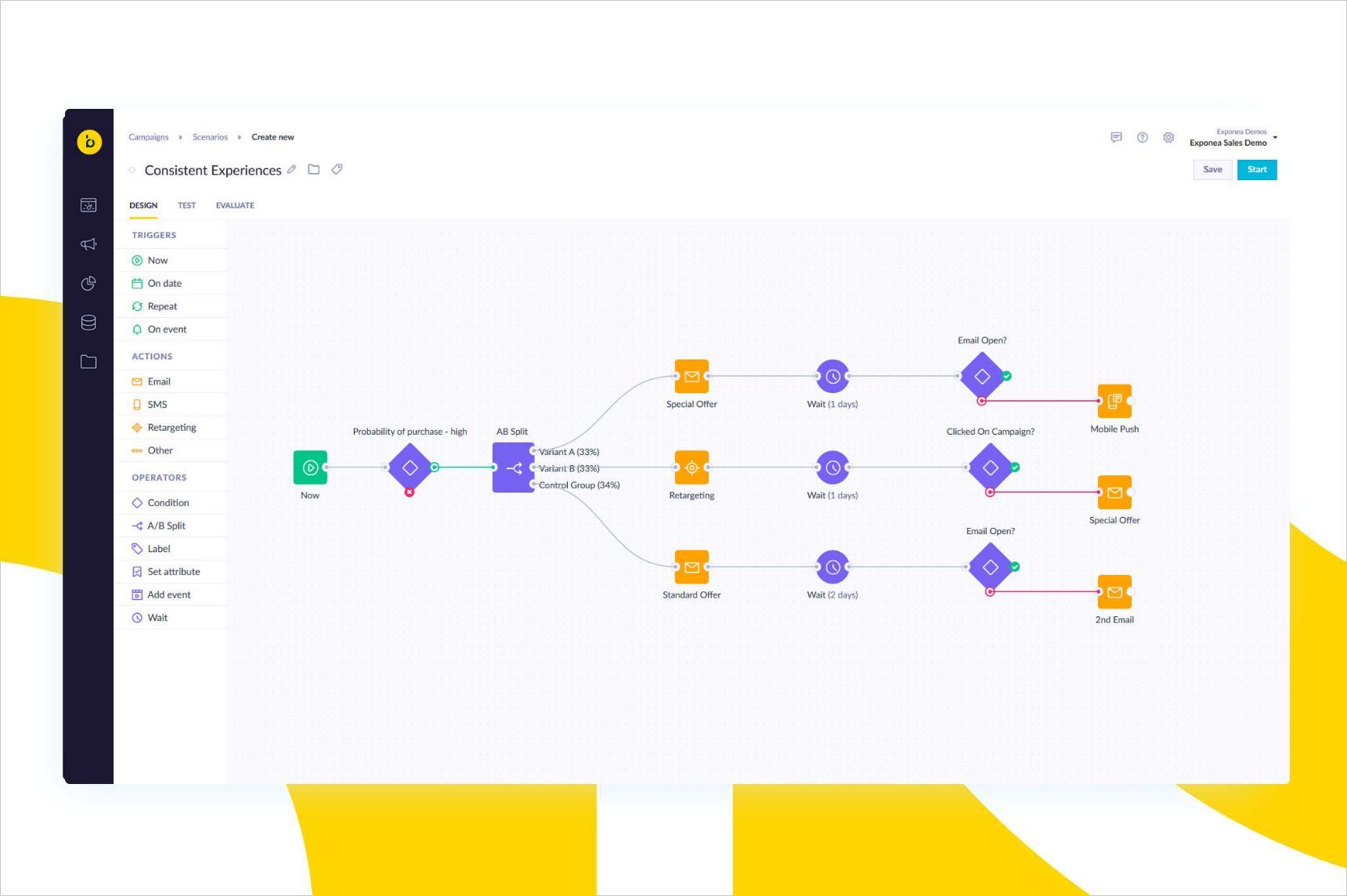 Journey orchestration is one of automation's greatest strengths. It lets each customer take an active role in defining their personal experience with your brand. You create email campaigns that give them choices, and each choice they make guides the way, steering them towards the perfect products and enticing them to purchase. 
For instance, if a customer clicks on an email, visits your website, and completes a purchase, they need to be reengaged and remarketed accordingly. If they don't interact with that email, they need a completely different approach for reengagement. 
To offer the best customer experience, their choice has to dictate the marketing they receive and trigger an automated workflow that reengages them with the next best step in their customer journey. That's the level of personalization that true journey orchestration offers.  
Read This Next: The Ultimate Guide to Journey Orchestration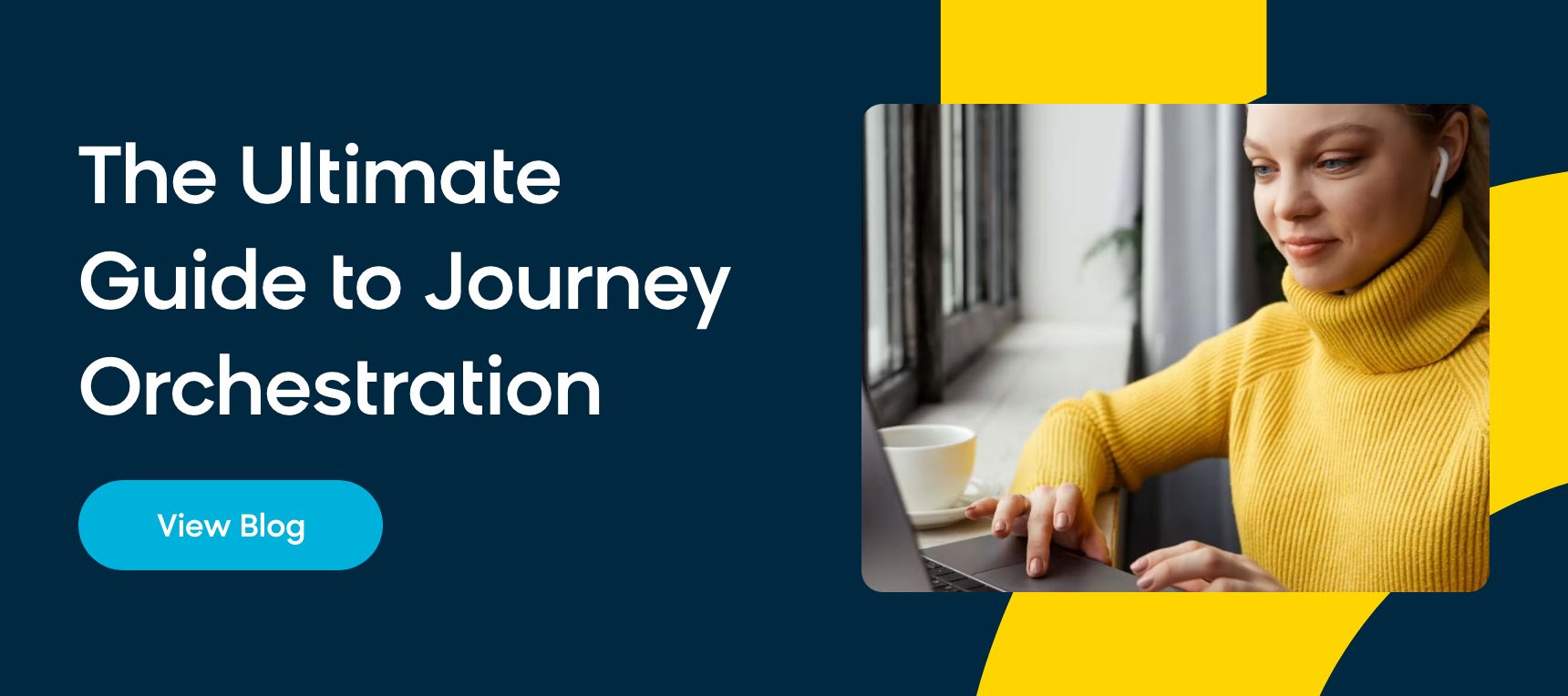 Practice Good Email Hygiene
Email marketing automation tools are only effective if your emails reach your customers' inboxes. That's why maintaining a clean email list is crucial for deliverability and engagement. 
The people you send marketing emails to need to be willing recipients of your campaigns. You always need to provide a way to unsubscribe, and if someone does click unsubscribe or becomes inactive, it's crucial that you take action, both as a marketing best practice and to comply with anti-spam regulations. 
Combing your lists for spam or undeliverable email addresses on a regular basis is the best way to maintain good email hygiene. 
But before purging the undeliverable email addresses from your list, you'll also want to identify why they were undeliverable and bounced back. First, you need to check if it's a hard or soft bounce.
A hard bounce is an email message that can't be delivered due to an unchanging, permanent reason, such as the email address doesn't exist, the domain name is invalid, or your recipient's mail server doesn't exist. 
A soft bounce means that there is a temporary issue and there's still hope that it can be fixed, such as your recipient's inbox being full, low user engagement, or the ISP is having connectivity problems.
Doing what you can to fix undeliverable emails, regularly cleaning your email list of spam addresses, and updating your list when someone unsubscribes are some of the most important steps you can take for email list hygiene. 
Read This Next: The Ultimate Guide to Mastering Email Deliverability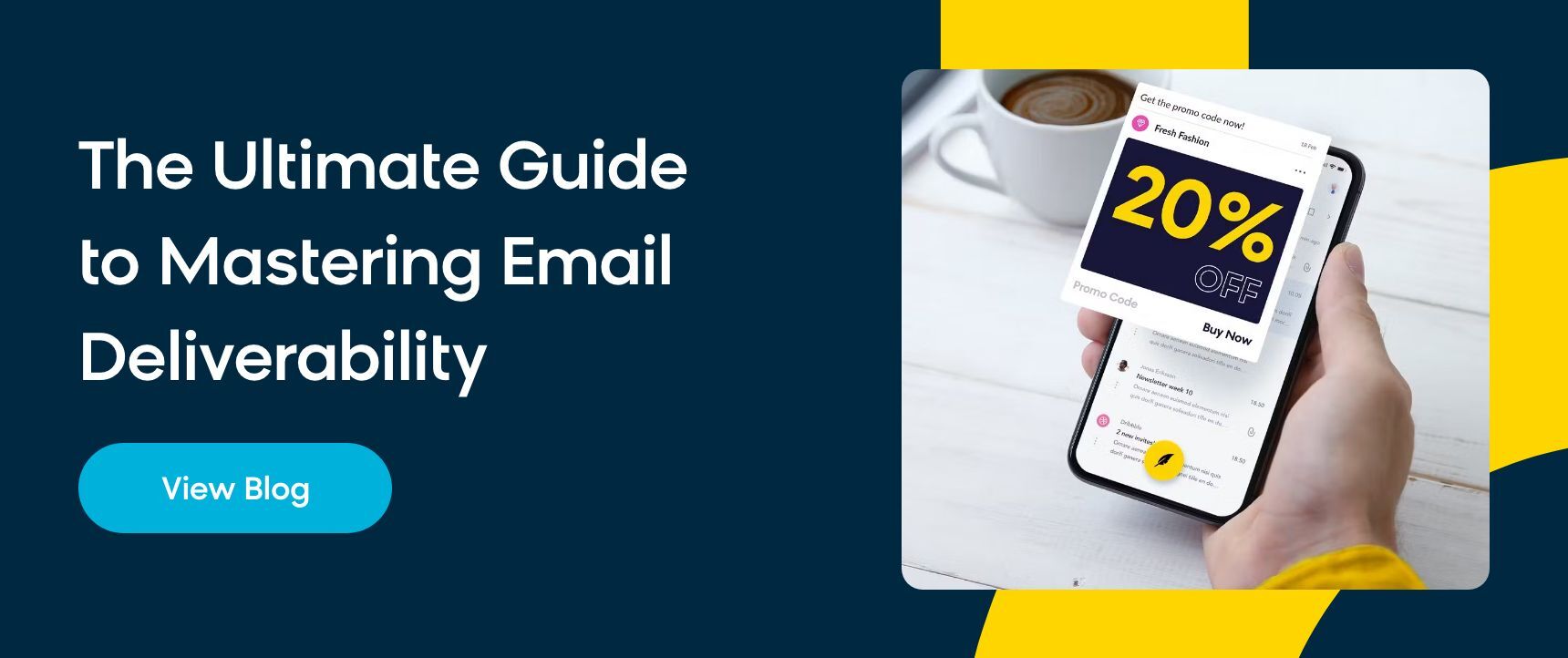 Refine Your Site With Conversion and Experience in Mind
To get the most out of your automated email campaigns, you need to think beyond the campaign itself. The ultimate aim of your marketing efforts is to offer your customers the best experience possible and help them complete their purchase, which means the next step in their customer journey needs to be fine-tuned to reach your goals.
Optimizing your website for conversion rate optimization (CRO) and a beneficial customer experience ensures that your email campaigns drive traffic to a site that's designed to convert visitors into customers.
Customers value business relationships that anticipate their needs and deliver easy, memorable experiences across all touchpoints, not just the targeted messages they see in their inbox. The products they are shown, the landing page they are directed to, the purchasing process they need to complete — it all needs to be streamlined and worthwhile for your audience.
A holistic view of your customer experience is the best way to reach the results you're looking for with your email automation tools. With your entire customer journey in mind, you can optimize, orchestrate, and inspire interactions that will help guide customers along their paths to purchase.
Read This Next: E-Commerce Customer Experience: How To Create Great Experiences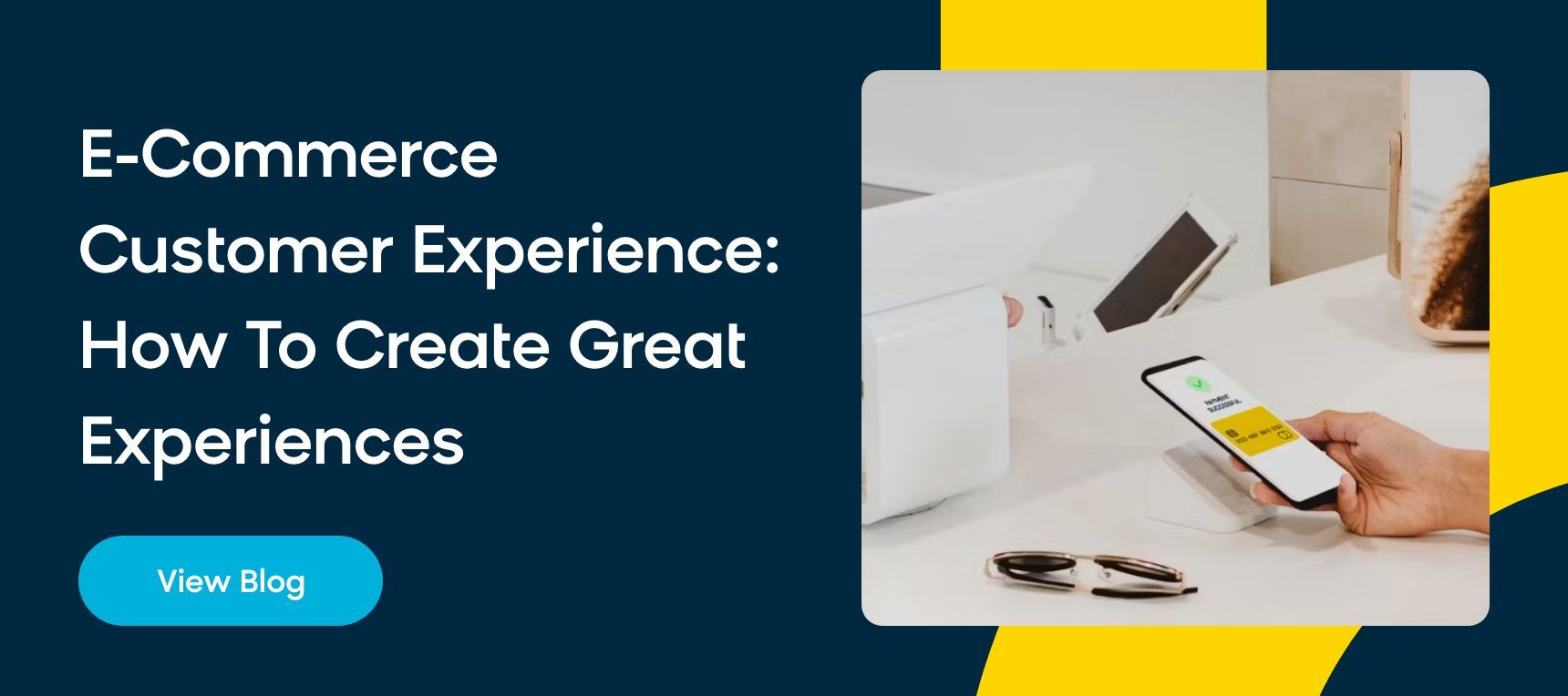 Types of Automated Email Marketing Campaigns
With the right automation tools, there are no limits to what your automated emails can accomplish. Here's a few tried-and-true approaches to email automation that are valuable for any business to adopt. 
Welcome Emails
Automated welcome campaigns are great ways to send a series of welcome emails to new subscribers, introducing them to your brand and setting expectations for future communications.
More than 80% of users will open a welcome email, which is four times more opens and 10 times more clicks than a standard email, so there's a good chance that you'll get their attention. To maximize results, be sure to send the first welcome email within the first 24 hours of a user subscribing. 
And after that first email hits their inbox, you can start personalizing their experience based on their engagement and preferences.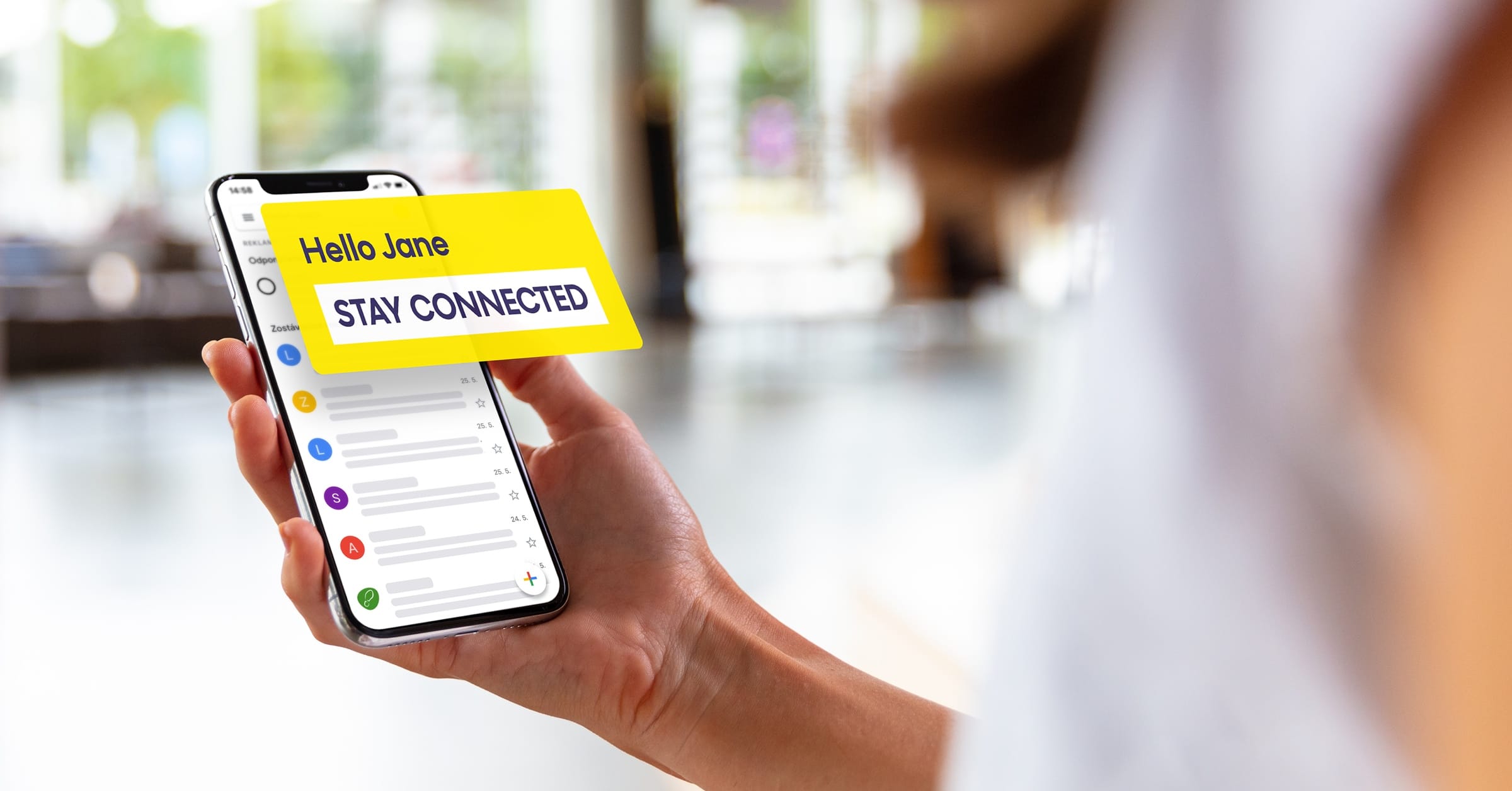 The first email can thank new customers for subscribing, the second can offer your most popular product recommendations, and the third can be automated to respond to their interests — if they took action and made a purchase, ask for a review. If they haven't clicked through yet, offer an incentive like a promo code. 
However you decide to automate your customer's emails, a welcome series is a worthwhile place to start. 
Cart Abandonment Emails
Of all the email marketing automation tactics available, cart abandonment emails are one of the most dependable email tools in a marketer's toolbox. Sending automated reminders to customers who have left items in their shopping cart can make up for a big problem facing e-commerce businesses.
Nearly 70% of online shopping carts are abandoned. This means that for every 10 customers who add an item to their shopping cart, seven of them leave without following through and making a purchase. 
Thankfully, abandoned cart emails can go a long way toward getting those dropped sales back. Over 40% of cart abandoned emails are opened, and 50% of users who click through end up making a purchase. 
​​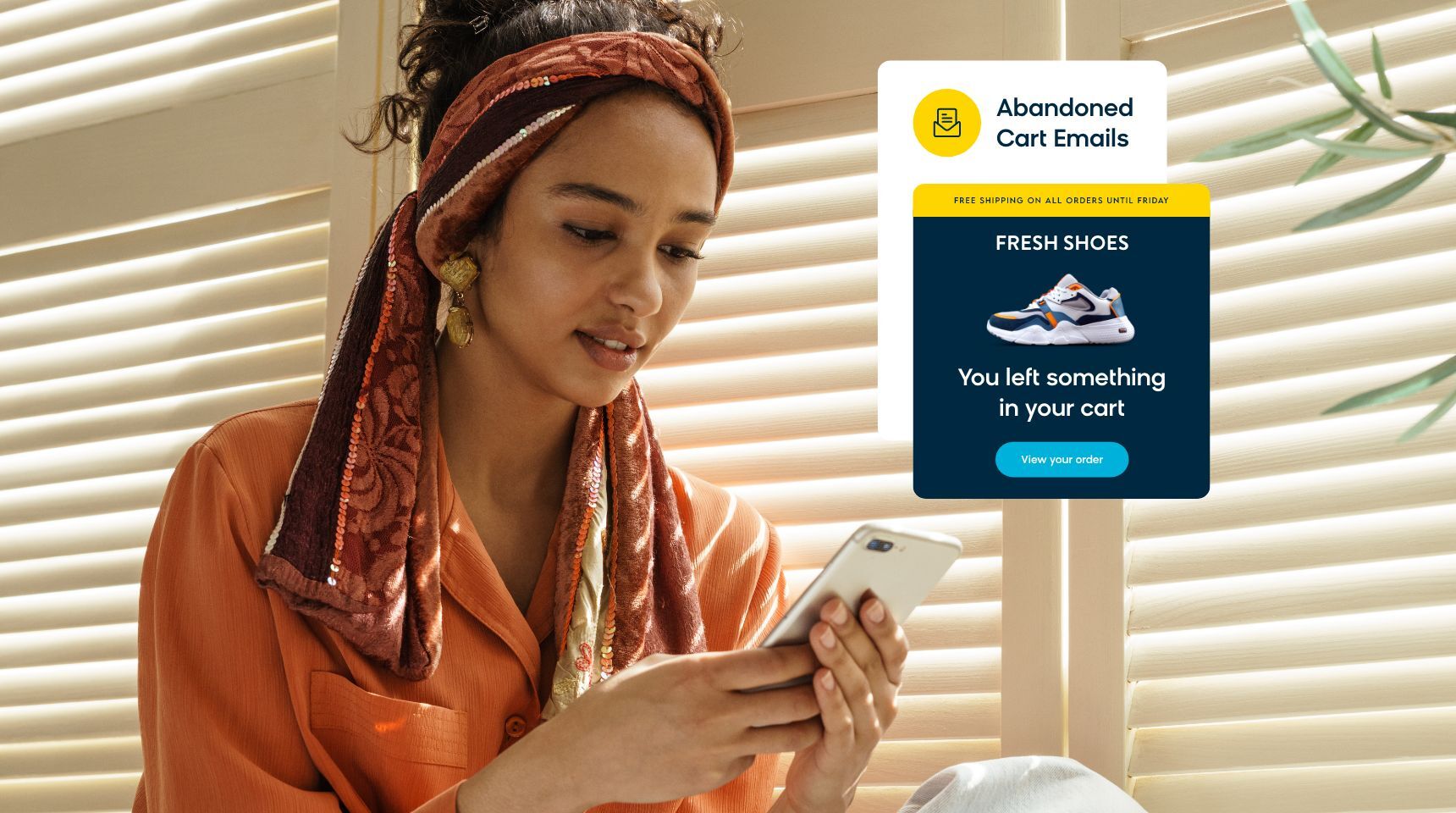 With an email marketing automation tool, you can set up automatic abandoned cart flows that are sent to a user when they leave your site without ordering the items they've added to their shopping carts. This entices your audience back to your site, where they've already picked out the items they want to buy, and you can encourage them further with discounts or incentives like free shipping to help move them along the path to purchase.
Reengagement Campaigns
When customers lapse and stop purchasing from your site, reengagement campaigns are proven ways to boost customer retention. Email marketing automation can help reactivate past customers with communications based on their personal site activity and purchase history. 
By setting up triggers and timely campaigns, you can create automated emails that leverage customer data to tailor your messages and inspire dormant customers to return to your brand. 
Targeting these inactive customers is a great use of email automation — they have already purchased from you in the past, so you have the data you need to create inspiring, personal messages. And with automation, you can streamline the process to send relevant win-back campaigns after a set period of lapsed time. 
Post-Purchase Follow-up Emails
Once your customer makes a purchase, your marketing efforts can't just stop there. Improving the lifetime value of your customer should always be a priority for your marketing efforts, and the first step of turning one-time buyers into loyal customers is a post-purchase email marketing campaign.
Email marketing automation is vital for successful follow-up campaigns. With an automatic flow that responds to your customers' actions and engagement, you can completely personalize their continued relationship with your brand.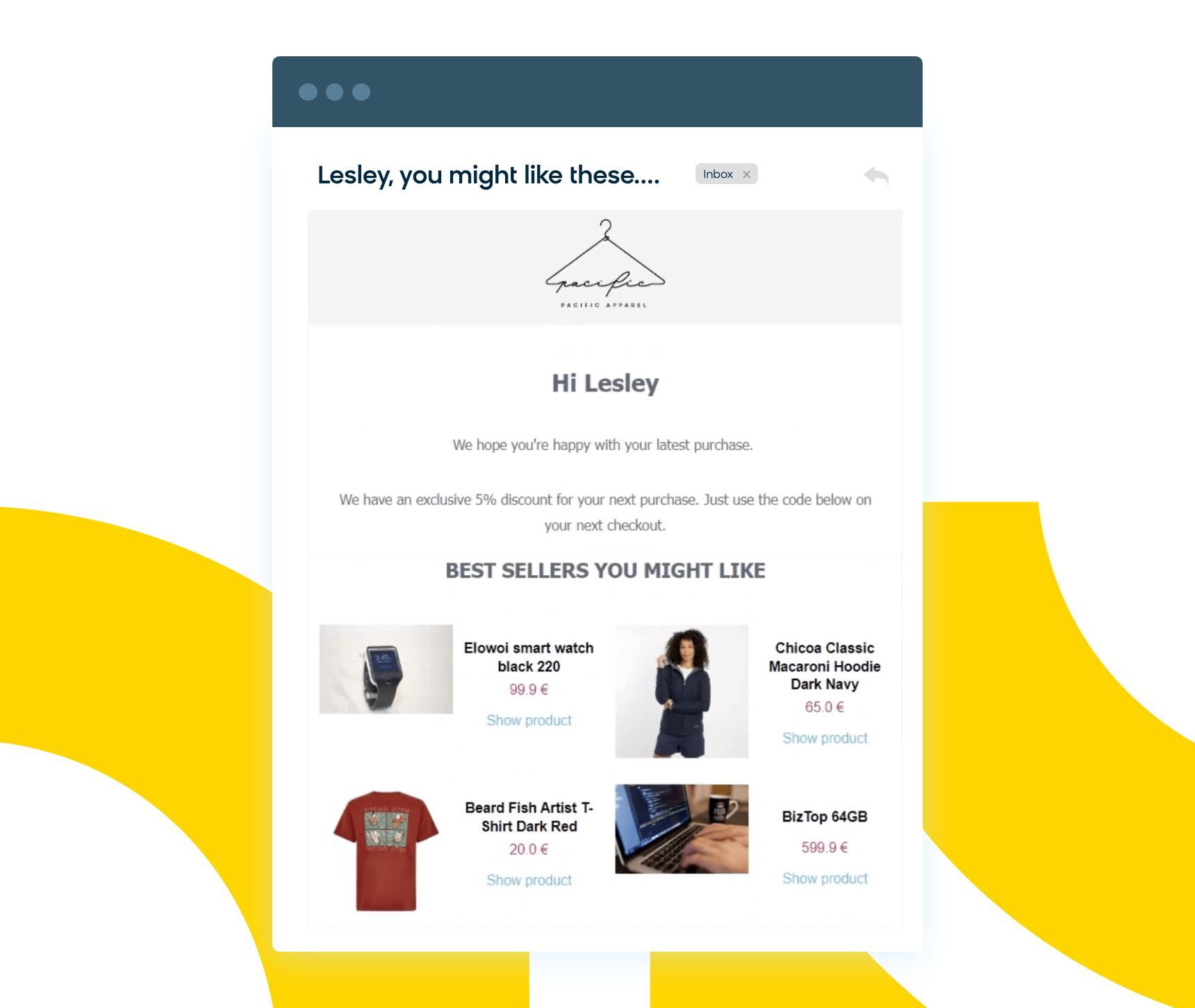 Your follow-up emails can take any route you want to create a rewarding customer journey. Once your audience makes a purchase, you can ask them to leave a review, offer them helpful product usage tips, or highlight related items they might also be interested in.
With automation fueled by real-time customer data, you can achieve a level of one-to-one messaging that modern customers are looking for from their favorite brands. And as you build out your post-purchase email marketing flow, you can design more tailored and automated follow-up messages based on specific user journeys. 
How To Create an Email Marketing Automation Strategy
Email marketing automation can't be approached in a haphazard way. You need to be methodical and sensible with how you apply email automation tools to your campaigns.
Whether your business is just starting to develop a strategy or you're tweaking your plan for the future, there are a few steps that everyone should consider:
Define Your Goals and Objectives
Determine what you want from your email marketing. Is improving your abandoned cart rate your main goal, or is winning back lapsed customers the target? Starting with a clear objective is the best way to build a rock-solid marketing strategy.
Identify the Types of Emails You Want To Automate
Once you have your goals, you can match them with the right campaigns. You need to identify the best use of your email marketing tool — would an automated birthday campaign help you reach your customer engagement goal? Or would a feedback request email flow be better to help your audience feel a part of the conversation? 
Your goals can help guide the way and find the right campaign for your strategy.
Map Out Your Customer Journey
Next, you need to lay out the ideal path you want your customers to take. How can you guide them to take action? If they stray from your desired journey, how can you entice them to get back on track? These are all relevant questions and important touchpoints to address in your email marketing flow.
Create Engaging Content for Each Campaign
We've said it before and we'll say it again: Engaging content is the most important piece of the marketing puzzle. No matter where your audience is in their buying journey, you need to make sure your email marketing reads and looks as good as you want your customers to feel.
Set up Workflows in Your Email Marketing Automation Software
Once you know what action you want your customer to take, the types of campaigns you need to make it happen, and what your customer journey looks like, you can start designing your triggers, timelines, and workflows to make your automated email marketing strategy come to life. 
Test, Monitor, and Optimize Your Campaigns
Even with email marketing automation tools, no email is truly "set it and forget it." 
Testing your strategy is the best way to make sure you're getting the most out of your efforts. Try A/B testing different tactics to see what works best for you — whether that's figuring out the right channel, the right content, the right time to send, or the right number of emails.
Read This Next: 5 Elements of a Successful E-Commerce Email Marketing Strategy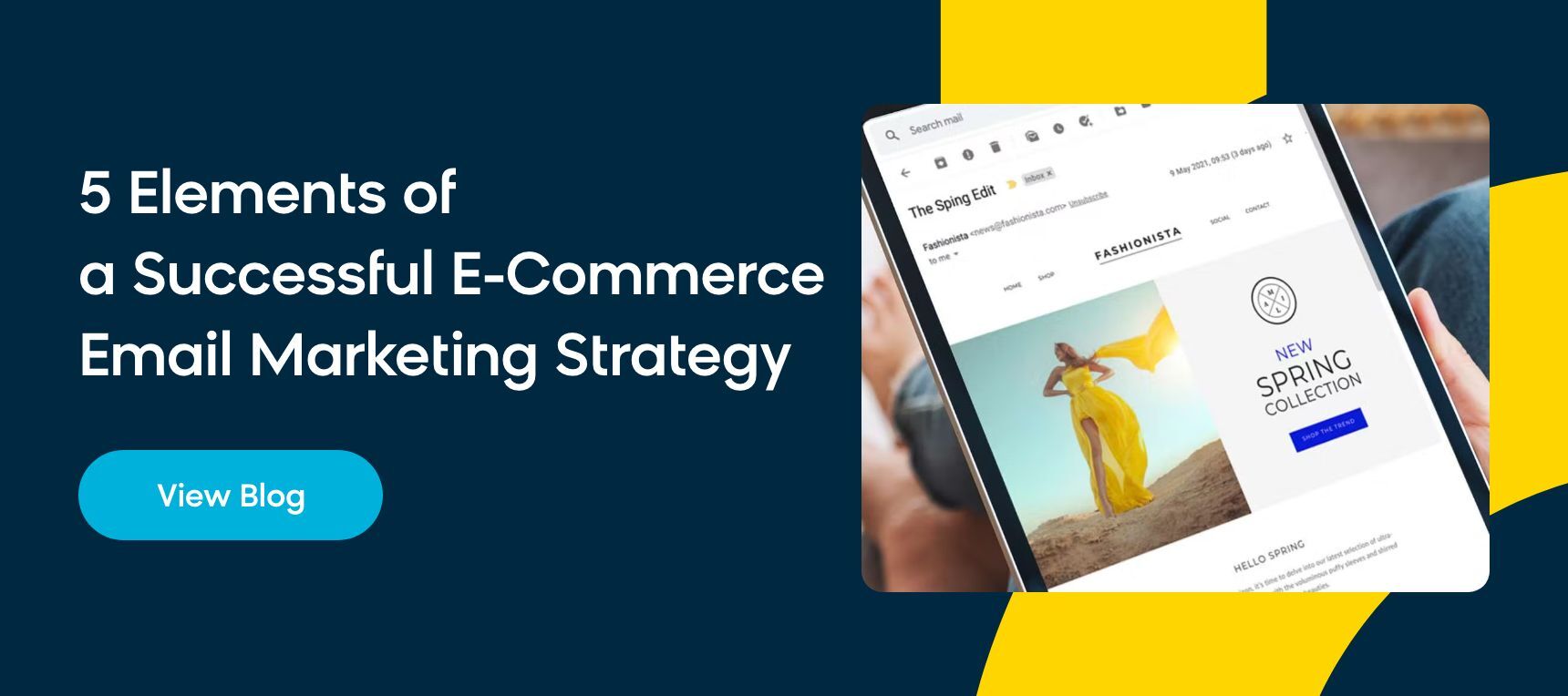 How To Choose the Right Email Marketing Automation Software
To execute your email marketing strategy, you need email marketing software that's up to the task. 
But not all email automation tools are the same — there are key questions to keep in mind when choosing the email automation software that's right for you.
What Type of Email Campaigns Do I Want To Automate?
First and foremost, your email automation tool needs to be capable of executing the campaigns you want to create. Identify the types of campaigns you need to automate and make sure the email automation platform you are considering supports them.
What Are My Must-Have Automation Features?
Create a list of essential features you need in an automation tool and prioritize them when comparing software options. The ability to set behavioral triggers, time-based campaigns, and intricate workflows are essential, but what other automation features does your brand need? 
Is omnichannel automation a goal for the future? Is scalability important as your business ramps up your efforts? These are all factors you need to address when choosing the best email marketing automation solution for your company. 
Will the Email Automation Software Integrate With My MarTech Tools?
Choosing a platform that easily integrates with your existing digital marketing tools is a non-negotiable requirement for automation software. The best automation campaigns run on the most relevant and comprehensive data, so there can be no barriers between your tools and the information they can contribute to your email campaigns. 
This is especially true for your data management tool. Whether you use a customer data platform or other customer relationship management software, your automation needs to be plugged into your customer data for the best results. 
To make sure that integration isn't an issue, an all-in-one marketing solution is the best choice for modern businesses. With it, your data collection, channels, automation features, and testing capabilities come together in one place, without the need to jump through hoops to integrate separate solutions. 
With everything available under one roof, marketers can position their strategy to focus on the overall customer journey, with no barriers between channels or the insights gained from them. 
Read This Next: Why You Need a CDP With Marketing Automation for Your Marketing Tech Stack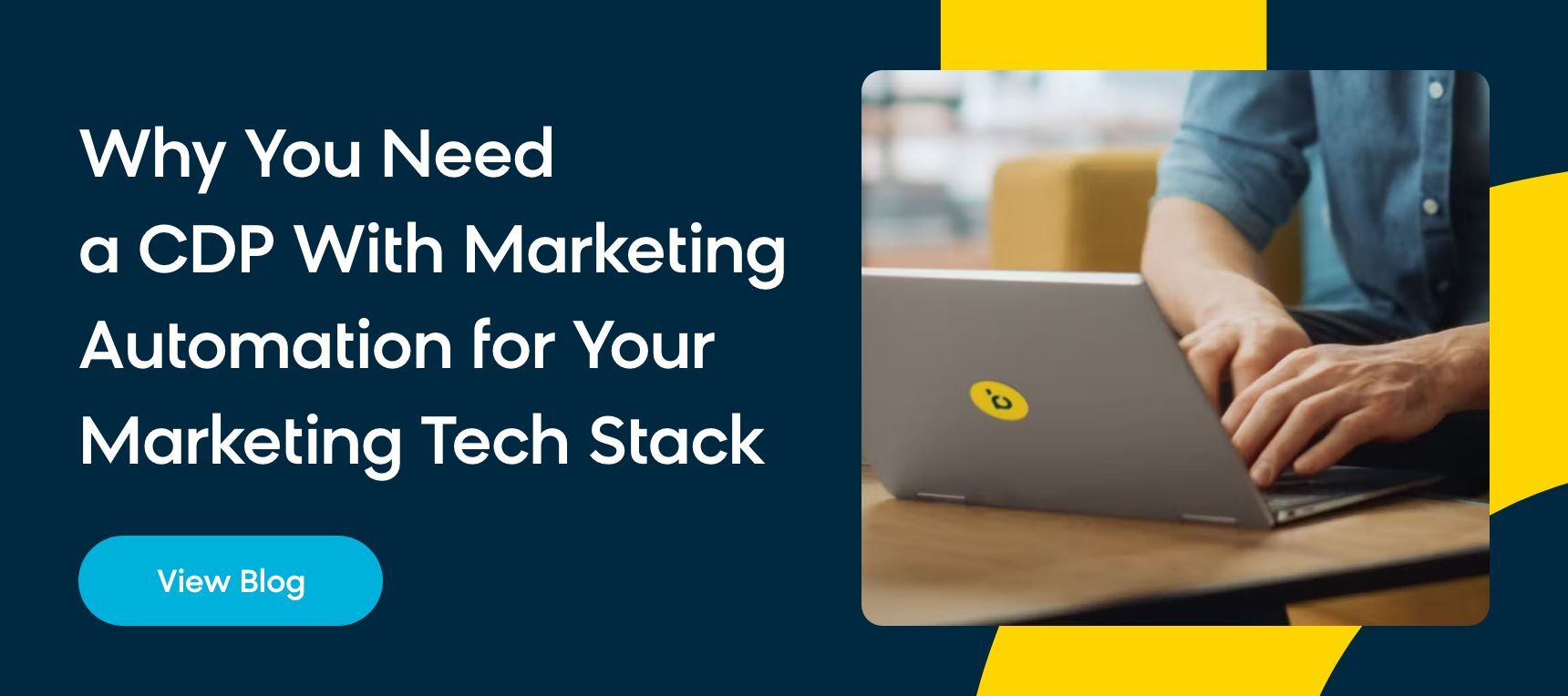 Get the Email Automation Tools You Need With Bloomreach Engagement 
If you're searching for an email marketing automation solution, Bloomreach Engagement is the tool you've been waiting for. 
Our all-in-one software brings together customer data, omnichannel automation, AI, and advanced analytics in a single platform. With everything you need in one place, you can design personalized email marketing campaigns that will drive more revenue — faster. And we make it easy for you to start anywhere. 
Ready to see what email marketing automation can do for you? Check out our interactive demo to learn more.