Omnichannel Marketing Automation
The Future of D2C Marketing: How AI and Automation Are Changing the Game
By Amelia Woolard
05/16/2023
Artificial intelligence is shaking up direct-to-consumer marketing.
Just look at how ChatGPT, the OpenAI chatbot ​​introduced last fall, has everyone buzzing about the future of artificial intelligence.
As direct-to-consumer (D2C) e-commerce continues to grow, businesses are looking to leverage the power of artificial intelligence (AI) and machine learning (ML) to increase efficiency, drive growth, and stay ahead of the competition. 
80% of industry leaders report currently using an AI tool in their marketing activities, and as more businesses adopt AI and machine learning, we can expect the market to grow twentyfold through 2030. 
Keep reading to discover the best use cases for AI and machine learning, and learn how D2C brands are leveraging these tools to remain competitive in the ever-evolving e-commerce landscape. 
The State of AI in Marketing
From hyper-targeted email campaigns to personalized product recommendations, AI and ML enable D2C brands to create more engaging marketing experiences for their customers.
If you're feeling overwhelmed by all the acronyms, don't be. Chances are, you've already encountered some level of AI in your marketing, even if it's not the currently trendy generative AI that ChatGPT brings to the table. Many tools and solutions already use some level of AI, so whether you know it or now, you're likely already reaping the benefits of artificial intelligence.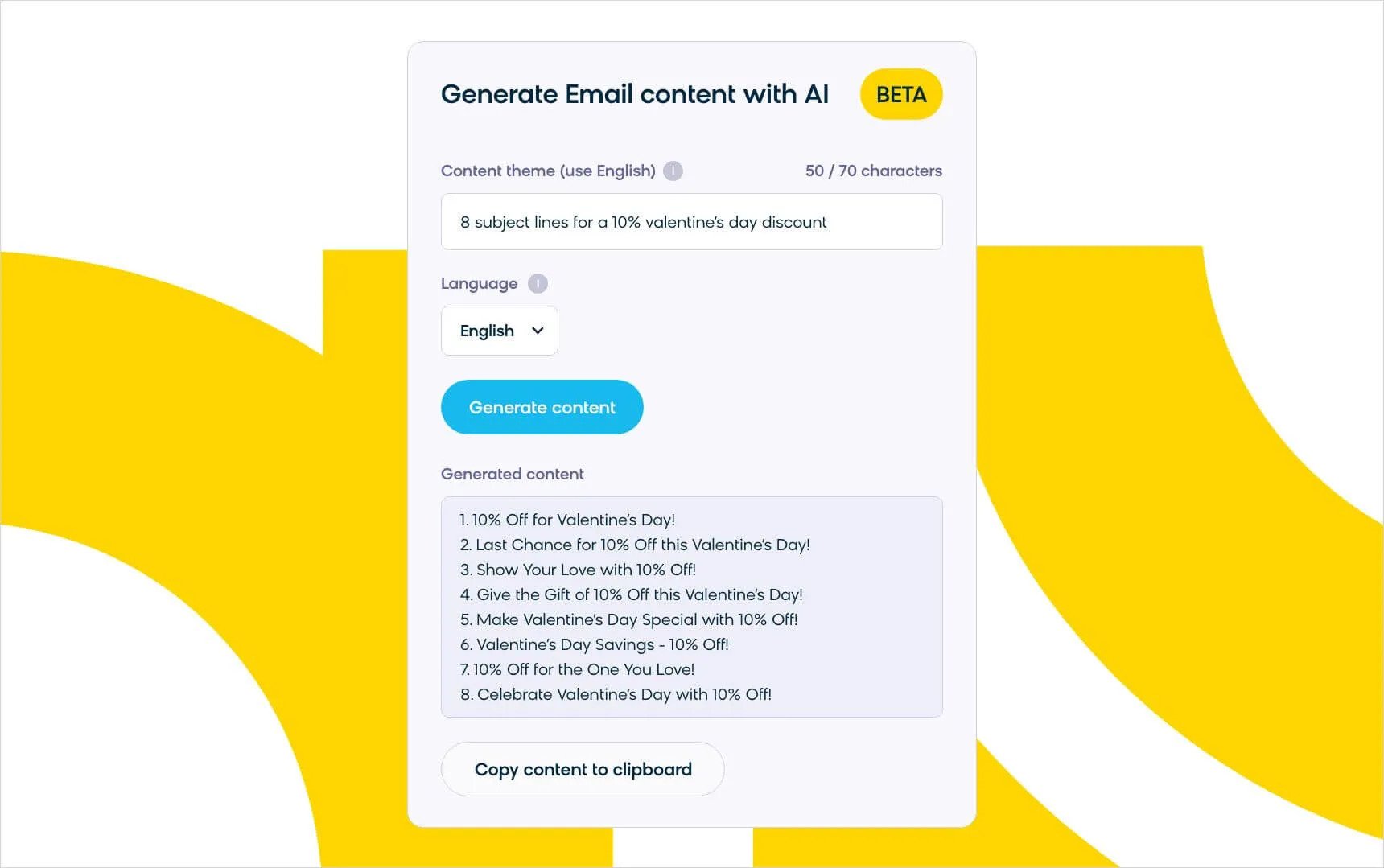 Here are a few other ways that AI is currently being used in marketing: 
Content personalization: Track customer behavior to send targeted messages that increase engagement and conversions.
Content generation: Effortlessly generate engaging copy quickly to increase efficiency while saving time and effort. 
Predictive analytics: Predict customer behavior and make informed marketing decisions that better engage them.
Product recommendations: Provide AI-powered product recommendations that are personalized to the customer's preferences. 
Automated marketing tasks: Free up time spent on repetitive tasks and redirect focus to higher-level projects.
D2C Brands Embracing AI and Machine Learning
As D2C brands adopt AI and machine learning, they are unlocking new ways to drive revenue growth. These success stories prove that AI can do incredible things for D2C businesses:
River Island

River Island, a UK-based fashion brand, wanted to earn more revenue from email while honoring customers' communications preferences. With Bloomreach's smart newsletter policy, which provides enhanced control over email frequency, River Island introduced hyper-targeted email campaigns to its customers. Thanks to AI and machine learning algorithms, River Island enjoyed a 26% boost in email open rates and a 30.9% increase in revenue per email. 
Yves Rocher

French beauty brand Yves Rocher wanted to offer a D2C experience that is just as personalized for a first-time buyer as it is for repeat shoppers. With Bloomreach's AI-powered solution, Yves Rocher can analyze customer data and provide personalized recommendations in real time. Yves Rocher now sees a 17.5x increase in the number of clicks on a recommended item within one minute of the item being displayed, as well as an 11x increase in purchase rate.
Embrace the Future of D2C Marketing With Bloomreach
River Island and Yves Rocher are just two companies reaching new levels of e-commerce success with Bloomreach Engagement, a powerful platform that uses AI and machine learning to improve targeting, personalization, and overall performance. 
Bloomreach Engagement accomplishes this by providing: 
Product Recommendations
Bloomreach Engagement uses AI to monitor customer buying patterns and historical data, so you can zero in on the products your shopper is most likely to buy and optimize your messages accordingly. These product recommendations build customer loyalty and encourage repeat purchases.
Predictive Analytics
AI algorithms can analyze data to predict customer behavior. For instance, a customer's increased email activity could signal an upcoming purchase, while reduced website visits may indicate that the customer is losing interest. With Engagement, you can extract data from countless situations like these and use those predictions to improve customer retention.
Contextual Personalization
Understanding customers is key to making sales. Bloomreach Engagement deepens your knowledge with contextual personalization. Unlike A/B testing, which sends the most popular variant to the majority, contextual personalization uses AI to pick the right variant for each individual customer, never leaving money on the table. With contextual personalization, you can send the message that will resonate best across email, social media, and mobile apps for a seamless omnichannel experience.
AI Content Generation
You've tried ChatGPT on your browser, but have you experienced it within your marketing automation platform? Bloomreach Engagement has a new native integration that places OpenAI's GPT-3 language model in your Bloomreach account, so you can get to work generating content ideas and performing A/B testing quickly without having to leave the platform. 
Smart Frequency Policy
How many emails are "too many"? Bloomreach Engagement can demystify this age-old question for you. Our smart frequency policy uses AI to intelligently limit the number of campaigns by dynamically adapting to the customer's level of interactions and engagement, so shoppers receive just the right amount of communication and aren't tempted to hit the unsubscribe button. 
Where Could AI Head Next in D2C Marketing?
AI's potential for D2C brands should not be underestimated. Aside from contributing $15.7 trillion to the global economy by 2030, artificial intelligence will continue to evolve marketing processes to make them leaner and more data-rich than ever. 
One major role AI will play is in shaping conversational commerce (and by extension, conversational marketing). By using AI to interact with customers, companies will be able to serve these customers more effectively, keep them engaged, and even gather valuable zero-party data.
The evolution of conversational commerce will be especially apparent in customer service. Smart chatbots can offer 24/7 support and personalized recommendations, both of which increase the likelihood of a conversion and greater brand loyalty. They also help 57% of marketers better understand their audience.
AI tools will also give rise to another wave of content marketing mania. Tools like GPT-3 (and now GPT-4) will make it easier for D2C marketing teams to pump out quality content for various mediums, whether they need to generate email subject lines, convert a blog into a podcast script, or something else. 
AI offers boundless opportunities for D2C marketing. Even though we only begin to imagine what the future of artificial intelligence may hold, we can be certain that with AI and ML powering your digital marketing moves, there's no limit to the success your e-commerce business can achieve. 
Interested in unleashing your ultimate marketing potential with marketing automation? Check out our guide on the most successful D2C campaigns to get ideas for your upcoming marketing strategies.