Omnichannel Marketing Automation
Take Your SMS Marketing Strategy to the Next Level With Bloomreach Engagement
By Ian Donnelly
07/07/2023
SMS marketing has grown by leaps and bounds recently and has become one of the most important and effective marketing channels. 
To match this progress, we offer a range of SMS features in Bloomreach Engagement. Our all-in-one marketing platform provides SMS marketing tools designed to help marketing teams expand their SMS strategies and connect with customers via text message in new and exciting ways.
Our SMS marketing services include:
SMS sign-up units and text-to-join keywords
SMS campaigns and a new visual builder
An SMS campaign evaluation dashboard
Pre-built SMS templates
SMS scenario node that includes MMS
AI-powered optimal send times and generative content
A contact card creator
With so many features to optimize your SMS marketing efforts, our platform offers everything you need to leverage this rapidly growing channel. And it ensures that your SMS marketing is natively integrated with the larger Engagement product suite, allowing you to create personalized customer experiences that make brands truly stand out. 
Ready to see what these features can do for you? Here's everything you need to know about our latest SMS marketing solution.
Grow Your SMS Audience Quickly and Compliantly
Cultivating a strong subscriber list is step one of any good SMS strategy. To help you build the best list possible, we offer useful new features to keep your efforts persuasive, seamless, and completely compliant with best practices.
SMS Sign-Up Units
With Bloomreach, marketers can grow SMS lists and stay fully aligned with the Telephone Consumer Protection Act (TCPA) using our TCPA compliant sign-up units. 
Our platform offers fully customizable weblayers that natively include the required legal language in your sign-up forms, so you can feel confident your opt-ins always meet necessary consent requirements.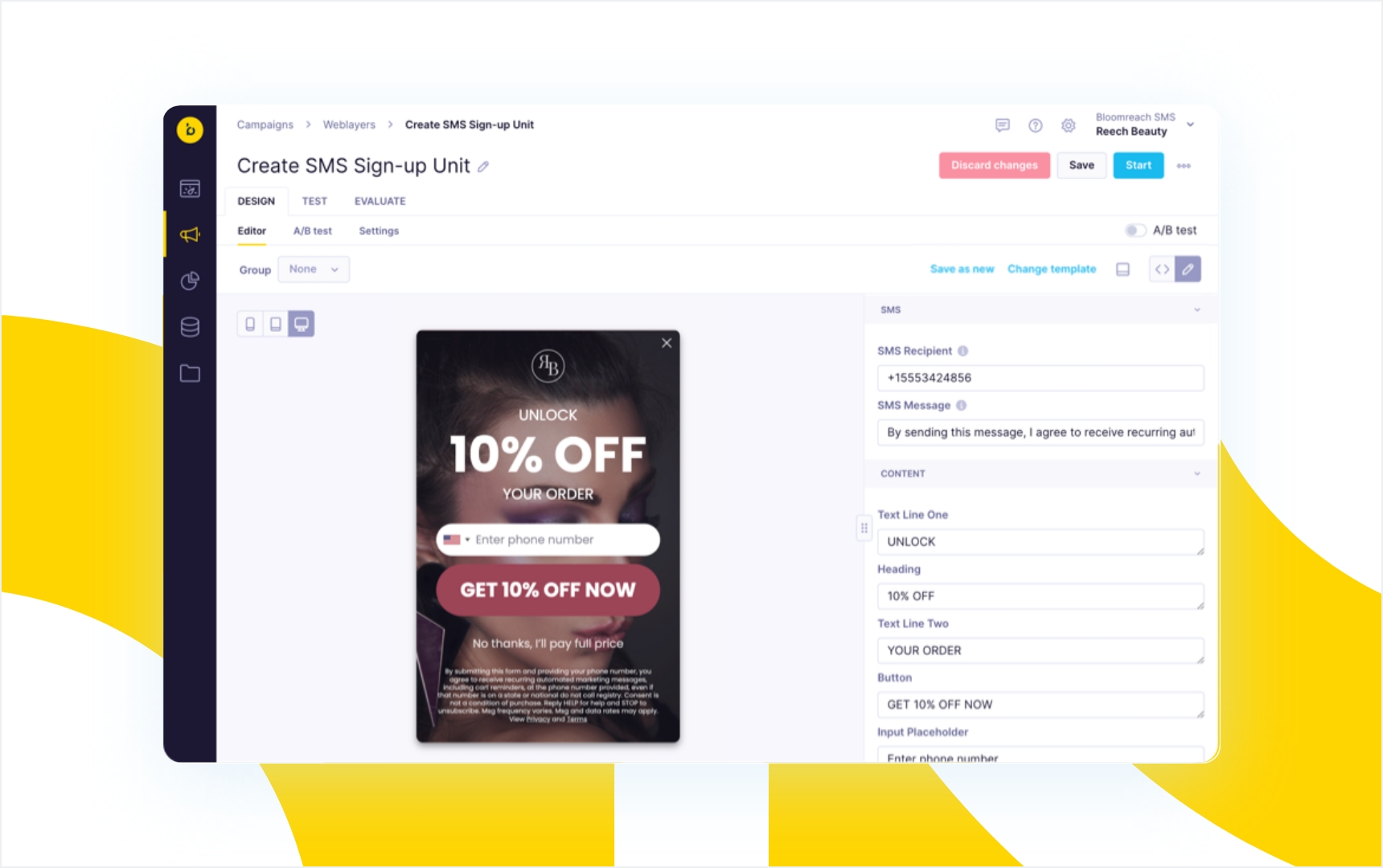 Now you can seamlessly capture opt-ins on desktop and mobile, along with zero-party data to make your messages personalized right from the start. And it's all easy to set up with Bloomreach Engagement's user-friendly platform.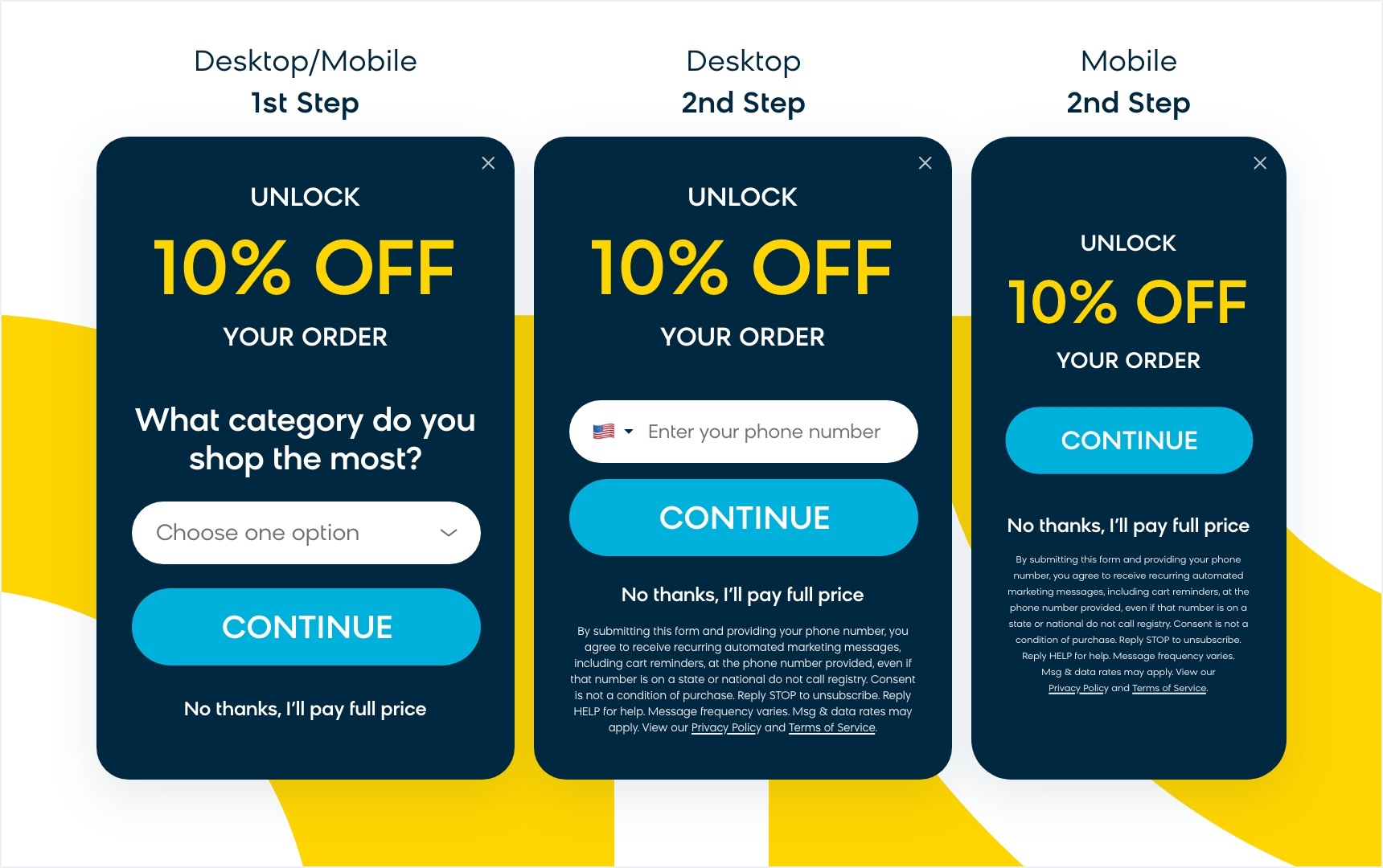 Plus, you can collect email and SMS opt-ins together with multi-step forms, allowing you to grow both of your best performing channels simultaneously.
Text-to-Join Keywords
Giving your audience the most intuitive avenue for engagement with your brand is the best thing you can do to build lasting customer relationships. That's why Bloomreach lets you create and manage custom text-to-join keywords that can be shared across all marketing channels, both online and offline, to help supercharge subscriber growth.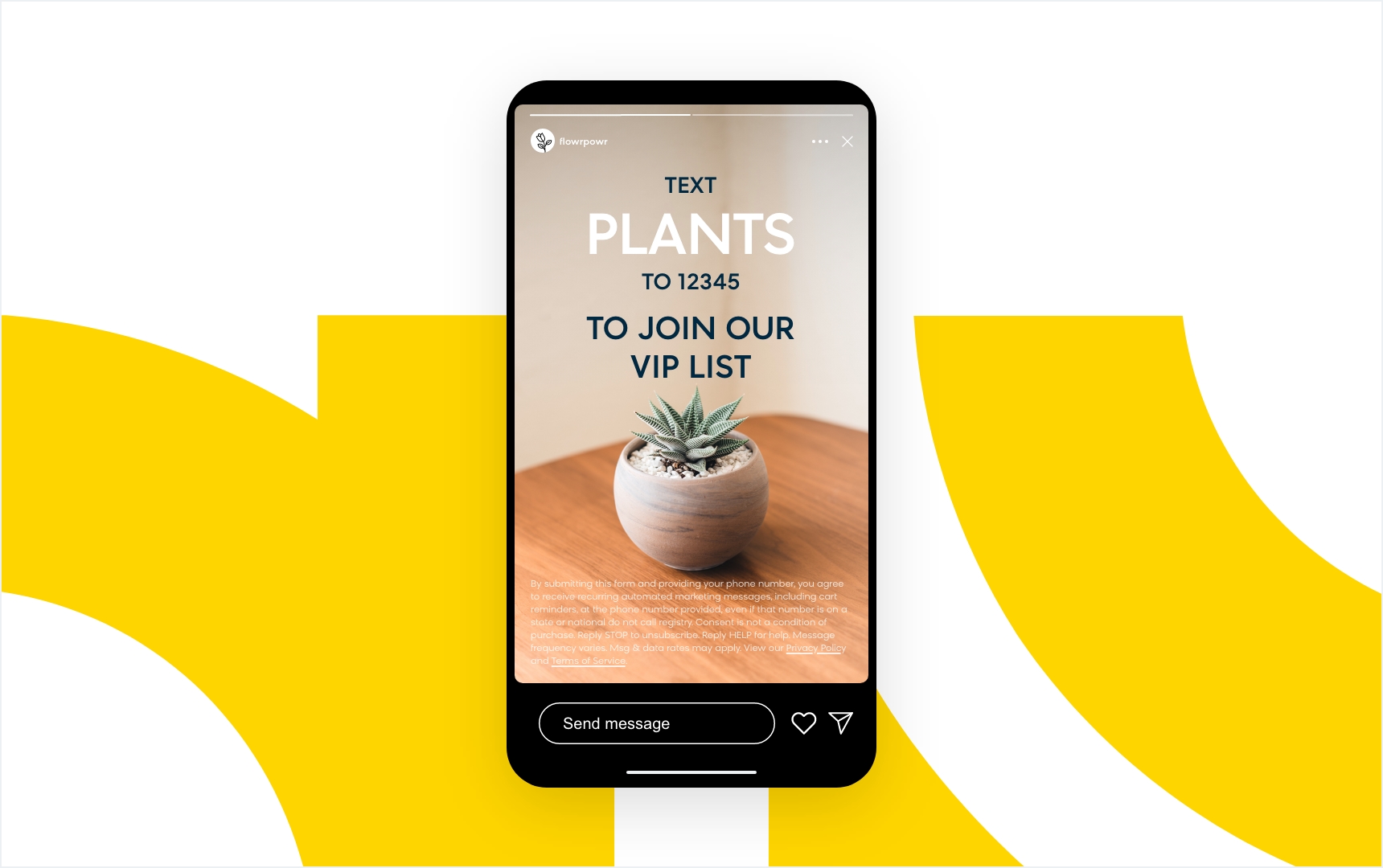 This functionality allows subscribers to text a keyword to a brand's short code and sign up for SMS communications, anywhere and anytime. 
With easy-to-remember keywords that customers can simply text to opt in, marketers can set their SMS list up for lasting success. You can share keywords on dedicated web pages, on social posts, in email campaigns, and even on in-store signage to convert your audience into SMS subscribers.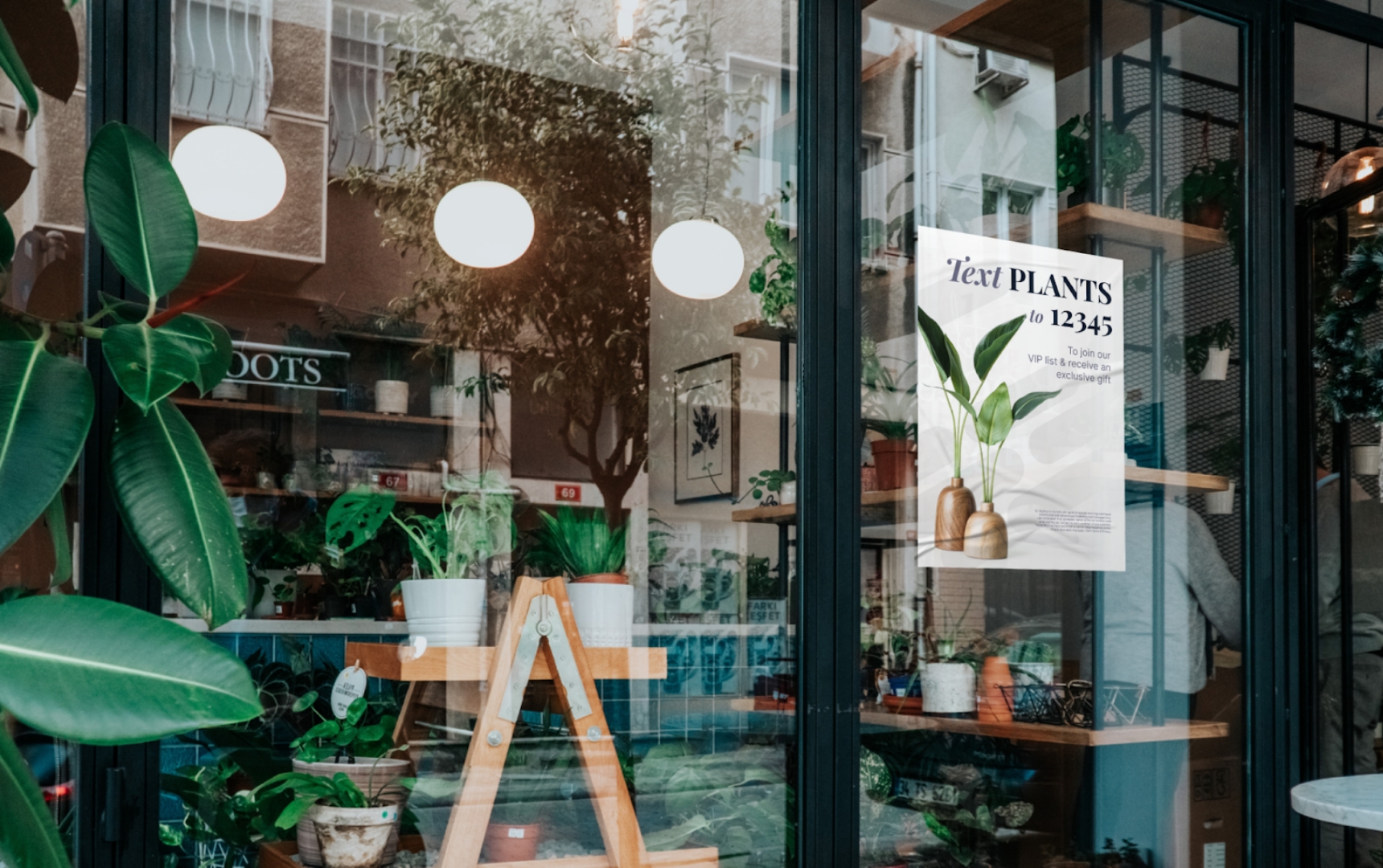 A Note on the Importance of Compliance
Staying TCPA compliant isn't just a good idea — it's the law. US businesses are legally required to adhere to the rules and conditions it lays out, which is why Bloomreach Engagement offers a TCPA list validation feature that helps you follow regulations and stay compliant while running SMS campaigns. 
This feature automatically checks state and national "Do Not Call" registries, helps you avoid deactivated phone numbers, and works to keep your SMS subscriber list completely compliant with TCPA rules. 
Review SMS Campaign Performance
SMS marketing requires an agile approach with a strategy that can adapt when necessary. And that's exactly what our evaluation dashboard offers. 
Now you can get everything you need to achieve success in your campaigns, and it's all available from the SMS campaign module in Bloomreach Engagement.
With just one click, the evaluation dashboard displays all the key metrics that shed light on the overall strength of your SMS campaigns. You can analyze data for revenue attribution, audience engagement, conversion rate, failed sends and deliveries, and more.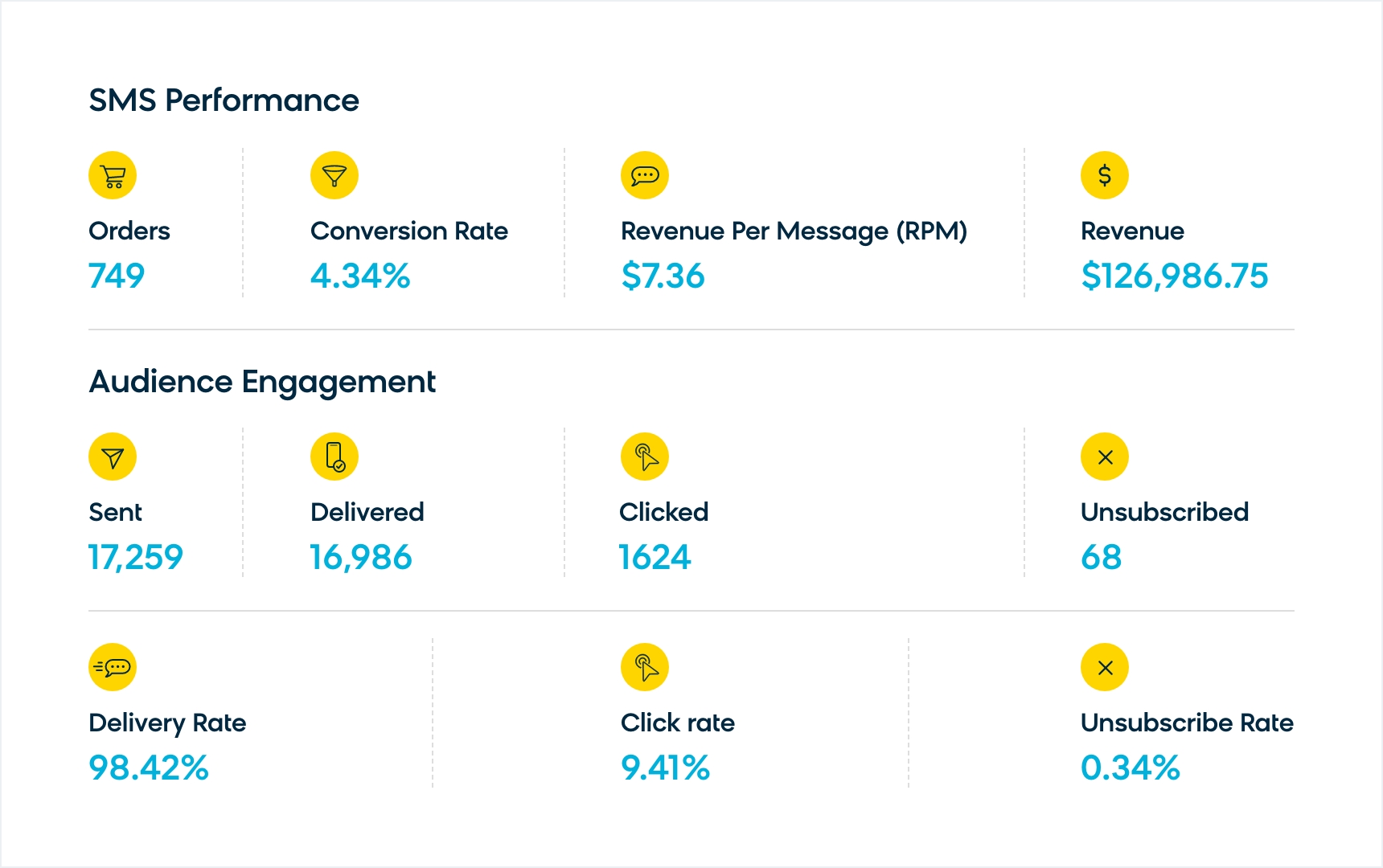 With easy access to this level of insight into SMS campaigns, marketers can refine their strategy and optimize their SMS marketing efforts to be more effective. Tracking, analyzing, and testing your messaging has never been easier, ensuring that every move you make is backed by real-time data.
You can weave your texts into personalized experiences for your customers, monitor deliverability to make sure your campaigns always reach your audience, and troubleshoot any declines in your campaign's performance at a moment's notice.
Create, Test, and Preview SMS Messages
With SMS rapidly becoming as vital as email for marketers, you need a platform that prioritizes both channels. Bloomreach's SMS campaign builder is just as intuitive and comprehensive as our email campaign builder, offering the same productive, convenient tools and user-friendly experience you expect from a best-in-class marketing solution.
Now you get all the streamlined capabilities needed to maximize your SMS channel. You can send one-off SMS campaigns easily, via the new SMS campaigns section of the platform which includes the new visual builder, without having to send all messages through scenarios.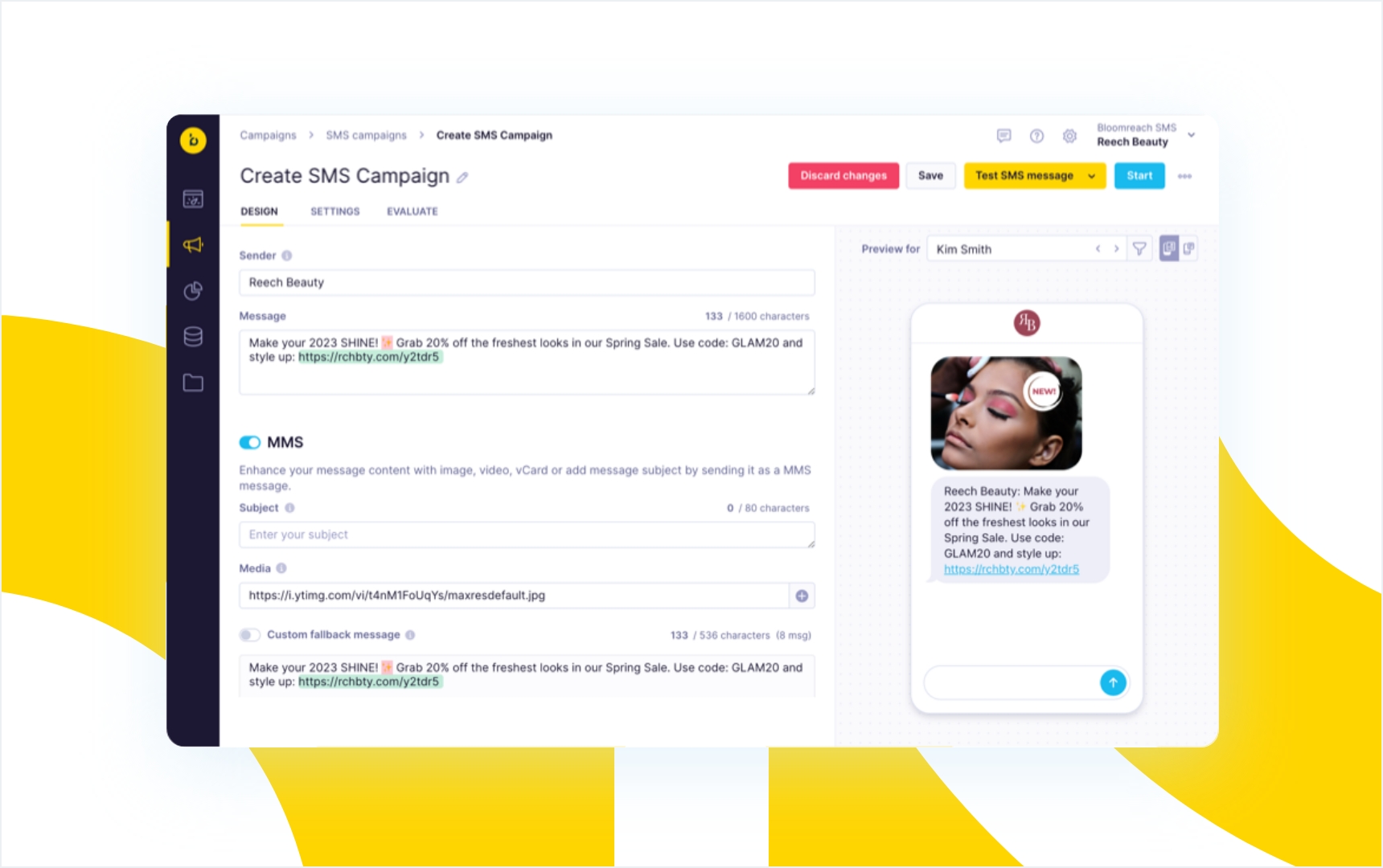 And as always, you can easily create, preview, and test every message with Bloomreach Engagement before you hit send. 
Whether you're creating one-time messages like flash sales or layering your campaigns into your wider customer journey, our visual builder accurately reflects the actual message rendering that your customers will receive. You can enhance their experience down to the last detail with easy-to-add links, personalized messaging, multimedia content, and more.
Drive Revenue With Pre-Built SMS Templates
There's a reason that some SMS formats are called "best practices" — they have a proven track record of driving revenue quickly and effectively. Which is why we compiled a collection of pre-built SMS templates based on high-converting campaigns for our customers to easily adopt, execute, and enjoy immediate benefits.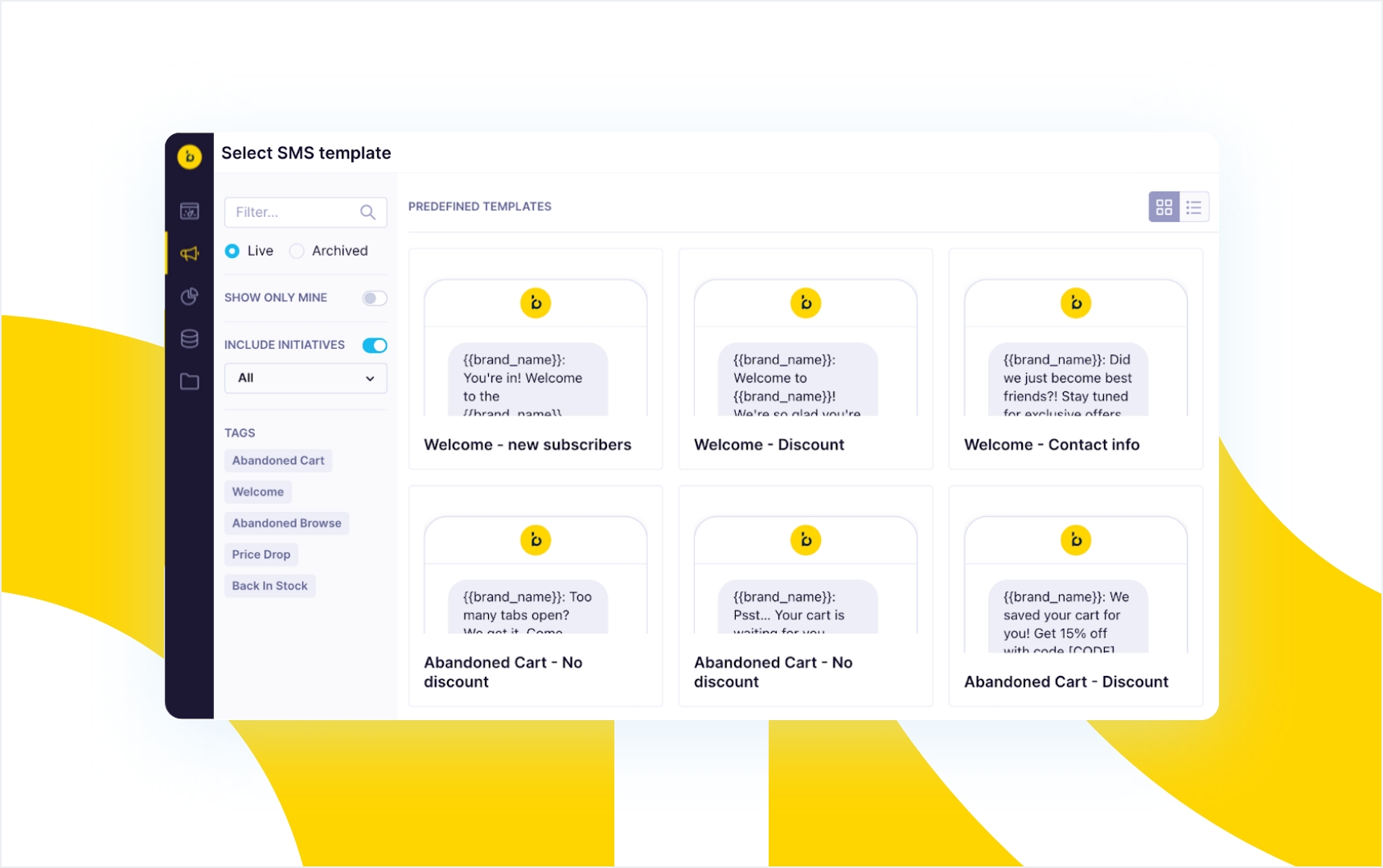 Marketers can set up campaigns that are vital elements of an elevated customer experience, like welcome messages for new subscribers, special discount offers, price drop alerts, and so much more. The campaign structure and settings are already in place, waiting for you to put them into action.
Easily Switch Between SMS and MMS Messages in Complex Workflows
Content is king in the world of marketing, which is why a seamless workflow to create dynamic, engaging campaigns is crucial for marketers. Whether you want a quick, text-only message or a media-filled campaign, you need to be able to craft whatever message works best for your goals — and pivot when you need to.
With Bloomreach Engagement, you can now use the SMS scenario node and easily turn any SMS into an MMS by using a straightforward toggle and adding media files. If you change your mind and don't want to add a video, image, or .GIF file, you can quickly revert back to an SMS. 
This functionality matches the new visual builder used in SMS campaigns for a cohesive platform experience.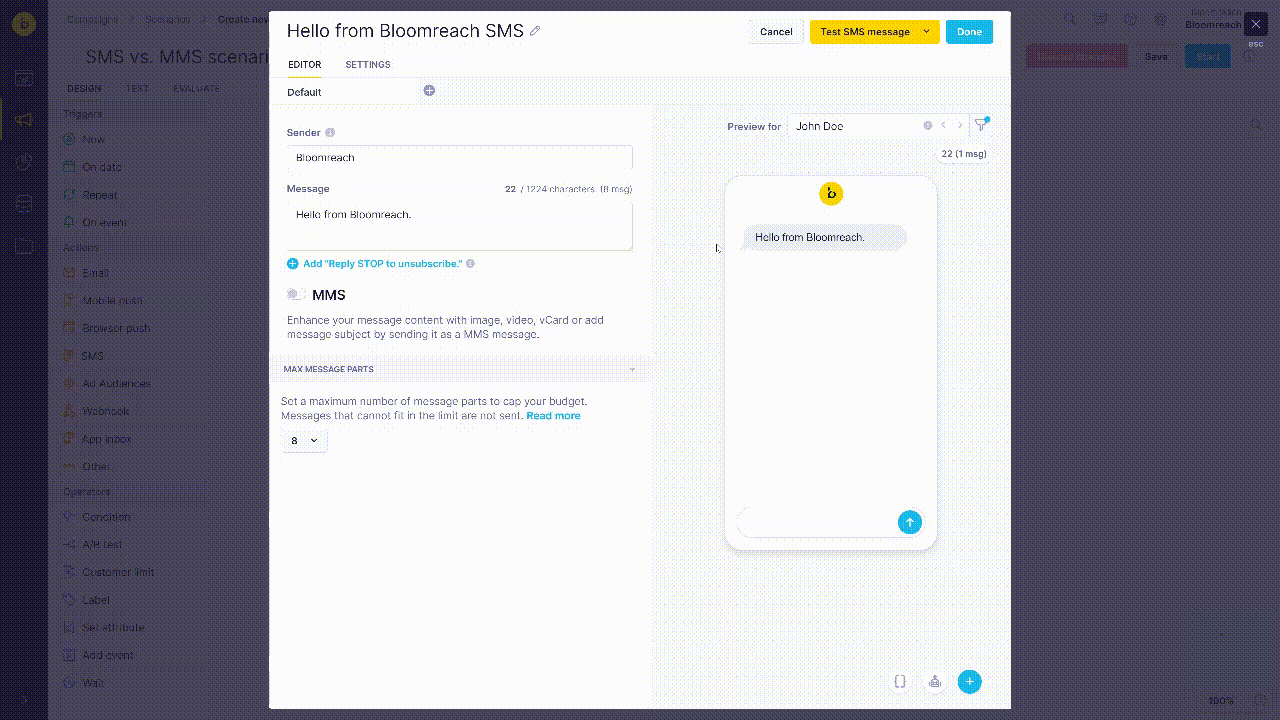 Both types of messages have their advantages — text-only SMS campaigns are ideal for most use cases and help keep campaign costs low, while MMS messages are great for low volume, attention-grabbing campaigns. 
It all depends on what you want your messaging to accomplish, and Bloomreach Engagement gives you all the tools you need to find the best approach and make it happen.
Send Messages at the Perfect Time
If you want to reach your customer when it counts, you can't rely on the average preferred send time. You need to create truly personalized experiences for your customers, and our AI-powered optimal send time can help you achieve just that. 
Bloomreach is the only platform that enables AI to determine the best time to send your SMS campaigns. The optimal send time prediction model is based on historical click data at the individual level, allowing marketers to serve messages at the perfect time for every audience member, no matter the size of the audience.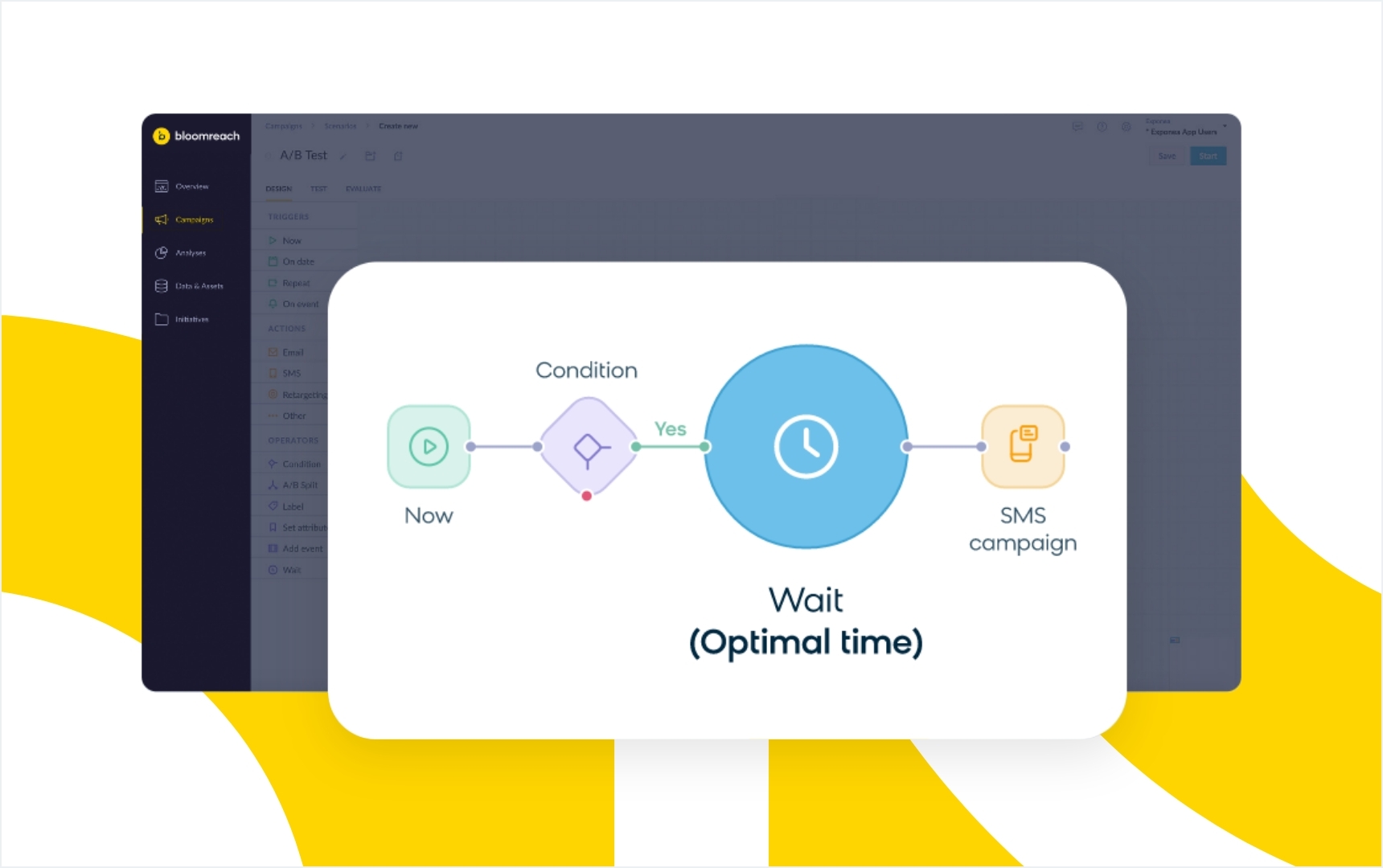 Rather than determining an aggregate send time for your subscribers, you can personalize send times down to the individual and store that data on their customer profile. 
This unique feature of Bloomreach Engagement can help your campaigns make a great impression by timing your sends for when messages are most likely to be clicked — an especially useful tool since measuring open rates isn't possible for SMS. 
Make Every Message Recognizable
It's all too easy for customers to ignore texts from unknown numbers. With our convenient contact card creator, you can share your business name, number, logo, and more with your SMS subscribers so they can easily save this information to their personal contact list.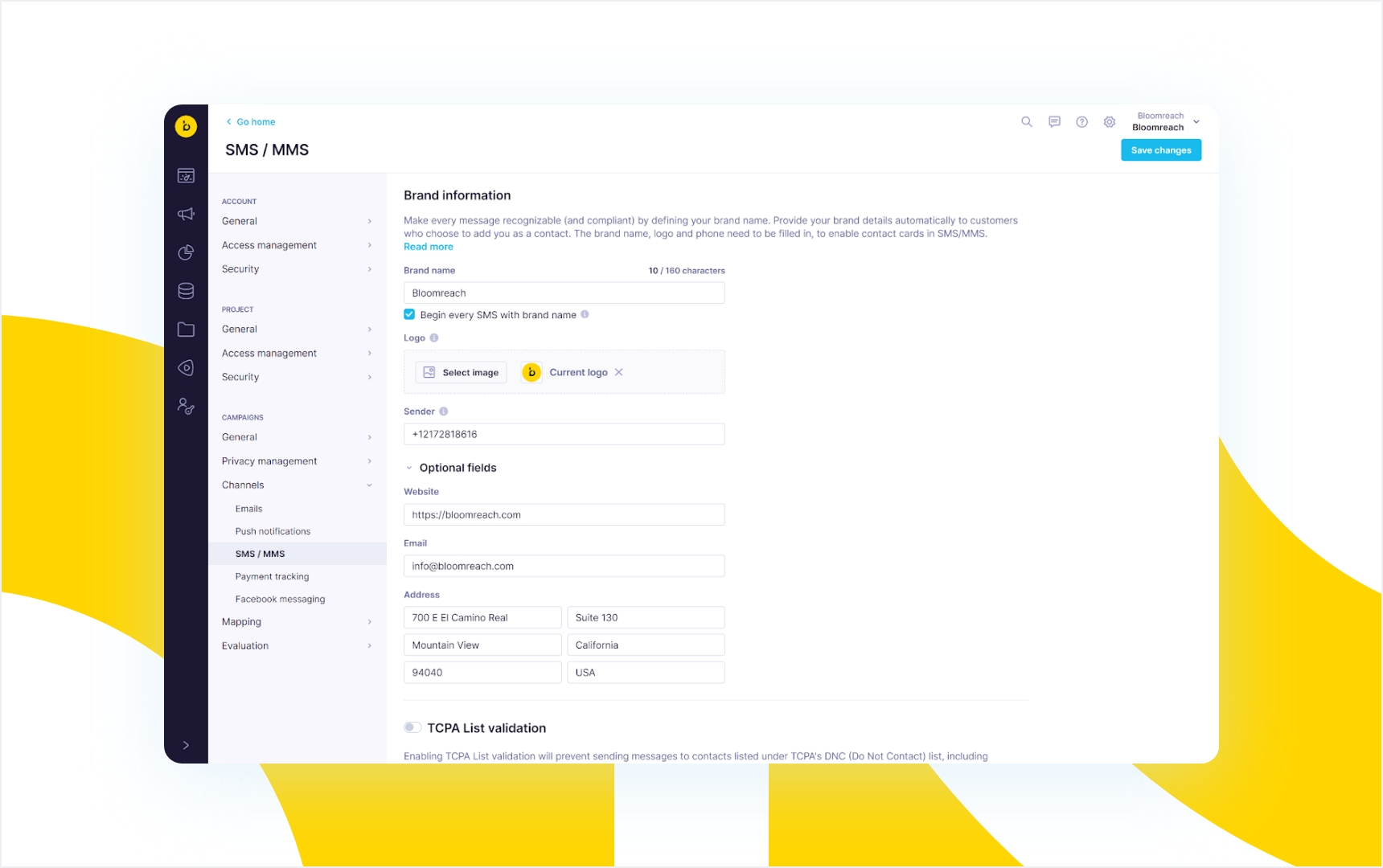 All you need to do is fill out the required fields and your contact card is ready to be used in SMS campaigns and scenarios within the SMS action node.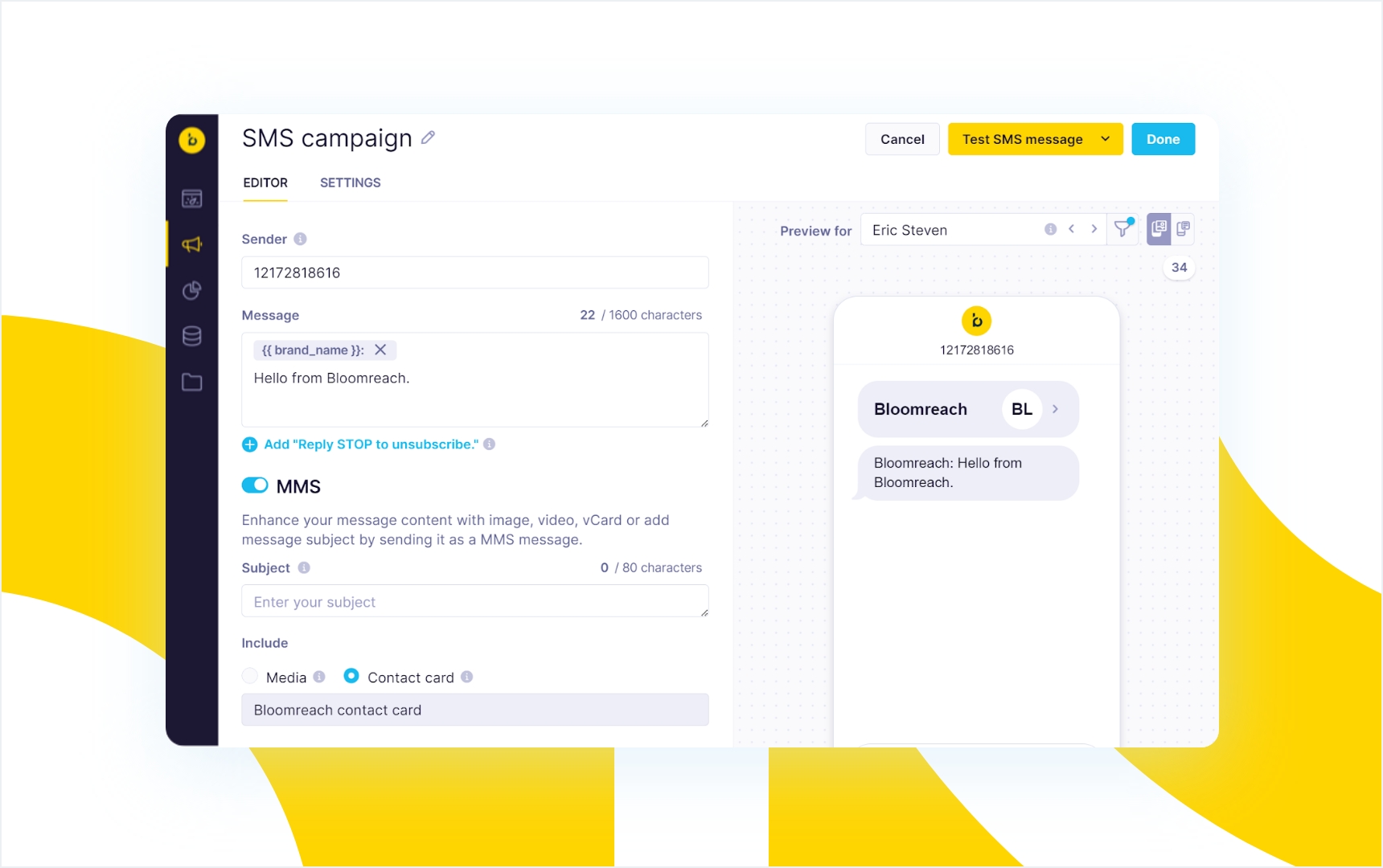 While this may seem like a simple feature, it's an extremely important one that businesses should incorporate into their strategy. It's becoming more and more important to be recognized as a known sender on your customers' phones, especially with the growing concern of your messages being flagged as junk based on new iOS updates. 
By creating a contact card directly within Bloomreach Engagement, adding it to a message, and sending it to your subscribers, you ensure your campaigns will always be accepted by a customer's inbox – and stand out as a recognized message. 
Create New Campaign Ideas With Our AI Content Generator
Generative AI is an innovative force that is changing every aspect of omnichannel marketing, and SMS is no different. 
For businesses looking to thrive in the modern marketing landscape, Bloomreach offers an AI content generator that helps you create excellent marketing content directly in our SMS campaign editor. 
Now you can input the desired theme, character count, and language for your SMS messaging and the content generator will create content options for you to use in your campaigns.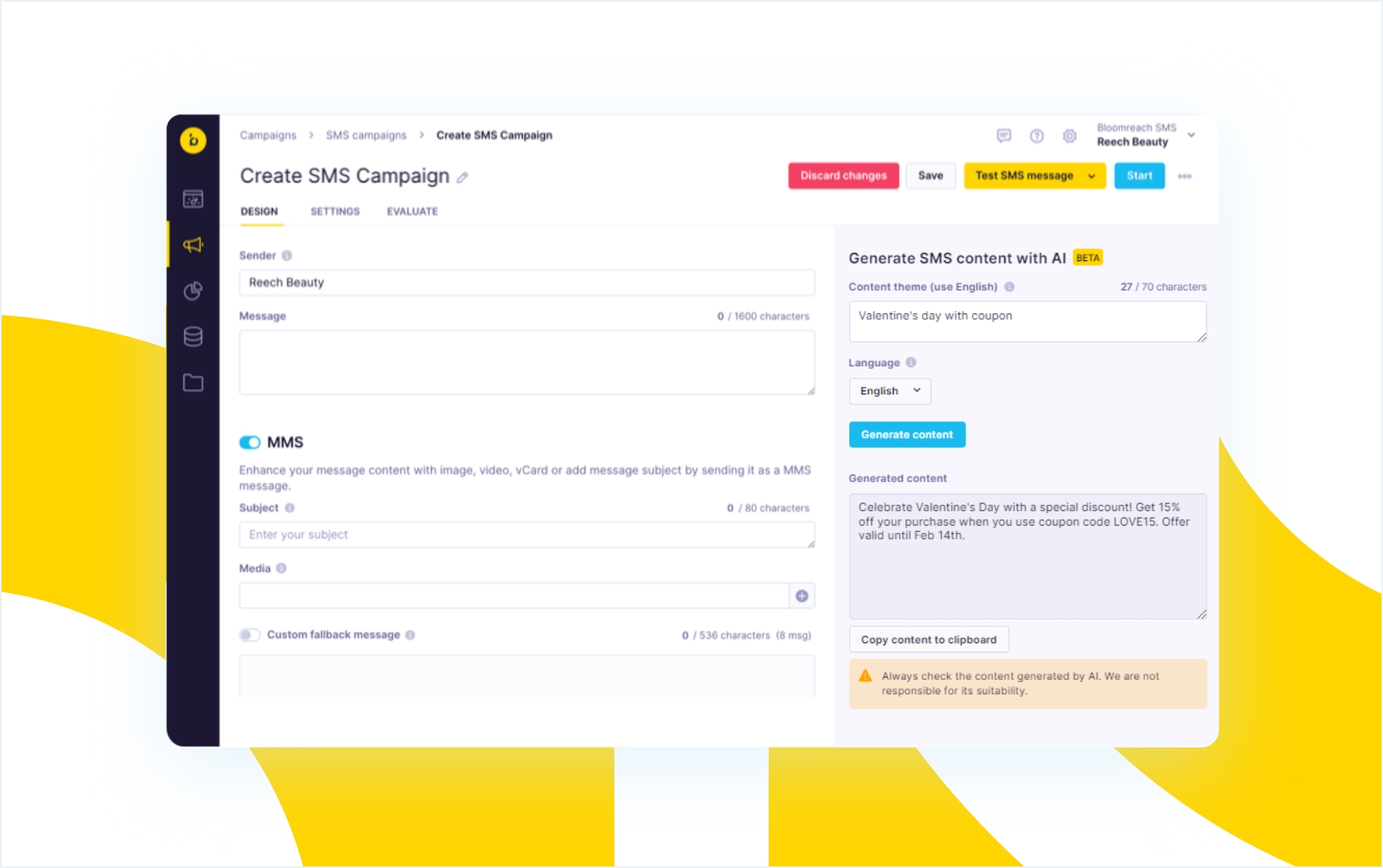 Whether you're using the generated content verbatim or using the prompts to fine-tune your own messaging, it's a valuable tool for marketers looking to streamline their productivity.
Upgrade Your SMS Marketing With Bloomreach Engagement
With so many useful features, Bloomreach Engagement is the perfect all-in-one tool for your SMS marketing efforts.
We know how important it is to build a strong subscriber list, create and test data-driven campaigns, include dynamic content in your messaging, and reach your customers when and where it counts. 
That's why our marketing solution is designed to optimize your SMS marketing while weaving the channel into your omnichannel strategy — your SMS messages are always relevant, adaptive, and powered by all your data. There's nothing stopping you from building the most effective and efficient campaigns possible.
Wondering what our marketing platform looks like in practice, and what it can do for your SMS marketing strategy? Learn how we helped boohooMAN boost their ROI by 25x with smarter, streamlined campaigns.