Life at Bloomreach
Meet the Team: Software Engineer I Charu
By Lucie Cisarova
06/14/2023
Life at Bloomreach
Meet the Team: Software Engineer I Charu
At Bloomreach, we're lucky to have Charu as a valued member of our Engineering team. Having joined our company in 2022, she's gained a unique perspective on what it's like to be part of our company. We recently had the opportunity to sit down and chat with Charu about her journey at Bloomreach and gain insight into what it's like being part of our dynamic Engineering team. If you're considering joining our company, read on to discover more about our culture, values, and the exciting opportunities available on our Engineering team.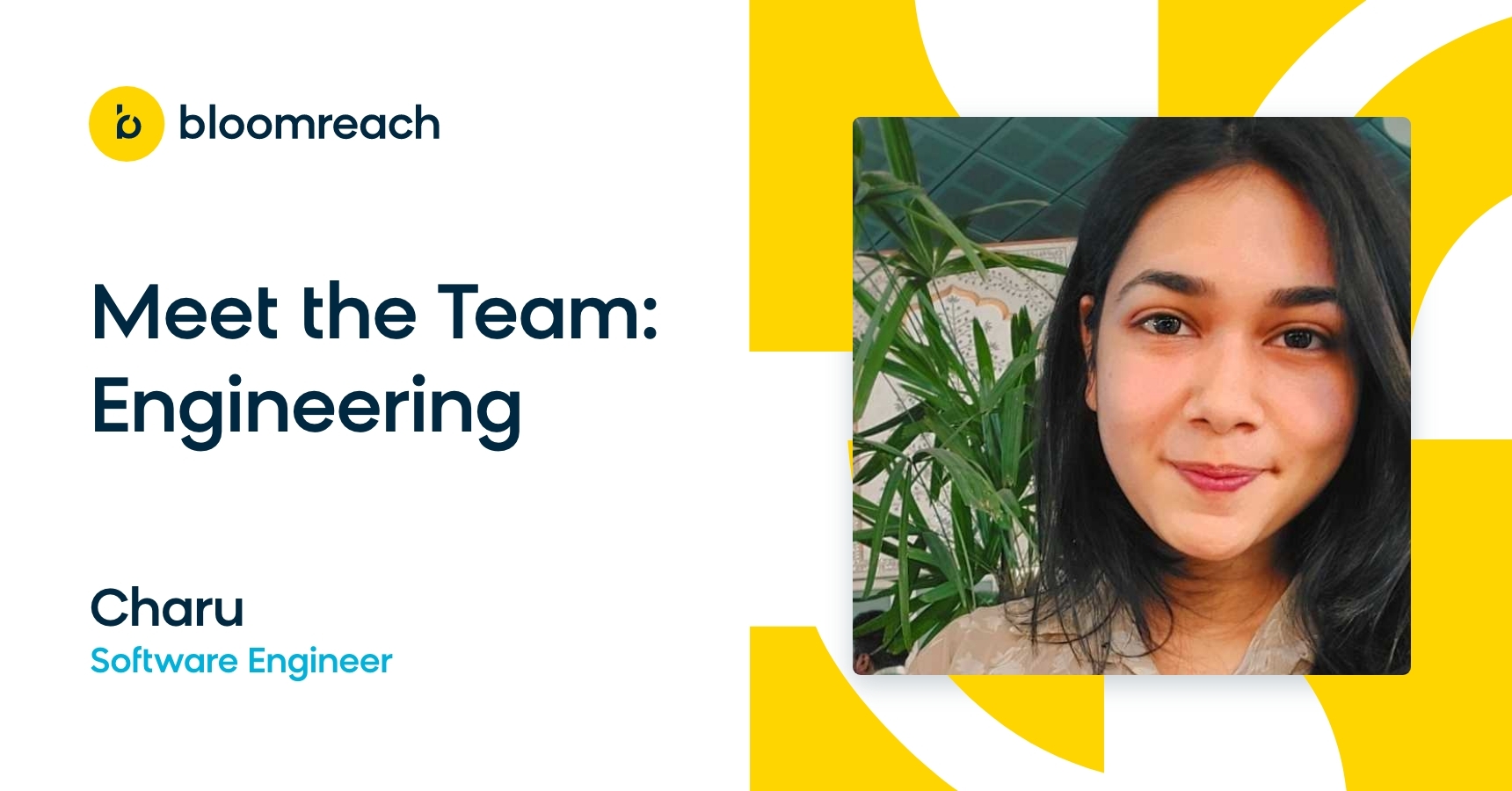 1. How did you find out about Bloomreach?
I first learned about Bloomreach through a person from a third-party recruiting agency. She reached out to me and provided an introduction to Bloomreach and the position I would potentially be joining. This initial contact sparked my interest, prompting me to further explore Bloomreach and this role.
2. What's your role at Bloomreach? Tell us more about your team and give us a sneak peek of your day.
I'm a Software Engineer in the Dashboard team, part of the Discovery Pillar at Bloomreach. Our team is responsible for empowering merchandisers to create a seamless product discovery experience. We have a diverse mix of senior and junior team members, which fosters learning and collaboration.
A typical day for me involves a combination of activities, but not all the days are the same. Some days are dedicated to working on high-priority tasks, development, code reviews, and sync calls with team members to ensure that we stay aligned.
On other days, we prioritize solutioning. This involves brainstorming and finding innovative ways to build the feature we'll be working on. Additionally, we also have releases when new features or enhancements are deployed to production. During these periods, we ensure a smooth release process and address any immediate issues that arise.
3. What has been the most impactful experience for you during your time at Bloomreach?
The most impactful experience for me during my time at Bloomreach has been the opportunity to learn and work with a wide range of diverse and trending technologies. Being exposed to various technologies has allowed me to tackle new challenges, explore innovative solutions, and stay at the forefront of industry advancements. It's been rewarding to be part of a company that embraces continuous learning and provides a platform for growth and exploration.
4. What is your favorite thing about working for Bloomreach and why?
My favorite thing about working for Bloomreach is the flexibility, particularly remote work. This arrangement allows me to achieve a better work-life balance, adapt to personal needs, and optimize productivity. Working remotely fosters a comfortable work environment, and enables me to focus on delivering high-quality results. 
5. How would you describe our company culture in 3 words?
Progressive: From day one, I experienced a smooth onboarding process that allowed me to hit the ground running. With a focus on continuous learning, there's always a learning curve that encourages personal and professional growth for all employees.
Fun: We know that collaboration and having fun go hand in hand. The offsite events create the perfect opportunities for team members to connect, collaborate, and build relationships beyond work. It's about working together and having a great time while doing it.
Inclusive: In Bloomreach, there are people from various countries and diverse backgrounds. I think it gives an inclusive environment where everyone's unique perspectives and experiences are not only appreciated but also embraced. 
6. What growth opportunities have you had at Bloomreach, and how does the company support your professional development?
I've had the chance to contribute to challenging projects that have allowed me to expand my skills and knowledge. Additionally, Bloomreach provides support for continuous learning by offering access to relevant courses and professional development programs. Regular feedback and goal-setting discussions with my manager help me track my progress and identify areas for improvement.
7. In your opinion, what sets our company apart from other companies in our industry, and how can we continue to build on those strengths?
The dedication to customer satisfaction and continuously improving our product is something which sets us apart. We should focus more on fostering a culture of ongoing innovation and staying ahead of market trends. I think encouraging open communication and collaboration within teams will facilitate the exchange of ideas and insights, driving innovation and problem-solving.
8. What is a critical project that you're working on right now that you believe will bring a lot of value to our customers and the company overall?
I am currently working on a project focused on improving latency of our dashboard APIs. Our APIs play a crucial role in enabling smooth and efficient interactions between our customers and our platform. By focusing on reducing latency, we aim to enhance the overall user experience, ensuring faster response times and improved performance for our customers, ultimately leading to increased customer satisfaction.
9. Outside of Bloomreach, what are you passionate about?
One thing is that I absolutely adore dogs. Spending time with those furry friends brings me so much joy and happiness. When it comes to relaxation, meditation is my go-to. Taking a moment to breathe and find inner peace helps me stay centered and focused.
And of course, nothing beats quality time with my family. Whether it's lending a helping hand to a family member with their work or organizing a delicious meal for everyone at home, I love to do things with them.