Omnichannel Marketing Automation
Introducing the App Inbox: Bloomreach Engagement's Latest Mobile Messaging Tool
By Ian Donnelly
02/21/2023
Omnichannel Marketing Automation
Introducing the App Inbox: Bloomreach Engagement's Latest Mobile Messaging Tool
Here at Bloomreach, we know how important a strong mobile app marketing strategy is to stay ahead of the game. That's why we've added an effective and versatile new tool for our customers' mobile marketing campaigns.
Bloomreach is pleased to announce the app inbox, a customizable in-app message center that allows Bloomreach customers to engage and retain their users while storing important notifications in-app for easy access.
Bloomreach customers who have a mobile application can now use the app inbox to send personalized content to app users — even those who have not opted in for push notifications. 
This brand new, built-in marketing channel within Bloomreach Engagement also functions as a storage space for both push notifications and notifications sent via app inbox, creating a highly personalized and interactive message feed for customers to engage with.
Our exciting new feature expands the mobile messaging capabilities of Bloomreach Engagement, allowing our clients to capitalize on the lucrative and ever-growing importance of mobile marketing for modern businesses. We want to offer our customers every opportunity to reap the full rewards of their marketing efforts, especially since an expanded mobile reach is paramount for any modern business.
So, to celebrate the launch of our new offering, this blog will lay out all the innovative features of the new app inbox, review our other mobile app message capabilities, and explain how brands can use each of them to their advantage.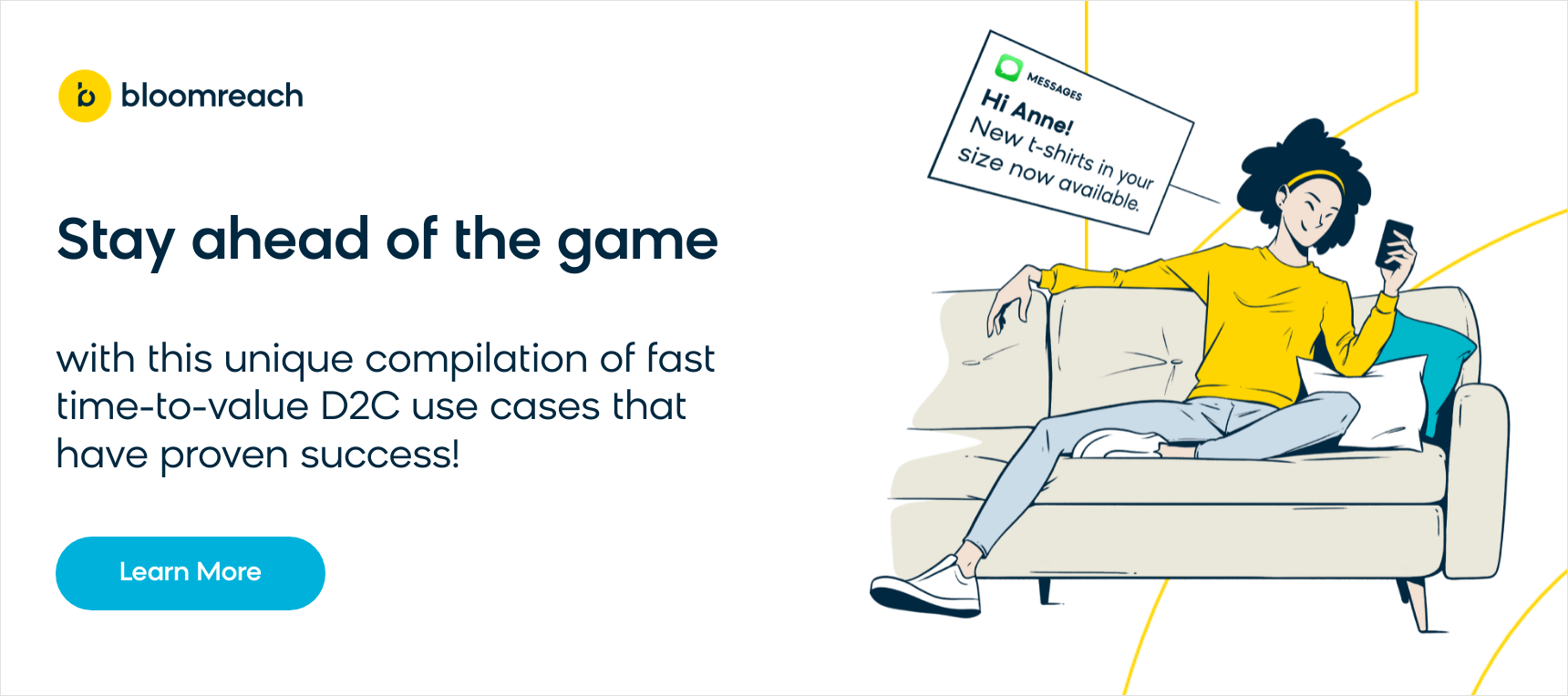 The App Inbox: A Versatile New Marketing Channel
The flexibility of our app inbox feature is its greatest asset — it gives your mobile push notification campaigns an additional, centralized touchpoint with more opportunities to communicate and engage with your app users. 
For push notifications, the app inbox gives your messaging a more permanent, customizable landing place. Each mobile push notification can be stored in the app inbox within the mobile application, allowing your customers to access notifications even after interacting with them.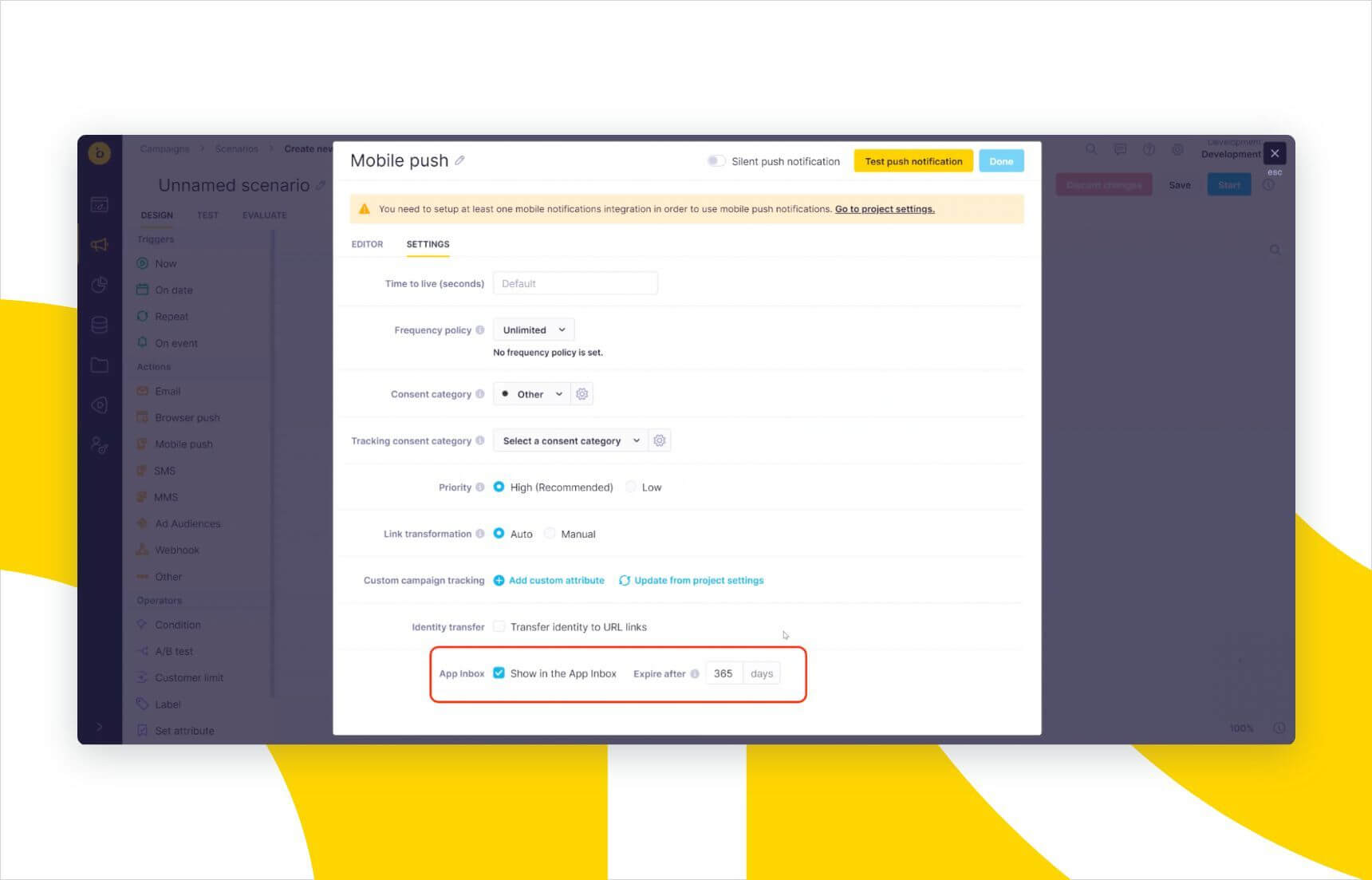 Now your campaigns can reach users on their home screen as well as within their in-app experience. And each message that goes to the app inbox can be assigned an expiration period, allowing you to control how long the message remains in the app inbox for users to see. 
Once the app inbox is integrated, the setup is available directly within the settings of the mobile push notification action node inside the Bloomreach dashboard.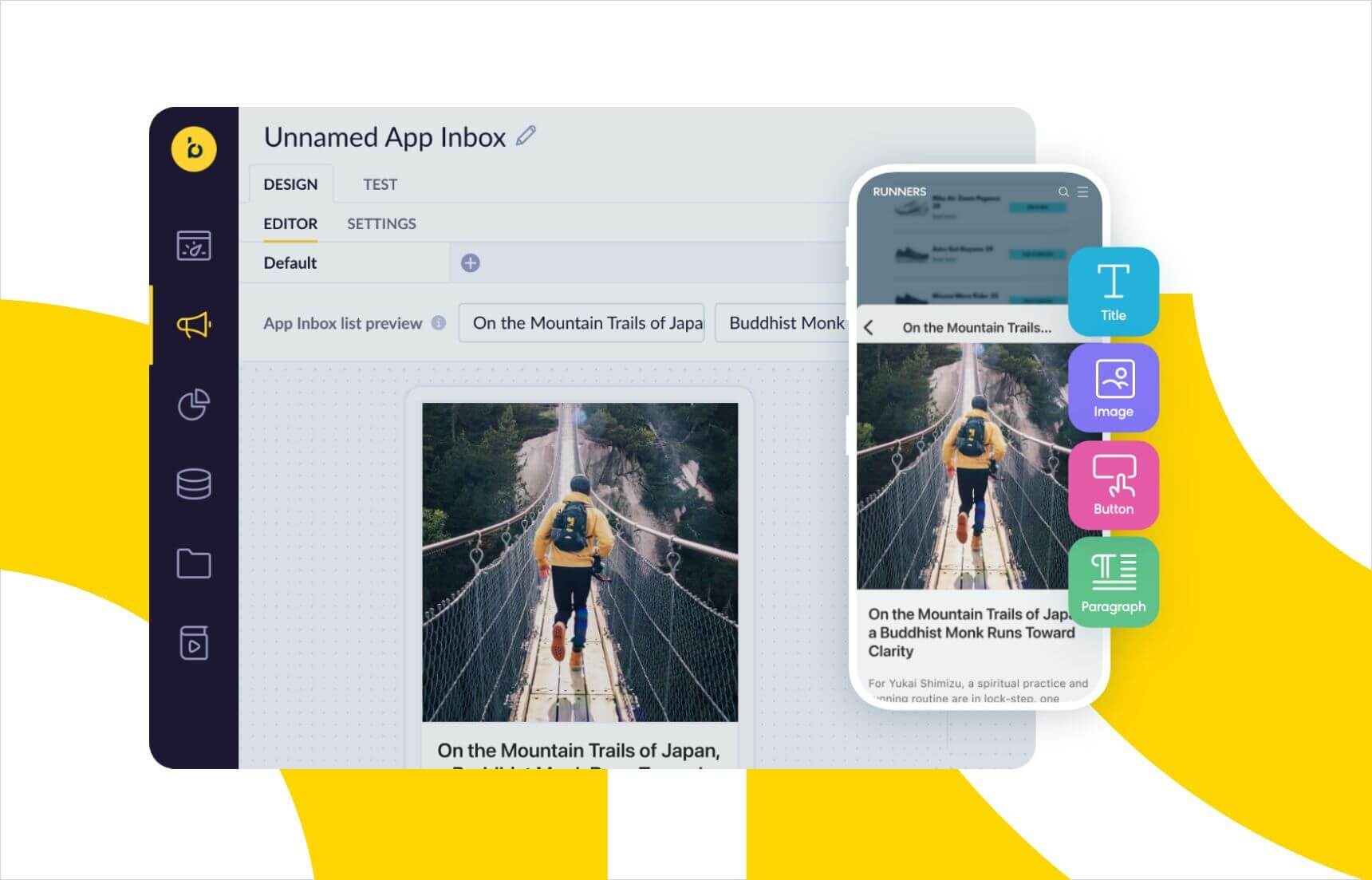 This opens up a world of possibilities for your mobile push campaigns. Now, notifications like shipping updates can be stored in-app for later accessibility, bringing your customers back to the app for more engagement. And push notifications can be harnessed for campaigns that require more longevity, like targeting customers with long-term promotions and special offers.
But what about app users who have opted out of push notifications, or haven't yet subscribed? The app inbox can reach them, too — this new feature allows you to create and send messages directly to the app inbox, giving you a new marketing channel to connect with your customers.
Now you can deliver rich, personalized notifications to users that land directly in their app inbox. Available as an action node in scenarios, you can build campaigns using Bloomreach Engagement's HTML or visual editors, and send messages without relying on push notification subscriptions to reach your audience. 
Even if your users haven't opted in to receive messages or have their push notifications silenced, they have access to your campaigns every time they open your app. And this distinction can have a huge impact on your campaign's success. App inbox messages have an average open rate of more than 22%, outperforming the 5% open rate for mobile push notifications.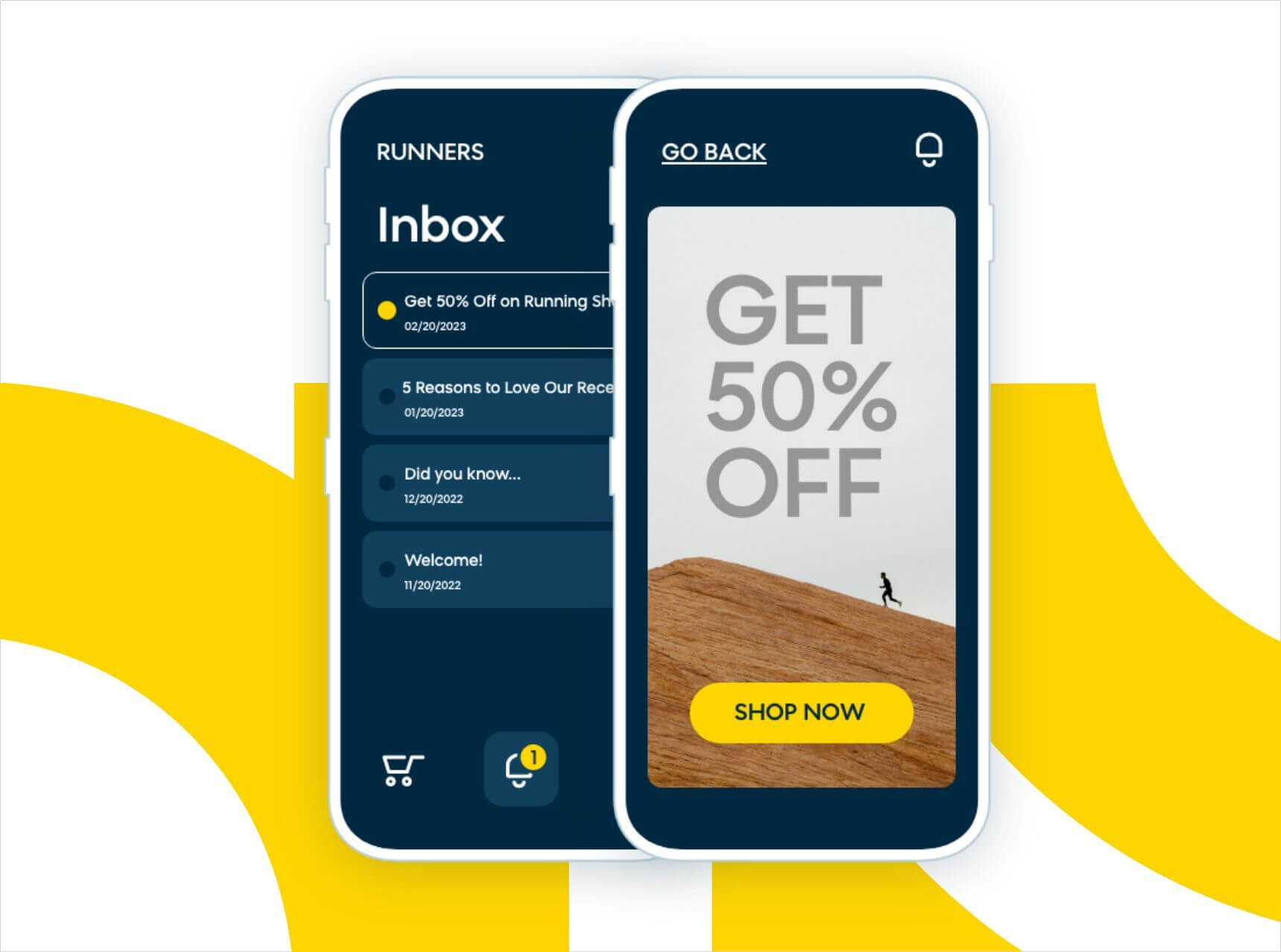 Plus, app inbox messages can be previewed and tested within Engagement, allowing you to fine-tune your efforts as you build your messages. You can also A/B test your messaging and track, analyze, and measure the success of each iteration, making sure your campaigns are optimized to hit your KPIs.
All this, when combined with the comprehensive personalization features that the Engagement platform offers — granular segments, product recommendations, predictions, and more — guarantees that your app inbox messages are always tailored to meet your audience's every need.
The Essential Messaging Channels for Your Mobile Marketing Strategy
To succeed with mobile marketing, you need a comprehensive toolset to create attention-grabbing campaigns. That's why Bloomreach offers an array of mobile channels, in addition to our new app inbox feature, for you to connect with your app users. 
Mobile Push Notifications
Bloomreach's mobile push notifications are valuable ways to send multimedia and interactive content to your mobile app audience. These focused, prompt messages reach users in their notifications center, putting your campaigns front and center on their mobile device. 
Utilizing push notifications is a great way to inspire your customers to consistently engage with your app. And Bloomreach Engagement's easy-to-use editor makes it simple to design, preview, and test your notification messages, allowing you to optimize your campaigns every step of the way.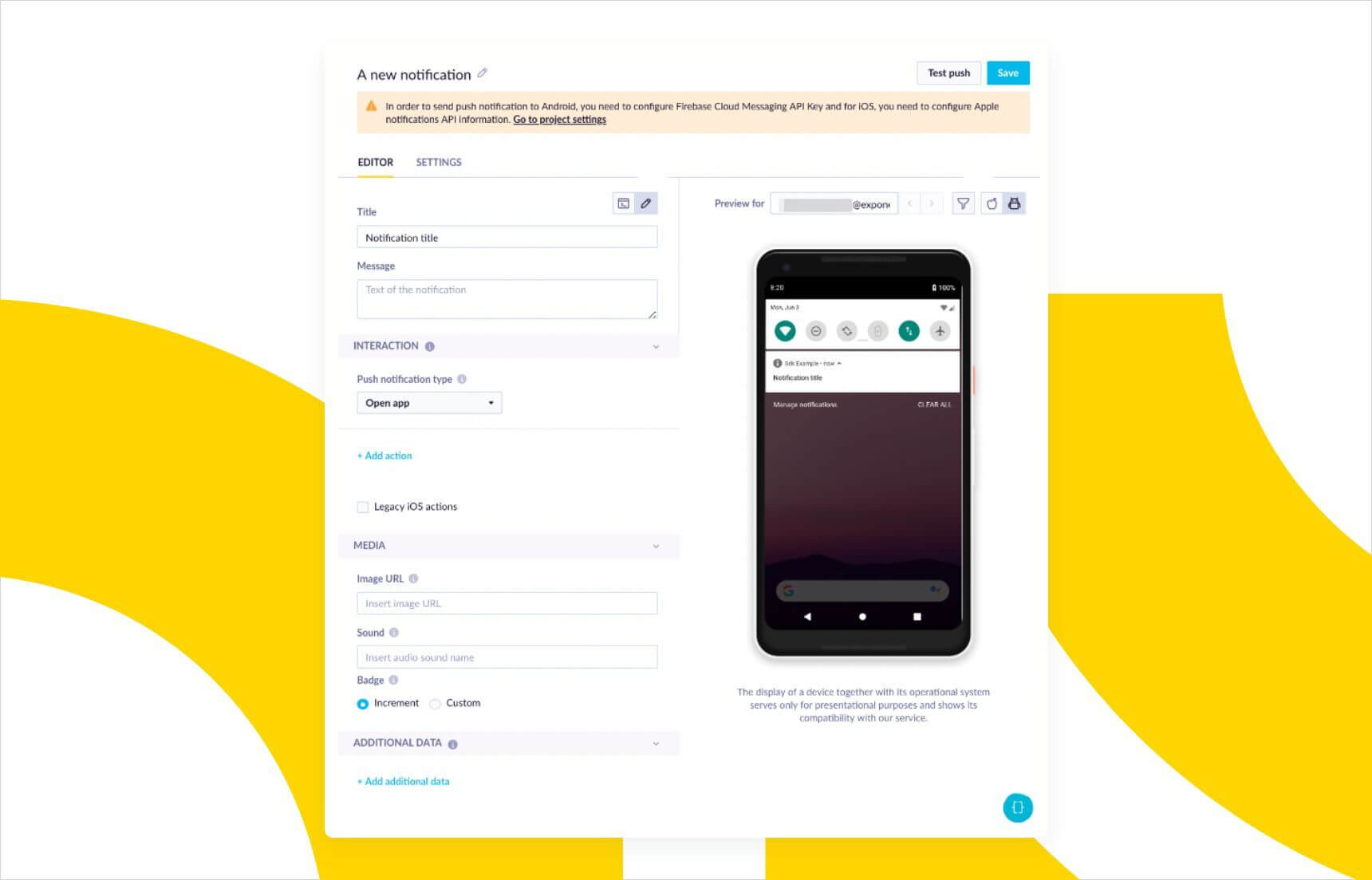 Plus, your push notifications are plugged into all the powerful personalization capabilities available through Engagement. 
You can fuel your campaigns using first-party data to target audiences in real time, allowing you to create the types of push campaigns that yield incredible results — like keeping your users up to date on orders or transactions, providing price alerts or time-sensitive deals, reengaging inactive app users with targeted promotions, and more.
In-app Messaging
In-app messaging is a built-in channel in Bloomreach Engagement that allows you to display content within the native environment of your mobile app. 
Unlike push messages, which entice inactive customers back to your app and depend on opted-in subscriptions, in-app messages are a part of the in-app experience. These messages can be used to engage your already active customers while they use your app, redirecting them to take a desired action. 
Bloomreach Engagement's user-friendly visual builder gives you intuitive tools to create the perfect in-app message, with no coding required. Just like our other mobile messaging channels, you can design and test your messages to refine your campaigns and reach their full potential.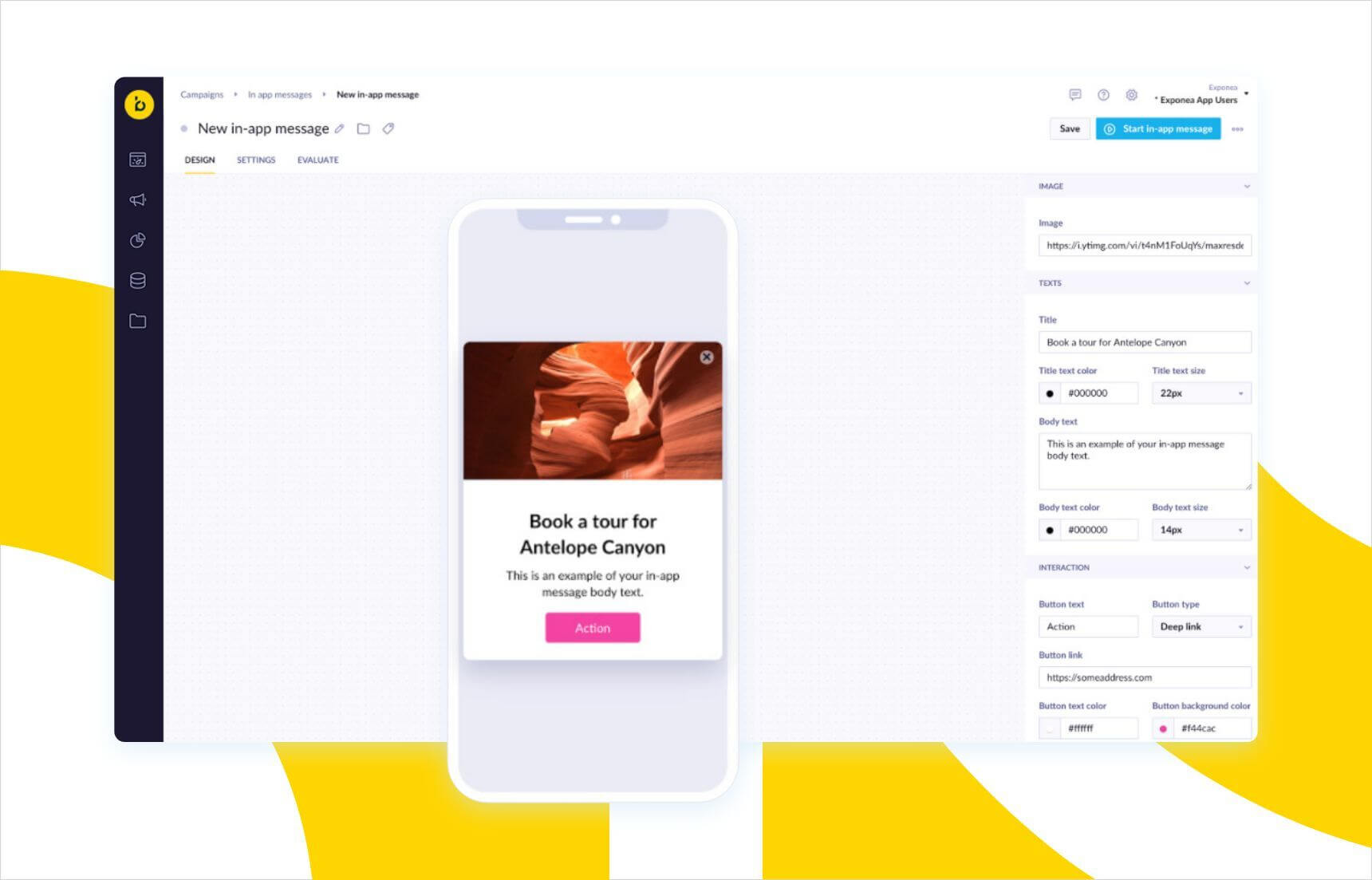 The immediacy of in-app messages makes them a worthwhile tool for any mobile messaging strategy. And with the data available to Engagement users, you can serve personalized messages that target your audience at the perfect time. In-app messages can be used to reach segments based on churn probability, encourage action based on purchase intent, or prompt customer feedback through survey requests.
Bloomreach Has the Right Tools To Connect With Your Mobile App Audience 
With mobile devices now the focal point of our everyday experience, a strong mobile app presence is crucial for building a long-lasting relationship with your audience. Bloomreach's mobile messaging capabilities provide the necessary tools to make that goal a reality, facilitating every type of campaign you need to engage, inspire, and retain your audience.
With Bloomreach Engagement, you can get better results from your mobile app marketing in no time. Schedule a demo today to learn how.
Already a Bloomreach customer? Check out our extensive documentation to get started with all our mobile app messaging features, or contact your account manager to learn more today.