Omnichannel Marketing Automation
AI for Marketing Automation Guide
Omnichannel Marketing Automation
AI for Marketing Automation Guide
Within marketing, artificial intelligence (AI) provides marketers with rich insights into their target audience. It allows them to uncover new segments, optimize message delivery, and orchestrate multichannel marketing campaigns. 
The current most common uses of AI in marketing are automation, business analysis/intelligence, and conversational commerce. However, the potential use cases are so vast, the market attracts annual investment of $94 billion and is expected to grow 20x by 2030. 
For marketers, AI holds the key to establishing a competitive edge, and companies adopting AI technologies to support their promotional efforts experience an average increase in return on investment (ROI) of up to 30%. 
In this guide, we explore the significant role AI plays in marketing, how to exploit the opportunity, and what we can expect next.
Understanding AI in Marketing Automation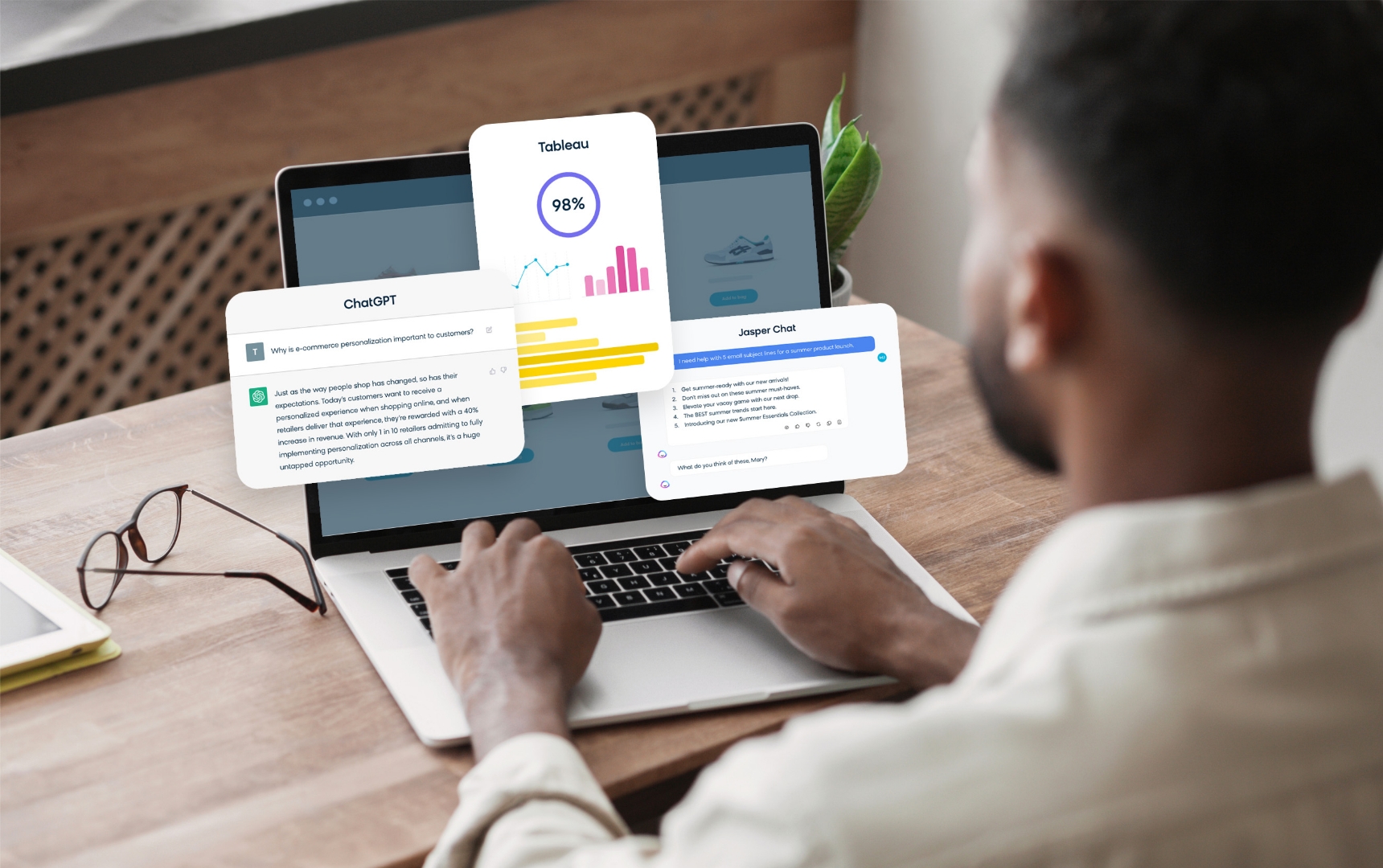 High-performing marketing teams use an average of seven different AI and/or machine learning (ML) technologies. Here's an overview of some of the most common:
Natural language processing (NLP) helps marketers understand the sentiment and determine the best message/action to share in the next stage of the customer journey
Intelligent automation optimizes conversion rates by either scheduling communications based on an individual's past open and click patterns or by dynamically selecting the next best touchpoint in a campaign based on response
Data insights support result analysis by discovering the impact different campaigns had on various key performance indicators (KPIs)
Computer vision interprets visual data, like images and videos, to identify patterns of behavior that can be used to inform future marketing strategies
Predictive analytics looks at historical data to make predictions about future behavior and anticipate trends, so marketers can adjust their strategies accordingly
Conversational marketing enables marketers to deliver personalized conversations with customers in real time using chatbots 
Augmented reality (AR) and virtual reality (VR) create personalized and immersive experiences to show the art of what's possible
Benefits of Marketing Automation With AI
To convert customers, marketers focus their campaigns on different stages within the buyer journey — and marketing automation tools support this process. Based on preprogrammed rules, these tools trigger specific actions. For example, if a customer completes a contact form on a website, it may trigger an email nurture flow, which later triggers a sales call.
AI takes automation further to optimize tasks and workflows, which boosts campaign efficiency and effectiveness. With the capability to "learn" from the data it ingests, AI can adapt its behavior accordingly — so if a customer appears more receptive to messages about cost-savings, email subject lines are tweaked to reflect this and encourage greater open rates. It's this insight into individual preferences that makes nearly three-quarters (74%) of marketers want to adopt intelligent automation over the next five years.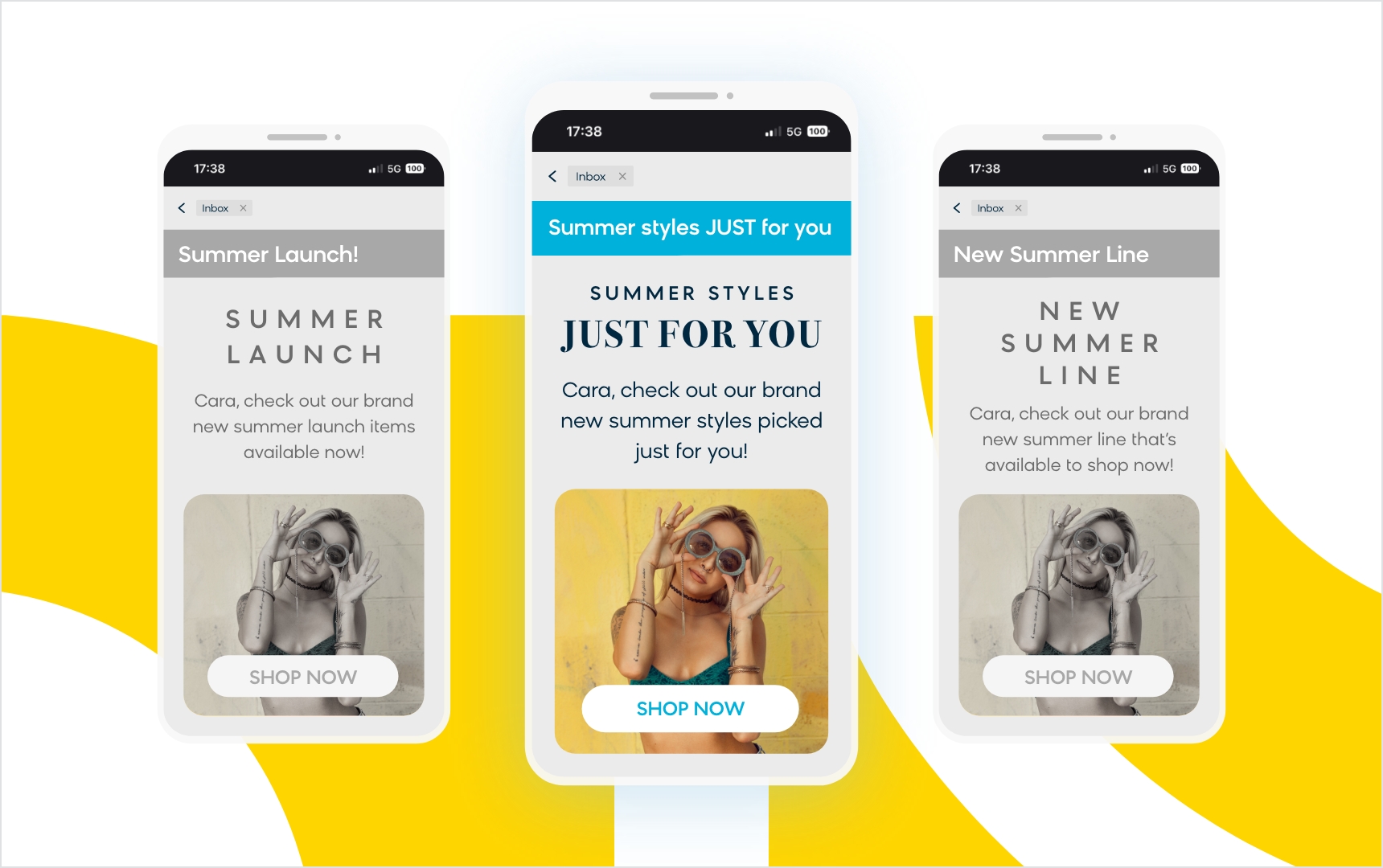 So, what outcomes can marketers expect to realize?
Personalization
Ultimately, marketers want to secure happy, loyal customers. When four in five customers are more likely to do business with a company that offers a personalized experience, AI enables marketers to achieve this in real time. This responsiveness within email campaigns is shown to increase open rates by 26% and click-through rates by 41%.
E-commerce personalization is a powerful enabler because it helps customers find the information they need quicker, as well as provides valuable feedback to marketers on customer preferences and opportunities to upsell/cross-sell. 
Online casino Mansion Group adopted AI to scale its personalized customer offerings through the rapid introduction of new communication channels. Its improved omnichannel approach enables the organization's marketers to ingest raw data and extract actionable insights in seconds, which has doubled the level of personalization within the customer journey. 

Cost Efficiencies
Marketers carry a huge weight on their shoulders — not only are they responsible for both strategy and execution, but they also often need to work under tight constraints. Therefore, they seek new ways to make efficiency savings so that their time, money, and resources are used to the best effect. Of the marketing professionals who use AI and ML, 33% say the biggest benefit is time saved — with AI adoption also shown to decrease marketing expenditure by an average of 10-20%.
AI supports marketers in finding new, different, or better ways to do their work. By automating repetitive tasks, AI reduces the need for human interaction, which frees marketers to focus their efforts on areas where they add the most value. Chatbots work 24/7/365, which delivers a better customer experience because customers get answers to their questions in seconds. And by identifying high-performing channels and campaigns, advertising spend is optimized to eliminate wastage. 
Franchise operator Alshaya used AI to take advantage of cloning. With the ability to copy and paste functionality and modules between projects, the organization could deliver outcomes 50% faster. Additionally, its marketers were able to easily and quickly customize campaigns for greater engagement.

Deeper Analytics
To optimize campaign ROI, marketers need to improve their targeting and ensure they reach the right people with the right message at the right time. As the average daily time users spend on social media hits a record high, social listening is rising in importance. Although typically used to track brand awareness, the use case has evolved — and 82% of marketers now see social listening as a key element in their planning.
Unsolicited and direct from customers' mouths, the insights are perceived to be of the highest quality when identifying emerging trends, which marketers can take advantage of to gain a competitive edge. According to industry research, more customers report finding the "perfect product" through targeted ads over organic brand posts or even researching themselves.
Applications of AI for Marketing Automation
While AI offers impressive benefits to enhance the customer experience, it can also support marketers to address their own areas of pain.
Personal Marketing Campaigns
It's an uncomfortable truth, but customers only care about themselves — 72% of customers claim to ONLY respond to marketing messages that are crafted based on their individual preferences. This can put marketers in a difficult position when they're accountable to senior leaders who are pushing for big announcements about product releases or company achievements. 
AI provides the ability to market on a 1:1 basis by dynamically populating apps, webpages, or emails based on customer attributes, browsing patterns, or situational context. Nearly a third (32%) of marketers already use AI to enhance their automation, personalize offers, and optimize paid advertising. The good news is that even a small tweak can deliver a big improvement. For example, a personalized call to action (CTA) is shown to convert 42% more visitors than a generic one — and companies that excel at lead nurturing generate twice as many sales-ready leads at a third of the cost. 
One e-commerce company that's reaping the rewards of personalized marketing campaigns is MALL.CZ. In a campaign that saw 20,000 personalized videos sent to a specific target audience, the brand experienced a 701% increase in the number of products purchased.

Predictive Analytics
While marketers always have a plan, there still lies a fear of the unknown — one important lesson the pandemic taught us all is that you can never be sure about what comes next. AI helps address this uncertainty through data analytics:
Descriptive analytics answers the question, "What happened?"
Diagnostic analytics answers the question, "Why did this happen?"
Prescriptive analytics answers the question, "What should we do next?"
Predictive analytics answers the question, "What might happen in the future?"
Using predictive analytics, marketers look at historical data to inform future behaviors. It can use cluster modeling to support customer segmentation, use identification modeling to aid new customer acquisition, use propensity modeling to perform lead scoring, or use collaborative filtering to provide content and ad recommendations.
Predictive analytics' ability to help marketers see into the future is pushing 20.4% market growth for predictive analytics — last year, the global market size was worth $12.49 billion, and by 2028 it's expected to reach $38 billion.
Despite struggles during the pandemic, retailer Bensons for Beds has used AI to recover and improve its website to become more than just a referral engine for its brick-and-mortar locations. The result? A 41% increase in e-commerce sales year-on-year.

AI Assistants
In the age of digital, customers are always online and may need help at any time of the day during any time of the year. However, offering that level of human support is not always feasible. Chatbots have continued to rise in popularity because they remain always on. It's a smart way to provide support, which is why 43% of marketers use chatbots to help educate customers in the early stages of the buying cycle.
And with the development of generative AI, chatbots are now able to mimic "real" human conversations rather than be confined to predetermined answers. Plus, chatbots can provide intelligence back to the organization about new customers and how to optimize the buyer journey. By 2025, the chatbot market is forecasted to reach $1.25 billion — up from $190.8 million in 2016.
Beauty brand Sephora was an early adopter of AI-powered chatbots. The company used chatbots to quiz its audience about product preferences, share beauty advice, and help narrow choices. Now, 20% of Sephora's customers are serviced by chatbots, and the company gained a competitive edge through its outstanding customer experience.
The Future of AI for Marketing Automation
To get the most out of AI for your company, you'll need an innovative solution that can handle it, like Bloomreach Engagement. Recognized by Gartner and Forrester, Bloomreach Engagement is an omnichannel marketing platform powered by a customer data engine, so you can use AI-powered technology to personalize the customer journey across all your channels. Learn more about how Bloomreach Engagement can power your brand with cutting-edge marketing intelligence and AI.