E-Commerce Site Search and Merchandising
Features and Benefits of an AI-Based Product Search Engine
AI site search is quickly becoming a competitive differentiator, enabling retailers to capitalize on the growing number of online shoppers. Because AI site search can understand context and intent, shoppers can input any keywords to receive accurate and relevant search results. Furthermore, because it ingests vast quantities of data and learns about a shopper's preferences over time, the results are personalized to each individual. 
In this article, we explore the features that make AI-powered site search an e-commerce priority, along with the benefits retailers can expect in return for their investment. 
Why Is AI Search an Important E-Commerce Priority?
E-commerce site search offers retailers the opportunity to pick off the "low-hanging fruit" — after all, visitors who use the search bar are usually looking for something specific. It's why these users account for 45% of all revenue, despite making up just 15% of total visitors.
By investing in AI-powered site search, retailers can optimize their entire website for conversion — from the search bar to category pages, product recommendations, and content — to guide users toward the transactional part of the shopping journey and convert browsers into paying customers faster.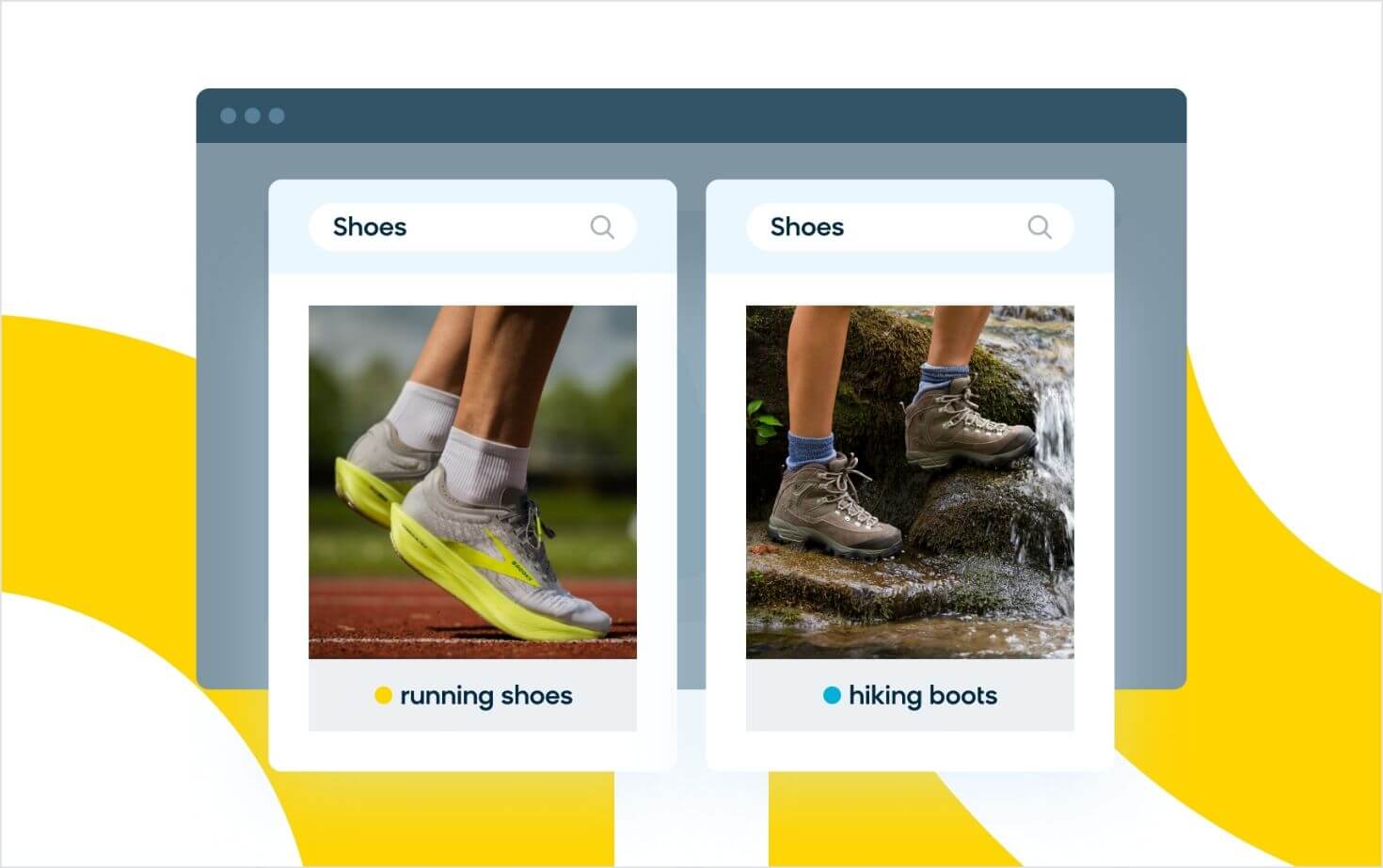 Features of an AI Product Search Engine
AI-powered site search leverages advanced technologies, including semantic search and predictive search, to optimize results pages for every customer.
Semantic Understanding
The key difference between AI-powered search and traditional search is semantics, where the technology can recognize intent to return more accurate and relevant results. There are four main types of intent within search:
Informational: Users seek information (e.g., "all-inclusive European holidays")
Transactional: Users are ready to purchase (e.g., "book flights to Italy")
Navigational: Users seek local information (e.g., "attractions near Venice")
Consideration: Users are researching to help them make an informed decision (e.g., "Venice resort reviews")
AI-powered site search understands user intent because it leverages natural language processing (NLP) and machine learning. Despite human speech being unstructured, highly nuanced, and using synonyms, NLP makes sense of it by establishing connections between words, such as understanding that searches for "plus-size," "curvy," and "full-figured" all mean the same thing. It does this by breaking language down into its component parts. 
Let's imagine a user is performing a search for "cheap green ladies' bicycle for commuting." Using NLP, the site search would establish:
Named entity recognition: Breaks down long-tail keywords to assign predefined categories to them ("ladies" and "bicycle" would result in bikes designed for women)
Facet extraction: Pulls out adjectives to match against the product attributes ("green" would result in the right color)
Word importance: Analyzes each word to prioritize features in order to infer what the user will use the product for ("commuting" would result in road bikes vs. mountain bikes)
Intent understanding: Filters the results based on the user's criteria ("cheap" would prioritize results under $200)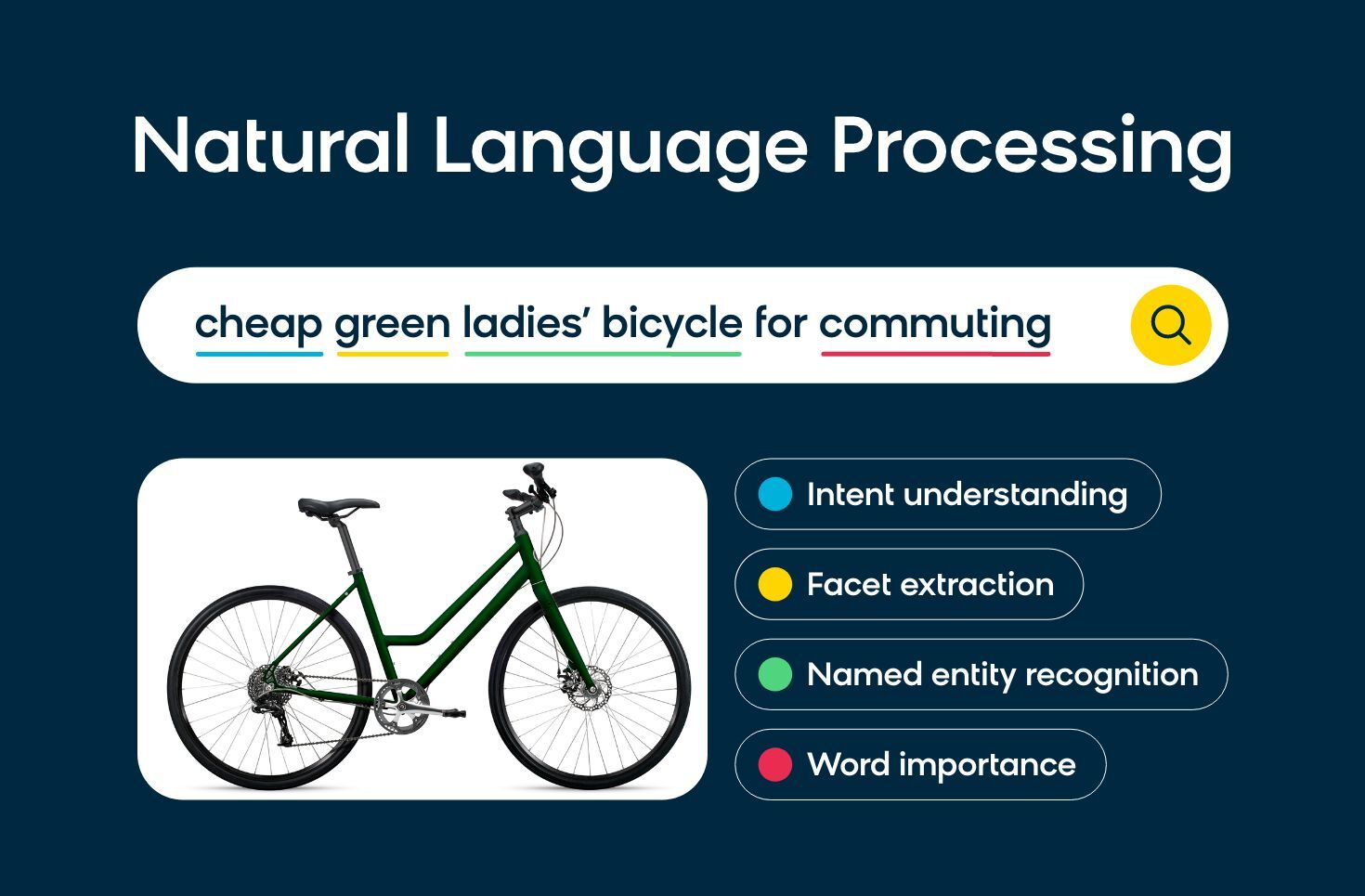 Machine learning provides search intelligence by replicating how people process information to learn from it. It analyzes data from disparate sources, such as past search data, search behavior, and product data, to understand how words are related. This enables the technology to detect synonyms, build a tolerance to typos, and develop numeric understanding (e.g., understanding that 3", 3in, or 3-inch are the same measurement).
Autocomplete and Auto-Suggest
AI-powered search will also anticipate search terms based on previous searches. It relies on predictive search to allow a user to type the first few letters and click on search suggestions from the drop-down. In addition to helping users avoid typos, auto-suggest is also known to boost sales because it can help users tap into long-tail keywords that are more likely to convert. For example, if someone searches for "dinner set," and you have a new product you want to help people discover, you can include "red metallic 12-piece dinner set" as one of the auto-suggestions.
Smart Rankings
Traditional search results tend to rank based on relevance, but AI-powered site search applies intelligence, so it adapts on a 1-to-1 basis. This means two individuals can search on the same keywords but see different results. To achieve this, search results are ranked based on:
Search ranking: Adjusts the order of products to optimize for higher expected revenue per visit based on attributes such as the product performance score or SKU popularity
Facet ranking: Adjusts and prioritizes results based on product count, relevance, and user engagement
1:1 personalization: Adjusts the results based on an individual's affinity for a product attribute, such as a brand or color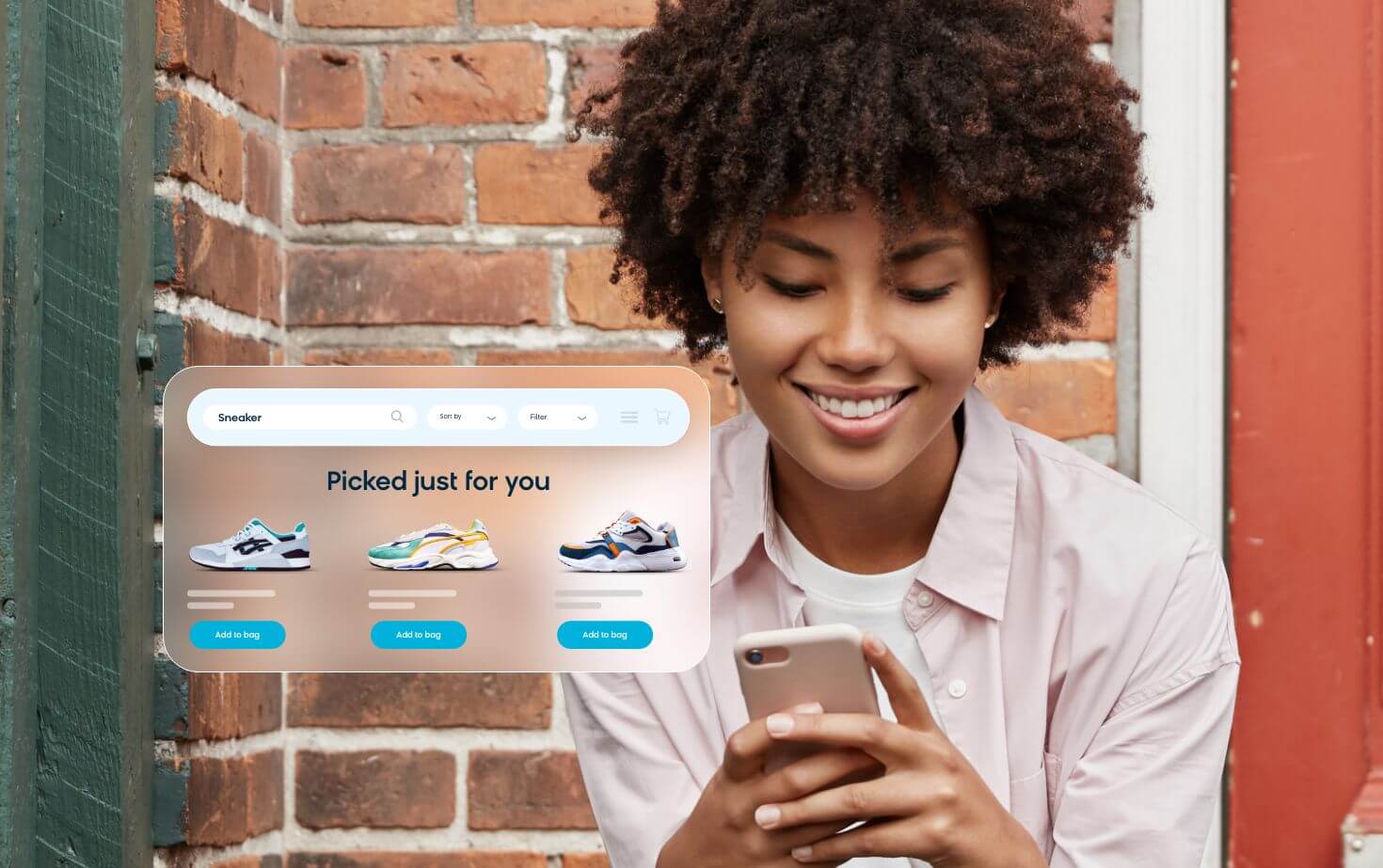 Why Flexibility Is Important With an AI-Based Product Search Engine
E-commerce merchandising helps retailers enhance the customer experience and drive sales through the simple presentation and arrangement of products. It's what helps visitors navigate an e-commerce store to find what they want — and allows retailers an opportunity to upsell or cross-sell related products and services in the process.
Merchandising tools make it possible to curate search results using synonyms, such as knowing that "children" and "kids" are related, and that "pnats" is likely to be a typo for "pants." Additionally, it's possible to boost or bury results based on product attributes or lock the positions of certain products. 
Benefits of an AI Product Search Engine
Nearly 4 in 5 organizations (79%) think integrating AI into marketing and sales has increased their business revenue by at least 20%. Furthermore, with its ability to increase efficiency and lower the total cost of ownership, AI-powered site search will boost profitability and overall competitiveness. For example, The Vitamin Shoppe leveraged advanced site search to convert more visitors by matching the in-store experience, where sales assistants will help shoppers discover the right products for them. It resulted in an 11% increase in add-to-cart rate on category pages and a 5.69% increase in search revenue per visitor.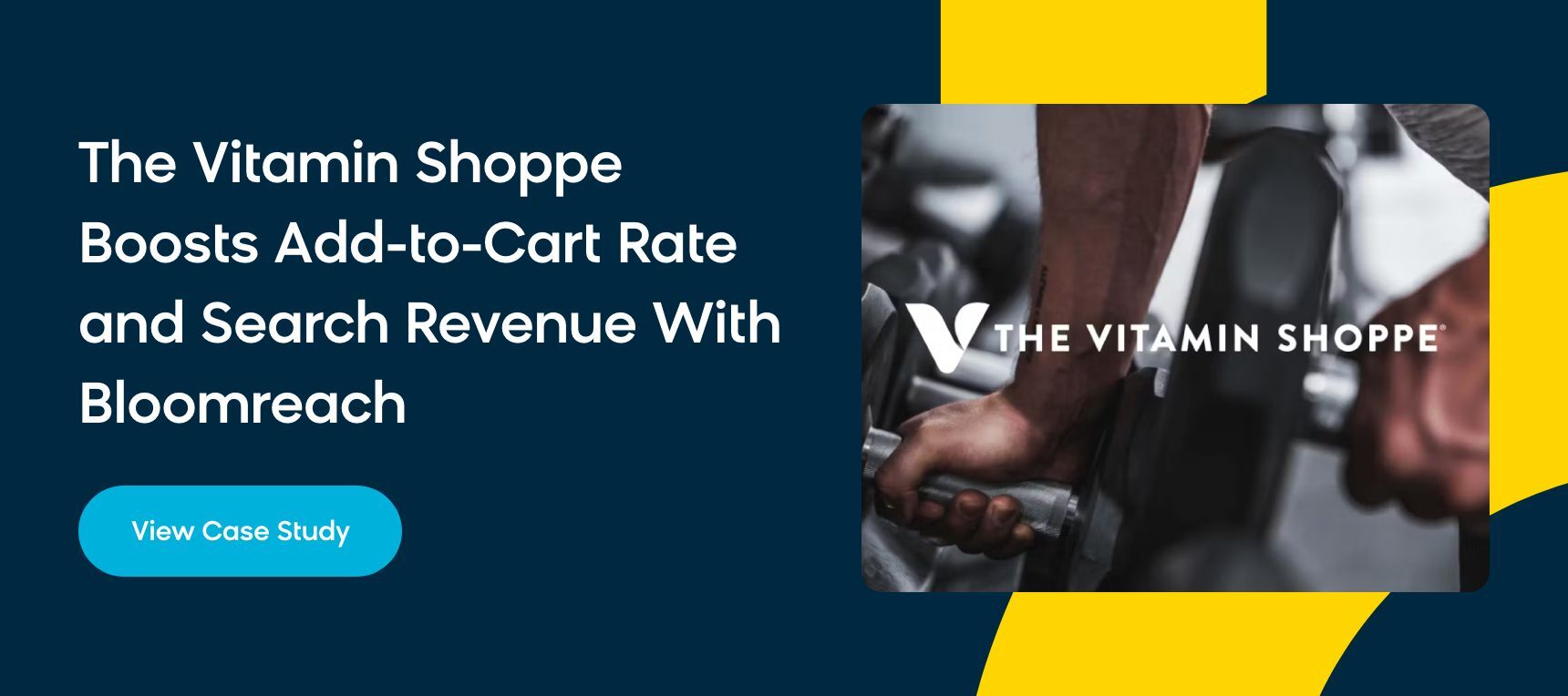 In the following sections, we explore some of the most common benefits retailers experience after implementing AI-powered search:
Boost Average Order Value
When shopping in-store, an assistant is usually on hand to answer any questions and make recommendations based on the customer's preferences. Online, the search bar plays this crucial role, helping direct visitors toward the products and information they need.
When MKM discovered visitors were finding it difficult to shop on its website, the retailer invested in AI-powered site search to enhance its digital offering. After making it easier for visitors to find and order products online, MKM experienced a 7.9% increase in average order value and a 43% increase in total web revenue.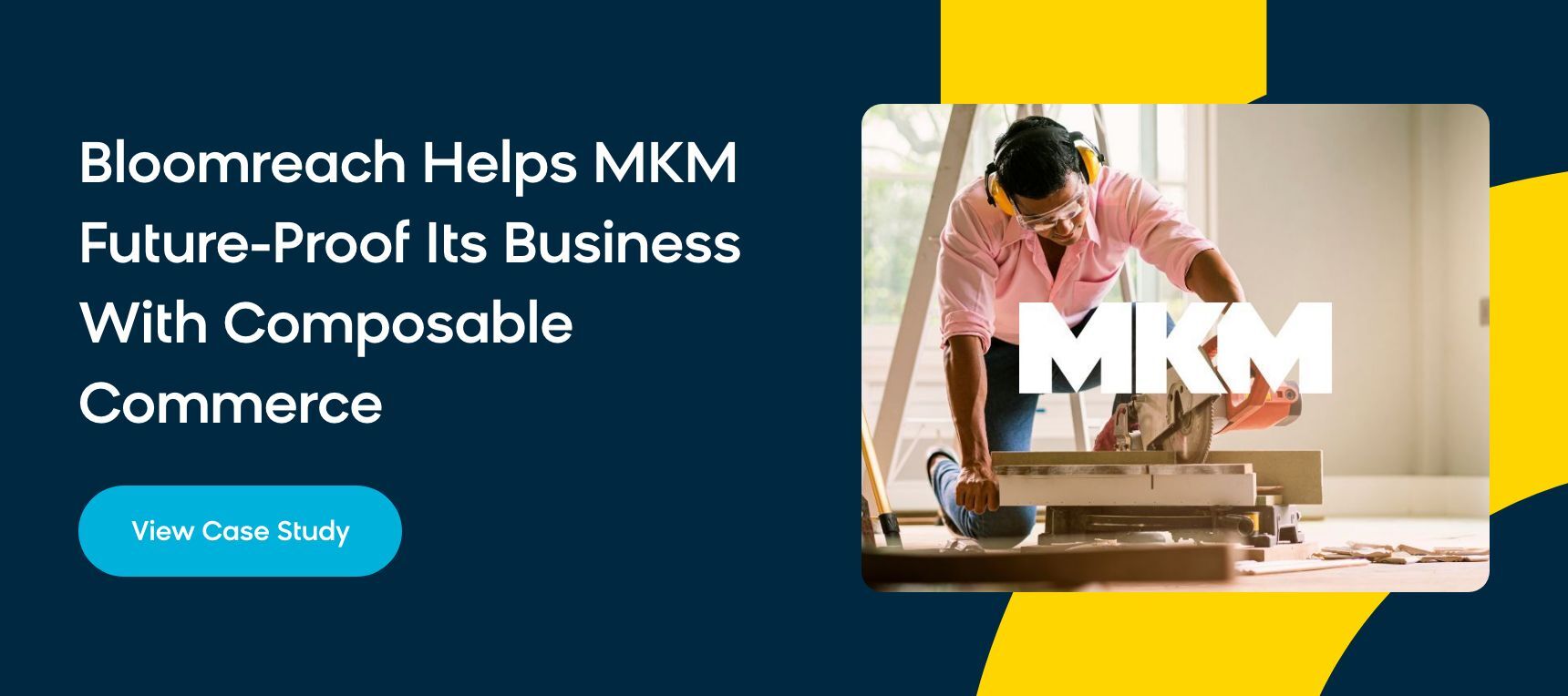 Take Personalization to the Next Level
Through personalized search, retailers can tailor results to match an individual user's interests and preferences. Furthermore, the technology makes it possible to do this in real time, which is known to increase revenue per visitor by 8.5%. 
Jenson USA is one retailer to reap the rewards of personalized search, as it uses AI to help customers navigate its extensive catalog of 30,000+ products. By dynamically adjusting search results for specific customer segments and the device they're shopping on, it increased revenue per visitor by 26% on mobile devices.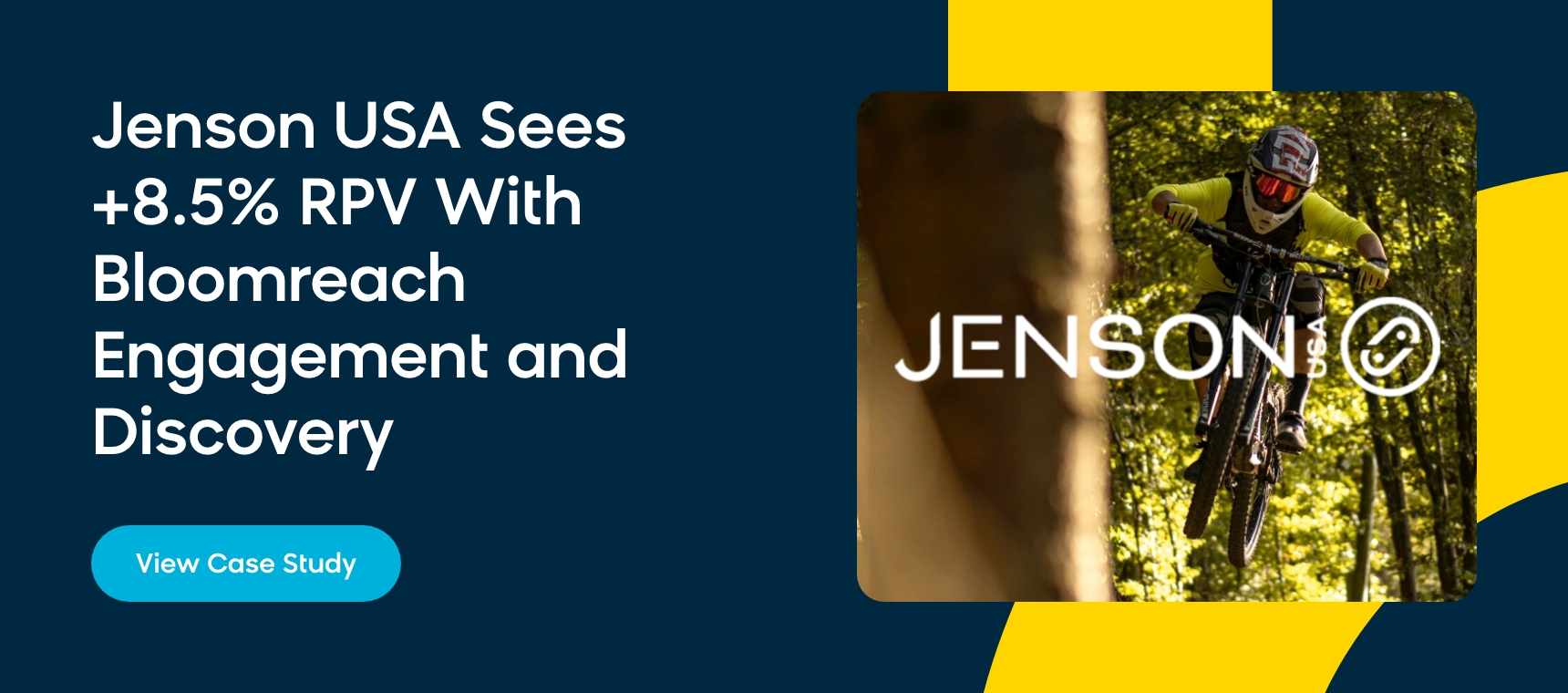 This ability to make recommendations in real time allows a retailer to interject throughout the shopping journey to enhance the customer experience with added value. For example, when used at checkout, personalized shopping cart recommendations influence 92% of shoppers to buy products.
Improved Merchandising Effectiveness and Efficiency
An incredible 80% of consumers admit to leaving a website because the site search experience didn't meet their expectations.
Empowering businesses with AI enables intention-driven engagement, context-aware interactions, and real-time adaptation. Furthermore, 78% of consumers spend more time researching a brand or product online than they do researching in a store. This leads to more informed customers who are more likely to stay loyal to a brand — through the personalized shopping experience AI delivers, customers spend an average of 5x more per visit.
Sur La Table augmented its site search to support a new merchandising strategy, which used widgets to recommend relevant products. "Similar Items" and "You May Also Like" widgets attracted millions of visits, which converted to a 6.6% lift in search add-to-cart rate, and a 7.6% increase in search average order value.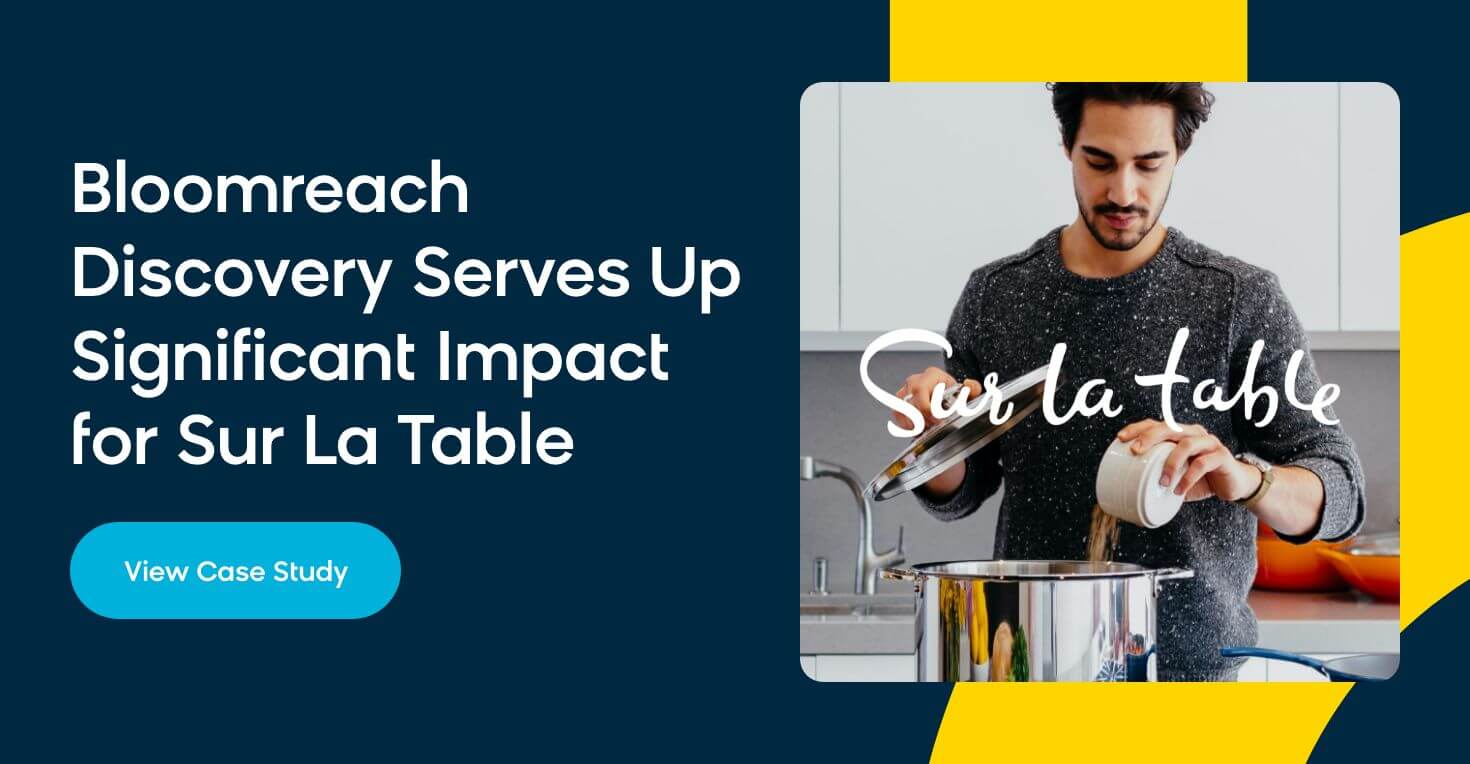 Bloomreach Discovery Gives You Powerful AI Site Search
Leading retailers meet their customers' expectations at every moment because their e-commerce experience is built for every customer at every stage of the shopping journey. With Bloomreach Discovery, you get to tap into the power of Loomi, an industry-leading AI that's been trained on the largest e-commerce dataset out there, so that you can create impactful search experiences right from the start. 
Take the next step into AI site search by learning how to automatically personalize the search experience using Bloomreach Discovery.