B2B Insights
3 Risks Of "Cheaper" B2B E-Commerce Solutions Related to Product Discovery
B2B Insights
3 Risks Of "Cheaper" B2B E-Commerce Solutions Related to Product Discovery
Industrial Distribution said it best: "It's been a big year for distributors." In fact, 2022 proved that distributors could do big things in e-commerce and seamlessly incorporate it into their business model, despite a volatile macroeconomic environment, supply chain issues, and the unanticipated and extremely contagious Omicron variant.
Now, many distributors want to cater to both retail and wholesale customers and are reevaluating the buyer's journey in their online stores, starting at the very beginning with product discovery. And if you truly see your business as part of the customer-centric movement, you'll need to eliminate search frustrations for your buyers with an intelligent, AI-driven search engine. Why? Because search is one of many essential features that businesses should leverage in e-commerce — even in the B2B market.
Even though only 40% of buyers use site search, it accounts for 60% of total business revenue, which means irrelevant search results hurt your bottom line. But in a market full of point solutions boasting the speediest uptime and the best results, how do you choose which is the right one for your team, specifically when it comes to a technology catering to something as nuanced as product discovery?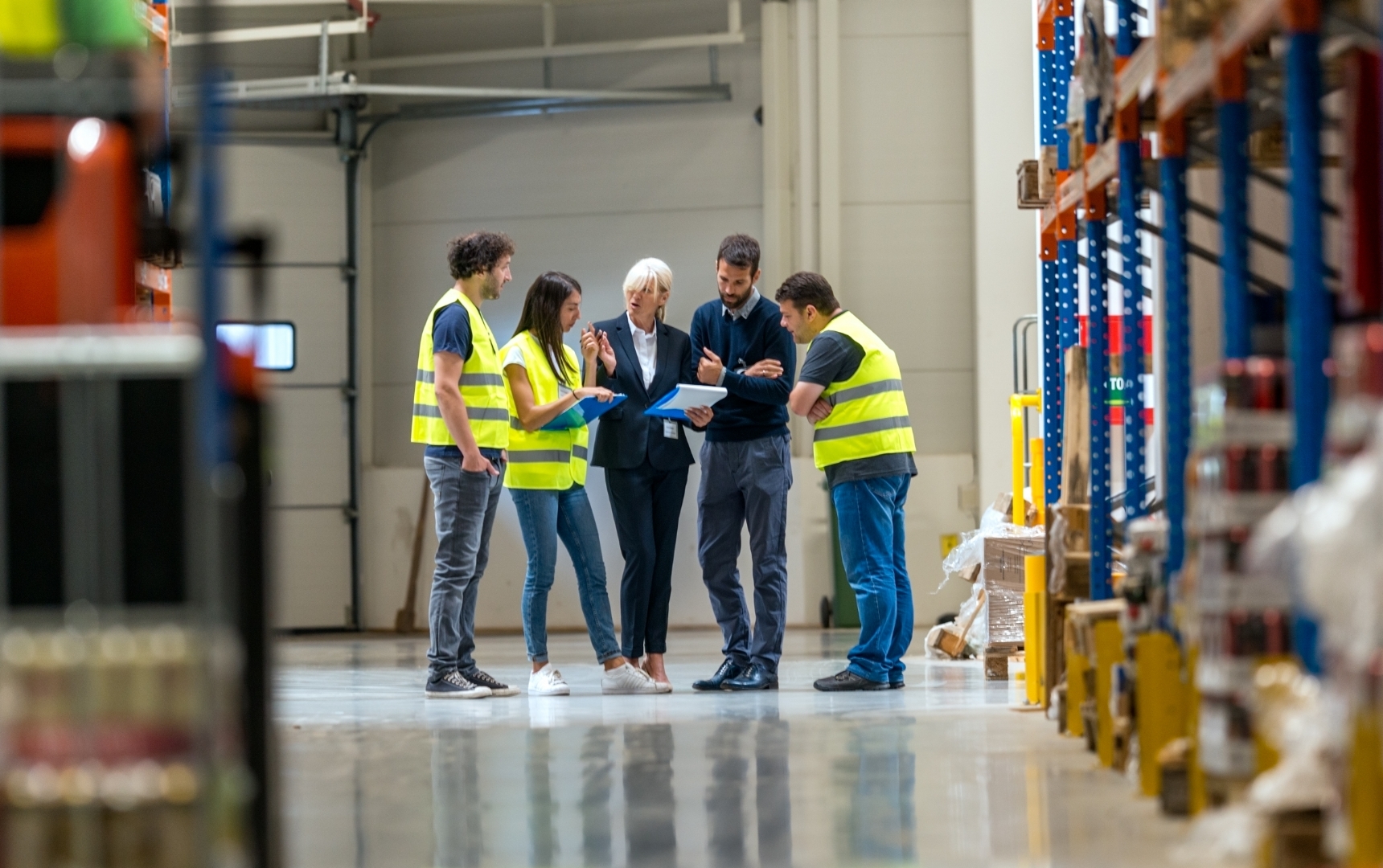 First, it's important to understand that sticking a search bar on your website isn't the answer, nor is investing in homegrown/open-source tools or simply using your B2B e-commerce platform add-ons. Second, the right B2B search vendor should understand your search pain points — making the value it offers worth the cost. Believe it or not, there's a risk when investing in a cheaper product search solution with the intention to upgrade once your business is ready to scale its e-commerce features.
Before we delve further into that topic, you might be wondering if site search is even worth the investment at this point, especially if you feel behind the pack with search and your online store in general. Here are our thoughts!
Is There Still Time To Fix Your Site Search?
Yes, there is still time left to fix your site search, even though the clock is ticking fast. In fact, Bloomreach's data in a recent study with BECK Ecommerce shows a patchwork adoption of proven B2C digital strategies among multiple brands in the B2B distribution and manufacturing space. 
Instead of building an end-to-end purchasing journey, there's a lot of cherry-picking happening — B2B businesses are often choosing to either invest in a combination of content marketing and paid search or an assortment expansion and "Prime-like" shipping. That's one of the reasons why digital adoption across multiple channels is so low in comparison to what's slated on B2B digital maturity roadmaps.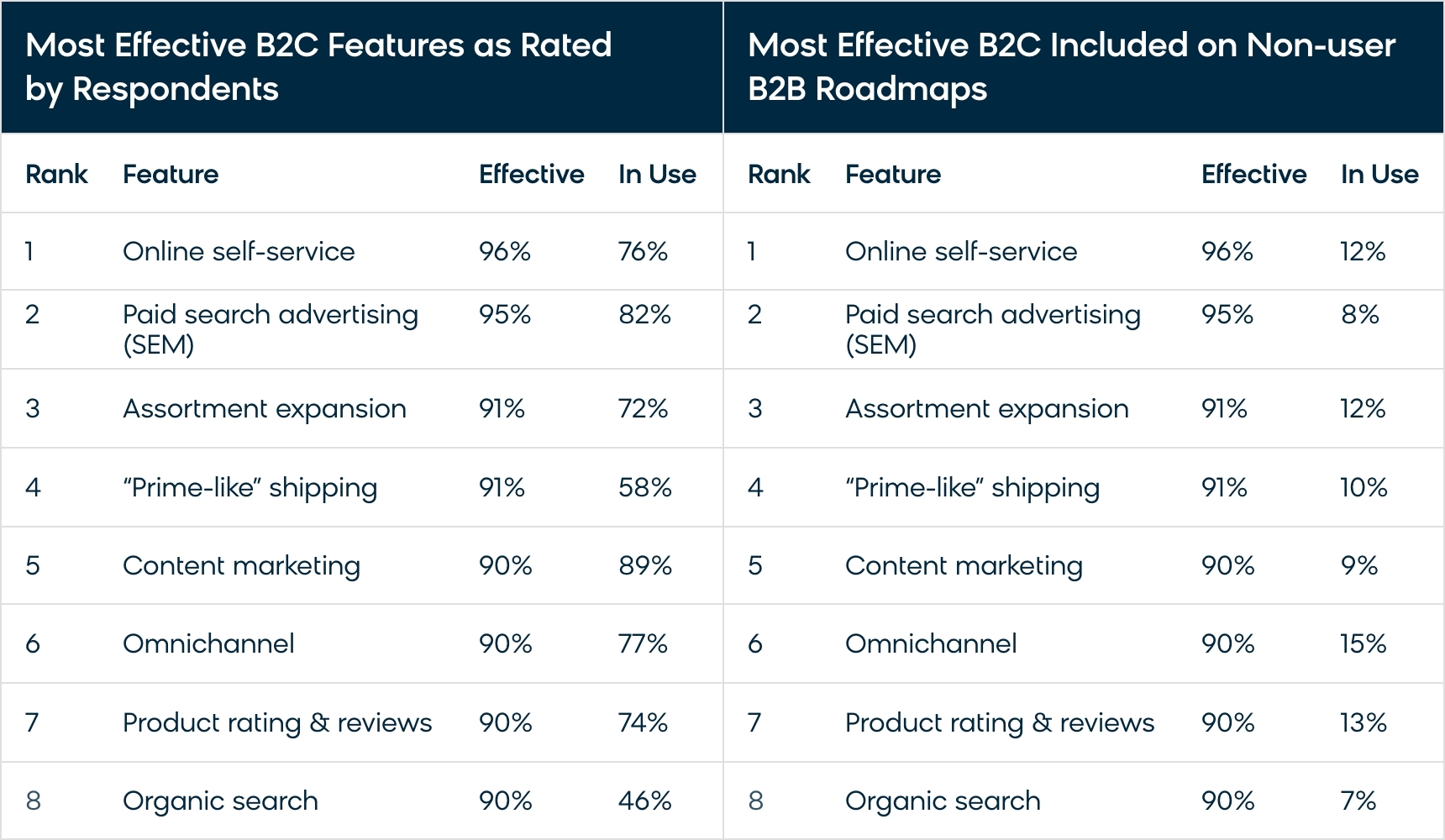 However, the urgency to embrace digital cannot be stressed enough, and as much as we dislike fanning the flames, it's one of those "do or die" moments in B2B. But once B2B distributors decide on product discovery as their next e-commerce priority, they have another tough decision to make when choosing the right product search solution to accommodate the start of the buyer's journey.
Do they invest in a more expensive search solution that will ultimately provide better results and a more pleasing customer experience, or do they go with a cheaper option with a shorter implementation time that appears to be more affordable on the surface? In this blog post, we'll explore the three risks B2B distributors face in opting for a cheaper product search solution, which may be faster to implement, but isn't optimized for quick, impactful return on investment (ROI).
Your Business Will Leave Money on the Table 
Just as all marketing tools aren't created equal, the same can be said for e-commerce search vendors. While most search vendors have similar capabilities in artificial intelligence (AI), many don't focus on query understanding.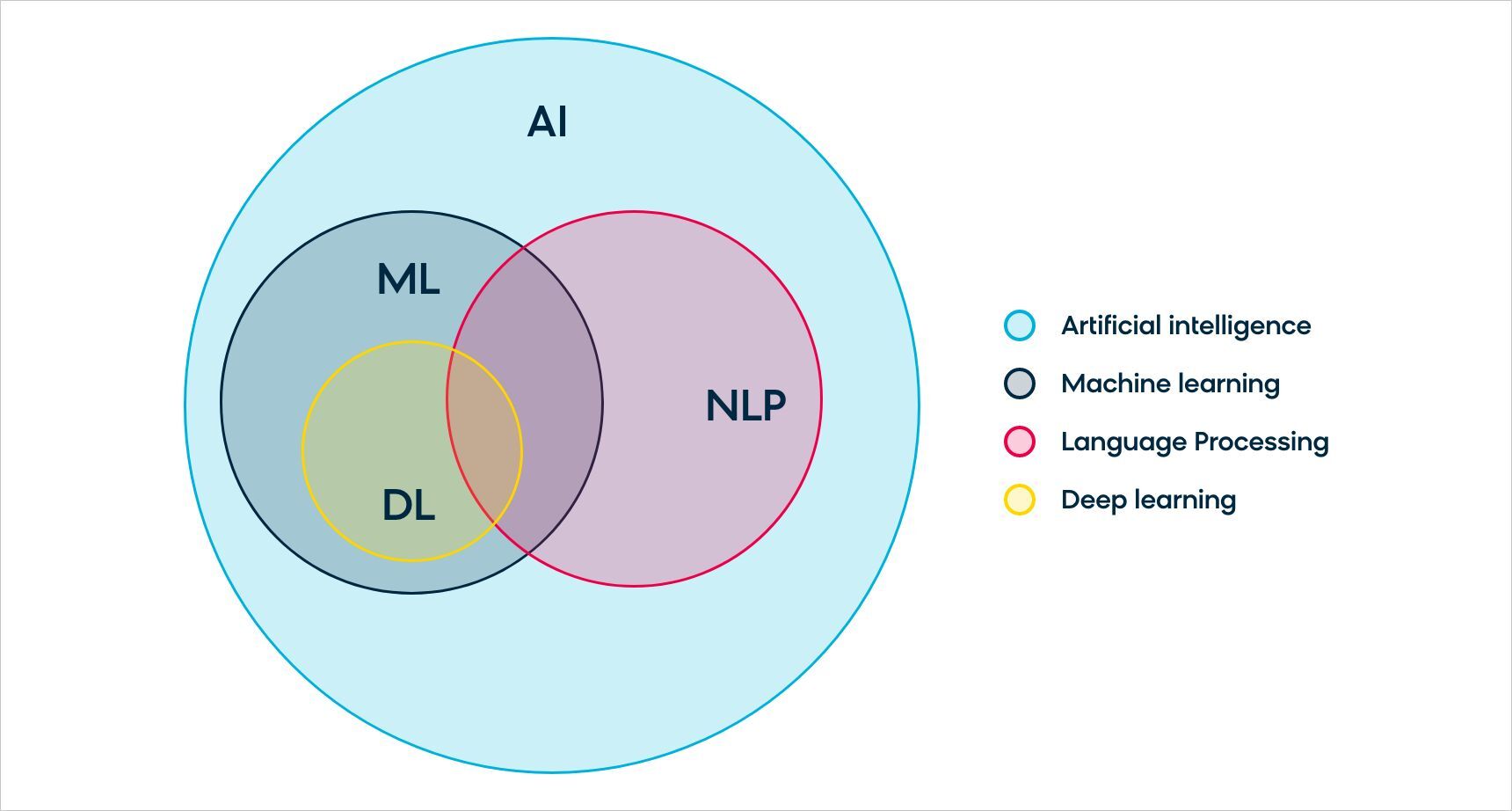 If you don't want to get overwhelmed by the different algorithms that go into search, ask yourself (and your e-commerce team) the following questions:
Does your search bar understand the query? Are the terms that the buyer prefers to use recognized?
Does the result set contain the types of products that your buyer expects to see? Are any significant ones missing? Or worse, are there products that they would consider "errors" appearing in the results?
Is the ranked order of those results putting the products most likely to solve the buyer's problem at the top of the results? Or do your business customers have to scroll 3-5 pages before finding what they really need?
Because standing up the online store and all of its transactional pieces has been a main focus over the past two decades, multiple brands haven't begun to unravel product search's significance and how they're leaving money on the table. A DIY search engine or one that comes "out of the box" with their e-commerce platform of choice won't serve the purpose of unifying all your commerce (product and customer) data for results. Your business can improve revenue per visit (RPV), average order value (AOV), and add-to-cart rates by investing in a tip-top product discovery solution. 
You'll Find a Solution That's Either Too Automated or Too Manual 
Cheap is great on the surface. Sometimes, it's helpful to look beneath the shiny exterior of business software when making an important purchase, though. For instance, a good product search engine should be fast and accurate, and flexible enough to meet the unique needs of your buyers and your business with extensive customization and optimization capabilities.
It all starts with your merchandisers. They should no longer be focused on just your brick-and-mortar stores. They should own online stores, as well. Merchandisers should take advantage of product discovery technology 80% of the time and focus the other 10-20% of their attention on tasks that require a human touch to drive big results. By combining informative analytics from the search technology itself with the irreplaceable human judgment of your merchandisers, your business can leverage both AI intelligence and merchandiser expertise and get ahead of other businesses in your industry.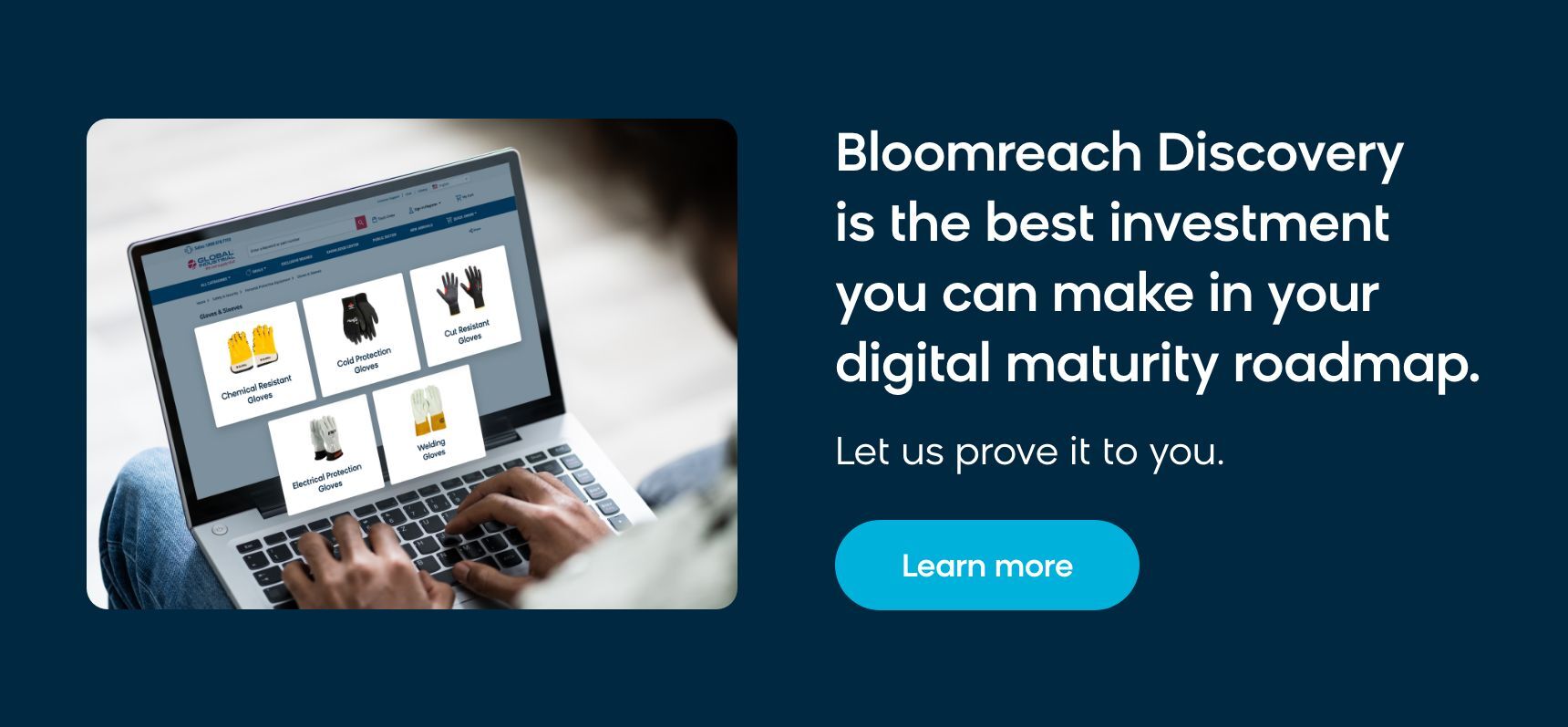 However, your employees might be hesitant — or even resistant — to using automation tools. But with intelligent search and merchandising technology that can automate the redundant tasks inherent in the product discovery experience, your employees will cut down on time spent managing day-to-day issues in search, addressing long-tail searches, and fixing synonyms.
While any worthy search and merch tool is already optimized, the AI also needs to have the flexibility to learn from your unique product data, customer data, and manual inputs to become smarter and more catered towards your brand over time — all while allowing your merchandisers to intervene when necessary, create customer groups, and tweak ranking and recall algorithms to align with business goals. 
Your Brand Won't Be Able To Catch Up to Buyer Expectations 
The key thing for distributors to remember is that they don't have much time left to take baby steps with their e-commerce software. Distributors need a product discovery suite and a B2B e-commerce platform to compete digitally for their targeted customer groups, or they will be replaced by manufacturers going direct to consumer (DTC), disruptors like Amazon, and even other distributors willing to support the shift to digital. 
Since the implementation of an e-commerce search solution is complicated, expensive, and time-consuming, some vendors will tout time to implementation. Still, as a savvy e-commerce practitioner or leader (or an aspiring one), you're likely looking for more concrete value, such as ROI and/or time to value (TTV) — and not just the same platform everyone else uses.
Yet, in B2B distribution, there continues to be ongoing organizational and cultural resistance, persistent concerns, and heavy reliance on the deeply established existing electronic channels of the past (e.g., EDI, e-procurement, and punch-out portals). That's why we suggested ensuring that your product discovery solution is up to par and can work with any other e-commerce platform included in your tech stack.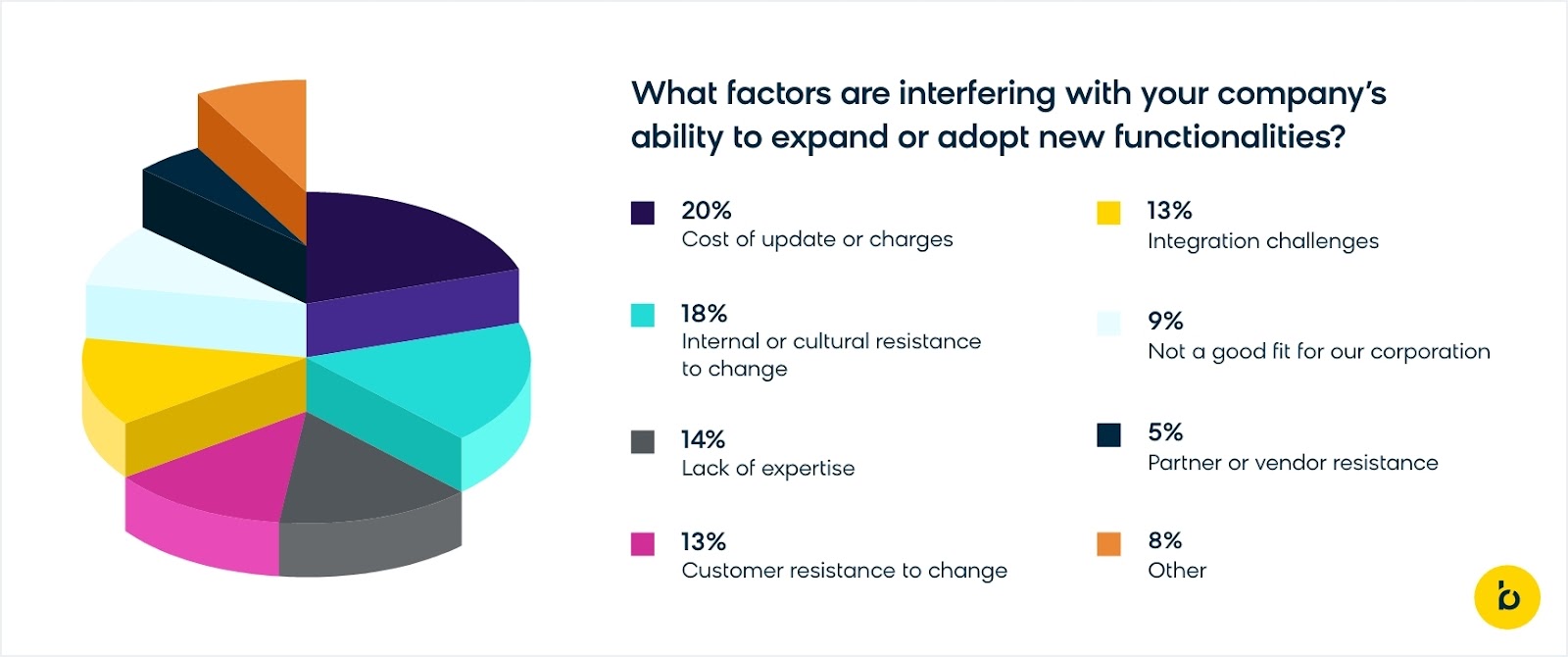 Remember, like most e-commerce priorities, product search can contribute to both a "good" or "bad" customer experience. And you'll have to show your company's executives that championing product discovery leads to immense growth opportunities for those willing to think outside the (search) box and see tomorrow for what it is — a happy, healthy mix of in-person and digital interactions and touchpoints across marketing and sales channels.
What Does All of This Mean for Your E-Commerce Site?
Legacy means a lot in the B2B space, but should it mean everything? While you might be comfortable with how business is going currently, you might look back five years from now wondering what you could have done differently with your online store. If you think about B2B historically, it's never been a market that's satisfied with the status quo.
See what Bloomreach Discovery can do to unite product discovery with your forward-thinking future business strategy and make your buyers happy. Our new API-based pricing can feel like custom pricing made specifically for your business and will allow you to scale as you grow. Schedule a demo with us today.