Omnichannel Marketing Automation
The Top 4 Reasons Customers Choose Bloomreach vs Responsys
By Ian Donnelly
10/31/2022
Acquired by Oracle in 2013, Responsys is a big fish in the marketing pond. Most marketers are familiar with the platform's email marketing features, and being under the umbrella of Oracle's marketing cloud lends a status to their software.
But more and more, we're hearing about challenges and difficulties with Oracle Responsys. Especially from growing businesses that need a platform that is efficient, sophisticated, and can scale with their ambitions. 
If you're looking to make the switch from Responsys, or are trying to understand what Responsys competitors offer that Oracle's software can't, you've come to the right page. 
Here's the top reasons that Responsys customers make the switch to Bloomreach.
Responsys' Clunky System Can Only Take You So Far
The fact is, Oracle Responsys is a campaign management platform that operates as a patchwork system, as their customers say. It's a legacy software that wasn't developed with modern, real-time omnichannel marketing in mind, leaving growth-minded businesses wanting more from the platform and their campaign results.
Responsys has always claimed that its ease of orchestration makes it stand out from the crowd. But just like its sibling (rest in peace Bronto), it has failed to keep up with the demands of digital commerce. For businesses that want a user-friendly and integrated platform, Responsys is too manual, too vendor dependent, and just not cost effective. 
One of the most obvious reasons for this is the overstretched scope of Oracle's marketing cloud. A behemoth company like Oracle struggles to integrate all their components to work seamlessly together, and this lack of integration puts major restrictions on how successful your campaigns can be. 
Reviews for Responsys show that customers even hit roadblocks with Oracle's own customer data platform (CDP), CX Unity, which can leave your marketing efforts out on a limb without the data they need. Responsys doesn't offer a single customer view and is only capable of processing data, not storing it, resulting in siloed and inactive data. It's not a cohesive, consolidated system.
This lack of integration has a significant impact on the platform's user interface (UI), too. With a cobbled together platform like Responsys, you naturally get a clunky UI, making it difficult for marketers and developers alike. 
Responsys doesn't offer an intuitive experience, and the software's steep learning curve makes editing and updating campaigns an overly complex ordeal. Marketers can't complete simple and crucial steps, like creating an audience, without leaning on your tech team for help. 
And all these problems ultimately cost you more. A disjointed platform like Responsys requires businesses to heavily invest in post-integration vendors, expensive additional training, and plenty of time and patience. 
But even with all these requirements, you are still left with disconnected software and an unwieldy interface. And with siloed data to top it all off, creating great omnichannel experiences is extremely difficult, if not impossible. Your campaigns just can't reach the results you need. 
To achieve end-to-end omnichannel orchestration, you need the ease of drag-and-drop management and intuitive UI. You need your data up to date, integrated, and fully activated. 
Basically, you need a platform that is built for e-commerce and designed to help modern marketers create game-changing campaigns that take their businesses to the next level. And that's exactly what Bloomreach Engagement offers.
Bloomreach is the Responsys Alternative You've Been Searching For
Bloomreach Engagement's omnichannel campaign orchestration is second to none, providing the drag-n-drop usability that marketers expect from world-class software. You can edit or add audience filters with just a few clicks and drop in channels, A/B testing rules, delays, segmentations, and more at any point in a campaign's execution. You can even see a preview of your campaign and the flow of audiences before you take the campaign live, all without pinging your tech team for help.
The secret to Bloomreach Engagement's powerful setup is simple: it's a single platform built from the ground up to manage your entire customer engagement strategy. It combines the power of a customer data platform (CDP), an email service provider, artificial intelligence, marketing automation, and web personalization, giving businesses all the tools they need to reach customers with hyper-personalized experiences. 
This powerful blend of a CDP and advanced analytics gives marketers a deep understanding of the user journey, in real time. You get a unified view of your customers with integrated data across a comprehensive spectrum of channels — email, SMS, social, on-site visits, even offline activity — to inform and refine your omnichannel campaigns.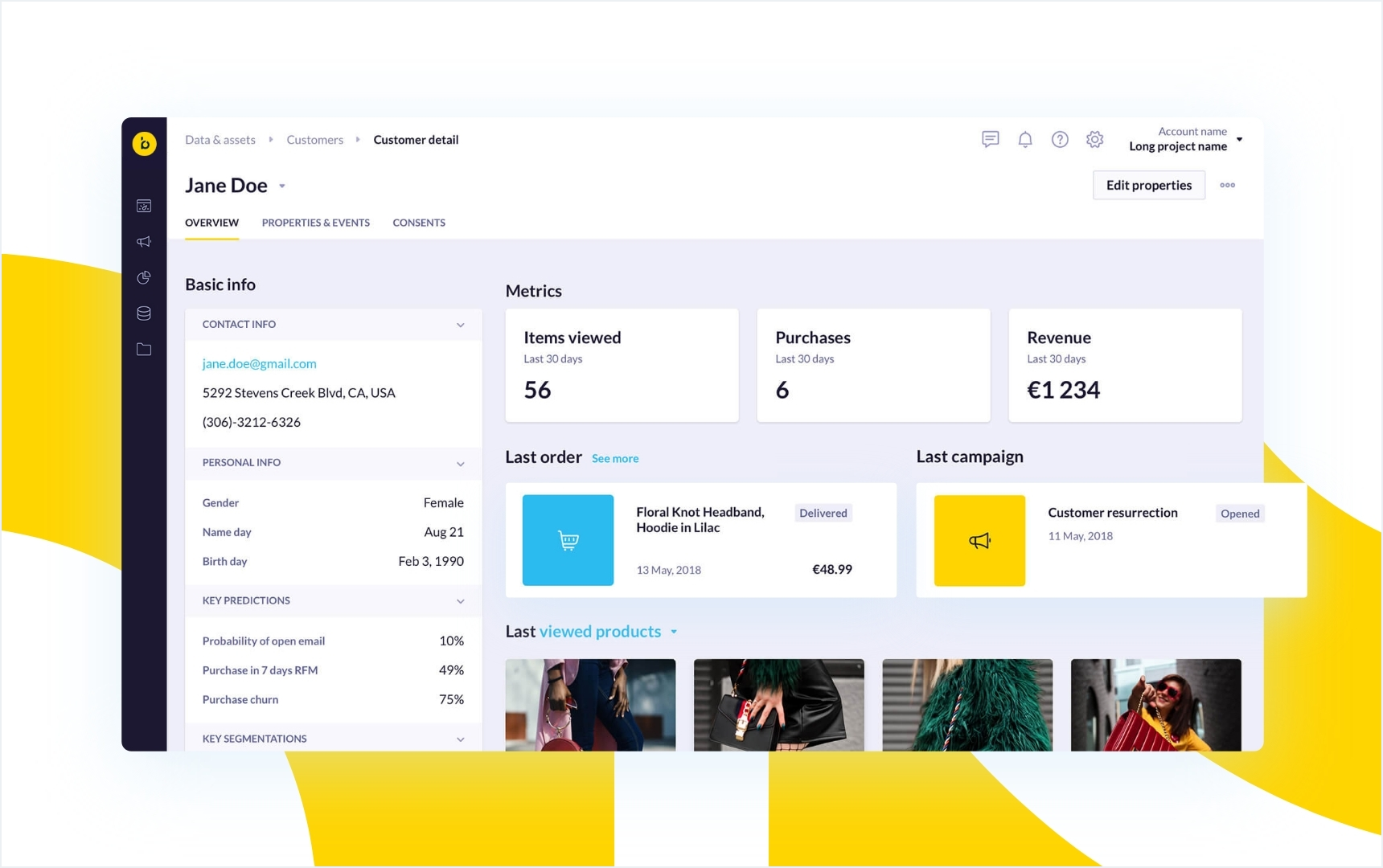 And because Bloomreach Engagement empowers your campaigns with real-time data, you can utilize customer insights, segments, and attributes that are as always up-to-date with your customer behavior. No more data silos or disjointed channels — your campaigns can be optimized within moments of a customer's action, through the most preferable channel, with the message most likely to convert. 
And just like your data, we are constantly updating and improving our software. We don't sit back and wait for marketing's next innovation to happen like a legacy platform. Oracle only releases two product updates per year, while we are constantly pushing our software forward to meet modern marketing's needs by adding new product features for your team to employ.
It all adds up to omnichannel orchestration that Oracle Responsys just can't match. But you don't have to take our word for it - Bloomreach has consistently ranked higher across the board in G2's side-by-side comparisons.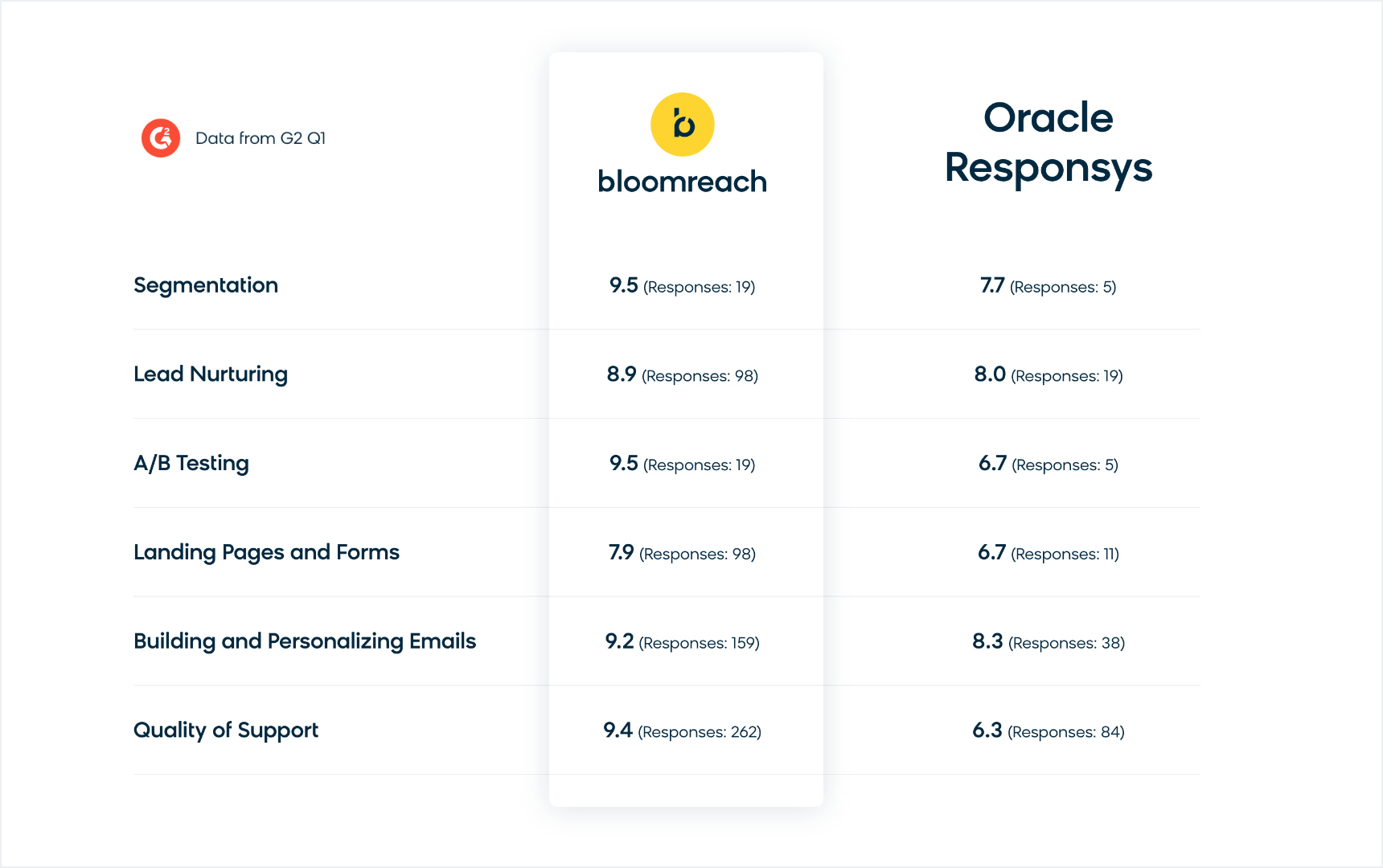 Responsys' Poor Customer Support is a Deal Breaker
If there's one common thread across Responsys critiques, it's inferior customer service. And you only have to look at Oracle's sheer size, with multiple marketing cloud components, vendors, and customers to take care of, to understand why. 
Getting one-to-one support from a company with so many priorities to juggle is a real challenge, but this problem is only made worse by how unintuitive Responsys' interface is. 
As we mentioned above, there's a steep learning curve for marketers to use even the basics of Responsys' software — so much so that assistance is crucial. Without customer service, your marketing team is paralyzed more often than not. 
Unfortunately, unless you're a marquee client for Oracle, getting answers to your questions can feel like pulling teeth. And with recent news of cutbacks at the company, these issues aren't getting resolved anytime soon.
At Bloomreach, we know how important it is to feel supported. That's why we offer fast, experienced, and helpful customer service for every Bloomreach customer. 
We provide access to a support team of experienced professionals composed of former consultants with technical backgrounds who understand our platform in detail. And to make sure your campaigns reach their full potential, Bloomreach's Customer Success Managers are always ready to offer assistance — whether it's digging deep into granular insights or helping you get a high-level overview with a customized dashboard. Our strategic consultants help you nail down best practices and identify opportunities to maximize the value derived from the platform.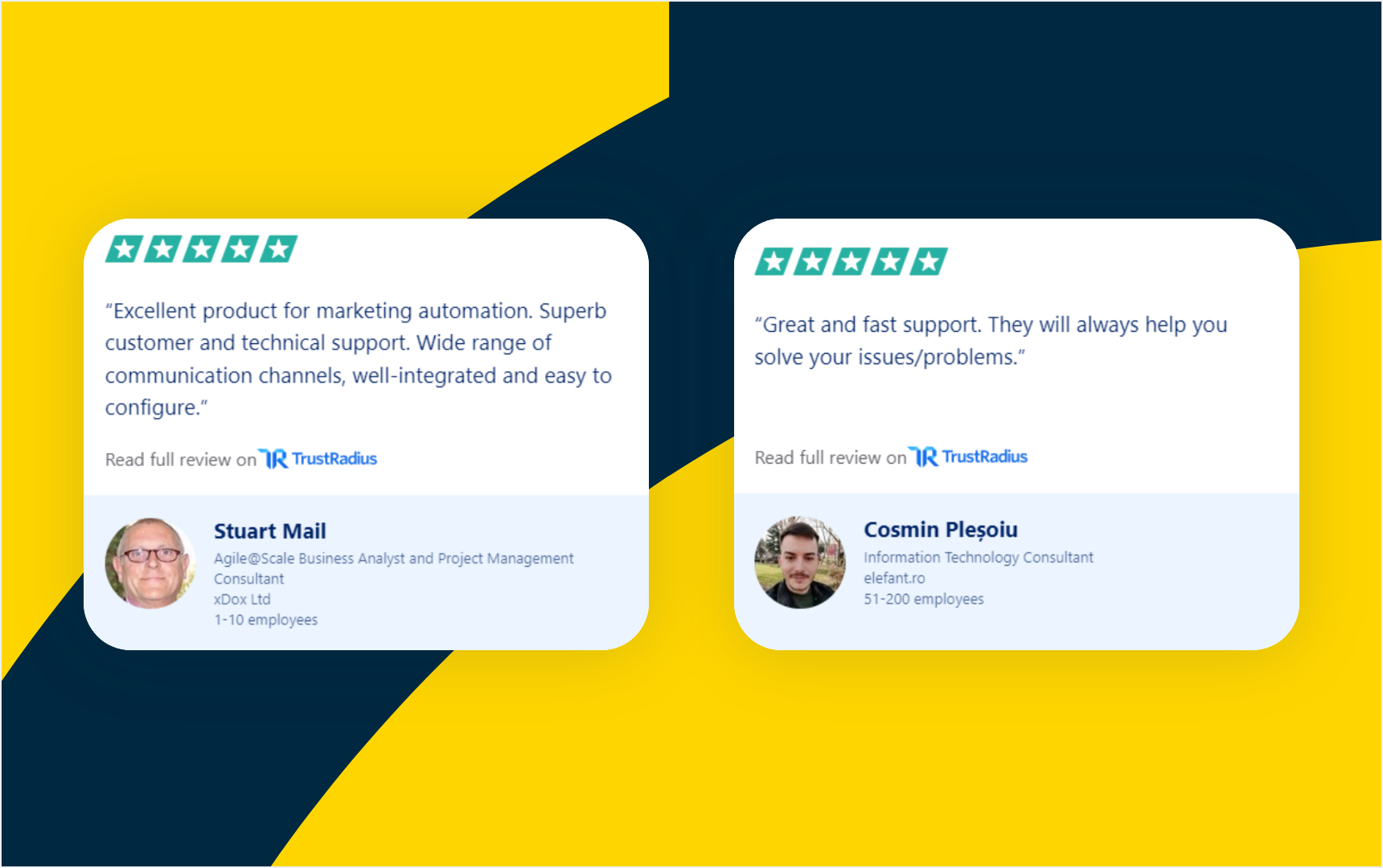 Not only are we thorough with our customer service support, we're lightning fast, too. From the start we provide one-to-one support, including IP warm up and deliverability support, to make sure you get up and running with a smooth, seamless onboarding. We're dedicated to helping our customers reach their ROI in record timing with an average implementation and onboarding time of just 1-3 months. 
If any urgent questions come up, our live chat feature is available whenever you need it. With a median response time of under two minutes, we're always just a message away. And if we can't solve an issue immediately, we'll hop on a video conference to get everything sorted promptly so you can get back to work.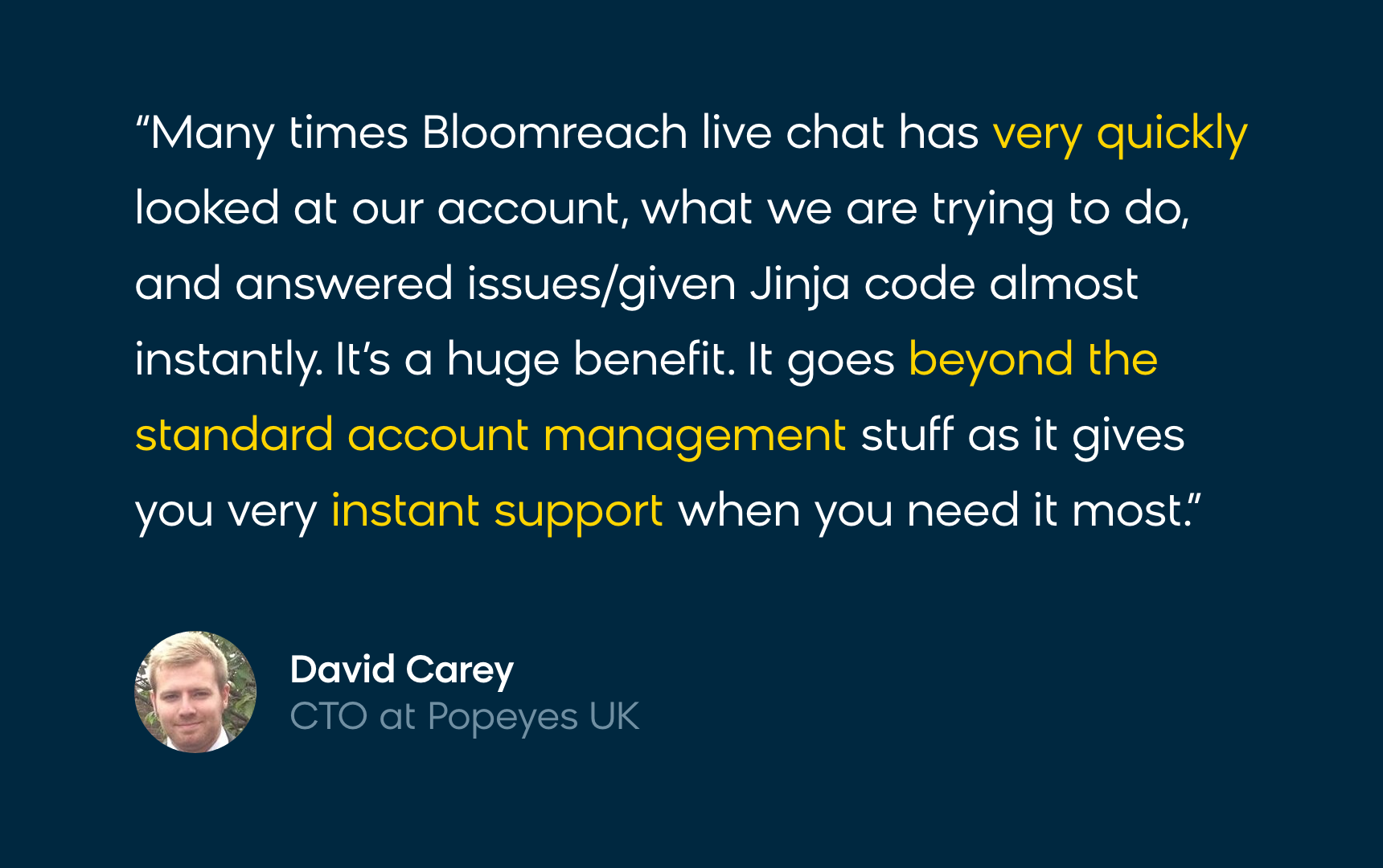 Modern Businesses Need Personalization at Scale, Without the Complexity of Responsys
Responsys promises personalization for cross-channel marketing campaigns, but personalization is a marketing term that gets thrown around a lot these days. There are varying degrees of personalization, and not all platforms provide the accuracy and sophistication that modern businesses need for their marketing efforts.
Bloomreach defines e-commerce personalization as the practice of using commerce data responsibly to get to know, guide, and impress your customers with experiences that are so relevant and contextual, they feel like magic. E-commerce personalization spans cross-channel, on-site, and in-app. It encompasses anonymous and known customers, and includes personalized messages, content, site layouts, products, and much more. It is driven by real-time, first-party data. This results in measurable journeys that engage and lead customers through brand awareness to product discovery to repeat purchases.
Our definition goes beyond what Responsys offers with run-of-the-mill campaign templates and a limited level of automation for cross-channel campaigns. Because true personalization is more than just plugging customer data into a marketing template. It's about using first-party data to understand and anticipate customer behavior — it's a responsive and omnichannel experience.
Your customers demand that your marketing campaigns know them intimately, understand their preferences, and predict their intent. They want you to build a relationship with them and respond to the decisions and actions they take when they interact with your channels, which is why you need a first-party data platform like Bloomreach Engagement that can craft unique experiences for your customers across all digital touchpoints. 
With Bloomreach Engagement, your marketing campaigns are flexible and driven towards finding the best channel to reach your customers. Instead of a set-in-stone email program or SMS campaign, our machine learning algorithms and intelligent automation help you find the right channel and time to reach audiences, pinpointing when and where they are most likely to engage and convert.
But we don't stop there. Our platform harnesses artificial intelligence to find accurate product recommendations that go beyond the basic, rule-based logic of "most viewed" or "most purchased" campaigns. We have the necessary tools to build customer journeys that take all relevant behavior into account, integrating real-time data to design the most impactful experience with your brand.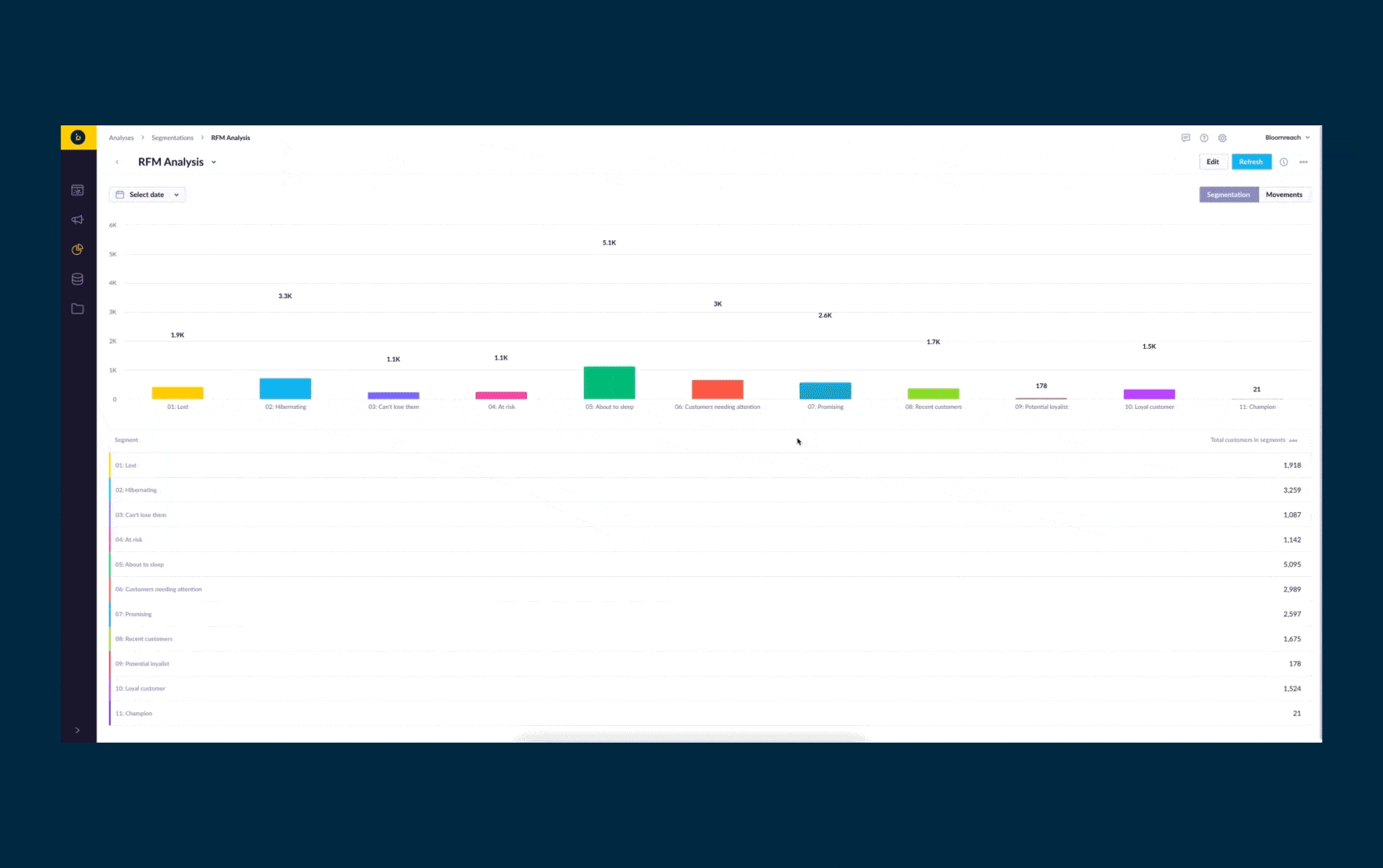 We've built our powerful platform with the knowledge that personalization is truly meaningful when you take an analytical approach, not a list-based approach to marketing. There's no perfect template or roadmap to success — you need a flexible strategy to give each customer the best experience possible. And to do this, businesses need access to real-time insights, and the ability to immediately use those insights across touchpoints, to weave together a cohesive story.
Bloomreach Engagement integrates that data and offers that adaptability, and we do it all at scale — which is crucial for enterprising businesses looking for an effective marketing platform that will keep up with their ambitions. 
Responsys' Email Deliverability Can't Compete
As we stated in the beginning of this blog, most marketers know Responsys for their email marketing capabilities. But users have shared that Responsys' clunky and difficult interface, along with limits to their audience segmentation features, makes launching and optimizing emails a real challenge. 
Even mastering the basics of successful email campaigns is out of a marketer's reach without considerable effort and additional training. Previous Responsys customers complain that uploading all their audience data into Responsys is a time-consuming and manual process, and that building and sending an email can be just as laborious.
Achieving the best email deliverability rate — the first and arguably most important hurdle of any email marketing campaign — is no easy task when your campaigns aren't powered by free-flowing and up-to-the-minute data. And if you can't easily optimize emails to meet the needs of your audience, your campaigns are likely going to suffer.
That's why Bloomreach Engagement empowers customers with vital tools to ensure their emails are reaching their audience's inbox and staying out of the spam folder.
From the beginning, our deliverability guides and IP warm-up support sets our customers' campaigns up for success. And with built-in consent management, you can define consent categories and customize your preference center to stay GDPR/CCPA compliant.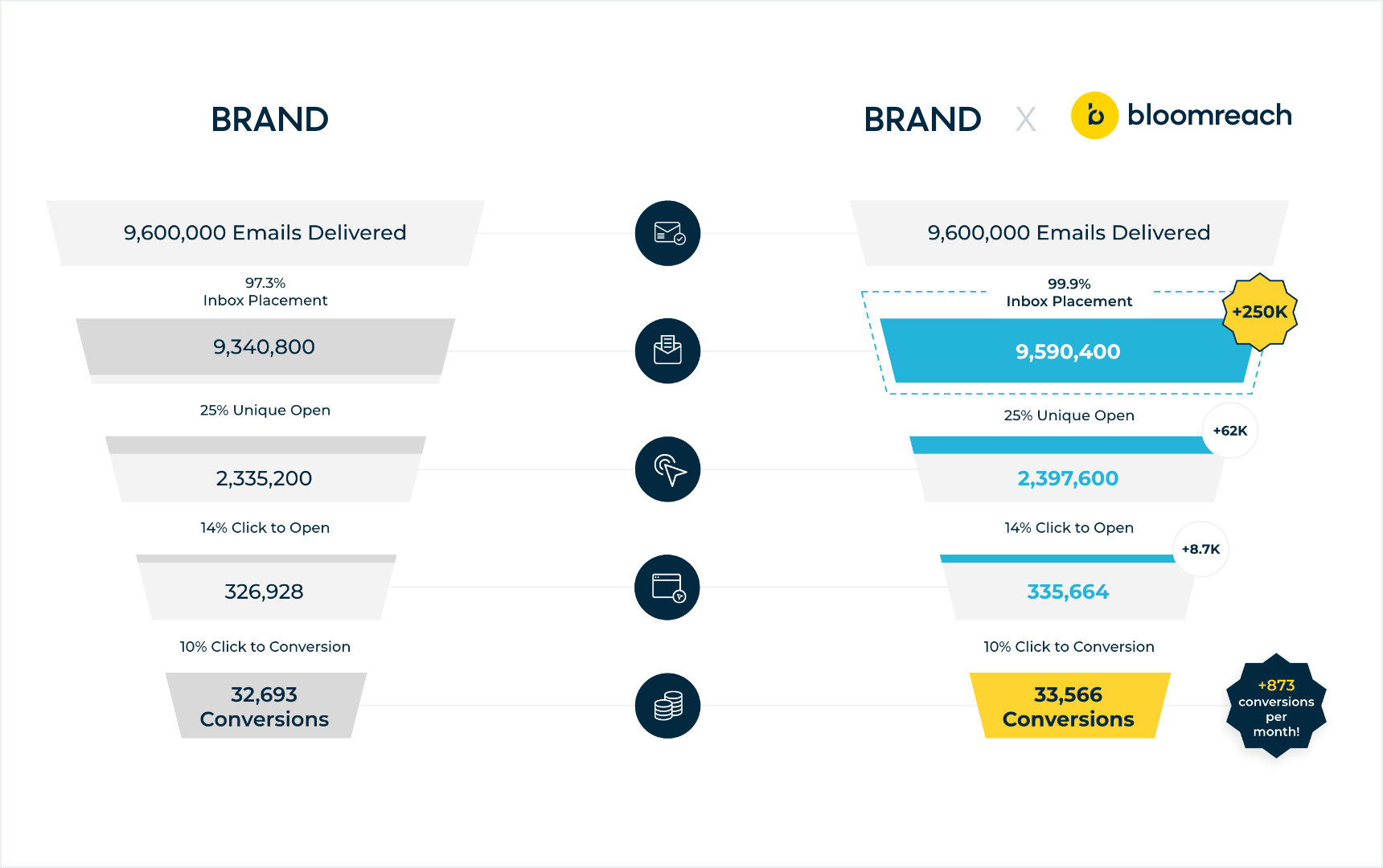 Our Smart Newsletter Frequency Policy combines expert-defined rules with artificial intelligence to dynamically manage email frequency based on customer engagement, ensuring your emails aren't hitting inboxes too often or at inopportune times.
And with the ability to meticulously segment audiences and personalize email content in one ease-to-use platform, Bloomreach Engagement keeps your campaigns responsive and receptive to your customer's interactions and inclinations. It turns a one-way marketing program into a communication channel, with input from your audience playing an active role — which is exactly how your campaigns should be.
The bottom line is, the better you understand your audience, the closer you get to their ideal frequency, send times, content, and format. Bloomreach Engagement is built to help you achieve this awareness, and we have plenty of satisfied businesses with a 99% inbox placement rate to prove it.
Bloomreach is the Right Choice For Your Business
With a powerful single platform that offers built-in CDP capabilities and advanced analytics that Oracle can't match, Bloomreach Engagement excels and supports your business goals where Responsys can't. 
Our platform unifies data for customer journey orchestration and omnichannel execution with speed and service that is beyond compare. It's an intuitive interface built with marketers in mind, offering built-in analytics, data visualization, and reporting that makes sense — and doesn't need a tech team to translate.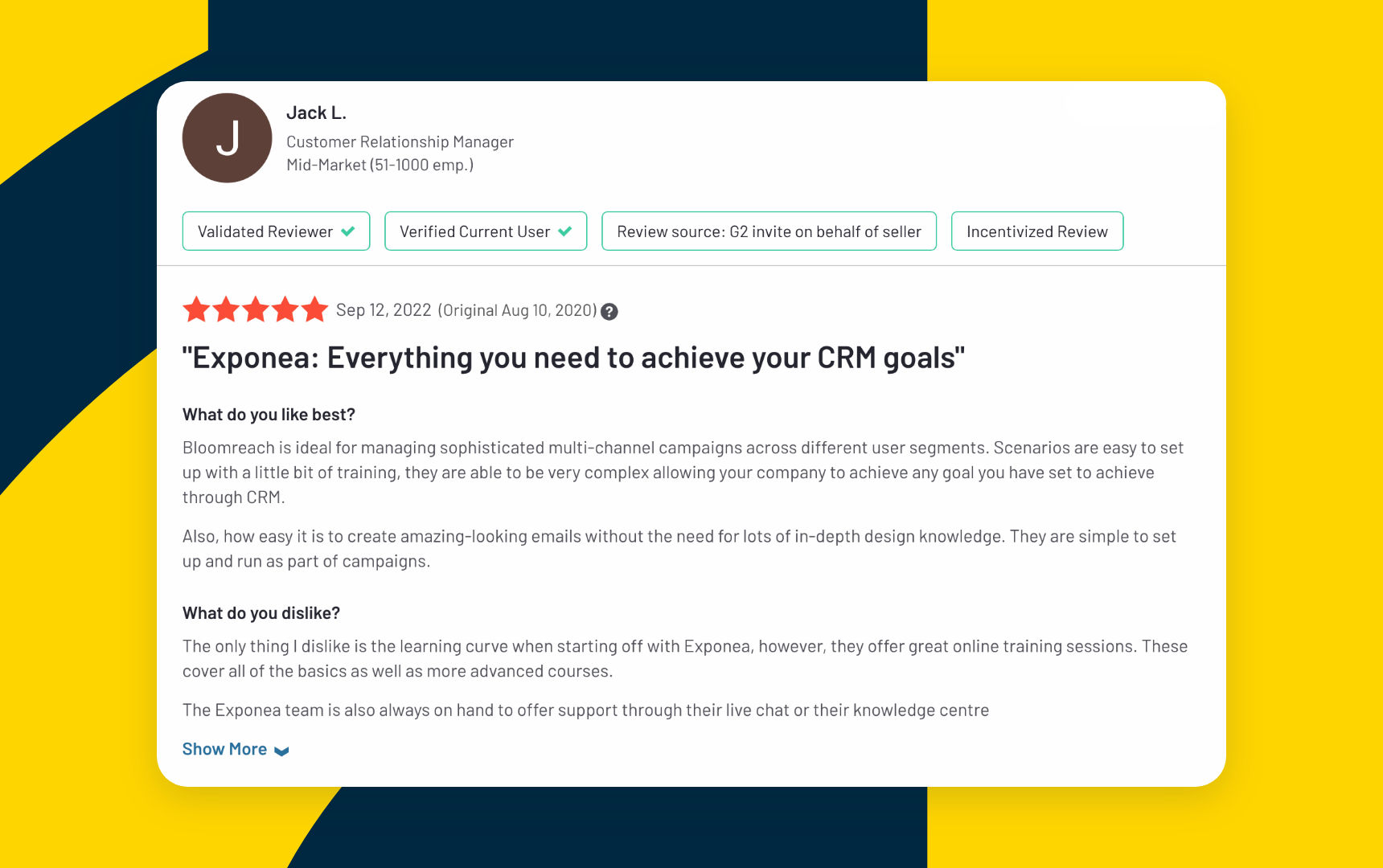 To execute marketing strategies that truly impact your bottom line, you need to understand and activate your data in real time. And our powerful customer data engine does just that, unifying insights to orchestrate personalized and meaningful experiences so your campaigns achieve meaningful results. 
If you're looking for an enterprise-grade platform that can keep up with the demands of your business' aspirations, Bloomreach Engagement is the right choice for your omnichannel marketing solution.
Want to learn more about how Bloomreach can help you achieve your business goals? Check out our side-by-side comparison to Responsys or request a demo to get started today.