Omnichannel Marketing Automation
How Grocery Businesses Can Grow Revenue Through E-Commerce Personalization
By Sander den Boer
08/01/2022
Omnichannel Marketing Automation
How Grocery Businesses Can Grow Revenue Through E-Commerce Personalization
E-commerce has been growing at a stellar pace over the past few decades in almost every industry. But until the massive changes brought on by COVID-19, online shopping didn't have a strong presence in the grocery industry. 
With only 3% of groceries being bought online in the US before the start of the pandemic, retailers might've concluded that their customers just don't want to engage with their stores digitally.
But COVID changed all of that. Nearly one third of US households shopped for groceries online in March 2020, and one year later that number nearly doubled to 70 million. In a short span of time, the grocery industry needed to make massive changes to offer alternative ways for consumers to shop, adapting as best they could with online storefronts, curbside pickups, and contactless deliveries.
These demands show no sign of subsiding, either. All signs point to future growth for online grocery, with the trends that took hold at the start of the pandemic continuing to gain momentum.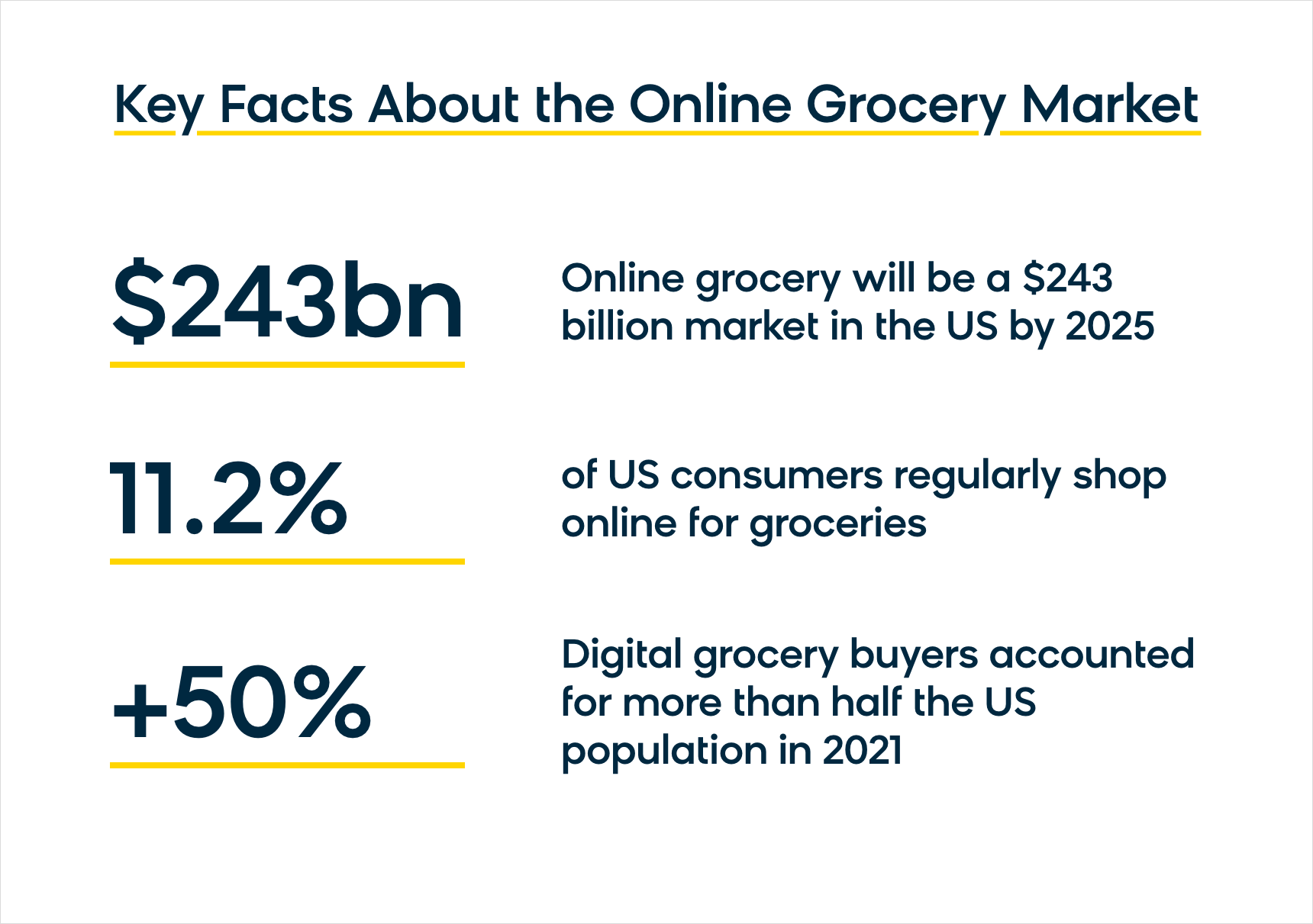 (Source)
The fact is, consumers are getting increasingly comfortable ordering their groceries online. But most grocery retailers don't seem to be able to turn this huge market potential into sustainable profit. Low margins combined with low purchasing volumes make many grocers see e-commerce as a no-gain prerequisite for survival, rather than an opportunity for growth.
So, with such rapid change, how can grocery retailers turn the boom in online grocery shopping into a winning strategy? How can they make sure they're not missing out?
To answer these questions, let's first break down the difficulties that online grocery retailers are facing.
The Challenges Faced by Online Grocery Businesses
Online grocery retail is a very different market from traditional grocery, and sellers are often at a loss for where to start. That's why many turn to third-party marketplaces, such as Instacart, Shipt, and Peapod — a decision that will hurt them in the long run.
At first glance, these services offer immediate perks. They give retailers a quick way into online shopping: they're flexible, have low overhead, and are relatively easy to implement. They let sellers skip the whole process of building their own marketplace, which can be daunting for businesses without a real foothold online. 
But while third-party marketplaces do solve the initial headaches that come with setting up an online business, they do not solve the more important problems that grocery retailers face in digital commerce.
Retailers who aren't focused on overcoming the real challenges facing the grocery industry are likely to struggle with the long-term sustainability of their business, wasting resources on inefficient e-commerce processes and losing out on opportunities to grow.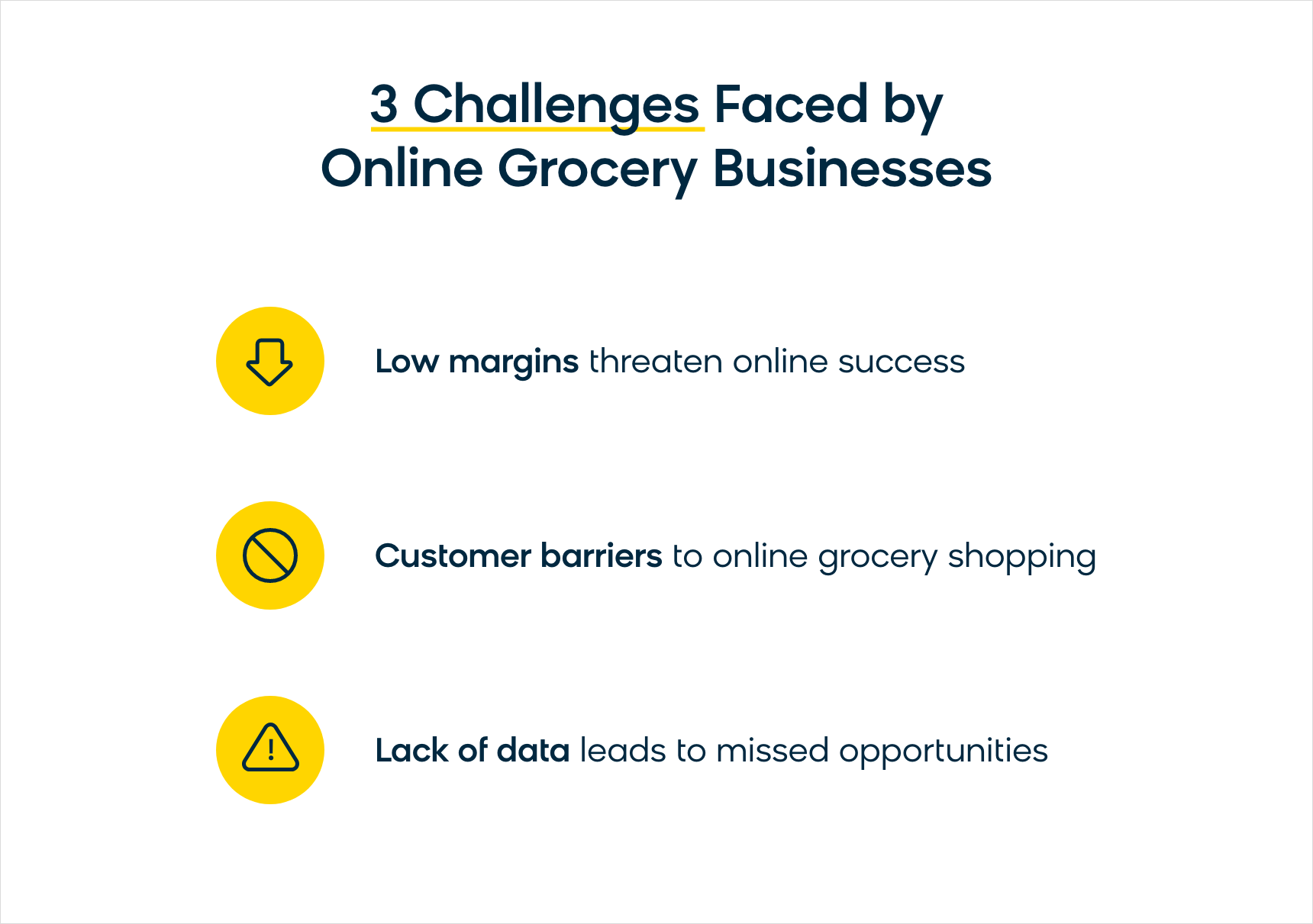 Challenge 1: Low Margins Threaten Online Success
In 2022, grocery retailers are grappling with profitability — high costs and low margins plague the entire industry.
So, why aren't online grocers seeing the margins they strive for?
Ineffective Promotions
Continuous price promotions weigh down revenues. Retailers often lack the capabilities and data to target promotions at specific customers, making promotions ineffective and costly for businesses. When unable to speak directly to customer preferences, these promotions almost always fall short.
Low Basket Value
Baskets often don't contain enough high-value products. Consumers who aren't very familiar with online grocery shopping might take a lot of time building their order, leading to a high percentage of abandoned baskets. And the inability to serve higher-priced items to customers who have shown a preference for expensive products lowers average order values.
Increased Costs 
Inflation has hit a record high in 2022, and disruptions to supply chains during the pandemic have produced costly ripple effects for suppliers, retailers, and consumers. Navigating where and when to absorb these costs and losses versus raising prices is a balancing act that every modern grocery business has to manage. 
Increased Competition
With higher prices and a recession on the horizon, shoppers are willing to change to competitors more than ever to meet their needs. And competition now comes from many places in the e-commerce landscape, including other grocers, pure online players like Amazon Fresh, and monolithic brands like Target and Walmart (which claimed 28.9% of the digital grocery market last year).
Read this next: How to Compete With Amazon in 8 Ways [blog]
Challenge 2: Customer Barriers to Online Grocery Shopping
Consumers have grown accustomed to having an immense array of products available to them at the click of a mouse or the tap of a finger. But despite e-commerce's explosive growth, the issues holding consumers back are very similar to those cited before the online grocery boom of 2020. Research has shown that consumer habits in grocery are very hard to break, and a few persistent obstacles keep consumers from buying groceries online:
Handpicking Products 
Many customers want to physically view a selection of different brands or types of the same product before they make up their mind about which option to go for, something an online experience can't quite offer.
Getting the Best Promotions 
Customers who aren't used to shopping for groceries online worry they might miss in-store promotions and price cuts. They're looking for an experience that allows them to stroll around the store, spotting discounts and promotions as they go.
Poorly Personalized Shopping Lists
Customers tend to buy the same things every week, but there's always some level of variation. Websites that simply show shoppers a list of what they've bought in the past aren't helpful enough for most customers — they want suggestions and recommendations to match their preferences.
The bulk of consumers see these factors as a deal breaker when it comes to buying online. And 75% of shoppers stay with the first retailer they tried online, which means there is a huge, long-term value in getting it right from the first visit.
Challenge 3: Lack of Data Leads to Missed Opportunities
Data has become such a valuable resource for businesses that some have even started calling it the new oil of the 21st century.
And that title is well earned. It is absolutely vital for modern grocery retailers to control their own data. Not only does it keep data out of competitors' hands, but retailers that control their own data can use it to grow their business and increase profits.
Here's why data is such a challenge for the online grocery industry:
Third-party Marketplaces Are Well Entrenched 
When the pandemic first started, services like Instacart seemed like an answer to all of the grocery industry's problems. But because the customer data points all happen through Instacart, retailers don't have access to them and they don't own them, missing out on a significant opportunity for growth. 
When you hitch your online marketplace to apps like Instacart, you're giving them access to invaluable information like customer purchase history, shopping behavior, and marketing insights — all key data points you need to survive and thrive in the modern e-commerce market.  
Read this next: Why Grocery Brands Should Ditch Instacart [blog]
Data Privacy Is an Increasing Priority
In today's online landscape, customers are more aware of their data privacy than ever before. And with these increased concerns, along with constantly changing guidelines and compliance requirements, it's important for businesses to take responsible ownership of their data — especially considering the poor track record of affiliated third-party marketplaces that have been flagged for security breaches in the past. 
Read this next: How to Improve Customer Experience With Big Data [blog]
Data Is Just Numbers Without the Right Technology
Owning your data is just the beginning. Without the right technology to activate your data, your business can't reap the full benefits of a personalized, data-driven customer experience. This ultimately leads to customer dissatisfaction and lower revenue since you demand more effort from consumers to find the products they're looking for (and thus encourage them to buy less). 
You need the right marketing tools to analyze your shoppers' buying habits and predict their needs. You need a product discovery experience that lets you connect those customers with the right products, offering intelligent site search capabilities, merchandising, and product recommendations. 
Ultimately, you need a tech stack that can take your data and do it all: understand your customers, suggest complementary products, respond in real time to trends in the market (e.g., veganism or health), or respond to changes in each customer's life that trigger new buying habits (e.g., family expansion, a new pet, or increased income).
How to Solve the Online Grocery Problem
So, now that we've identified all the issues facing modern grocery businesses, how do we tackle these problems? What is the answer to grocery's e-commerce challenges?
It all boils down to one game-changing concept: personalization. 
E-commerce personalization allows you to craft digital experiences that are so relevant and contextual, they feel like magic. From the moment a consumer starts searching your site to the moment they check out, their online experience is optimized specifically for them.
And while this seems like a simple idea, it's a wide-reaching concept that touches on every aspect of your customer's journey. Whether you're leveraging search behavior to create more personalized product discovery recommendations or driving better engagement with automated marketing campaigns catered to specific customer preferences, there really is no limit to the impact personalization can have on your bottom line. 
In other words, the customer needs to feel like a personal shopper is taking them by the hand and leading them along shelves that have been stocked with products, deals, and content specifically selected for them. That's the ultimate goal of personalization.
And it's the best strategy retailers can use to tackle their e-commerce challenges, improve their long-term prospects, and take up a higher share of the online grocery market as it continues to grow in years to come.
Ready to learn how all this looks in practice? Let's have a look at how personalization helps grocers overcome the main challenges of e-commerce.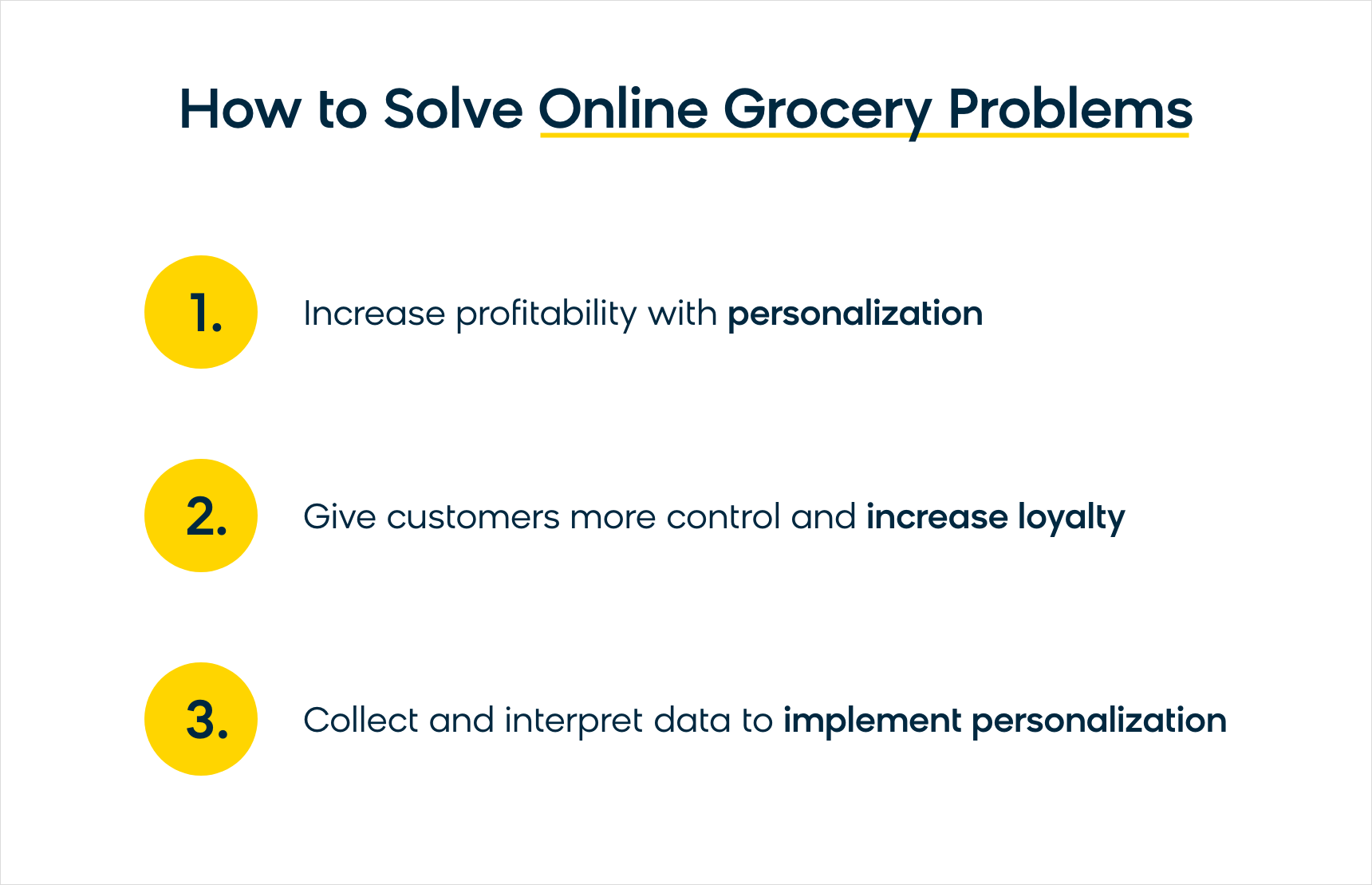 Solution 1: Strategies to Increase Profitability With Personalization
Craft Better Experiences for Higher-value Shopping Baskets
Retailers that offer a personalized customer experience notice their customers tend to put more value in their shopping basket, and they do it faster — leading to more frequent and higher-value checkouts.
There are a number of ways to offer that revenue-driving level of personalization, especially when you have the power of a customer data platform (CDP) at your disposal. With a CDP, you can pull all of your customer data into a single customer view and then use that unified data to launch personalized marketing campaigns. 
For instance, you can segment your customers by key data points like geography, demographics, or behaviors, all of which can be updated in real time to keep your efforts as relevant and revenue-driving as possible.  
This level of personalization is especially powerful for grocery businesses in 2022 as we see a recession on the economic horizon. 
With the ability to segment consumers, you can cater to specific consumers' pain points and provide the ideal customer experience. Budget shoppers can be targeted with discounts, while consumers with an affinity for higher-end products can be offered more expensive recommendations. 
Boost Revenue With Brand Advertisements
Using personalized experiences, retailers can promote specific products and brands, generating an additional income stream through brand advertising. 
With intelligent, flexible product search capabilities on your site, you can personalize results to highlight direct producer partners while meeting all the needs of your querying customers. If, for example, a shopper searches for wine and you have a direct partnership with a wine brand, you can boost the rank of your partner brand and expand its reach to potential customers.
And with personalization, you can test and optimize your audience by targeting individuals or segments with these promotions, making them more effective and more profitable.
Prioritize Own-brand Building
Brand building is a valuable piece of every grocery business' puzzle, but it's even more important in e-commerce than in traditional grocery retail. 
Brand affinity is built on a number of factors, but physical location is one of the biggest strengths of brick-and-mortar stores — the closer you are to a location, the more likely you are to be a customer. 
This isn't a guarantee for online grocery shopping. Because customers aren't visiting a physical location, the connection with the retailer mainly happens through the strength of the brand in the shopper's eyes. And personalization can help bolster that recognition.
Personalization allows retailers to create targeted promotions and recommendations of their own brand products for specific groups of customers. Whether it's through specific product discovery pathways highlighted in search results or through automated email campaigns that spotlight branded items, you can feature your own-brand products in creative and lucrative ways. 
It's the online equivalent of displaying your own brand on the most visible shelves to the customers who are most interested in these products.
And with inflation quickly becoming a defining factor in consumer habits in 2022, building that brand strength is even more essential as many own-brand products tend to be the most budget-friendly options for your customers. A stronger brand presence in your customer experience is a win-win for both you and your shoppers.
Differentiate From Competitors
This benefit is a simple one — the fact is, any grocery business fully activating their data with personalization stands out from the crowd. 
Despite the fact that 80% of consumers are more likely to make a purchase when brands offer personalized experiences, most grocery players don't provide a personalized experience, so retailers who do can stand out by offering more value and a more convenient shopping experience.
Solution 2: Give Customers More Control and Increase Loyalty
Personalize Shopping Lists and Recommendations
Customers often find that creating shopping lists for groceries, especially for shoppers trying to broaden their palates, is too time consuming. Going beyond the necessities they get every week to create new dishes or try new flavors can be a pain point, and it's one that personalization can help with. 
Creating data-driven personalized shopping lists and recommendations can be a great way to expose shoppers to new items and expand their shopping baskets. And these suggestions don't have to be limited to just similar products or brands. 
With the right tech stack and a little creativity, you can go above and beyond with outside-the-box marketing campaigns, providing personalized articles about new cooking techniques, dietary trends, or personalized recipes that entice consumers to add new goods to their cart. 
This not only empowers your customers to increase their cart size, but inspires them and keeps them interested in engaging with your brand.
Take Advantage of Multiple Channels
Multichannel experiences are a fact of online life in 2022. Customers want more control over where and when they interact with brands and are increasingly buying through various channels, including websites, on an app or mobile device, or on other interfaces such as Google Assistant or Alexa.
Grocery retailers can connect with these cross-channel consumers by targeting them where they are with the right message. Your personalized messaging needs to meet shoppers across the spectrum of their digital experience, whether that's in an email campaign they pull up on their desktop, in a notification they get on their phone from your mobile app, or on a personalized social media ad they see while scrolling. 
It can all work together to create a seamless and unified experience, regardless of the device they use — or whether they convert in-store or online.
Cater to Each Customer and Personalize by Region or Country
For grocery retailers who operate across regional or country boundaries, there are huge benefits to personalization on the geo-specific level. 
Although customers all visit the same website, they need to see individual product recommendations, special offers, and content based on their geographical location. It's absolutely vital that you have intelligent merchandising that authenticates every touchpoint with real-time data.
Without it, your customer will inevitably hit pitfalls like out-of-stock items and irrelevant search results that will drive them to take their business elsewhere. A seamless and up-to-date experience is vital for customer loyalty.  
Whatever is in stock at the location nearest the customer, where their order will be fulfilled, needs to be reflected in real time in their digital experience with the brand. This is an invaluable reflection of the service they can expect from any delivery, pickup, or in-store experience that coincides with their online shopping. 
Solution 3: Collect and Interpret Data Correctly to Implement Personalization
One of the most important building blocks of e-commerce personalization is being able to effectively collect and interpret commerce data. 
But what is commerce data? It's the simple equation that powers all your personalization efforts.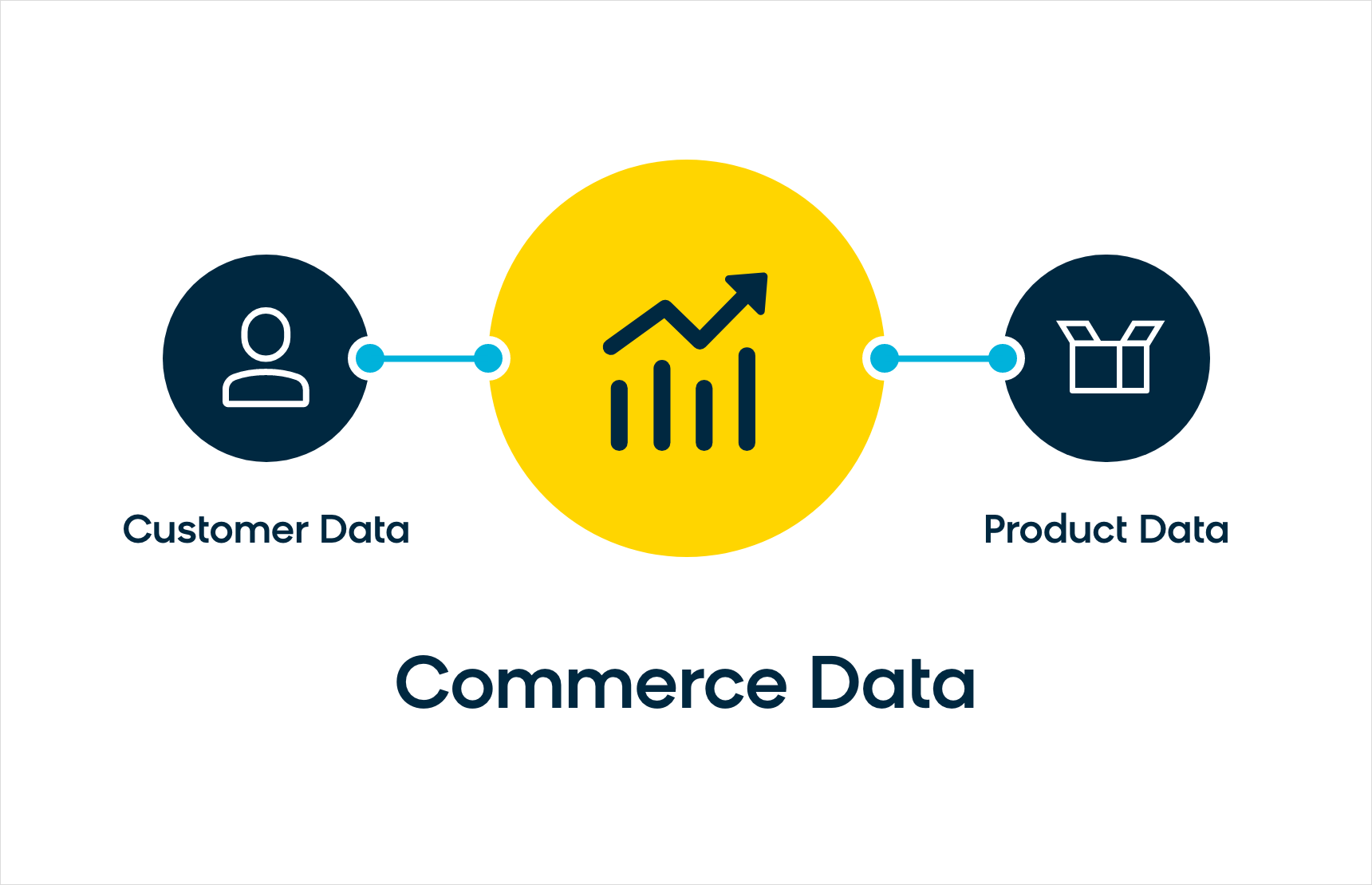 Bring Product and Customer Data Together 
Commerce data is the combination of collected customer data and product data. It's the personal information on your customers you've collected (all their preferences, their location, their demographics, etc.) as well as the information on all your products offered (their pricing, description, category, availability, etc.). Together, you get your commerce data — the fuel that brings e-commerce personalization to life.
Why do you need both customer and product data? Because one without the other leaves your customer experience disconnected. 
If you only have product data, you will miss the mark on personalizing customer journeys, and by only utilizing customer data, you will jeopardize your ability to connect customers with relevant products. 
For instance, knowing a shopper's preference for vegetarian goods doesn't help your bottom line if you can't direct them to fresh produce and plant-based products. You need both customer data and product data to work together to form a comprehensive snapshot of who your customers are, what they're purchasing, and how frequently they shop with your brand. 
Activate Your Data With the Right Tech Stack
So, now that you know how important commerce data is to your business efforts, how can you effectively put it into practice?
By combining the power of commerce data with the speed and scale of AI optimization — which is exactly what Bloomreach provides to meet grocery's online challenges. 
Bloomreach offers the tools you need to deliver personalized experiences across all your digital channels, allowing you to put the right products in front of the right customer — every time. 
With Bloomreach Engagement, our real-time CDP combined with intelligent marketing automation capabilities, you can create hyper-personalized experiences that guide your customers through a tailored, cross-channel journey. 
It not only offers powerful 360° customer profiles, but has the added capabilities of an email service provider, artificial intelligence, marketing automation, and web personalization in a single platform, giving you all the tools you need to create consistent, fully automated communications your customers will love. 
Meanwhile, Bloomreach Discovery provides a powerful combination of intelligent site search, SEO, recommendations, and product merchandising that empowers businesses to create a sophisticated product discovery experience for online shoppers, helping them find exactly what they're looking for and more. And it's all backed by a commerce-specific AI engine built on more than a decade of data, empowering businesses to meet the high expectations of modern, savvy shoppers.
See Personalized Digital Experiences in Practice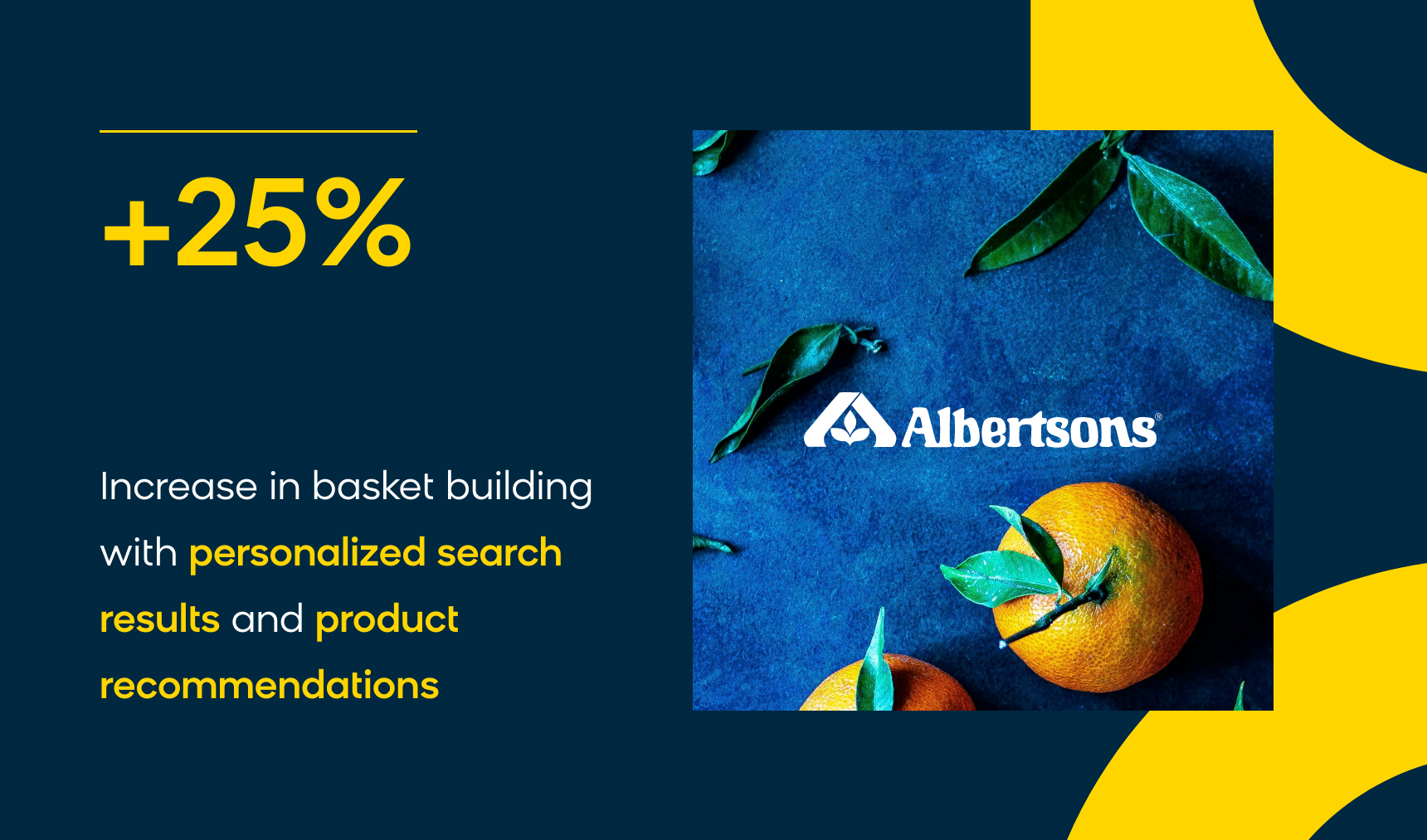 Read this next: Albertsons Wins With Personalizations and Bloomreach Discovery [case study]
Why You Should Start Now
With e-commerce in grocery projected to keep growing fast, there are huge benefits for early adopters. 
Stay ahead of the competition. Retailers who don't start acting now are likely to fall behind their competitors as more grocery retailers start adopting personalization strategies. And the sooner you adopt a tech stack that is built for e-commerce, the faster you see strong ROI. 

Plan for the future. Activating your data doesn't just optimize your customer experiences in the present. It can be harnessed to improve your business strategy. To stay nimble and profitable, especially amidst uncertainties in the modern market, you'll need data and insights to craft your digital experience strategy in the years to come.

Use experience to differentiate. Overall experience has overtaken product and price as key brand differentiators for today's consumer. Grocery retailers with a robust data-driven experience strategy can leapfrog ahead of their competitors and establish an advantage that will last years.
Take the Next Step in Grocery E-Commerce
By offering a highly personalized digital experience to your customers, grocery retailers can help them buy the products they need while collecting and analyzing valuable, actionable data that informs your business decisions for years to come.
Ready to make it happen? We are, too. Schedule a demo today to learn more about the unique ways Bloomreach can help your grocery business thrive with personalized experiences.