Commerce Experience
Bloomreach Summer of 2021 in Review
By Niklas Winkels
08/03/2021
Commerce Experience
Bloomreach Summer of 2021 in Review
The second quarter of 2021 was a busy one for Bloomreach. Having walked out of the first months of 2021 with additional investment and the acquisition of Exponea in January, the company was laser-focused on bringing together both companies and building the world's best commerce experience platform.
Before we jump into all the great features that Bloomreach launched in the past three months, let's introduce to you the new Bloomreach Experience platform. If you missed the acquisition announcement, feel free to check it out. Visually, here's the upgraded platform:
Discovery: Bloomreach Search & Merchandising is now "Discovery"
Content
: In addition to our Content PaaS product, we launched our Content SaaS product on June 30th. Watch the
launch video
!
Engagement: Exponea and its powerful CDP and marketing automation capabilities is now "Engagement"
The entire platform will benefit from the power of the customer data platform (CDP) and your customers will benefit from a seamless, personalized experience. Your marketers, merchandisers, email, and CRM managers can work together to acquire customers, convert them, and earn their loyalty.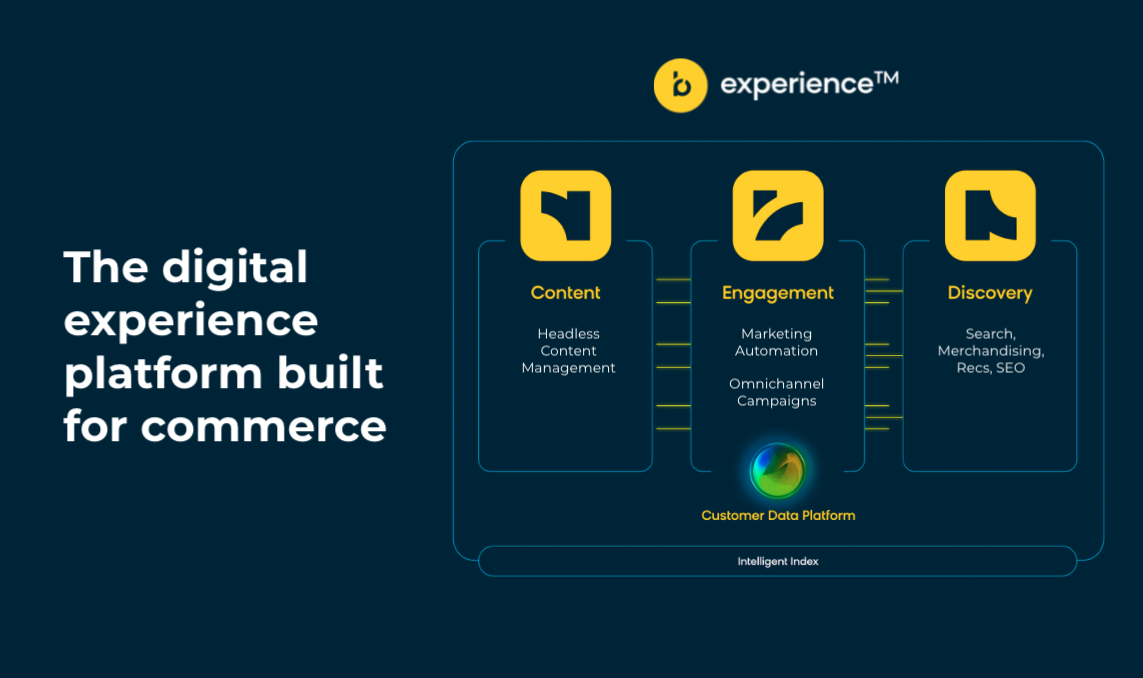 We also rebranded as we renamed several pieces of the platform and integrated Exponea into the Bloomreach Experience platform.
No time was wasted in pushing for further innovation and during the past three months of 2021, our Product team has been hard at work shipping incredibly powerful new functionality including:
Discovery - The ability to customize the hero SKU selection (the image thumbnail that appears first) to make sure that the right product variant is identified and returned on search and filter queries.
Engagement - Snippets - custom pieces of Jinja, code, text, or HTML that can be saved in the Asset Manager and reused in your campaigns.
Content - A brand new headless content platform - Bloomreach Content
And there is so much more. Let's take a look at some of the key product highlights from this summer.
Discovery
SKU Select for Bloomreach Search
With SKU Select, you can customize the SKU selection to make sure that the right product variant is identified and returned on search and filter queries — or let Bloomreach do it for you, automatically! 
This quarter, Bloomreach launched the option to define a "hero" or default SKU per product via the product feed. With Bloomreach, you could always do color-based Hero SKU selection, but with SKU Select, you can choose from any attribute for your hero SKU.
You can also rely on Bloomreach's intelligent index to power the SKU selection for you. Our query-based relevancy automatically takes care of returning the right product image based on what customers search for. Or, you can let SKU selection be powered by Bloomreach's bestseller algorithm to optimize for conversion, highlighting the product variant that sells the most for more generic searches.
SKU Select also works with filters, ensuring the right product variant is identified and returned as customers search by filters for specific attributes they care about — leading to higher conversion rates, more revenue, and better customer satisfaction.
Improve Your Search Precision with Automatic Query Filtering
With Automatic Query Filtering, you can now deliver more precise results for searches that include attributes like color, size, or brand. It pre-filters products on the results page based on an attribute in the query, shortening the time it takes for your customer to find a product.
For example, without Automatic Query Filtering, if you search "red dress" on an apparel site, you might still have to pick "red" in the search filters for only red dresses to show, and not patterned dresses with red, or pink dresses, or something else that's similar. This feature will let sellers pre-filter for certain fields like color so that only those results show, and in the filters only "red" would appear under color.
Engagement
Global URL List
We know that creating and editing web personalization features with rules (like display on certain webpages) is a painfully manual process. So we've made it simpler by centralizing it all within Global URL Lists in Project Settings. 
Now, instead of managing URL rules separately for weblayers, tags, and experiments, you can do it all in one place and reference them as needed in each feature's settings. Use Global URL Lists to boost your everyday productivity.
Snippets
Earlier this year Bloomreach launched Snippets - custom pieces of Jinja, code, text, or HTML that can be saved in the Asset Manager and reused in your campaigns. Such a time saver, I know! 
Upgraded Shopify Integration
We've upgraded our Shopify integration to enable even more Plug & Play use cases out of the box. This means our clients who are on Shopify will enjoy even faster time to value and more ROI from Bloomreach Engagement. And if you're on other commerce platforms, keep your eyes peeled for more integrations coming up later this year.
Content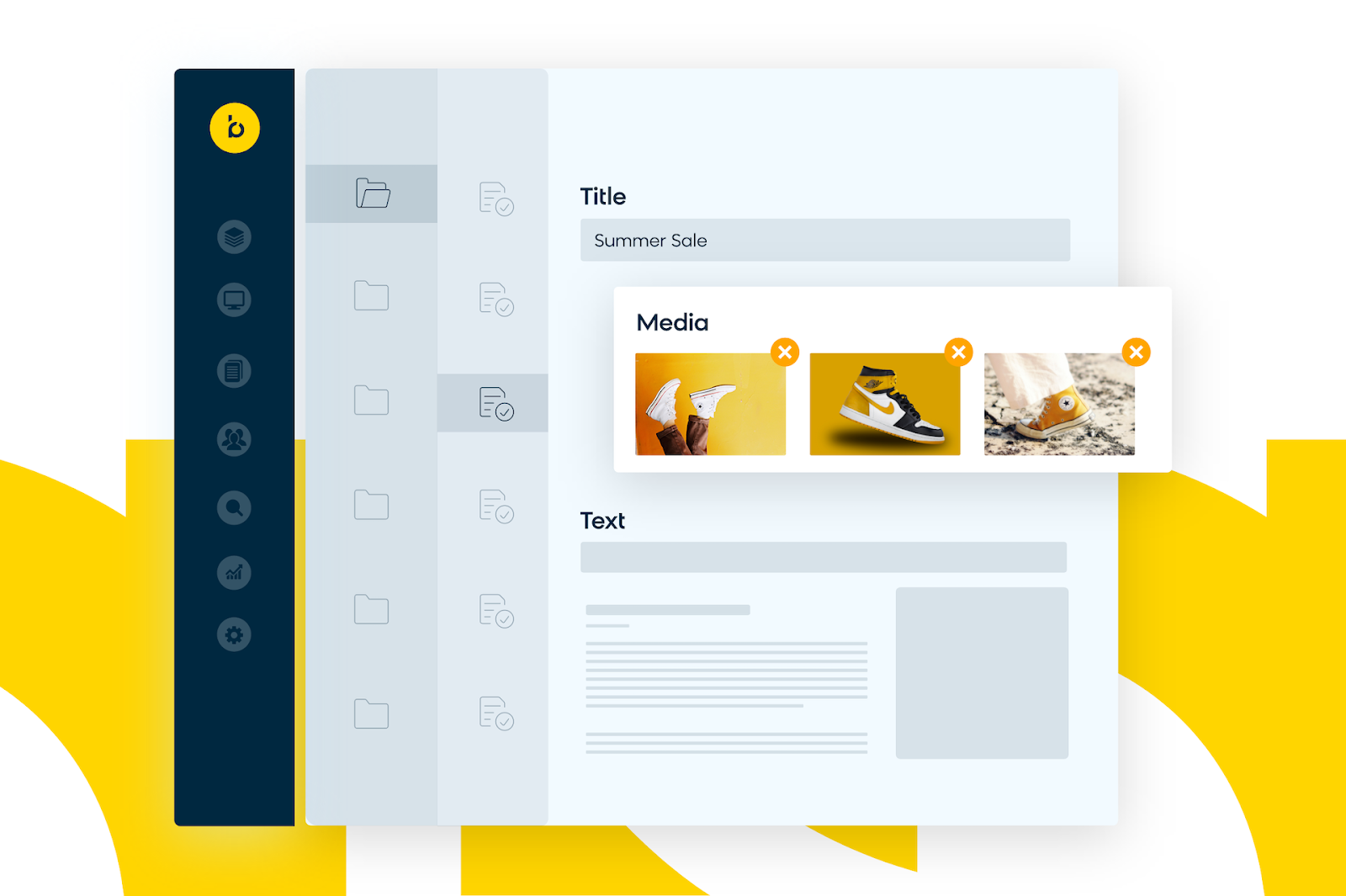 We're beyond excited to announce that this quarter we launched Bloomreach Content — the new headless content platform built for commerce! 🎉
Bloomreach Content is built for commerce, enabling marketers and merchandisers to work as one to build immersive e-commerce experiences that enhance the customer journey and drive business results. Manage your online shop and easily add products and content to any page with Bloomreach's powerful APIs and software solutions designed to help you capture more revenue. It natively integrates with Bloomreach Search and Merchandising to power product grids, search result pages, recommendations widgets, and so much more.
✅ Built for Commerce
The headless content platform empowers marketers and merchandisers to work as one to build immersive e-commerce experiences that enhance the customer journey and drive business results.
Teams can work in parallel on creative copy, compelling visuals, beautiful design, and profitable products with one unified platform. Bloomreach Content enables you to build more high-converting landing pages and get a head start with pre-built commerce components like a product showcase, a product grid, or a recommendations widget that you can add to any page with just a few clicks.
 ✅ Start Small, Scale Up
With Bloomreach Content you can start small and scale up by launching your most important landing pages first or enrich your existing commerce pages with better content. All incredibly fast, with partnerships and built-in connectors to your commerce system or storefront of choice.
✅ Headless Page Management
With Bloomreach Content, you don't need to pass on personalization or preview. You can go beyond a static content infrastructure with Headless Page Management, which lets you take full control of the layout of your experience. Bloomreach's powerful API retains preview, personalization, and visual editing capabilities.
What's On Deck
It's been an exciting couple of months delivering new features for our customers. 
We have some awesome new functionality on the way that we can't wait to share, including:
Discovery - Email recommendations & semantic search in French and German
Engagement - First-party server-side cookie solutions & native MMS for the NA market
Content - The ability to personalize landing pages, homepages, and much more with the launch of content personalization
There are lots of great new features on the horizon, so stay tuned for more product updates.