Omnichannel Marketing Automation
Challenges in Online Grocery Business: How to Grow Revenue in 2021
By Sander den Boer
Jan 16, 2020
23 min read



Subscribe
Omnichannel Marketing Automation
Challenges in Online Grocery Business: How to Grow Revenue in 2021
eCommerce has been growing at a stellar pace over the past years in almost every industry. But until recently it didn't seem to get a strong grip on grocery. With only 3% of groceries bought online in the US, retailers might conclude that their customers just don't want to buy groceries online.
However, there are clear signs things are changing - between 2016 and 2018 the online grocery market doubled in value, and it is expected to triple over the next decade.
(Source)
In spite of some reservations, consumers are getting increasingly comfortable ordering their groceries online.
And yet, most grocery retailers don't seem to be able to turn this huge market potential into sustainable profit. Low margins combined with low purchasing volumes make many grocers see eCommerce as a no-gain prerequisite for survival, rather than an opportunity for growth.
This leads us to some crucial questions:
How can grocery retailers turn the boom in online grocery shopping into an opportunity? How can they make sure they're not missing out?
Challenges Faced by Online Grocery Businesses
Online grocery retail is a very different market from traditional grocery and sellers are often at a loss for where to start. That's why many turn to third-party marketplaces, such as Instacart, Shipt and Peapod.
They give retailers a quick way in: they're flexible, have low overhead and are relatively easy to implement. While marketplaces do solve the initial headaches that come with setting up an online business, they do not solve the more important problems that grocery retailers face in eCommerce.
Grocery retailers who aren't focusing on overcoming these challenges in 2021 are likely to struggle with the long-term sustainability of their business, wasting resources on inefficient eCommerce processes and losing out on opportunities to grow.
Let's have a look at the main challenges online grocery retailers face: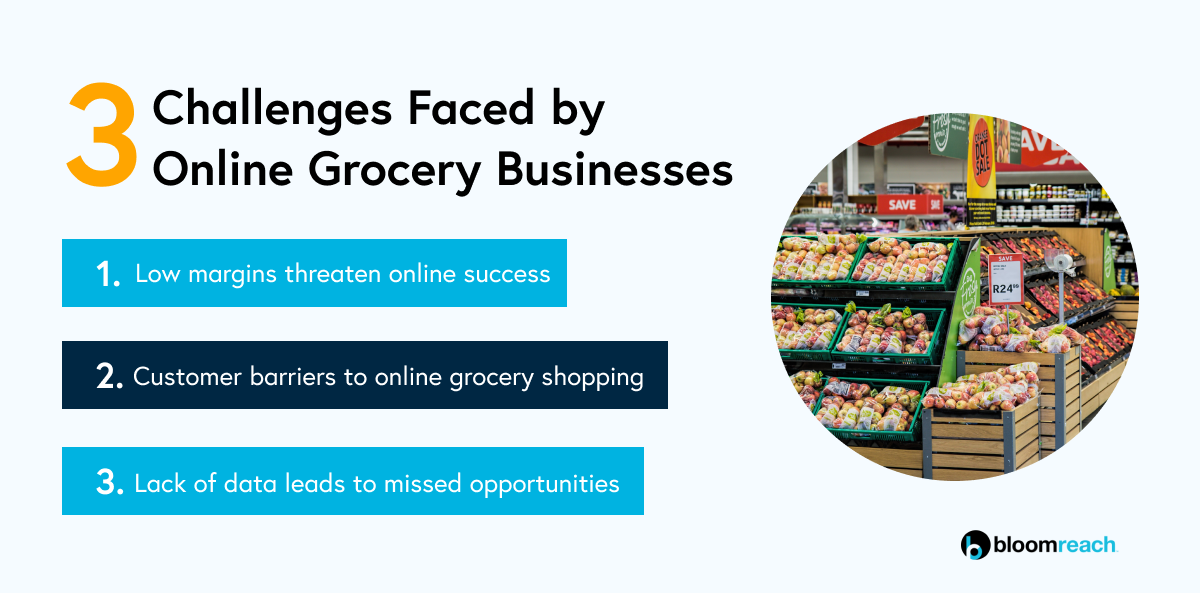 [Challenge 1]: Low Margins Threaten Online Success
Grocery retailers continue to grapple with profitability - high costs and low margins plague the entire industry.
What are the reasons online grocers aren't seeing the margins they desire?
 Promotions: Continuous price promotions weigh down revenues. Retailers often lack the capabilities and data to target promotions at specific customers, making promotions ineffective and costly to the business..
 Low basket value: Baskets often don't contain enough high-value products. Consumers who aren't very familiar with online grocery shopping might take a lot of time building their order, leading to a high percentage of abandoned baskets.
 Increased costs: Fulfillment and delivery costs aren't compensated by online sales and retailers often don't charge for delivery for fear of losing customers.
 Increased competition: Competition comes from many places, including other grocers, pure online players like Amazon Fresh, discount stores and non-grocery retailers.
[Challenge 2]: Customer Barriers to Online Grocery Shopping
Because of the broad success of eCommerce, consumers have grown accustomed to having an immense array of products available to them at the click of a mouse or the tap of a finger.
Yet when asked, over 80% of consumers in the US say they don't buy groceries online. In the UK, only 29% of consumers bought groceries online in 2019.
Research has shown that consumer habits in grocery are very hard to break - a few persistent obstacles keep consumers from buying groceries online:
 Hand-picking products: Many customers want to physically view a selection of different brands or types of the same product before they make up their mind about which option to go for.
 Getting the best promotions: Customers who aren't used to shopping for groceries online worry they might miss in-store promotions and price cuts. They're looking for an experience that allows them to stroll around the store, spotting discounts and promotions as they go.
 Poorly personalized shopping lists: Customers tend to buy the same things every week, but there's always some level of variation. Websites that simply show shoppers a list of what they've bought in the past isn't convenient enough for most customers.
The bulk of consumers see these factors as a deal breaker when it comes to buying online. 75% of shoppers stay with the first retailer they tried online - that means there is a huge, long-term value in getting it right from the first visit.
[Challenge 3]: Lack Of Data Leads to Missed Opportunities
Data has become such a valuable resource to businesses that some even have started calling it the 'oil of the 21st century'.
It is absolutely vital for modern grocery retailers to control their own data. Not only does it keep data out of competitors' hands, but retailers that control their own data can use it to grow their business and increase profits.
Retailers who use third-party marketplaces don't control their data - they don't have access to it and they don't own it, missing out on a significant opportunity for growth.
Adding to this, most online grocery retailers don't have the time, resources and technology to take advantage of data on customer behavior.
This means customers need to put in a lot of effort just to find the products they're looking for. This encourages them to buy less, and switch to another online grocer or go to a local bricks 'n mortar store instead.
A hyper-personalized, data-driven experience allows retailers to make full use of the customers' buying habits by predicting and fulfilling their needs in real-time.
For instance, this allows grocery retailers to suggest products, respond to trends in the market (e.g. veganism or health) and respond to changes in the customers' life that trigger new buying habits (e.g. family expansion, new pet or increased income).
How To Solve Online Grocery Problem
There is a way retailers can start tackling these challenges, improving their long-term prospects and taking up a higher share of the online grocery market as it continues to grow over the next ten years.
Personalized digital experience focuses on the customers' needs and goals throughout their shopping experience - from the moment they start searching to the moment they check out, their experience is optimized specifically for them.
To the customer it will seem like a personal shopper takes them by the hand and leads them along shelves that have been stocked with products, deals, and content specifically selected for them.
Let's have a look at how personalization helps grocers overcome the main challenges of eCommerce.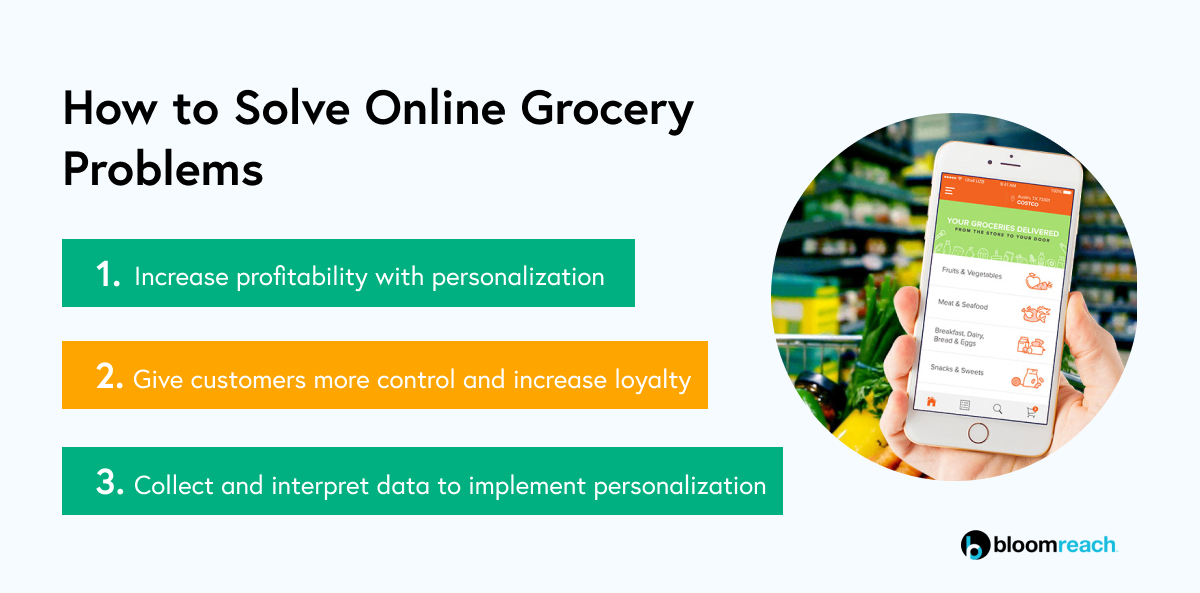 [Solution 1]: Strategies to Increase Profitability with Personalization
 Bigger, higher value shopping baskets

Retailers with a personalized experience notice their customers tend to put more value in their shopping basket, and they do it faster - leading to more and higher value check-outs.
 
 Brand advertisement
Using personalized experience, retailers can promote specific products and brands, generating an additional income stream through brand advertising. Retailers will be able to target individuals or segments with these promotions, making them more effective and more profitable.
 
 Own brand building
Brand building is even more important in eCommerce than in traditional grocery retail. Because customers aren't visiting a physical location, the connection with the retailer mainly happens through the strength of their brand.
Personalization also allows retailers to do targeted promotion of their own brand products at specific groups of customers. This is the online equivalent of displaying your own brand on the most visible shelves to the customers who are most interested in these products.
 Differentiation
Most grocery players don't offer a personalized experience - retailers who do can stand out by offering more value and a more convenient shopping experience.
[Solution 2]: Give Customers More Control and Increase Loyalty
 Personalized shopping lists and recommendations
Customers often find that shopping for groceries online is too time consuming. By implementing a personalized experience, retailers can analyze the shopping habits of each individual customer and set up personalized shopping lists and recommendations.
These suggestions not only contain products that the customer bought in the past (in-store and online), but also can recommend products, recipes, or articles the shopper might be interested in.
 Taking advantage of multiple channels
Customers are increasingly buying through various channels, including eCommerce, mCommerce and other interfaces such as Google Assistant.
Grocery retailers can connect with these cross channel consumers by building a platform specifically aimed at them. Personalization of the experience provides the customer with a seamless and unified experience, regardless of the device they use.
 
 Personalization by region or country
For grocery retailers who operate across regional or country boundaries, there are huge benefits to personalization. Although customers all visit the same website, they see individual product recommendations, special offers and content based on their geographical location.
[Strategy 3]: Collect and Interpret Data to Implement Personalization
Personalization is a data-driven process, with two main components: data collection and data interpretation.
 Data collection
Retailers should have systems in place that collect data that help them understand their customers' behavior. 
This includes things like:
 Location of customer
 Commonly used search terms
 Popular products
 Path to purchase
 And much more…
This data will form the basis for further analysis.
 Data interpretation
Data, even in large amounts, is useless if there is no way to analyze and interpret it. That means having access to sophisticated Artificial Intelligence (AI) and Machine Learning (ML) algorithms.
Interpreting the data should help answer questions like:
 What kind of customer buys what kind of product?
 Who is more likely to buy through which channel (e.g. desktop/laptop, mobile device, et…)
 What affects the buying decisions of consumers who live in a specific region or city?
  How can we obtain more value out of our customers?
The answers to these questions will allow the online store to provide a personalized experience to customers - helping them to spend more on products they really want.
Personalized Digital Experience in Practice: Ahold and Albertsons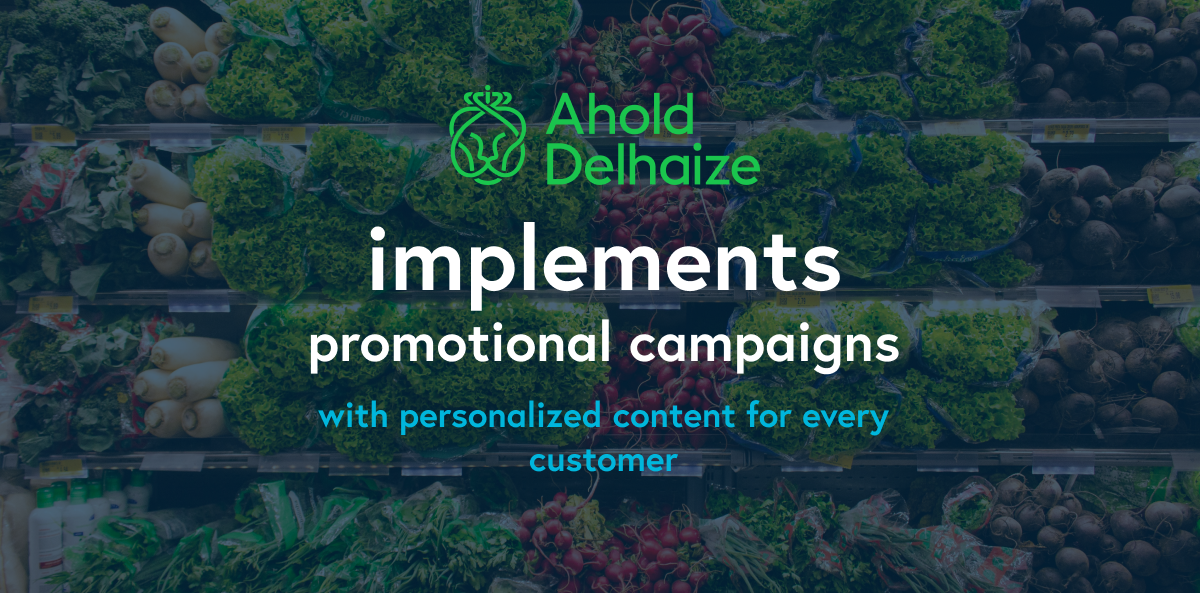 Ahold Delhaize
Ahold Delhaize are moving toward a microservice architecture. The goal being to better serve their customers through AI, conversational interfaces and omnichannel presence.
They're expecting to see a lot of growth in conversational interfaces like Google Assistant that help the customer choose a meal, buy the ingredients and cook it according to a recipe provided by Ahold. This means they needed the architecture to help them to promote products through this channel as easily and quickly as they can through other channels.
In order to start piloting this with their Dutch supermarket Albert Heijn, they used Bloomreach Experience Cloud (brX).
brX is a solution that makes grocery eCommerce agile, with solutions that can be implemented quickly and effectively. For instance, Ahold can now implement promotional campaigns across all channels - including conversational interfaces, webpages, apps, etc… -  and personalize the content for every customer.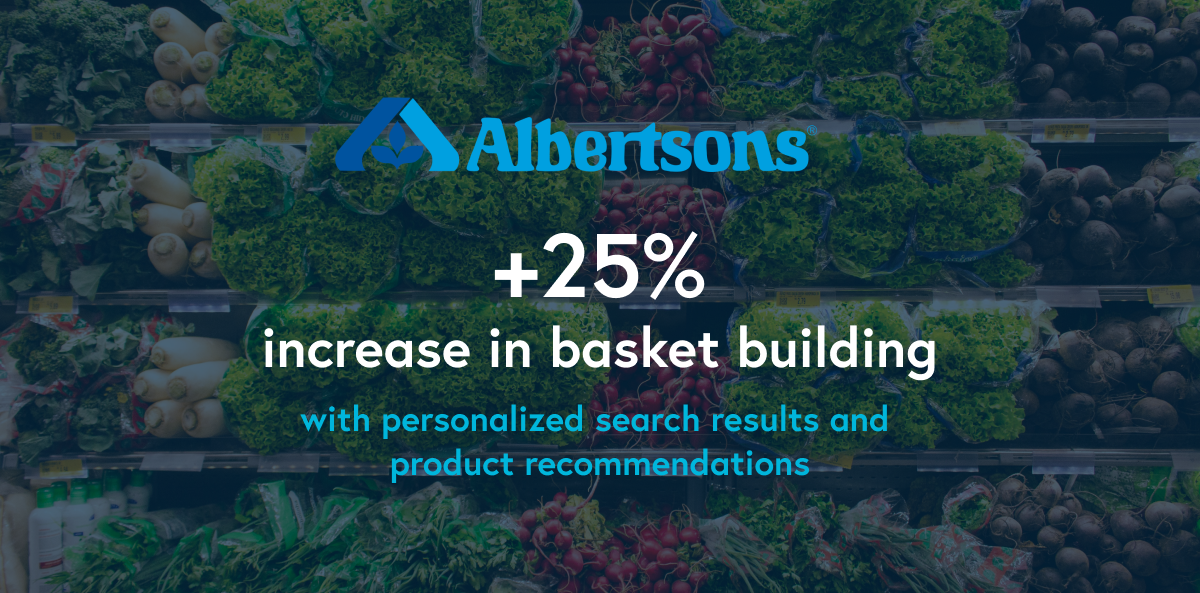 Albertsons
Albertsons' online grocery store was struggling with poor search results - they weren't very accurate and lacked relevance. This led to high bounce rates and lost revenue.
Nearly 50% of their eCommerce turnover was attributed to search, so it made sense to improve the search experience first.
They started using Bloomreach Experience Cloud (brX), which uses AI-driven algorithms to power customer search. It helped Albertson's offer personalized search results and product recommendations.
After implementation of brX, basket-building speed went up by over 25%.
Why You Should Start Now
With eCommerce in grocery projected to keep growing fast, there's a huge benefit for early adopters. 
Stay ahead of the competition. Retailers who don't start acting now are likely to fall behind on their competitors as they start adopting a personalization strategy.

Use data to improve your business strategy. You'll need the data and insights to craft your digital experience strategy in the upcoming years.

Use experience to differentiate: In 2021, experience will overtake brand and price as the key brand differentiators - grocery retailers with a robust experience strategy can leapfrog ahead of their competitors and establish an advantage that will last years.
Next Steps
By offering a highly personalized digital experience to your customers, you'll help your customers buy the products they need, while collecting and analyzing valuable, actionable data that informs your business decisions for years to come.
To find out how Bloomreach can help your grocery business create personalized experiences, check out this page.