Omnichannel Marketing Automation
Everything You Need To Create the Best SMS Marketing Campaigns
By Ian Donnelly
07/12/2023
Omnichannel Marketing Automation
Everything You Need To Create the Best SMS Marketing Campaigns
If you're wondering why SMS marketing campaigns are such a hot topic in e-commerce marketing right now, the answer can be found in your pocket or in your hand — which likely has a smartphone in it. 
The fact is, everybody is on their phone and everybody texts. But not every business uses sms messages for their marketing campaigns, and those that don't are missing out on a lucrative and effective marketing channel.
While email is historically known as the go-to way to market your business online, SMS marketing is quickly becoming a favorite for brands looking to connect with their customers. It's not just a trendy, modern way to reach your audience — SMS campaigns let you send messages to customers in real time and allow for hyper-focused communication with SMS subscribers. 
But it can be tricky to know where to start with your SMS marketing strategy. Here's everything you need to know to build creative SMS marketing campaigns and why it's such an important step for your business to take.
The Benefits of SMS Marketing for Businesses
The buzz around SMS marketing has grown steadily for the past few years, and the data backs up the hype. Using text messaging as a marketing channel has consistently performed well and is only getting better.
Most of the success of SMS marketing can be attributed to how easy and simple the service is. A text message is an instant line of communication between the customer and your business — there's no app to download or login between you and the audience. And with 6.6 billion people glued to their smartphones worldwide, it's one of the best forms of mobile marketing available.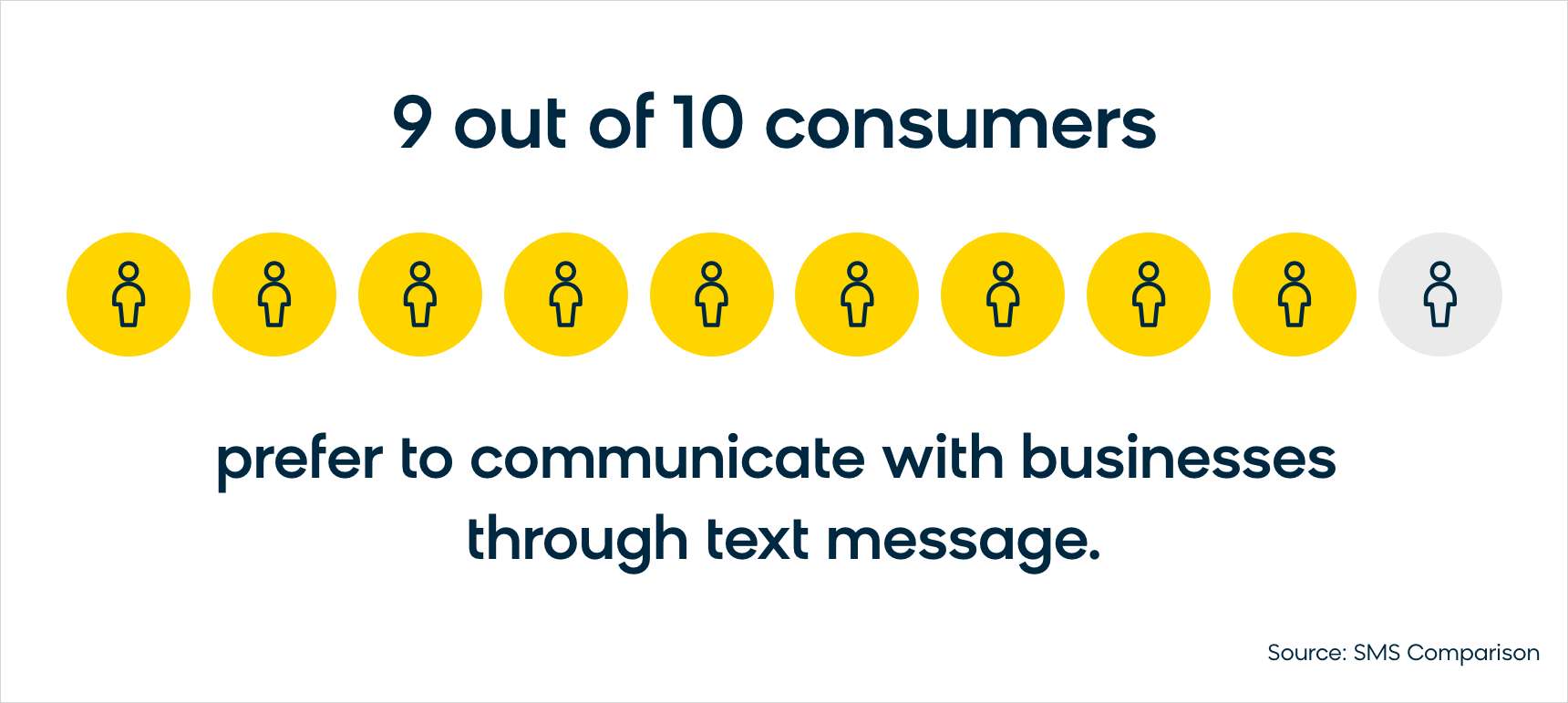 9 out of 10 consumers prefer to communicate with businesses through text message. Whether it's through sales promotions, alerts, or back-and-forth communication, customers have already adopted SMS messages as a worthwhile way to connect. 
And with 48.7 million people currently opted in to use business text messaging services, it's easy to see why text messaging is one of the most rapidly growing marketing channels. 
But it's one thing to be receiving all these promotional SMS messages — leading customers to a purchase via text is another entirely. How effective is SMS marketing?
On average, SMS marketing yields a 19% click-through rate (CTR). This is an incredible payoff in the online advertising world, where emails produce a 4% CTR and Facebook barely reaches 1%.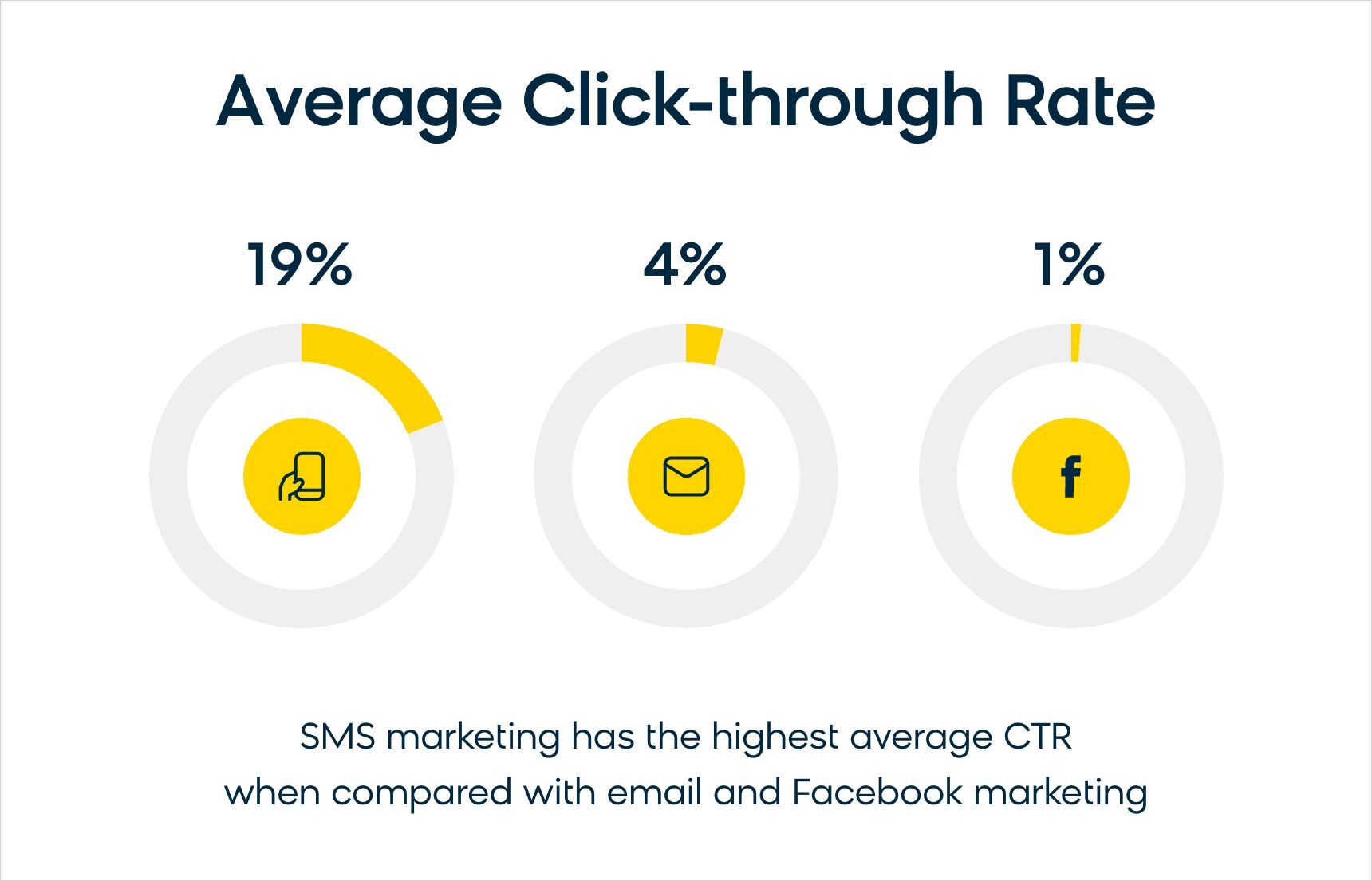 From reaching your audience to building profitable relationships, text message marketing has the power to take your strategy to the next level.
Examples of Successful SMS Marketing Campaigns
The value and performance of SMS marketing makes it an important channel for modern businesses to utilize. But how can brands get the most out of their efforts? 
Whether you're looking to get started with SMS marketing or want to broaden your strategy, here's some inspiration you can use to boost your text message marketing efforts.
Opt-in Messages
An SMS opt-in text should always be your first and foremost message that begins any communication you have with your customers. It's the first message you send after they've given you written permission to send them marketing text messages — whether they've signed up from a form on your website, given you their number for a promotional deal, or inputted their information upon making a purchase. 
This type of message isn't just a suggested best practice. Marketers are legally required to gain explicit consent from customers or SMS subscribers before sending marketing communications.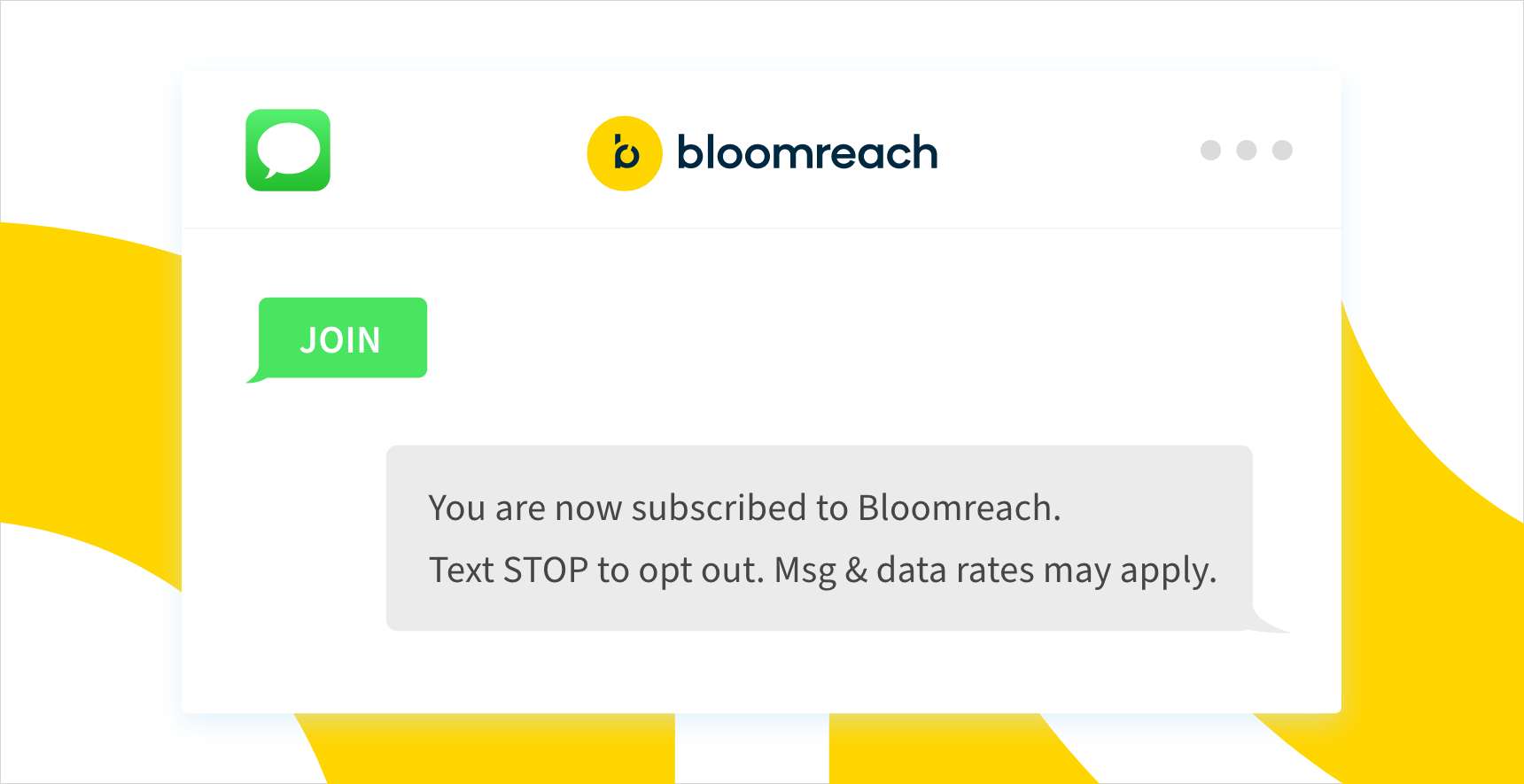 The best approach when forming an opt-in message is to keep it simple. It's all about getting down to terms and conditions. Your messaging needs to contain all the information you need to confirm their consent and set expectations for any future campaigns. 
Including your brand's name, the sign-up offer (if any), your message frequency, whether carrier costs apply, and how subscribers can opt out if they choose to do so are key components.
Welcome Offers
Welcome messages are great opportunities to start your relationship with a customer off on the right foot. And while everyone expects a welcome email, adding a welcome text into the mix can go a long way towards customer trust and loyalty.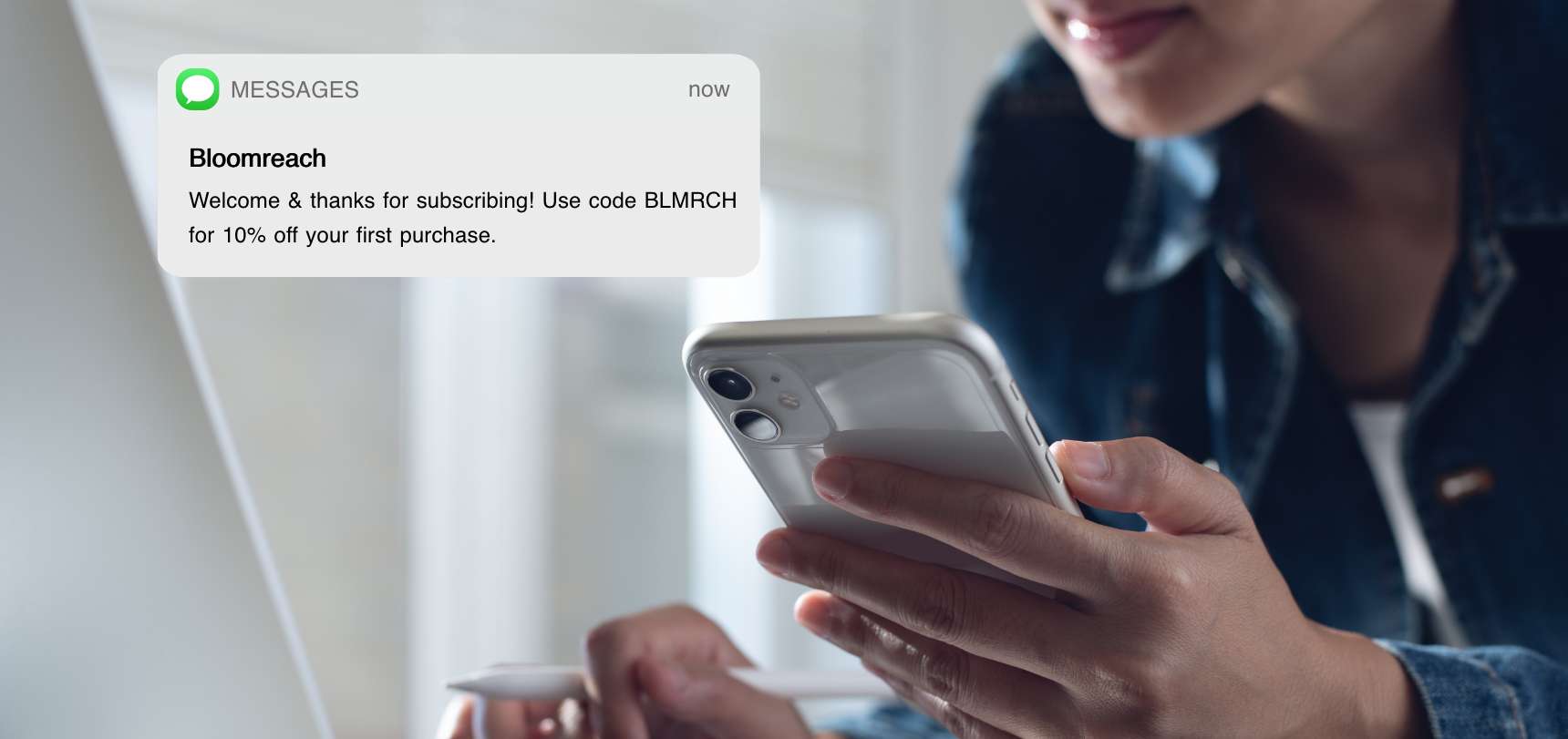 If you offer an incentive for signing up, such as 10% off their first order, you can send the discount code via text and encourage more immediate engagement. Combine that with a welcome email that highlights the same offer and the reach of your efforts increases exponentially.
Read This Next: Start the Customer Journey Right With an Automated Welcome Series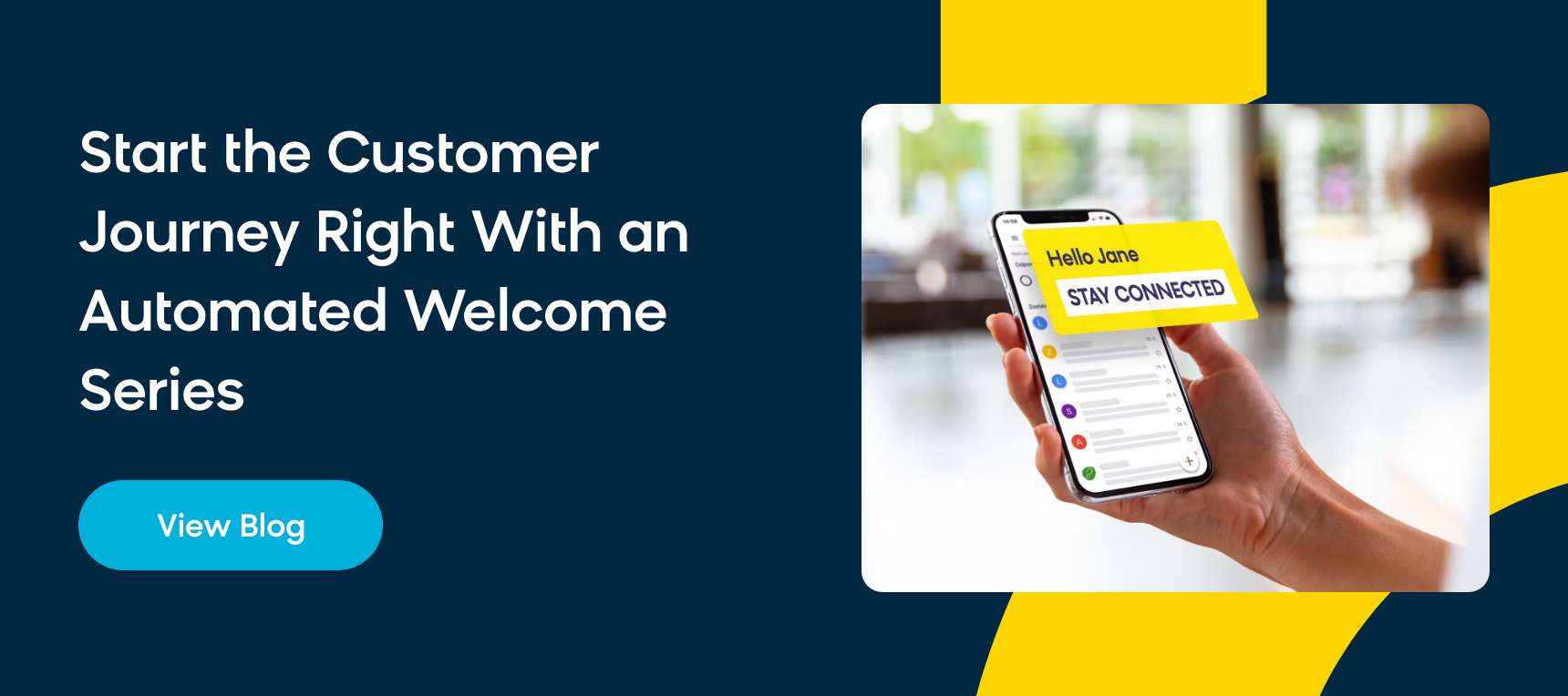 Special Deals and Sales Event Promotions
Spotlighting special deals and promos are SMS marketing's bread and butter. Its greatest strength is how up-to-the-moment it can be, and promoting your brand's current sales via text message will connect with and motivate your audience instantaneously.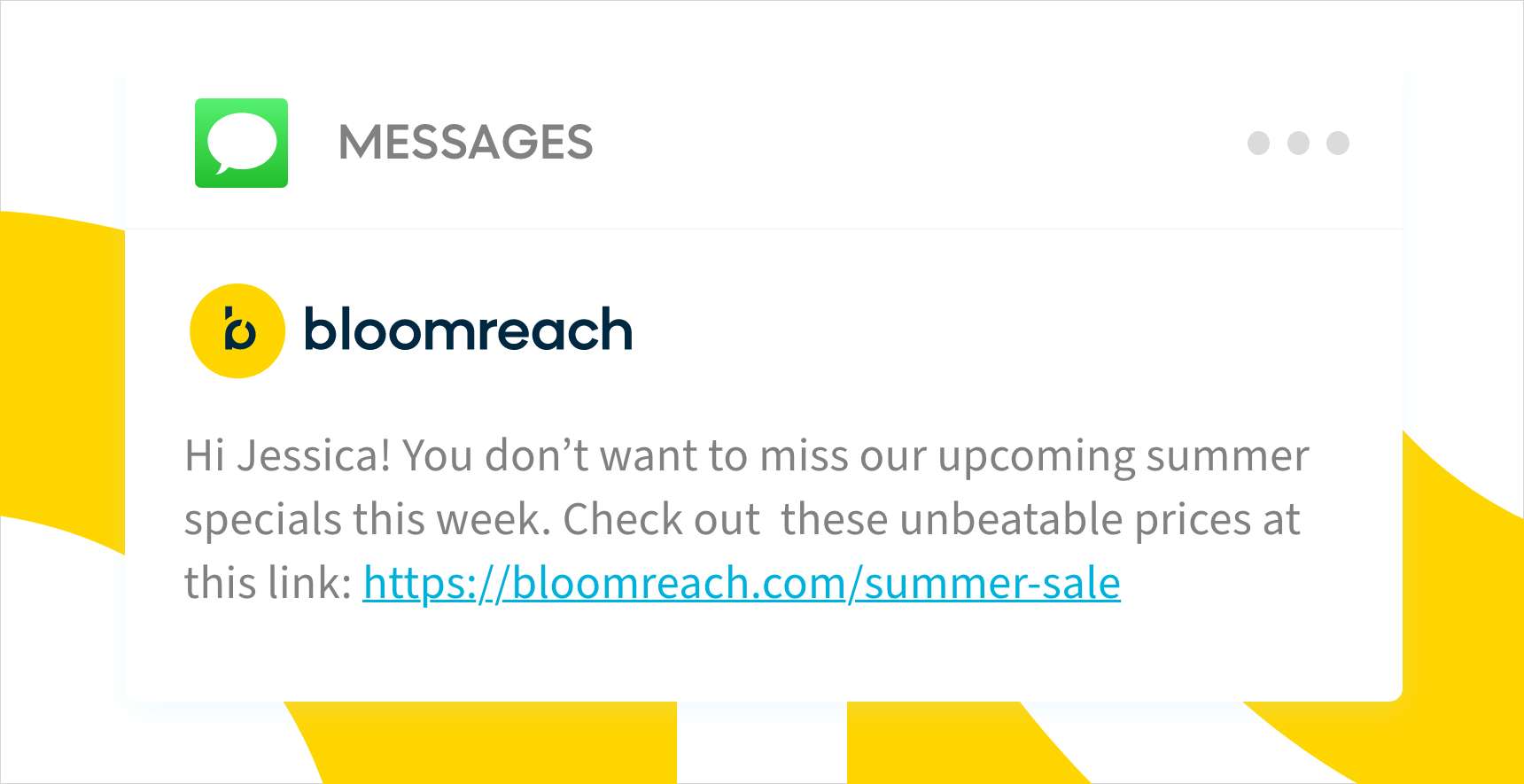 Whether it's big events like Black Friday and Cyber Monday promotions or an impromptu 24-hour flash sale, texting is the perfect channel to inspire your customers when and where it counts. 
Personalized Offers
Forming a meaningful relationship with your audience requires a personal touch, and presenting customers with personalized offers can make all the difference.
Awarding loyal customers with exclusive deals on special, personal occasions — like their birthday or their yearly anniversary of joining your rewards program — is a great way to foster engagement, make your customer feel valued, and increase customer lifetime value.
The concept is a simple one, but the results can be game-changing. Just ask boohooMAN, an online fashion brand that sent a personalized birthday flow SMS campaign and generated a 25x return on investment.
Read This Next: boohooMAN Sees Up to 25x ROI From CDP-powered SMS Campaigns With Bloomreach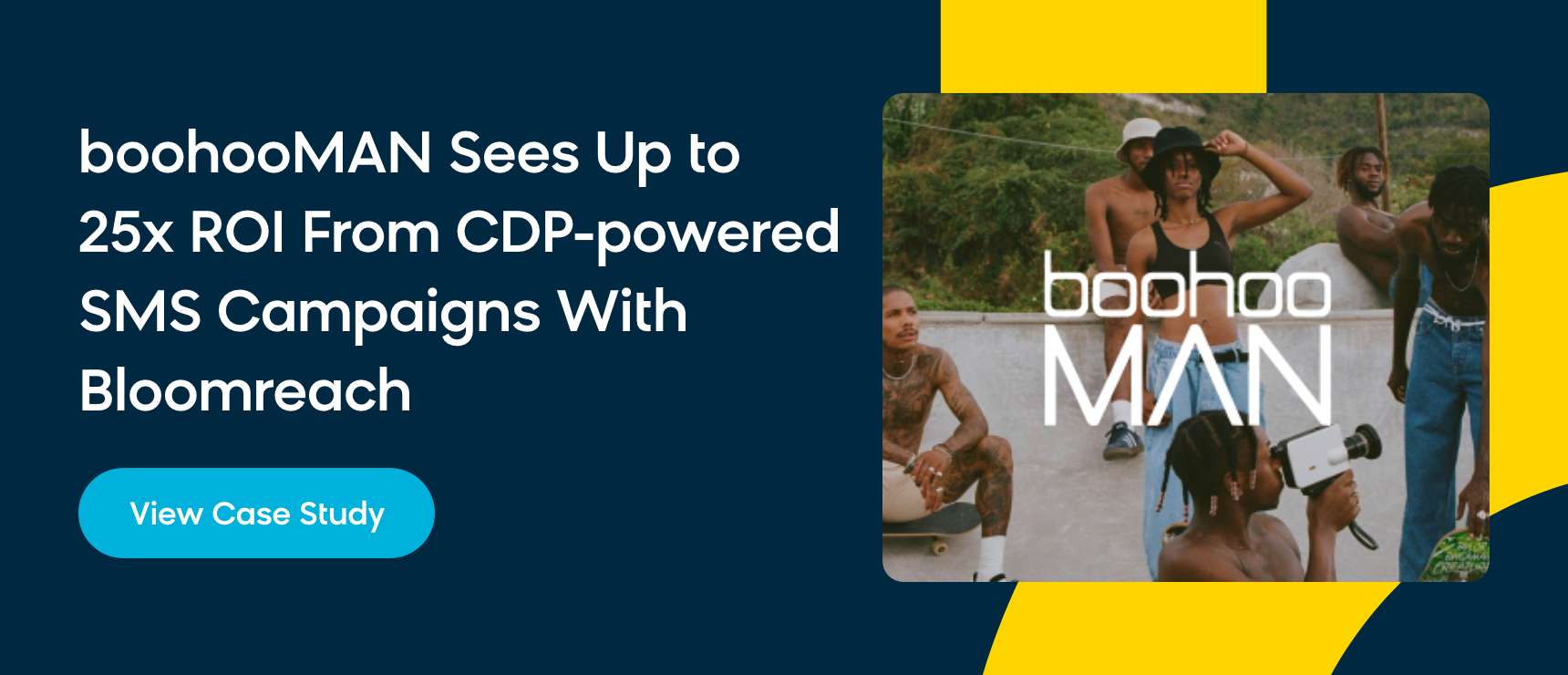 Thank-you Messages for Completed Transactions
Everyone loves a "thank you," especially your customers. It may seem like a small step, but when brands go out of their way to show appreciation and cultivate deeper connections with their audience, it lets customers know that they're more than a purchase. 
These types of straightforward, personal text messages are key to increasing your customer engagement and encouraging your audience to keep coming back to your brand. It breaks up the clinical nature of transactional messages that are required when processing a purchase, giving your SMS marketing journey a more human feel than just a way to encourage sales and confirm orders.
Nurture campaigns for returning customers are most effective when making customers feel valued, and a thank-you message can be an easy and effective step in that process.
Abandoned Cart Messages
Abandoned carts are one of the biggest problems for e-commerce businesses, and SMS marketing is an essential tool to bridge the gap between your audience and their purchase.
The average cart abandonment rate is just shy of 70% — a staggering amount of dropped acquisitions. Brands should be doing all they can to get customers back to their cart and completing the sale.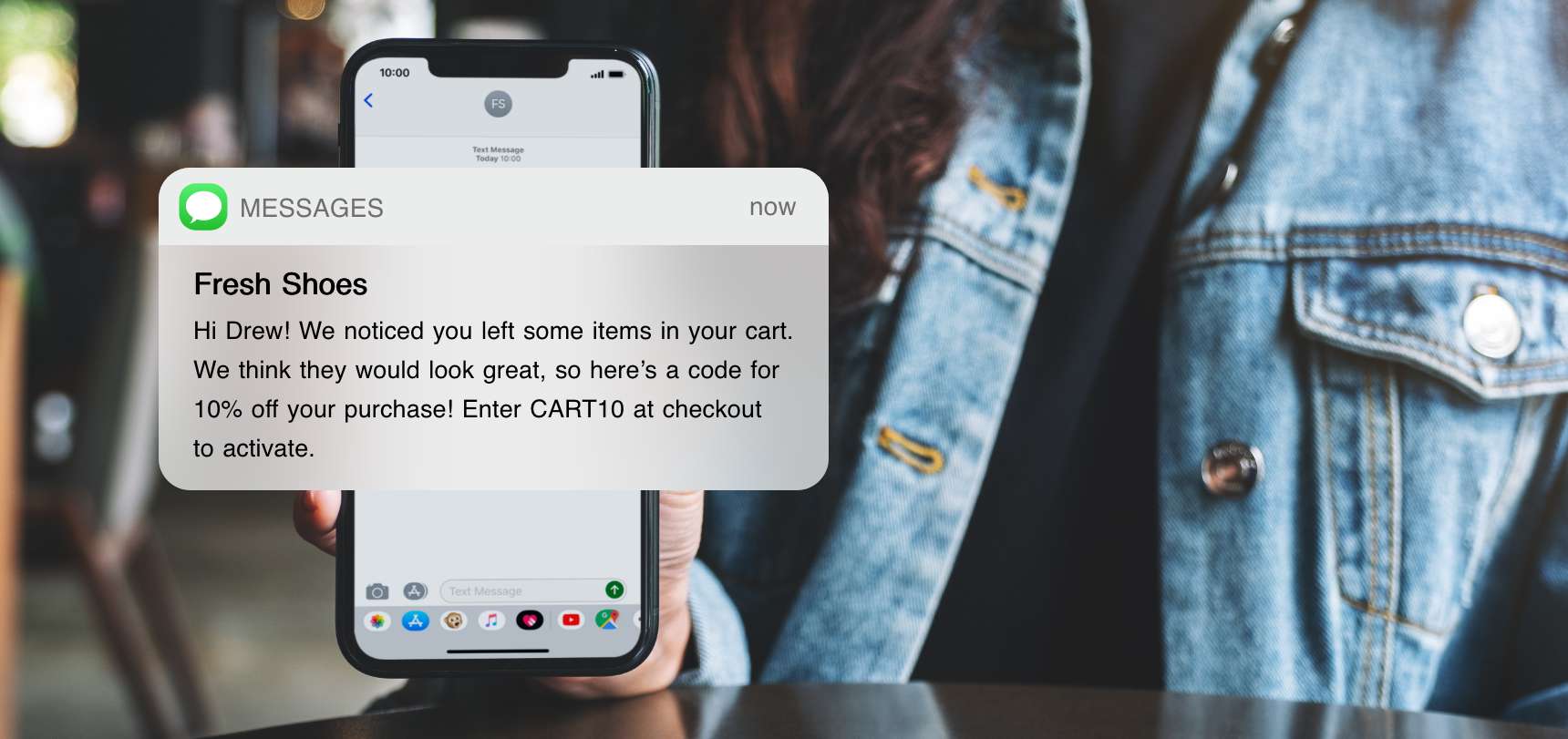 Sending a short, simple abandoned cart SMS message to a potential customer's mobile phone can help resolve abandoned carts in an uncomplicated and impactful way. Reminding your audience that their cart is still waiting for them can spur interest, and an added incentive like a discount code can lead to prompt action.
Even when they're built with the bare minimum of effort, reengagement campaigns like abandoned cart messages reach an already interested audience with an actionable message. It's the perfect recipe for a successful marketing tactic.
Read This Next: How Reengagment Campaigns Boost Revenue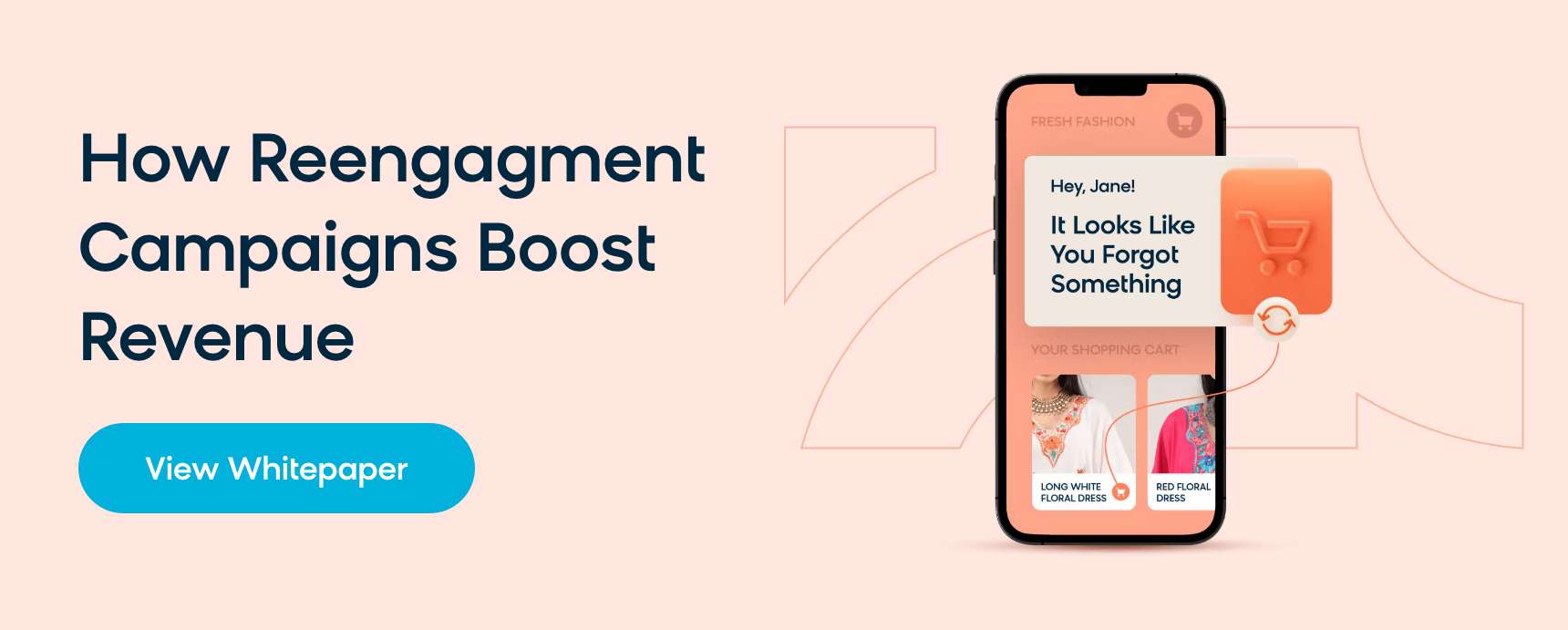 Shipping Updates
Shipping and order updates are perfect uses for SMS marketing. They encapsulate everything that makes texting such a valuable channel for businesses – they're quick, to the point, and make the customer feel taken care of. 
SMS messages that offer your customers details like tracking information, any shipping news, and their order status takes the detective work out of the wait for their products. It adds a welcome layer of transparency to the process and instills a level of ease that everyone wants from a brand.
Customer Service and Feedback
SMS messages aren't just useful for your marketing efforts. Brands can utilize text messages for customer service as well, opening up a direct line of communication with their customers.
Using text messages to collect NPS responses or customer feedback offers the simplest and most convenient way for customers to share their thoughts and sentiments with your brand.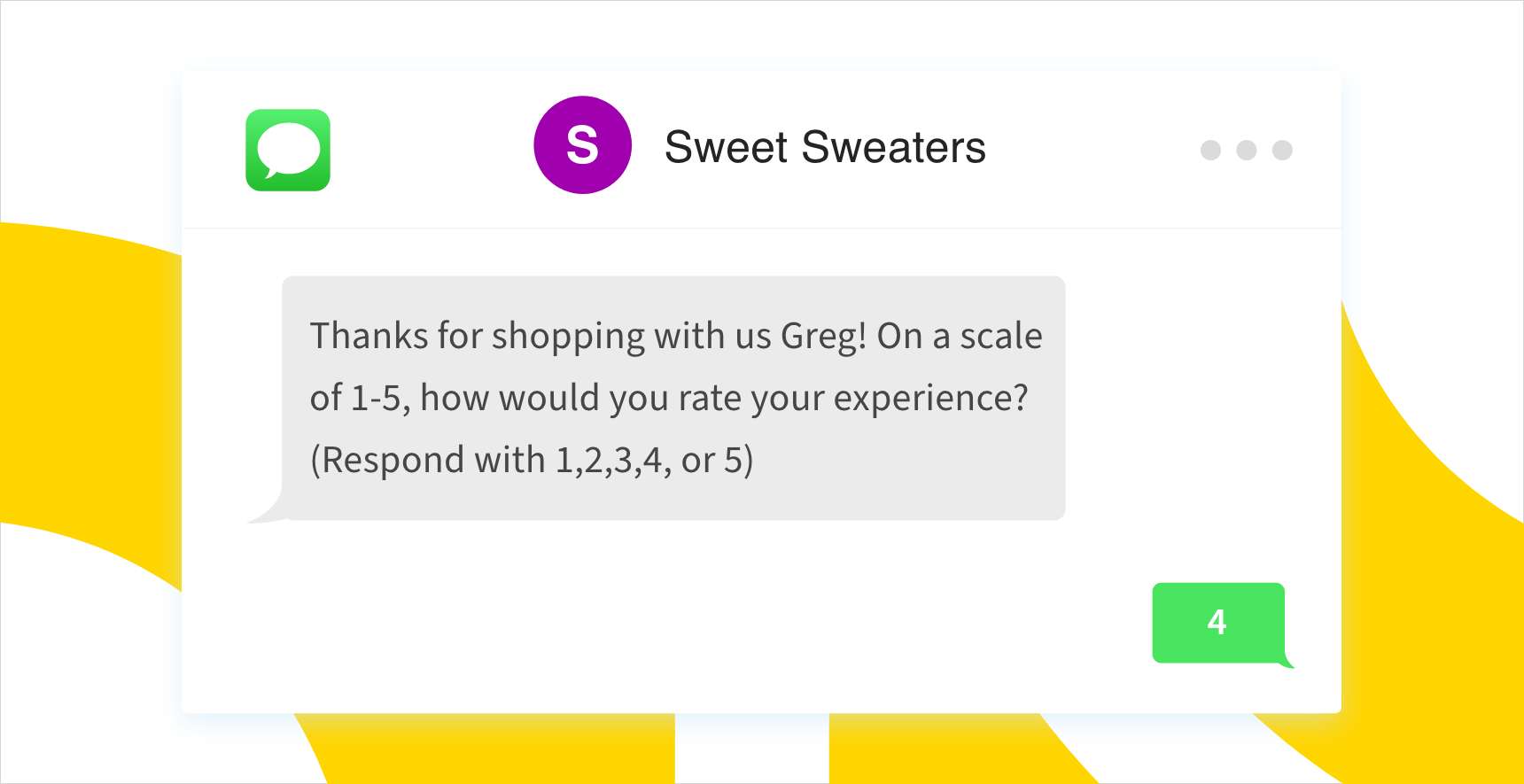 While an email with a similar message is likely to be ignored, a text is much more visible and easy to respond to. Your brand has a better chance of getting valuable answers, which you can use to make future interactions better.
Two-way messaging is an essential part of this tactic, which allows your customers to reply directly to the messages received from your campaign. 
To do this, you need an SMS marketing platform that allows you to set up keyword auto-responses, letting your customers respond to messages with configured keywords (in the case of the image above, numbers 1-5 would be keywords). Based on the response, an automated action can be performed to answer any questions, reply to any criticism, or thank your audience for participating.
MMS Messages
Wish your SMS marketing could be a little more dynamic? MMS campaigns are the answer.
MMS (multimedia messaging service) marketing messages allow businesses to send rich media via text, like images, videos, GIFs, and audio clips. It adds a new dimension and vibrancy to SMS marketing that text-based messages can't quite deliver.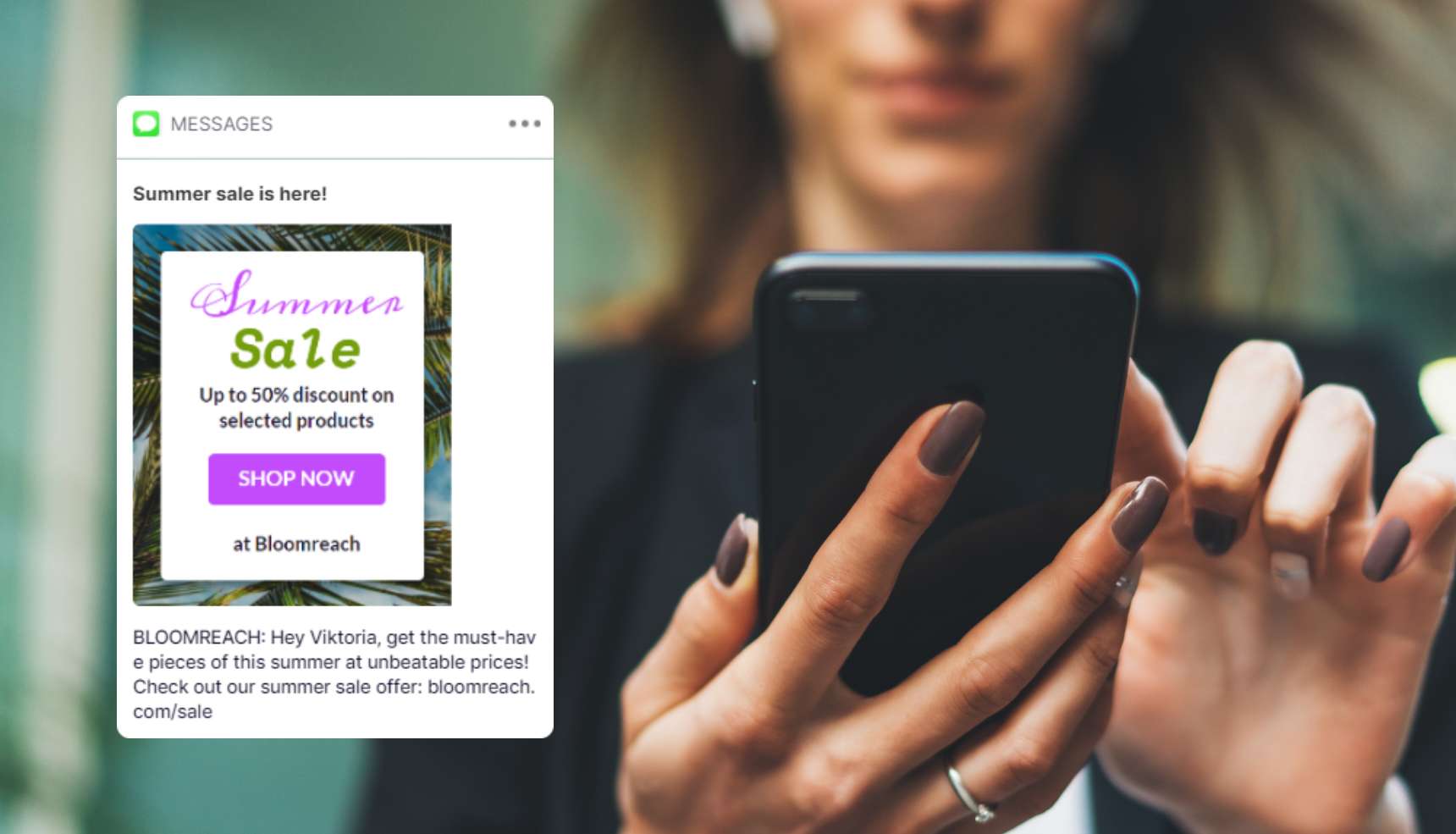 Incorporating a visual element to your texts gives them a wow factor that audiences will love. And in a medium where character count comes at a premium, a visual tool to say more with less is a valuable opportunity.
Tips for Running an Effective SMS Marketing Campaign
No matter which creative SMS campaign ideas you decide to implement, there are a few overarching tactics that every effective SMS strategy incorporates.
Here are the key components that every marketer needs to keep in mind:
Personalization Is Paramount
Like all great digital marketing strategies, your SMS marketing needs to be personalized and tailored to your individual customers. The best campaigns reach your audience with the right message at the right time, and personalization makes that happen.
Collecting and applying zero- and first-party data is the best way to make your campaigns as effective and personalized as possible. Your customers are willingly sharing their data and information with you (i.e., giving you their phone numbers to receive text messages from your brand), and they deserve an experience that utilizes that valuable information to customize messages to their wants and needs.
Personalization usually starts with simple steps, like including a customer's name in your messaging. But modern marketing has evolved to offer much more tailored SMS marketing messages, and modern customers expect these one-to-one experiences. With the right marketing software, you can personalize the types of promotions they receive, the products they are shown, and the updates they get — all stemming from their unique tastes and preferences that you've collected. 
If you're wondering how to achieve this level of personalization without overwhelming your marketing team, AI is the solution. Artificial intelligence has the power to help you identify key customer segments, personalize your SMS marketing with product recommendations, generate game-changing content, and more. 
When you harness the power of AI for your SMS marketing, you have everything you need to reach your customer with relevant and time sensitive campaigns. It's the best way to make sure your messaging is always hitting the right chord with your audience and your strategy continues to strengthen with every interaction.
Read this next: E-Commerce Personalization: Your Complete Guide
Automation Makes Everything Possible
Setting up and maintaining your SMS campaigns can feel like a daunting and overwhelming task. But there is technology available that can help you build, automate, and optimize all your campaigns: e-commerce marketing automation software.
Businesses can replace manual SMS marketing tasks with marketing automation software to manage and monitor repetitive workflows. This cuts out all the tedious chores of keeping your campaigns up and running, letting you get back to the important work of building out your strategy.
Choosing the right technology is crucial for automation. You need SMS marketing software that lets you automate your campaigns while also allowing customers to make specific data-driven decisions about nearly every aspect of their communications, and offer unique experiences to each customer based on their habits and preferences. 
Orchestrating customer journeys in real time, A/B testing, even analyzing your campaign successes and areas of improvement — it can all be automated and optimized. 
For brands looking to make a real impact with SMS campaigns, automation software is a tool worth the investment.
Read This Next: E-Commerce Marketing Automation and Its Benefits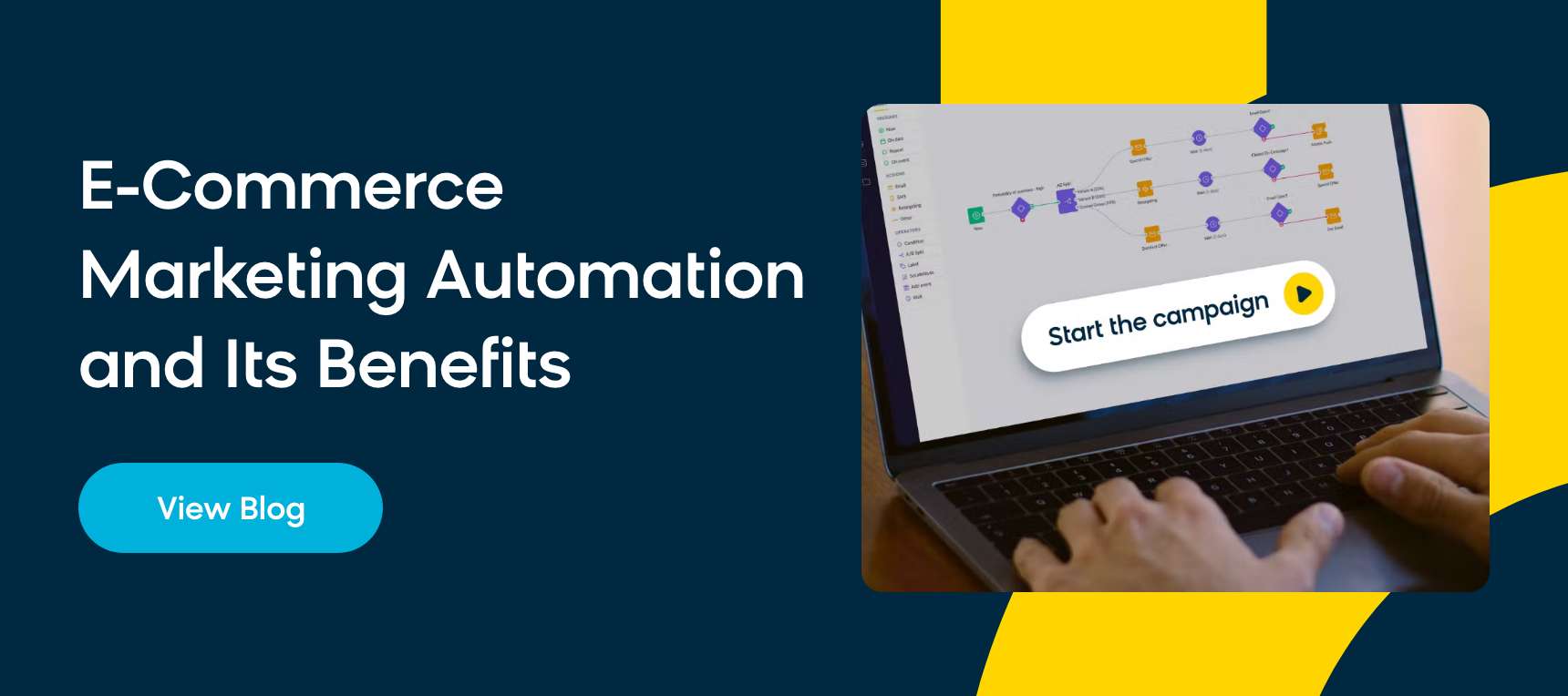 Make SMS Marketing Part of Your Holistic Marketing Strategy
As valuable and efficient as text messages are, your marketing strategy needs more than one channel to thrive. A holistic approach to marketing — viewing all your channels and campaigns as one interconnected and customer-focused strategy — is essential for modern businesses.
Your marketing messages need to span multiple channels, working in tandem to coax your customers through their customer journey.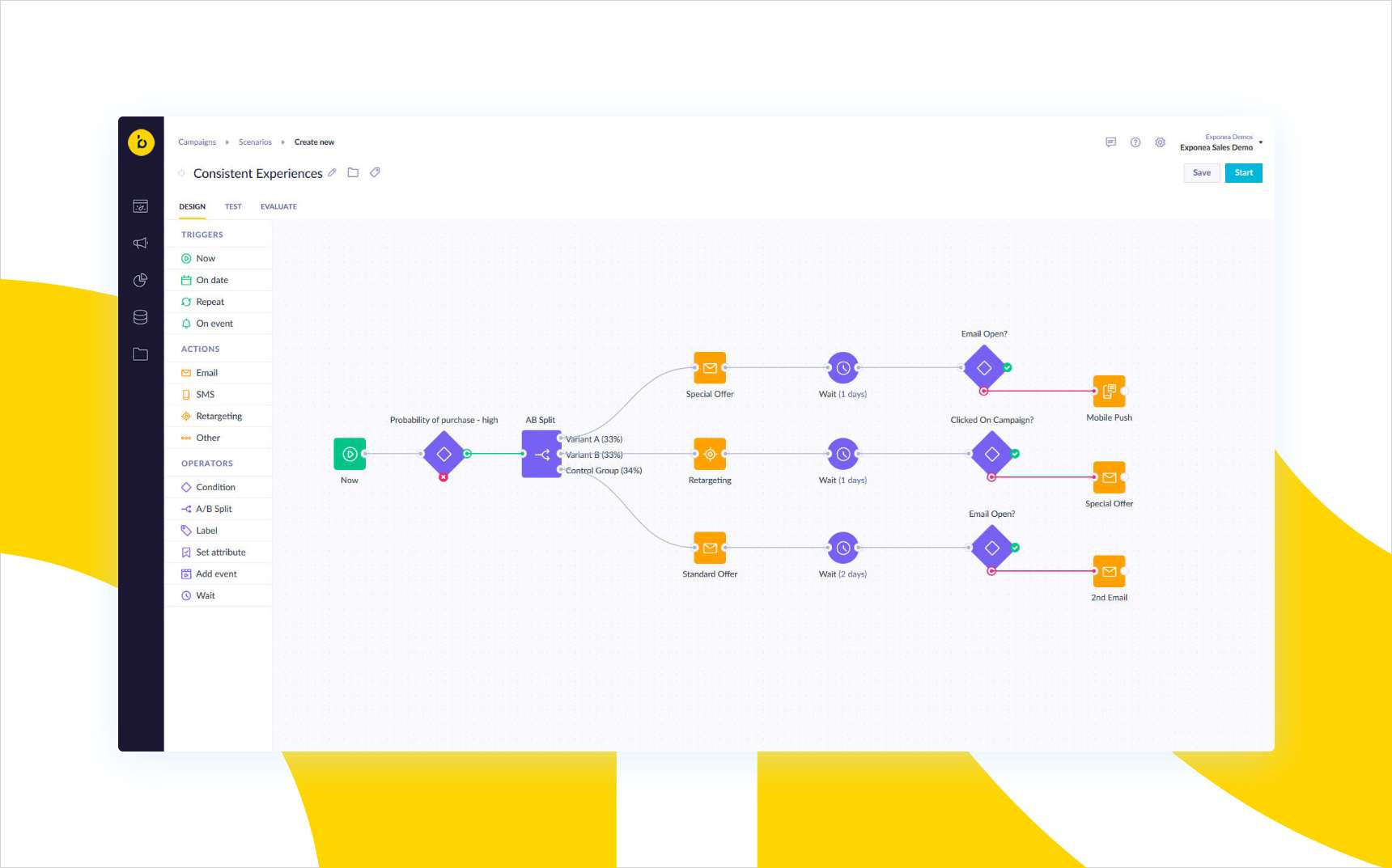 And your marketing goal should be the same for all your efforts: providing seamless customer experiences, whether a customer is shopping online from a mobile device, on a laptop, or in a brick-and-mortar store.
To make this possible, you need marketing technology that facilitates omnichannel orchestration. Designing end-to-end automated omnichannel flows that feel in sync and seamless requires a platform that brings all your channels and data together.
Once you have the ability to create omnichannel experiences, your marketing has no limits.
Read This Next: The Ultimate Guide to Journey Orchestration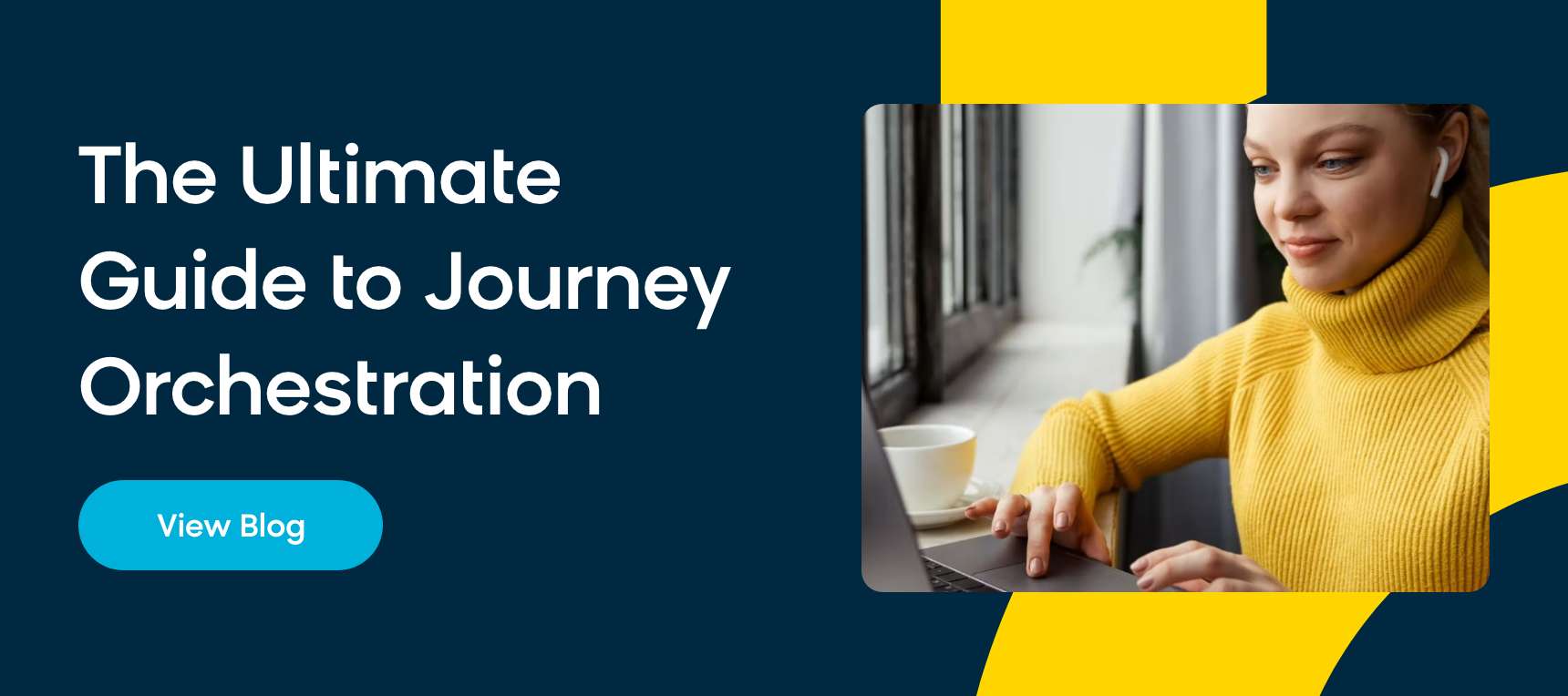 Build the Best-Performing SMS Marketing Campaigns With Bloomreach Engagement
If your goal is to build better and more rewarding SMS marketing campaigns, Bloomreach Engagement is the tool you need to realize success.
With our innovative marketing platform, you have all the essential components to create successful SMS campaigns that weave seamlessly into your strategy — personalization, automation, and omnichannel orchestration are all effortlessly possible.
Bloomreach Engagement is an omnichannel marketing solution that brings customer data, automation, AI, and analytics together so marketers can build personalized campaigns from one place, for millions of customers — and do it all in a matter of minutes. 
It unifies your marketing channels and the data that drives them, allowing you to build the perfect campaigns for your customers.
Want to know more about our platform and learn how we can revolutionize your SMS marketing? Check out our blog on all the next-level SMS marketing features available with Bloomreach Engagement.