Life at Bloomreach
How Bloomreach Approaches a "Virtual-First" Work Culture
By Anna Petrescu
02/17/2022
As flexible working becomes the standard at more and more companies, we at Bloomreach have already pivoted to become a virtual-first company. With over 250 positions filled in H2 2021, we understand that the future is hybrid — here's why.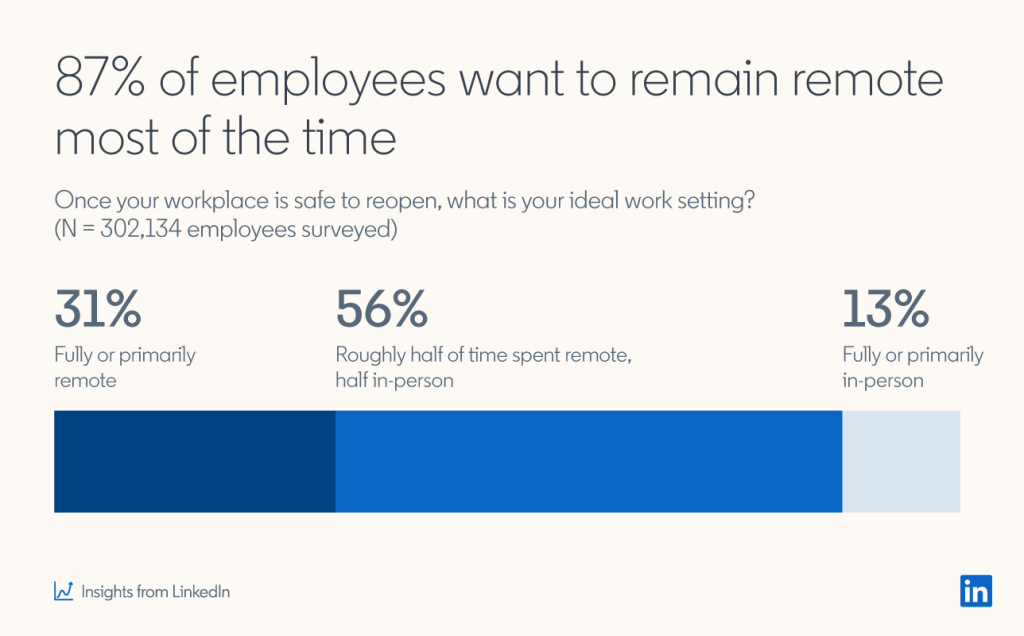 "LinkedIn's Talent Drivers survey asks members to select the most important factors when considering a new job; between January 2021 and May 2021, flexible working arrangements rose from the seventh-most important factor to the fourth-most important. It's not hard to see why employees and candidates are seeking more remote options — and why employers have been so receptive to those demands." (Linkedin)
There are countless reasons for going virtual-first: more workplace diversity, increased productivity, and, as the recent Glint report reveals, employees of virtual-first organisations are more likely to feel valued by the company. 
To get a bit more clarity around the topic and better understand what it is that our candidates are most interested in with regards to working remotely, we asked some of our recruiters to share quotes from their most recent interviews. The most frequently asked questions from candidates were: "Will there be remote work options after the pandemic?" "Will there be a possibility of hybrid work options, and is there an office that I can use if I want to?" "What does Bloomreach offer from a home office setup perspective?"
Here's a closer look at Bloomreach's virtual-first policy, and what it entails:
"DisConnect" days: After the pandemic hit, most of our employees ended up working beyond their normal 9-5 hours. Bloomreach created "DisConnect"days in response — one day each quarter, every employee gets a digital "off" day so they can go on a hike, see family, pick up a new hobby, or anything else.  
An amazing virtual onboarding program for new employees (that's about to get even better!).
Surf-office: For all our employees that are big fans of the sport, we have a community internally that organizes trips to the ocean, where we all work together. 
Many of our employees took the virtual-first option quite literally and ended up traveling around:
This includes myself — since the pandemic hit, I've worked remotely from: Romania, Ukraine, Spain, the Netherlands, Portugal, and Italy. I am officially based in the UK, so getting to explore new places while staying on top of work has been perfect for me, as I absolutely adore traveling.
James Lambe, our Regional Recruitment Lead, has taken this opportunity to go home to Ireland and visit family and friends for 2 weeks every quarter.
Lawrie Martinez, our Director of Business Development, got some winter sun last year and worked from Greece during the cold months while spending time with his family.
Jago Madsen, our CEA Mid Market Lead, had this to say about our remote work policies: "With Bloomreach's policy of virtual-first working, I've had incredible flexibility in being able to work around Europe over the last year. I was able to work from the south of Spain for a number of weeks during the summer of '21 and enjoy some sunshine, after which I visited my family in Bordeaux, where I worked remotely for a week. Being an hour ahead of my typical work hours in the UK actually let me get more work done! Several team members and I also organized a long weekend in Lisbon towards the end of 2021, renting an AirBnB where we could work from and then enjoy the city on the weekend. Not having to be in the office at 9am on Monday morning provided so much flexibility — I was able to fly straight home early on Monday to open up the laptop again from home, while a couple of colleagues remained in Lisbon to work from there. Definitely planning another city break soon!" 
Home office allowance: Every employee is given a set budget to invest into their home office setup. Whether it's a chair, a desk, or a set of better headphones — we got you.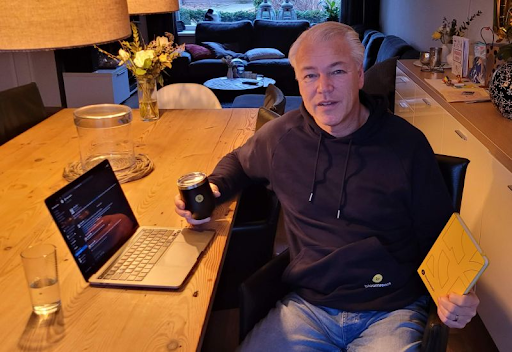 Here's Jacques Apon, our Senior Account Manager for EMEA, enjoying his home office setup upon first joining Bloomreach!
Being virtual-first does not discredit our amazing office locations in the UK, the US, the Netherlands, Russia, Slovakia, and India. Employees can still choose to come into the office as often as they please to collaborate and work together. 
Our employees are also offered the opportunity to relocate to new countries:
"I had to relocate to the Netherlands from India to join my husband after my marriage, and Bloomreach being a virtual-first company made it a seamless process to relocate and complete all procedures virtually without having to visit any of our office locations across countries." - Noor, our Academy Content Specialist 
"I wanted to live in a bigger city, since I love meeting new people and exploring global cuisines. Fortunately, after consulting my manager, I was able to relocate to London. I love working for a company that empowers its employees to pursue their life goals even outside of work." - Tomas, our Head of Recruitment
We know that candidates see the option for flexible working options as a major deciding factor when choosing their next move. Becoming a virtual-first company was an easy decision for such a global company like Bloomreach. After a year and a half of virtual-first work, Bloomreach has really hacked the system for it. We've started our DisConnect days, we are surrounded by colleagues that value mental health and sanity just as much as deadlines, and we're in it to have fun — and lots of it!