Omnichannel Marketing Automation
Has the Crown Slipped for Email as the King of Digital Marketing Channels?
By Gavin Sherry
Jun 10, 2022
9 min read



Subscribe
Omnichannel Marketing Automation
Has the Crown Slipped for Email as the King of Digital Marketing Channels?
Email has long been praised as the best digital marketing channel. But with the rise of so many new apps, ad types, and social networks, has the crown slipped for email as the king of digital marketing?
Well, it certainly had a wobble. Especially with the recent changes to Apple Mail's Privacy Policy, which made the open metric an unreliable one. 
But email's crown still sits tight. Almost every statistic out there (and there are many) points to the continued expansion in email usage, preference, and ROI. Sorry SMS, Facebook, Instagram and Snapchat — email is still the unrivaled, unbeaten champion among digital marketing channels. 
Here's why.
Absolutely Everyone Uses Email  
Let's start with the most basic statistic: the number of active subscribers per channel. Below, we've mapped out the most popular channels accordingly.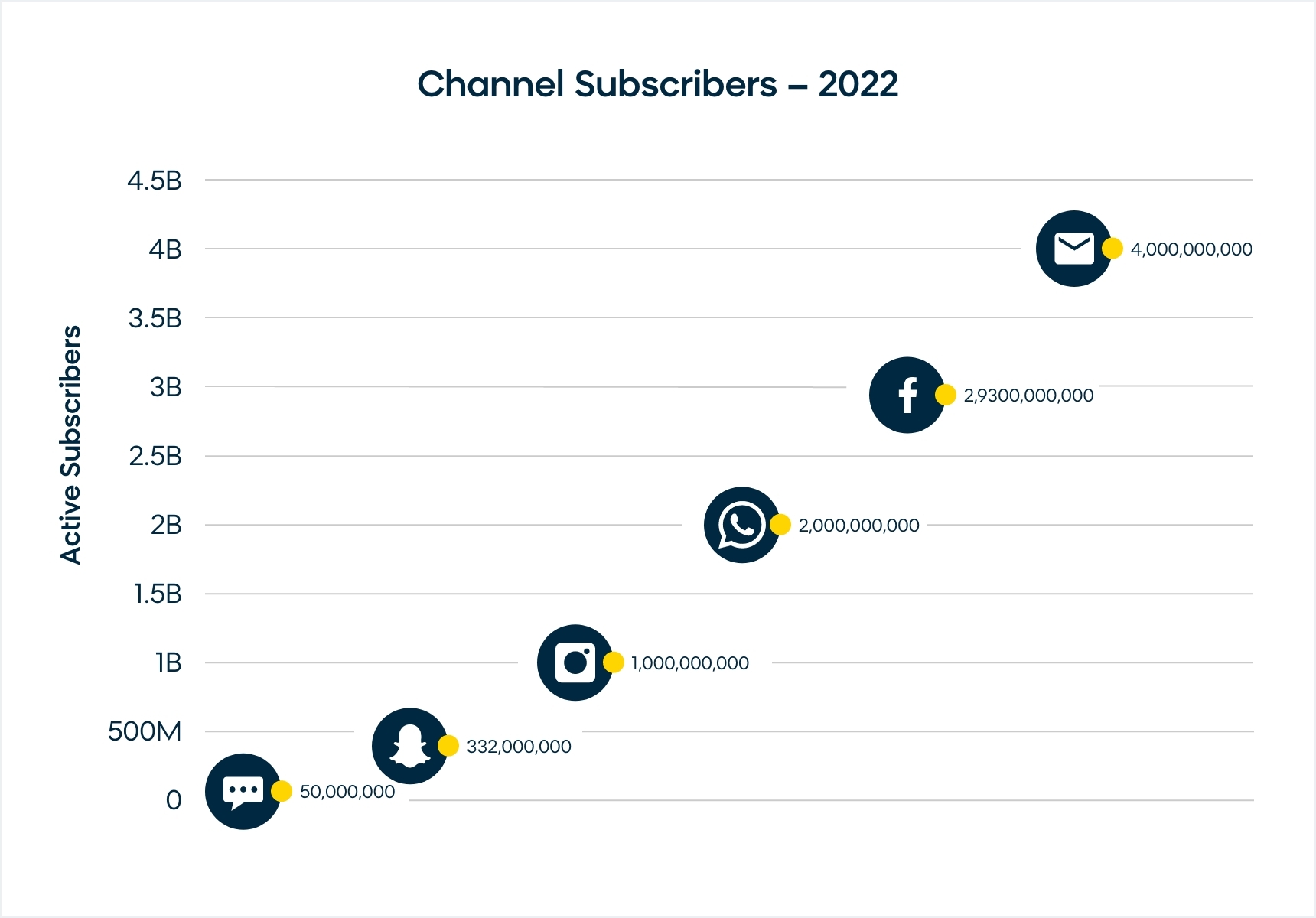 If businesses want to reach mass audiences of customers, email has the widest reach. More people are actively engaging with email compared to any other channel. 
While there are some key trends making waves, such as customers under 25 preferring SMS as a means of communicating with businesses (although businesses have been very slow to pick up on this clear trend), email is still the most established channel. 
It's a part of people's everyday lives, so much so that over half of the world's population has an email address that they use daily. As long as you make your emails deliverable, they can be the most sure-fire way to reach the widest audience. 
This dominance is nothing new. When we look at the global volumes of email sent per day, email hasn't dropped in usage since its early and wide adoption in the 1990s. Fast forward to 2020 and the average daily volume of emails sent globally hit 306 billion per day. That grew by a phenomenal 4% in 2021 to hit 319 billion emails sent per day, and its growth shows no sign of slowing down. The number of emails sent globally per day is expected to rise to a whopping 376 billion by 2025.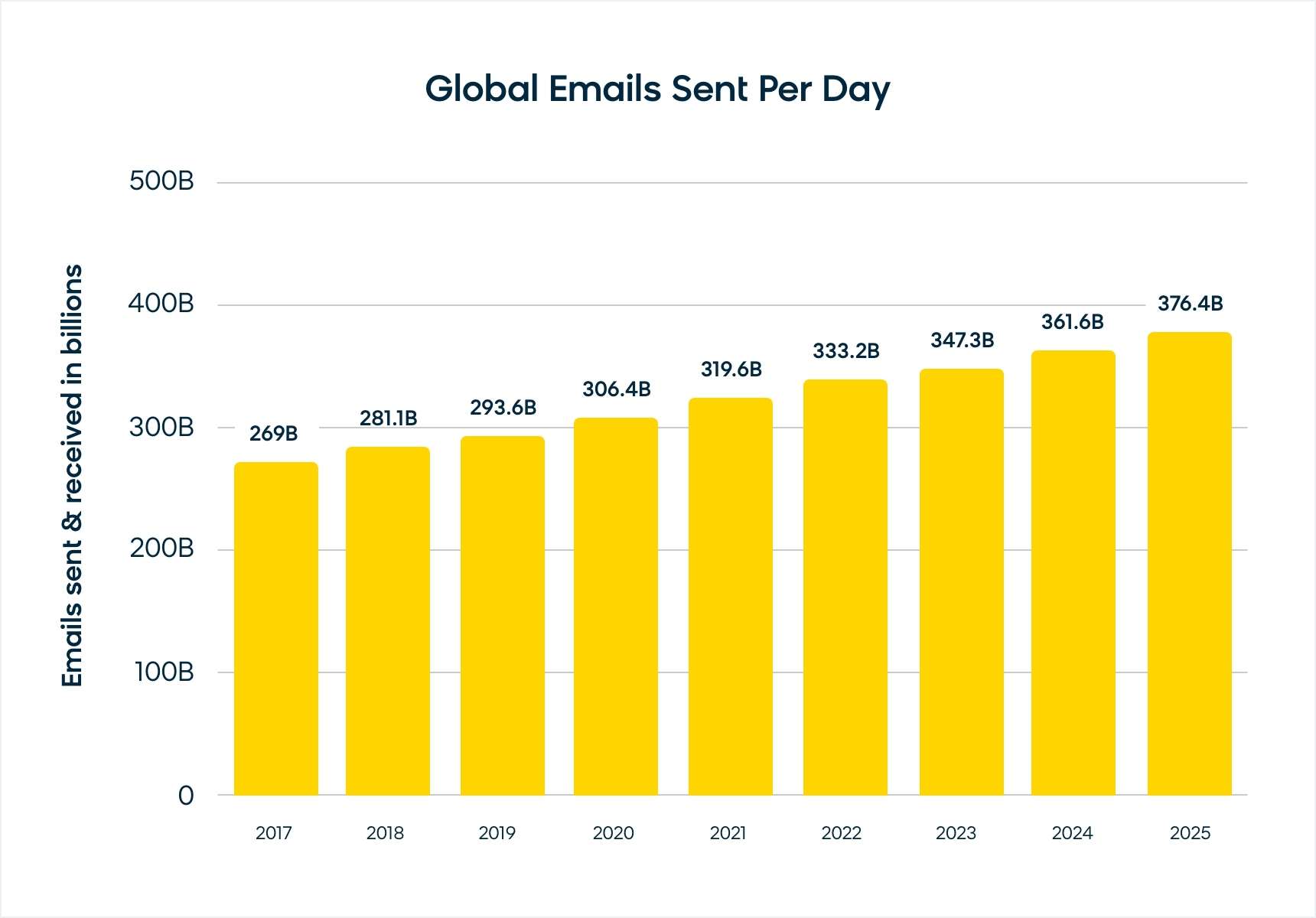 Email's Royal ROI
While the volume of users is important, that can't be the only reason that email reigns supreme in the marketing world. So, why does email remain such a popular channel with marketers? 
Again, the numbers speak for themselves — all of them. Email performance can be measured in many ways, but return on investment is always the first and foremost metric that marketers look for. According to Litmus, businesses on average are making $36 for every $1 spent on email marketing. Some sectors are doing even better, as the chart below shows: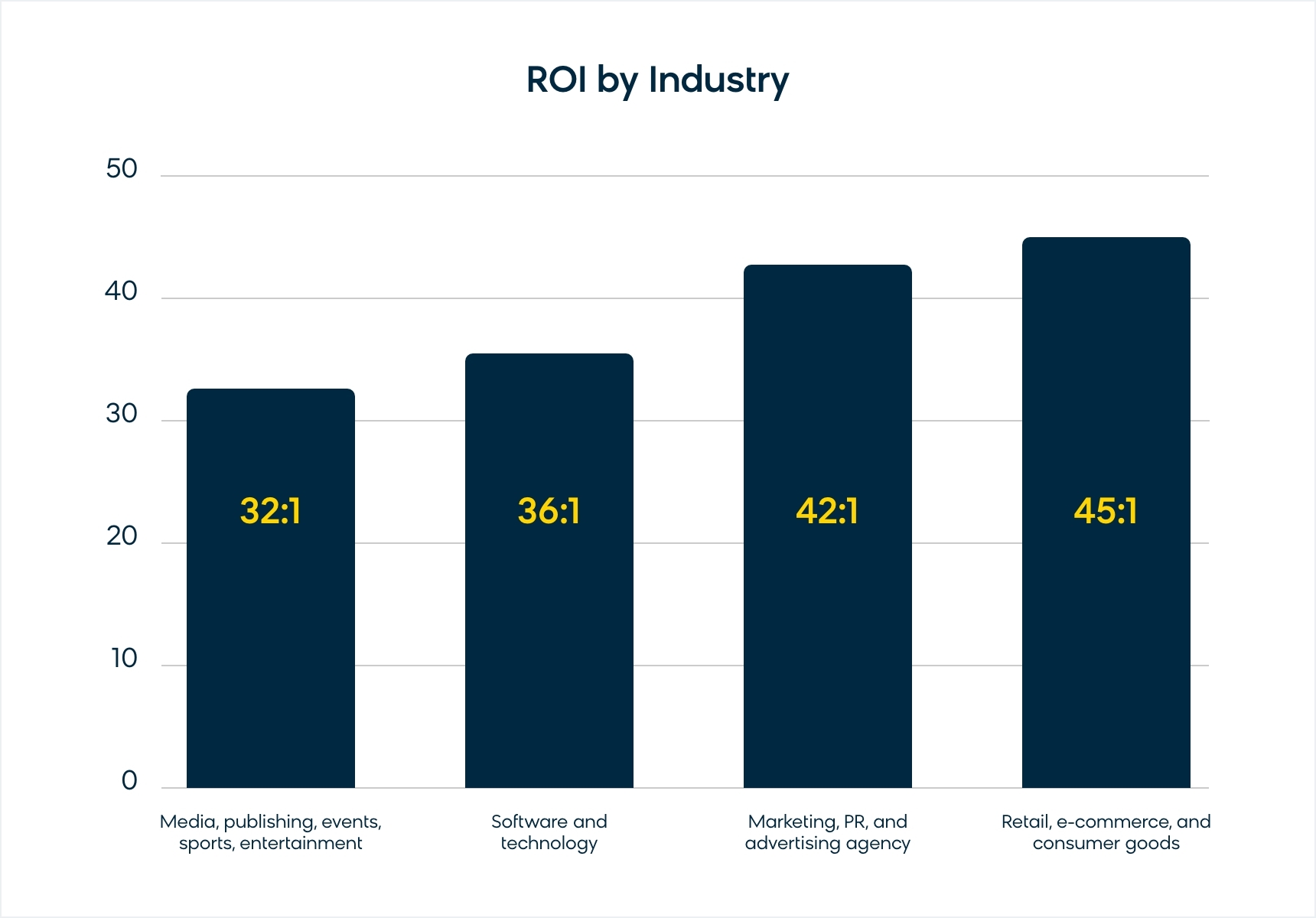 And that's not the only key performance indicator that email outperforms in. When the Direct Marketing Association (UK) questioned businesses on their email KPIs in 2021, a strong majority reported a healthy impact across all key metrics, with the same or an increased value over the past year.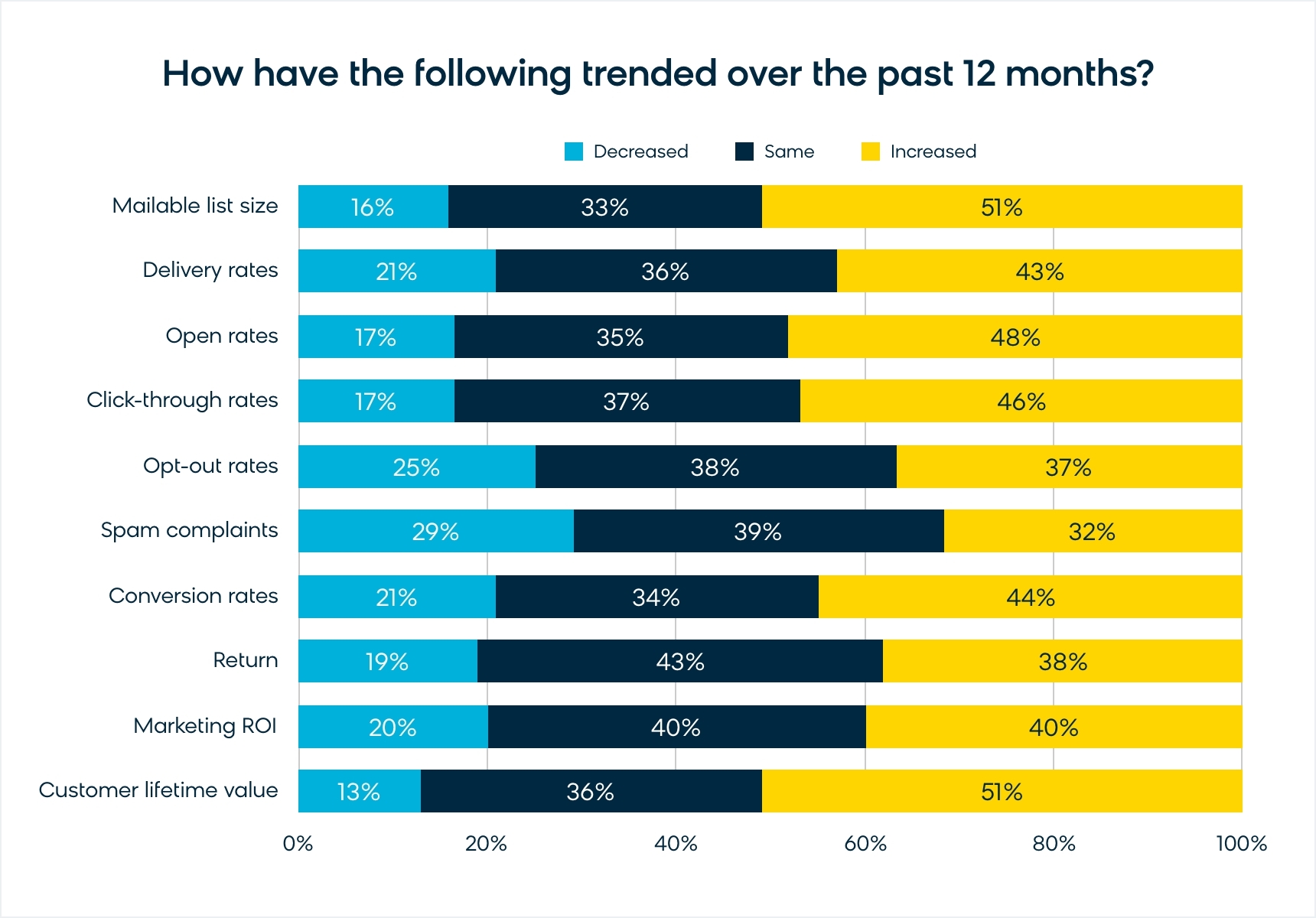 As the chart above shows, email isn't just leading the pack as the most influential marketing channel. It's raising the bar year over year in the most important ways — none more so than customer lifetime value, with 51% of brands citing an increase in 2021. 
Email Marketing Really Is All That
So, besides all these stats and promising figures, what does email have that other channels don't? We know it outranks so many other channels, but how does it do this?
It's Highly Visual
Above all else, email is a visual channel. It allows for images, copy, gifs, videos — you name it, email can put it on display. 
And with so many ways to illustrate your message, it's easy to see why email beats out other channels. Whatever you can create for a display ad or a social feed, you can add it to an email campaign and deliver it directly to your audience's inboxes. 
It Promotes Multiple Messages
Unlike other channels, email can be as dense or as punchy as you'd like. While there are best practices, there are no character limits or space restrictions. 
An email may lead with a main content piece, or "hero" message, but secondary content isn't unheard of in emails — and they can be just as effective. 
It's the closest brands truly get to a digital shop window. You can use it to drive home a single point, highlight a few key messages, or pack as much into it as you prefer.
It's Data-driven and Scalable
The real crown jewel of email marketing is its ability to implement data-driven communication on a game-changing scale. 
Every marketer knows that data is the key to any successful campaign, and email is one of the most valuable and versatile tools to plug your data into. With the right data and audience segments, you can customize your email campaigns down to the individual, tailoring content for each customer and their specific needs. 
From a reminder message highlighting a recently abandoned cart to a last-chance look at items they previously viewed, your emails can speak directly to every member of your audience. There really is no end to the variations you can execute. 
Your capacity for personalized campaigns is only dependent on how integrated your email builder is with your data platform and how granular you want your messaging to be.
Get the Most Out of Email With Bloomreach Engagement
As the king of content marketing channels, your email campaigns should be checking all the boxes to hit the KPIs they are capable of. And dynamic, data-driven emails are easy to execute with Bloomreach Engagement.  
Our platform does it all: Use our drag-and-drop editor to easily create eye-catching emails; fine-tune your campaigns with 1:1 personalization using our single-customer view; and scale your success effortlessly with automated product recommendations, optimal send times, and so much more. 
Ready to see our platform in action? Schedule a personalized demo today to learn more.