Customer Data Platform (CDP)
Beyond the Cookie: How To Nurture Ideal Customer Lifecycles
Customer Data Platform (CDP)
Beyond the Cookie: How To Nurture Ideal Customer Lifecycles
Meet Your Ideal Customer
Meet Pat: a fake name for your very real and very best customer.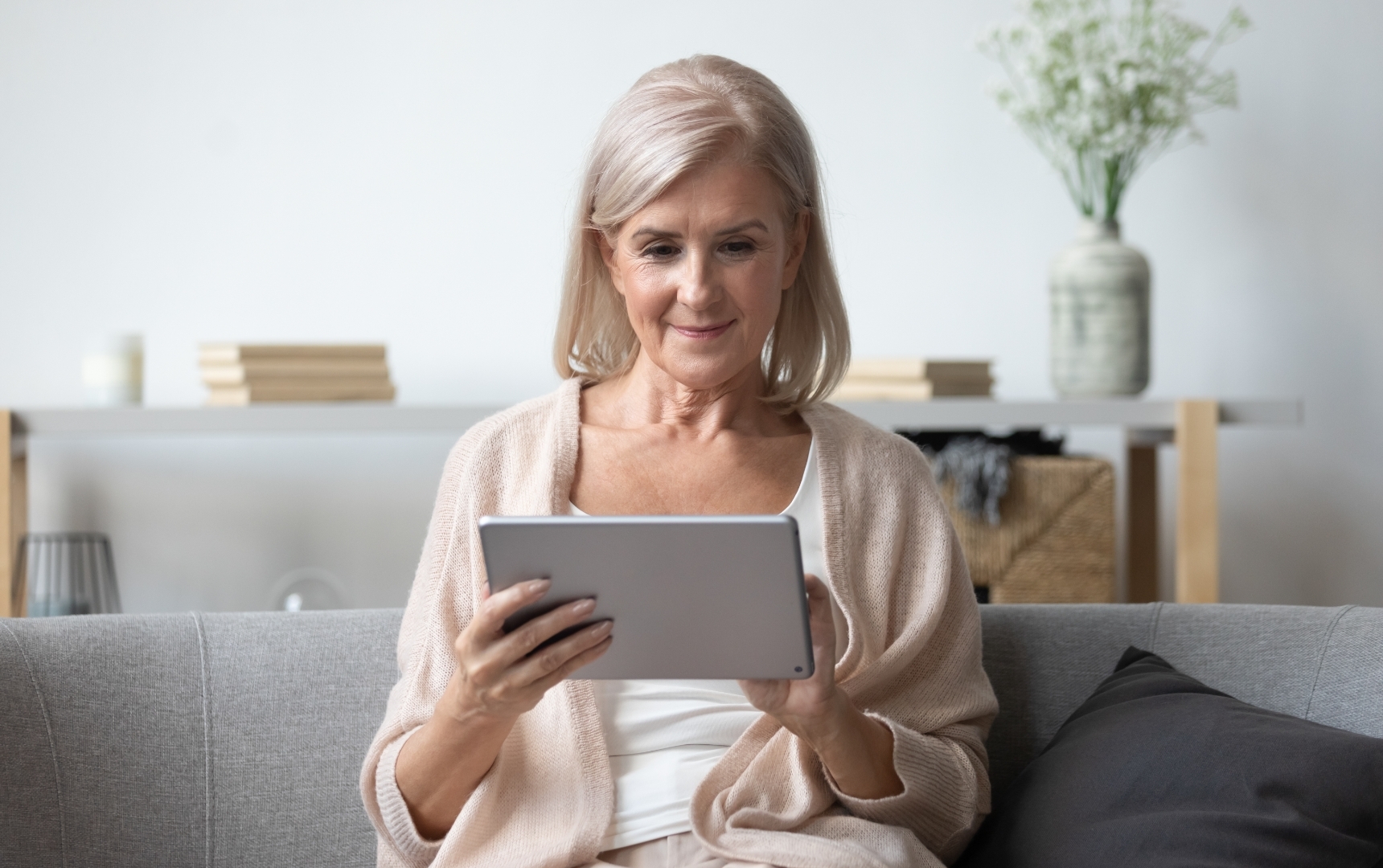 Out of all the shoppers pursued, your brand consistently trips over itself to earn Pat's business. Meanwhile, to Pat, your brand is the best — period.
Pat, and other "best customers" like Pat, represent only 20% of your customer base, but the "Pats" of your brand's world account for 50% or more of your revenue.
Source: Beyond The Cookie: Harnessing Your First-party Data To Identify Your Best Customers (With Quickstart Guide) 
Now, let's get back to Pat.
Let's say that Pat is currently a senior (aged 65+) who is married with three kids, all post-college. As mentioned above, Pat just loves your brand and not only buys from you, but also refers family and friends to you via word of mouth.
But how did Pat get here? And how can you get more "Pats" for your brand?
Turning People Into Your Best Customers
 
Most customers are NOT Pat — at first. They require a careful orchestration of nurturing strategies and tactics across dozens, if not hundreds, of micro-moments, one purchase decision journey at a time.
When a customer walks into a brick-and-mortar store and heads for "destination categories" like bedding, appliances, strollers, etc., it's much more valuable to serve that customer proactively in the aisle versus someone browsing something like sunglasses (with the exception of some designer brands). And from there, it's 100% worth the time helping them connect peripheral purchases to enhance their desired end experience, right? 
The truth is, it's no different for your online store. While customers might not be physically walking down your aisles, they're scrolling and clicking their way through your catalog. 
Based on the purchases a visitor makes on your website, there are things we can safely say we "know" and other things that we can infer. The combination of these known and inferred characteristics can give us a tiny window of truth into their lives: their spending habits, dietary restrictions/preferences, life stage (kids vs. no kids), and more.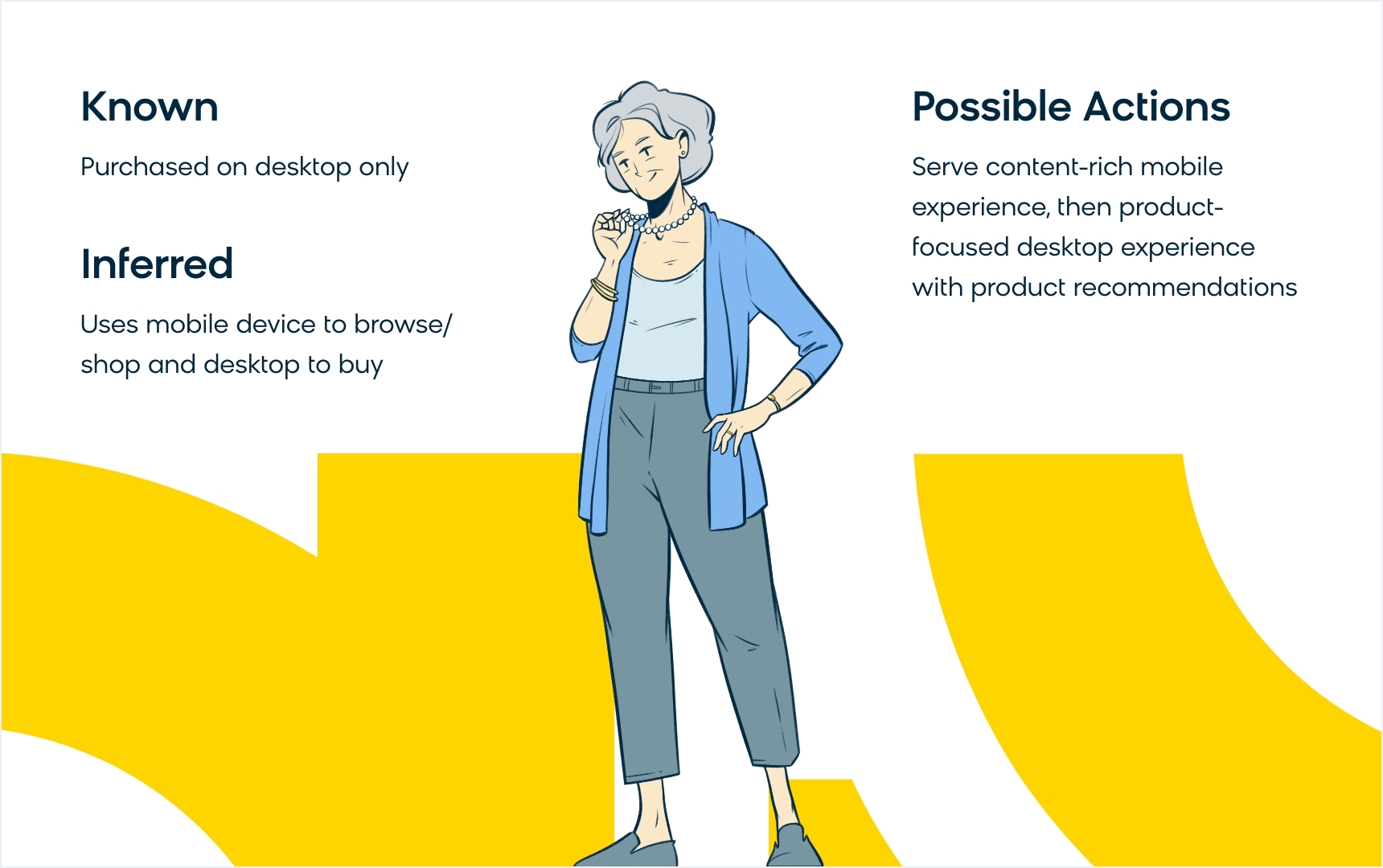 Being able to harness purchase data to infer characteristics is an untapped gold mine of marketing and merchandising nuance.
Let's examine a few purchases across verticals that:
Are popular or are top sellers for Bloomreach retailers
Represent "leading indicator" purchases
And see how we might nurture these customers into becoming just like Pat.
 
Product Purchased (Possibly a number of a times)

What We Can Relatively Safely Say We Know 

What We Can Infer

Based on Their Purchase

Possible Nurture Strategy

Baby stroller

Has one or more children

May be the primary "home-maker" or decision-maker

Offer deep discounts to purchase peripheral products to the stroller itself, as well as other products that are often purchased by parents with kids in strollers. Earn the second or repeat purchase using dynamic, post-purchase email recommendations. 

Oat milk

Does not prefer dairy in milk products

Is able to pay for alternative products to fit their life

Expose this shopper to your full array of products that are dairy-free using campaigns. Additionally, test into exposing other products for vegans to this customer.

Antacids

Experiences acid reflux

May not be aware of omeprazole

Many customers who buy simple over-the-counter (OTC) medication are treating symptoms that can frequently be better treated and/or avoided altogether. Be the leader and health advocate they need by letting them know post-purchase (or within the checkout flow) that omeprazole might be better for their long-term well-being. 

Entry-level area rug

Rents or owns a space with their own decor

Are earlier in their decor buying lifecycle

Offer other products highly associated with rugs on your site, like bedding, that might entice them to make that second purchase. You've won the battle of the rug; don't be afraid to discount the next purchase to win the war of the bedroom. 

Cocktail gown

Enjoys wearing dresses to social events

Has a sense of style unique to them

Expose this shopper to a relevant line of jewelry, shoes, or accessories that match that dress perfectly. Apply buy-more, save-more promotion logic if possible to earn a larger share of wallet. Show them that you're here to help them realize their dream look, and not just for a night.
Measuring Success
Next, it's important to see what works and what doesn't with your nurture programs. After all, not every customer can become like Pat. Thankfully, measuring success for nurture programs doesn't have to be rocket science. If you can, dive into your data to identify your best customers. Work with your team to answer these questions:
 
How many purchases does it take to truly "convert" a customer into a dependable repeat shopper? This is critical to know. It's the first major milestone in a customer's lifetime with you. If customers who purchase just two or three times from you (ever) are 5-8 times likelier to buy a third or fourth time from you, then you have a data-driven target CPA. The path to maximum profitability over your customers' lifetimes are after the first few purchases. This means that you can safely offer deep discounts as a part of that nurturing journey until they hit that point of loyalty inflection.
 
How many times per year do your best customers buy from you? This will act as a benchmark for your nurture campaigns — a targeted KPI aimed to measure how many customers you effectively nurture into a state of Pat-like loyalty.
With these numbers in hand, measure all of your nurturing efforts against it. Are you effectively earning the second purchase? Are you effective in earning the third, fourth, or fifth? And, are you successfully growing your total number of customers who belong to your now-defined best customer pool?
Start Nurturing Customers Today
In the end, nurturing your customers to hit a point of loyalty inflection can be one of your most productive marketing and merchandising strategies.
Are you ready to activate your data and reach new heights with nurturing your customers into becoming best customers? We're ready to make it happen. Schedule a personalized demo today and let's get started.