Real-Time Personalization
Using E-Commerce Personalization to Unlock Commerce Growth
Over time, people may forget what you said or did, but they'll never forget how you made them feel. This applies to your company's e-commerce personalization pursuits, as well—imagine how much surprise and delight you can elicit from your customers by truly personalizing their experiences with your brand.  
With Bloomreach, this is all possible. Our personalization purpose is joy and our Commerce Experience Cloud helps our customers bring elation to their consumers through personalized experiences that drive brand loyalty.  
When you focus on providing joy to your customers, they'll showcase their loyalty by repeatedly purchasing products. That means they're going to engage with your personalized email campaigns, add your personalized product recommendations to their cart, and participate in your loyalty program, resulting in a big boost in lifetime value. 
Customer joy relates directly back to your commerce-driving team's KPIs. Joy will bring these customers to your site, get them shopping for products across categories, and keep them engaged for future purchases. 
And what if your company just isn't there yet with e-commerce personalization? Don't worry, you've come to the right place to get started — after all, not everybody is going to be Netflix or Spotify overnight.

Start with Customer Centricity 
A lot of companies and teams claim to be customer-centric, but in reality are incentivized by channel, resulting in misalignment on goals and KPIs. 
Being a channel-centric company compared to a customer-centric one makes all the difference when it comes to personalization. The diagram below illustrates the difference between the two models.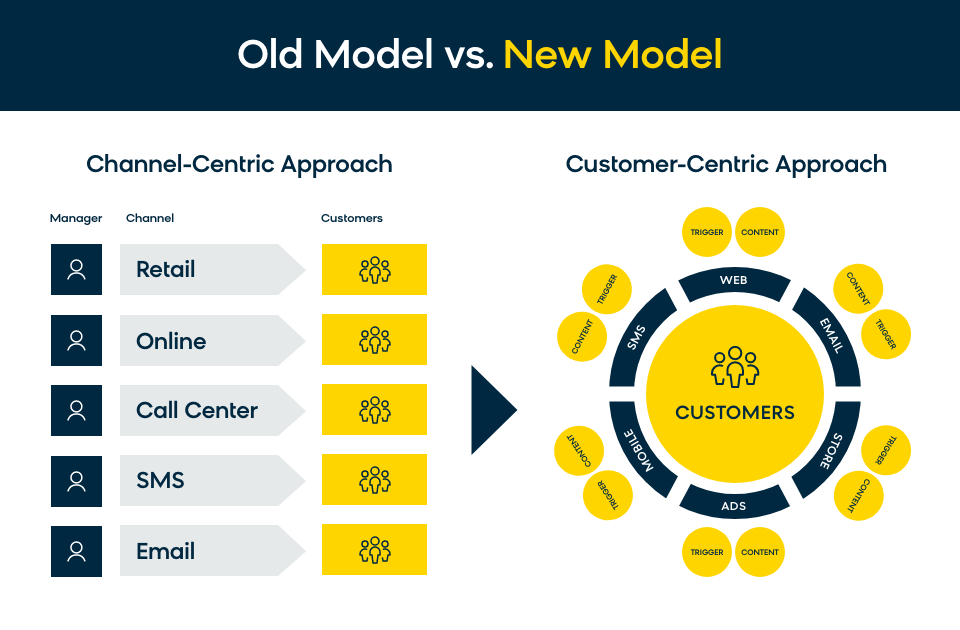 A channel-centric approach creates data silos and a fragmented picture of the customer. One team doesn't know what the others are up to, and the customer ends up with a disjointed, inadequate experience. This is a major challenge facing companies in today's digital commerce marketplace. 
If you want to avoid this, you need to become customer centric. A CDP, or a CDP plus marketing automation solution like Bloomreach Engagement, makes this transition much easier by breaking down silos and giving everyone access to a complete picture of your customer through a single, unified customer view. 
Be sure to invest the time to integrate this staple into the DNA of your company—you'll be better equipped to win with personalization.
Think Beyond the Easy Win 
Whether you're playing your favorite sport or personalizing experiences to bring joy to your customers, you always want to get started with some easy wins early on. It builds confidence and makes your commerce-driving team believe in their ability to serve customers at a high level. 
However, those easy early wins are not always fully representative of the bigger or broader picture. It's easy to begin your personalization journey and get excited about increased email open rates or landing page conversion rates—and we're not saying you shouldn't—but don't lose sight of the fact that personalization is so much bigger than just a couple of metrics. 
Good commerce-driving teams don't let these early wins silo their personalization efforts. It's tempting to see these victories and invest more in those channels without realizing that you are actually creating a more inconsistent customer experience across the board. 
The goal of e-commerce personalization is to create a connected commerce experience that drives brand loyalty and increases customer lifetime value. Personalizing channels in silos—often a byproduct of a disconnection between the marketers, merchandisers, and CRM managers on teams—leads to an inconsistent experience for customers. It eliminates the hope for a seamless customer journey and focuses on channel-centric experiences instead of customer-centric ones. 
The Short and the Long of It 
There will be plenty of short-term victories with e-commerce personalization, and those are worth celebrating. But winning with e-commerce personalization is truly a long-term process. Consider our Personalization ROI Flywheel.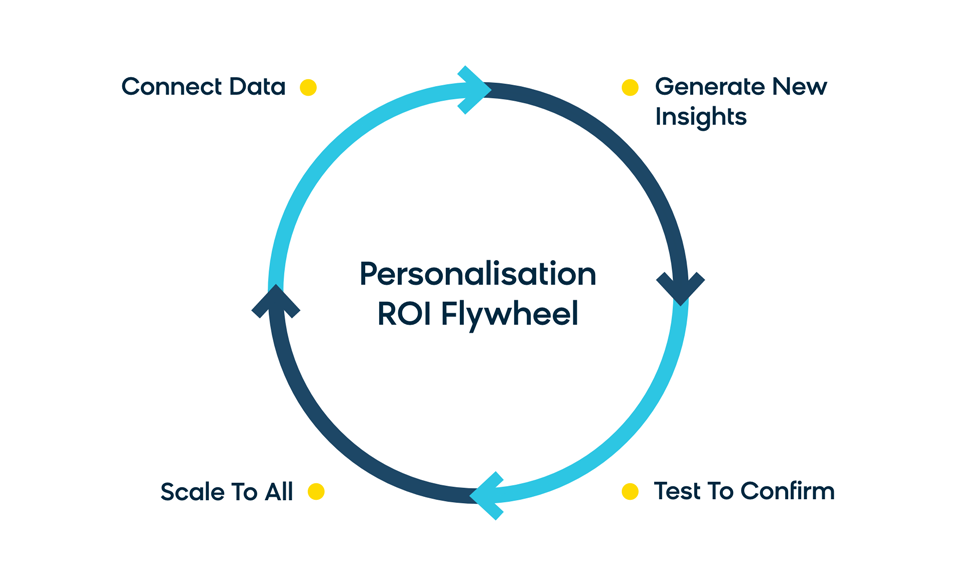 The Personalization ROI Flywheel shows us exactly how the personalization process should take place—connect data to generate insights for your use case, test to confirm, and scale to all. But it's also important to remember that you should be doing this for every use case, so you should be constantly coming back to the Flywheel to re-spin it. 
It's a simple, scalable process that should never be abandoned as your company looks to dive deeper with personalization and chase after more successful use cases. 
Stages of Personalization
Now that we've covered the foundational stuff, let's get into the different stages of personalization. Knowing them is key because chances are you're in one of these buckets, and it's time to move on to the next. 
Personalization done right is a continuous process for both you and the customer. As your customers progress through their journey, you'll obtain more commerce data on them and learn more about who they are, enabling you to deliver even better experiences that keep them coming back again and again. 
Static-Based Campaigns: One to All
With static-based campaigns, there are no variations in the content being dispersed to your customers. Content is created at the macro level and is distributed to a company's entire customer base regardless of any individual customer history or data collected. 
The content creation process with static-based campaigns can be exhausting because you're trying to keep the different characteristics and values of your audience members in mind even though everyone is going to receive the same message. The ROI on campaigns like this is also traditionally low as the content is only delivered on one channel. 
By today's lofty personalization standards, this almost isn't even personalization at all. It's creating content or campaigns in the hopes of connecting with the masses rather than using commerce data and your technology stack to connect with individuals on a more personal level. 
Rules-Based Campaigns: One to Many
With rules-based campaigns, customers are having experiences with your brand across different channels—website, mobile, email, social media, etc.—but these experiences are largely inconsistent and disjointed. 
In this stage, campaign rules determine the next interaction with customers. Generally speaking, these campaigns are a result of disconnected teams and tech stacks that are more focused on individual KPIs than the ultimate goal of connecting the customer experience. 
While the rules help to personalize content, so much more can be done to create the best possible experience for customers in today's market. 
Model-Based Campaigns: One to Some
With model-based campaigns, you're starting to get into the more modern personalization examples that companies strive for. 
Each channel has a variety of content based on the channel itself, the messaging, and personas. Some channels are able to integrate messaging—such as SMS, MMS, or WhatsApp—to more directly communicate with consumers. 
Companies at this stage are able to run audience-based segmentation campaigns, but there is still minimal integration between channels and some disconnect between the channels and team members. 
Integrated Interactions: One to Few
In this stage, customers finally begin to experience a connection between the online and offline messaging of your brand. 
Companies in this stage are able to communicate with customers on an interactive basis by implementing model optimization and response messaging. There's also automated segmentation for campaigns, meaning that consumers at different stages of the customer journey can receive messages more tailored to their previous experiences with the brand. 
Many companies that are committed to e-commerce personalization efforts find themselves here—and that's great! Using personalization to guide customers through their journey with your company is a worthwhile investment. But the final stage is what happens when companies dare to dream a little bit bigger with personalization. 
Interaction Orchestration: One to One
In this final and most optimal stage, customers experience personalized content across all channels where they interact with the company. 
Communications are defined by interest and interactions, and are delivered at the best time for the customer. This information is learned via collected commerce data. 
Being able to personalize at this level truly makes customers feel like they are the only shopper your brand cares about because of how the entire experience is tailored specifically to them. For the modern commerce team, this is the ultimate goal. 

E-Commerce Personalization Unlocks Commerce Growth with Bloomreach
Bloomreach has compiled the Definitive Guide to E-Commerce Personalization that goes in depth on the topic and covers everything your company needs to know. It's the perfect tool to unify your commerce-driving team behind key concepts of e-commerce personalization and ensure they're doing all they can to provide a connected commerce experience to your customers.
Bloomreach powers over $300 billion in commerce annually and serves more than 850 customers with our Commerce Experience Cloud. If you're looking to provide joy to your customers through e-commerce personalization, schedule a personalized demo today to learn more about what Bloomreach can do for your company.