Content Management System (CMS)
NEW ✨ Personalized Landing Pages and VIP Homepages
By Niklas Winkels
08/25/2021
Personalization! It's the number one priority for 51% of marketers as customers crave personalized experiences. And rightfully so, personalized landing pages see an average conversion lift of 30% .
And yet, a lot of the personalization efforts in the market are failing. Despite the undeniable business potential, the most common approaches to personalization fail.

We've spoken to hundreds of e-commerce companies and by far the most common approach to start with personalization is by personalizing emails and doing A / B tests to determine the variant with the best open and click-through rate. For example, you may notice that including customers' first names in emails will increase open rates. And early on, companies might seem to be "winning" at personalization.
But unfortunately, most personalization ends after the first site visit from a campaign.
Companies send traffic to landing or product pages that are just too generic and lack focus. No matter how organized your online store is, you've still got distracting navigation, one-size-fits-all messaging, and competing CTA's that can derail a shopper's purchase momentum.
In the end, personalization doesn't continue on the website and there's no personalized experience on following visits because email and website systems don't collaborate to personalize.
Now, the next logical step is to personalize landing pages as well. And there are many landing page builders out there that promise smart optimization to determine the best variant and increase conversion rates.
But here is why companies struggle to capitalize on their landing page personalization efforts.
Companies start to personalize in siloed channels. This non-integrated approach lacks consistency and results in a disjointed customer experience which quickly falls flat.
On top of that, these personalization efforts oftentimes do not result in the expected outcome. Most pages are not shoppable at all or show out-of-stock and old products. Also, marketing teams often complain that it takes too long to create new pages.
So to solve this disconnect, you need to combine customer and product data across channels with easy-to-use tools to build these personalized experiences.
Bloomreach Engagement provides a solution to unify your customer data and create a single view of your customer so you can easily create audiences and build segments.
Bloomreach Discovery helps you to deeply understand your product catalog. It understands the semantics of search queries and products to curate the best product set for your customers. 
And it's all tied together with Bloomreach Content — with tools for marketers and merchandisers to quickly build personalized experiences.
There's a new way to create personalized experiences. With Bloomreach, you can build landing pages that are personalized and in sync with your marketing campaigns. Today, Bloomreach is happy to launch two new capabilities for the brand-new Content product.
Landing Page Personalization for Marketing Campaigns and the VIP homepage 🎉
Does your site show the same content for everyone, all the time? Whether from an email or ad, your customers expect a smooth experience when landing on your website. 
Product pages are just too generic and lack focus. No matter how organized your online store is, you've still got distracting navigation, one-size-fits-all messaging, and competing CTAs that can derail a shopper's purchase momentum. In fact, landing page visitors have been shown to convert and spend twice as much as those sent to a typical e-commerce store. Personalized Landing Pages bring focus to just one conversion goal: and that is Sales.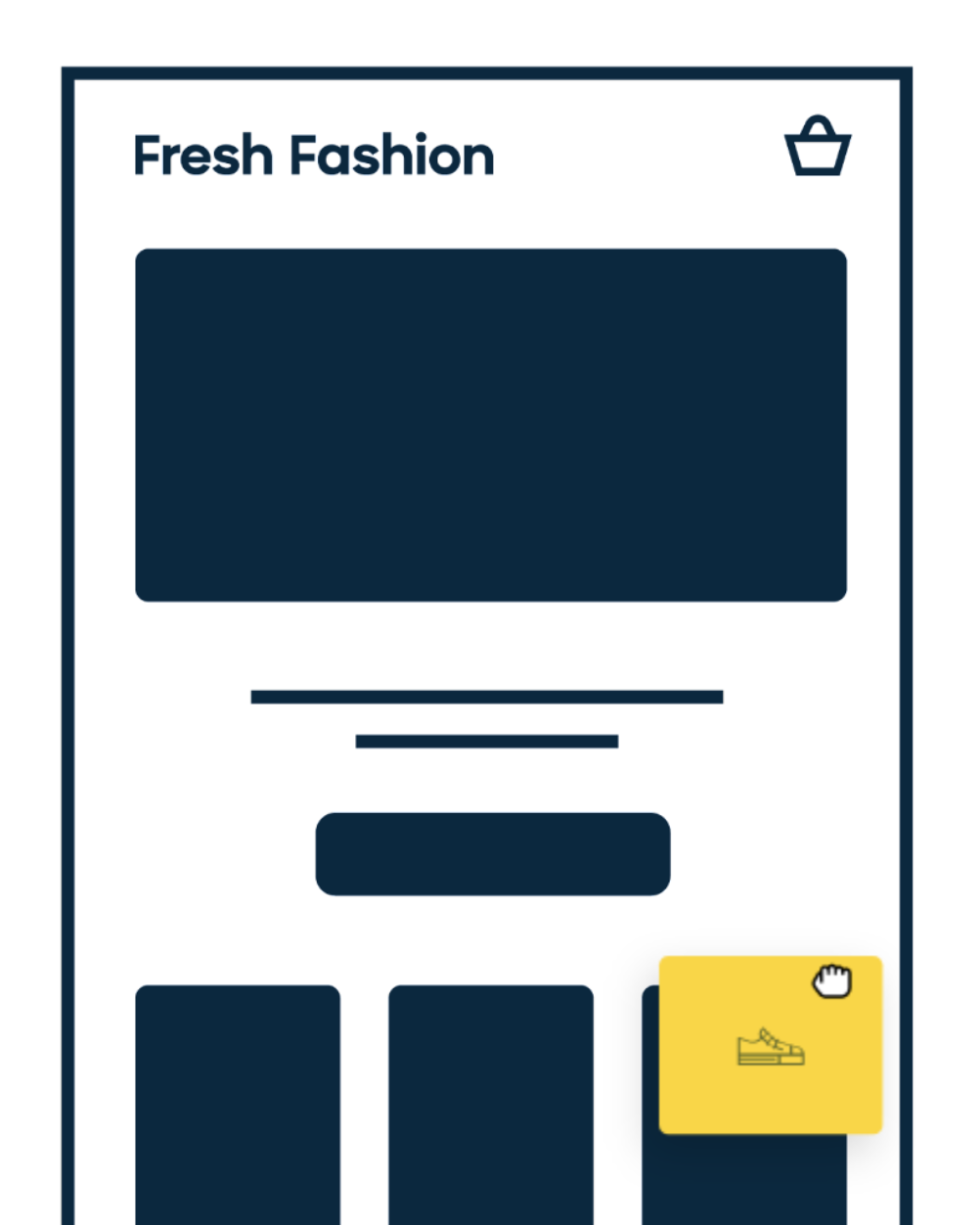 Landing Page Personalization for Marketing Campaigns
Take control over your landing pages from end to end. Then win your customers' loyalty with personalized experiences, merchandising, and products made just for them and their segment with Bloomreach Content.
You can easily personalize your landing and campaign pages with media-rich content and edit the full page layout to increase revenue and conversion rates based on campaign tags or CDP segments from Bloomreach Engagement.
The secret sauce here is that you're able to bring together customer data and product data and easily build a personalized experience. With Bloomreach, you can build landing pages where both the content and the products are personalized based on the same segment or marketing campaign.
Launch more campaigns and increase conversions. Give your visitors exactly what they are looking for with dynamic, personalized landing pages.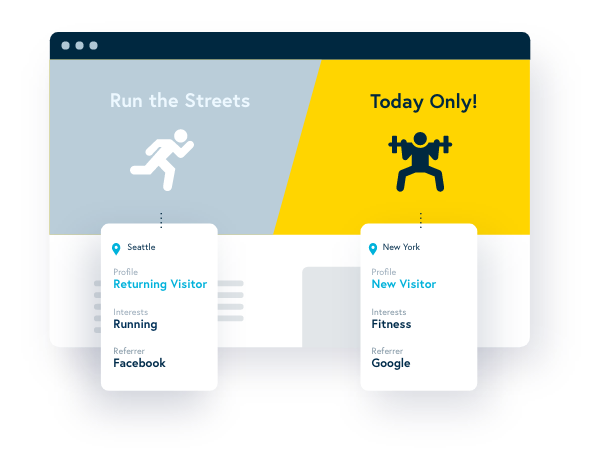 The VIP Homepage
But it doesn't stop there!
With Content Personalization you can create continued, personalized experiences on following visits. For example on the homepage.
Oftentimes, the homepage is the page with the most traffic on your site. But it's also the page that gets visited by a lot of different customer segments. So to make sure your experience is relevant to your visitors and they engage with your products and services, you can tailor the homepage to individual segments with Content Personalization. 
Just like for a landing page, you can personalize both content and products and it's easy to add to your existing site. You can, for example, start by just replacing a single banner via our Content Delivery API.
A relevant homepage, always! Show your most important customers what they have missed or put your best-selling product forward for new arrivals with Bloomreach Homepage Personalization. Easily personalize your homepage to increase revenue and conversion rates.
And while we were at it, we made the creation of landing pages a whole lot smoother too!
So Long, Lengthy Landing Page Building 👋
Limited resources can delay campaign launches. And (let's be honest) no one likes to wait. Tricky website updates and technical bottlenecks limit your ability to run promotions and seasonal campaigns — so Cyber Monday could come and go before you even get that sale up.
So with this launch Bloomreach is introducing a new way of creating landing pages with a series of features. Build a better content experience without increasing your headcount or waiting for IT.
Improved Page Creation
Build landing pages 2X faster! Just drop a component on your page and directly start typing. No need to switch between the content perspective and the preview to fill your page with content. It also takes less time to develop because you can create your building blocks from configuration.
We're introducing a new type of component for Page Content!
This means you now have 2 different component types to choose from when building your site. One for reusable content and the new one for page-specific content.
The main difference between these components is that the Page Content you create is not reusable, but pages are much faster to set up. On the other hand, with Reusable Content, we're retaining the benefit of being able to reuse the same content in different components, on different channels or landing pages for example.
Now, you'll get the best of both worlds. Fast page creation with Page Content where the content is specific to a certain landing page for example and Reusable Content for content that you want to reuse on more than one page.
Instant Preview
With Faster Instant Preview you don't have to hit save on your components anymore to see your changes be reflected in the preview. Again, just like the Page Components, this speeds up your page-editing process and makes it easier to create and work with pages. It gives instant visual feedback of the changes you make.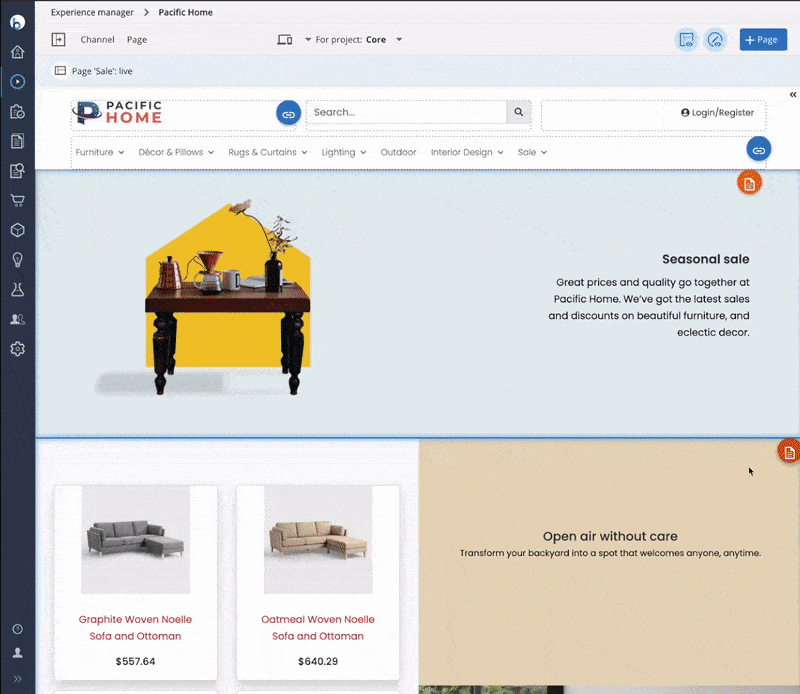 Product Blocks
What's the use of creating landing pages if they are not contributing to sales, right? The main focus of Bloomreach Content is to make your experience shoppable and drive revenue. 
So with this launch, we're introducing out-of-the-box Product Blocks. These blocks are pre-integrated with Bloomreach Discovery. You can just drop them on a page, select your products, and hit publish.
Bloomreach Content comes with 3 different components out of the box:
Pathways and Recommendations

Product Highlight

Product Grid
This makes use-cases like creating shoppable landing pages so much easier and faster.
The Future of Content Is with Bloomreach
Content is critical to your business. As more and more customers shop and interact with brands online, Bloomreach helps you unlock the power of Content as a powerful revenue driver. Bloomreach makes it easier than ever for you to drive more sales, build strong customer relationships, and spend less time on the busy work - all without leaving Bloomreach.
We're excited to continue building more intelligence, personalization, and productivity boosts into the product to help merchants everywhere create personalized shopping experiences for customers, driven by Content.