Real-Time Personalization
Email Segmentation & Personalization What's the Difference and Why are They Important
This article was created in cooperation with our partner, Jellyfish.
Segmentation and personalization are both crucial elements of email marketing. However, the two words are often used interchangeably rather than addressed as separate and key components within an email marketing strategy. 
In this blog, we explore the definitions of segmentation and personalization, how they differ from each other, and how marketers should approach both.
Email Segmentation and Personalization Defined. 
Let's start by breaking down the meaning of each approach and what makes them so important.
What is Email Segmentation?
On a basic level, segmentation is defined as the dividing of something into separate groups or sections. 
Within email marketing, this means dividing your audience into several groups instead of working with one mass audience for every email send. 
Here are some common approaches marketers might use to segment their audience:
Demographics, e.g. age, gender, location, occupation, income 
Their position in the sales funnel – awareness, evaluation, purchase, loyalty
Their level of email engagement, e.g. opened the last 5 emails or hasn't engaged for 4 months
Personas – this is what motivates your subscriber, e.g. do they only engage with discounts and sales or do they make regular purchases?
Why is Email Segmentation Important?
Marketing to one giant segment means it's practically impossible to create an email that is relevant to everyone. Think of how many times a brand has emailed you with information on something totally irrelevant to you. It's likely that they're sending one email to their whole database. 
Segmentation allows you to create much more focused, and therefore relevant content for smaller groups of people. It is the segment that defines what your message is going to be. This is what makes it so successful. 
According to the DMA, marketers have seen a 720% increase in revenue from segmented campaigns. So the effort it takes to consider your segments and tailor your content accordingly could bring a huge return to your brand.

What is Email Personalization?
Personalization could almost be described as a layer deeper than segmentation. With personalization, the marketer is communicating with their audience on an individual level. The message is tailored to them as it's based on their specific data. This might be their name, purchase history, how many times they log into your app, or the time of day they open their emails. 
Personalization can vary in sophistication, e.g. some brands might just use an individual's name in a subject line, while more advanced approaches include changing the content of an email based on someone's location or other things you may know about them in relation to your brand.
Why is Email Personalization Important?
Personalization allows brands to deliver emails that are relevant to just one recipient, giving the impression that brands are talking with subscribers on a one-to-one basis. 
It sounds incredibly granular. How, are you supposed to know about every single subscriber in your database and then use this to write an email for every single one of them? Well unless you're a robot, this is of course impossible. But this is exactly why email marketing platforms now offer a range of personalization technology that will do the impossible for you. 
With Bloomreach, for example, ecommerce marketers can send personalized cart abandonment emails, displaying the item(s) the recipient left behind and reminding them to complete their purchase. The system does all the heavy lifting and understands which product needs to be displayed to which person, triggering automatically based on the timings defined by the marketer. 
The ability to deliver unique messages like this improves the effectiveness of your marketing and can boost metrics such as conversion rates, website bounce rates, average order values, cost per acquisition, and customer lifetime value.
According to eConsultancy, 74% of marketers say targeted personalization increases customer engagement, and they see an average increase of 20% in sales when using personalized experiences. Increased engagement also helps you achieve better email deliverability.
The other benefit is that personalization works in real-time. In the cart-abandonment example, a marketer doesn't have any input in the deployment. The technology will run automatically and deliver the email with all the correct content as soon as a visitor abandons their shopping cart.
The Key Differences Between Email Segmentation and Personalization.
Segmentation will help you write more relevant communications and develop targeted campaigns based on a group of subscribers who share a similarity. You might think of it as a 'theme'. 
But with personalization, we take a deeper look at the people within a segment and personalize the message to the individual. 
It's also important to know that both require a slightly different approach and vary in terms of the marketer's workload. 
You'll need to gain a clear understanding of your audience to be able to identify relevant ways in which you can apply segmentation. Consult with relevant stakeholders and departments to decide which segments are the most relevant to your business and what data is available to you. You may realize there are some gaps in the data and therefore finding ways to populate this becomes a strategy in itself.
While segmentation is a process that requires the marketer's input, personalization is controlled by rules and machine-learning. You will need an Email Service Provider (ESP) that has the capability to use data and information to generate content specific to an individual subscriber or customer.
Solutions like Bloomreach's Customer Data and Experience Platform (CDXP) are set up to do just that: it has the full functionality of an ESP, combined with the data consolidation and analytical capabilities of a Customer Data Platform, enabling one-to-one personalization.
How to Use Email Segmentation and Personalization.
Now you have a solid understanding of what segmentation and personalization are, it's helpful to see how it works. Here are a few examples of brands who are using these strategies well:
Email Segmentation.
This email from NotOnTheHighstreet is a great example of segmentation. It's likely the brand has identified that a birthday discount works really well with its customer base and generates a good ROI. It is, therefore, a sensible strategy to find ways to ensure all subscribers' birthdays are populated within their database so they can all receive the discount on their special day. 

Source: notonthehighstreet.com
When they eventually send the discount on a subscribers' birthday it will be classed as personalization because they're using data specific to the subscriber (i.e. birthdate) as a way to create a one-to-one interaction.
Email Personalization
This example from Headspace actually shows both segmentation and personalization in practice. The top right of the email is personalized with the subscriber's total meditation duration so far. The code in this email is looking at the user's profile and pulling this field in which will display differently to each subscriber. 
The segmentation or group this email has been created for will be new joiners to the Headspace app. It's likely the team at Headspace identified that new users need education and encouragement to continue their engagement with the app. This is achieved with a timely approach coupled with good design and useful content.

Source: reallygoodemails.com
Hyper-Personalization (A Case Study by Jellyfish)
Hyper-personalization is even more advanced. Here's a short walk-through of how Toyota has gone the extra mile when it comes to tailoring its message to each of its customers in collaboration with the email team at Jellyfish. 
With 150+ franchised centers and 500,000+ subscribers, Toyota wanted a way of sending marketing campaigns from each center to the entire subscriber-base, connecting with each Toyota customer individually. 
The campaigns needed to feel 'local' and personal. But these emails also had to contain all of the accurate and relevant data on the individual customer while remaining consistently on-brand.
To fulfill the brief, Jellyfish knew hyper-personalization and dynamic content was the answer. Here's what was delivered. 
1. All emails now come from the customer's local service center and the subject line is personalized based on the customer's name and car model.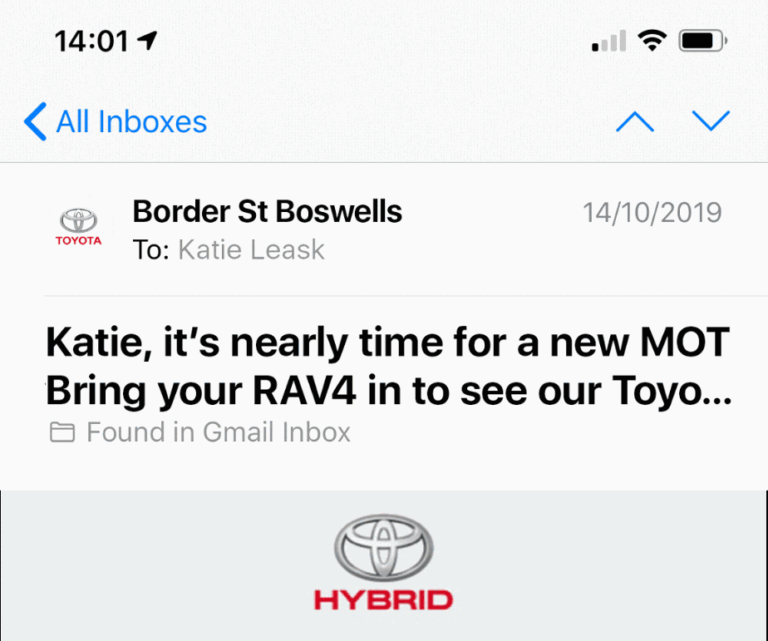 2. Both of these dynamic content elements continue when the recipient opens the email, keeping that personal conversation going after just the first glance.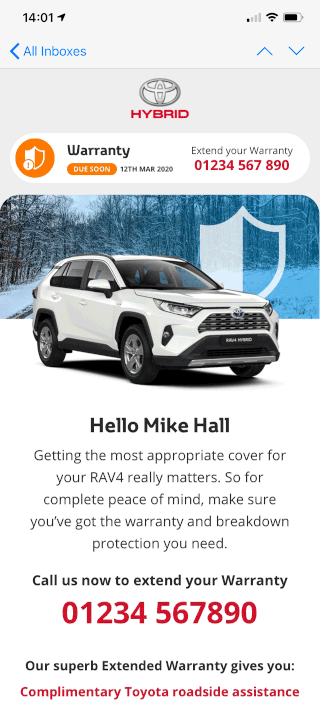 3. On the second scroll, the use of bespoke and live photography emphasizes the brand's authenticity, while providing a relevant call to action & key information relating to the customer's Toyota.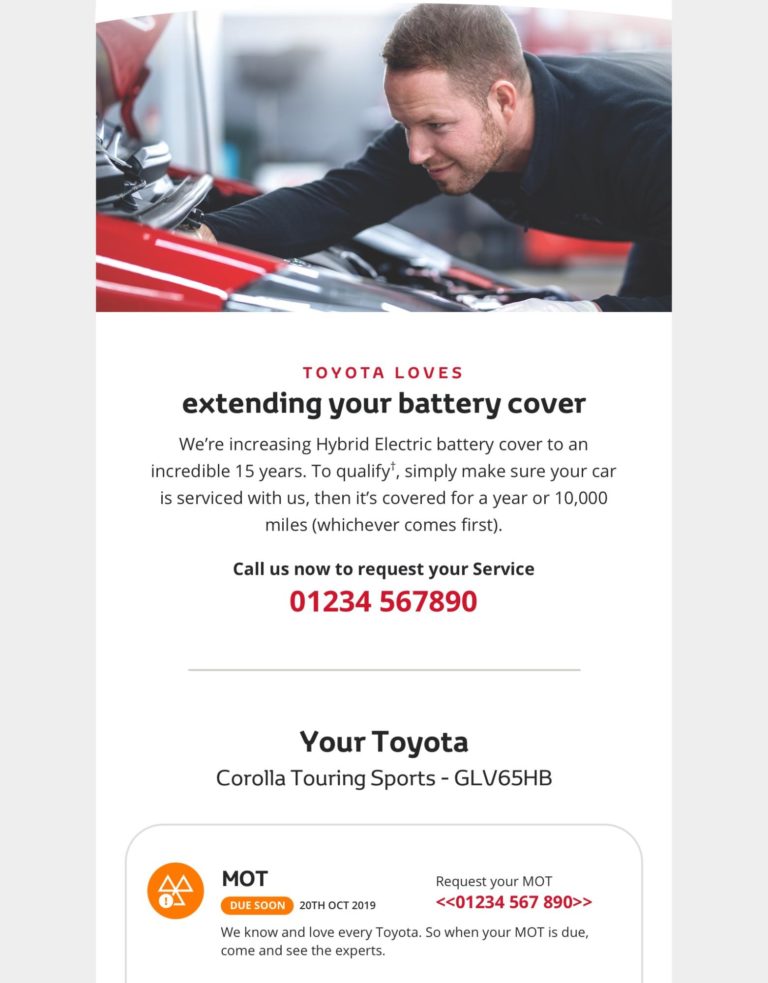 4. Finally, the email is signed off with a useful information section. Determined by the location of the customer, their local Toyota contact center is displayed along with a clear call to action.
As a result of this highly personalized approach, Toyota are now significantly outperforming industry engagement benchmarks, and have seen a considerable increase in the number of vehicles brought back into the Toyota network as a direct result of these campaigns.
 
Mike Hall
| Email Marketing Director at Jellyfish.
Personalisation is nothing new… We've seen 'Hello @FirstName' in email campaigns for years, and it works! People love to see and hear their own name. But personalization is so much more than this. And, when it's done right - you shouldn't even realize it's happening.

Personalization is the content, the imagery, the tone of voice… even the time in which the campaign is sent - tailored to the individual. It's about going beyond bundling people into segments, and starting to deliver campaigns to a 'segment' of ONE.
Do You Need to Use Both Segmentation and Personalization in Your Email Marketing?
In short, yes. As technology becomes ever more advanced, brands are starting to develop better strategies for engaging with their customers on a much more personal level. Consequently, customers are expecting this type of service and interaction with all of the brands they shop with and a poor or impersonal experience could be enough for them to shop elsewhere. 
However, the rule 'walk before you can run' applies here. There's no point in trying to create a multistep, automated, advanced personalized journey if you don't have a strategy in place or even know what data you have access to. 
Ensure you work together with key members of your team to map out the true needs for your brand. But don't forget that email experts, like the team at Jellyfish, are on hand to help with any questions you might have. From understanding your data to helping you get up and running with new email technology.