Customer Data Platform (CDP)
Organizational Customer-Centric Marketing: This Time it's Personal
By Robert Heger
08/09/2021
Customer Data Platform (CDP)
Organizational Customer-Centric Marketing: This Time it's Personal
Amid increasing acquisition costs and decreasing new-user growth, digital commerce companies must take an entirely new approach to win in this new customer-centric market.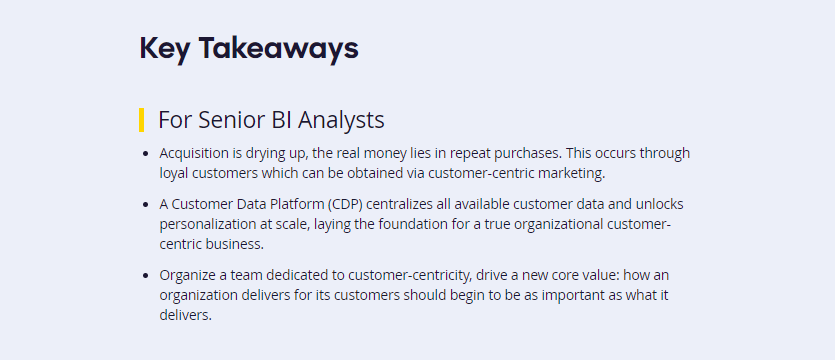 What is Customer-Centric Marketing?
At first glance, customer-centric marketing can mean many things — since marketing has always been about the customer, right? Though it's a radical shift from the way marketing had been run for the past millennia.
Customer-Centric Marketing:
In contrast, customer-centricity is about understanding what makes your customers different and unique. It's about moving past an "average" customer understanding and exploring avenues to bring value to a one-on-one level.
DEFINITION: Customer-centric \ˈkə-stə-mər ˈsen-trik\
A focus on positive customer experiences whether it's discovery, point-of-sale or post-sale communication. Adds value by enabling differentiation from competitors who do not offer the same experience.
Customer Data Management and Collection
To fully achieve organizational customer-centric marketing there are requirements that must be met when it comes to data management and collection:
With widespread data breaches and GDPR regulations, consumers are wary to share personal information. Incentivise first-party customer data collection with gated offers to produce a trade off that turns privacy concerns into opportunities to engage customers.
 
Siloed data is an obstacle for those who wish to make productive use of their data. Gathering customer data from multiple sources into one platform, essentially merging online and offline activities to uncover the total addressable market.
 
Siloed data can also occur when organizing around a channel or device. Developing a 360-degree view of each and every customer for a better understanding and improved targeting for marketing campaigns.
 
A single customer journey and it's many touch points can be as unique as the customer themselves. Multi-channel orchestration allows for the flexibility in delivering a unified brand message, regardless of touch point or department.
As a customer-centric data aggregator, a Customer Data Platform (CDP) should help with your challenges and goals. For starters, the most effective customer-experience efforts begin by delivering the interactions that customers want: a consistent, high-quality, and personalized experience. And with the introduction of CDPs, this method of fostering loyalty is now possible to scale, personalizing the experience of each individual customer.
Consider the differences between a loyal customer, ready to purchase at a moments notice, and a seasonal holiday shopper, buying items on steep discounts. As a customer-centric marketer, you should be prepared to engage with these customers in fundamentally different ways.
Why is Customer Centricity Important?
We have entered a new era — one where acquisition is facing limitations in the number of available net new customers. In fact, user growth is decreasing year-by-year. Meaning the pool of available internet users are already online and already happily shopping elsewhere.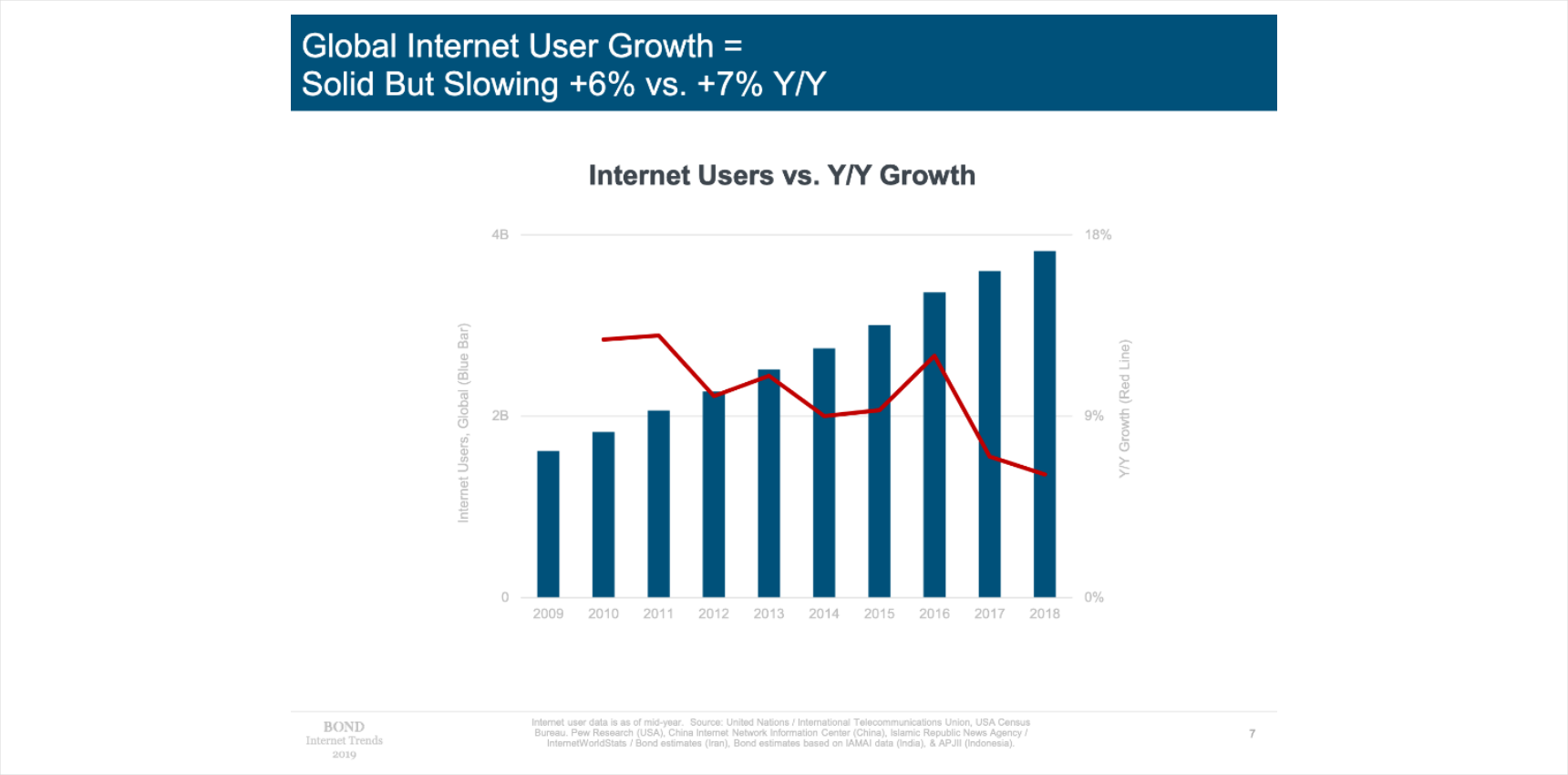 Source: https://www.bondcap.com/report/itr19/#view/7
It's no surprise that global internet user growth is slowing. And even though the number of potential customers are limited, companies are still more focused on customer acquisition (44%) rather than retention (18%). And even fewer are considering the new factor for growth: fostering customer loyalty.
"But why should it matter if my company is driving the majority of its revenue from purchases made by new customers, as long as the sales targets are being met?"
DEFINITION: Customer Acquisition Cost (CAC) \ˈkə-stə-mər a-kwə-ˈzi-shən ˈkȯst\
The cost to acquire a paying customer.
Unfortunately, Customer Acquisition Cost (CAC) has increased significantly in the past few years, making dependency on acquisition no longer a viable marketing strategy.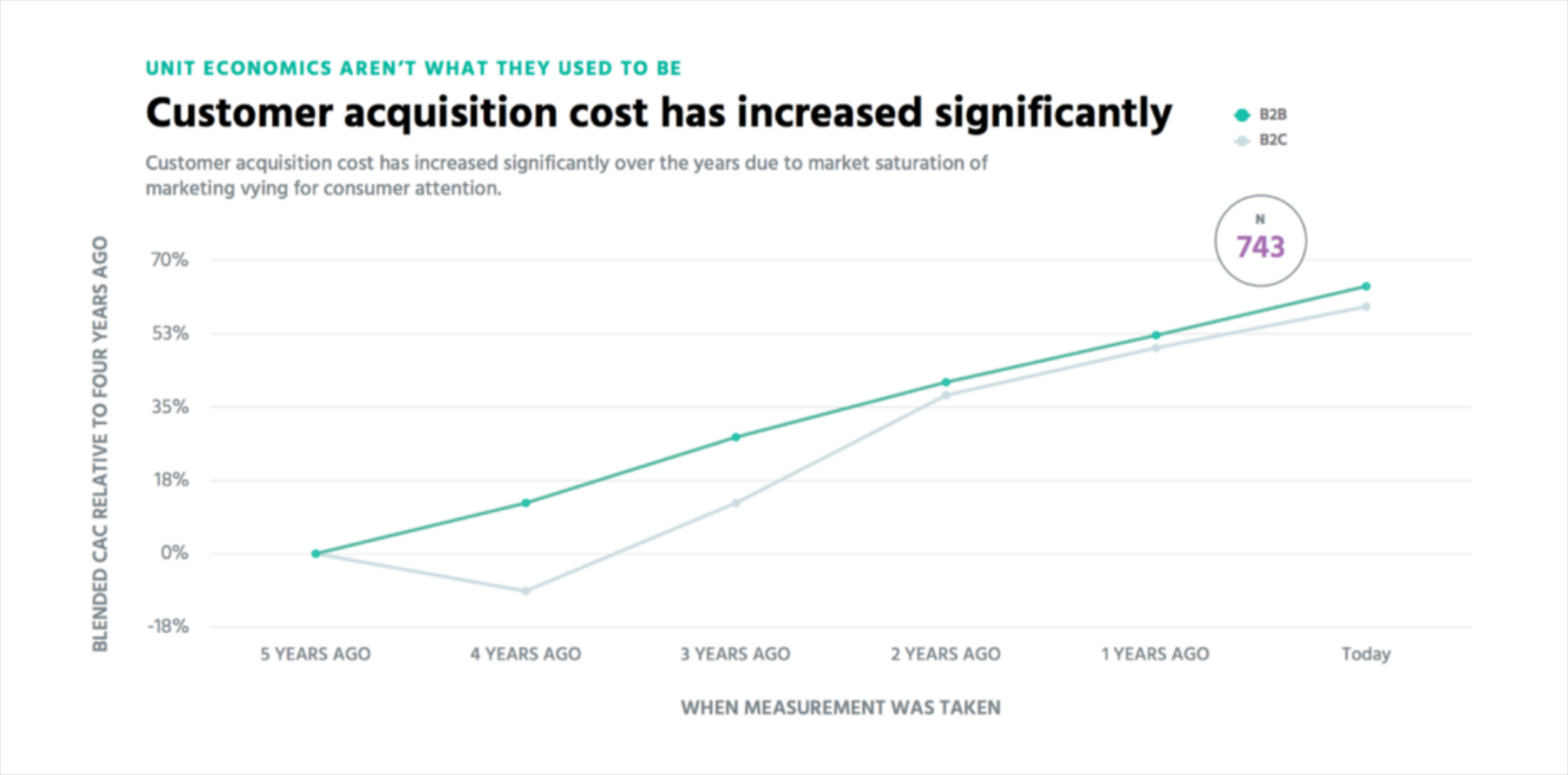 Source: https://tomtunguz.com/cac-increase/
It seems that despite the increase in competition for consumer attention, marketers continue to have a dangerous preference on acquisition. 
However, maintaining sustainable revenue is key: not just here today, gone tomorrow. So as the reservoir of net new online customers dries up, the only available path to increasing revenue will be a shift of focus to get acquired customers to become repeat-purchasers.
"But we retain our customers!" Well, you're in for a real treat.
Retention ≠ Loyalty.
Retention does not equal loyalty. 
A retained customer is one who continues to buy from your brand. 
A loyal customer prefers to buy from your brand. They seek you out. They are your brand ambassador.
You can get people to come back and purchase again, thereby retaining them, but retention is a short-term strategy. It feeds into loyalty as a long-term strategy, whereby there is almost an emotional connection between the brand and the buyer.
So with no bounce back of net new customers to acquire, it's the forward thinking of loyalty that will perfect the customer experience, personalize communication and deepen the relationship.
Loyalty is a strategy that pays off in the long run.
Strategies For Creating a Customer-Centric Company
Ask yourself: Why are you bringing in customers?
It's not for one sale. The first transaction is a start, but what you're really acquiring is the opportunity to build long-lasting relationships. That's why it's so important to consider how you're interacting with your customers.
Like throwing spaghetti at the wall to see what sticks, untailored marketing campaigns might actually cause more harm than good. When are you communicating too little or too much? What's the value of the customers you're attracting? When do you crack open the champagne?
Reorganizing Your Data With a Customer Data Platform (CDP)
The concept of customer-centric marketing has actually been around for a while, though with the data-driven e-commerce websites of today, we're able to revisit by employing tools that realign customer centric principles to bolster the use of your data.
That's where the Customer Data Platform (CDP) comes in. Where the unique combination of online and offline data collection creates a non-siloed, single customer view for highly personalized marketing campaigns.
With the right tool, the potential is huge: unlocking the opportunity to drastically improve your customer experience, making it faster, easier, more consistent, and more convenient for the buyer.
Creating a Customer Lifecycle Management (CLM) Framework
A customer lifecycle is often used to describe the various stages a consumer must travel to purchase your product, but to provide a marketing framework for communication with customers at each touch point in their interaction with their brands, marketers often employ a Customer Lifecycle Management (CLM).
DEFINITION: Customer Lifecycle Management (CLM) \ˈkə-stə-mər ˈlīvz-sī-kəl ˈma-nij-mənt \
Insight on customer interaction strategies based on the stage of the customer journey they are in.
Bloomreach's Customer Lifecycle Management Model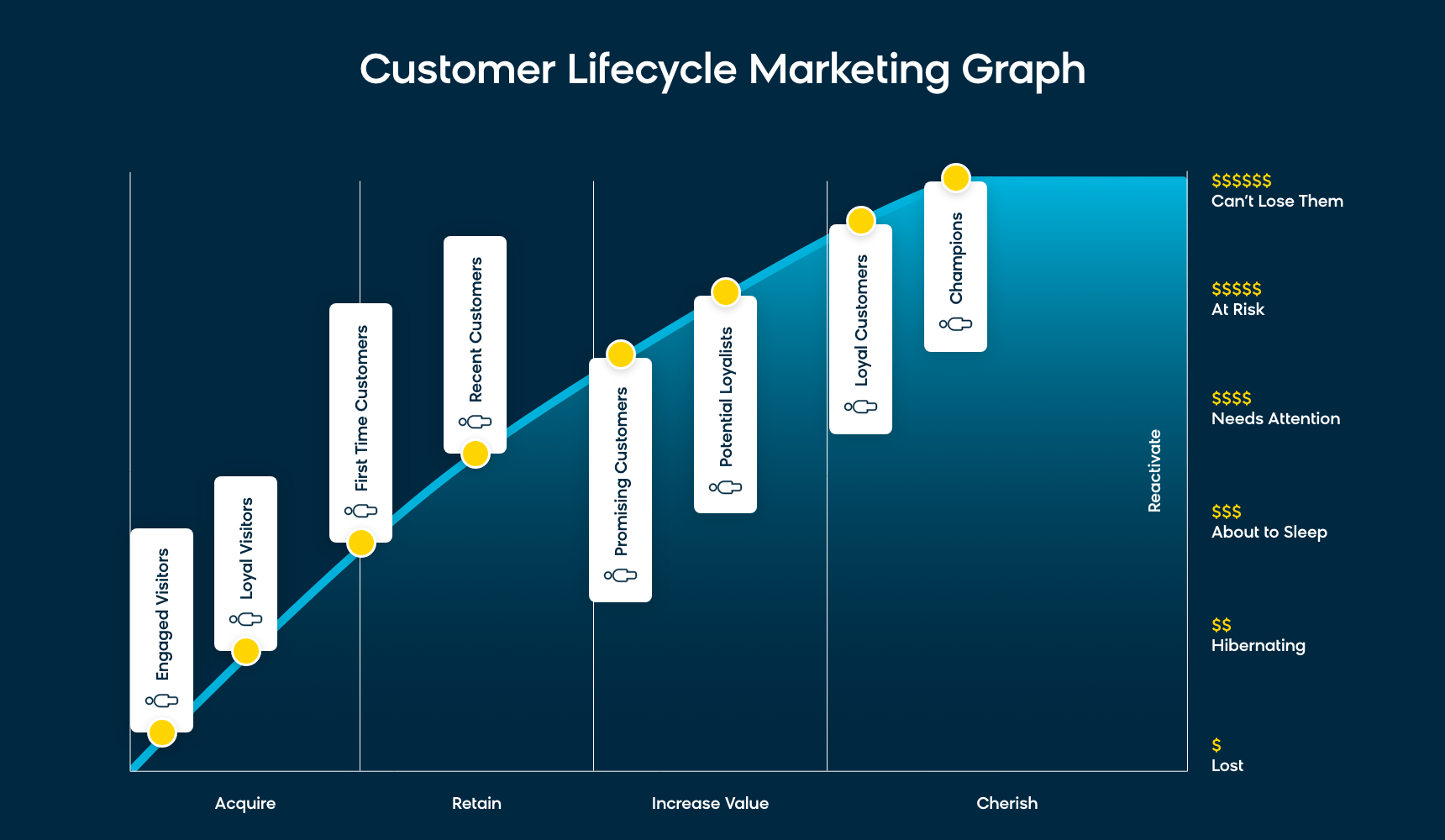 Bloomreach's CLM model separates the customer journey into five main stages.

Where we clearly recognize acquisition in the acquire stage, driving traffic into our customer lifecycle and guiding them to their first purchase.
Retention, on the other hand, can be found in the reactivate stage. Whether it's an unactionable page visit or abandoned shopping cart, there are many excuses for a customer to get lost during their customer journey. It's up to the brand to get them back on track.
Here are the six stages of a lost customer.
And their actionable retention campaigns.

The CLM takes it one step further by breaking down each stage into fourteen customer segments.

Lastly, the CLM then maps out specific campaigns in each stage that can be used to communicate effectively with each customer segment.

This is where loyalty comes in. CLM is about moving each from visitor, through customer, through retained and finally to loyalty. The aim is to get your customers to the champions checkpoint as soon as possible and preserve their place for as long as possible. 
The closer they are to the loyalty sweet spot, the more time, money and effort should be spent into the campaign to maintain their presence there.
To start applying Customer Lifecycle Management, run an RFM analysis on your customer data to start grouping your customers into each segment. Employ tools that assist in email, SMS, push notifications and banner ads. 
From behaviors to preferences, customers wildly differ from one another. Since not all customers are created equal, they're so impervious to a "one-size-fits-all" marketing approach. It's understanding who your best customers are and how to communicate with them that generates the winning approach in the customer-centric economy we have today.
Personalizing Campaigns For Every Customer
E-commerce personalization is more important than ever in today's market. With your data now organized around the customer, and a basic CLM framework in place, you can start to go even deeper — personalization at scale.
Have Clear Brand Positioning and Customer Journeys:
Loyalty is truly evident when a brand is clear and consistent about their message. Find ways to enhance the value of their customer journey and demonstrate to those loyal to your brand that you're in it for the long-run. Don't just try to nickel and dime your customers, ensure the brand is right for them. Remember: the ultimate satisfaction stems from their overall impression over the course of an end-to-end journey, rather than with individual touch points along the way.
Once you have a clear picture of each and every customer journey, discover the value driving the most successful ones (where the success is evaluated from customer satisfaction). By picking up on key signals along the way, you're one step closer to setting up a library of communication triggers for relevant, timely messages.
Automate Your Processes:
Ideally, the marketing campaigns you design can be deployed automatically for each segment as they travel along the customer journey. Since it's non-linear, and customers jump from segment to segment, it's important to have a system in place that can trigger the right message to the right customer at the right time.
To assist automating personalization at scale, think of it as a two way street: listen to customer signals and plan in advance to react quickly to those signals with the help of automated triggers.
Maintain a Single Customer View (SCV):
To make this a reality, customer information needs to be organized in a single customer view (SCV). Accessible by all departments, only then can campaigns be positioned and interrelated in order to provide the same message across numerous marketing channels. With the right CDP in place segments update in real-time, so users will always receive the right campaign for where they are in the customer lifecycle (and with whatever department they happen to be speaking to).
Consistent Multichannel Communication:
The truth of the matter is, customers are becoming channel-agnostic and expect a consistent experience across every possible touchpoint the brand provides. Remember: the consumer doesn't think in terms of channels, marketers do.
Remove Pain Points in Your Customer Journey:
Whether it's outdated content or a bad link, we've all experienced a pain point while shopping online. This disruption of flow in the customer journey is often called a delivery gap and can lead to negative customer behavior. Find methods to satisfy the customer's flow by removing these bottlenecks.
A/B Test Campaigns and Define a Control Group:
Take Netflix for example, who knows its customers well enough to understand they have a 90 second attention span — just 90 seconds before their off to another activity. Since a picture is worth a thousand words, they A/B test movie artwork to see which best depicts the movie in question, and which will likely attract your attention. 
While some get to see Carrie Fisher as Princess Leia, others will get a very handsome Chewbacca. This way, Netflix tests its way to a better product and a better customer experience.
With A/B tests, Netflix discoveres the two images marked above significantly outperformed all others for the movie Dragons: Race to the Edge.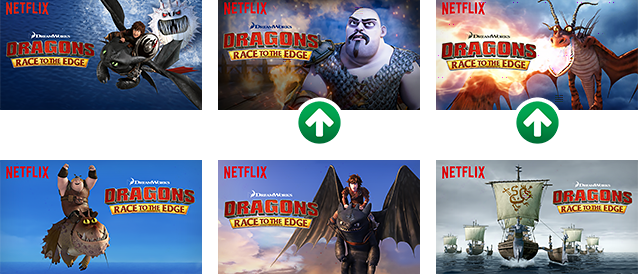 Source: https://medium.com/netflix-techblog/selecting-the-best-artwork-for-videos-through-a-b-testing-f6155c4595f6
Exercising personalization at scale allows the delivery of tailored, meaningful, and relevant customer communication. However, the real secret to kick-starting customer-centric change is to empower an individual or a small group of the right people. In fact, we're now seeing a trend in the development of organizational customer centricity in the form of a new employment: growth managers. 
Developing an Organizational Customer-Centric Mentality
In a crowded marketplace, fitting in is a failure. In a busy marketplace, not standing out is the same as being invisible.
So as a leader, how do you build and maintain a customer-centric business strategy within your organization? To spread customer focus like wildfire, there's one practice that will really resonate: make it a core value. Since as a core value, customer-centricity can assist in the decision-making process for leadership, reflect the beliefs that employees support, and provide clarity to current and potential customers.
Rewiring a company for customer-centric experiences is no easy task, but it's dramatically easier with the right governance and leadership. In fact, best-in-class organizations have governance structures that include loyalty as a new position.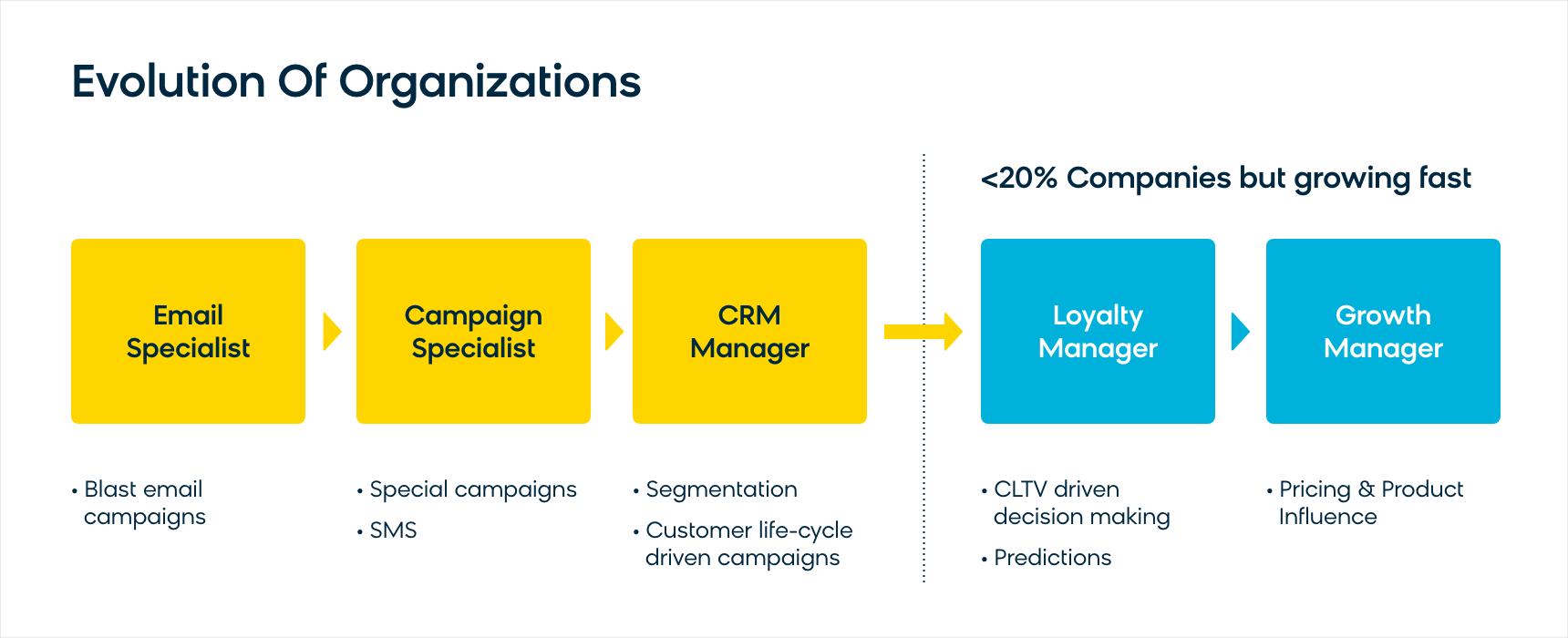 Email Specialist
In the evolution of a channel-specific profession, email for instance, we start with an Email Specialist;known for blasting emails en masse. Impersonalized since they typically ignore detailed customer segmentation.
↓
Campaign Specialist
As the company grows and priorities are realigned, we find ourselves with a Campaign Specialist who's more focused on launching individual campaigns, quite often with the combined use of other channels.
↓
CRM Manager
Then you start to see CRM Managers, who begin to consider the customer lifecycle and segmentation to plan their campaigns.
↓
Less than 20% of companies get this far (but growing fast).
Loyalty Manager
Outstanding companies take it even further, employing a Loyalty Manager who drives their decisions based on the Customer Lifetime Value (CLV).
↓
Growth Manager
Towards the end of our organizational evolution we find Growth Managers. Flexible, collaborative and outfitted with an extreme thirst for rapid growth, these managers are tasked to work across various departments to deliver results
There are some companies, very few, who go as far as having a Growth Manager whose focus is the growth of revenue from existing customers. They have a lot of influence on pricing and product and are able to change the web and mobile experience for the most loyal customers. For example, providing an exclusive extra day to purchase before a sale goes live, making sure they have the availability they need and are keen on continuing with the brand.
By empowering an individual or a select group, the organization can start removing roadblocks and finding creative workarounds to best integrate customer-centricity throughout each and every department, including creative, digital media, customer support, marketing, sales, IT, etc.
It's really about having an organizational understanding of your customers and their segments, continuously keeping up with them as the market environment, competition and consumer interests are all constantly adapting.
Final Thoughts
As senior leaders set the stage for organizational customer-centric strategies, they must consider organizational evolution as well as employee ownership to deliver superior customer experiences. With such cooperation, along with proper data collection and management, a thorough customer lifecycle management strategy, and personalization of scale, companies can truly be able to transform their collective thinking.
If it's time to take charge of your customer experience, with the goal of making the organization more customer-centric, consider employing the tools that can get it done. Bloomreach offers the world's #1 Commerce Experience Cloud that offers businesses powerful content, customer engagement, and product discovery offerings to achieve true personalization and drive unparalleled business growth. If you're looking to learn more, schedule a personalized demo today.