Commerce Experience
Bloomreach Commerce Pulse: Update on NA, UK & EU eCommerce Traffic and Sales - May, 2020
By Brian Walker
06/05/2020
Note, we are moving the Commerce Pulse to monthly, this is first in that series covering May 2020. 
Month of May, 2020 saw the COVID-19 discussion move from strict 'stay-at-home' orders to the relaxation of some social distancing requirements, to the controlled reopening across many countries, states, and regions.
And as many are eager to see a return of many aspects of our pre-COVID lives, the conversation has now turned to protecting against a second wave of the virus and the economic impact and recovery across vast portions of the U.S., U.K., European, and global economies.
And of course, as it appeared we were beginning to gain control over the virus and moving into the next phase, the terrible tragedy of George Floyd's murder in Minneapolis triggered mass demonstrations across the United States - as well as a number of cities in the U.K. and Europe - demanding racial justice. 
While the implications of that unrest on consumer sentiment, the business cycle, and potential further waves of coronavirus are of course unknown at this point, we can see from the May numbers: 
 
In North America, the overall trend of dramatic eCommerce growth has continued, with North American eCommerce remaining strong with sales across Bloomreach customers +49.79% year-over-year (YoY) in May 2020 when compared to May 2019.

That delta is explained to some degree by highly promotional activity across a number of segments depressing the sales numbers to some degree. It certainly is not explained with lower conversion rates, as conversion was actually up significantly at +11.94% YoY, while average order size (AOS) was also up - but to a lesser degree - at +8.92%.

In fact, eCommerce continued to grow as May eCommerce sales were +5.69% versus April 2020. In the U.S. it seems that the government strategy of 'unemployment+' has translated into some degree of increased discretionary spending and that may be buying the eCommerce numbers, though it is very hard to know the extent of impact.  
 

The UK+EU again showcased challenges connecting demand to sales as well as the impact of heavy promotion, with traffic +22.48% but sales only +9.76% YoY. We also saw a deep drop in AOS in UK+EU, with a decline of 34.83% compared to May 2019.

Looking at May 2020 compared to April 202 we see that spending did increase somewhat with sales +14.69%, but conversion rate dropped significantly at -18.03%. This may be explained by customers who leverage the web and mobile to check stock and then decide to venture out and buy offline.

But UK+EU is not seeing the lift in eCommerce to the same degree as in North America, and that may be in part due to the U.K. and European governments having taken a different strategy to employment security, which may not have translated to the same level of consumer spending as seen in the U.S..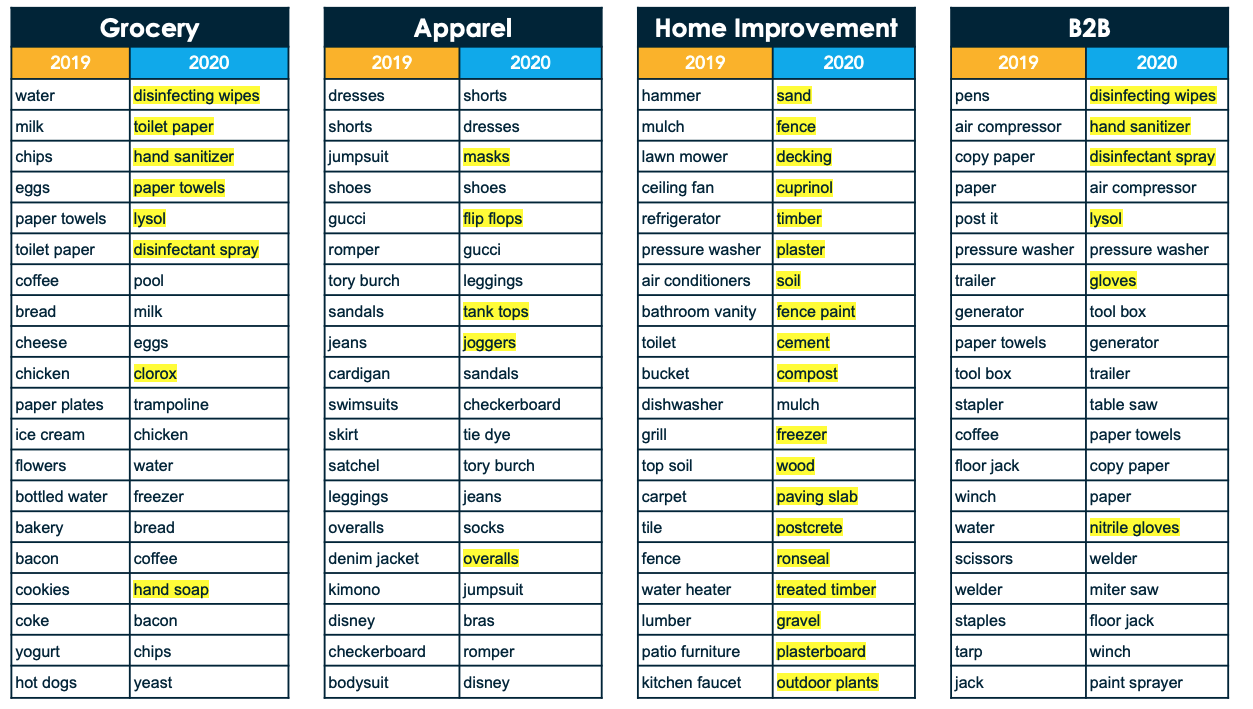 Let's dig into this past month's segment numbers: 
Grocery traffic softened slightly MoM in May, -15.52%, yet sales were +14.48%. We see Grocery segment traffic +83.02% in May, but sales lagging that at only +49.05%. The biggest contributor to that is a dip in AOS at -18.16% to US$95.23 per order.  Search terms remain dominated by virus-related search terms. 



 

General Merchandise sales had a reasonably soft month overall at only +9.76% YoY and -9.57% MoM. Here we also see a drop in conversion rate, with AOS actually holding steady versus LY. There again seems to be a high degree of 'window-shopping' in General Merch, with higher ticket items in the search terms, such as 'TV' and 'Laptop', but consumers are not clicking 'buy' so eagerly. Interestingly, 'Luggage' was a top search term in this category in May 2019, and is nowhere to be found in search terms this year.



 

Home-Improvement/DIY is the segment winner in May, with sales +127.49% YoY, though it lost steam a but MoM -10.70%. Conversion was up and astonishing 53.88% YoY, with AOS -16.62% to $269.65 YoY. We saw garden-related search terms such as 'fence', 'decking', 'timber', and even 'soil' rank very high in this segment. Curbside pickup is of course an important means for customers to receive these orders.

Home Furnishing picked up steam in May, with sales +6.37% compared to April, and a very strong +86.82% YoY. Interestingly in the Home Furnishing segment this is largely new shoppers, as conversion and AOS are largely consistent with LY. Search terms we lead by 'desk', 'freezer', and 'refrigerator'. 

Apparel had the strongest MoM performance, with traffic +17.97% and sales +21.66% compared to April 2020. Year over year was even better with traffic +50.95% and sales +34.20%. Conversion rate was +6.30%, but AOS was -5.37%. The product mix in apparel is a contributor with lower cost products like 'shorts', 'masks', 'flip-flops', and 'tank-tops' replacing higher cost workwear and eveningwear in search and baskets. 

The Luxury segment is at a new lower plateau than the other segments, which may not be a surprise since consumers may feel spending here is both extravagant and they simply have nowhere to wear it. Traffic held steady in May compared to April at +1.10%, with sales up a bit more at +6.22% MoM. Year-over-year though Luxury is not performing well when factoring in store closures, etc., with traffic only +5.70% and sales only +4.73% YoY. Search terms YoY are interestingly similar, but we do see AOS -13.59% YoY, reflecting discounting, though conversion is also lower at -5.46%. 

B2B had a mixed month, with sales -3.68% compared to April, though traffic was +5.60%. May 2020 saw a growth in eCommerce traffic at +52.29%, but sales on +20.03% YoY. A big contributor here is AOS -12.68% due to a change in product mix, and conversion rate down significantly at -24.06% YoY. This is likely due to a mix of out-of-stocks on essential safety and health products - as those dominate search terms - and the overall business cycle remaining both uncertain and challenged by slow reopening of the economy.  
 

Bloomreach powers 25% of US & UK eCommerce search and commerce experiences across the 300+ global enterprise businesses - many of whom have multiple brands and eCommerce sites. You can find all of Bloomreach's Coronavirus related research, including previous weeks, on our Coronavirus Content Hub. If you have any further questions, I encourage you to reach out here, and we will follow up with you ASAP. We aim to bring you further insights each week as we navigate these challenges together - whether you are a customer or not. 
A note to readers,  these Commerce Pulse reports mave moved to a monthly cadence. Our next call will be Wednesday, July 1 at 9am PT/5pm GMT, with the blog post following. 
Thank you and be well. Here is to good business.