Commerce Experience
Bloomreach Commerce Pulse: Update on NA, UK & EU eCommerce Traffic and Sales - June, 2020
By Brian Walker
07/13/2020
Commerce Experience
Bloomreach Commerce Pulse: Update on NA, UK & EU eCommerce Traffic and Sales - June, 2020
Month of June, 2020 saw European and American markets begin to "open-up" from COVID-19 quarantines and many restrictions on businesses and communities. Of course, we are disappointed to see evidence in late June that much of that opening up was premature, leading to spikes in virus cases in many U.S. states even as things seem to be remaining stable in the U.K. and Europe. 
June 2020 was a tale of two very different markets, with North American eCommerce remaining very robust year-over-year (YoY) while the UK+EU on the other hand saw online sales drop slightly across the same time period. It appears that consumer confidence (US, UK), direct economic stimulus, and overall economic conditions are a key difference between these markets and that in our view plays into the results we see in online shopping this past June.
Let's get into those June numbers: 
In North America, the overall trend of dramatic eCommerce growth has continued, with North American eCommerce remaining strong with sales across Bloomreach customers +35.32 YTD% year-over-year (YoY) in June 2020 when compared to June 2019.

May have moderated to 'new normal', which will likely continue through until Fall 2020 at this point. However, sales in June were down -12.12% from May 2020 (MoM). Traffic was up +45.06% YoY and also down -14.22% MoM. We continue to see strong AOS and conversion rates in North America.

Also notable to see Bloomreach clients outperforming the market (eMarketer) in the United States. PPE was again a major theme in top North American search terms.
 
The UK+EU again showcased challenges connecting demand to sales as well as the impact of heavy promotion, with traffic +21.76% and sales-2.61% YoY. We also saw a continued drop in AOS in UK+EU, -25.43% compared to June 2019.

Looking at June 2020 compared to May 2020 we see that spending decreased somewhat with sales -3.18%. Strong conversion rate, but weak AOS leads one to see that deep discounting is playing a significant role in UK+EU total results. 

As indicated above, we also believe consumer confidence and lack of a direct government stimulus is having some impact on overall consumer spending.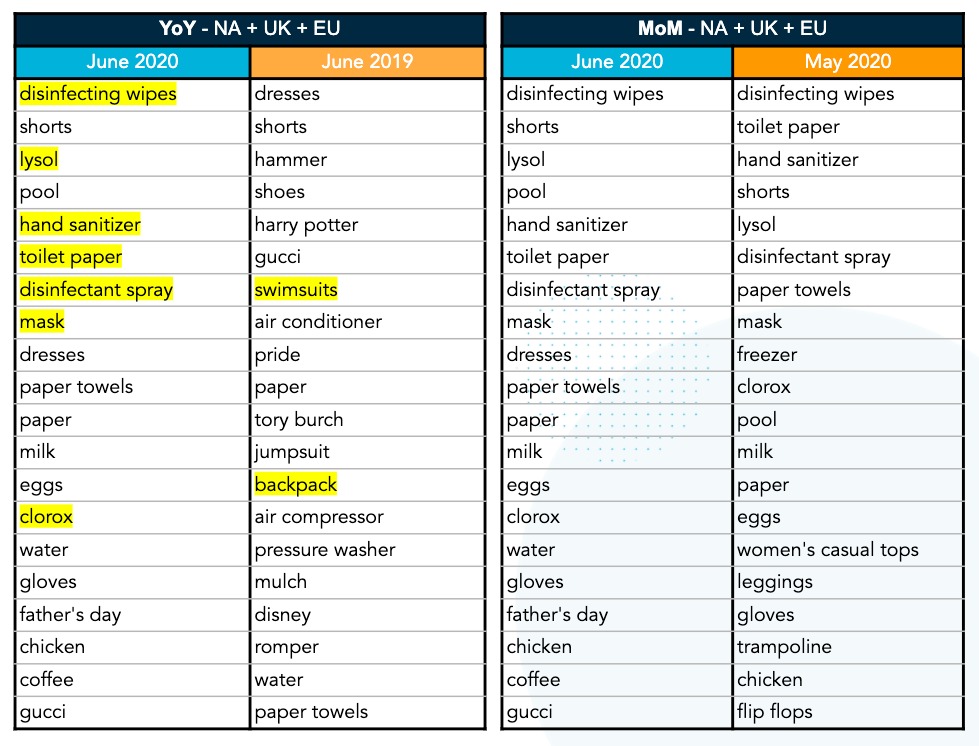 Let's dig into this past month's segment numbers: 
Grocery as a segment had a very strong month YoY at +79.42, but declined slightly at -3.05% from May 2020. We do see a significant drop in traffic MoM at -17.74%, but those ordering spent more than the month previous and are converting at a very much higher rate than in May. We again saw essentials and staples as key drivers in this segment in June (for some, that includes ice-cream bars). 



 
General Merchandise weakened in June with sales -20.28%, and relatively flat at +14.42% versus LY when factoring in COVID. Conversion rate remained flat and AOS dropped 9.5%. We can see COVID-related search terms again popping up, and travel related terms off significantly versus LY.



 
Home-Improvement/DIY weakened slightly in June but remained very strong YoY at +64.17%. Here you can see the impact of curbside-pick-up with a Steep drop in AOS and dramatic increase in online conversion - which was up a staggering +154.23% YoY. Again we saw garden-related search terms rank very high in this segment.



 
Home Furnishing Weakened in May, but was still very strong YoY at +50.79%. The drop from May may (see what I did there?) reflect "peak work-from-home" settling in. The drop in conversion may reflect out-of-stocks in key high-demand products. Search terms we lead by 'desk', 'freezer', and 'refrigerator' and 'dining table' (hey, it doubles as a desk). 


 
Don't call it a comeback! Apparel had strong MoM performance with sales +14.17% compared to May 2020 after struggling as a segment earlier in the pandemic, even as traffic dropped from May levels. Very strong jumps in AOS and conversion rates from a year ago in addition to traffic being +33.55% YoY. However, It is clear that people are buying lower cost products versus a year ago as they are in the mood for comfort and staying cool indoors as they purchase products like 'shorts', 'masks', 'flip-flops', and 'sports-bras'. Swimsuits had a big jump from May, perhaps reflecting the hope that beaches and pools will be open. 



 
The Luxury segments improvement in June at +14.08% MoM pulled the segment essentially even YTD at +3.37%. AOS was interestingly the driver of sales increase, with conversion rate dipping, in some ways the opposite of earlier months indicating the liquidation of inventory may be coming to an end and prices increasing. 



 
In B2B a strong early June could not be maintained leading to a relatively weak overall performance for the month at only +13.33% YoY. High traffic at +41.98% YoY, paired with a lower conversion rate at -30.15% YoY indicates the impact of out-of-stocks and challenging unclear business conditions related to 're-opening' and then not. Essential safety and health products continue to dominate search terms. 


Bloomreach powers 25% of US & UK eCommerce search and commerce experiences across the 300+ global enterprise businesses - many of whom have multiple brands and eCommerce sites. This data is an aggregation across all Bloomreach customers. You can find all of Bloomreach's Coronavirus related research, including previous weeks, on our Coronavirus Content Hub. If you have any further questions, I encourage you to reach out here, and we will follow up with you ASAP. We aim to bring you further insights each week as we navigate these challenges together - whether you are a customer or not. 
Thank you and be well. Here is to good business.