How to Compete with Amazon in 8 Ways
By Tessa Roberts
08/26/2019
How to Compete with Amazon in 8 Ways
There's no denying that Amazon is a formidable competitor. An EMarketer study puts 37.7% of US online retail spending on Amazon. 
Euromonitor International estimated Amazon to have captured a 31% share of UK online retail sales. 
That's not all down to Amazon direct either, third parties actually capture the bulk of these huge revenues. 
And Bloomreach's own research shows that Amazon is increasingly where consumers turn to begin their product searches online. 

In the US for example, independent merchants account for 58% of gross sales on the retail site. 
But again, parts of the story were overshadowed by Amazon's dominance. The headline-grabbing statistic resulted from a question that asked consumers where they start their searches. Retailers might be more interested in where consumers end their searches — as in where they actually buy.
It's Not All Bad News for Competitors
Amazon is huge, but competitors can still survive in its shadow. If they use the tools at their disposal, they can actually do very well. One of those tools is differentiation. 
Yory Wurmser, eMarketer's principal retail analyst, says there are a number of ways retailers can differentiate themselves from Amazon. 
"The retailers that are really doing well are the ones that have optimized their websites," Yory explains, "The ones that have really made it as easy as possible for consumers to use the sites, mobile web and apps to buy something."
Forget About Competing Head-on
With Amazon, competing smart is the key. Going head-to-head is impossible. 
Amazon has a huge market share for everyday products. 
What they don't do so well, however, is create delightful shopping experiences.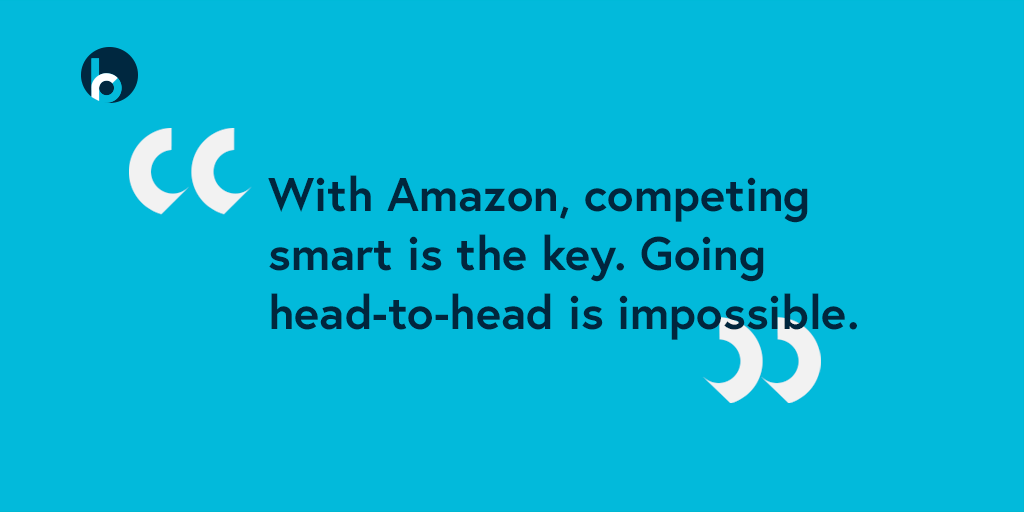 A Wunderman Commerce survey of over 3,500 online shoppers in the US and the UK found that 72% of consumers are more likely to shop with digitally innovative retailers.
If there's more to shopping than finding cheaper prices, things like convenient delivery options become really important. Here's where it gets more difficult for Amazon to compete.
Other vendors might also offer more attractive loyalty programs or specialized product ranges. A customer might be after a more personalized service or great in-store experience. 
This is especially the case with more 'niche' products where consumers have specific preferences for design, material, quality or brand. 
In these cases, the Amazon model does not make the cut.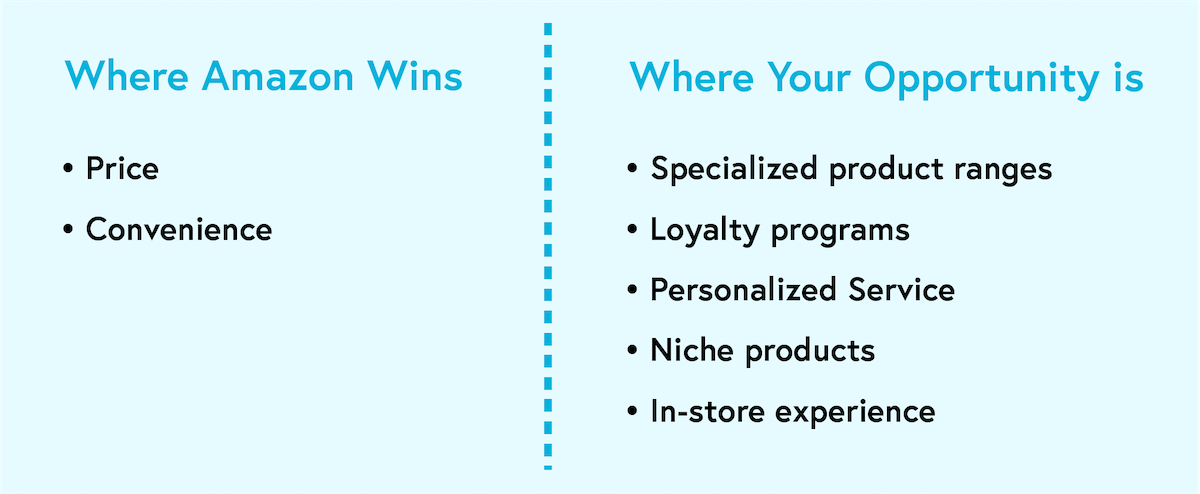 8 Ways to Become the Non-Amazon Alternative
When it comes to customization and personalization in eCommerce, we see that Amazon does not fare too well and certain shoppers tend to replace them with specialized vendors or brands. 
That in itself creates a huge opportunity, which brands and retailers can exploit by leveraging modern technologies to deliver delightful customer experiences.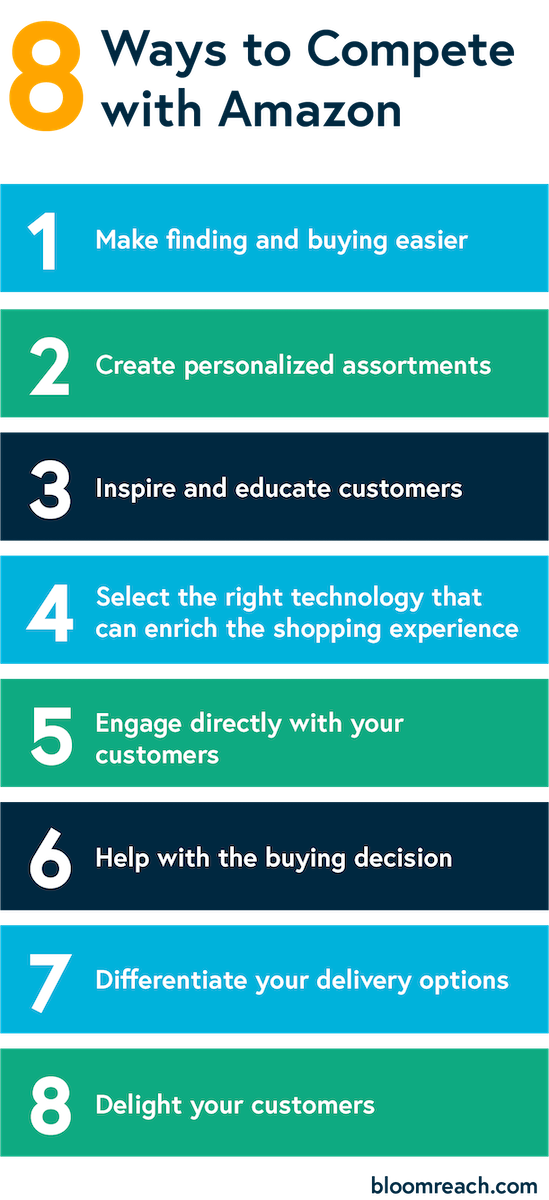 Psst! Skip the intro and jump straight to ➡️
1. Make finding and buying easier
2. Create personalized assortments: One size does not fit all
3. Inspire and educate customers
4. Select the right technology
5. Engage directly with your customers
6. Help with buying decision
7. Differentiate your delivery options
8. Delight your customers 

[Way #1] Make finding and buying easier
The site search bar may seem like a small feature, but it offers a lot of potential to differentiate. 
Take the example of doing a regular search on Amazon for a 'black laptop'. A rather random selection is generally presented that includes laptop bags, batteries and eventually somewhere in the mix, laptops.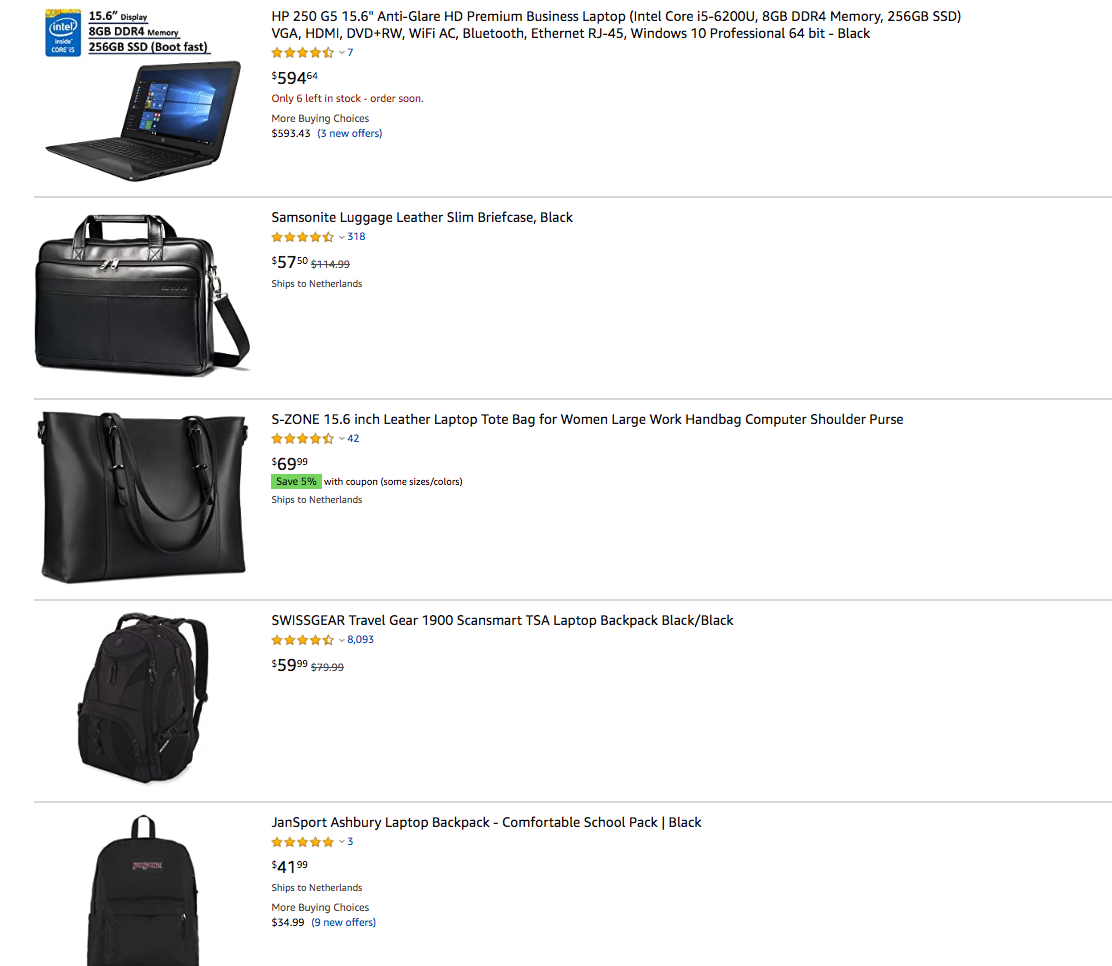 Brands and retailers can do much better. 
Smart, self-learning search functionality makes it easy to create search experiences with relevant results. 
Customers get exactly what they are looking for, so buying a product is less time consuming.
An increasing number of online shoppers are using mobile devices, while mobile shoppers frequently use site search. 
This aspect of online retailing is more important than ever, and technology is crucial to making it work.

[Way #2] Create personalized assortments: one size does not fit all
Another thing Amazon doesn't do well is curating the right content for the individual visitor. 
This creates a great opportunity for others to differentiate. 
Even without a visitor logging in, businesses can use browsing behavior, overall consumer trends and real time visitor data to personalize real-time experiences.
Imagine a visitor browsing for women's clothing. 
They have clicked mostly on blue items and are now searching for "sweatshirts". Putting that information together, it makes sense if blue women's sweatshirts are bumped to the top of the results. 


This kind of smart personalization can be very dynamic too. 
Let's say another family member uses the same computer to shop. 
Their needs are different, but algorithms can quickly discover a different browsing behavior and adapt the content accordingly.

[Way #3] Inspire and educate customers
Amazon offers an almost infinite product catalogue and plenty of user generated content in the form of reviews. 
When it comes to inspiring and educating customers however, it falls short. Contextual content is simply not there. 
Compare that with the shopping experience at recreational equipment seller, REI. 
Product information almost becomes a side issue because it's intertwined with rich content like videos and engaging blog posts. 
This specialized retailer takes visitors on a virtual journey to their next travel destination. It inspires them to go places they haven't even thought of yet. 
REI also connects the online experience to physical events like workshops or training sessions.
Engaging experiences like this create loyal customers that don't just buy products, they fall in love with the brand.

[Way #4] Select the right technology that can enrich the shopping experience
A big hurdle the majority of brands and retailers face is their legacy systems, in particular legacy eCommerce platforms. 
These platforms were built to create product grids and facilitate checkout.
They don't create engaging experiences, or enrich the shopper experience.
This is such an issue that commerce platforms are no longer considered the future core of eCommerce. 
Businesses that really want to deliver customer experiences must move away from legacy commerce platforms and implement a combination of headless commerce with an experience platform on top. 
This setup empowers them to deliver all kinds of omnichannel experiences - not only via channels customers are using now, but also the channels of the future, like voice or augmented reality.

[Way #5] Engage directly with your customers
In a world of shifting business models, many retailers are chasing a less Amazon-like strategy.
Some even want to protect their brand by shying away from this online giant.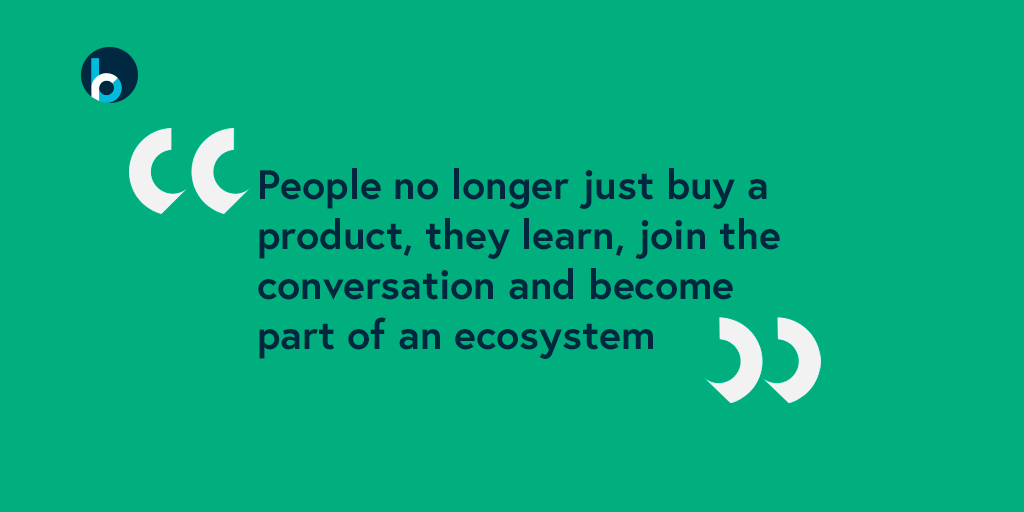 Instead they offer unique product lines and a sense of community.
They create interest and build a community of people, those who know the special place to buy their products.
They drill down into the data on customers and visitors, building an accurate picture of their interests, needs and future requirements.
Using this data, they present relevant topics on the website, let people comment, discuss, or share via social media.
This all builds involvement and commitment to the brand.
People no longer just buy a product, they learn, join the conversation and become part of an ecosystem.

[Way #6] Help with the buying decision
There's no doubt that Amazon gets your chosen product to you quickly. 
Returns are easy too if what's delivered is not exactly what you want. 
But what if you visit Amazon without a clear idea of what to buy? 
Those who haven't quite figured out what they want are pretty much on their own with Amazon. 
It's just not good at helping people understand the intricacies of a product line or category they are unfamiliar with.
"What they've really spent most of their time on is the point-of-sale and post-sale," says Jeff Adcock, Chief Revenue and Marketing Officer at Needle, a company that connects retailers and brands with product experts and enthusiasts. 
Technology can be used to support customers in their decision-making. 
An arsenal of useful tools can be offered including reviews, recommendations, digital advice, product finders, live chat, even social media. 
Incorporating these supports into the sales experience will ensure customers have no reason to shop elsewhere.

[Way #7] Differentiate your delivery options
Amazon has a delivery system that works, but not for every single customer. 
Some people would swap two-day home delivery for curbside pickup with an exact delivery time. 
Others might like the option of collecting their goods in-store. 
Ideally people could select their choice of channel(s) in line with what suits them at a particular time. 
Whatever option they choose, good fulfilment is crucial. 
Customers expect timely delivery over any channel. With less than half of consumers considering 3 days to be fast delivery, a refocus on training and logistics is needed to ensure that. 
If a customer orders online via their smartphone, will that product be in stock when they collect it in-store?
Businesses should address these questions so customers don't have to. 
With back-end systems running smoothly, it's also important to communicate well. 
Be clear on when and how orders will arrive. Provide set timelines, then keep those promises. 
Online shopping still has a certain element of risk. 
Businesses that remove that fear of the unknown can establish themselves as a trustworthy go-to provider. 
The technology exists to offer worry-free online shopping and it's key to succeeding against giants like Amazon.

[Way #8] Delight Customers 
Amazon does a lot of things really well and that's made them a mammoth in their industry.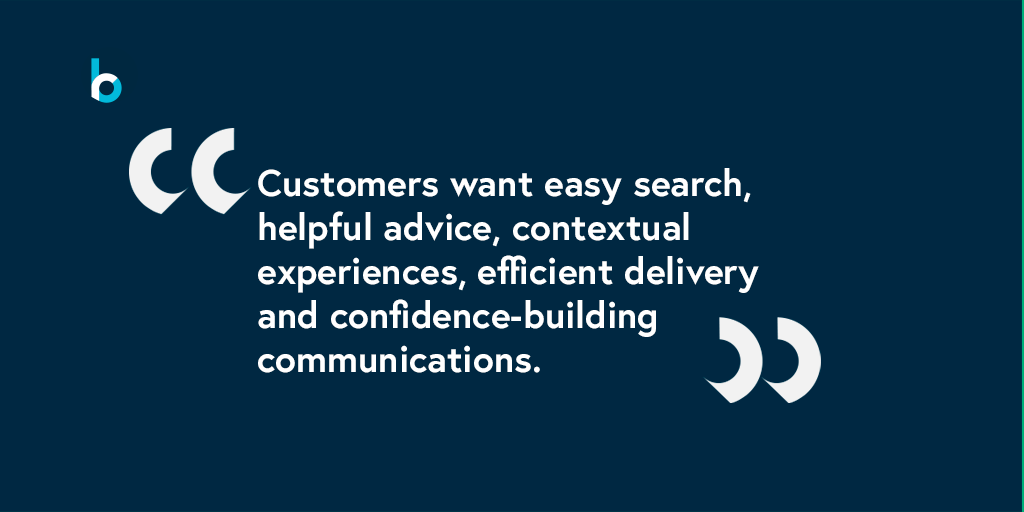 The Amazon model delivers but there are some serious gaps, which the competition can exploit.
In a world of increasing competition and smart tech, it's not enough to serve customers. 
They need to be delighted, cared for, and turned into loyal fans.
That means using technology to create engaging, connected experiences. 
Customers want easy search, helpful advice, contextual experiences, efficient delivery and confidence-building communications. 
These are today's winning factors, but with Amazon, they've fallen out of the net somewhat. 
Brands and retailers can be there to catch those opportunities. 
By leveraging technology to offer new options, personalized experiences, even a sense of community, the non-Amazon players can set themselves apart. 
It's very possible to capitalize on Amazon's shortcomings. 
By doing so, competitors can not only withstand the force of competition, they could even turn the tide.
-->