Commerce Experience
How Digital Transformation is Driving Customer Experience
By Katie Lawson
05/09/2019
Commerce Experience
How Digital Transformation is Driving Customer Experience
Every company seems to be going through a 'digital transformation', but it's hard to pin down what that really means and it's even harder to do.
On top of that, more and more customers are digitally native and have high expectations from their interaction with you.
But what does a "digital transformation" really mean?

As marketers, digital practitioners and technology professionals all get together and ask "how will we transform our marketing to digital", or "how will we transform into a digital go-to-market strategy", or "how will we become a 'digital-first' company", what lies at the foundation?

Certainly the word "transformation" suggests that the business wants to evolve. But what, really, is at the heart of that evolution?
Just What is Digital Transformation?
In its essence, digital transformation is the use of digital technology to improve and optimize the customer experience.
Building on the definitions provided by McKinsey, MIT Sloan, and others; we think Future Shaper, Ian Ure, puts it best with this comprehensive definition:
Digital Transformation is defined as the integration of digital technology into all areas of a business resulting in fundamental changes to how the business operates and how it delivers value to customers, partners and employees.
Being digital means being closely attuned to how customer decision journeys are evolving in the broadest sense – this involves the simplification of channels and portfolio by understanding customer needs and behaviors and keeping this insight at the center of everything the business does.
Why Does Digital Transformation Matter?
It is tempting to think that the digital transformation of business began in the mid 1990s with the launch of web browsers like Netscape and Internet Explorer.

Over the next few years, businesses rallied furiously around the need to transform before the Y2K "bug" would devastate their business – and purchased more hardware, software and consulting services than they ever needed.
But in reality the "transformation" over the last decades has, primarily, been a reaction rather than a purposeful strategy.
Only recently have enterprises truly embraced this e-commerce trend by taking a step back and beginning the fundamental transformation into the digital, customer-driven world in which we now operate. 
According to a study by Forrester Consulting: The past five years have marked the beginning of the "age of the customer," in which technology and economic forces have put customers in control of their interactions with businesses.
These businesses hoping to understand and serve customers in a global and digital economy, are almost universally undergoing digital transformation, which involves re-aligning and investing in new technology and business models with a specic focus on the customer experience. 
Put it this way. Your customers are going native on you. Digitally native that is.
There's no online vs offline in business these days. It's just business. And your customers expect the same brand experience with your business. Be it online, in-store, mobile, or on the phone.
According to The State of Commerce Experience 2021 study, 79% of buyers would change suppliers/retailers if they had a poor experience.
Not only that, but 86% of consumers expect a seamless experience across all devices and channels.
Almost half (44%) of B2C buyers and 58% of B2B buyers say they always or often research a product online before going to a physical store. Even when in-store, they will still go online to continue their research.
In the US, 58% of customers use their smartphone for shopping, and 10% are already using voice to shop. Many businesses are now using WhatsApp and Facebook Messenger, and new ways of interaction and communication will keep appearing and evolving.
Talking about using voice to shop; the Smart Home products market is expected to grow by 28% annually until 2022.

You're going to need the ability to cater to current, emerging and future ways of shopping and service if you want to reach all your customers.
Since the way we use digital is always transforming, you could say digital transformation is how business is done now. For the companies on the front lines, the rewards are high.
Digital leaders make better gross margins as well as better earnings and net income than organizations dragging their digital feet, according to Harvard Business School.
Leaders post an average gross margin of 55 percent, compared to just 37 percent for those lagging behind.
Leaders also outstrip laggards in average earnings 16 percent to 11 percent. And in average net income, leaders have the advantage 11 percent to seven percent.
How Can Digital Customer Experience Be Improved
When Tony Hsieh, CEO of Zappos, was discussing digital transformation with C-level leaders, he was asked, "How do I get my organization to change and become more like yours?" Tony paused for a bit then replied, "I don't know. That sounds really hard!"
You see, Uber, Zappos, and many of the other most cited "digital transformation" stories didn't have to transform. They built their customer-obsessed cultures right from the get-go.
And perhaps that's what digital transformation is really all about; being obsessed with your customers.
Take Apple, Amazon, Starbucks, Nike - almost any hugely successful company these days; and you'll find that they really put the customer at the core of their strategy.
Quoting Tony Hsieh again, "We decided that we wanted our brand to not be about shoes, but about delivering the very best customer experience."
And you don't need to be a Google or an Apple to do it. According to Forrester's Customer Experience Index, 39% of outperforming companies have implemented a fully integrated omnichannel strategy, connecting the physical and digital experience.
So, what does digital transformation look like at companies not called Amazon and Apple?

And what if you're not a startup?
What if you're not digitally native?
Many of the pre-digital era giants are struggling for survival. But some are thriving. Like Walmart, Nike, IKEA, Lego, Starbucks, and the New York Times.
With the latter in mind, it's actually hard to think of an industry more threatened by digital than newspapers.
In fact, almost 70% of newspaper advertising revenue has dried up in the last 15 years; $40 billion - poof - gone.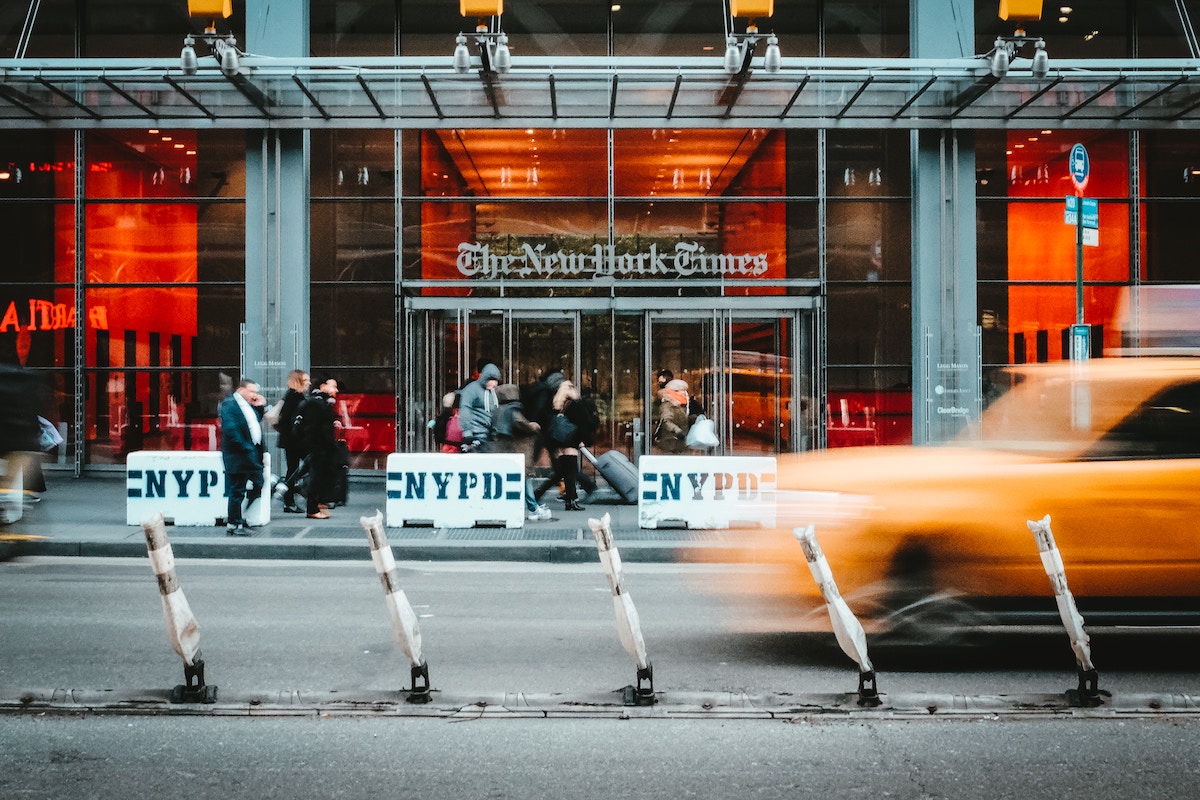 But the New York Times isn't just surviving; it's positively thriving. It has three million subscribers - 70% paying digital subscribers - and brings in $500 million in purely digital revenue. That's more than the digital revenues reported by Buzzfeed, The Guardian, and the Washington Post - combined.
5 Ways to Improve Digital Customer Experience:
Leveraging customer data to increase subscriptions
A new mindset of agile product experimentation
Intense leadership focus on digital
Cross-silo collaboration built on trust

A complete rebuild of the technical stack
And, of course, the customer experience is key.
 I would say we're probably halfway to where we really want to be. We are focusing tremendously on the user experience piece of it right now. Really making sure that the site and the products that we offer are world-class from a design and product perspective, but also that the marketing aspect of it really takes that next leap.
Tristan Boutros, SVP & COO for Digital Product, Strategy and Design, says.
Personalization is a big priority for Boutros right now, making sure that those experiences really resonate with the customers.
How to Get Started on Digital Transformation
So, digital transformation can be hard, especially for pre-digital era companies, but it can be highly rewarding for those companies putting their customers and users first.
And even if you feel like your lagging behind, even small steps can make a significant impact.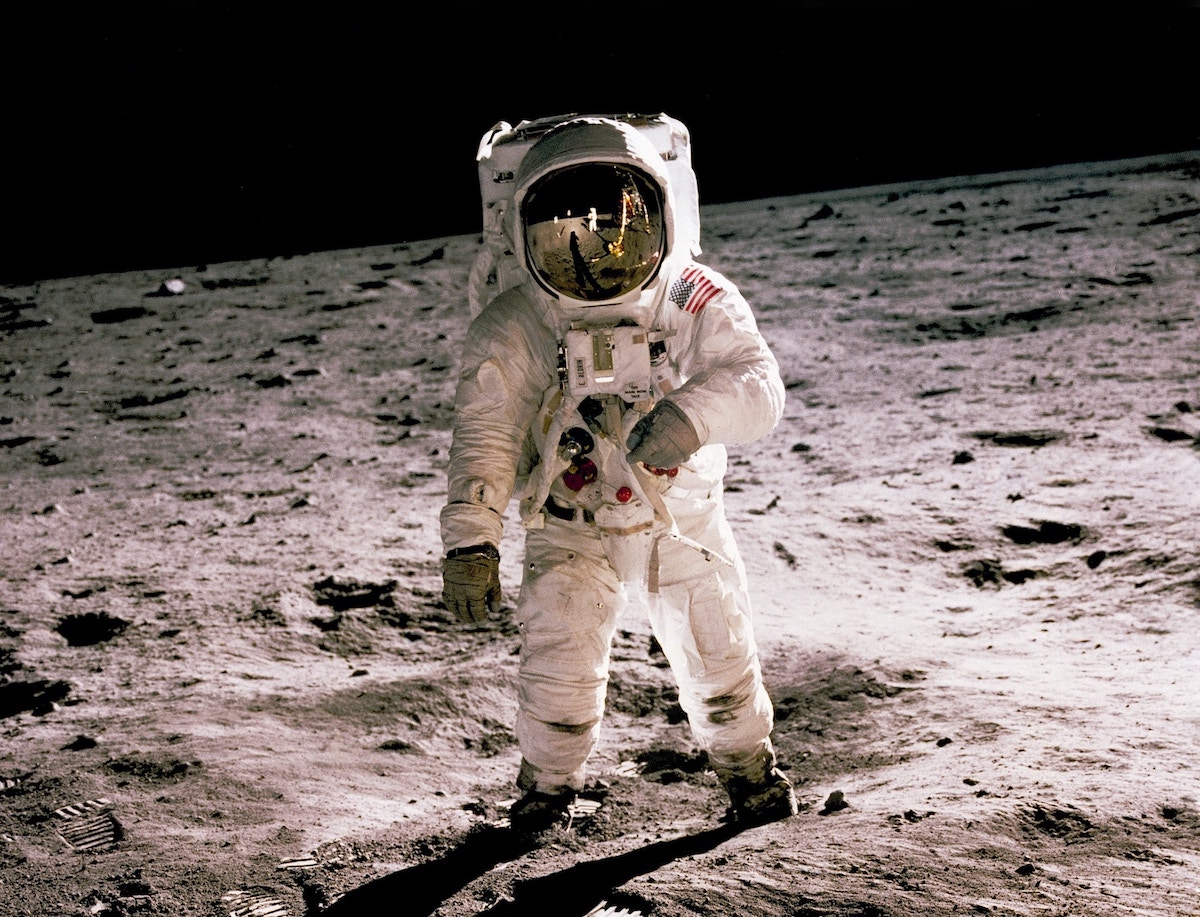 Ultimately, the leaders in businesses that are successfully navigating a digital transformation will bring a systematic and well-governed process to their digital transformation.
Of course, this means agile, exible processes – but these abilities are rooted in a strategic approach.
Leaders that create differentiating customer experiences will bring new approaches to acquiring their digital experience tools – tools that look at new methods of transforming not just a web site or an Intranet, but the entire business. 
Having a clear vision for the end state is absolutely critical to make sure that everyone in your organization is moving in the same direction. 


Digital Transformation Examples
[Case 1]: Tailored Brands Transforms a Winning Customer Experience to Digital
Take Tailored Brands, Inc. (whose impressive portfolio includes brands like Men's Wearhouse and Jos. A. Bank).
Their physical stores were outperforming their online stores; bucking the trend.
Why? Because a large percentage of their male customers just don't enjoy shopping.
This was fixed by guiding each customer with a highly personalized style consultant. And it worked wonders in the real world. But online - these shoppers were utterly lost.
"We needed to create something outside of what traditional merchandisers would do," explained Mariella Trinidad-Do, Senior Manager of eCommerce at Tailored Brands, and as a result "we created, essentially, an (online) guided shopping experience."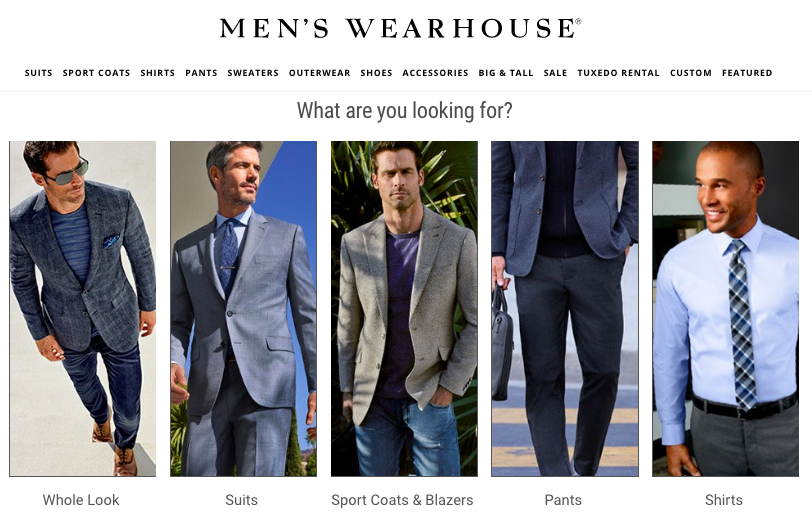 They coined this experience the Look Finder,which consists of a series of simple, quick-to-answer questions for the customer that narrows down the product, the occasion and the colors he's looking for.
After the tests, the results were in. Customers who used the Look Finder were:
Spending more than those who did not go through the experience at all,
Converting at a higher rate. They were able to find more confidence online, as if they were speaking to one of Tailored Brands' style consultants.
Tailored Brands found a sweet spot in personalization, for other brands and industries this value may be placed on something completely different, such as sustainability or customer service.
The common denominator is having a deep understanding of your customer needs; experimenting with and finding solutions to these needs, and scaling and building on them.

[Case 2]: Cedar Fair Scales an Immersive Mobile Experience
From small steps to leaps and bounds; Cedar Fair, one of the largest amusement-resort operators in the world, already provided incredibly immersive experiences for 26 million guests across 11 amusement parks.

But a digital experience assessment proved that on that front they weren't living up to customer expectations.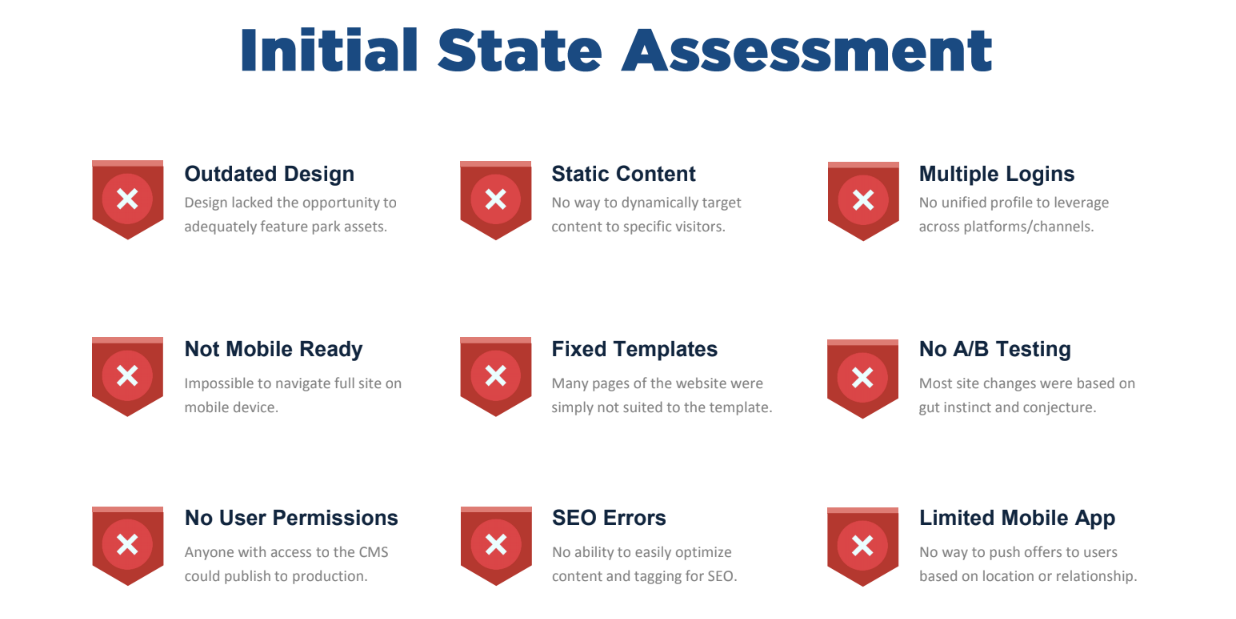 According to Jim Denny, VP of eCommerce, "We didn't need to solve the problem of content right away. It's very important, of course, but we needed to solve the problem of context first.
We needed to make sure what we were delivering to the guest was the right information for them, that it was tailored to them, and that it made sense to them in their situation at the given time."
On how Cedar Fair decided to tackle this, Denny went on to explain:
We needed a content management system. A real one. We needed to make sure we are totally tapped into our CRM database, we needed to make sure we had a way to identify which offers would make sense to the most people, and we needed to be tapped into our transactional systems.
Cedar Fair was able to deploy 11 park websites in 4 months, and 8 mobile apps, connected to CRM and in-park beacons. The post-launch assessment showed just how far they've come.
 

According to Denny, "We've gotten to the point where our mobile app can walk you through the park, showing you where to go and letting you know instantly, not 5 minutes later, if you're going in the wrong direction.
We have wait times, we have showtimes, you can store your season pass on there.
We can send you targeted offers whether you're in the park, out of the park, in a different geo-fence outside of the park, near a beacon inside of the park.
Are you a season pass holder, are you not a season pass holder, are you coming into the park, are you exiting the park?"
It's fair to say that Cedar Fair's customers noticed their digital transformation.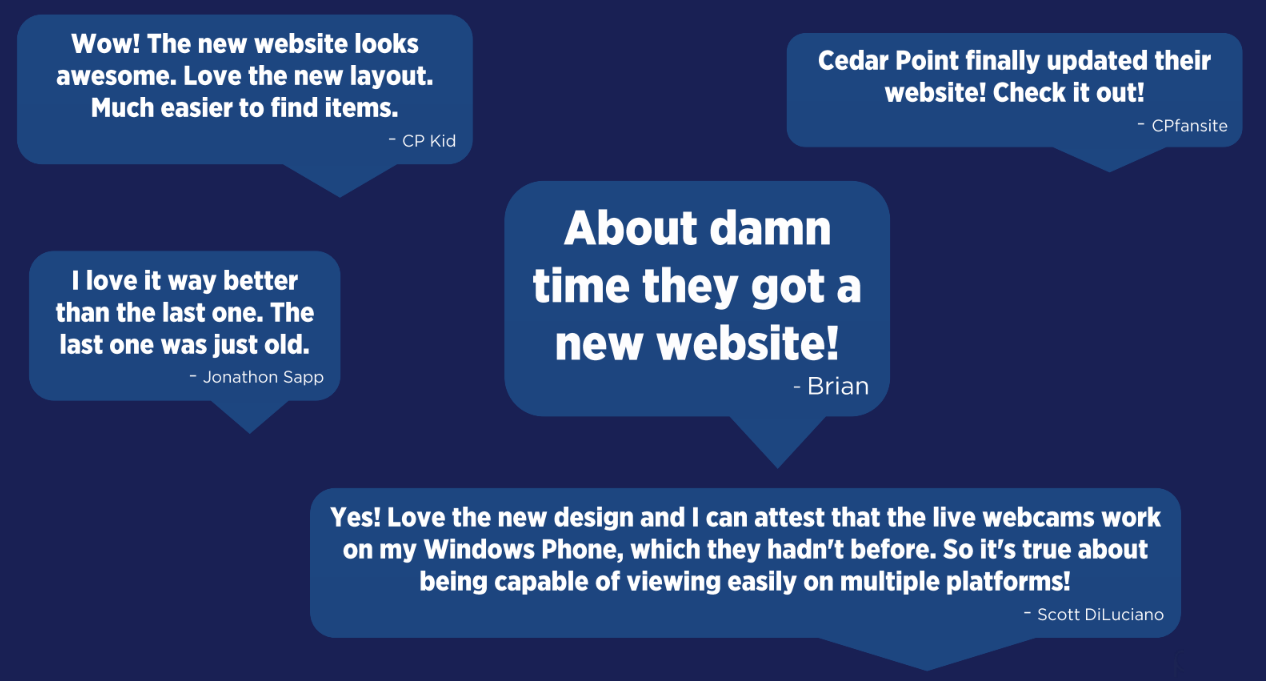 [Case 3]: HD Supply Builds Best-in-Class eCommerce
HD Supply is in the process of rethinking its entire digital strategy. Certain pain points meant the multi-billion dollar company wasn't innovating at a fast enough rate.
Brooke, Senior Product Manager, eCommerce at HD Supply, is instrumental in the transformation to get processes up to speed. Owning everything from the homepage to category pages to detail pages, Brooke was challenged with upgrading the site experience.
Brooke started by looking at the channels available and how customers interact with them. From customer behavior, Brooke realized buyers want to be able to make a purchase quickly and reliably:
They want to be able to find the right products fast, be sure they're picking the right products, order them and get back to their day. It's all about making that Add to Cart really easy.
A smooth buying experience was core to the strategy moving forward.
As Brooke started to dig into the details, she discovered some clear experience issues. "Our search was typeahead only, important filters were hidden in a tabbed approach or dotted around the page, and our category navigation was basically unusable."
"Site search was, and continues to be, a huge project for us," discloses Brooke, "like many websites today, the vast majority of people find products on our site through search. Navigation is used less than 10% of the time for us."
With the knowledge that using as much technology out-of-the-box as possible would avoid heavy customization further down the line, Brooke settled on Bloomreach as her site search technology of choice.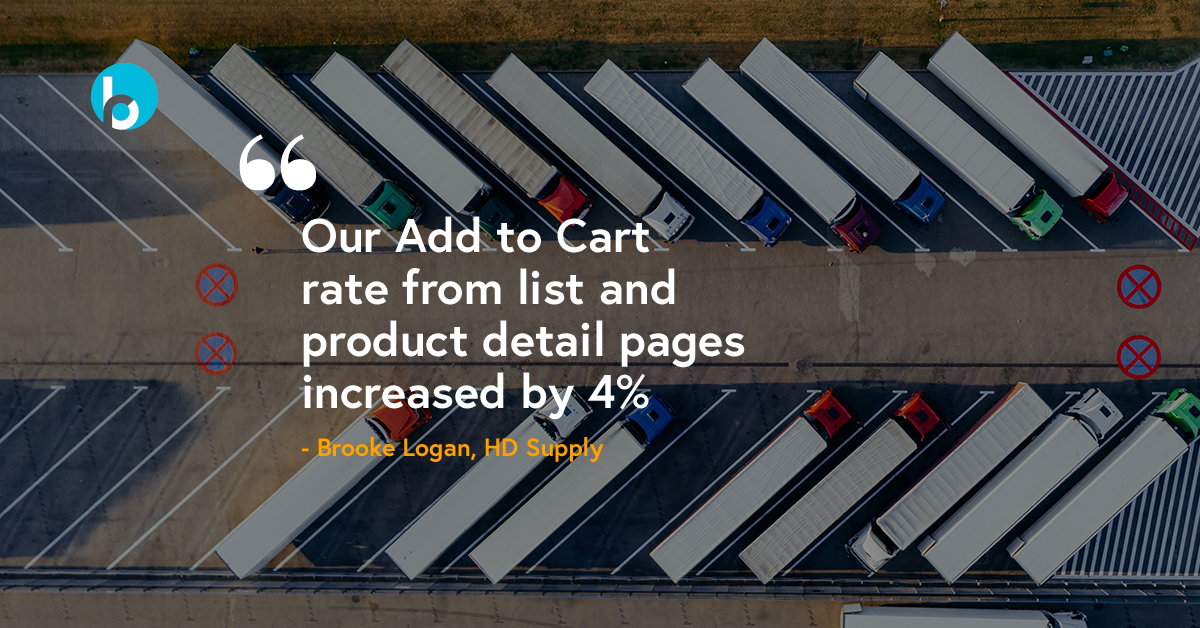 HD Supply used Bloomreach to:
Increase revenue from search by 16%
Lift Add to Cart rate by 4%
Find and fix search query problems in 30 seconds