Adobe Bought Magento. Now What?
By Raj De Datta
06/05/2018
With Adobe's latest announcement, plenty of Enterprise digital business leaders are uncomfortable. The news of Adobe acquiring Magento for $1.68 billion will alarm enterprises running on Adobe and utilizing an e-commerce platform other than Magento, as Adobe is now likely to push them towards replatforming to a non-cloud platform built for SMBs and the mid market.
Magento was Adobe's third choice. After losing Hybris to SAP and Demandware to Salesforce, Adobe bought Magento. From Adobe's point of view, this makes perfect sense: growth as a large suite provider primarily comes from adding new (large) businesses and aiming to grow them. The thesis is simple:
Add new product with meaningful traction in the market

Increase price

Put in place significant sales incentives to aggressively install and bundle newly purchased product

Roll out a marketing story around how the previously independent product is actually naturally connected with the previous 6-7 acquisitions under one marketing umbrella (i.e., "Experience Cloud", "Marketing Cloud")

Defer meaningful product integration for a long time
There's only one problem - Customers and Partners are smarter than that. In fact, the emergence of Digital Experience Platforms challenges the very notion that delivering an amazing Customer Experience can be done through a single suite owned by one technology vendor.
The reality of customer experiences is that it will continue to become more fragmented, not less (voice, chat, multi-channel, multi-device, etc.). How can a single Experience platform claim to have it all when consumer behavior changes faster than your average Adobe implementation project? Rather, enterprise business leaders realize that they need an open, intelligent API-based platform that they can use to interoperate with their legacy systems, new start-up technology, and a wide assortment of data sets.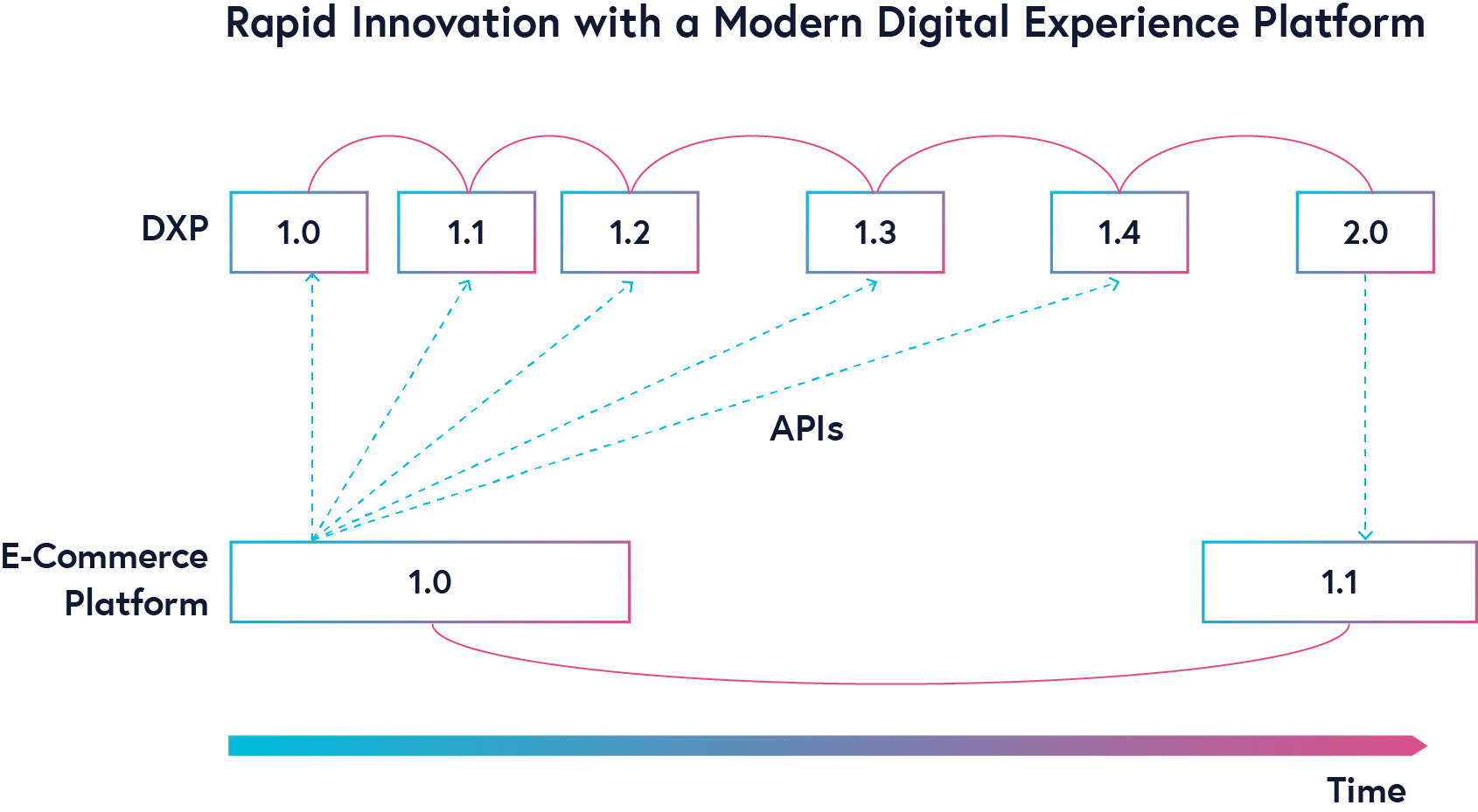 Great experiences are built, not bought.  In our fast-paced world, technology lock-in with a suite vendor is the #1 enemy of innovation and ultimately, transformative experiences. Velocity will drive competitive advantage in the coming years and the technology that enables this velocity will be platforms that can deliver cloud, AI/Machine Learning, separation of the back-end from the front-end (so marketing and business can innovate without reliance on IT), and an open API stack that feeds innovation back into your other core business platforms.
What Should We Expect Now?
First, we should expect a lot of technology incongruence from Adobe. Magento is a PHP-based platform, whereas Adobe is Java-based. While programming languages may be less relevant these days, integrating a PHP-based platform into a Java stack still seems like taking the hard road and will inevitably lead to compatibility issues and the need for Enterprises to build totally disparate technology competencies. Who is going to pay for that integration and incongruence? If you're an Enterprise customer, you are - in money and time.
Second, if you are an Enterprise brand running a different Commerce platform (e.g. Demandware, Hybris, IBM or Oracle), expect Adobe to push you to re-platform, regardless of what they say today. Expect them to claim that Magento will work for the Enterprise (highly unlikely, Magento 2 has limited traction). Expect their software not to play well with other Commerce platforms and expect IBM, SAP, IBM and Oracle to aggressively push against integrating with Adobe.
Given the digital experience limitations of most Commerce platforms, larger suite vendors will only present 2 solutions - deliver a subpar customer experience by taking core experience capabilities (personalization, CMS, search, analytics, merchandising etc.) out of your commerce platform or struggle against the macro forces by keeping Adobe on your site and forcing an integration between the products of two large software behemoths that want nothing to do with each other.
A Modern Way to Build Digital Business
There is a better way - an experience platform that is separate and interoperable with your commerce platform and marketing platforms of choice. At Bloomreach we believe that businesses need three basic platforms that integrate perfectly: a customer acquisition (marketing automation) platform, a digital experience platform, and a transactional (e-commerce) platform. Each of these platforms must be independent, best-of-breed and interoperable. They are separate workflows, with separate technology stacks and separate (but equally important) business objectives.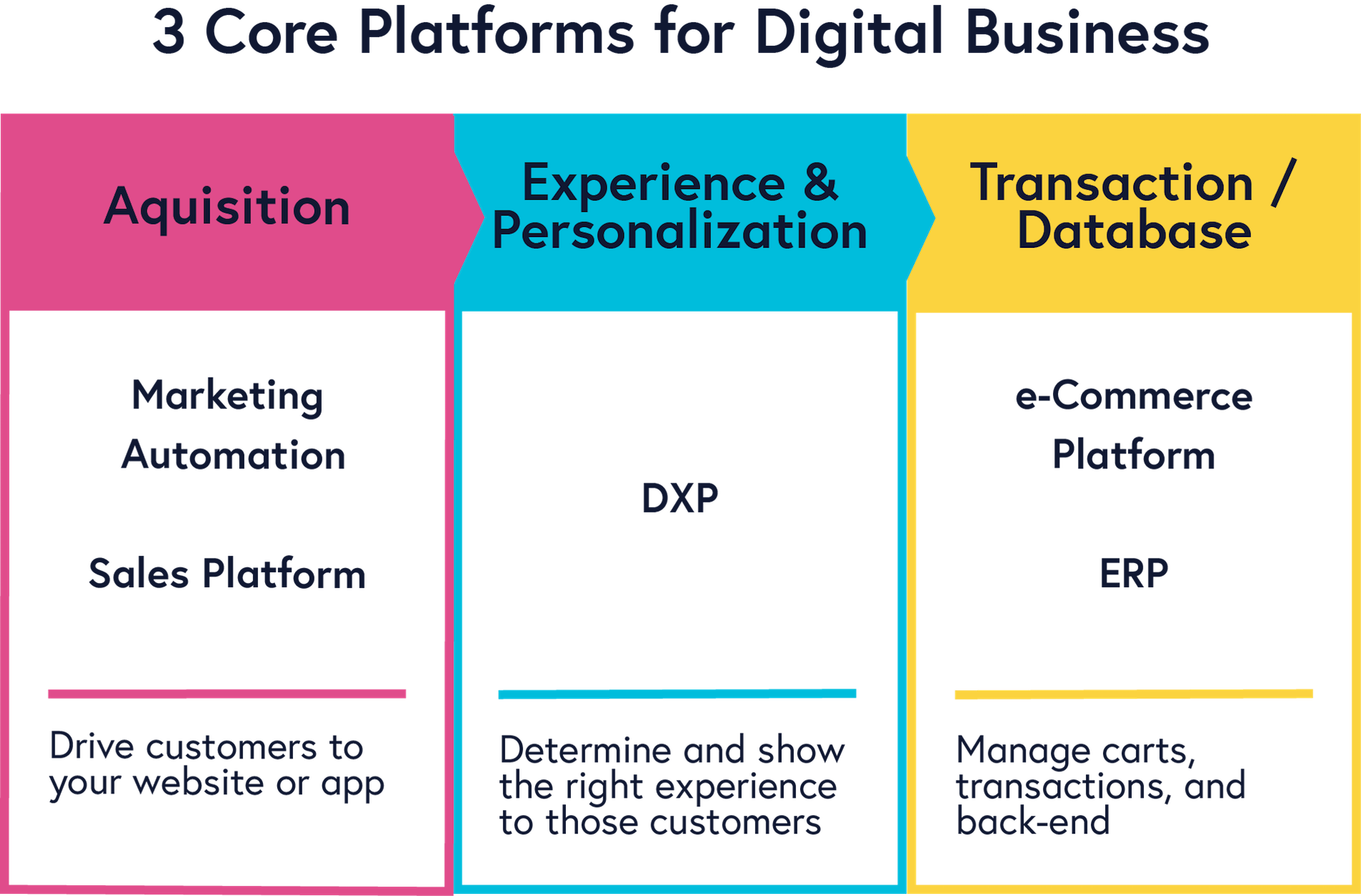 The Bloomreach DXP ties together all surrounding technologies to create a seamless customer experience across all touchpoints. The openness of the platform allows easy integrations with other solutions like marketing automation, CRM or e-commerce tools, meaning businesses don't have to replatform in order to adopt new technologies.
Our recent partnerships with e-commerce platforms include SAP Hybris, ElasticPath, Commercetools, Digital River, Skava, BigCommerce and Symphony underline this. If you're a partner, with a practice on Adobe as well as large commerce stacks like SAP or Oracle or Salesforce, it's time to build a practice on Bloomreach.
Your clients need you to deliver the future to them and the future is about delivering higher margin applications to clients built on a coherent AI-based platform, not 3 year implementation projects on monolithic stacks.
For Chief Digital Officers and other Digital Business Builders, it's clear the game is not about the big fish eating the small fish, but the fast fish eating the world. The relevant question is "what's the fastest path to delivering KPIs for the business and an amazing digital experience?" The Adobe/Magento deal helps us answer that question. Bloomreach.

This article was originally published on LinkedIn