Real-Time Personalization
Introducing Loomi: The AI Built for E-Commerce
By Ian Donnelly
08/29/2023
Real-Time Personalization
Introducing Loomi: The AI Built for E-Commerce
Since 2009, Bloomreach has recognized the power of artificial intelligence to personalize the e-commerce experience. That's why we've built and trained AI for e-commerce since day one, producing multiple AI-related patents and applying 13+ years of data on how customers shop and search to help businesses create magical experiences.
Up until now, our AI has worked in the background of our products, helping marketers and merchandisers behind the scenes to create infinite new paths to purchase, greater profitability, and fast business growth. Today, we're bringing our AI to the forefront and showing you the limitless potential at your fingertips. 
We're pleased to introduce Loomi, our innovative AI for e-commerce.
What Is Loomi?
Simply put, Loomi is our AI. It's the connective tissue between our products, weaving the power of personalization throughout the customer journey.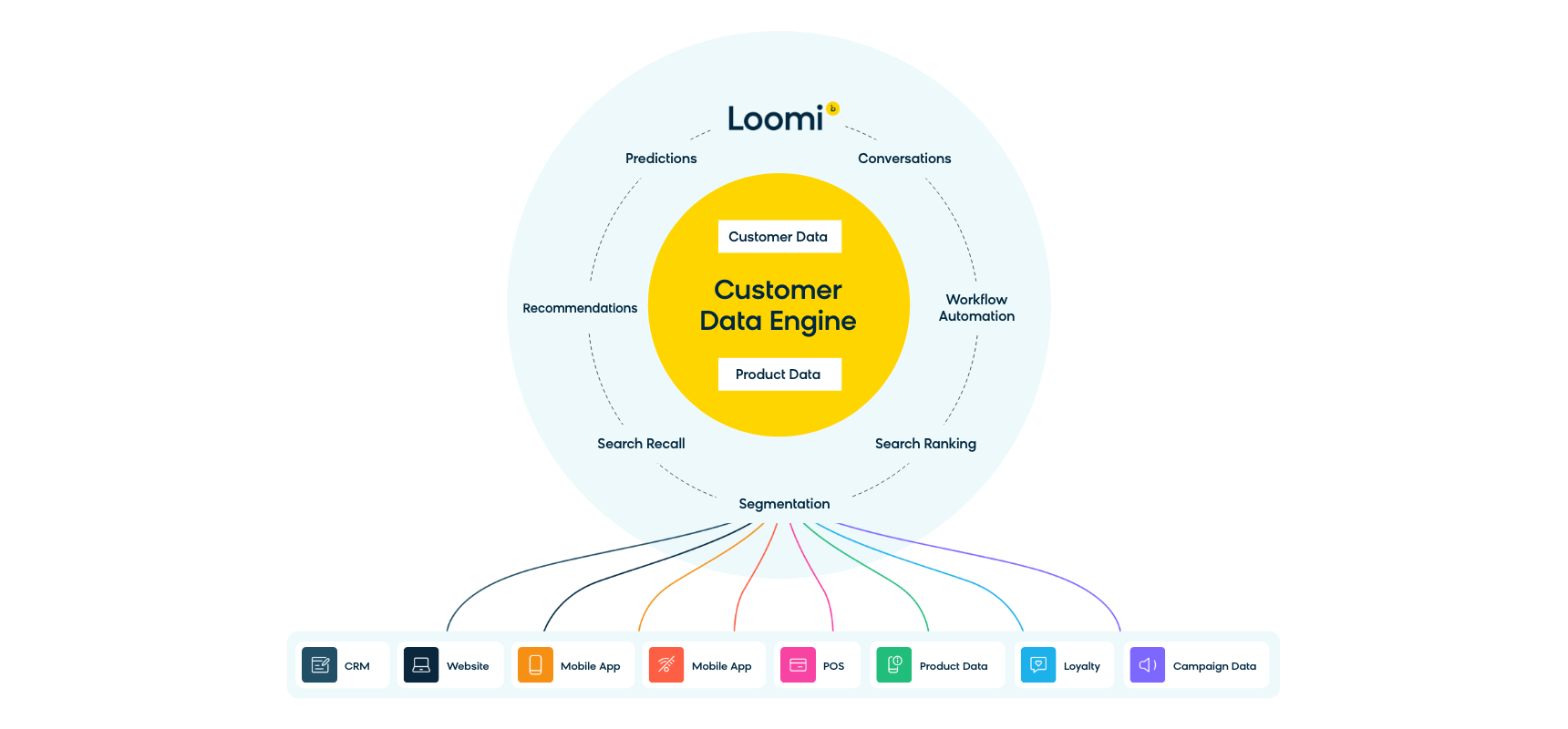 Fueled by our customer data engine and connected to all your channels and touchpoints, Loomi powers all the e-commerce personalization capabilities that make Bloomreach special. It's the intelligence that translates data into seamless experiences across every workflow, from automated omnichannel marketing campaigns to optimized merchandising and product discovery algorithms. 
With Loomi, your customer experience can adapt to your customer's needs in real time, growing and fine-tuning as their wants and needs change. And like every innovative AI, it's constantly improving to serve marketers and merchandisers better. 
It powers exciting breakthroughs like Bloomreach use cases, platform enhancements, and even brand new offerings like Clarity, our new product designed to revolutionize conversational commerce as we know it.
Loomi is the future of e-commerce — one we've helped more than 850 world-renowned brands shape. And our powerful AI can help your business do the same.
Explore the Limitless Ways That Loomi Drives Business Growth 
Interested in learning more? Visit our website to read all about our AI, browse Loomi use cases, and see what Loomi can do for you.