Life at Bloomreach
Meet the Team: Head of People Operations Andrea Kiripolská
By Petra Trubinska
07/22/2022
Life at Bloomreach
Meet the Team: Head of People Operations Andrea Kiripolská
Andrea is a member of our G&A team, and has been with Bloomreach for 4.5 years now. We spent some time chatting with her not only about her work role, but also about her recent new role as a working mother, to give you a chance to better understand what it's like being part of our G&A team.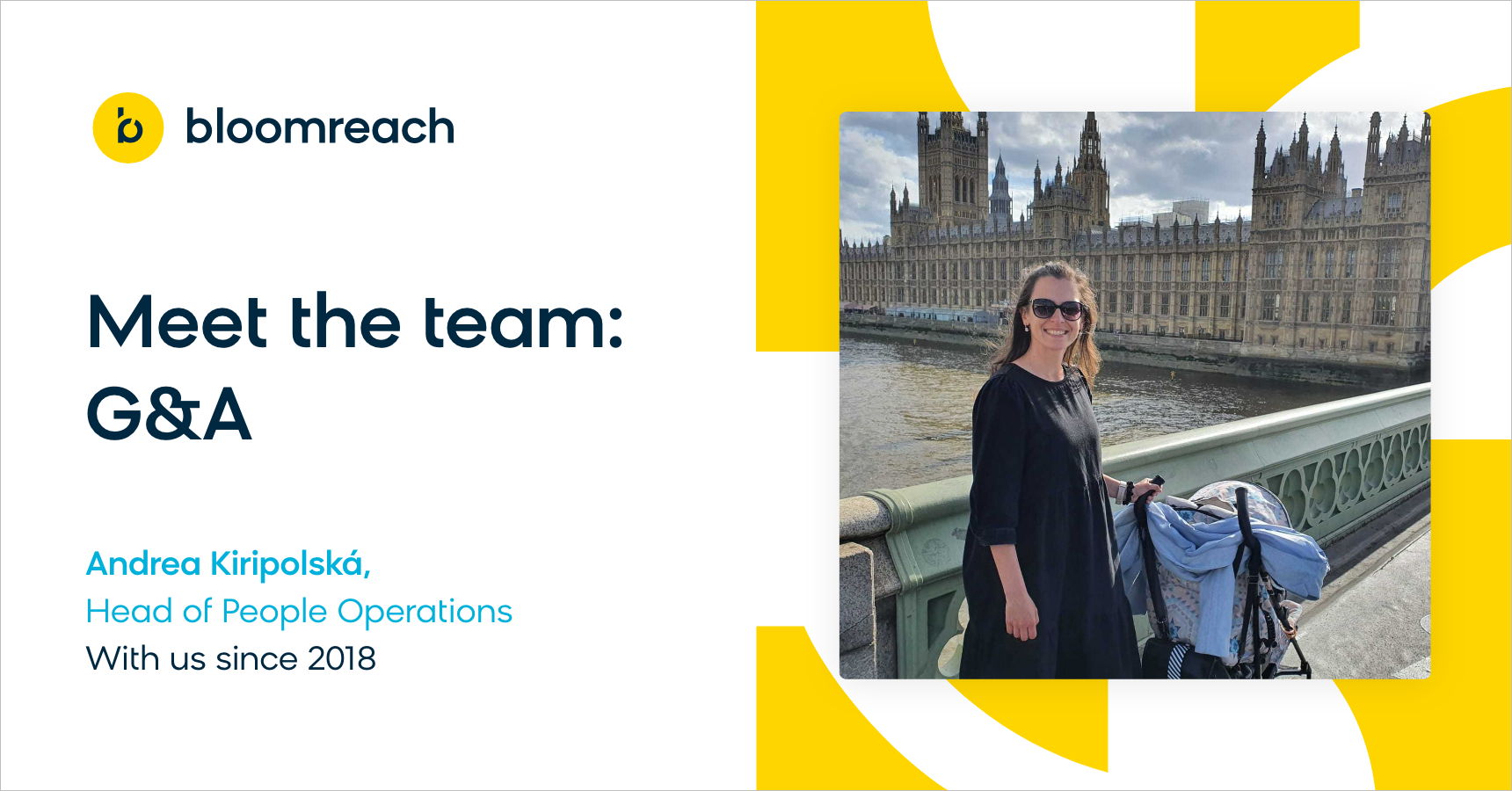 How did you find out about Bloomreach?
It was almost 5 years ago. I remember reading through Forbes magazine and spotting this "cool" Slovak start-up company named Exponea (note: a company that was acquired by Bloomreach in 2021). I wasn't looking for a job back then, but the first impression and excitement stayed with me and here I was a few months after that! Today, I am glad that we are constantly growing and we still have new challenges at Bloomreach, so I can say my enthusiasm is still growing.
What was your journey to becoming a Head of People Operations?
I was at the right place at the right time! It was a classic start-up and scale-up journey — I was the first People Operations Specialist in Exponea (now Bloomreach), and as we grew in terms of employee count and new employment locations, I worked my way up. The acquisition meant a lot of work for my role — mainly involving new countries, new cultures, and new processes, as well as their unification on a global level since Bloomreach has employees in EMEA, US, and India. My team grew into a global one, as well. I think I found myself in the work of the People Operations team because I like to improve the employee experience and related operations so that they work 110%, and I also love finding ways to make things more efficient and, ultimately, make our lives easier.
Walk us through a day in the life of a Head of People Operations at Bloomreach!
The People Operations team's daily goal is to bring Bloomreach's mission to life — we aim for Bloomreach to be the most impactful professional experience of our employees' lives. Our team mostly cooperates with other G&A teams (Recruiters, People Partners, Finance, and Legal) so that we can ensure smooth onboarding and offboarding processes and create amazing experiences in employees' lifecycle — including transfers, promotions, and being paid on time and correctly.
These days, I devote more time to my newest team members' onboarding and reviewing our internal processes (ensuring that we're global and fair, automated and efficient), while delivering the employee service with excellence. I also took over the Office/Workplace Operations while my colleague Jozef (Head of Office Operations) went on his parental leave — I'm returning this favor since he jumped in while I was off for my parental leave! This actually makes me better at my role, as I can see and better understand where our responsibilities, agendas, and processes intersect — I like to call it a rotation program in practice. 
To give you a perspective on how I spend my days, my daily time is usually divided up between mornings, with family time and running errands; lunch, for Slack and emails; afternoons for calls (while the hubby takes care of the little one); and evenings for individual work, while the baby sleeps. 
What do you consider the most challenging part of your role?
Scheduling the calendar, honestly, and aligning it with my hubby's calendar, as we are both new to the roles of working parents and we are not ready for childcare just yet.  
From a work perspective, keeping up with all the changes! I am letting go of the feeling that I'll know and remember everything. As in many other spheres, the workplace went through a big change involving the "work from anywhere" model — we need to streamline internal processes to ensure the best employee experience in a remote-first company. We are currently focusing on onboarding improvements to keep it consistent across the globe and increase the retention rate. 
What is the most rewarding part of your role?
Definitely seeing my team members grow! Another important aspect for me is learning something new every day — I have never had a boring day in 4.5 years! I also find positive feedback from our employees fulfilling, proving that we can stay kind and flexible even in a growing company. 
What would you say is your favorite thing about working for Bloomreach?
That I see the actual results of my work. I am lucky to work with my manager, our Chief People Officer Uršula Kráľová, who is truly great at many things, but what I appreciate extraordinarily is being trusted and empowered. And this is something I would like to pass on to others. And hopefully I already do. 
Another thing I really need to mention is that Bloomreach cares about its employees. Whether it means mental health support, responding to what's happening in the world (war in Ukraine, women's rights in the USA) or supporting working parents, which is very important to me these days. I never imagined I would be encouraged to take my 8-month-old son and my husband with me on a business trip abroad, just to be able to attend the week-long team offsite (I would not go without them and that's where the picture was taken!). 
In a few words, how would you describe the culture at Bloomreach?
Growth mindset — we are always open to changes and able to reevaluate and adapt quickly

Transparent — very open internal communication on business, which is not a given in many companies.

Trust — we have a high level of empowerment, which is great for both employee self-growth and the company
How do you learn new things applicable to your role?
I learn a lot from our consultants — legal and payroll vendors — and from Ursula's coaching and team knowledge-sharing. I also learn from LinkedIn communities, newsletters, and Google! 
Outside of Bloomreach,  what are you passionate about? 
I still am trying to fit my "old" passions into my new life. Until that happens completely, I can only respond as the old vs. new me. :) I used to do multiple-day biking or hiking trips with friends, go to the sauna and gym, and do cold water dipping in lakes. Now I enjoy slow family mornings in bed, cutting my son's fingernails :) and I also aim to walk 10k steps daily on average this year.