Life at Bloomreach
Meet the Team: Business Operations Manager Balakrishna Sappa
By Petra Trubinska
12/13/2022
Life at Bloomreach
Meet the Team: Business Operations Manager Balakrishna Sappa
Balakrishna is a member of our Operations team and has been with Bloomreach for three months now. We spent some time chatting with him about his experience with the company to give prospective candidates a chance to better understand what it's like being part of our Operations team.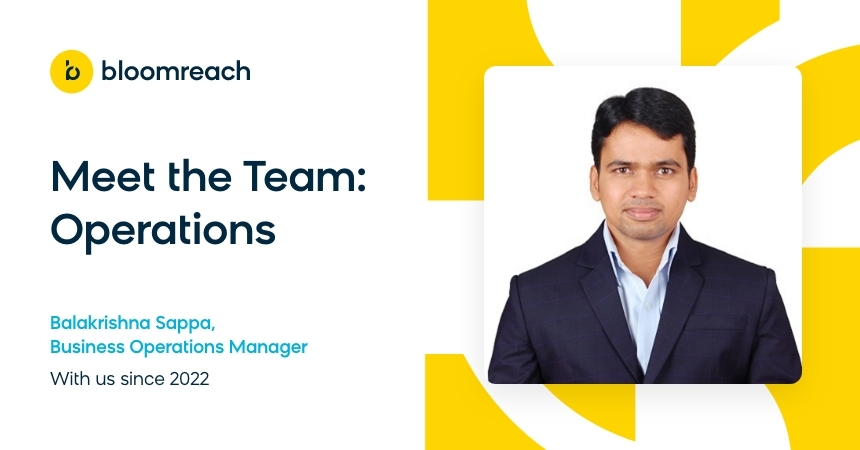 1. When and how did you realize that you'd like to work within a technology/SaaS company?
Interestingly, it was after I joined Bloomreach — that's when I realized that a SaaS company (and more specifically, Bloomreach) is the right company to associate with.
2. You joined quite recently — how did you find out about Bloomreach?
It wasn't planned from my end. I was reached out to by a recruiter, and what convinced me to join was the clarity of the business and the passion I saw in the people. I've never seen this before. 
3. What was your journey to becoming a Business Operations Manager in a software company?
I graduated in commerce and got my post-graduate degree in computer applications, but my first job was as a Software Engineer. Then I moved to the role of a Data Analyst and ended up as a Business Operations Manager. It has been a collaborative journey, with leaders leading from the front and peers collaborating alongside.
4. Walk us through a day in the life of a Business Operations Manager at Bloomreach!
My typical day consists of the following:
Check out what I have planned for today from yesterday's end-of-day write-up 
Check out all the requests I received between yesterday's logout time to today's login time
Prioritize the work
Try closing in on the low-hanging tasks
Keep a tab on the time to see the progress being made
Plan for connecting with stakeholders where needed
Communicate the progress and updates with stakeholders
5. What qualities would you say a person who wants to become a Business Operations Manager needs to possess?
Both a worm's eye view and a bird's eye view in the right proportions and at the right intervals. What I mean is being able to get into the details, while at the same time pausing for a moment to see the bigger picture and ensure that we're heading in the right direction and aligning ourselves with the organizational goals.
You also need clarity of thought and direction, especially clarity of direction from your leaders. The leadership team at Bloomreach has been really helpful. Additionally, be strong in the basics of your area of expertise — that will help you in being clear in your thoughts.
6. What is the most rewarding part of your role?
The sense of accomplishment you get when you see how the outcomes of your efforts have been helpful to stakeholders and leaders.
7. What do you consider the most challenging part of your role?
It's applicable to every role, but it's always important that we manage expectations well by keeping the key stakeholders aware of the progress being made, as well as any shifts in timelines due to reprioritization or unanticipated and uncontrollable delays. When these things aren't clearly communicated, it may turn out to be a challenge.
8. In three words, how would you describe the culture at Bloomreach?
Engage 
Encourage 
Everyday
9. What would you say is your favorite thing about working for Bloomreach?
The amount of information you get about the entire organization from day one through the Mini Summit is my favorite part. I haven't seen this anywhere else in any other organization.
10. How do you learn new things applicable to your role, whether within the team or outside work? 
Within the team: Every conversation with your leaders and peers is a learning experience.
Outside the team: Learning is a continuous process and sharing is a joy and reinforcement of your learning. In any role, while you are working through the week, there will always be instances where you realize things you don't know yet. That's when I either instantly/quickly learn and address the challenge at hand or I make a note of it as a reminder for the weekend to spend some dedicated time learning. Either way, I plan to share it later with the community.
11. Outside of Bloomreach, what are you passionate about? 
Sharing the learnings with the community is a joy to me. Who knows — it might help somebody else challenged with a similar problem! So, I keep sharing my learnings on my LinkedIn page, my blog, and my YouTube channel.
I also spend most of my time over the weekend with my family. This relieves me of any kind of stress I might've accumulated over the week.