Life at Bloomreach
Meet the Team: Software Testing Specialist Zuzana Čelková
By Petra Trubinska
02/15/2022
Life at Bloomreach
Meet the Team: Software Testing Specialist Zuzana Čelková
Zuzana is a member of our QA team (Engineering), and has been with Bloomreach for almost two-and-a-half years now. We spent some time chatting with her about her experience with the company to give prospective candidates a chance to better understand what it's like being part of our testers team.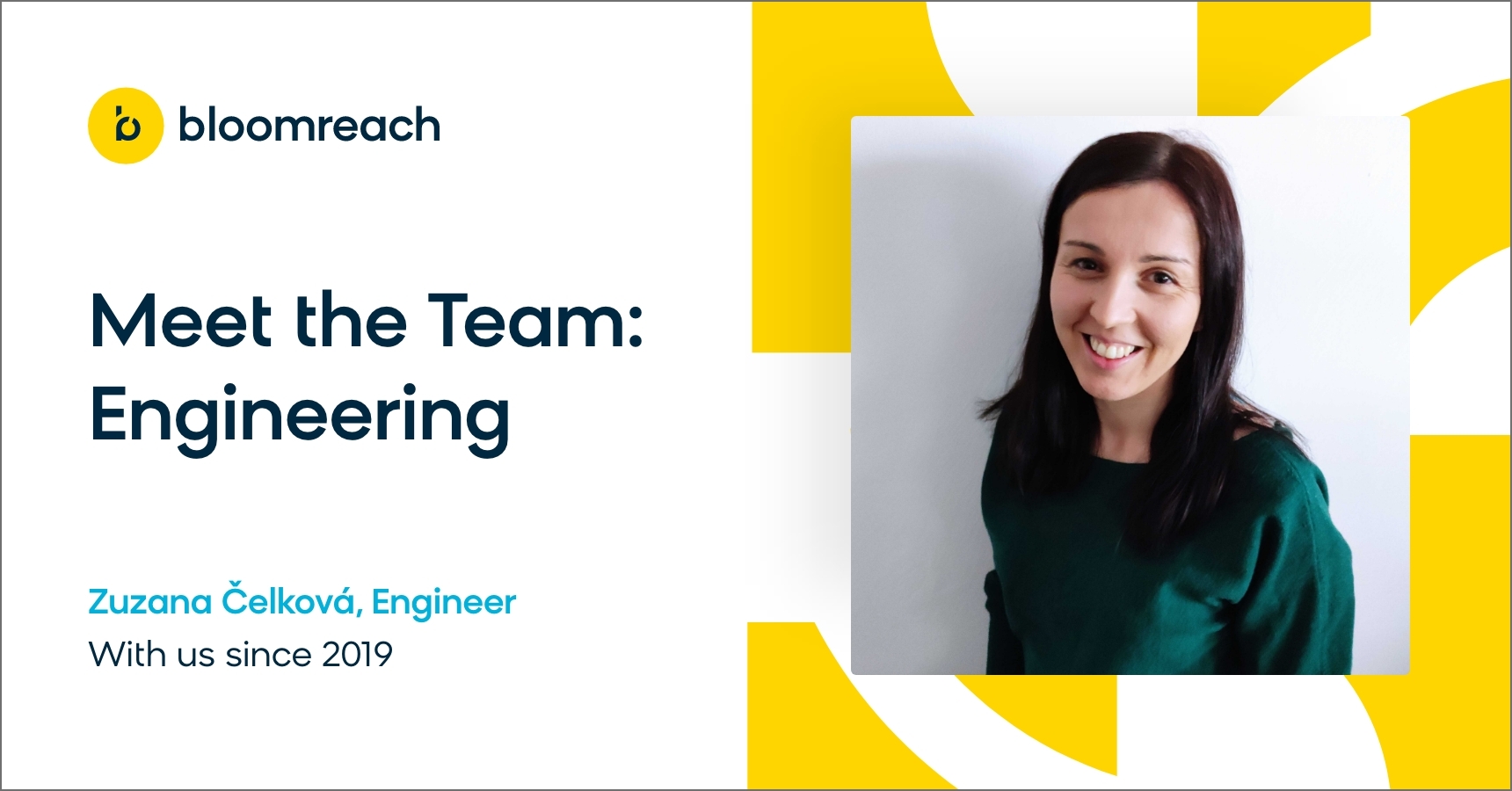 When and how did you realize that you would like to work within tech/engineering?
At my previous company. I was working as a part of the Customer Care team, where I later became a team leader. There, I had the opportunity to compare different roles and responsibilities. I realized that I enjoy working on questions and issues which require analytical skills and a deep understanding of problems. I found it very satisfying — being able to figure out and resolve complex problems. 
Why did you decide to become a software tester specifically? 
I think quality assurance is a good starting point if you want to work in engineering in general. Here, I think I can learn a lot, and gain a good understanding of how the processes work and what the other teams' responsibilities are. Also, a QA team member looks at software from a user's perspective, and I think  my experience with customer care gave me a lot of understanding regarding this.
How did you find out about Bloomreach?
I was not searching for a new job proactively, but my colleague at a previous job told me that  they were looking for people to join the QA team at Exponea (note: a company acquired by Bloomreach in 2021, now called Bloomreach Engagement), and she believed that the position was right for me. Her boyfriend was working in Exponea at the time, so she had a good overview about the company and the position. I'd checked the responsibilities and requirements of the role and I decided I wanted to apply for the job right away..
Walk us through a day in the life of a Software Testing Specialist at Bloomreach. 
It can vary depending on what we are working on at the moment. We collaborate with engineering on projects — we prepare testing tasks, acceptance criterias, and if the project is ready for testing, we do it. Every new version of the software is tested by us before its release. After closing new deals, we prepare new instances for customers — we test these instances before the customer gets it. We also work on automated end-to-end tests and that is the field we want to improve even further in in the future.
Do software testers have to know any coding languages?
It is definitely a plus, but it depends on the specific work description. It is not a requirement for manual testing, but it is needed for test automation to understand how the test is written and what exactly the test does. I didn't know how to code when I first started and it was challenging, but I've been learning along the way. Back when we were going to the office, I had a great colleague, my team leader Bohuš, sitting right next to me, and he answered all of my questions patiently and taught me a lot, which I really appreciated. Every day, I try to learn something new and get better. 
How does a person become a software tester?
I don't have a general answer for you, I just know how I became a software tester! I think in order to become one you have to be detail-oriented with good analytical skills and a good understanding of the testing process. If you are really interested, I think there is nothing special that you cannot learn, but it is definitely a requirement to have a sharp eye for detail and focus on quality. 
What types of technology do you like testing the most? 
Well, Bloomreach is the first company where I've worked in a tester position, so I don't have much experience with technology testing outside the company. But personally, I like testing technologies that I haven't tested before, so that I can learn new things. It is challenging in the beginning but after I know I can do it, I am definitely satisfied.
What is the most rewarding part of your role?
When we work on a project and later get good feedback on it, it always feels rewarding. Also, when I receive good direct feedback or silent hero feedback (note: a type of feedback we have here in Bloomreach where colleagues can secretly nominate each other) from my colleagues, it means a lot to me. 
What do you consider the most challenging part of your role?
If the development of projects that I am supposed to test is finished at the same time, what can happen is that they are waiting to be tested simultaneously with similar deadlines and it can be challenging to finish all of them on time and to find balance between quality and speed on delivery. 
What would you say is your favorite thing about working for Bloomreach?
I really like that everyone is really open to feedback and we have plenty of possibilities where we can express our opinions and have an impact on how to improve workload. I also like that one of our benefits is a budget for learning, which can really help improve our skills. And also, quarterly goals are facilitating us to improve our skills and work.
In three words, how would you describe the culture at Bloomreach?
Transparent, flexible, and friendly.
How do you learn new things applicable to your role (within the team or outside work)?
We have a learning budget that we can use for anything from courses and conferences to books to help us improve our skills. For example, last year I did an Agile Tester (CTFL-AT) and Certified Tester Foundation Level (CTFL) certificate. Also, at Bloomreach we have access to Udemy, where really great courses can be found. It is also possible to learn a lot from people within the team, and of course, a good opportunity to learn something new is working on a new feature or a project as a part of our work. Our team leader also supports personal development — he always tries to find a way to improve our workload, to share our knowledge within the team, and to be more efficient.
Outside of Bloomreach, what are you passionate about? 
I really like to play sports. I play football (soccer) and almost everyday I have training or a match. Besides that, I like running, hiking, cycling, and doing yoga at home (which I started during quarantine and still do today). It helps me clear my mind a lot and be more efficient and balanced. I also like to read books. My favorite genres are crime and fantasy. Before the pandemic, I used to volunteer in person in "Bator tabor" — camps organized for Hungarian, Czech, and Slovak children who overcame a serious disease. The camps aim to help them regain their confidence and enjoy their time after battling the disease by doing many interesting and enjoyable activities. More recently, the camps have been organized virtually, so I've had the opportunity to volunteer virtually at least, which was a really interesting experience.