Life at Bloomreach
Meet the Team: Senior Engineering Manager Neel Borooah
By Petra Trubinska
05/02/2022
Life at Bloomreach
Meet the Team: Senior Engineering Manager Neel Borooah
Neel is a member of our Discovery Engineering team and has been with Bloomreach for over five years now. We spent some time chatting with him about his experience with the company to give prospective candidates a chance to better understand what it's like being part of our engineering team.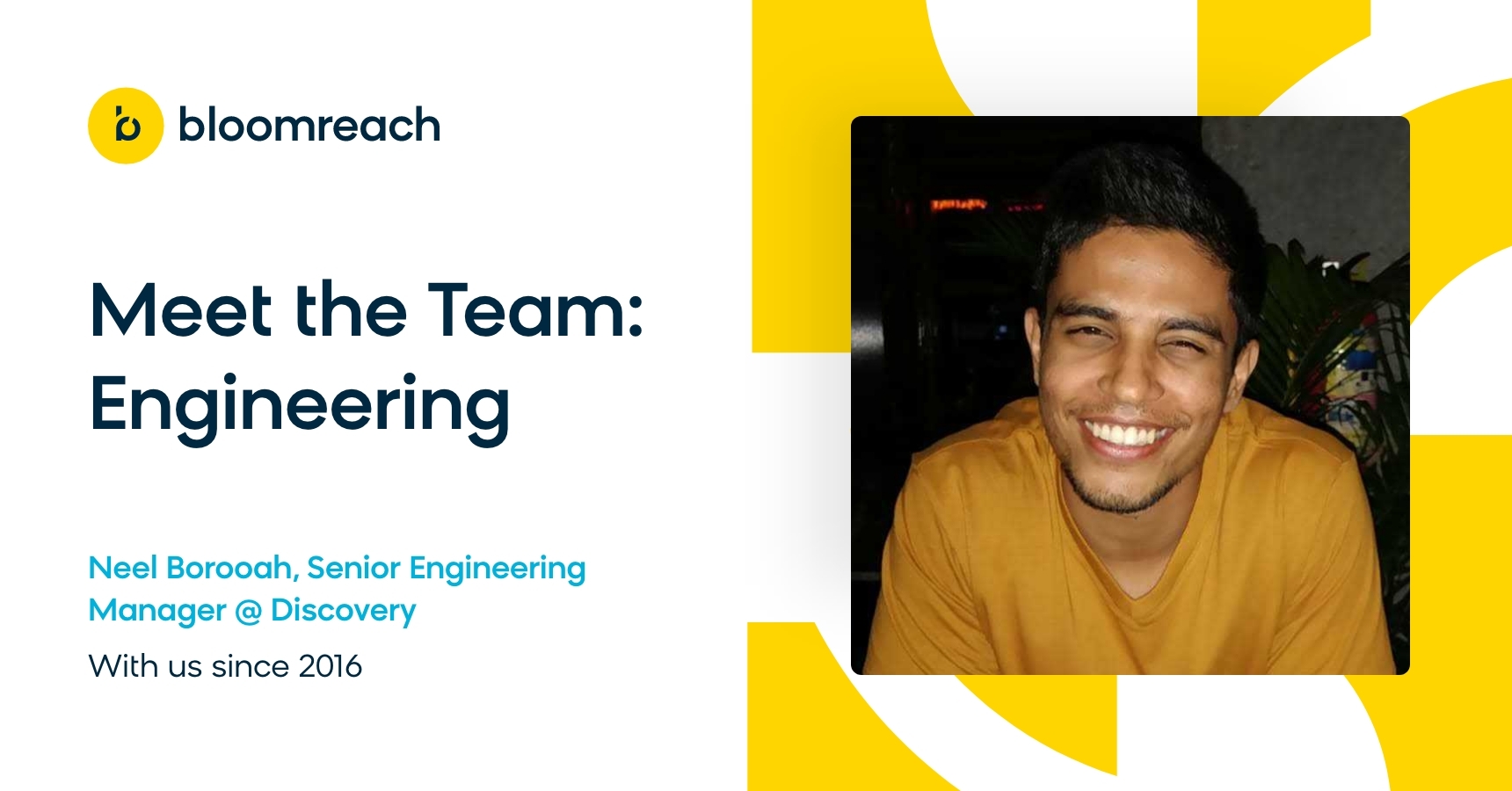 When and how did you realize that you would like to work within technology/engineering?
I was a slightly reserved child who liked to solve problems on my own and tinker with stuff around the house. My parents bought our first PC when I was in 11th grade, which was also around the first time I encountered computer science. I loved the intersection of math, logic, and the ability to build amazing things with just a computer. 
How did you find out about Bloomreach?
A school friend of mine (Om Bathija) used to work at Bloomreach back when the company was a small startup building the Organic product line. He told me about the challenging problem statements and strong tech team, which got me interested. A year later, when I started searching for my next job, a Bloomreach recruiter reached out to me and I jumped at the opportunity.
What was your journey to becoming a Senior Engineering Manager?
I have always worked with startups, as I have a preference for seeing the impact of my work and growing with a company. After completing my graduation in computer science, my batchmate and I decided to start a tech company. In 2013, we were trying to build an ed-tech startup in India to bring the education ecosystem online. We were acquired two years later, after which I joined another startup as the founding engineer. This startup was acquired a year later and then I joined the Bloomreach engineering team. At the time, Bloomreach was five times smaller than it is now.
Over my five-year journey at Bloomreach, I have contributed to significant portions of the Discovery product by building merchandising, authentication, analytics, and platform systems. 
I was an accidental manager; I moved into management since there was a need for a manager for the Analytics engineering team and I was a senior engineer who had the capacity. It was only when I fully embraced the role that I understood the value of people management and how great companies are built by great managers.
Currently, I manage the Data Analytics & Platform Engineering teams, which consist of nine people who are responsible for the data backbone of Bloomreach Discovery.
Walk us through a day in the life of a Senior Engineering Manager at Bloomreach!
An engineering manager at Bloomreach is responsible for building great products through technical leadership, organizational design, people development, and culture.
A typical day for me would start with responding to product queries about feature functionalities, technical details, cross-team coordination, etc. I spend time catching up on the status of projects through daily scrum meetings.
I have time blocked off to focus on my top priorities (which currently revolve around exploring long-term platform improvements), and I spend the remaining time reviewing the product and technical design specifications, coaching engineers, recruiting, and making lame jokes.
What is the most rewarding part of your role?
I love building great products with amazing engineers. I also love it when engineers are intrinsically motivated because it indicates that all the systems are in place due to them really enjoying their work and delivering value to our customers.
What do you consider the most challenging part of your role?
The most challenging parts of my role are managing the breadth of skills required, solving increasingly fuzzy problems, and building high-performing teams with world-class engineers.
Tell us a bit about your team. 
I lead two teams at Bloomreach:
Data Analytics: this team builds systems to ingest, attribute, and visualize petabyte-scale user data. We perform advanced analytics on top of user behavior data which is consumed by downstream systems for search relevance. We also build a reporting layer to help customers derive business insights from this data. The main technologies used are Java, Hadoop, Spark, Kafka, Redshift, Play!, and ReactJS.

Platform Engineering: this team builds horizontal low latency storage and orchestration systems on top of which other components build their applications. The technologies used are Java, Scala, Spring, Postgres, Varnish, and Redis.
Coolest story involving your team? 
This story is from our pre-pandemic days: Bloomreach would conduct a yearly sports tournament called Bloomlympics, where we would compete in games like table tennis, foosball, FIFA, pool, and chess. The winners would earn bragging rights (which was a big thing at our startup).
This was a very competitive event and many engineers would practice throughout the year to perform at this event. 
My team was focused on 8-ball pool — we would stay back after work to practice and while playing, we would also work, do code and design reviews, and form deep bonds. It was a very memorable experience and we still reminisce about it.
We definitely got a lot better at 8-ball pool, but I don't remember if we actually succeeded in winning the tournament!
In three words, how would you describe the culture at Bloomreach?
Inclusive — at Bloomreach, we try to ensure everyone is heard, valued, and empowered. 

Transparent — we try to be open with each other about the positives and challenges. This happens at a team level all the way to the executive level where the execs share company performance details every alternate week with the entire organization.

Positive — Bloomreachers believe that hope precedes good outcomes and we always try to ensure we stay positive and continue to solve problems.
What would you say is your favorite thing about working for Bloomreach?
Bloomreach is a very employee-centric organization — it is seen everywhere, from the ownership given to every employee, the compensation, the perks, the investment in career opportunities, and more. I really feel like the company trusts me to do my job well and tries to support me in every aspect of my work.
How do you learn new things applicable to your role? (within the team, outside work)
I am a continuous learner — currently, I am pursuing an executive MBA to upskill myself as a manager. Bloomreach is a really supportive company, so I am able to combine full time work and studying, which I really appreciate. Of course, I need to study during the weekends as well, so right now my "life" is all about work and study only, but it's worth it. I also love to read books (mostly technical and management focused) and watch talks.
Outside of Bloomreach, what are you passionate about? 
I care deeply about holistic health through fitness, meditation, and nutrition. I believe that a balanced approach allows us to really enjoy this experience called life and be fulfilled in every moment. Daily morning meditation also helps me with improved concentration, productivity, and mood regulation (and I can go on and on and on!).