Life at Bloomreach
Meet the Team: CSS Developer Scarlett Bednáriková
By Anna Petrescu
01/26/2022
Life at Bloomreach
Meet the Team: CSS Developer Scarlett Bednáriková
In the latest installment of our Meet the Team Q&A series, we spoke with Scarlett Bednáriková. Scarlett is a member of our front-end engineering team, and has been with Bloomreach for over two years now. We spent some time chatting with her about her experience with the company to give prospective candidates a chance to better understand what it's like being part of our engineering team.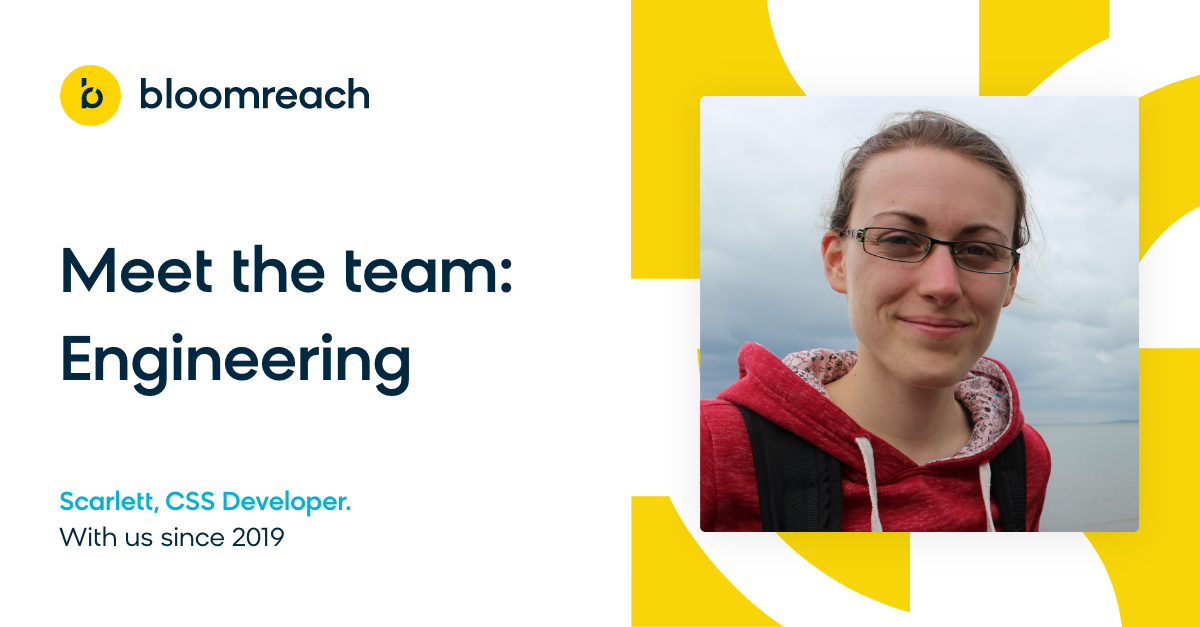 When and how did you realize that you wanted to work within tech/engineering?
For me it was anything but a straight road. I have a degree in humanities and was sure I'd stay in the academic field. However, my wife brought me to the world of building websites and I realized it's very creative work that has a great balance between working alone (which suits my introverted personality) and being part of a great community in which people always want to learn new things and push boundaries. That's how it started for me four years ago.
How did you find out about Bloomreach?
My wife (a Bloomreacher as well) and I were at the airport and she saw a group of people saying nice things about their work and company. One of them was wearing really cool sweatpants with the Exponea (note: a company acquired by Bloomreach in 2021, now called Bloomreach Engagement) logo. She remembered the brand logo and later on we looked into joining the company. So you could say that we found out about the company from a pair of awesome pants! 
Why did you decide to become a CSS developer (vs. another coding language)? 
At the beginning of my tech journey, I was overwhelmed by the things I should have known in order to get a job, so I tried to cover all front-end technologies out there. This resulted in me knowing a little about everything. Soon after that, I realized I should focus on the one thing that I enjoyed the most and learn stuff adjacent to it. For me, it was working on the visual aspect of web solutions. I like being a bridge between designers and hardcore programmers!
Walk us through a day in the life of a CSS Developer at Bloomreach.
In the morning, I check my calendar and to-do list so I know what's ahead of me. Then, if I have some work in sprint projects, I'll update/create new components, help front-end developers develop visual parts of our new features, or fix some bugs and do stuff from our internal stylers backlog (improving our components, cleaning up code, researching new project ideas, etc.). Somewhere in between this, I also have meetings, mostly  with fellow stylers and front-end coders to sync with each other and also to catch up and chat so we're not totally isolated and can keep the spirit up.
What is the most rewarding part of your role?
Although this might sound strange, lately it's been having less work in sprint projects each cycle. The reason is that it's proof that we do our "behind the scenes" work very well and developers don't need much of our help. It means all the components they need are there,  well-prepared, and functioning so they can just grab them and build the screen upon them. This enables our team to improve our user interface framework and have time to do it in advance.
What do you consider to be the most challenging part of your role?
A lot has changed since I came here. Two years ago, it would be improving visuals in place A without breaking anything in places X, Y, or Z. Now, the most challenging part is to improve the solid foundations we already have, which is not always a very straightforward task. It's about moving from a visual-oriented role to more of an architectural one, I'd say. It's like, "Okay, now we have this great UI framework, what do we do with it so it's future proof, easier to maintain, and easier to test?"
What would you say is your favorite thing about working for Bloomreach?
I'd say it's a great deal of freedom and ownership, and mutual respect within the team. There's freedom for everyone to present their ideas on how to approach things, have open discussions, and brainstorm together. At the same time, it's also owning what you said and did, and if you succeed you get noticed and if you fail it's not a tragedy. Everyone is willing to help and also provide valuable and constructive feedback so you can learn and grow.
Coolest story involving your team? 
One of our former colleagues, Johny, was great at organizing great team-building activities. Once, after enjoying a great feast in a restaurant near Bratislava, a small group of us who wanted to continue the party went downtown, and I just remember Johny standing there in a traditional Slovakian folklore costume, barefoot, holding a pack of a dozen milk cartons. Maybe I should also add that he was totally sober — he was just being himself!
In three words, how would you describe the culture at Bloomreach?
Transparent, friendly, innovative.
How do you learn new things applicable to your role (both within the team and outside work)?
All my teammates are great sources of knowledge, and many new things just come out during the day, whether it's during pair coding sessions, casual chats, or help when I work on something tricky. As for learning outside of work, our education budget helps a lot.  Thanks to it, I was able to attend a great web design conference and three workshops, enroll in many coding courses, and buy lots of books. The only downside is that there's only 24 hours in a day.
Outside of Bloomreach, what are you passionate about? 
I recently moved to a new house and new location with my wife, where we have nature just a few steps from our doorstep, so I enjoy long walks and exploring. I also play guitar and plan to expand my musical knowledge and buy a drum set. And, since the pandemic, I've dived into mixology. Evenings, however, are always dedicated to reading some good books. My favorite subject for the past year has been around the universe and theoretical physics.