Life at Bloomreach
Investing in Our People
By Ursula Kralova
04/11/2022
Life at Bloomreach
Investing in Our People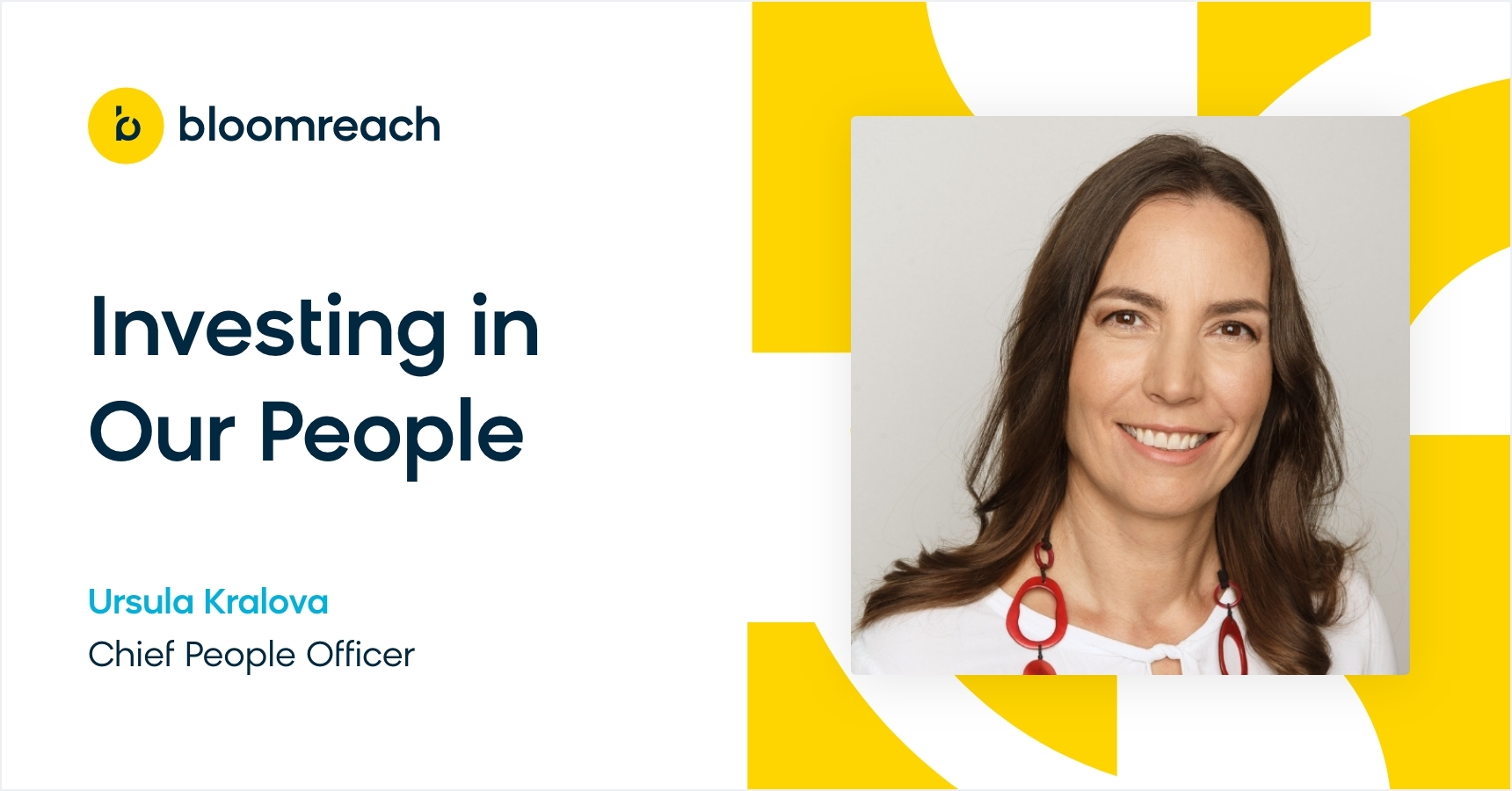 The announcement of a new round of funding leads to a number of questions. How much was raised? What's your new valuation? Who were the investors?
The most frequently asked, and arguably most important question, though, is this: what do you plan to do with that investment?
When we announced our latest funding round, $175 million led by Goldman Sachs Asset Management, we already knew the answer to this question. As Raj explained in his own blog post: 
You can expect us to deepen our investments in our data platform and ecosystem. You will see us in more and more geographies internationally. You will see each of our pillars win in all segments of the market (mid-market and enterprise). You will see more and more innovative e-commerce use cases that get past technology silos like CDP, CMS, Search, or Marketing Automation, and make it easy for practitioners to build personalized experiences that exactly match the way people shop and buy.  
These areas of investment, all critical to the growth of Bloomreach and the value we can drive for our customers, are the ones that most expect to hear about when they ask where the investment is going. And while these areas are of course important to us as an organization, we prioritize another area above all else: our people. 
Our people are passionate about what they do and how they can help our customers drive truly magical and measurable commerce experiences. Bloomreach's culture is one of commitment, and it is only because of that culture — because of our teams' willingness to work very hard, very fast — that we've been able to achieve what we have these past few years. And given all that our people have invested into this company, it only makes sense that the company invests back into them. 
That comes in a few different ways. At the top of the list is the growth of our teams. With this investment, we will be able to even further expand our employee base, bringing on new team members to ensure our existing teams have the support they need. Specific areas of focus include engineering and sales, which are critical functions in the expansion of our products and growth in different regions, as well as support for our recruitment team itself, which is working tirelessly to expand the Bloomreach community. As we expect these areas to grow, we must make sure headcount grows too, and this investment will enable that. Beyond just growing headcount, we're also looking to invest in our existing teams. We're focusing on the education budgets offered to each of our employees and how we can ensure they're best utilizing that money to grow their skillsets. 
Additionally, we're ensuring this funding plays a role in helping us to build greater community amongst our global teams. We are planning more regional events that allow teams in the same city to see one another and creating more travel opportunities to bring global team members together. We're also scaling virtual community programs such as our (now annual) Spring Challenge, which allows Bloomreachers to compete against one another in a global fitness event. We are also planning a number of CSR (Corporate Social Responsibility) initiatives that will give both our company and our people the opportunity to give back to the commerce and tech communities in really meaningful ways. We know that Bloomreachers are always looking for ways to do good, and formalizing our CSR programs will give us all more opportunities to make a difference together as one company. 
And of course, this funding will also have a financial impact for our people. All Bloomreachers hold shares in the company, meaning that our increased valuation has also increased the value of their shares. At Bloomreach, we believe it's important for our people to be invested in the company that we are all building, together, so that in the future they can see the tangible benefits of their hard work and commitment. 
There are countless other ways that we have invested or plan to invest back in our people. One of our core values at Bloomreach is "WE," and it is times like this where that value shines brightest. Each member of this team contributes so much to the success of Bloomreach, prioritizing our customers above all else. Investing back into their success is how we can show our gratitude. At Bloomreach, our mission is to provide the most impactful professional experience of your career, and as we further invest in our people, we can truly achieve that mission.