E-Commerce Site Search and Merchandising
A Short Story on Conversion Rate Obsession
E-Commerce Site Search and Merchandising
A Short Story on Conversion Rate Obsession
Chapter One: "What's Wrong With Our Conversion?"
"What in the world is happening with conversion?"
Merchandisers, marketers, and their teams are scratching their heads at lower conversion rates (CVR) while visits and revenue are up. Recently, many of our clients have been asking us why this is happening — questions like "shouldn't we be capturing more sales with more visits?" and "are there new visitors who normally don't visit but are now, and if so, what do we do to convert more of them?" These are all fair questions. 
In that spirit, this article aims to answer some of these questions, provide some calm, and ultimately challenge readers to read this and, if they agree, help their organization take off the conversion blinders to see the full landscape of opportunity and pounce on it.
Chapter Two: How We Became Obsessed With Conversion Rate
In the e-commerce game, it wasn't that long ago when marketers and merchandisers (especially those working with agencies) put too much faith in the "almighty" impressions metric. In hindsight, this emphasis on purchasable metrics was nothing more than another clever way some media companies and agencies sold in higher media budgets, which of course brings a higher commission.
And then, a multitude of macro effects forced that fairytale to end: acquisition costs, privacy concerns, and algorithm updates were on the rise, even before the pandemic began. And when shelter-in-place took effect, we all know too well the ripple effects it has had and continues to have.
Today, the soaring rise of performance marketing's share of overall marketing spend shows that organizations are wisely focusing efforts on engagement-related and conversion-related KPIs. 
This evolution, while a healthy one, did not come without its share of decision-making side effects. A focus on conversion can quickly turn to obsession, wherein an organization becomes prone to mismanagement by focusing precious optimization time trying to move a needle made of solid concrete.
Why would we measure one thing: the click-through rate, the view, the view-through, the initiation, the engagement, the exit, the conversion, or even measure just the path to conversion? It's all valuable in understanding — and measuring — the full consumer journey.
Unless you've created an utterly, incredibly holistic calculated metric comprised of multiple dimensions of the consumer decision journey, focusing on any one metric is the equivalent of putting blinders on.
The real strategic opportunity at hand is taking two giant steps back and:
Remain calm

Assess your performance data across site and channels (in a specific way that we'll share) to better grasp if conversion rate optimization should be your focus or not

Seize the strategic opportunity to understand and treat visitor segments differently, using a fail-fast mentality to test and learn into earning the return visit and eventual conversion
Chapter Three: Remain Calm
If you're reading this and feel a connection to your organization's conversion obsession, know that you're not alone.
We're seeing a trend of higher visits and revenue with lower conversion rates across nearly every vertical, bearing in mind that Bloomreach impacts over $400B in digital commerce annually, or the equivalent of over 25% of B2C e-commerce in the US and UK markets combined, second only to Amazon.
As COVID-19 stretches on, so too has its major effects. Rising fuel costs, supply shortages, higher prices, and labor shortages, coupled with inflationary pressures, have squeezed nearly every industry.
Meanwhile, consumer confidence remains steady after three months of gains, in the face of unavailable colors/sizes/assortments of their favorite products. In other words, people still want to shop. We see a silver lining here — the opportunity to stand out in today's crowded marketplace by offering a personalized experience is greater now than ever before, driven to new heights by this very same macro environment.

According to McKinsey,
"...three-quarters of US consumers have changed something about the way they shop, including one-third who have tried a new shopping method such as delivery or curbside pickup and nearly one-third who have tried a different retailer."
The fight to win over new brand fans is on — and after examining the following checklist, you may realize that your brand's strategy to engage new-to-you shoppers needs to shift.
Chapter Four: Reassess Anomalies vs. Trends
Now, to the "how-to" of this article. The purpose of the following analyses is to determine why you're seeing higher visits and revenue but a lower conversion rate. 
Step one: Conduct a thorough site analysis, specifically focusing on:
Customer journey on-site, focusing on channel-level entrances to connect the dots from channel data

Anomalies vs. general trends in:

Audiences

Site searches with high visits but little to no revenue

Pages (particularly bounce rates of top landing pages, broken out by channel)

Products: Are certain products or categories seeing availability issues? Are any suddenly under- or over-performing?

Cart performance

Global behavior — time/day visits, time on site, devices used
Step two: Examine your channels, keeping your fresh site analysis in hand.
Conduct a thorough channel performance analysis:
Do you see a spike in engagement/clicks that correlate to a higher bounce rate on top landing pages or your site overall? This could indicate that either: This channel is effectively finding fresh brand considerers that you should engage differently (more on that in the next section) OR targeting is not tight enough and should be refined or scaled back, which should lead to fewer junk visits and a higher conversion rate

Are your channel partners in tune with the performance story of your site? Ask them to dig into channel data to see if any interesting trends that converge with what your team is seeing on-site
If you see significant anomalies on a page or channel level, your task should be in optimizing those. What's very likely, however, is that you don't find enough significant anomalies to explain the conversion dip. This means that you belong to the crowd that has a strategic opportunity to engage your new prospective brand fans in a stickier, more valuable way that will further drive revenue.
Chapter Five: Engaging New, Prospective Brand Fans
The fact that so many brands and retailers across verticals are seeing similar trends suggests that the rise in visits is driven most by consumers browsing new brands.
Let me illustrate it this way: Imagine we were standing in your store together (whether you have physical stores or not) watching these shopping behaviors happen before our own eyes.
You might easily see that more people are here to browse. Or, that they came to buy one product, but while they're here, want to have a casual glance at a few unrelated items they've been thinking about in the back of their minds.
Instead of focusing efforts on trying to persuade browsers to buy something they're not quite ready to yet, you might instead focus on:
First lever: implementing quick-win tactics such as:
"Come back again soon" offers populating as a user's mouse moves to leave your site.

Upselling those who are buying. 

Trying to acquire more customers who look like your best converters today.

Giving repeat visitors who haven't purchased on-site nudges (surprise-and-delight offers, personalized promos) and experiences that nod to the consumer, saying "Welcome Back."

Leveraging Voice of Consumer mechanisms (reactions, one-question surveys, etc.) to understand who's browsing (was never intending to purchase that day) and see if you can begin gaining anything qualitative with a post-site visit survey.
Second lever: providing such a stellar experience to these newfound "brand-curious browsers" that even if they leave without buying, they'll likely come back. This is best done with personalization, but can also be bridged with stellar content on-site.
To begin engaging these new brand prospects, you first have to segment them, so that you're not getting in the way of ready-to-buy shoppers.
How to segment browsers vs. shoppers:
Identify key characteristics of browsing/learning sessions vs. serious shopping. Usually, there are one or two reliable distinction paradigms waiting to be found in your site data.

Using Bloomreach tools, test into serving your newly formed Browse Segment with helpful or inspirational content as they navigate your site, catalog, and site search.
For Browse Session visitors that engage content like Buy Guides, Photo Galleries, etc., ensure following retargeting pays that off by referencing where they last left off.

You could take this even further and implement "Learn" vs. "Shop" dichotomies (Quick View on product listing pages) to let users raise their hands. Apple embraces this CTA dichotomy to provide elegant experiences. It's simple, but simple is often the most effective.
From there, it's all about the experience to serve browsers vs. shoppers. For your freshly created "browser" segment, think experiential or category landing pages over product listing landings — spark their imagination with inspiration and/or earn their trust with education instead of being salesy.
Using a short-tail (2-3 words) search, try searching for your brand's core products. Does your site's first link drive shoppers to a Product Listing Page, or a rich category experience that helps them determine their shopping criteria? If it points to a PLP, you're likely losing shoppers who enter "too deep" into your product drill-down.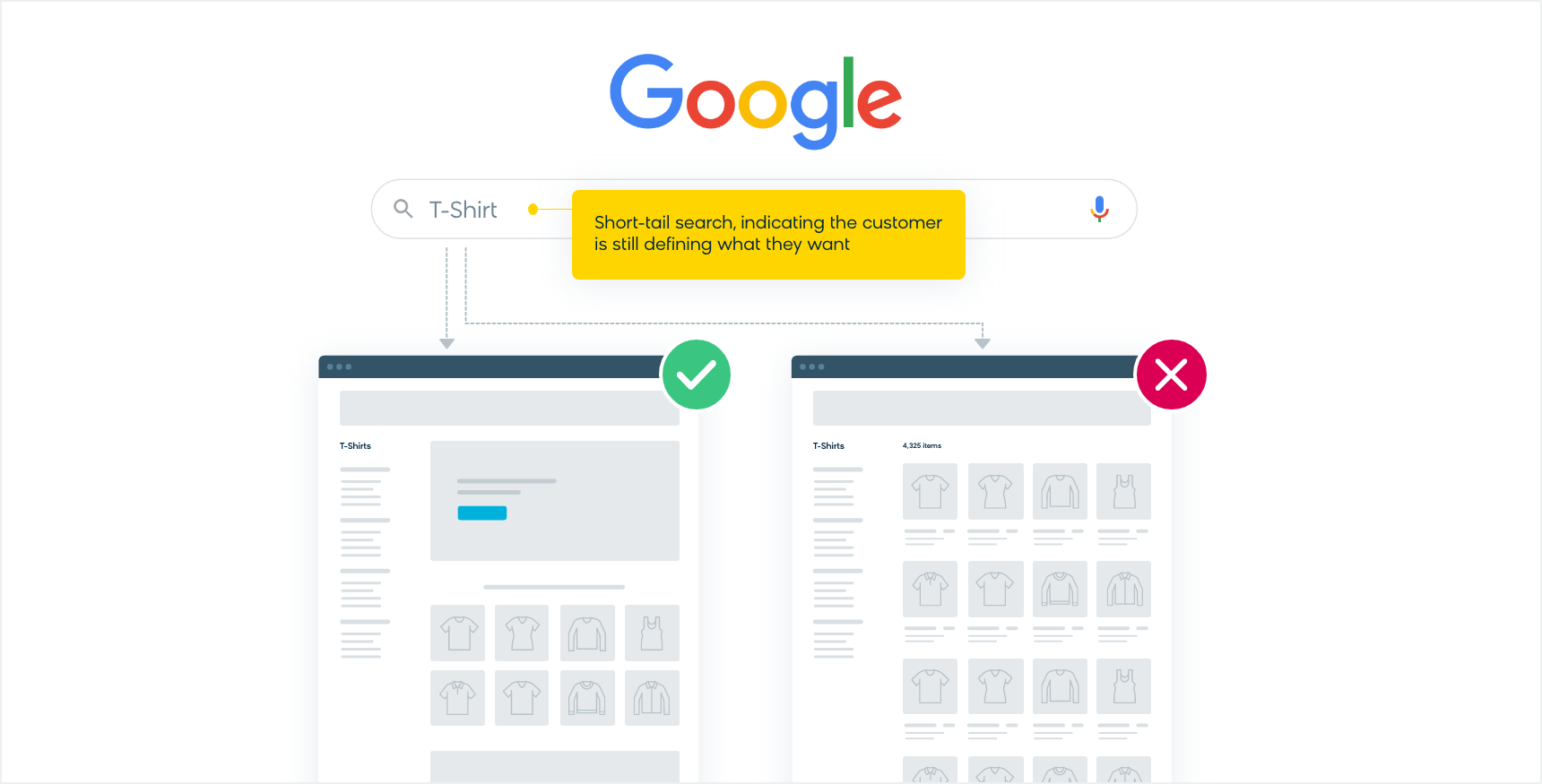 A short-tail searcher is likely still discovering their product criteria- which product they want to buy. If driven to a PLP, they're very likely missing the category story, the key reasons to believe in your brand versus another, or the reasons to buy from you directly versus a competitor or Amazon.
By segmenting browse sessions vs. shop sessions, you can quantify the opportunity size, and measurably test into the best way to engage them on-site, earning the return visit and the eventual conversion. It may seem complex to pull off, but it's a wholly worthwhile activity that will drive long-term differentiation and value for your brand.
Summary:
Don't lose sight of conversion, but don't let it become your organization's obsession

Guide your team to assessing your performance across owned/paid/earned channels

Assess to see if you're seeing a lot of new, brand-curious visits (likely) that, while driving conversion rates down now, represent a long-term LTV and market share opportunity

Segment out browsers vs. shoppers and begin testing different landing or content treatments and other tactics to serve them differently and earn the return visit and eventual conversion