Commerce Experience
Our 5 Favorite Moments from the Commerce Experience Summit '21
By Megan Warhurst
06/07/2021
Commerce Experience
Our 5 Favorite Moments from the Commerce Experience Summit '21
Last week, Bloomreach held our annual Commerce Experience Summit - the conference made for, and by, retail and e-commerce experts. This year we tackled the theme, "Digital First, Digital Now" and provided the actionable insights, data-driven trends, and top strategies commerce professionals need to succeed in a rapidly changing and increasingly digital world. From brand-new Forrester research to exclusive breakout sessions with today's most digitally-minded retail brands, the Commerce Experience Summit '21 was a truly couldn't-miss event. 
So, let's break down the top moments you might've missed ( and how you can gain access on-demand )!
An Exclusive Sneak Peek at The Digital Seeker
Bloomreach CEO and co-founder, Raj De Datta, knows the digital commerce sphere well. He's spent 10+ years seeing what winning brands do (or don't do) to set themselves apart, and Raj has taken this wealth of experience and written his first book, The Digital Seeker: A Guide for Digital Teams to Build Winning Experiences . 
"There have been plenty of books around digital transformation and the like, but this is really a book for the digital team . This book is all about the understanding that digital is a team sport and how much it's changed in 2021. And it offers fundamental insights around the idea of ​​the seeker . "
The concept of the "digital seeker" boils down to this: businesses that want to thrive need to transition from the concept of customers to seekers. That's not to say that approaching problems through a customer-centric lens is bad business - it just doesn't present a fundamental question that's key to success, " why does a customer want my product?" Learn more about understanding buyers' true motivations, and more about catering to digital seekers, in Raj De Datta's book, out June 1, 2021 .
A Deep Dive into the State of Commerce Experience with Forrester
Sucharita Kodali , VP and Principal Analyst at Forrester, presented findings from the soon-to-be-released The State of Commerce Experience '21 , a commissioned study conducted by Forrester Consulting on behalf of Bloomreach. This study was conducted across both B2B / B2C customers and business decision-makers, in the US, UK, and Germany - with the goal of understanding consumer expectations versus the reality of what businesses plan to offer and how the COVID-19 pandemic may have also shifted these expectations.
Our summit attendees were quick to point out their favorite (and most surprising for some) data point, B2B and B2C buyers are prioritizing the same three variables of digital experience. Buyers, regardless of if their shopping is for business or personal purposes are looking for these things when making a decision:
Free shipping
The best prices all around
The best products for their needs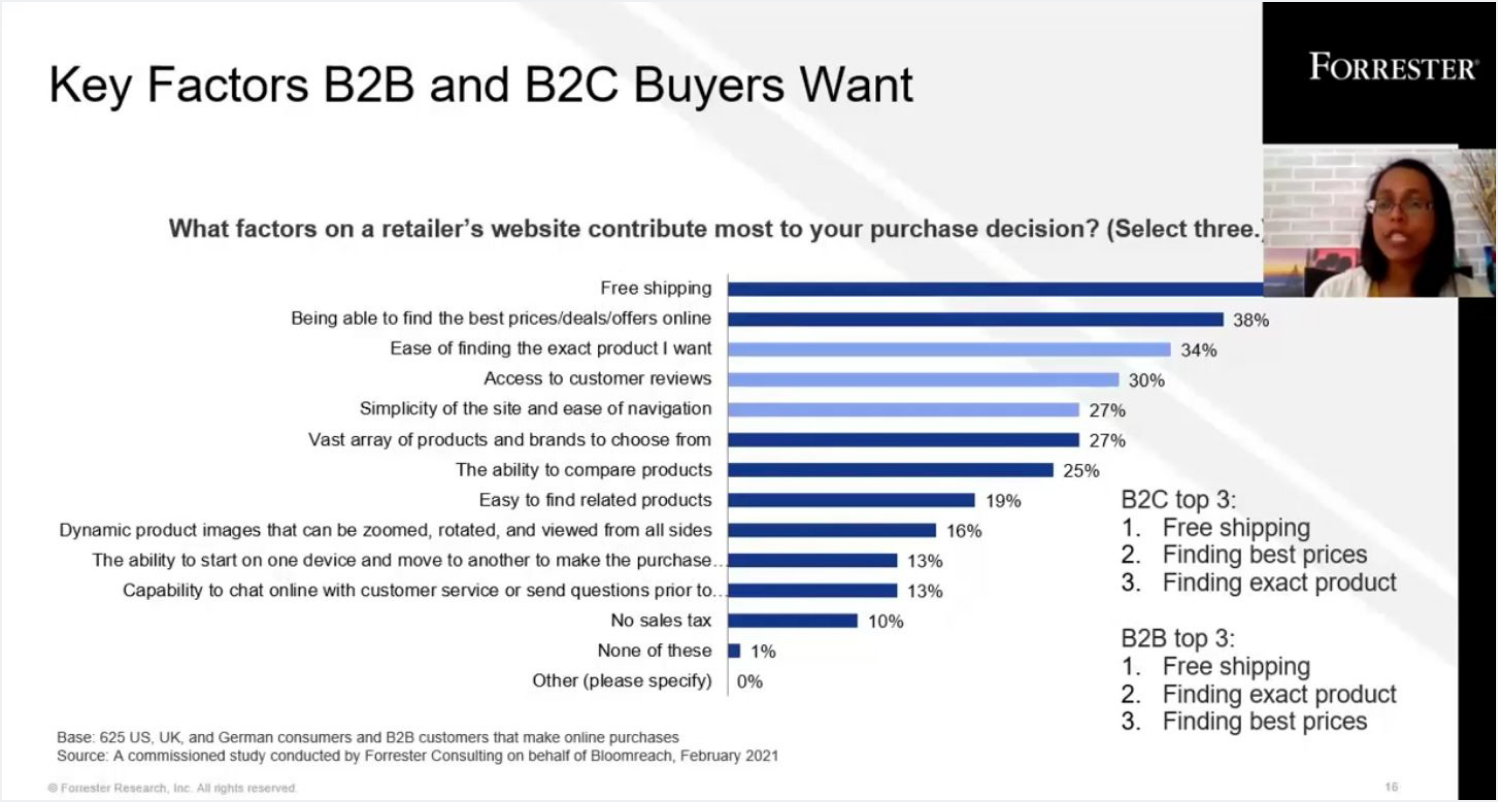 With this and so many other great data points, Sucharita recommends that commerce businesses take the time to audit themselves, and once armed with a list of what's working/ what's not, invest in tech that will help improve key experience areas like search-synchronization across touchpoints, and more. And ultimately, the best thing a business can do in 2021 and beyond is to completely own their customer list — reduce dependency on third-party vendors and build your own database to make your marketing as frictionless as possible.
Creativity and Coffee: Taking a Break with Latte Art
Each day of the Commerce Experience Summit, we set aside time for attendees to relax and learn something (non-work related) new! Our favorite activity had to be making latte art with the award-winning barista, Agnieszka Rojewska! 
While we can't say that our lattes turned out nearly as beautiful as Agnieszka's, we had fun trying. If you tried your hand at being a foam-art Picasso, we'd love to see what you came up with, tag us @bloomreach on LinkedIn, @bloomreach_tm on Twitter, or @lifeatbloomreach on Instagram.
Strategic Imperatives to Winning and Focusing on Customer Wants
Piggy-backing off the findings from our State of Commerce Experience '21 study, this session briefed eager commerce professionals on how they can best navigate our truly digital-first world. We were joined by an impressive panel of experts: Carrie Tharp, VP of Retail and Consumer at Google Cloud, Steve Soechtig, Global CEO at Ogilvy Experience, and our very own Brian Walker, CSO at Bloomreach.
One of the most well-intentioned pitfalls commerce and marketing folks can fall into is being over aspirational. Reaching for the stars and pushing boundaries is never a bad move in our book, but it's really common to forgo investing time and energy into the fundamentals of your business when you're always in a battle to one-up yourself. So, what can businesses do to ensure they're nurturing the core of their business? 
There are two approaches that we advise our clients to embrace. The first is to build, maintain, and continuously grow a connection with their customers. They need to solicit feedback both explicitly and implicitly. Explicitly ask what your customers found to be seamless, convenient, and engaging. Your implied feedback will come from your data. We couldn't agree more that data collection is key — but do it properly and privately. Both data from your customers and performance data from across your organization will make it clear what's inspiring your customers and what will grow your business."  - Steve Soechtig, Global CEO at Ogilvy Experience.
How to Prepare for Cookieless Commerce 
To close out the Customer Experience Summit '21, we turned our sights towards the future — and more specifically, a future without cookies. Peter Irikovsky, EVP of Bloomreach, was joined by Jamie Evawin, Sr. Optimization & Analytics Lead at musicMagpie, and Jason Peters, Sr. CRM Manager at musicMagpie, to get their thoughts on what commerce professionals can do to prepare for this monumental shift in how we communicate with customers.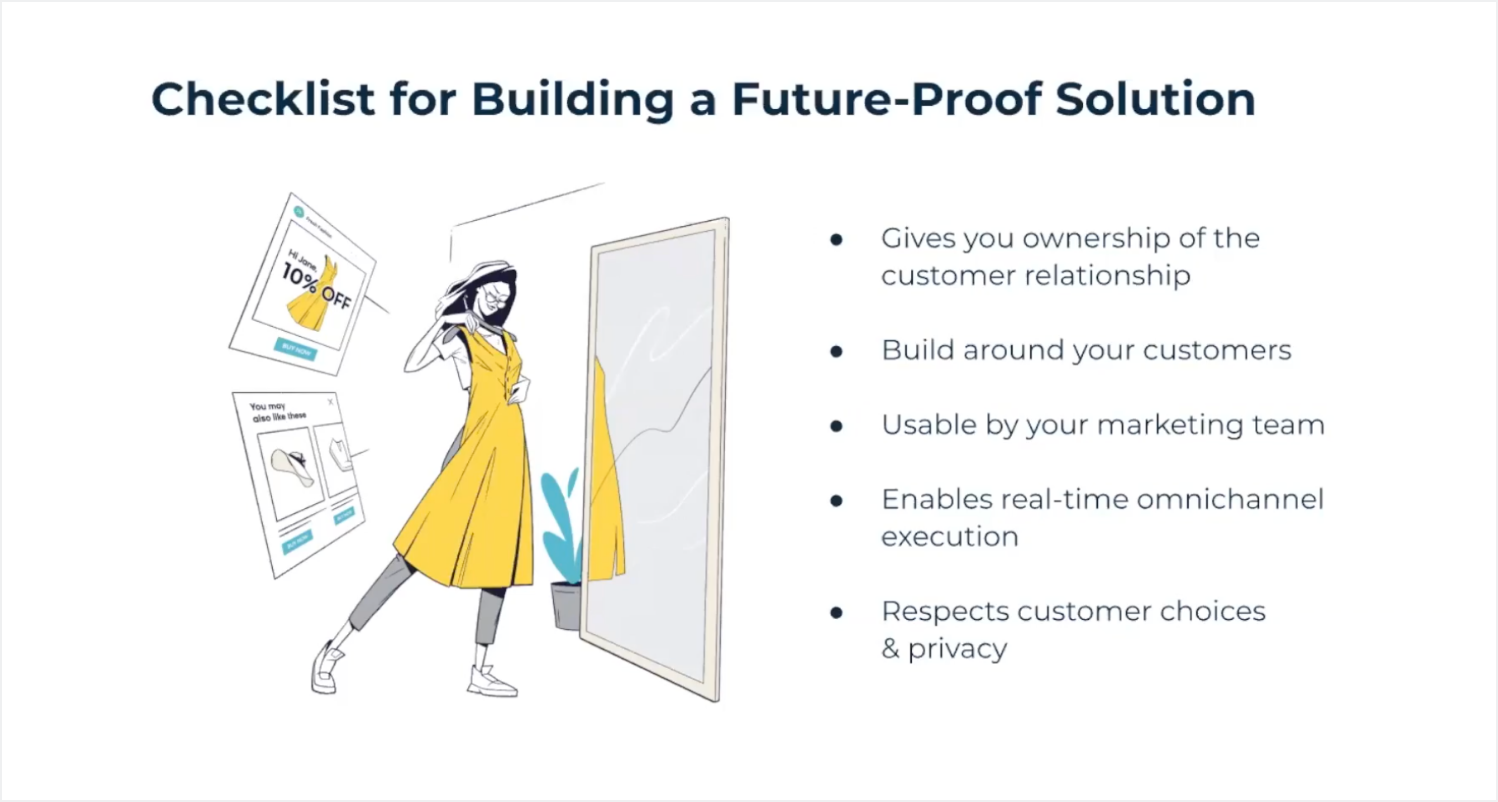 Must-Haves When Selecting a CDP
A few big browsers, such as Safari and Firefox, have already deprecated cookies and Google's sunsetting of third-party cookies is looming (ETA: Jan 1, 2022). And yet, many businesses are choosing to ignore this shift and carry on until official changes are made — a critical mistake. Cookies impact nearly all of your marketing tools, from analytics to ads and personalization.
Luckily, the future post-cookie doesn't have to be scary. In fact, your personalization across the customer journey can still thrive. The answer lies within zero-party and first-party data. And you'll need a solution, like a Customer Data Platform, to collect, unify, and leverage that data to its fullest, and contextualize it against your product data, to form a holistic view of your customers.
"We're on a digital transformation journey that centers around customers and data. We're experiencing an ongoing evolution across people, platforms, and processes - with the platform piece really being about Exponea and Bloomreach. We strongly see the value in breaking down our merchandising and marketing silos internally, so we can make our offering more relevant to each individual customer using data that's gained [from across the customer journey]. " - Jason Peters, Sr. CRM Manager, musicMagpie
The last-ditch advice from our panelists? Don't ignore the problem of disappearing cookies, but rather, be proactive and invest in technology that enables you to personalize well, using zero-party and first-party data.
That's a wrap on the Commerce Experience Summit '21. If you'd like to re-watch the sessions in full, you can find those here , 100% on-demand. Enjoy your perfectly brewed latte and soak in the expert advice from the Summit - and see you next time!