Customer Data Platform (CDP)
How We Used Our Competitive Advantage to Build the CDP of the Future
By Samuel Kellett
11/12/2019
Customer Data Platform (CDP)
How We Used Our Competitive Advantage to Build the CDP of the Future
The Current Situation on the Customer Data Platform Market
The concept of a Customer Data Platform (CDP) has been around for a while, yet it has only recently gained a massive amount of attention. Why? The reason is simple.                      
It all starts with customers who now have higher expectations than ever before when it comes to exchanging their loyalty for personalized experiences. 
Companies understand that to win over these customers, they need to invest in the right tools. Instead of paying thousands for having fragmented data dispersed across multiple systems, they are looking for solutions capable of unifying and organizing all their data in such a way that other systems within their marketing stack can ingest and use this data to provide the experiences the customers are longing for.
Finally, software vendors have recently realized that the solutions they currently offer (CRMs and DMPs)  cannot meet the requirements of today's market alone. 
That's why every major brand recently announced a plan to build their own CDPs.
What are the Differences Between CRM, DMP, and CDP?                  
These solutions named above each definitely have their benefits and it is important to understand how these technologies can act in concurrence with CDPs to leverage your customer data to its fullest potential.
Understand the differences and benefits of various data platforms with our Knowledgecard. 
Let's Talk CDP
In contrast to the CRM and DMP vendors, there are many companies like Bloomreach, which for years have been developing solutions with similar capabilities to what we currently call a CDP. 
In this article, I will explain how we used our competitive advantage (being a CDP from 2012) to build the CDP of the future and became one of the market leaders in the field of CDPs.
First, let's remind ourselves what a CDP is.
The CDP Institute defines a CDP as "packaged software that creates a persistent, unified customer database that is accessible to other systems."
To put it simply, a CDP is a system that collects data from multiple sources, organizes that data so other systems (usually 3rd party tools) are then able to understand and utilize this data for custom analytics, marketing campaigns, customer support, etc.
How Does Bloomreach Fiit and Extend this Definition?
The most versatile CDP on the market
When we started to develop our CDP back in 2012, we decided to put the customer at the center of everything. That's why at the heart of Bloomreach lies a unified single customer view, holding the most relevant online and offline data about the past, present and expected future behavior of every single customer. 
Once our CDP was ready to go, the question was,  how could businesses leverage this universal source of customer data, regardless of their current marketing stack. 
There were 2 options.
Option 1 – Standalone CDP approach
To position ourselves as a CDP only solution – making the universal source of data accessible to other systems (3rd party solutions). This approach would have enabled our clients to use our CDP in concurrence with their current martech stack (e.g. the CDP can serve unified data to analytics or campaign execution tools).
Arguments to consider
The approach requires custom integration with 3rd party marketing solutions and it also extends the client's toolset to another solution with a different interface. The benefit, on the other hand, is unified customer data to deliver consistent and relevant experiences across different channels.
Option 2 – End-To-End marketing solution approach
To create CDP technology that will be able to serve unified data to its own analytics and campaign execution modules  (a CDP with marketing automation capabilities). This approach would provide our clients with an end-to-end marketing solution.
Arguments to consider
This seemed like an ideal solution, especially these days when marketers are using so many different technologies. The trend is to reduce the martech stack and get rid of data silos that create a fragmented customer view, a bunch of different solutions not talking to each other, and a steep learning curve caused by different interfaces.
However, from a business perspective, some clients are reluctant to perform such a drastic change and replace their existing tech with a completely new solution. 
CDP with a Client-Centric approach (Versatile CDP)
We decided to let our clients choose what's right for their business (choose option 1 or option 2).
Therefore, we equipped our platform with analytics and campaign execution layers (Web Optimization and Omni-Channel Orchestration). This enables our clients to collect, analyze, and act on their data using a single interface. We call it an  Actionable Customer Data Platform (ACDP).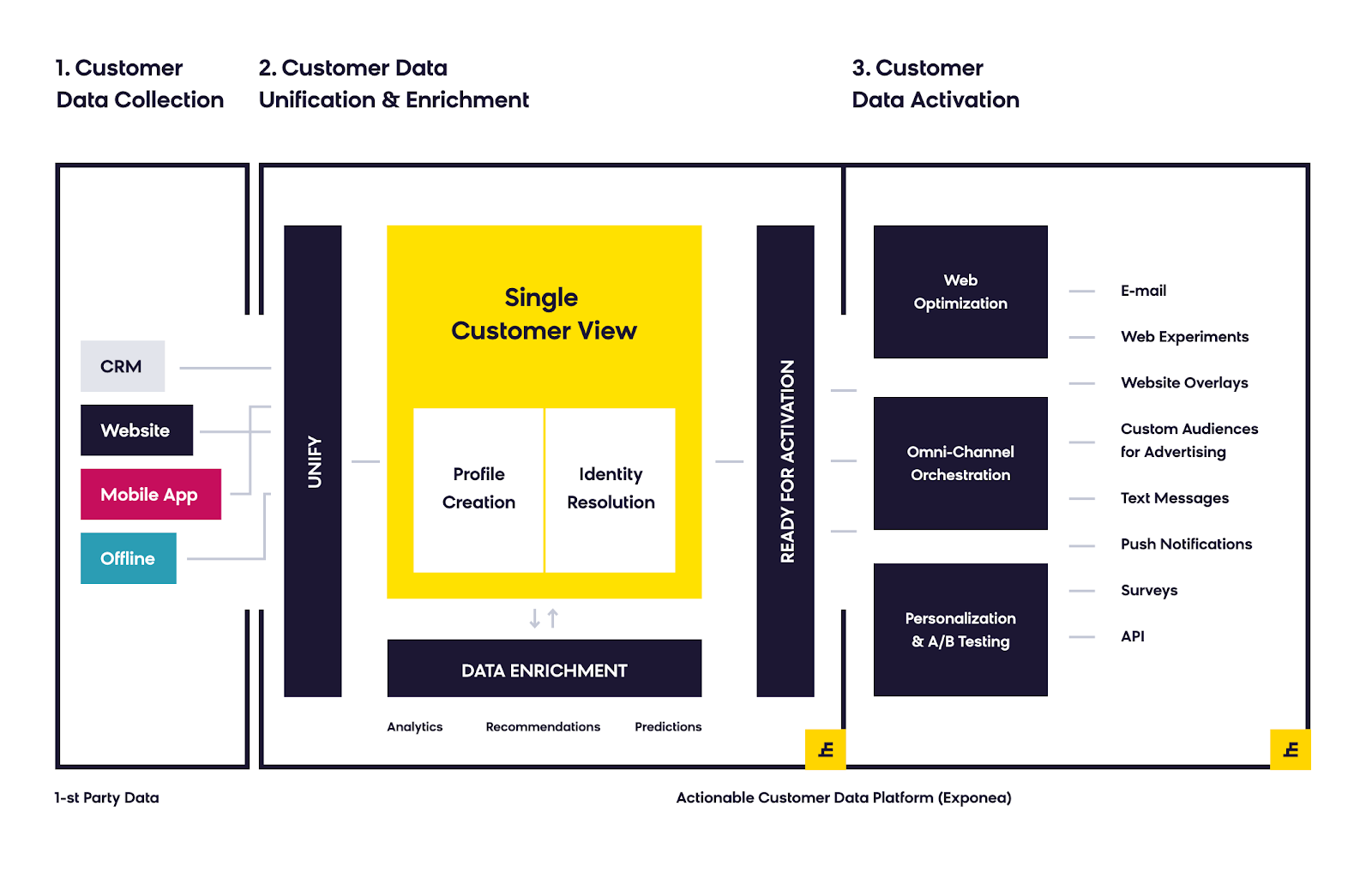 However, if our clients prefer to have unified data for their already existing marketing solutions, Bloomreach can act as a standalone CDP and supply unified customer data to the client's existing technology.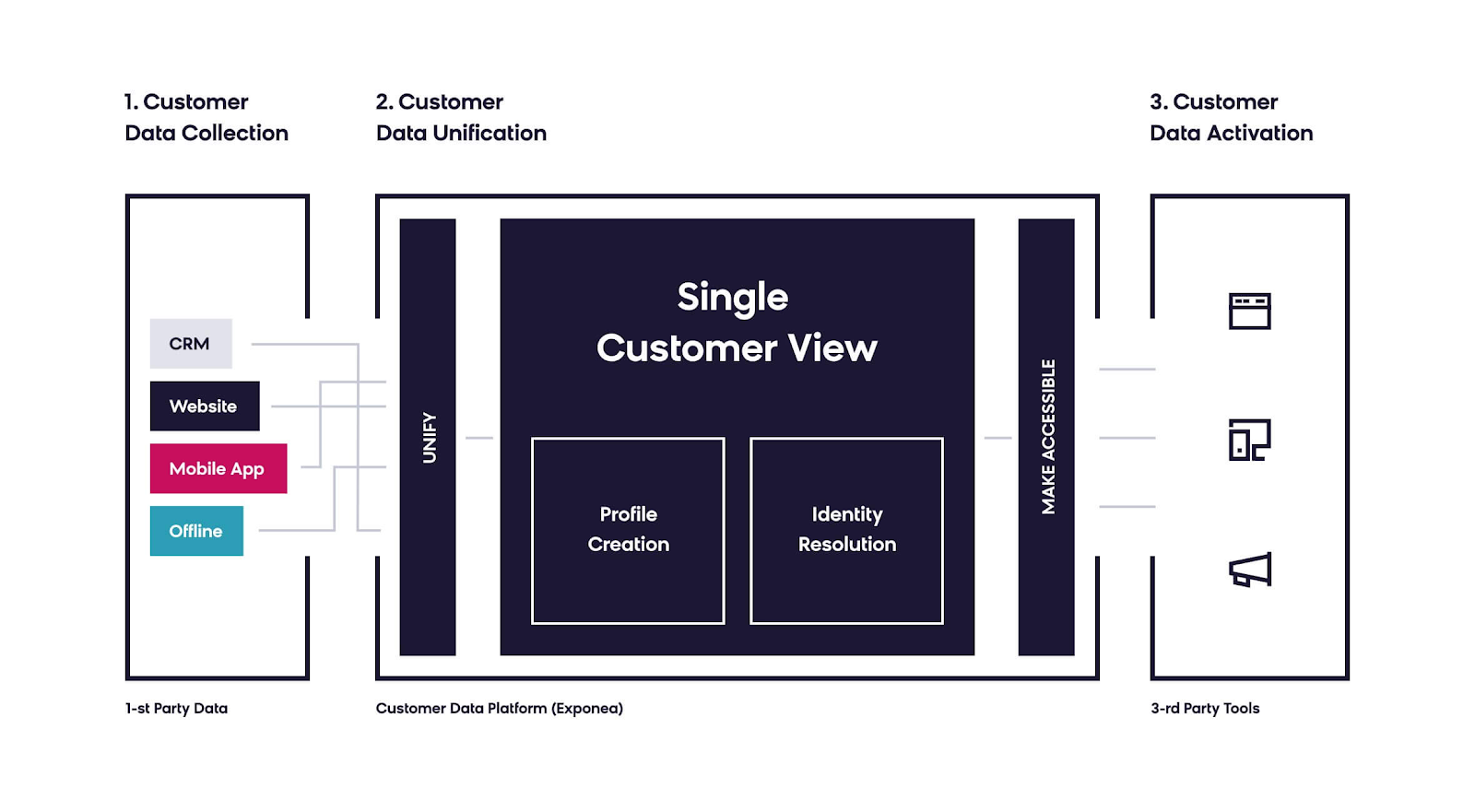 Both of these solutions have their own benefits, but 9 out of 10 clients go for the CDP with marketing automation capabilities (ACDP). This option allows them to collect, analyze and execute campaigns using the same interface, thus reducing the unnecessary complexities of navigating across multiple marketing technologies – each fulfilling a different purpose (email marketing, analytics, campaign orchestration).
Versatile CDP = Standalone CDP | Actionable CDP
* Versatile CDP can serve either as a Standalone CDP or Actionable CDP based on specific needs and goals our clients want to achieve.
Real-Time Data across the whole platform
Many solutions claim that they use real-time data, but the reality is different. Many of the current marketing platforms have been created as a result of multiple acquisitions, which means the communication between their various modules is not ideal. In such cases,  "real-time data" usually means lags ranging from 2 to 10 minutes.
Bloomreach is a single integrated platform built from the ground up (without any acquisitions). This means that the moment the data is captured and stored in the unified single customer view, you can immediately visualize the data and act on it, with no delay and through any channel.
Seamless integration of Real-Time customer predictions
Predictive customer analytics is the future of e-commerce businesses, allowing companies to decrease their marketing budget and improve customer loyalty, by targeting only the customers with the highest probability of completing certain actions.
How does predictive data work in the context of our  CDP?
To make the most of customer predictions you need 3 things:
1 reliable data – so the machine learning algorithms are able to create reliable predictions,
2 real-time predictive data (without the need to recalculate the prediction each time the data is used),
3 the ability to effectively utilize predictive data without any additional integration.
Bloomreach's CDP tracks and unifies customer data and creates a single source of customer intelligence. This data is organized in such a way that our predictive modeling features are able to understand the data and predict almost any customer action (purchase, email open, churn, next best offer, next best channel, etc.).
Once the prediction is ready, each of the customers is assigned a different probability of completing certain actions.
Then the predictive model is live, which means that it adjusts the value of the prediction in real-time as new customer data is recorded. As a result, the prediction value stored in the unified single customer view is always up-to-date.
A combination of our direct campaign execution and the dynamic nature of the predictive data ensures that your campaigns always use the most up to date data.
Advanced consent management
Customer data is the most important asset for any e-commerce business. It can boost your profits and customer loyalty, but can also completely destroy your business.
There are many 3rd-party solutions able to effectively manage subscription policies. However, we believe that this should be a native part of any CDP.  
Our integrated consent management feature helps you to comply with the GDPR requirements by easily and effectively managing your subscription policies and tracking any changes to customer consents directly within the unified single customer view.
As an integrated CDP platform with direct execution capabilities (ACDP), any changes to the preferences of your customers (e.g. subscribe/unsubscribe) are automatically considered by the campaign execution modules.
Summary
To sum it up, the CDP market is growing fast and more companies are developing CDP-like solutions while others try to find their place under the CDP umbrella.  However, in the end the name is unimportant. The most important question should be, how can I use this or that solution to achieve my goals?
Some companies may prefer a pure CDP (Standalone CDP) enabling them to unify all their data and serve it to other systems in their marketing stack. In such cases, make sure that once the data is sent to other systems, these systems are able to enrich that data and send it back to the CDP to be accessible and usable for other systems.
However, from a long-term perspective, you can definitely benefit from a CDP with marketing automation capabilities (Actionable CDP).
Let's recap the benefits
Predictive analytics and machine learning capabilities gives you greater insight into what your customers want and when they are most likely to purchase it.
Omni-channel orchestration enables you to use a full range of customer data to build high-value audiences and target them through the web or other channels (email, retargeting, SMS, push notification, etc.)
Web optimization and A/B testing gives you a full set of tools to convert your customers on the web and measure, analyze, and optimize the performance of your campaigns.