Omnichannel Marketing Automation
How Digital Transformation is Improving Customer Experience
By Scott Miraglia
09/14/2018
Omnichannel Marketing Automation
How Digital Transformation is Improving Customer Experience
Guest post from Scott Miraglia, CEO of Elevation Marketing
Research from IDC shows that two-thirds of CEOs from Global 2,000 companies are planning on moving away from traditional strategies to modern digital ones by the end of 2019.
Their reason? To improve the customer experience.
In fact, more than a third of organizations have already started integrating and executing a digital-first approach
This fast-paced race towards digitally transforming even the most traditional businesses is forcing companies to change the way they operate. But this isn't being driven by the companies themselves or even the market in general, it's being driven by customers. 
Consumers of today want interaction that tie into what they're doing at all times and is compatible with the device they're using. 
In other words, they are always connected and, in order to keep up with them, businesses need to embrace technology to provide customers with the experience they crave. 
What Is Digital Transformation?
Essentially, digital transformation is the act of incorporating technologies into all parts of a business, from the initial awareness stages (like paid ads) right through to the checkout stage. 
It's encouraging businesses to change the way they interact with their customers and the experience that their buyers have. 
In fact, research has shown that almost half of businesses claim customer experience was the main reason they decided to implement a digital transformation strategy.
Here are some key ways digital transformation is improving the customer experience. 
Personalization
With so many options available today, consumers want a unique experience that's tailored specifically to them and their needs.
This means they want recommendations based on their personal preferences and their previous purchasing history – much like when e-commerce sites like Amazon recommend other "products you might like". 
According to a study by Accenture, 75% of consumers claim they are more likely to buy from a brand that addresses them by their name, is aware of their purchase history, and recommends products based on what they've bought in the past. And, surprisingly, they are happy for companies to tap into their personal data to make those recommendations, including things like their location data, their age, and their interests.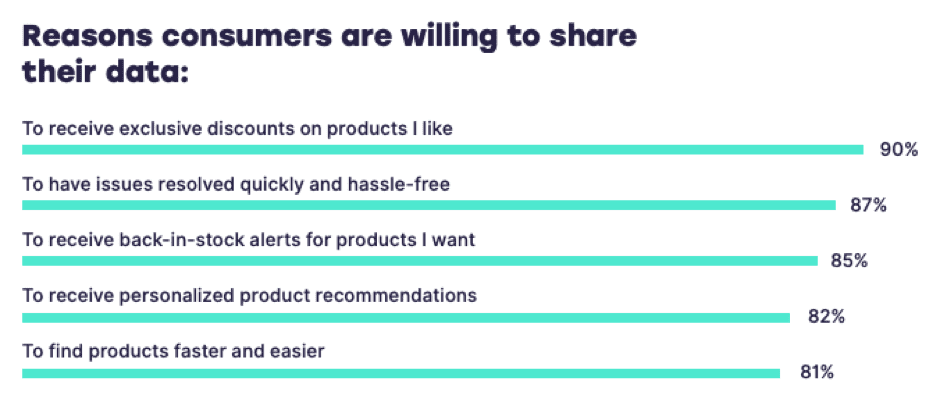 Source: https://www.smartinsights.com/ecommerce/web-personalisation/consumers-personalized-marketing-engagement/
Businesses can use this important customer-related data to get a better understanding of their buyers. 
For example, they can tap into requests the customer has made in the past, see exactly what products they have purchased and for what price, and then use this information to create incredibly targeted messages that speak directly to each individual customer's needs. 
Automation
Automation is pretty much a given now in business. 
Everything from email marketing to CRM organization is automated to provide a smooth and seamless experience. It saves time, money, and allows businesses to provide customers with a unique experience that they couldn't before. 
In another Accenture survey, 84% of consumers claim they preferred interacting with computer-based applications rather than human advisors, paving the way for chatbots to take over customer service portals because they can provide instant information. 
On top of that, the respondents also claim that automated applications were much faster to engage with, fulfilling their needs far quicker than traditional strategies. 
Automation can be implemented in many areas of business, from follow-up emails to check customers are happy with their purchases, to ticket prioritization that reduces the amount of time spent on basic, routine processes. 
Predictive Analytics
Predictive analytics takes personalization one step further.
While personalization uses past data to create unique experiences, predictive analysis uses that information to create an individual future for each customer. 
It can use demographic information and data about what a customer has purchased in the past and when to determine what they'll buy in the future and, more importantly, when they'll buy it.
For example, data might show that one customer buys a new pair of shoes every six months. This might be because they do a lot of walking and wear the soles down in this amount of time, or it might be because they want to stay on top of the latest trends.
Whatever the reason, the business can start sharing messages with that customer every six months to remind them that it's almost time to invest in a new pair of shoes. 
This is a huge step forward from past strategies where brands could only use data to look backwards at what had already happened. 
Now, predictive analytics can help brands predict what will happen next and when it will happen. 
Predictive analytics can also help tailor a customer experience in real-time. 
Take streaming apps like Netflix and Spotify. 
They use predictive analytics, utilizing a customer's actions to impact their next move. For example, a particular show a consumer is watching might impact the next recommendation they receive; skipping a song might reshuffle the entire playlist they're listening to. 
Digital Transformation is Here
It's safe to say that digital transformation is here, and it's here to stay.
Consumers are savvier than ever before and crave a personalized experience with the brands they use. 
If they discover their needs aren't being met, there are enough options out there for them to move on to another company.
It's a fickle world but, if you can incorporate digital strategies to improve the customer experience and put your buyers first, you're more likely to create a loyal following and attract more customers in the long run.