Customer Data Platform (CDP)
Bloomreach Earns Spring 2021 G2 Badges
By Ema Fajnorova
05/20/2021
Customer Data Platform (CDP)
Bloomreach Earns Spring 2021 G2 Badges
It was yet another impressive spring quarter for Bloomreach to kick-off 2021. 
G2 , a peer-to-peer review site where customers can review the products they use, awarded Bloomreach with 26 badges in its Spring 2021 report. That includes 16 badges in the customer data platform category and 10 badges in the marketing automation category.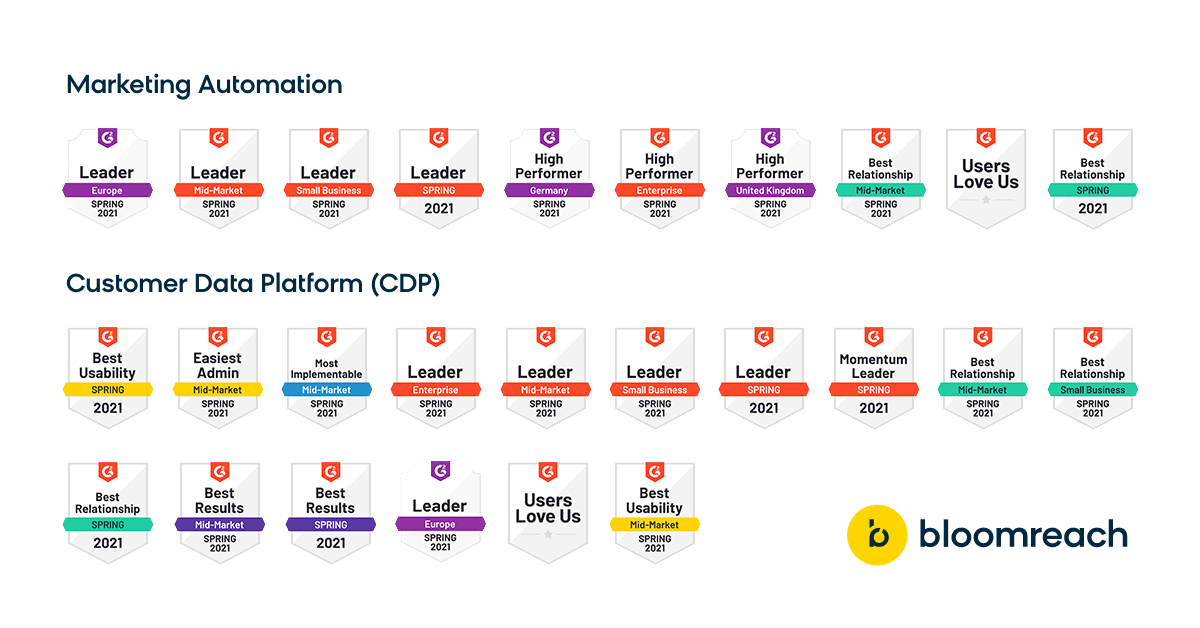 The highlights included being:
Named a trending marketing automation software
Number one in the marketing automation relationship index
Number one in the customer data platform relationship index
Europe's customer data platform software number one leader
Bloomreach was also number one in the customer data platform results and usability indexes respectively. All of the positive results in the CDP category led to Bloomreach being named a momentum leader in the category. 
All of the results were tabulated directly from customer reviews. The feedback of all of our customers who participated in the review process is greatly valued and appreciated. 
An honest review allows us to mold our product and customer journey in a way that benefits consumers. We are always open to both positive and critical feedback to make our products better. 
If you are interested in providing your feedback on your experience with Bloomreach, please do so . 
Bloomreach, the leader in commerce experience, acquired Exponea in January 2021. Our mission is to deliver magical and measurable experiences for people and businesses worldwide.