Customer Data Platform (CDP)
Apple Mail Privacy Protection: What You Need to Know and How to Prepare
By Divya Mulanjur
06/17/2021
Apple has announced a few privacy-focused features coming to Apple Mail, with iOS 15, iPadOS 15, macOS Monterey, and watchOS 8 updates coming in September. These might impact some key areas in how you target, personalize, and evaluate emails.

The feature will be opt-in for users, with a pop-up on the first launch after update to the new version. The level of uptake of this feature from users remains unknown. However, it could potentially impact a significant number of your subscribers.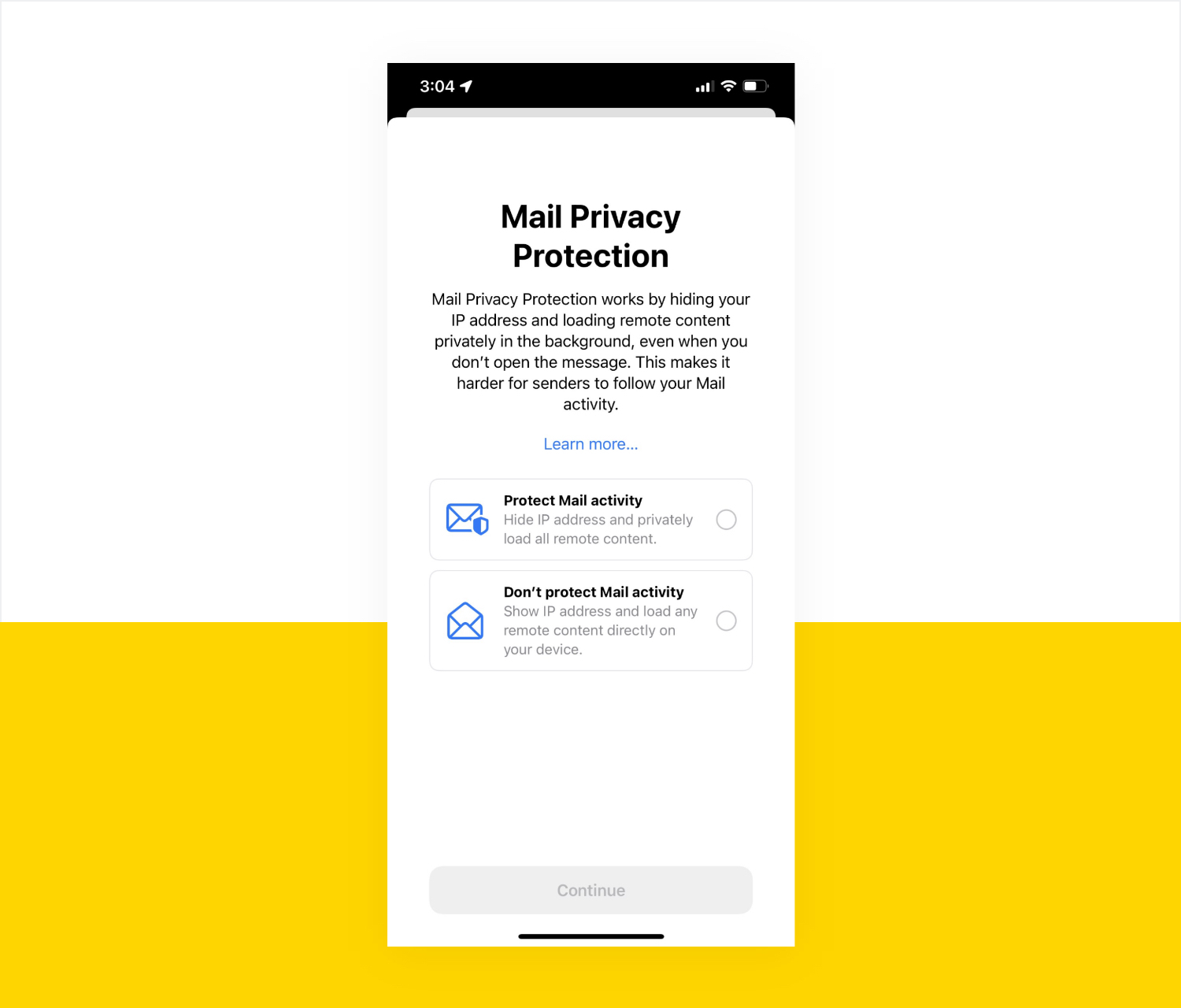 Image Credit: Ryan Jones on Twitter
There are three key areas Apple is addressing with this update for email:
1. Location tracking
2. IP tracking
3. Email read receipts

The first two will mostly impact on-open personalization.  In other words, if the content of the email is dependent on location-specific data, e.g. weather in the local area or displaying stores in the area. So, any analytics you did based on location data from an email will also become very vague. However, one thing to note here is that while Apple's update is getting a lot of attention right now, Google implemented a similar solution in 2013, and Yahoo in 2018. So, this is not a groundbreaking trend.

The third, read receipts, might impact a few more areas. It is unclear what is going to be the exact impact of this, as the email industry as a whole is still heavily reliant on this data. Whether it's mailbox providers evaluating the level of subscriber engagement, or well-established industry recommendations to only target your most engaged audiences, or marketers using this data for evaluating the success of their campaign or building a data set of known open times in order to optimize future send times to individuals or even the tactic of sending follow-up emails to non-openers, the impact could be wide-reaching.

It is important to point out that this affects all subscribers using Apple Mail — even those with Gmail addresses, as long as the subscriber added the address to their Apple Mail.  
How Will This Impact Email Marketing?
Know The Extent of the Impact for You 
Before getting into how this impacts the industry as a whole, let's see how much this actually impacts your audience. According to a survey conducted by Mailgun for its 2021 email engagement report, only 13.3% said they used the Apple Mail app to open and read their personal emails. However, Sparkpost found in its 2021 benchmark report that 38.1% of all opens and clicks come from one of the Apple Mail app clients -- not a small number. We found that around 42% of users of our clients in the UK have ever used Apple Mail (doesn't mean they are using it daily). So it's really important that you build a segmentation to see how much of your subscriber base actually uses Apple Mail. 
Let's say a sizable chunk of your user base does use Apple Mail. Does this mean all your email triggers, and analytics and metrics are now impacted? And what about personalization strategies? 
Not necessarily.
Will Email Flows and Analytics Be Affected?
Here are some areas that we think might be impacted with Apple's Mail Privacy Protection update in September. We still have some time to act on things. 
Optimal Send Time Prediction could be impacted if your optimization metric is open rate. However, within Bloomreach, this is an easy fix and you can switch to optimize for click-through rates. If you've used segmentations to find who your Apple Mail subscribers are, you could even do this only for those users. Also note that if the optimization metric is open, but there are no opens from a customer, Bloomreach utilizes session start and click data.

Opens based email flows and win-back campaigns could be impacted and might need to be optimized for another engagement metric for Apple Mail users.

Subject line A/B tests where the winning variant relies on open rates will not be easy to do for Apple Mail users. However, A/B test solutions like that of Bloomreach that let you determine winning variants based on click rates, conversion, or any custom event that matters most to your business will be unaffected. 

Being on top of deliverability and inbox placement is going to be crucial. August will be the time to do a proper list hygiene, cleanup, and deliverability check prior to year end peak season. There might never be another point in time with as much data about the subscribers, especially if other big players follow with strict open tracking "bans". Here's a comprehensive guide + checklist from Bloomreach on keeping your email health 100%.

Segmentations that capture engagement of users that heavily rely on open rates might not be reliable. Think of other parameters — preferably a combination — to indicate user engagement. For example: 
email opened in the last X days 
OR email clicked in the last X days
OR website visited or session started in the last X days
OR made a purchase in the last X days
OR email clicked more than 3 times in the last X days
Since Bloomreach is able to gather up to the millisecond data from all possible sources, you can use any combination of events and customer-triggered action to gauge overall user engagement with the brand. Note that non-email data shouldn't be used for deliverability or email list health segmentations. It could be used to select an audience, but not to, for example, fix the email reputation of a domain. For that, only email data should be considered.
One immediate thing you could do to prepare for the upcoming holiday season and Black Friday is to segment your disengaged non-openers while there's still time and track them or target them separately.

Other channels and a cohesive omnichannel strategy will be more important than ever. With marketers losing some insights into user engagement through email, channels like SMS that do not have open tracking, allow personalization, and are a powerful channel to use for certain use cases and customer journeys will become even more adopted. If you're on the fence about SMS adoption, now's a good time to start getting serious about it.
We're not suggesting that you panic and change everything immediately. For now, use these tips as something to be aware of and as possible action items closer to September.
Will personalization be affected?
We've already talked about the impact on on-open personalization. Anything like countdown timers, recommendations, or geo-personalization that depend on email open-related context (location, time, etc.) will be impacted. However, based on how Bloomreach customers utilize personalization to drive business outcomes, impact should be low. 
At Bloomreach, personalization goes much deeper. Email open is just one of the thousands of customer actions that can be captured in our CDP's Single Customer View to personalize their experience. Being a fully integrated CDP + marketing automation + web personalization platform also means that it is extremely easy for our clients to capture zero-party data through weblayers and use that to personalize their emails instantly. 
Here are examples of how our clients have seen increased engagement and conversions through deeper, meaningful personalization:
A  lot of email experts argue that open rate is a vanity metric and that this will push email marketers to get more creative and innovative. Whether you agree or not, use this time to focus on making your content truly relevant. AI, product recommendations, and segmenting your audience will help with this.  
How Does This Affect Bloomreach Products And What's The Team's Response?  
A lot of Bloomreach email features like automatic A/B testing, optimal send time, and list hygiene filters use open rate as a metric in addition to click rates, conversion and/or custom metrics. Impact to these features are low and will most likely be a user-initiated change or UI update. There are some other features like email open tracking, dashboards, and analytics that might require closer inspection. Our product team is working alongside a dedicated task force that includes email and deliverability experts and solution consultants to constantly monitor these updates. 
Additionally, we're creating Plug&Play solutions you can use out of the box (get in touch with us if interested):
A segmentation showing the distribution of Apple Email users: This will help you better understand the impact you might expect if iOS 15 prevents open tracking.
An automation taking a snapshot of email engagement before iOS 15 goes live, and assigning the engagement information of customers to their profile as a customer attribute. This will help you know about each customer's historical engagement information and speculate that this would continue after you don't receive the open data anymore. This can create a relatively strong engagement metric for the short-term and have you covered for 2021 Black Friday as well as the first few months of 2022.
In the longer term, we will be also working on an AI solution that creates a proxy metric to estimate email opens for each customer. 
There's still a lot of confusion and the industry as a whole is trying to unpack what all of this means for email senders. We're running tests on our end to see how all this affects email sends and analytics. We will keep you updated on our findings and provide more recommendations as we investigate how to adapt our offerings in upcoming posts. 
Bloomreach holds data privacy and security in the highest regard and has solutions and training in place that allow you to properly care for your data. The General Data Protection Regulation (GDPR) and other regulations like it have made things a bit tricky for marketers over these past few years. Most CDPs and ESPs have security measures in place. But not many can claim the security repertoire that Bloomreach can. Bloomreach's commitment to security can be seen through our security certifications that are currently held: 
And remember, email open rates aren't everything. Start thinking of metrics further down the funnel, more will come as we understand more about these changes. You still have plenty of ways to stand out, personalize, engage and convert your customer - and that's not just limited to the inbox! That's the best part of having a CDP-powered marketing automation tool at your disposal. 
In the meantime, please know that we're here for you. Reach out to your CSMs and support teams if you'd like to discuss strategies to prepare. Focus on sending good, relevant content via channels that your customers are present on, and you'll have a great Black Friday, holiday season, and beyond.
-co-written by Matej Cambal, Gavin Sherry, and Divya Mulanjur