Commerce Experience
Bloomreach Commerce Pulse: Update on NA, UK & EU eCommerce Traffic and Sales - Week of May 3 - May 9, 2020
By Brian Walker
05/12/2020
The week of May 3 saw discussion squarely focused on a relaxation of some social distancing requirements and the controlled reopening across many countries, states, and regions. This is certainly leading to much speculation on the economic implications and how fast things 'return to normal'. It is our view consumers and B2B customers alike will continue to turn to online channels, with store pickup as a key fulfillment choice.
Looking at last week we can see: 
North America held steady last week, with a very slight dip in overall sales of -1.11%. It is interesting to note that traffic was again up, nearly 5% week-over-week. We continue to see some very strong year-over-year comp sales with +56.92% YoY in overall sales. Is this the new plateau? We will have to continue to monitor.
 
UK & EU saw a bit of a comeback in eCommerce business last week, with sales +16.91% versus the week prior. It is interesting to continue to see the split between traffic and sales. Traffic is +40.65% YoY while sales is only +20.62%. We continue to see click & collect as a critical consumer business process, leading as the search term in the UK. 
 
We see a split between regions in our average order size data. In NA this continues to trend higher than LY, along with conversion rate. In UK + EU we see AOS down fairly significantly, while conversion is up. This may reflect the deep discounting taking place online. We continue to see the importance of search on the Bloomreach platform with searches converting at 5.56% in NA and 6.23% in UK+EU, over double the overall average.
 
Top searches in NA last week returned to personal protective products, with 'disinfecting wipes', 'masks', 'toilet paper', 'hand sanitizer,' and 'lysol' the top five in overall search terms in North America. This likely reflects the controlled reopening of many states and people's desire to restock these critical items in advance of that. In the UK & EU we continue to see 'click-collect-essentials' lead, with garden products dominating the overall top searches.
Let's dig into this past week's segment numbers: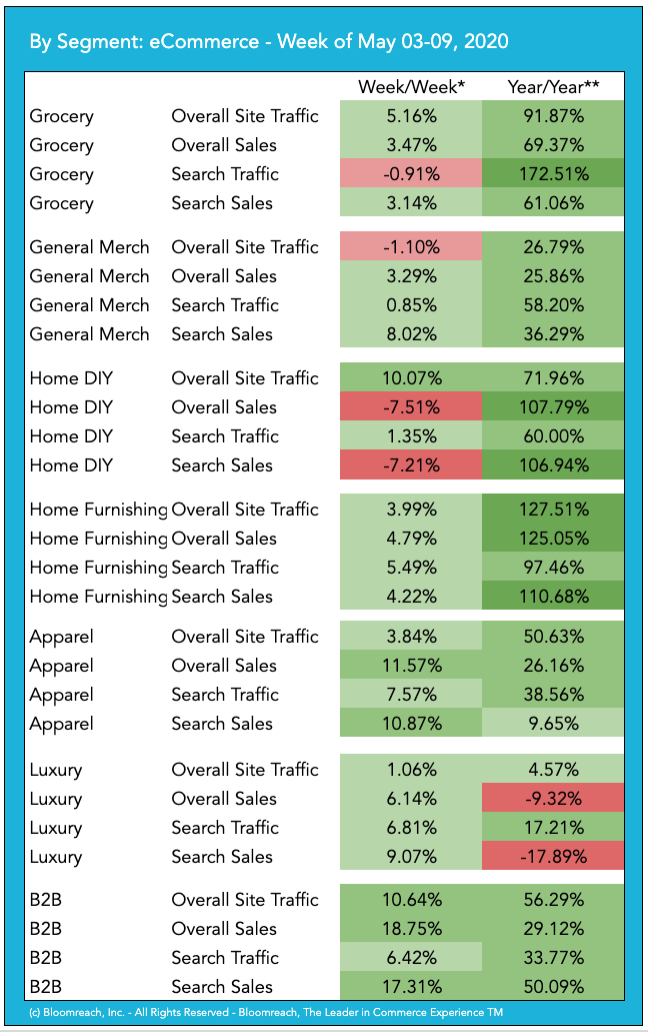 What it means:
Grocery is continuing to hold steady. Traffic +5.16% and sales +3.47% WoW, and +69.37% YoY. We continue to see that search traffic is way up at +172.51%, indicating the very targeted way in which customers are seeking products. The Grocery segment saw summer starting to have an impact, with Ice cream and pool entering the top searches.
 
General Merchandise also held steady WoW, with overall sales +25.86% YoY. Crafts, balloons and flowers were key search terms as people looked to celebrate graduations and Mother's Day.
 
The Home-Improvement/DIY segment continues to be a big story. And while sales slowed slightly WoW, the segment remained up over 100% year over year at +107.79% YoY. We continue to see consumers spending on home and garden improvement and equipment. Freezers and refrigerators are still in high demand.
 
Home Furnishing was the big winner as a segment last week, likely driven in part by Mother's Day. We saw increases week over week across all key metrics, and the category was up an astonishing +125.05% in sales YoY. 'Star Wars' even made an appearance as a top search in this segment because of May 4th. May the Force be with you to!
 
Apparel had a reasonably strong week last week, with sales +11.57% WoW. But in apparel we believe we are seeing the impact of deep discounting depressing the YoY sales numbers. Traffic was way up YoY at +50.63% YoY, but sales only up Apparel segment only up 26.16% YoY. And indeed, conversion rates held steady but AOS was down steeply. Terms like tops, shorts and dresses indicate a desire for comfort as temperatures rise, and 'Star Wars' again made an appearance as a top search term. May the Force be with you, again.
 
The Luxury segment is performing similarly to apparel, but to a lesser degree. We see traffic is up versus LY, but sales were -9.32% YoY. We see the big driver of that being deep discounting, reflected in AOS down ~15%, while conversion is actually holding steady versus LY.
 
B2B continues to climb online, with traffic +10.64% and sales +18.75% versus the week prior. Interestingly we see conversion and AOS down slightly versus LY, but overall sales were +29.12% YoY. Search continues to be a critical capability, with ~35% of traffic using search and conversion on that traffic well over 10%. 'Battery charge'r and 'oil changer' hopped up in search terms, indicating the need to jump start and service vehicles that have not been used in a long time.

Bloomreach powers over 20% of US & UK eCommerce search and commerce experiences across the 300+ global enterprise businesses - many of whom have multiple brands and eCommerce sites. You can find all of Bloomreach's Coronavirus related research, including previous weeks, on our Coronavirus Content Hub. If you have any further questions, I encourage you to reach out here, and we will follow up with you ASAP. We aim to bring you further insights each week as we navigate these challenges together - whether you are a customer or not. 
Thank you and be well. 
 
*Search-conversion-rate: the rate at which site search users actually purchase.